How to Make Vegan Swedish Almond Cake Mjuk Toscakaka
How to make vegan Swedish almond cake Mjuk Toscakaka, a rich, sticky, sweet cake – more a pudding than a cake, really – perfect for guests
This mad frenzy of cooking that I'm indulging in most weekends must be induced by the miserable rainy weather. The last few days it has been wet, wet, wet. No, it has been wet, wet, wet and wet. It makes you want to cook all sorts of stay indoors and get fat kind of food: muffins, cakes, biscuits.
So far, in the last fortnight, I have made pistachio cookies (a partial success: they resembled cowpats and spread out so much on the baking tray that in fact they resembled one large cowpat. They didn't taste so bad though, although too chewy for my liking. My dog also approved. She finished off the few that were left in the tin, which in turn was open on the coffee table, leaving only a few tell-tale (or tail) crumbs on the settee and on her nose "what me?"), and the loveliest, most delicate cake (which I have dubbed my favourite!), a Swedish delicacy called Mjuk Toscakaka.
This is adapted from Tamasin Day-Lewis' Art of the Tart and tastes like a Vanilla Pudding rather than a cake. It is a very tender sponge with a crunchy almond and caramel topping (and, more importantly is ridiculously easy to make!). Furthermore, it is certainly not a tart!
The original recipe utilised the usual suspects that you see in a creamed sponge: eggs, milk and butter, so I simply replaced these with Orgran Egg replacer, plant-based milk and a vegan spread. I like Pure for baking.
What makes Mjuk Toscakaka so special?
Mjuk is Swedish for soft and this cake is definitely soft, comforting, old fashioned but not anachronistic, and interesting enough that you could serve it for dessert at a get-together.
The crunchy caramel topping is what makes this cake exceptionally special, but you could omit that part altogether, and you would have a simple, elegant vanilla cake that you could dress up with raspberries and some whipped coconut cream.
It's a breeze to make, and keeps really well in the tin for about 3-4 days (although I doubt it will last that long!).
Try my other vegan treats
Vegan Swedish Almond Cake (Mjuk Toscakaka)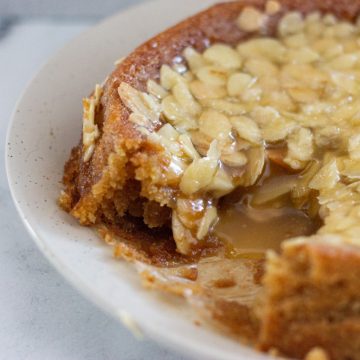 A tender vegan cake with a crunchy, sweet topping
Ingredients
150

Butter

vegan

125g

Superfine Sugar

preferably golden

2

Vegan eggs made with Orgran Egg Replacer (2 tbsp egg replacer, whisked with 4 tbsp water)

1

tsp

Vanilla extract

best quality

150g

Plain Flour

sifted

1

tsp

Baking Powder

5

tbsp

Tap Water

not hot
For the topping
30g

Flaked Almonds

60g

Butter

vegan

5

tbsp

Superfine Sugar

1

tbsp

Plain Flour

1

tbsp

Soy Milk

or plant-based milk of your choice
Instructions
Cream butter and sugar until pale and fluffy.

Beat in vegan eggs gradually, then add vanilla extract.

Sift in flour and baking powder, beat thoroughly.

Add water and beat until smooth. I recommend using an electric handwhisk or standalone mixer. This should take about 5 minutes.

Scrape into tart tin, smooth top and bake for 25-30 mins
To make the topping
Put all ingredients in saucepan over medium heat until all amalgamated and bubbling.

Pour over top of cake (this is where you hope the cake hasn't gone over the top of the tart tin!).

Put back in oven for 5 minutes.

Leave to cool for at least 5 minutes for the top to set. It has a lovely, crunchy topping and the cake is tender, almost like a pudding.
Nutrition Facts
Vegan Swedish Almond Cake (Mjuk Toscakaka)
Amount per Serving
% Daily Value*
* Percent Daily Values are based on a 2000 calorie diet.