Vegan Sourdough Bread and Roasted Plum Salad Recipe
This post contains links to affiliate websites, such as Amazon, and we receive an affiliate commission for any purchases made by you using these links. We appreciate your support!
Warm sourdough bread and roasted plum salad recipe – a perfect salad for the chillier fall days, utilising the nicest fruit from the season, and a great way to use up leftover sourdough!
Before I turned plant-based, I used to cook the delicious Zuni Cafe Roast Chicken and Bread Salad from the acclaimed San Francisco restaurant, Zuni Cafe Cookbook. It was the perfect blend of flavours and textures, and the first salad that made me realise that there's more to them than just leaves. Judy Rodgers had taken all of the elements of a traditional chicken salad and turned it around on its head, deconstructing it, and then reassembling it, producing an exquisite salad.
Over the years, I have made that salad many times, to much acclaim, but I felt that the salad needed to be made plant based, but without falling back on using things like substitute meat. I'm not even sure they belong in a salad anyway.
So, I started to think about what I love about that salad, and it was definitely the bread, drenched in the chicken juices, but also the tangy, dressing and the fruity currants.
I decided to forego veganising the chicken element entirely, and only moved forward with two original elements: the bread and the fruit (from the original idea of using a currant dressing). Oh, and the simple vinaigrette. I came up with this, my warm sourdough bread and roasted plum salad.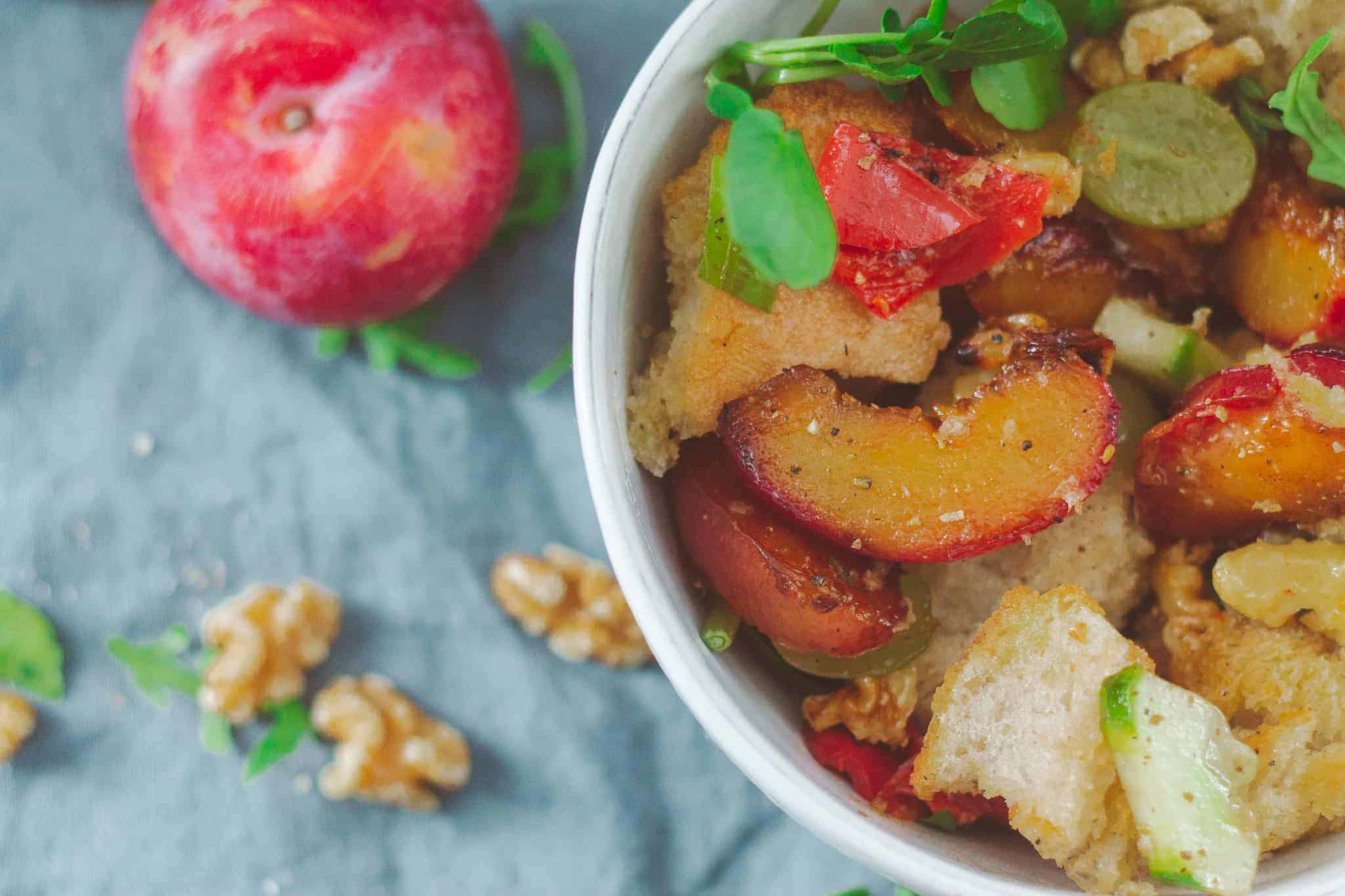 I think what makes the original Zuni Cafe recipe so successful, is the subtle blending of the different flavours. The crisping of the bread, some pieces toastier than others, the flavour from the roast chicken, the thyme and the spring onions, the tartness of the vinegars and the sweet pop of currants.
Substitutions
But what if plums are not in season? Or you'd rather use something else? Most larger fruits taste delicious grilled, and these are just a few:
Peaches
Apples
Pears
Mango
Pineapple
What Bread Can I Use in Bread Salad?
I do recommend that you use a good rustic bread, like a ciabatta, baguette or a focaccia, something that's not too squishy, but even a farmhouse loaf will be delicious. I don't recommend sliced bread, just because it won't have the flavour or texture.
If you have a favourite sourdough, whether it's a white or brown or seeded loaf, this too will be just delicious.
I'm not sure I would recommend beer bread either as it can be quite crumbly, and whilst you want some smaller bits of bread for that toasty yum, you don't want lots of crumbs!
You could also make your own sourdough bread!
Can I use Gluten Free Bread in a Bread Salad?
As for gluten free, if you can find an uncut loaf of sourdough or similar gluten free bread, go ahead and use that!
What's important to remember about this salad is that one ingredient is not the sum total of the recipe, all the ingredients when tasted in one delicious bite make this a perfect salad recipe for any time of the year. So, in the winter, you could add some dried cranberries, and a more hearty bread. For those really warm summer days, a lighter loaf, with sundried tomatoes and basil and some roasted peaches would be just divine. It's all about thinking about what you have in your fridge, or fruit bowl, and if you think it sounds like it would work, then it probably will!
Note: don't forget the simple oil and vinegar dressing. This helps to add an additional flavour to the warm bread, and ties the whole salad together. I like to use a little maple syrup in my dressing, just to mirror the sweetness of the fruit, but you can use honey, agave syrup or simply omit the sugar altogether.
Try my other delicious vegan salad ideas
Sourdough Bread and Roasted Plum Salad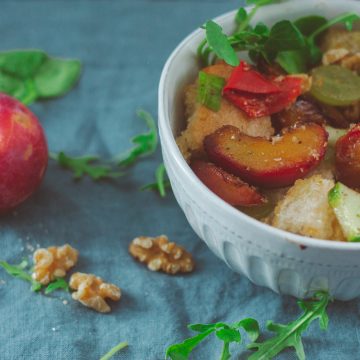 A warm salad perfect for using up Sourdough Bread and fruit.
Ingredients
Roasted Plums
2

Plums

-

ripe but not overly so, stoned and cut into chunks

1

tbsp

Balsamic Vinegar

1½

tbsp

Maple Syrup

Salt and Pepper

2

springs

fresh Thyme
Rest of Salad
1

small loaf

Sourdough Bread

-

or other rustic bread, crusts removed, torn into 1" chunks

2

tbsp

Extra Virgin Olive Oil

¼

cup

Walnuts

-

toasted, broken into pieces

¼

cup

Grapes

-

halved

1/4

cup

Roasted Peppers

-

cut into slithers if whole

2

Spring Onions

-

cut into rings, incl green tops

1

Mixed Leaves, such as watercress, spinach etc
Dressing
2

tbsp

Olive Oil

2

tbsp

Cider Vinegar

½

tsp

Maple Syrup

Salt and Pepper
Instructions
To Roast The Plums
In a small bowl, mix together the plums, balsamic vinegar, maple syrup, thyme and salt and pepper. Leave to marinate for 5 mins or so

Heat a frying pan over high heat and add the plums and marinade, moving them around quickly to stop burning, but allowing them to colour up.

Tip this mixture onto a lined baking tray and bake for a further 10 mins
To Toast The Sourdough
Place the torn bits of Sourdough onto a baking tray, drizzle with the olive oil and grind over a little black pepper. Toss so that all the bread is lightly coated.

Bake for about 10-15 mins or until the bread is toasty and slightly coloured. Turn if needed.
To assemble Salad
In a large serving bowl, add your toasted sourdough, roasted pears, grape halves, peppers, walnuts and salad leaves and mix to combine.

Drizzle over the salad dressing and mix well. Taste a little of the bread for seasoning, or if it needs a little more olive oil.

This salad tastes best at room temperature and if the flavours are able to stand and mingle for about 10 mins.
Please note that where the recipe asks for milk, butter or yogurt, this refers to any plant-based version that you prefer.
Nutrition Facts
Sourdough Bread and Roasted Plum Salad
Amount per Serving
% Daily Value*
* Percent Daily Values are based on a 2000 calorie diet.