Easy and Simple Vegan Crepes (egg-free, dairy-free pancake recipe)
This post contains links to affiliate websites, such as Amazon, and we receive an affiliate commission for any purchases made by you using these links. We appreciate your support!
A quick and simple egg-free, dairy-free pancake mix, just in time Shrove Tuesday (Pancake Day), although why limit yourself to just one day a year? This recipe is for crepes rather than thick, fluffy pancakes.
PIN my easy vegan crepes to make later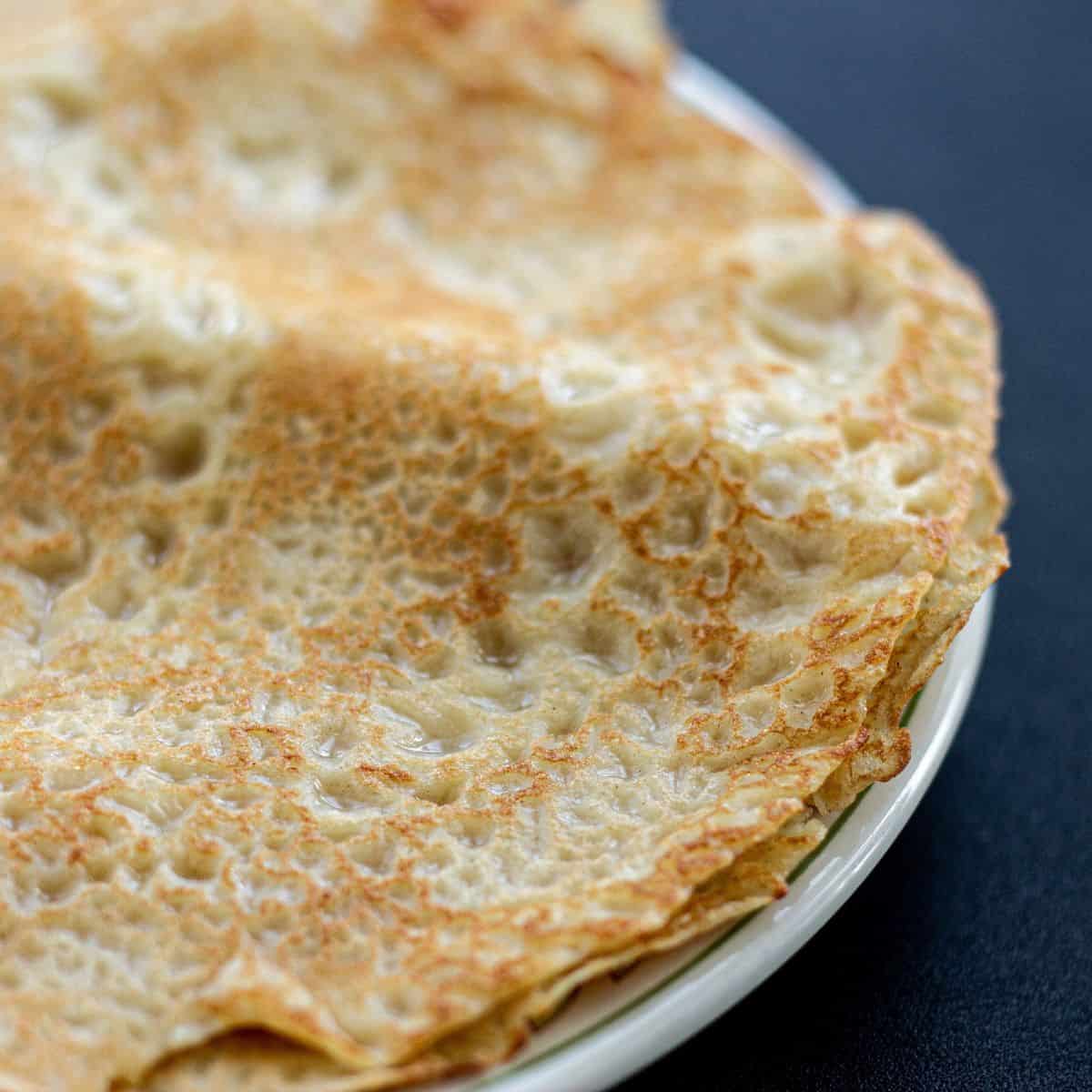 Of course the best time of the year to eat pancakes is on Shrove Tuesday (known colloquially as pancake day) but I could eat pancakes all year round!
If you prefer your pancakes on the fluffier side (American style), try my easy vegan pancake recipe or my fluffy and crisp vegan waffles!
Crepes or Pancakes?
I admit that I have always loved crepes. Whilst in Britain we call them pancakes, US readers will know pancakes as thick, fluffy and sweet and made completely differently. For the purposes of the remainder of this post, I will refer to them as Pancakes because that is what I have always called them. However, they are also the same thing as crepes!
I've mentioned before that my mum didn't really enjoy cooking but every Shrove Tuesday (the last day before lent begins), we always had pancakes for tea. For me then, as now, I have to have fresh lemon juice and sugar in them, although back then, I think we used Jif lemon!
What do Crepes Taste Like?
Hmm, tricky question. They are quite plain as they are just basically flour and milk, but once fried they do take on a delicious but simple flavour that enhances their filling. They don't really taste like fluffy American pancakes at all and I guess they'd be quite boring if you ate them plain!
I suppose the only way I can describe the taste of a crepe is if you imagine popcorn without any seasoning, or a plain water biscuit, that type of neutral-ish flavour. I'm not selling pancakes very well, am I? Please give them a try though and let me know what you think they taste like in the comments below!
How do you make vegan crepes or pancakes?
These are so simple to make. I like to make the batter either in the morning or the night before, and then it's just a case of making the pancakes!
The batter only requires one element of patience, that you slowly whisk the milk into the flour. This is quite a critical step as it stops the batter becoming lumpy. You could of course blend it all up in a smoothie maker, and that saves on a bit of washing up too!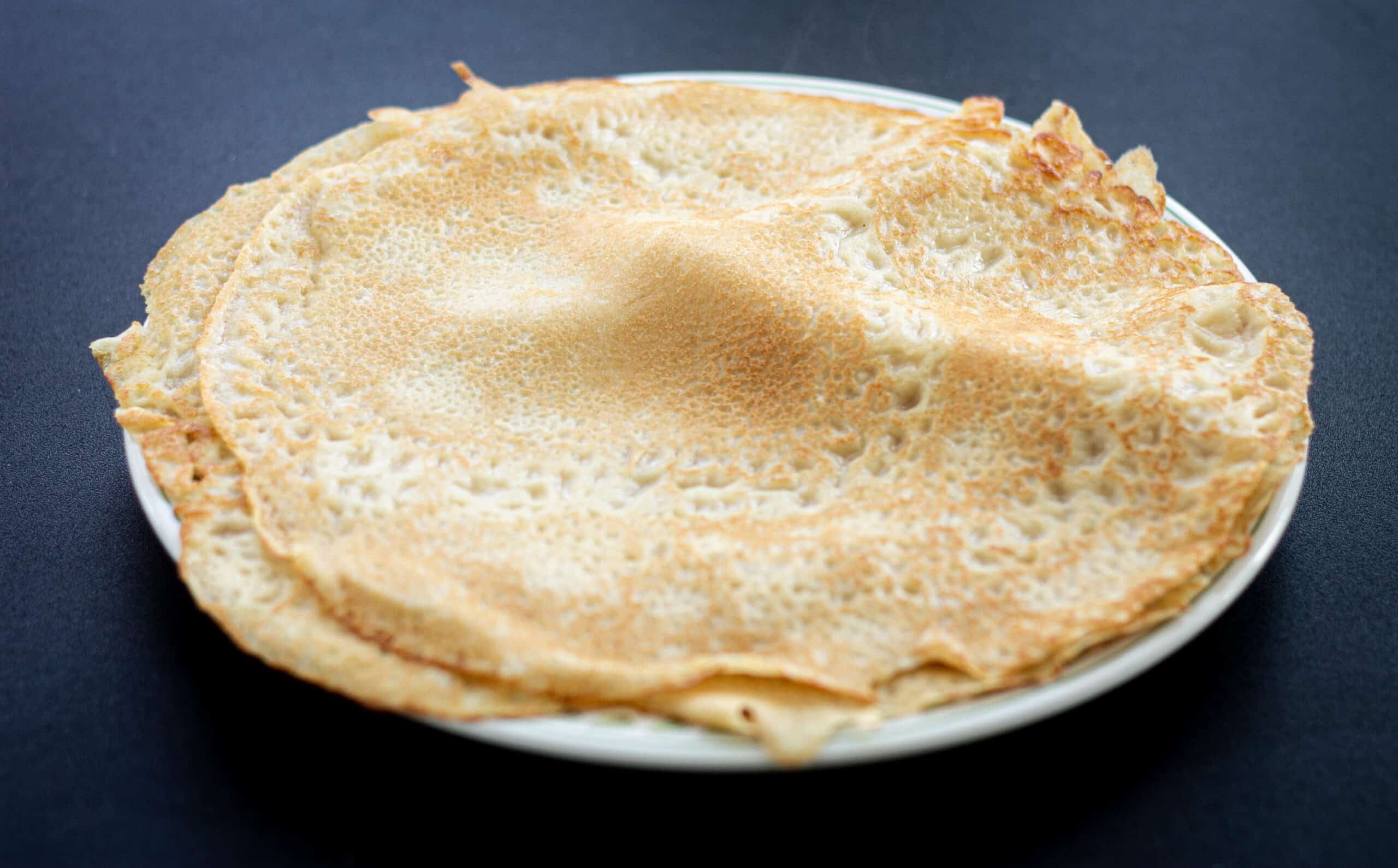 Leave the batter to stand for half an hour before stirring in some melted butter. This helps to enrich the batter. You could add a little vanilla or sugar to the pancakes, but I think if you're adding a lot of sweet fillings, then this is possibly overkill.
To make the pancakes themselves, I use a large frying pan with just a little oil, it doesn't need loads, and the spray bottles of oil are really helpful for this. I find that once I've ruined the first pancake, I also don't need to add anymore oil to the pan. However, it all depends on what kind of frying pan you use.
Heat the oil in the pan over moderate high heat. You don't need it to be full heat as you'll just burn the pancakes really quickly, and a moderate heat gives you much more control.
Drop a tiny bit of the batter into the pan and if it sizzles it should be ready. You don't want it sizzling frantically though! Add a ladleful of batter to the centre of the pan and gently swirl the pan to distribute the batter to coat the bottom. Don't worry if it doesn't completely fill the diameter of the frying pan, you can always add a little extra batter on the next pancake.
Once you start to see lots of little bubbles appear on the surface and the edges start to curl up and look lacey, you are ready to flip! I use a standard flipper to turn them, but feel free to toss the pancakes if you're brave!
Cook on the other side for 30 seconds to a minute before placing on a plate. Continue with the rest of the batter.
Ingredients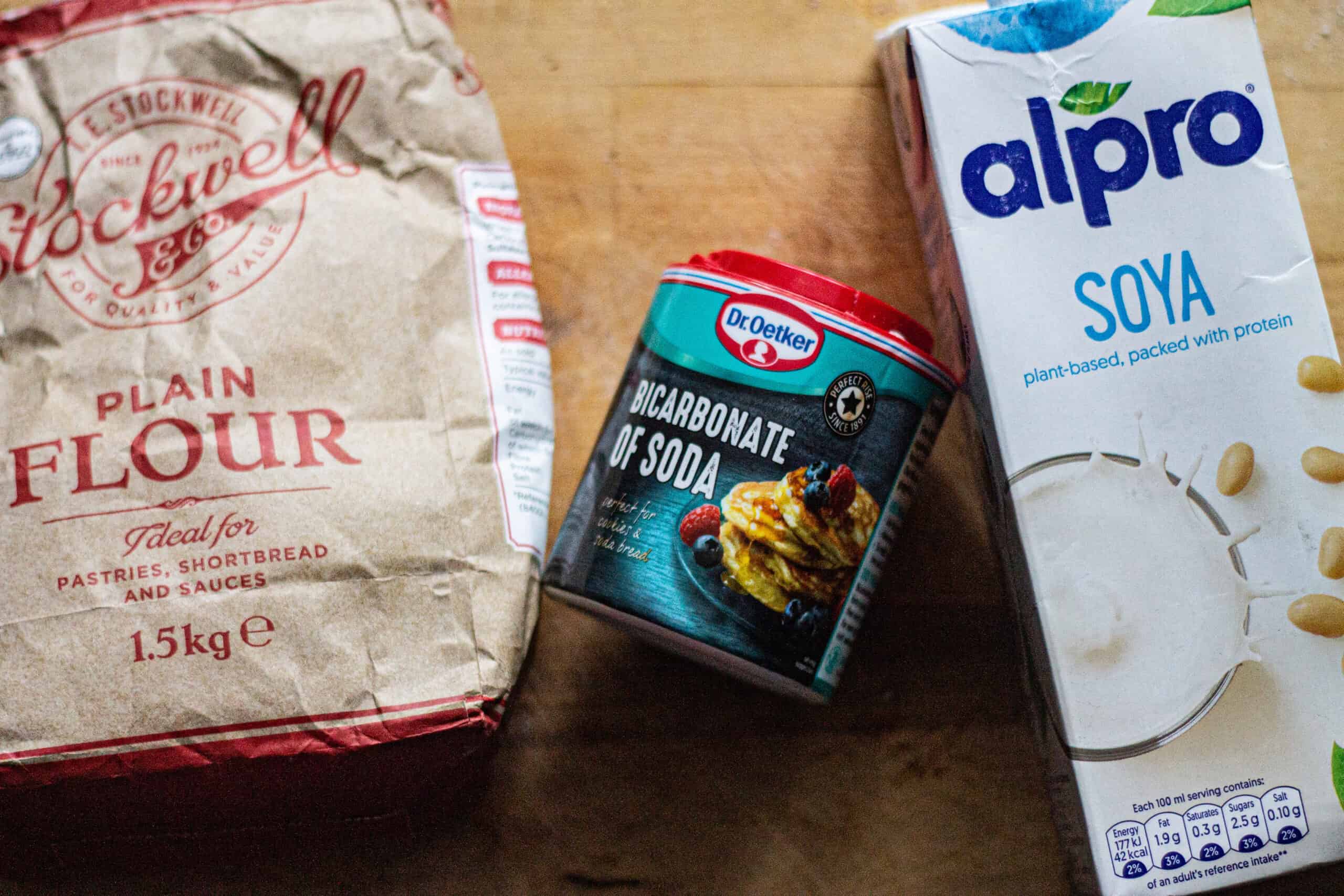 plain flour
plant-based milk
melted butter
bicarbonate of soda
This is ONLY a list of ingredients for the recipe; please see recipe card below for complete printable recipe.
Instructions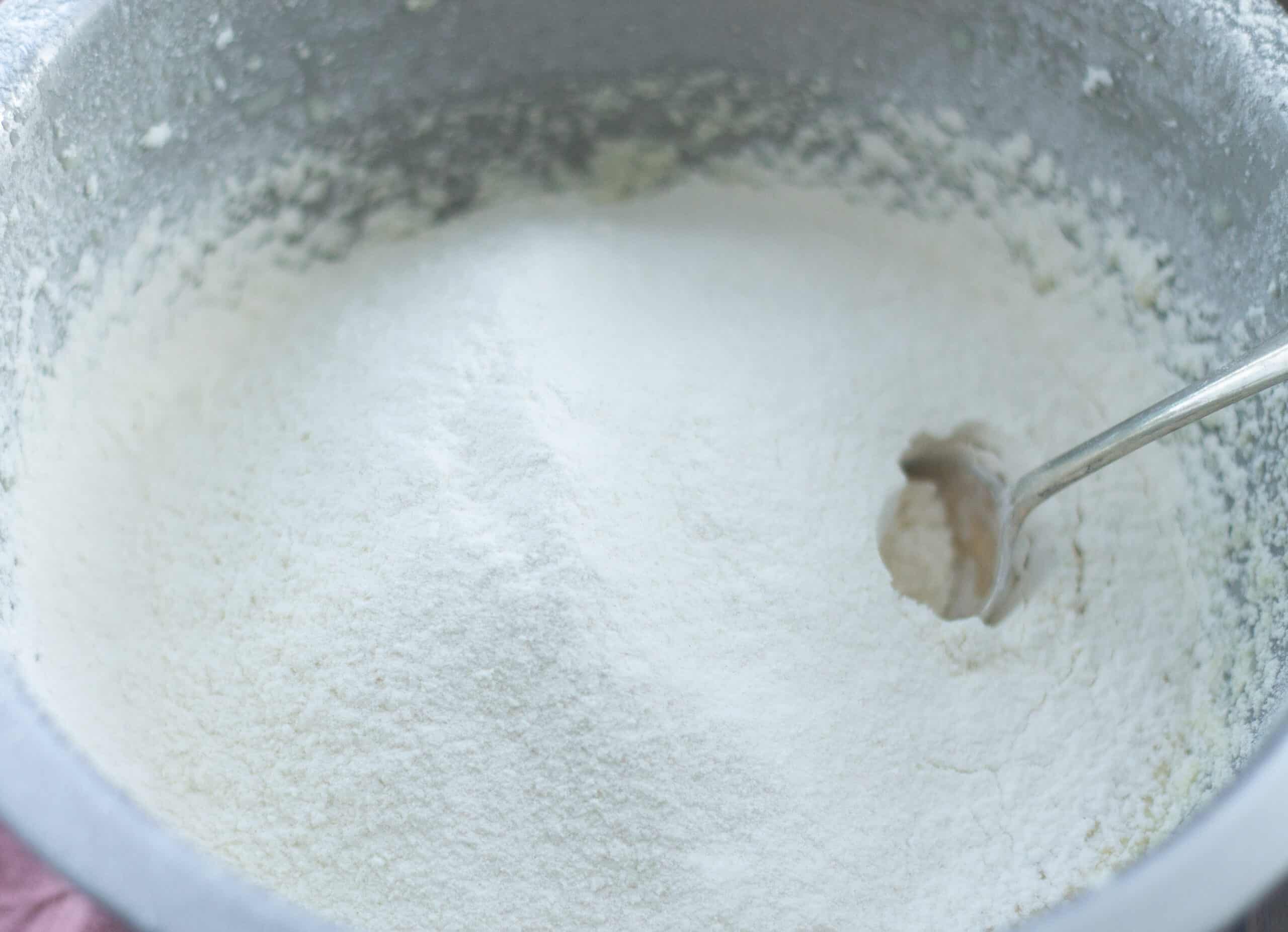 Sift the dry ingredients into a large mixing bowl.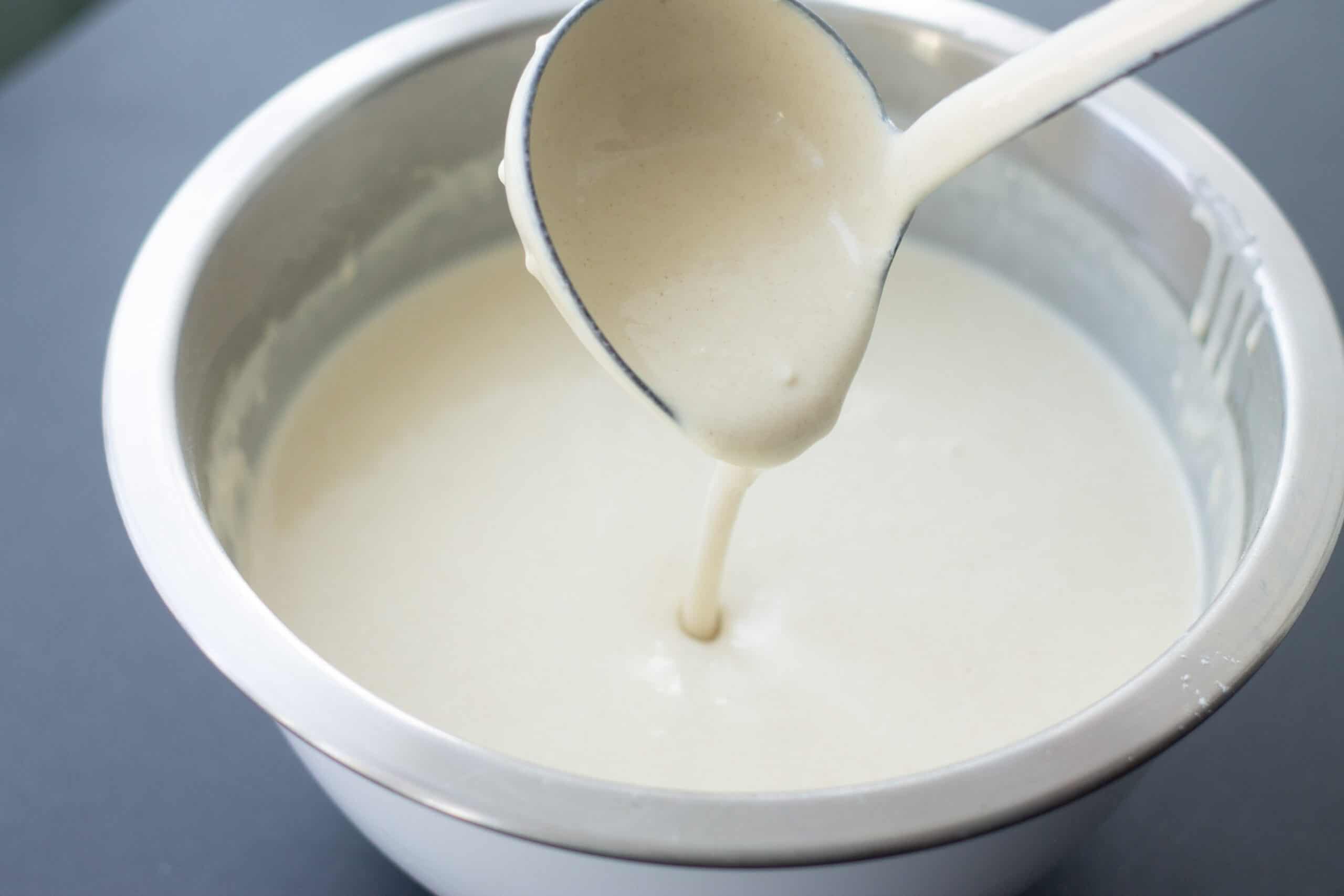 Gradually pour in the milk, whisking all the time. Leave to stand for 30 mins then add the melted butter
Make your pancakes!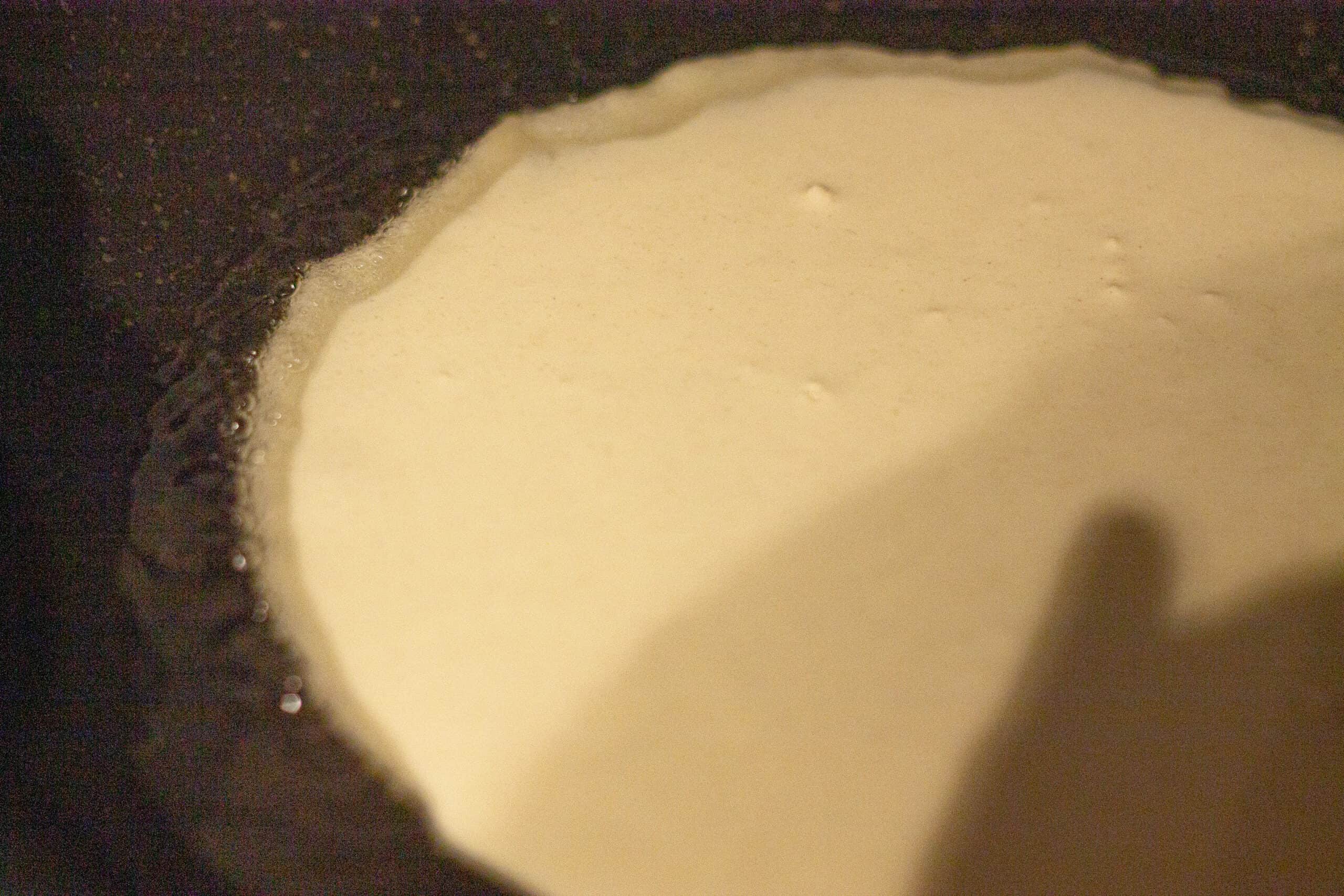 Make your pancakes!
Hint: the first pancake is always a bit of a disaster. My first one always resembles something from an Ed Gein museum, totally unlike the rest. I have no idea why this is! But, it will probably still taste OK. It's almost as if the first pancake is sacrificing itself by seasoning the pan, so that the other pancakes can be successful!
Substitutions
Flour – use your favourite gluten free flour instead (I suggest self-raising). You may need to add a little more or a little less milk to the batter though.
Milk – I used coconut milk but soy milk would be usual preference because it is reasonably flavourless.
Melted Butter – you can use melted coconut oil or regular vegetable instead
How do you serve Pancakes (crepes)?
I love mine with a squeeze of fresh lemon and a sprinkle of white sugar. For this reason alone I only eat them once a year. Other fillings:
Jam
Chocolate or Lotus spread
Peanut Butter, sliced banana
drizzled with maple syrup and crisp vegan bacon
poached or tinned peaches with vanilla ice cream (my grandad's favourite!)
Equipment
I love to use my Ninja Foodi Zerostick frying pan for pancakes, you don't need to use too much oil, and you just wipe the pan out after use.
Storage
You can prepare the batter at least 2 or 3 days in advance and keep, covered, in the fridge.
Cooked and cooled pancakes freeze well. Keep them separated with some parchment paper in a ziplock bag to stop them sticking together. Simply thaw and reheat in a pan.
Perfect Vegan Pancakes (Crepes)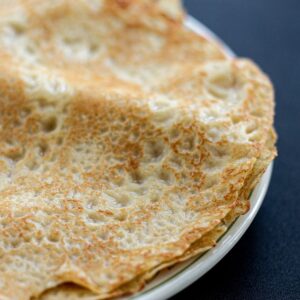 What else are you going to make for Pancake Day but these delicious crepes!
Ingredients
300

ml

Milk

Plant-Based, I like Soya

150

g

Plain Flour

sifted

¼

tsp

Salt

¼

tsp

Bicarbonate of Soda

1

tbsp

Butter

vegan, melted or use coconut oil

Oil for frying
Instructions
Sift the flour, bicarb and salt into a large mixing bowl.

Gradually whisk in the milk, don't add it all at once or you'll have lumpy batter!

You are looking for the consistency of thick (not whipped) cream.

Leave to stand for half an hour.

After half an hour, whisk the melted oil into the batter.

Heat a teaspoon of vegetable oil into your frying pan, over moderate high heat.

Add a ladleful of batter to the centre of the pan and gently but quickly swirl the pan to spread the batter out thinly. You might not coat the bottom of your frying pan depending on how big it is, but don't worry.

Once you start to see bubbles forming on the top of the batter and the edges are starting to curl, it's time to flip!

I use a spatula as I'm not great at flipping, but you do you! Either way, you need to flip the pancake and cook the other side for another 30 seconds or so.

Once cooked, place on a plate whilst you continue, using up the rest of the batter.
Nutrition Facts
Perfect Vegan Pancakes (Crepes)
Amount per Serving
% Daily Value*
* Percent Daily Values are based on a 2000 calorie diet.
Related
Looking for other recipes like this? Try these: