How to Make Vegan Red Chili
This post contains links to affiliate websites, such as Amazon, and we receive an affiliate commission for any purchases made by you using these links. We appreciate your support!
Vegan red Chili recipe. Spicy, warming, full of flavour and very, very satisfying. My chili recipe is not lacking in anything and it's ready in less than half an hour!
If you enjoyed this recipe, you will love my vegan spaghetti bolognese or my low-fat veggie chilli too.
My ex-husband, for all his faults, was especially great at two things: cooking and writing. Whilst trawling for recipes on my old food blog, I found this article he wrote, sometime in 2008 I think, loosely about chili, but more about goodness knows what else. I'm sharing it, without editing, but I have liberally edited the recipe, firstly veganising it. As per his own disclaimer, I hope that his intact comments are taken with the pinch of salt that he liberally seasoned them with.
(DISCLAIMER: The opinions expressed in the following article are meant to be humorous and will hopefully be read in the way it was intended.)
Searching for Texas chili recipes on-line yields a wide variety of results. There are numerous sites claiming that proper chili should just be meat, chilies, and seasoning and that any additional ingredients only serve to dilute the flavour; most sites claim that chili is a Texas invention; and all the sites are committed to the lie that nobody but a Texan can make decent chili. Without exception, these sites also focus on red chili and neglect the interesting variants such as white chili and, MY favourite, green chili.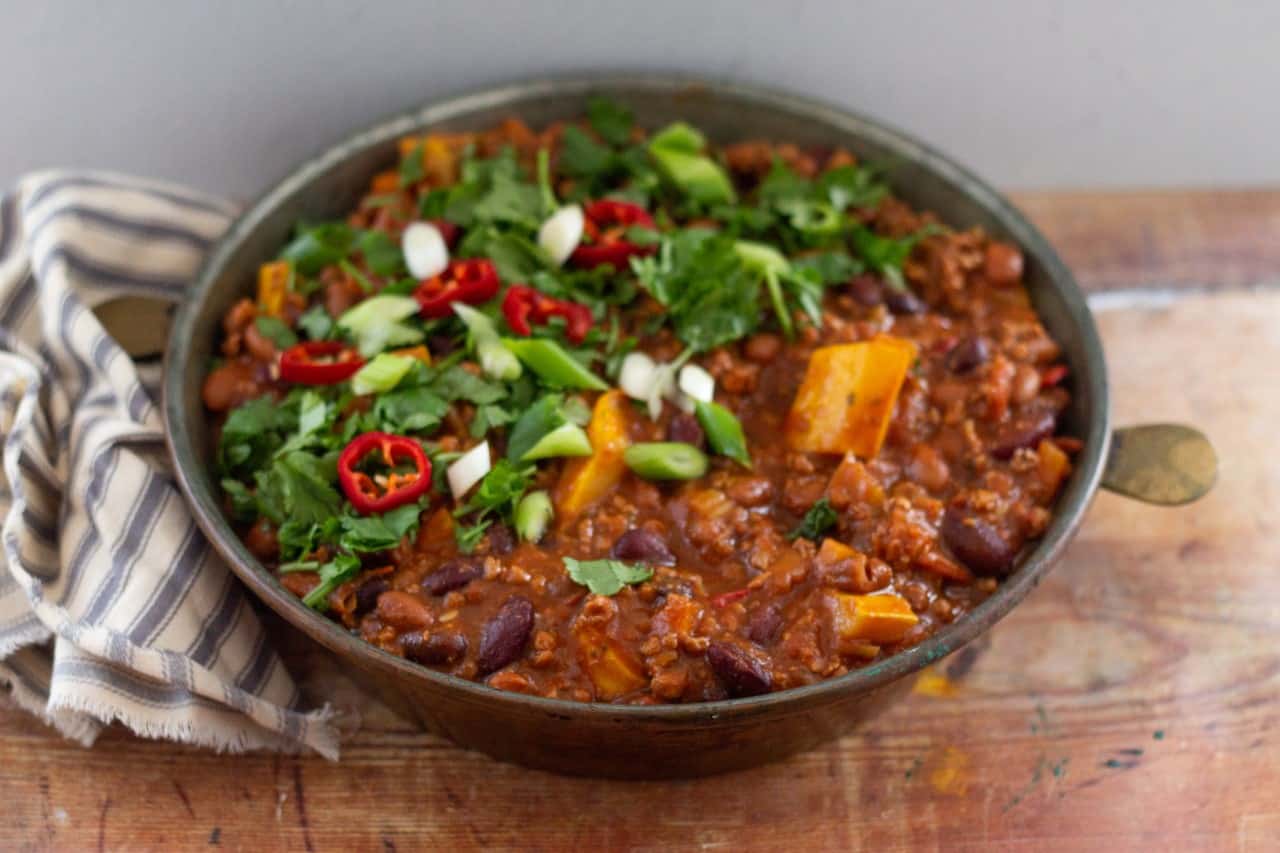 I'm not saying that Texan chili is bad; far from it! I'm simply saying that it's very narrow-minded to consider it definitive. Also, I have a difficult time understanding food possessiveness. I know if I invented something that I thought was good enough to share with others, I would also want it to have the broadest appeal to the biggest marketplace. Following a memetic formula, this sometimes requires adaptation. I would be happy to think that somebody had altered my creation to suit their own needs, provided I got royalties and there was no copyright or patent infringement, of course (I am also a realist).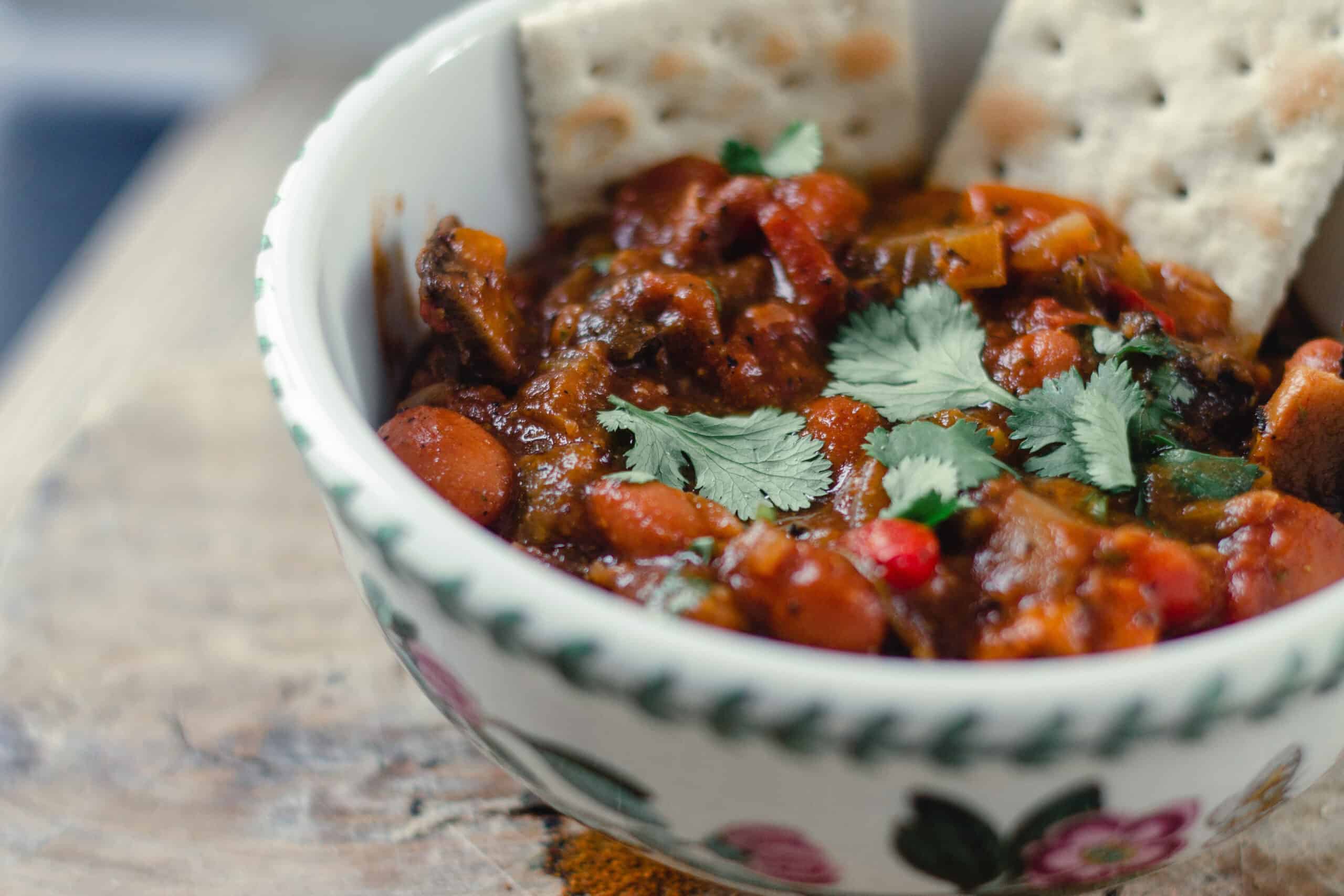 I know what motivates the Texan mindset. Occasionally a native Texan ignores his innate xenophobia and travels further north than the Oklahoma panhandle and it may be possible that, like me, they've seen a billboard advertising the "Worlds Greatest Chili" at the next truck stop. They've stopped in not because of the promise of Worlds Greatest, but because the word Chili is decidedly alluring. They sit down at a greasy booth with a bitter cup of coffee hoping for reassurance and a taste of home and discover that some parolee has made a mockery of a sacred dish by pouring kidney beans into Campbells Tomato Soup. And I couldn't agree more. I lived this experience in Nebraska, or was it Iowa? I skipped the "4lb. Cheeseburger: Eat the whole thing in an hour without puking and get a T-shirt!" and went for the promised Ambrosia. I swear it was Hormel chili with some cheese grated on top. It left me feeling empty, cheap, and exploited. Never again!
I have already stated that Texas doesn't make the worst chili in the world, but maybe I should explain why I don't think they make the best either. The reason is because some guy whose name I don't know in the backwoods of LaCrosse County, Wisconsin makes the best (red) chili in the world. I've only had it once and have spent more than half a lifetime trying to recreate it. I know it had three unusual ingredients in it. The first being potatoes. I have never made a chili since without including cubed potatoes in the mix. The second being V8 juice. Certainly you can make a good chili without V8, but a lot of guess work is removed just by adding this. The third ingredient, the one I have never used or had in anybody else's chili is venison. The guy who made this chili was a typical Wisconsin outdoorsman and so was never far from a can of Old Style, an ice fishing shanty, and a dead white tail buck. He may not be the kind of guy I would like to be around on Super-Bowl Sunday, but he would be the first guy to see for advice on a barbeque.
Equipment
Serve your chili with my delicious vegan cornbread, here!
Vegan Red Chili
A delicious and easy recipe for red chili, using three types of chili to spice it up!
Ingredients
300

g

Vegan Mince

3

tbsp

Olive Oil

1

Onion

-

large, diced

2

Celery

-

stalks, diced

2

Bell Peppers

-

any colour, diced

2-4

Chili peppers

-

(to your taste preference)

1

Mulato Chilli

-

dried

500

ml

Vegetable Juice

-

I use V8

1

16oz

Tomatoes

-

tinned, chopped

2

16oz

Kidney Beans

-

or pinto beans, or a mix, drained

1

tbsp

chili powder

-

or to your taste

1

tbsp

sugar

salt to taste
Instructions
Over medium heat, sweat onions, celery, peppers, and chillies for about 10 minutes.

Stir in the vegan mince and cook for about 5 minutes to absorb all the flavours.

Stir in chili powder and all the remaining ingredients, cover, and simmer over low heat for at least half an hour.

Turn off heat and let stand overnight. Reheat and serve the following day in a bowl with fresh spring onions, fresh coriander and vegan yogurt on top. If you're English, you'll feel compelled to serve this over rice, but it is completely unnecessary.

Like all tomato based sauces, this recipe only improves with age. I like it best after about five days, but it's always gone before then.
Please note that where the recipe asks for milk, butter or yogurt, this refers to any plant-based version that you prefer.
Nutrition Facts
Vegan Red Chili
Amount per Serving
% Daily Value*
* Percent Daily Values are based on a 2000 calorie diet.