Vegan Bubble and Squeak – a Classic British Supper Dish
Bubble and Squeak is the ultimate frugal supper, made from the leftover mashed potato and cabbage from yesterday's roast…comforting, homely and easy.
PIN my Vegan Bubble and Squeak to make later
Traditionally served on Boxing Day, or after a large roast dinner, Bubble and Squeak can be enjoyed at any time of the year.
This was inspired by my mashed potato recipe, the OG, the one and only, and my cabbage in the troo style, but also pairs awesomely with my spiced red cabbage too!
What is Bubble and Squeak?
Bubble and Squeak is a traditional British meal, evolved from frugality and a love of potatoes and cabbage.
Leftover mash and cabbage would be flavoured with the drippings from yesterday's roast dinner, and may have some of the leftover meat scraps stirred through it.
When I was young, it was actually NEVER served like that. Usually, the premise was that my mum would boil cabbage and make mash and then make Bubble and Squeak. Which kind of seems to defeat the purpose but I was never one to complain about being served a mashed potato mashed meal.
I have made the recipe a little more fancy than my childhood one, I have sautéed a little onion in some vegan butter to give it richness and a sweet flavour. You can, of course, omit this for time or if you don't like onion (????) but it does make a difference to the flavour.
I like to fry the the cabbage with the sautéed onion so that it gets a little bit of toastiness going on. There is frankly no better flavour than fried cabbage, and I will stand by that statement until I die.
Whilst I have given measurements, don't feel that you need to stick to these too stringently. I would suggest that you have a higher ratio of mash to cabbage, but other than that, it's up to you!
Ingredients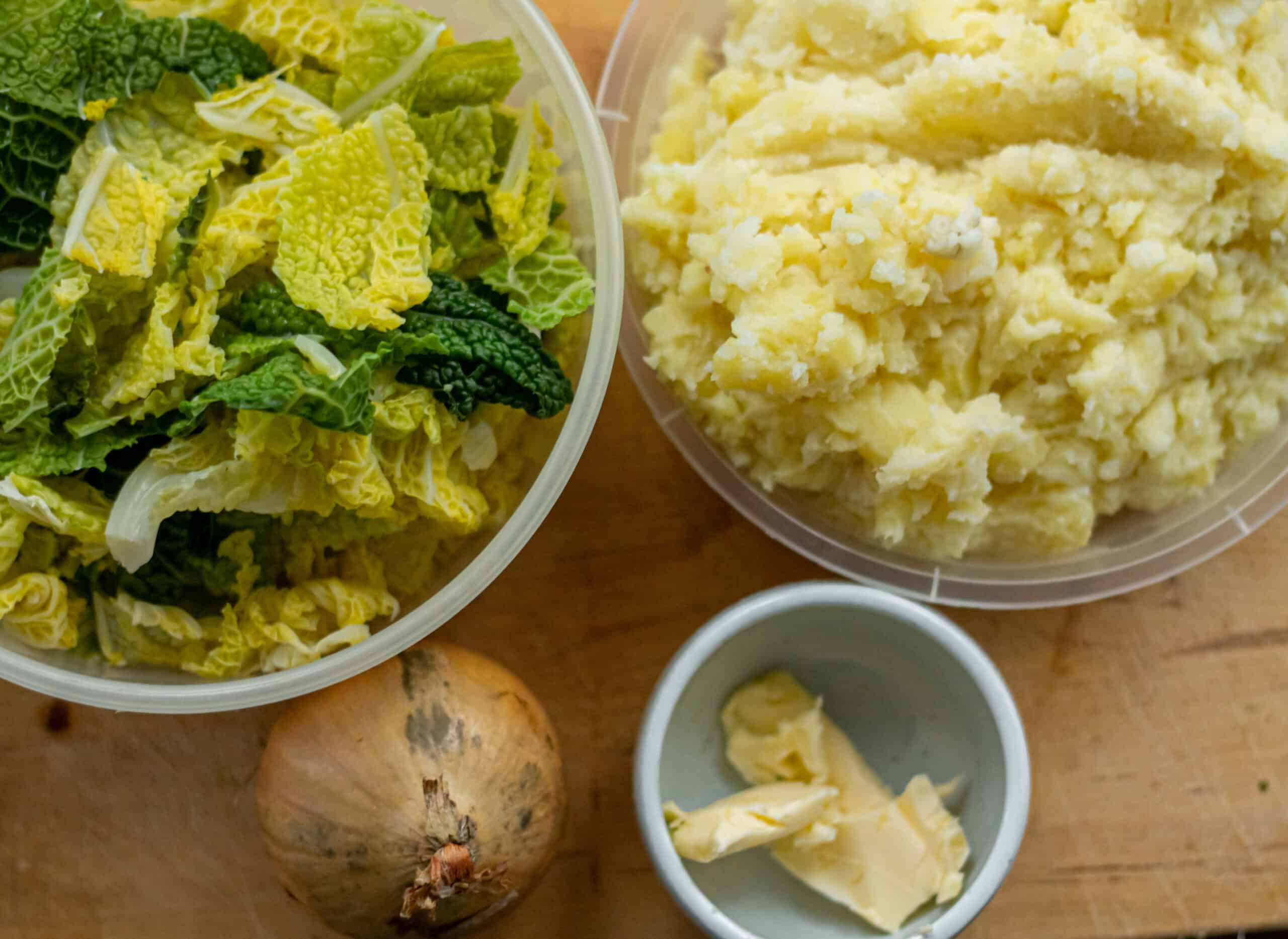 mashed potato
cooked cabbage
onion
(This is ONLY a list of ingredients for the recipe; please see recipe card below for complete printable recipe. Or if you use the JUMP TO RECIPE at the top of the page, it will take you directly to the complete recipe.)
Instructions
Sauté sliced onions until soft and golden
Stir in the cooked cabbage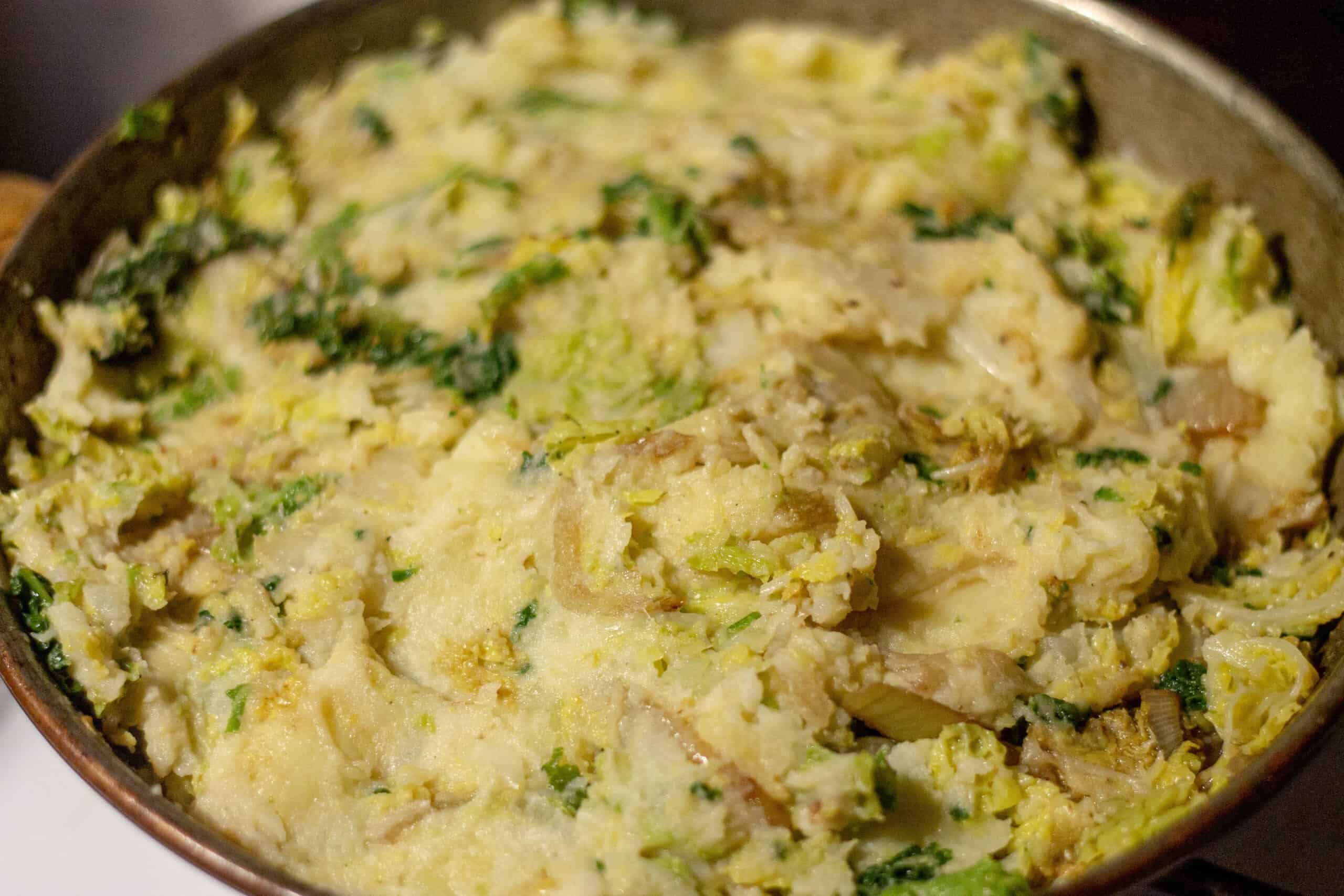 Add the mashed potato, mix well and cook over medium heat to promote a toasty bottom!
Substitutions
Cabbage – you could use cooked kale, collared greens or any other leafy, starchy veg
Mashed Potato – I think you could use mashed swede or sweet potato if you prefer, it would be a little sweeter, so your seasoning would need to be adjusted accordingly
Variations
Spicy – add chili pepper flakes while cooking to imbue heat into the dish, or banana peppers
Deluxe – add crispy onions or grated vegan cheese
Kid friendly – this dish is already super kid friendly, but serve it with veggie sausages, ketchup or baked beans and it's a winner
If you need a simple vegan mashed potato recipe, click here!
Storage
Cooked bubble and squeak is definitely best eaten on the day you cook it, but actually, it's still delicious the day after. I have often microwaved it, but it is better reheated in a frying pan with a little more vegan butter.
FAQ
Why is Bubble and Squeak called Bubble and Squeak?
It seems a bit like it might be related to rodents, but in fact it's the noise that the cabbage and potato make when frying in the hot oil!
Vegan Bubble and Squeak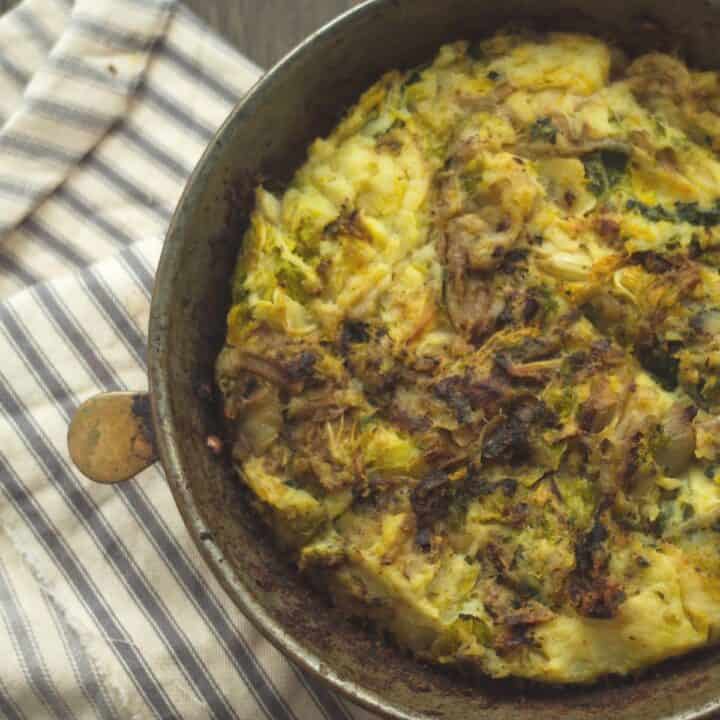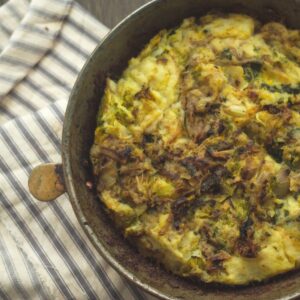 A delicious classic, traditionally made from leftovers from Christmas day…but why wait?
Equipment
1 Heavy bottomed frying pan or skillet
Ingredients
450

g

Mashed Potato

200

g

Cabbage

cooked, I use Savoy

1

Onion

small, sliced thinly

Salt and pepper

1

tbsp

Butter

vegan, to cook the bubble and squeak in
Instructions
Gently fry the sliced onion in the melted butter until golden and soft.

Add the cooked cabbage and stir until it is thoroughly coated in the onion mixture

Now add the mash and gently stir until thoroughly mixed. Taste quickly for seasoning and adjust accordingly. Turn the heat down to moderate low.

Press the mixture down quite firmly in the pan, this ensures that you will get both a crispy bottom and it will set up as it cooks.

Now, after about 10-15 minutes, the bottom will be nicely toasted. You can either choose to carefully flip it over (place a plate over the top of the pan to invert the squeak, and then slide it back into the pan, untoasted side down), or you can place it in a hot oven (about 180c) for another 10-15 minutes to brown the top. I prefer this easier version.

Once cooked, leave to cool for about 5 minutes in the dish before cutting into wedges (sort of) and serving.
Nutrition Facts
Vegan Bubble and Squeak
Amount per Serving
% Daily Value*
* Percent Daily Values are based on a 2000 calorie diet.