Perfect vegan mashed potato. Mash is one of those foods, that to me, is like nectar to the gods. I can't remember the first time I tried it, or a time when it has never been one of my favourite foods, however, I will eat it straight from the pan. That's how much I love it.
PIN my Vegan Mashed Potato to make later
Jump to:
When I was little, we didn't have a lot of spare money, so my mum would stew up a little mince with an onion and a carrot, and we would have this over mash. I still remember it tasting so good though as we ate it out of bowls, steaming hot, blowing on the spoons trying to cool it off. I suppose it is honestly the ultimate comfort for me. It is plain, simple and so delicious.
Mashed Potato is a curious dish, in that it is like the British version of rice or pasta: we serve it with a multitude of dishes. Bangers and Mash. Crowning a Shepherds Pie. With vegan gravy and veg. On Christmas Day. At Thanksgiving, with my vegan meatloaf. And leftovers? Make Bubble and Squeak!
How do you make Vegan Mashed Potato?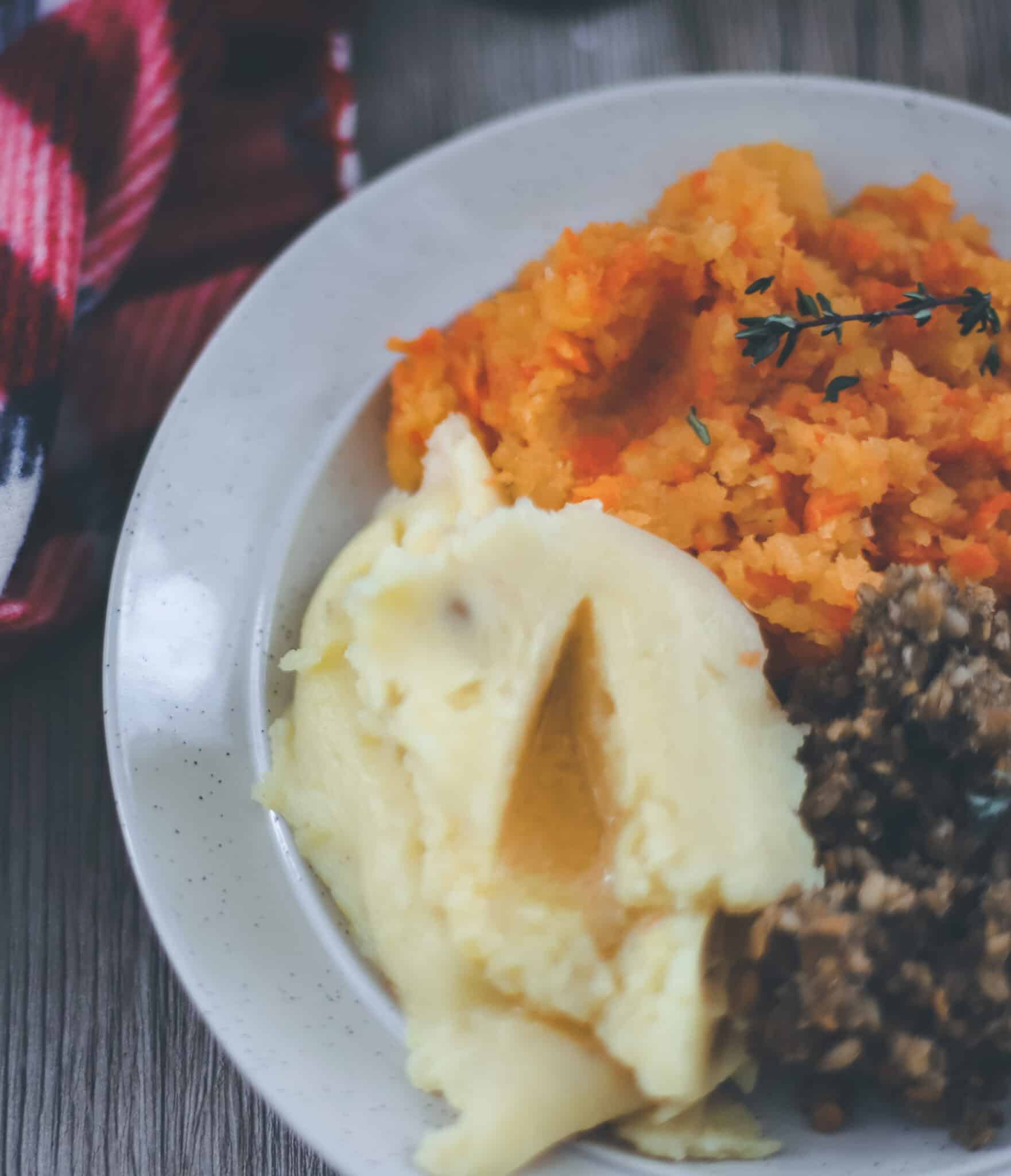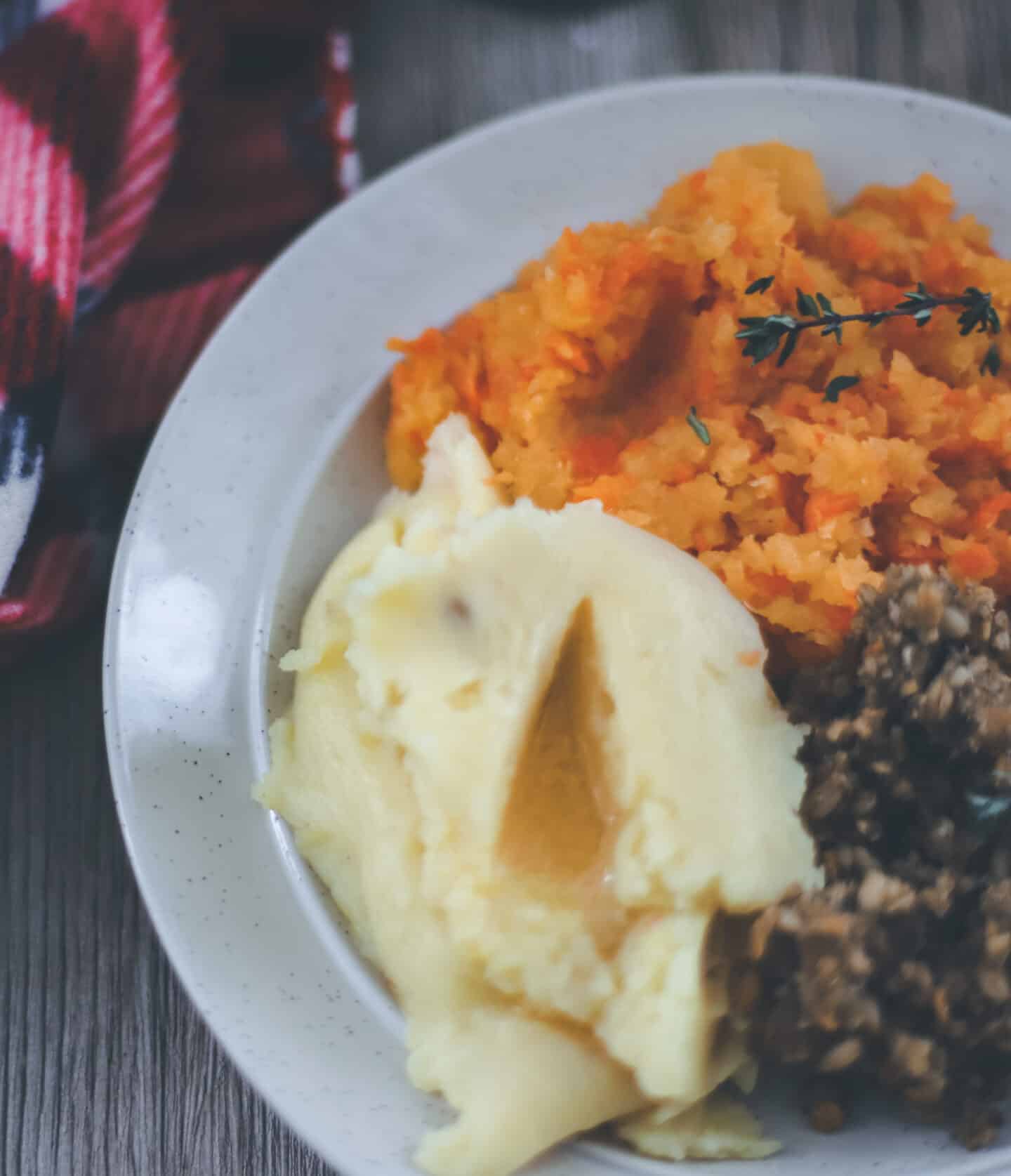 Well, that's pretty easy! I like to add a dash of milk (soy and unsweetened are my favourite) and vegan butter (salted) to start the mashing process off. Once you're happy that you have the correct consistency, then you can add yours seasonings. Some people love to add chopped chives, mustard, garlic powder or roast fresh garlic, others like a pinch of nutmeg or a handful of grated vegan cheese.
Ingredients
Potatoes. I like to use red potatoes as I think they have a creamy texture.
Vegan Butter or Olive Oil
Soy Milk, unsweetened. You can also use almond milk, cashew milk or oat milk but do ensure whatever dairy-free milk you used is unsweetened.
Sea Salt
Black Pepper
(This is ONLY a list of ingredients for the recipe; please see recipe card below for complete printable recipe. Or if you use the JUMP TO RECIPE at the top of the page, it will take you directly to the complete recipe.)
Method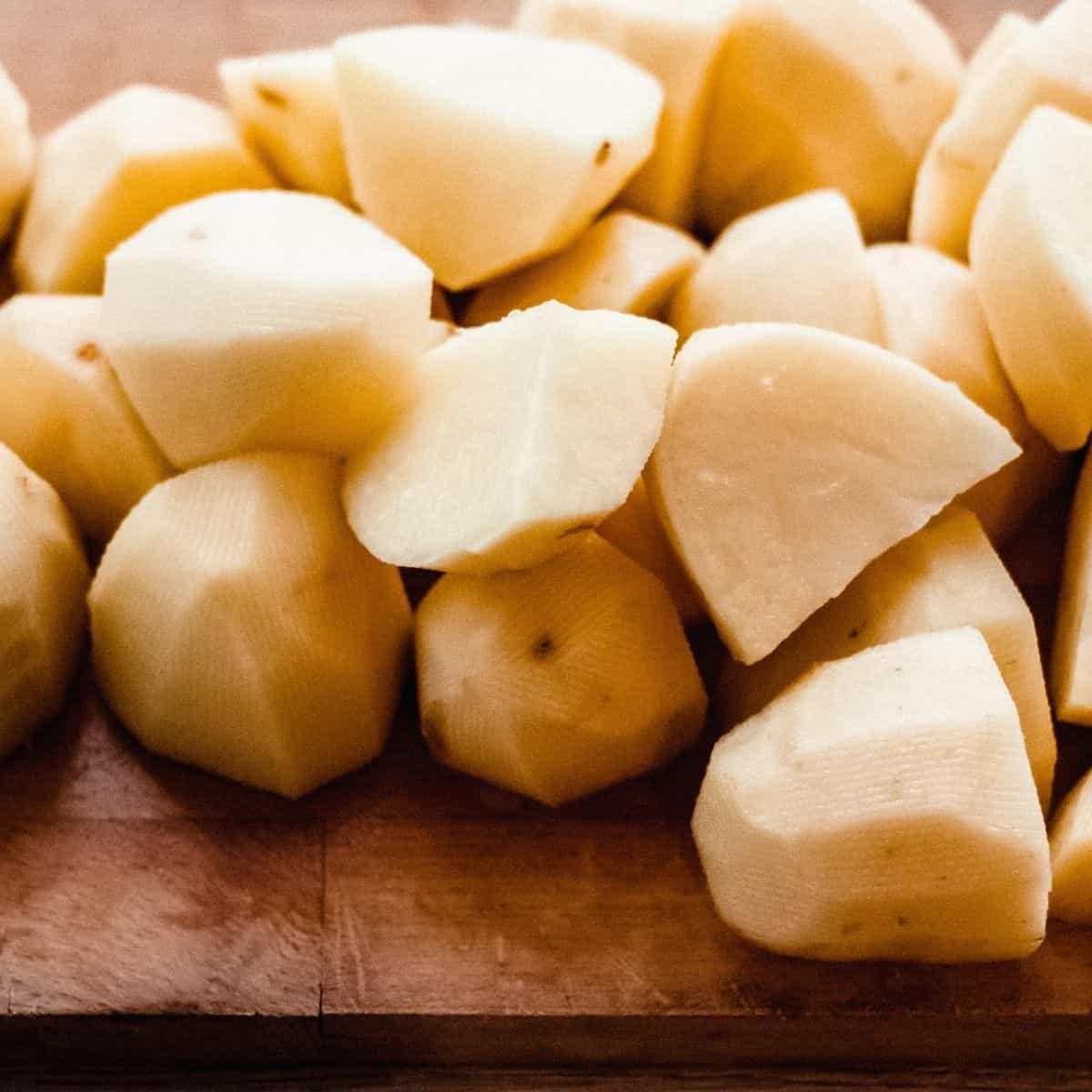 Use a red skinned potato if available, they have a creamier, but firmer texture. I love russet potatoes.
Peel and boil the potatoes in a large saucepan until just soft.
Drain and discard the cooking water.
Put tablespoons of the butter in a pan, only adding soy milk (or use almond milk) when the butter has melted.
Season with salt, pepper, AND paprika. The paprika adds a delicate smokiness to the potato, but also a beautiful rich colour.
Add potatoes back to the pan and mash using a potato masher to the desired consistency.
What's the Best Type of Potato Masher?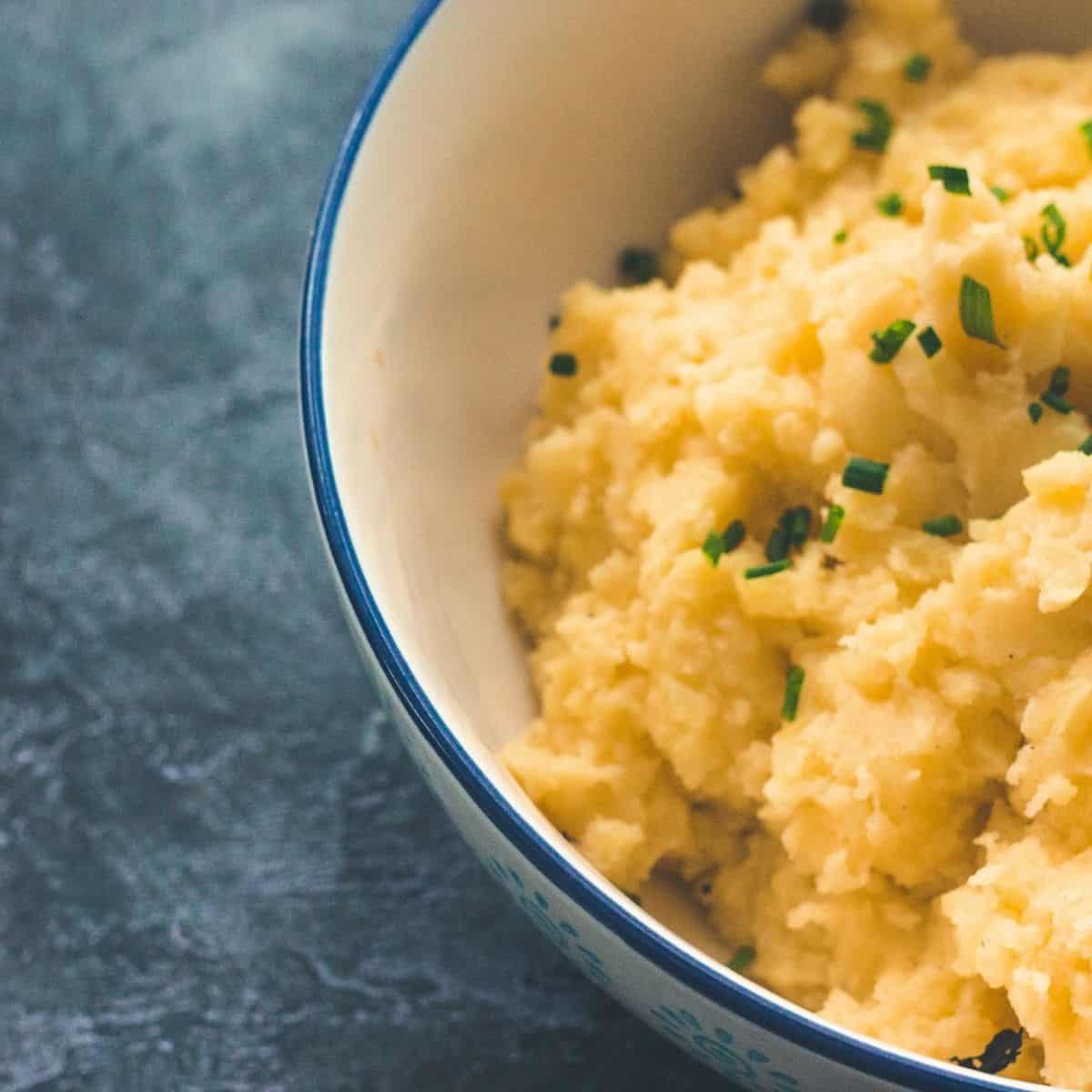 I like to use the old fashioned style metal mashers, rather than the modern ones that come in fancy twisty shapes. Ebay sells lots of vintage ones, but you can buy a comparable new one on Amazon, here.
You could also use a potato ricer, these give you a fabulously creamy mash, but are a bit of a faff to use. A similar gadget is a mouli or food mill.
Some people use an electric hand-whisk to give you a super smooth, almost puree-like mash. I don't particularly like super-creamy mash though, I prefer my potato to have a little texture.
I think it's worth bearing in mind that, whatever texture you love your mashed potato, there's a gadget to help achieve it, but also a variety of potato.
Equipment
Try my other delicious sides
📋 Recipe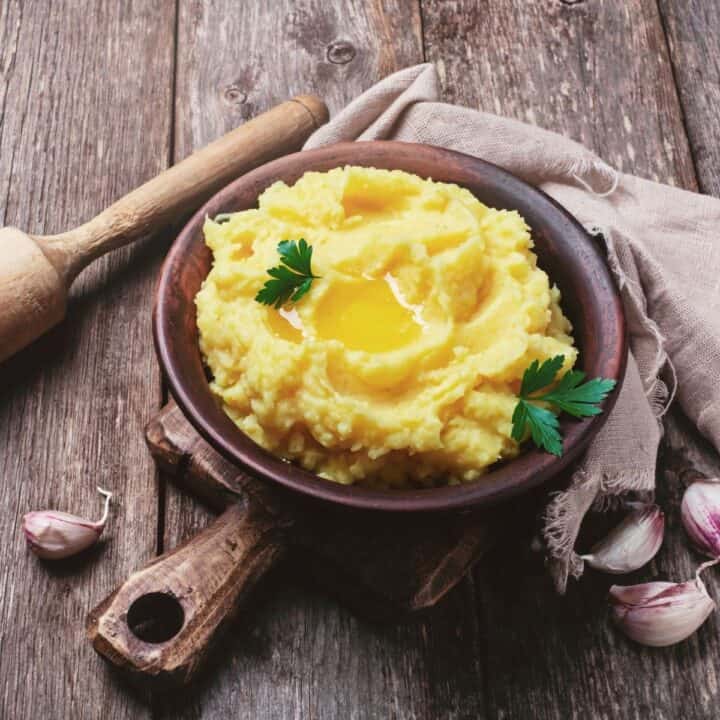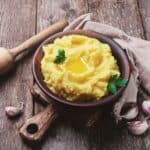 PRINT
Perfect Vegan Mashed Potato
A quick tutorial and recipe on how to make the perfect mash!
Ingredients
6

Potatoes

medium red, peeled and boiled to mashing consistency

1

tablespoon

Butter vegan

Salt and Pepper to taste

Soy Milk

unsweetened

¼

Paprika

to taste
Instructions
Peel and boil the potatoes until just soft. Drain.

Put butter in a pan adding milk when the butter has melted.

Season with salt, pepper, AND paprika.

Add potatoes back to the pan and mash to the desired consistency.
Nutrition
Nutrition Facts
Perfect Vegan Mashed Potato
Amount per Serving
% Daily Value*
* Percent Daily Values are based on a 2000 calorie diet.
Nutritional Information Disclaimer
The automated nutritional information on my recipes can often be inaccurate due to the limitations within the programming. For exact measurements, there are lots of apps and websites that can calculate this information more accurately.
Tried it and Loved it?
Mention @sweeterthanoats or tag sweeterthanoats!