Vegan Pecan Pie Recipe – Simple, Classic and Delicious!
I have taken the classic pecan pie and veganised it! This is a simple recipe to prep and your guests will never know that it's vegan!
PIN my Classic Vegan Pecan Pie to make later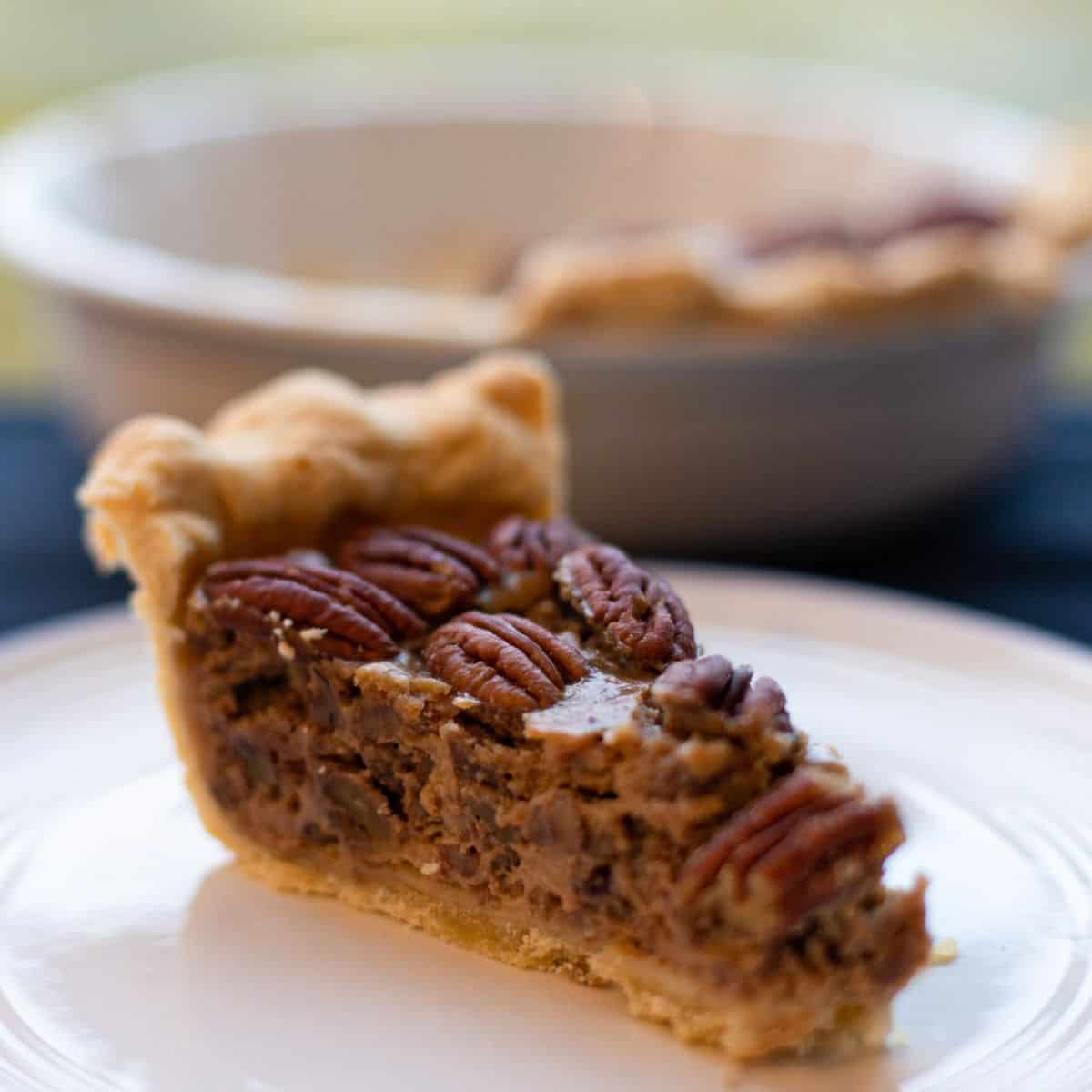 Of course, Pecan Pie is served predominantly at Thanksgiving, but with all the ingredients being available all year round, there's no reason to wait until November for a slice of this deliciously nutty vegan pecan pie! It is an unstated fact that a pie has to have a certain amount of care lavished on it, and a homemade pie always tastes special. Like it was made with love.
This was inspired by my creamy vegan pumpkin recipe and pairs well with any of the recipes on my vegan thanksgiving ideas post.
I am mostly despondent in the week at my lack of time for a couple of reasons. Notably, I do not have the financial luxury of staying at home all day to hone my cookery skills, which leads to my second reason: I am unable to hone my cookery skills due to lack of time. However, I do find that pies are fairly quick to turn out, (although my pastry can be hit or miss if I rush it – either too short or too tough), are filling and nearly always offer leftovers. A pie is a good way of making a little go a long way.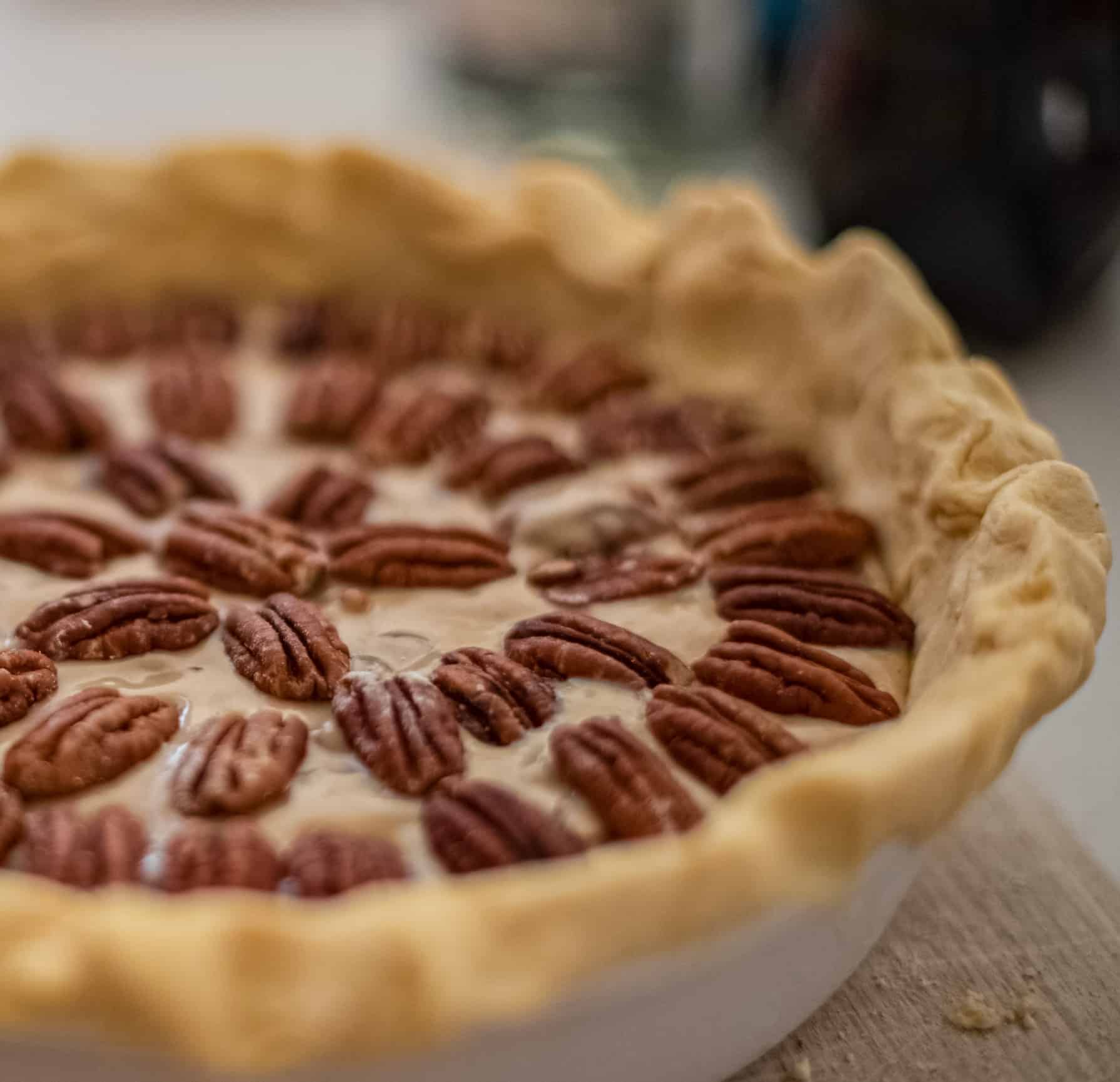 I have been thinking about writing about pies for a while, and you can see from previous writings, that I have made the odd pie here and there. Whether you call it a flan, a tart, a pie, a pasty, a pudding, a tourte or a parcel, the one thing that all of these wholesome delicacies have in common is a pastry jacket. Filo, puff, flaky, shortcrust, butter.
In the past, pecan pies have failed me (or maybe I failed them) miserably. This was pre-vegan days, when they were filled with eggs. I have no idea why they never worked out, but the filling always remained liquidous, and so, I had a delicious but runny filling. This put me off making pecan pie for years.
But, since I have been working like an industrious blogging bee recently, testing and tasting vegan thanksgiving and Christmas recipes, I felt the pecan pie deserved a second (I mean, third) go. And this time, dear reader, it worked! Who would have thought that a vegan pecan pie would be easier and more successful to make than a regular eggy one! My egg-free pecan pie triumphs, finally!
How could I have resisted that tender bite of the pecans, so much more subtle than earthy walnuts, the sweet caramel flavor of the brown sugar, and crisp shortcrust pastry. Sigh. I added a little lemon zest too, just to smarten up the sweet flavors. Lemon is almost like a third seasoning to salt and pepper, I think.
Ingredients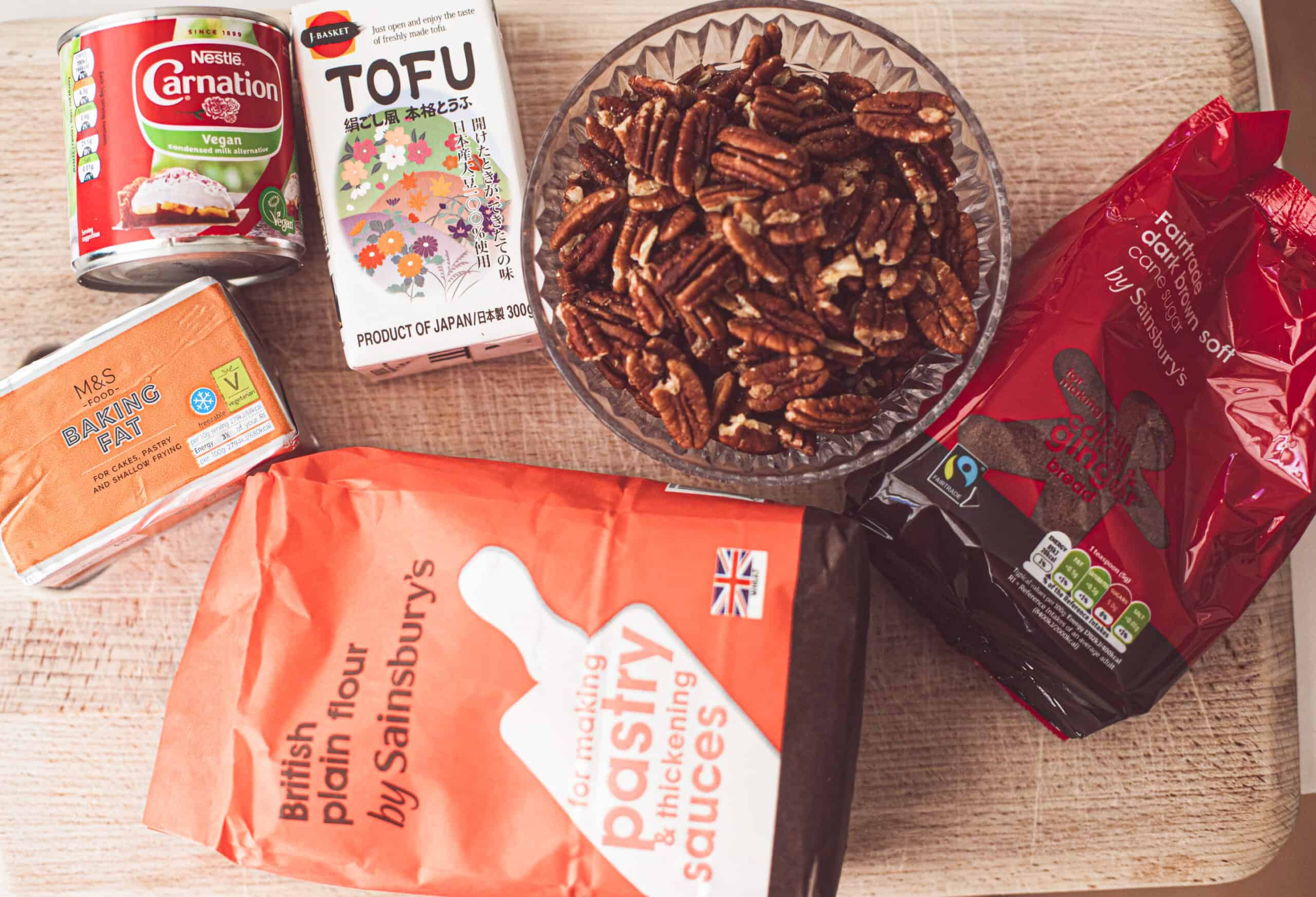 Pecans. Of course! Buy the halves, because you will need some for decorating the top, and then you can chop the rest.
vegan condensed milk. I use Carnation brand, but there are other brands out there, including a coconut condensed milk. You could also make your own, here's a great recipe for a vegan condensed milk from Karisa's Vegan Kitchen.
soft brown sugar. This adds a rich, caramel flavor to the pie
tofu. This is the egg replacer. It works because it sets up almost identically to egg during baking.
See recipe card for quantities.
Instructions
Prepare your pastry and line your pie tin, chill whilst you prep the filling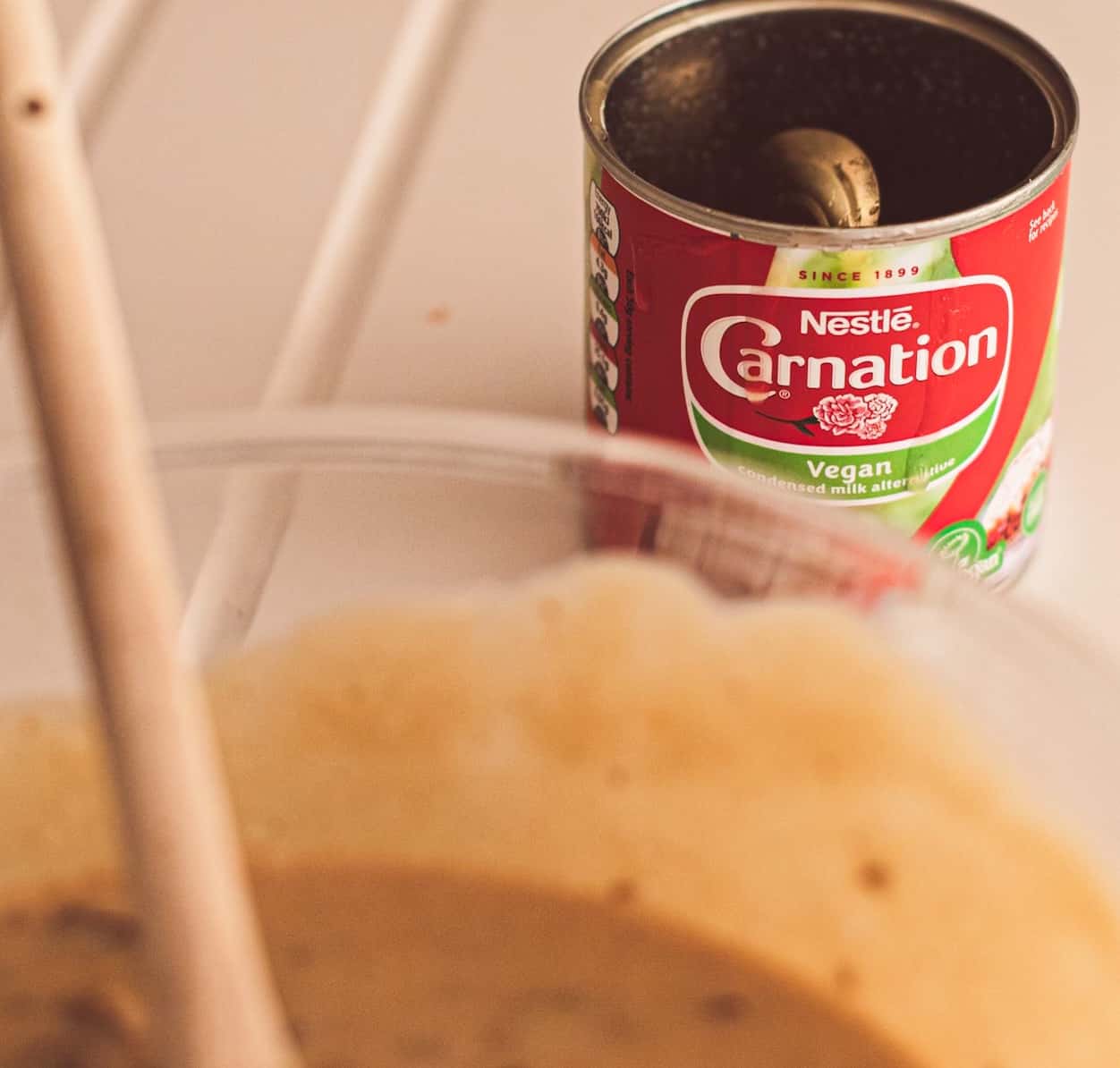 In a blender, add the brown sugar, drained silken sofu, condensed milk, melted butter, vanilla extract and blend until smooth
Putting aside half a cup of the best halves, chop the rest of the pecans, then pour the blended mixture over the top, mixing well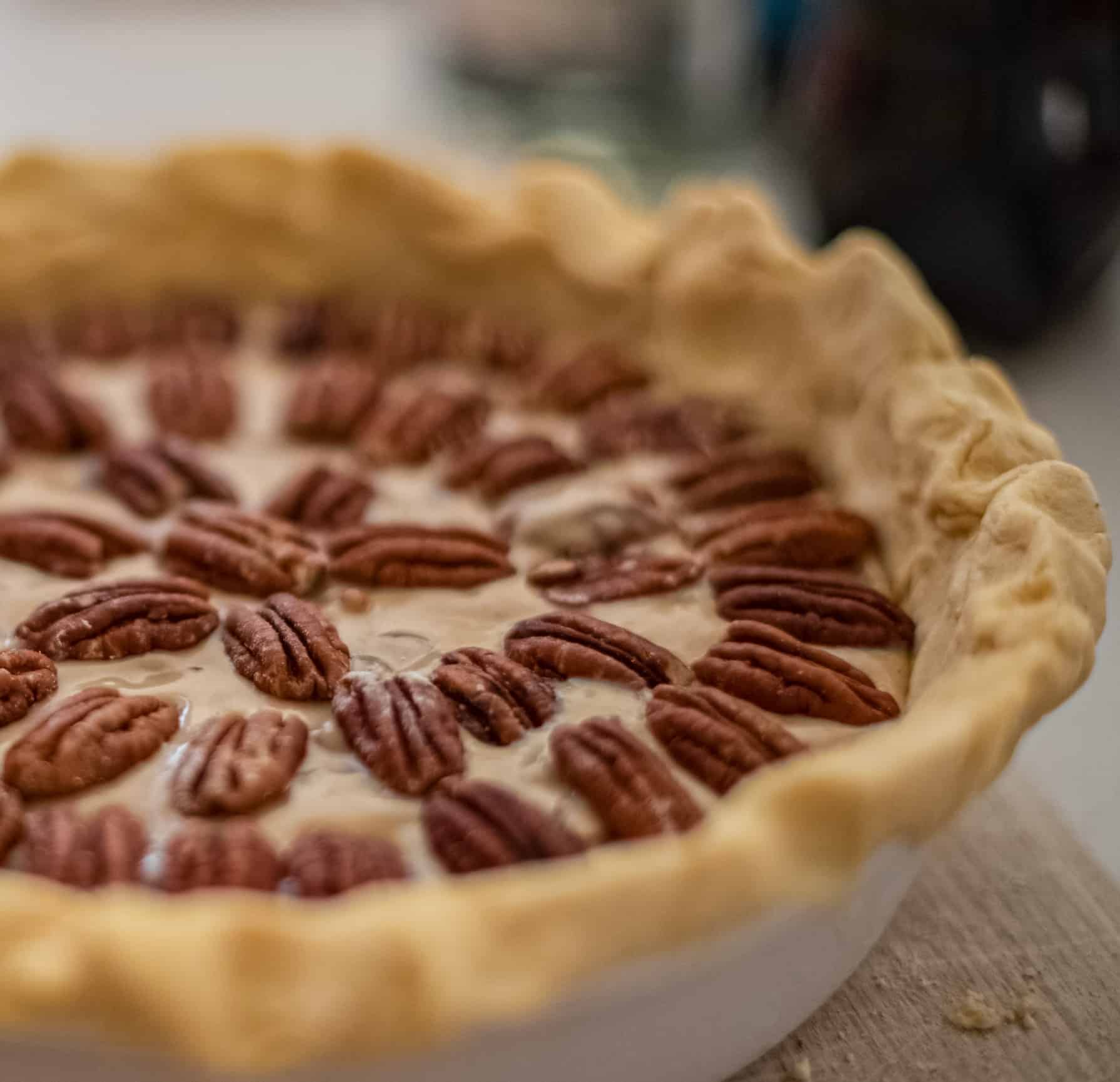 Pour this mixture into your prepared pie crust and bake for 45 minutes
Hint: to save a little time, make the pastry case the day (or two!) beforehand, gently covering it with some foil and chilling until you are ready to make.
Substitutions
Pecans – you can use walnuts, or a mixture of different nuts to make for a really fun textured nutty pie!
Pastry – use gluten free flour to make this gluten free
Brown sugar – use coconut sugar instead, to slightly reduce the sugar in this pie
Variations
Deluxe – serve with a scoop of whipped vegan cream or vanilla ice cream
Kid friendly – melt a couple of squares of melted chocolate and add this to the blended mixture before pouring over the nuts
Storage
My vegan pecan pie will last for up to 4 days in the fridge once baked. Keep covered in foil or clingfilm.
You can freeze your baked pecan pie. Let cool completely then double wrap in clingfilm. Thaw at room temperature before reheating in an oven for about 15 minutes at 170c.
Top tip
Try making mini pecan pies using a muffin tin lined with circles of pastry. Decorate with pastry leaves for a really festive finish
Vegan Pecan Pie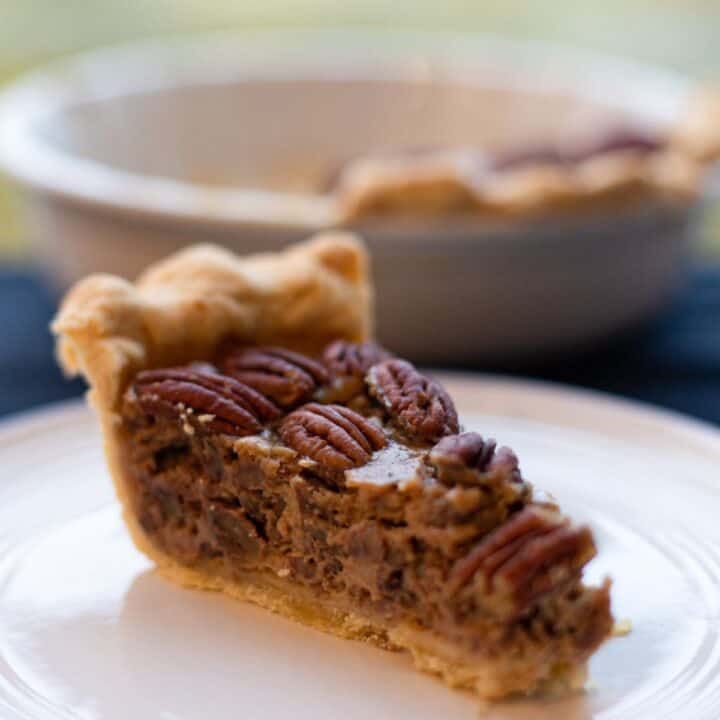 The classic thanksgiving pie, veganised. You won't be able to resist a second slice!
Ingredients
1

Shortcrust pastry

from my recipe here

14

oz

condensed milk

vegan

300

g

silken tofu

drained

2½

cups

pecans

halves

1

tsp

vanilla extract

⅓

cup

brown sugar

soft

¼

cup

butter

vegan, melted

sea salt

pinch

1

tbsp

cornstarch

1

lemon

zest only
Instructions
Make pie crust
Firstly, make your pastry in accordance with my recipe here or use your own favorite recipe. Chill the pastry whilst you prepare your pie filling.
Pecan Pie filling
Pick out about half a cup of the best shaped pecans and set these aside. They will be used to decorate your pecan pie.

Roughly chop the rest of the pecans and place in a medium sized mixing bowl.

In a blender or high-powered smoothie maker, whizz together the tofu, condensed milk, melted butter, brown sugar, vanilla extract and cornstarch until smooth.

Pour this mixture over the chopped pecans, then add the lemon zest and sea salt and gently mix until the nuts are thoroughly coated. Set to one side whilst you roll out your pastry.

Preheat your oven to 170c.

Roll out your pastry crust and line your 9" pie dish.

Pour the pecan mixture into your pie dish.

Decorate with the reserved pecans, then place in your preheated oven for 30 minutes.

After 30 minutes, check to see if the pie crust is browning too quickly. If so, cover with a little foil, then bake for another 15 minutes. If it's not browning, don't worry about covering!

After 45 minutes, the filling should feel firm to the touch.

Remove from the oven, leave to cool at room temperature then chill for at least 4 hours before serving.
Nutrition Facts
Vegan Pecan Pie
Amount per Serving
% Daily Value*
* Percent Daily Values are based on a 2000 calorie diet.
Food safety
Cook to a minimum temperature of 165 °F (74 °C)
Do not use the same utensils on cooked food, that previously touched raw meat
Wash hands after touching raw meat
Don't leave food sitting out at room temperature for extended periods
Never leave cooking food unattended
Use oils with high smoking point to avoid harmful compounds
Always have good ventilation when using a gas stove
See more guidelines at USDA.gov.