Easy Vegan Bulgur Wheat and Roast Vegetable Recipe
Bulgur Wheat with Roast Vegetables. After all that exciting baking and curious combinations, I thought I would cook us something that uses up those inscrutable veggie scraps from the fridge, some crumbled vegan Feta from a half opened pack and some dregs of Bulgur Wheat.
Yes, it's another one of those 'End Of the Month' dishes that I seem to spend more time cooking than anything else!
Actually, in spite of the ingredients perhaps being a little past their Use By Date, this dish was delicious and exactly what I was craving. Furthermore, it was low fat to boot!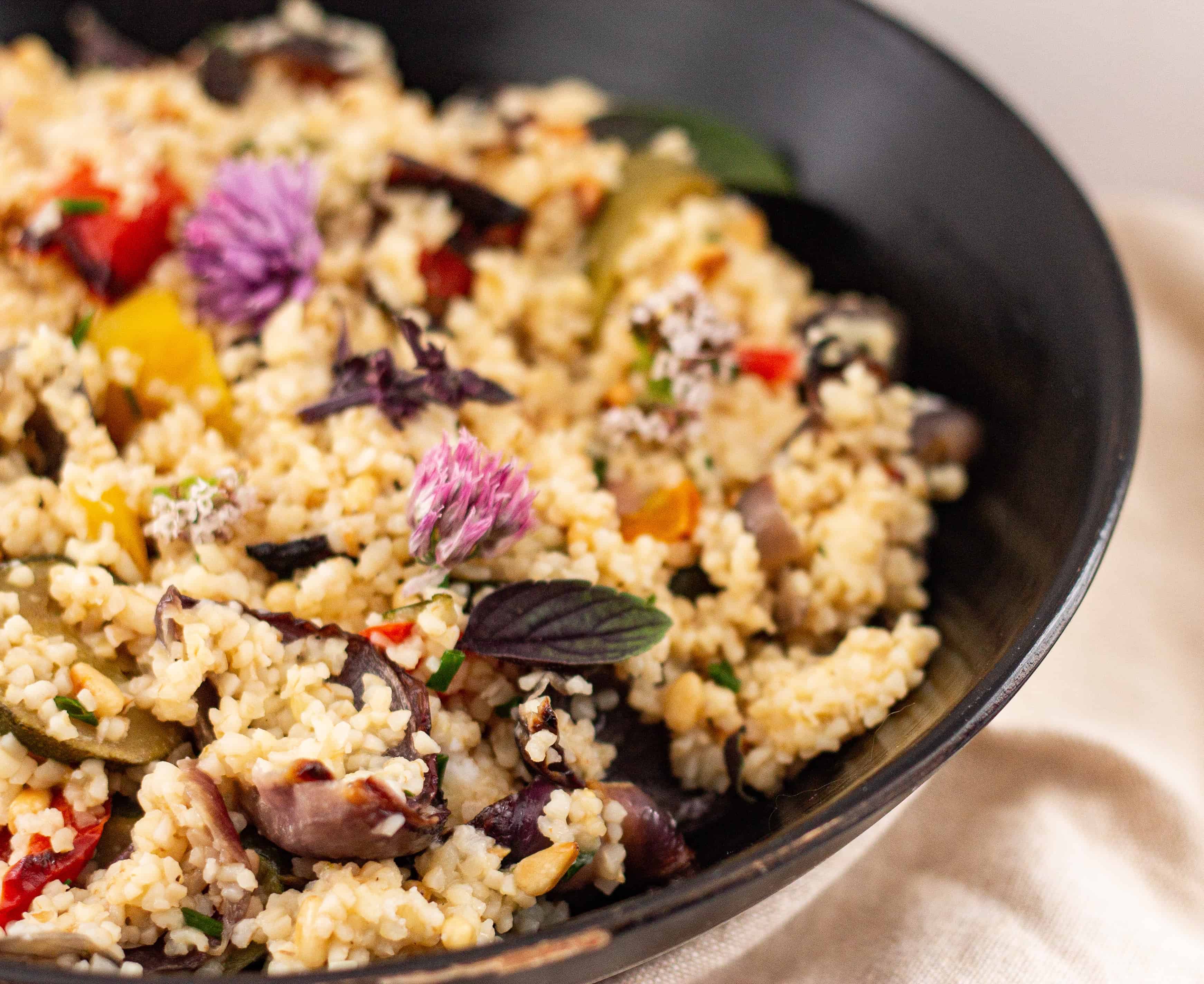 The beauty of this kind of dish is that it looks stunningly colourful, like you've spent hours slaving over it and all the ingredients are fairly interchangeable. Don't have any Bulgur Wheat? Then use Cous Cous. Don't like Feta? So, use your favourite vegan cheese or no cheese at all. Suffice to say, the vegetables that languish in your fridge also dictate what you put in the dish.
And if you needed further encouragement, this is also really, really quick and simple to prepare.
To give my dish a slightly Middle Eastern flavour, I used Seasoned Pioneers Saudi Kabsa Spice Mix on the vegetables when I roasted them. Kabsa is a spicy blend of Cayenne Pepper, Cardamom, Coriander, Clove and Cumin, amongst many other fragrant ingredients. And of course, you can use your own favourite spice mix (Cajun is another favourite) or just plain old salt and pepper.
What is Bulgur Wheat?
Bulgur Wheat is an ancient cereal, made from the cracked groats of several types of wheat, often durum. The groats are already parboiled which makes the preparation of Bulgur Wheat quick. It is a popular ingredient in Middle Eastern cookery, and has a light, nutty flavour. I prefer it to Cous Cous which I find has a "wetter" texture and less flavour. Bulgur is firmer and has a better flavour.
How Do You Prepare Bulgur Wheat?
My Bulgur Wheat recipe is so simple and quick. I don't boil it, or put it in a pan.
Pour the Bulgur Wheat into a heatproof mixing bowl
Sprinkle over a stock cube or stock powder
Pour enough boiling water over to just cover.
Cover with clingfilm and leave for at least 15 minutes.
In this time, the Bulgur Wheat will have absorbed all the water. Stir it to fluff up all the grains, and it's ready to use!
Because this dish without a name is effectively a warm salad, it needed a dressing, which is where the roasting juices come into their own. If you have used a spice mix when roasting your vegetables, pour the naturally flavoursome juices over the final dish before serving – it improves the flavour 100%.
If you have some flaccid vegetables that need using up before they walk out of the fridge and start a riot of their own, here's how to prepare this dish.
Try my other delicious vegan supper dishes
Roast Vegetable and Bulgur Wheat with Vegan Greek Cheese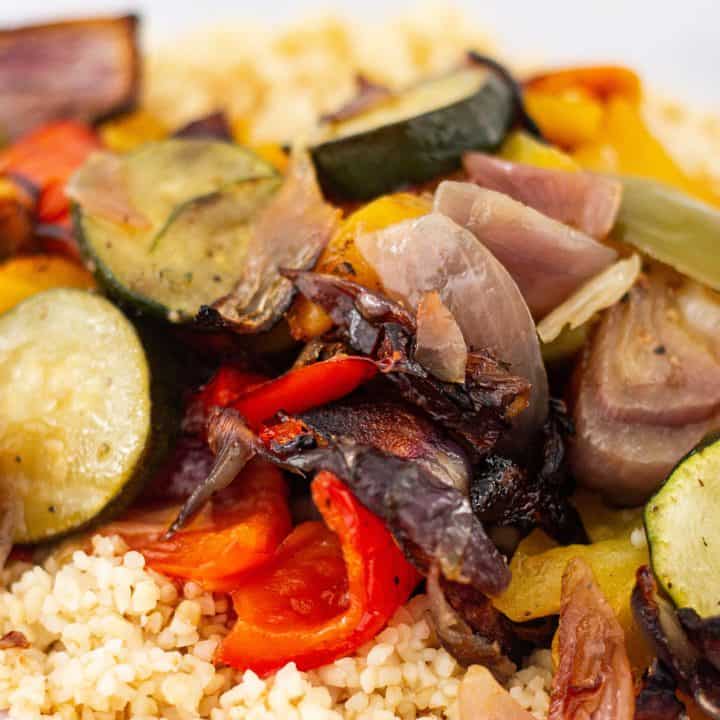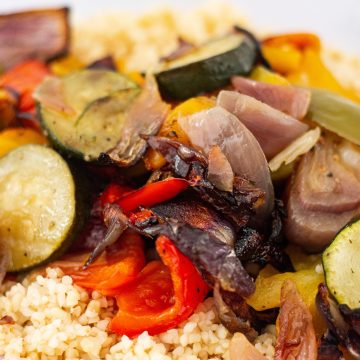 A simple and delicious supper dish that will give you leftovers for lunch the next day!
Ingredients
250

g

Bulgur Wheat

or cous cous

400

g

Assorted Veg for roasting (onion, tomatoes, courgette, peppers)

I like to buy supermarket ready prepped trays

2

tbsp

Olive Oil

2

tbsp

Spice Mix (I like Cajun)

Salt and Pepper

1

Vegetable Stock Cube

(or 1 tbsp stock powder)

100

g

Vegan Greek Cheese

2

tbsp

Pine Nuts

toasted

1

bunch

Spring Onions

chopped (or fresh chives)

1

lemon

juice
Instructions
In a large roasting tin, pour the olive oil and mix with a couple of tablespoons of your spice mix. Place in the hot oven whilst you chop the vegetables.

Toss the vegetables into the hot, spicy oil, season with a little salt and pepper (if you feel your mix isn't that salty) and roast until tender. This can take between 30-40 minutes, depending on the vegetables used.

Whilst the veg is roasting, prepare the Bulgur Wheat. I add the bulgar to a large bowl, crumble over the stock cube and just cover with boiling water, then clingfilm.

Once the Bulgur or Cous Cous is fluffed and has absorbed all the stock, tip then deliciously roasted and slightly charred in places vegetables over the top and toss gently with a fork.

Pour the juices from the roasting pan over the bulgur, then crumble over the feta. Give a final, all amalgamating forking, sprinkle over some chopped spring onions, toasted pine nuts and parsley (or herbs of your choice), give a spritz of lemon juice to brighten up all the flavours.
Nutrition Facts
Roast Vegetable and Bulgur Wheat with Vegan Greek Cheese
Amount per Serving
% Daily Value*
* Percent Daily Values are based on a 2000 calorie diet.