Easy vegan Rugelach recipe. Crisp, lightly spiced, delicately sweet, Rugelach just taste like a special occasion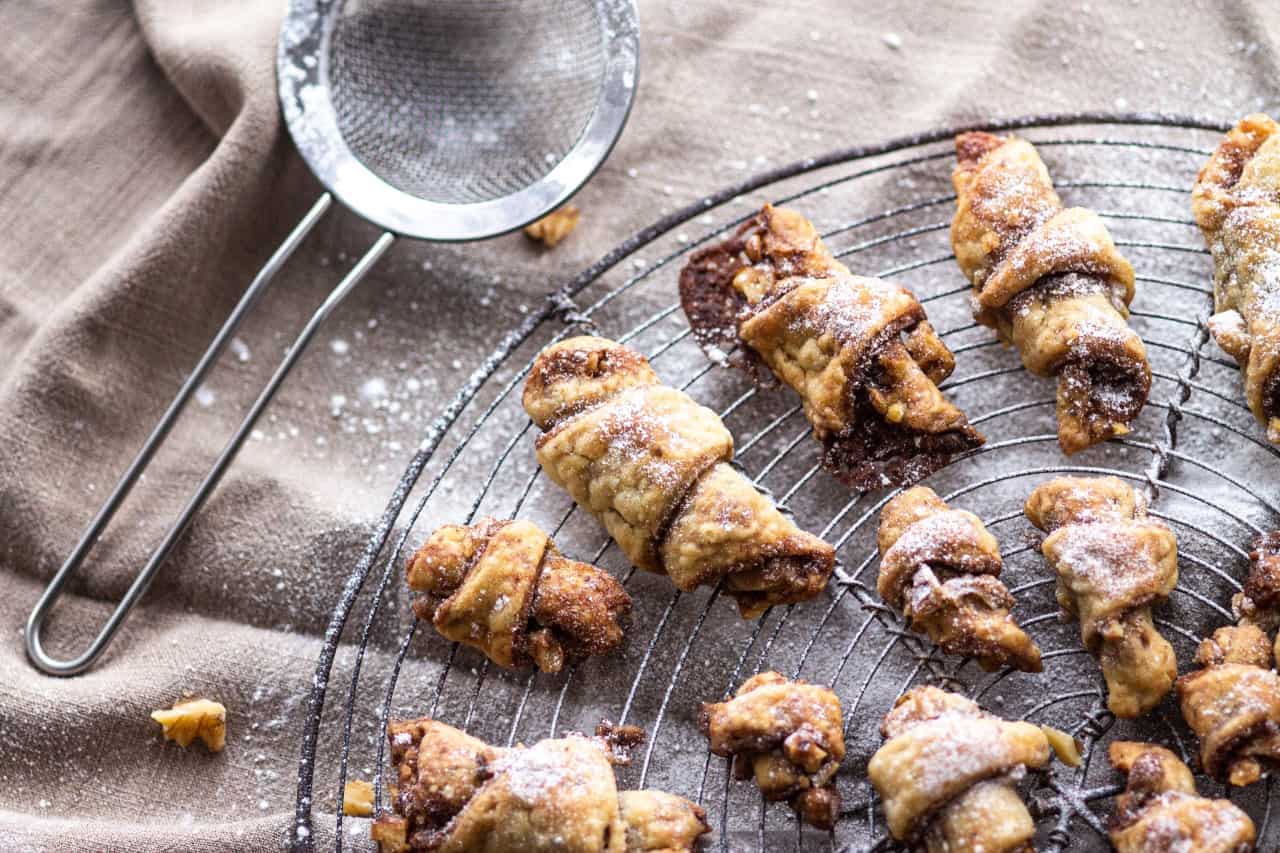 Jump to:
Love Vegan cookies? Try these too!
As many of you have probably realised by now (and I use the term "many" ironically), I love to read and write about the history of food. This does not help my readability analysis. My sentences are often long, and stream of consciousness, as I parlay my thoughts about different foodie cultures into a blog post of a sort.
This one will be no different. I am enamoured particularly by the Jewish culture of cooking, which is as deeply engrained in their heritage as the religion itself.
What is Rugleach?
Rugelach comes from Yiddish word for "Little Twists" and this is kind of the process you do to make them, although "Little Rolls" might be more correct, technically speaking. Some recipes call them Little Horns as well, and they resemble the horns that vikings might choose to signal their impending arrival.
Yona Levi has written a fantastic and witty article on the history of the Rugelach, which you can find here. But, what we all seem to agree on, is that Rugelach are indeed the Jewish Croissant. And I'm not so sure I wouldn't rather forgo the French namesake for one of these!
Rugelach are traditionally made with a dough enriched with either cream cheese or sour cream. These additions give the dough a unique flakey texture, not dissimilar to rough puff pastry. They are filled with a sugar-spiced walnut filling which is so delicious. On first bite, your mouth explodes with crumbly pastry that melts away, then the crunch of walnuts, your tastebuds tantalised by spices and sweetness.
My recipe is a riff on Maida Heatter's version, from her 1995 classic, Brand-New Book of Great Cookies. Sadly this is now out of print, but is filled with great recipes, if you can find a copy!
Some versions of Rugelach use many different fillings: jam and peanut butter, nutella, chopped dates and nuts. Make sure that your filling is not too wet, I think fresh fruit might not work very well, but any dried, sticky, nutty, spicy chopped things will be perfect!
How Do You Make Vegan Rugelach?
My simple vegan Rugelach version takes Maida Heatter's original recipe and replaces it with vegan dairy-free butter, a flaxseed egg and cream cheese. I also replaced the sugar in the filling to brown sugar, I prefer the taste.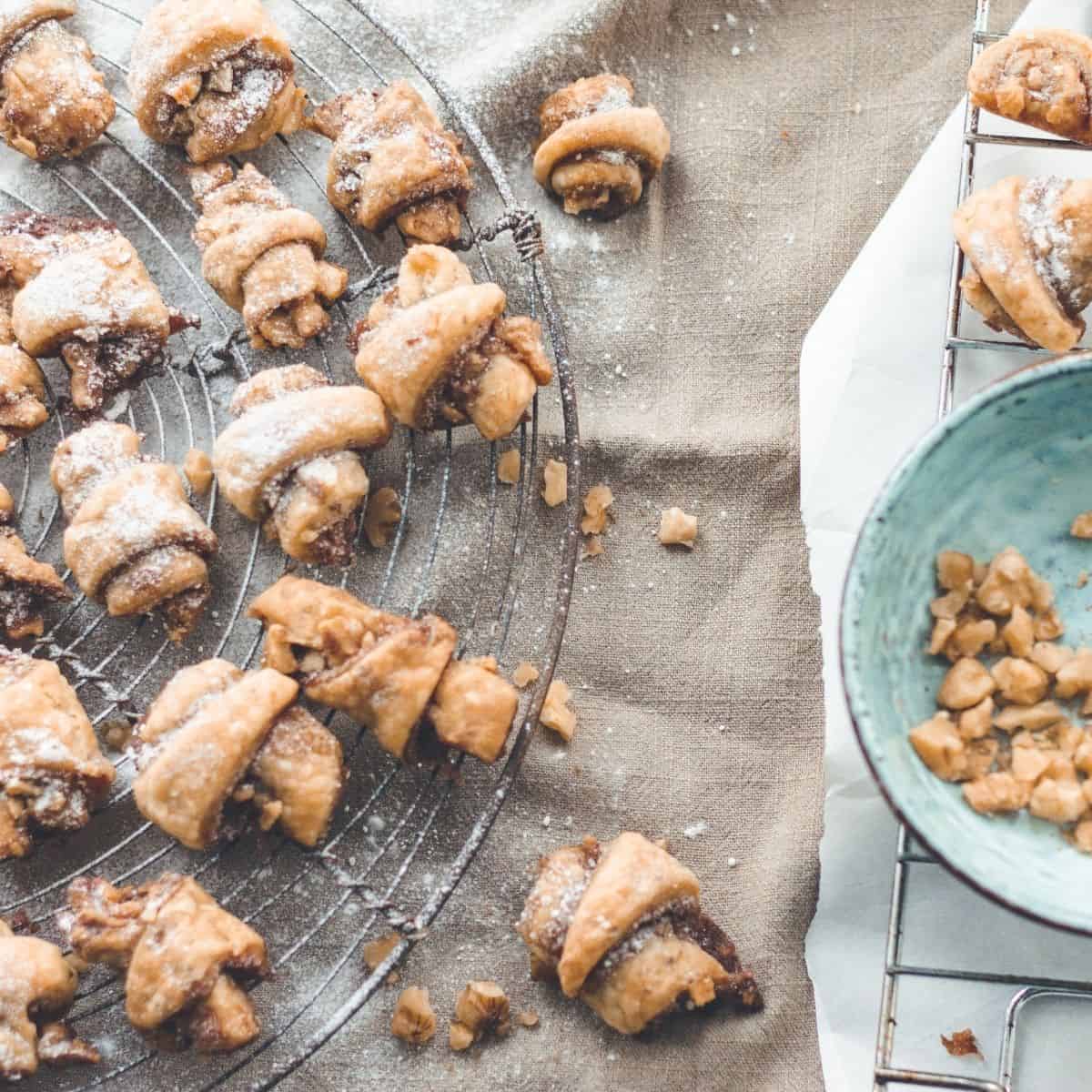 📋 Recipe
PRINT
The classic pastry veganised.
Ingredients
Pastry
1

stick (½ cup)

Vegan Butter

½

tablespoon

Flaxseed

whisked with 1 tablespoon cold water

¼

cup

Cream Cheese

vegan

¼

cup

Yogurt

or sour cream, plant based

¼

teaspoon

Salt

1

Zest of Lemon

1

cup

Flour
Filling
1

cup

Walnuts

chopped to the size of lentils

6

tablespoon

Brown Sugar

1

teaspoon

Ground Cinnamon

⅛

teaspoon

Ground Ginger

1

pinch

Grated Nutmeg

½

teaspoon

Cocoa Powder
Instructions
To Make The Dough
In a microwavable jug, heat the butter until melted.

In a large bowl, using an electric blender to mix the flaxseed egg, salt, cream cheese, sour cream/yogurt and lemon.

Beat in the melted butter.

Finally beat in the flour. The mixture will look split, put it in the fridge for 10 minutes then beat again. It will now be fine.

Roll the dough into a ball, cut into four and then roll those into balls. Flatten with the palm of your hand. Wrap in clingfilm and fridge, preferably overnight, but for at least an hour.
Make the filling
You can whisk this all up the day before. In a small bowl, whisk together all the dry ingredients.

In another bowl, add the chopped walnuts and pour the dry filling ingredients over the top. Mix well.
To make the Rugelach!
Preheat oven to 180c and prepare a couple of baking sheets by lining them with greaseproof paper.

Taking one ball of your dough at a time (leaving the others to chill), lightly flour your work surface and roll it out into a circle, about 8" dia. It doesn't matter if it isn't a perfect circle, but if you prefer it to be, just pop a plate over the top of the dough and trim around it.

Sprinkle your walnut mixture all over the dough circle, leaving about an inch in the middle empty. This is to avoid too much overspill when you come to roll them!

Using your rolling pin, roll over the filling to ensure that it has stuck to the dough.

Now carefully cut the dough into 12 using a pastry cutter, pizza cutter or a knife. You will need to be firm but steady doing this as it can tear the dough.

Now, taking one segment at a time, working from the outside, roll it up. Use a little bit of water to seal the pointy end down.

Place on your prepared baking tray. Repeat until you have rolled up all your segments.

Continue until you have used up all your dough from the fridge. You may need to do this in batches depending on the size of your oven.

Bake for about 25 minutes or until golden brown. Let cool for a couple of minutes before placing on a cooling rack.
Nutrition
Nutrition Facts
Rugelach Pastries
Amount per Serving
% Daily Value*
* Percent Daily Values are based on a 2000 calorie diet.
Nutritional Information Disclaimer
The automated nutritional information on my recipes can often be inaccurate due to the limitations within the programming. For exact measurements, there are lots of apps and websites that can calculate this information more accurately.
Tried it and Loved it?
Mention @sweeterthanoats or tag sweeterthanoats!