Inspired by a recipe by Flo Braker, my vegan spiced buns are less crumbly and more cakey than a scone, and really make a nice change. Plus they are even easier!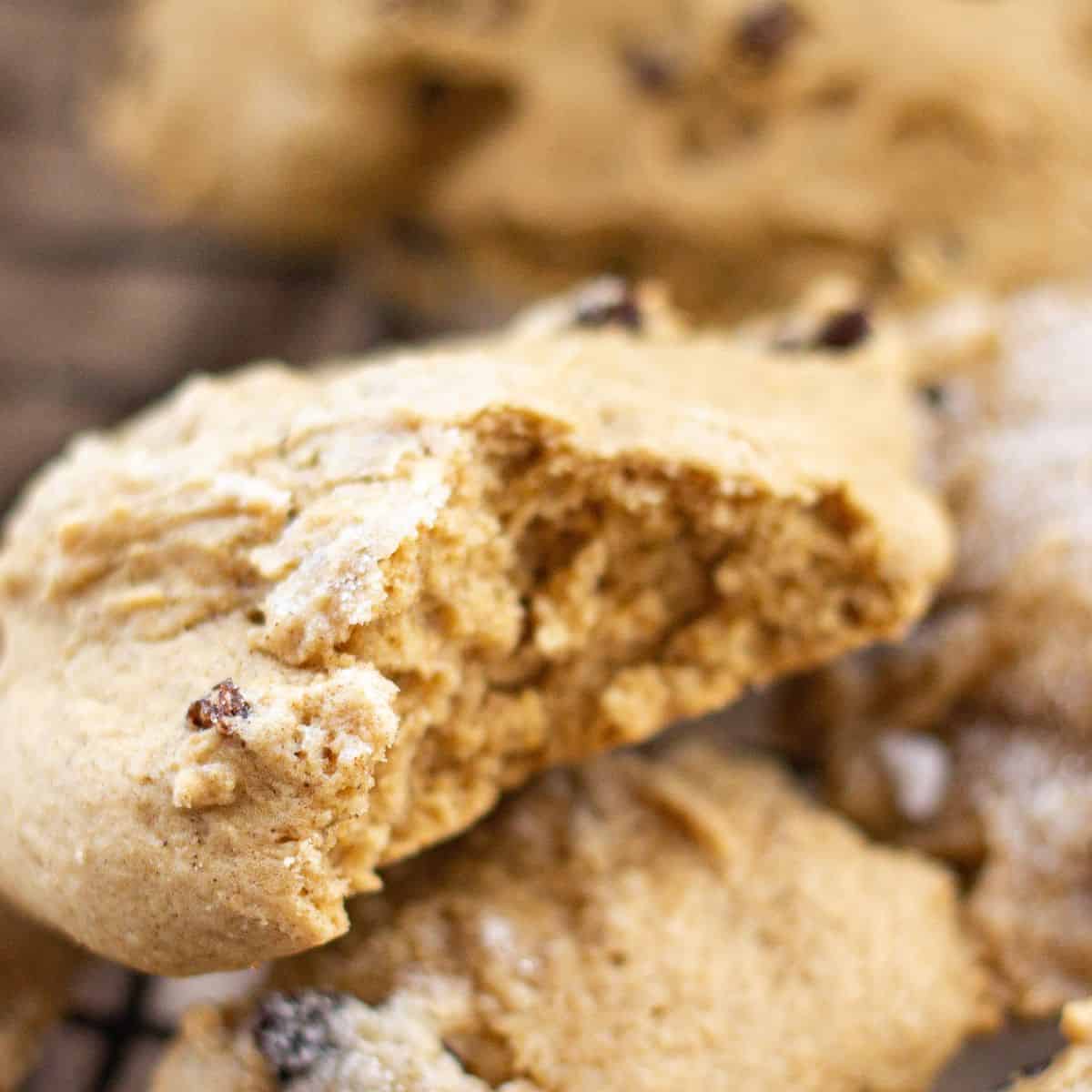 This was inspired by my vegan rock cakes recipe and my other British classic bake, the fruit scone. If you love dried fruit, I also recommend my tasty sultana loaf, eggless and dairy-free!
Jump to:
Is it a scone? Is it a rock cake? No it's a spiced bun! I recently came across this delightfully easy recipe whilst browsing my latest cookbook purchase, The San Francisco Chronicle Cookbook. Firstly, stop reading now and go and buy it. Click through my link too as I get 1p commission.
This book, some 25 years old, has some amazing recipes in it and you can pick it up for just a couple of bucks. I guarantee that anyone could find something to cook in here.
What are Vegan Spiced Buns?
But more about these spiced buns! Unlike scones or rock cakes, these don't require the fat to be "cut into" the flour mixture. This is the process that gives you a flakier, drier texture that allows you to spread butter on baked goods like scones. Nor do these buns use yeast, so they're not like a typical hot cross bun or teacake.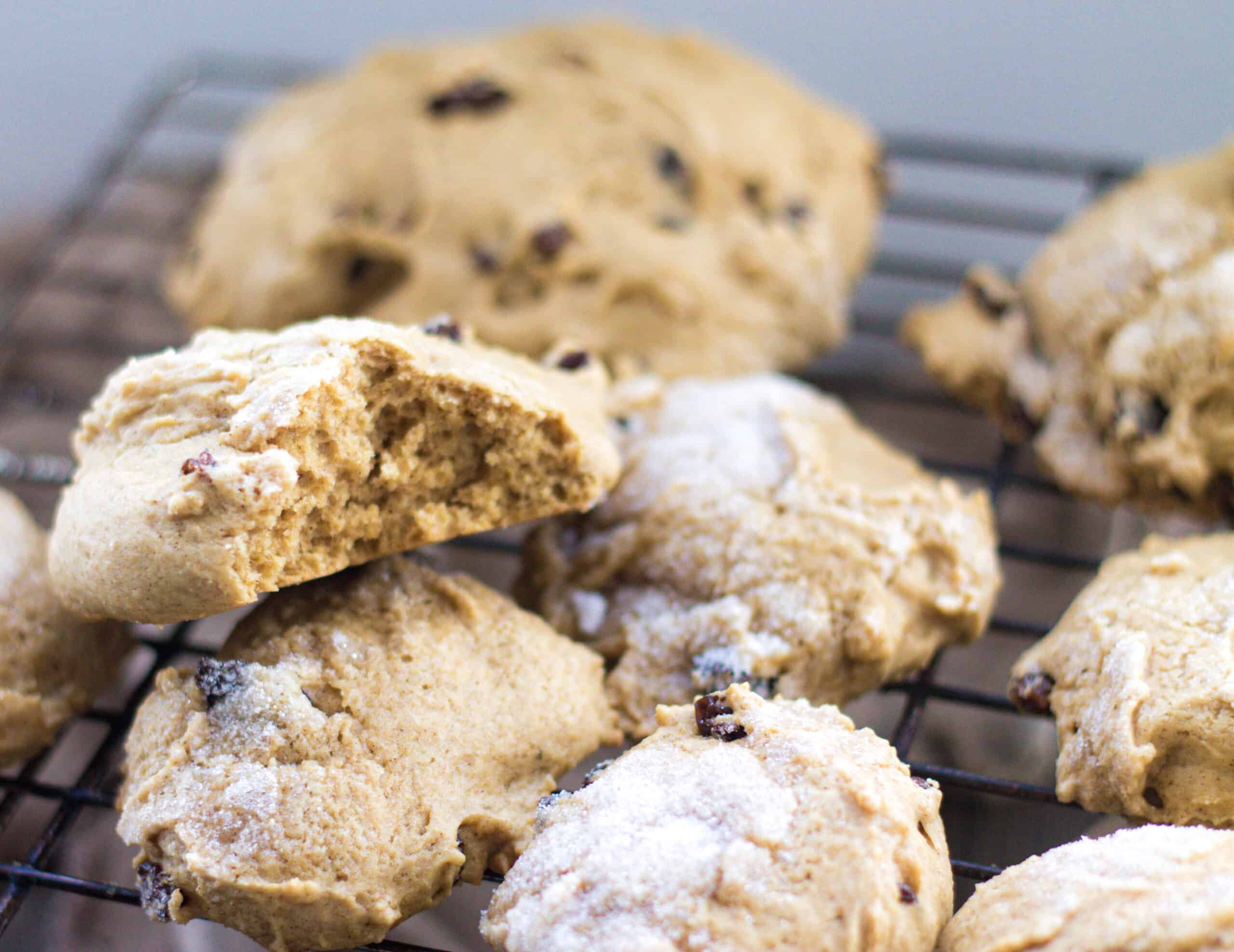 Instead, whilst they do use shortening and yogurt like scones often do, this is simply beaten into the dry ingredients until you have a droppable batter. So far, so much like a rock cake instead. That's what I thought.
However, once baked, these unassuming, and frankly unappealing looking buns have a delectable cakey interior instead. More like a muffin almost and nothing like a scone.
Once cold, you can certainly spread this with a little vegan butter and jam, but equally they are delicious cold. Not too sweet, and with a lovely spiced flavor that comes from the additions of cinnamon, ginger and cloves.
Ingredients
Flour. I used plain flour, but I think they would be nice with wholemeal too, although you may need a little extra oil
Vegetable Shortening. I use Trex because it is naturally vegan and easy to find in the stores.
Plain vegan yogurt. I use Alpro soy, but use your favorite brand of plant based yogurt.
Sultanas. You could also use raisins or currants instead.
Egg replacer. I use Bob's Red Mill or Orgran. In this recipe, I put the powder and the water in the bowl with all the other ingredients and don't worry about whisking it up first.
Spices. Cinnamon, ginger and cloves. If you strongly dislike one or more of these flavours, you can omit and replace with some vanilla extract instead. They won't be spiced buns though.
See recipe card for quantities.
Instructions
Honestly the easiest baked goods I've ever made. Just two steps.
Sieve dry ingredients into a large mixing bowl, then add shortening, yogurt and brown sugar
Using an electric whisk, blend until you have a stiff batter, then fold in the sultanas
Once you have a nice thick batter/dough, drop spoonfuls onto your oil baking sheet, Sprinkle with a little sugar, and bake on a low-ish oven (about 170c) for between 15-25 minutes. It depends on how large your buns are. You can use a smaller spoon to make dainty buns, or use an ice cream scoop to make large buns.
Once done, they will feel firm to touch and the sugar will have made a delicious crust.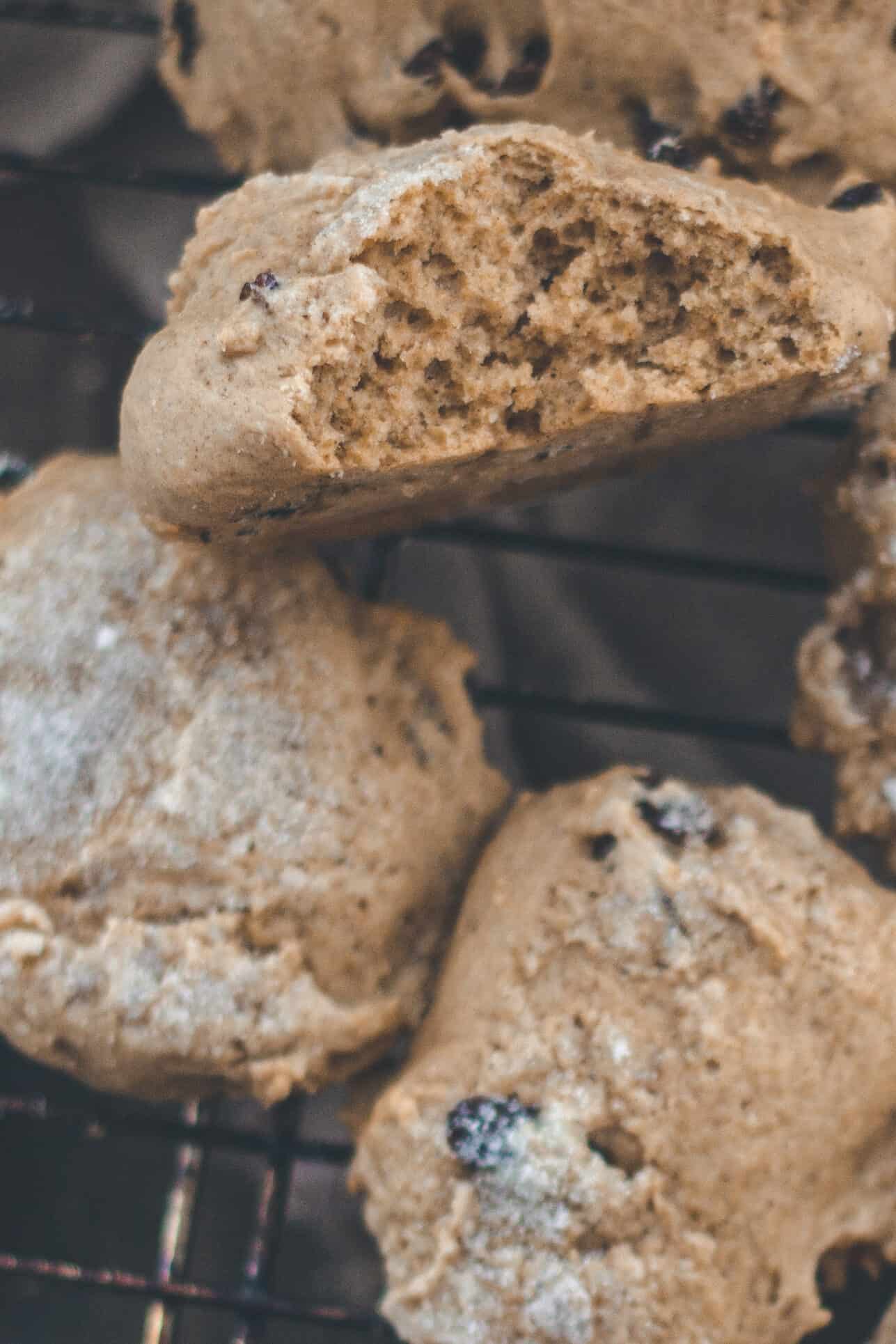 Hint: if you have a hands-free mixer, this might be easier to use as the dough/batter gets quite thick for the beaters. If not, don't panic, but do your mixing near the sink!
Substitutions
If you know how to make the recipe fit a certain diet, let the reader know here. Don't fake it - only provide guidance on topics you have actual experience with.
Sultanas - you could use dried blueberries, chopped peel, cranberries or even currants
Flour - use gluten free flour instead of white plain flour to make this gluten free
Variations
Giving the visitor ideas on how they can change this recipe to better suit their dinner guests, or their cultural cuisine, is a great way to increase the chances they make the recipe
Deluxe - add chocolate chips or a water icing drizzle. Serve with butter and jam or whipped coconut cream
Kid friendly - remove the sultanas and add chocolate chips!
Equipment
I recommend that you use a heavy baking sheet for this recipe, and I love Nordicware as they last forever
Storage
Store the cooled buns in an airtight container for up to 4 days.
I haven't tried freezing them so I can't state if they will freeze or not! My suspicion is no because they are quite cakey, and I think they might be a little mushy on thawing out.
Top tip
Make sure to lightly oil the baking sheet. Because these are quite cakey, they can stick quite easily!
FAQ
Can I make these vegan spiced buns gluten free?
Yes you can! Just use your favorite gluten free flour mix in place of the regular flour.
📋 Recipe
PRINT
Easy Vegan Spiced Fruit Buns - No Yeast
These simple little buns are perfectly spiced and are a cross between a scone or rock cake and a toasted tea cake.
Equipment
1 Baking Sheet

1 Electric Hand Whisk
Ingredients
2½

cups

Plain Flour

½

teaspoon

Baking Powder

½

teaspoon

Bicarbonate of Soda

½

teaspoon

Cinnamon

¼

teaspoon

Cloves

powdered

¼

teaspoon

Ginger

powdered

¼

cup

White Sugar

½

cup

Brown Sugar

½

cup

Shortening

I used Trex

1

tablespoon

Egg Replacer

whisked up with 3 tablespoon water

1

cup

Yogurt

vegan, plain

½

cup

Sultanas

Sugar for sprinkling
Instructions
Sift all the dry ingredients into a large bowl.

Add the egg replacer, water, brown sugar, yogurt and shortening and, using an electric hand whisk, blend well until you have a thick, sticky dough

Fold in the sultanas using a spatula

Using an ice cream scoop, drop dollops of the mixture onto a lightly oiled baking sheet. Make sure they are a couple of inches apart as they will spread during cooking.

Sprinkle the buns with a little white sugar.

Bake for between 15-25 mins, depending on the size. They will feel dry to the touch on top, and the sugar will have formed a little crust.

Once baked, place on a cooling rack and serve.
Nutrition
Nutrition Facts
Easy Vegan Spiced Fruit Buns - No Yeast
Amount per Serving
% Daily Value*
* Percent Daily Values are based on a 2000 calorie diet.
Nutritional Information Disclaimer
The automated nutritional information on my recipes can often be inaccurate due to the limitations within the programming. For exact measurements, there are lots of apps and websites that can calculate this information more accurately.
Tried it and Loved it?
Mention @sweeterthanoats or tag sweeterthanoats!