Easy and Delicious Vegan Scones
This post contains links to affiliate websites, such as Amazon, and we receive an affiliate commission for any purchases made by you using these links. We appreciate your support!
Are you searching for a delicious and easy vegan scone recipe? Look no further! I've got you covered. Follow these simple steps to whip up a batch of mouth-watering vegan scones. Get ready for a delightful treat, perfect to serve as part of a vegan cream tea, or just spread with some lovely soft butter.
If you're not English you might have read about cream teas in old fashioned books. A Victorian whimsy that involved wealthy ladies sitting around white filigree tables sipping Darjeeling Tea from Bone China teacups and eating dainty sandwiches.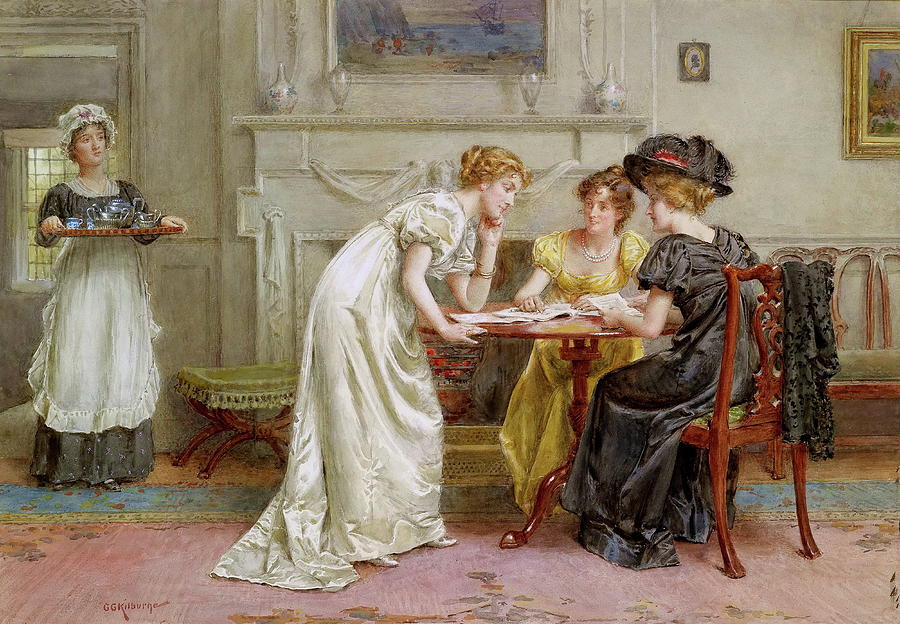 We no longer have time for afternoon tea; our modern lifestyles are so hectic that that the idea of brewing tea in a teapot is almost inconceivable. However, no matter how pushed you are for time during the week, you can always squeeze in 10 minutes on a Sunday Afternoon to make a batch of Scones, to be served with some vegan cream or butter and jam.
Scones really are one of the easiest things to make, just pour and stir, as easy as muffins and just as versatile. They are referred to as quick breads with good reason. For example, cheeze (particularly blue cheese) scones caused my reconsideration of the scone as something edible and enjoyable. Spread thickly with butter whilst hot from the oven, these crumbly textured biscuits are something special.
A sweetened scone mixture can be dropped on top of stewed fruit and baked to make a hearty fruit cobbler, and a plain scone mixture can be served Southern style with vegan sausage and gravy. My favourite way of having scones though is just spread thickly with sticky crimson strawberry jam and butter.
There is nothing to beat the taste of fresh scones. They taste best in the summertime, like ginger ale or freshly squeezed lemonade, taken outdoors and enjoyed, basking in the sunshine. Whilst this isn't always the case, we stoic Brits find our sunshine where we can, and if the sky is blue and the grass green, we'll be outside making the most of it.
This simple recipe is the perfect introduction to vegan baking, and you will be thrilled when you produce your first batch of delicious scones. Using basic ingredients, you can start experimenting with all sorts of different flavours. I have a great recipe for savory vegan cheese scones here, made by omitting the sugar, fruit and vanilla.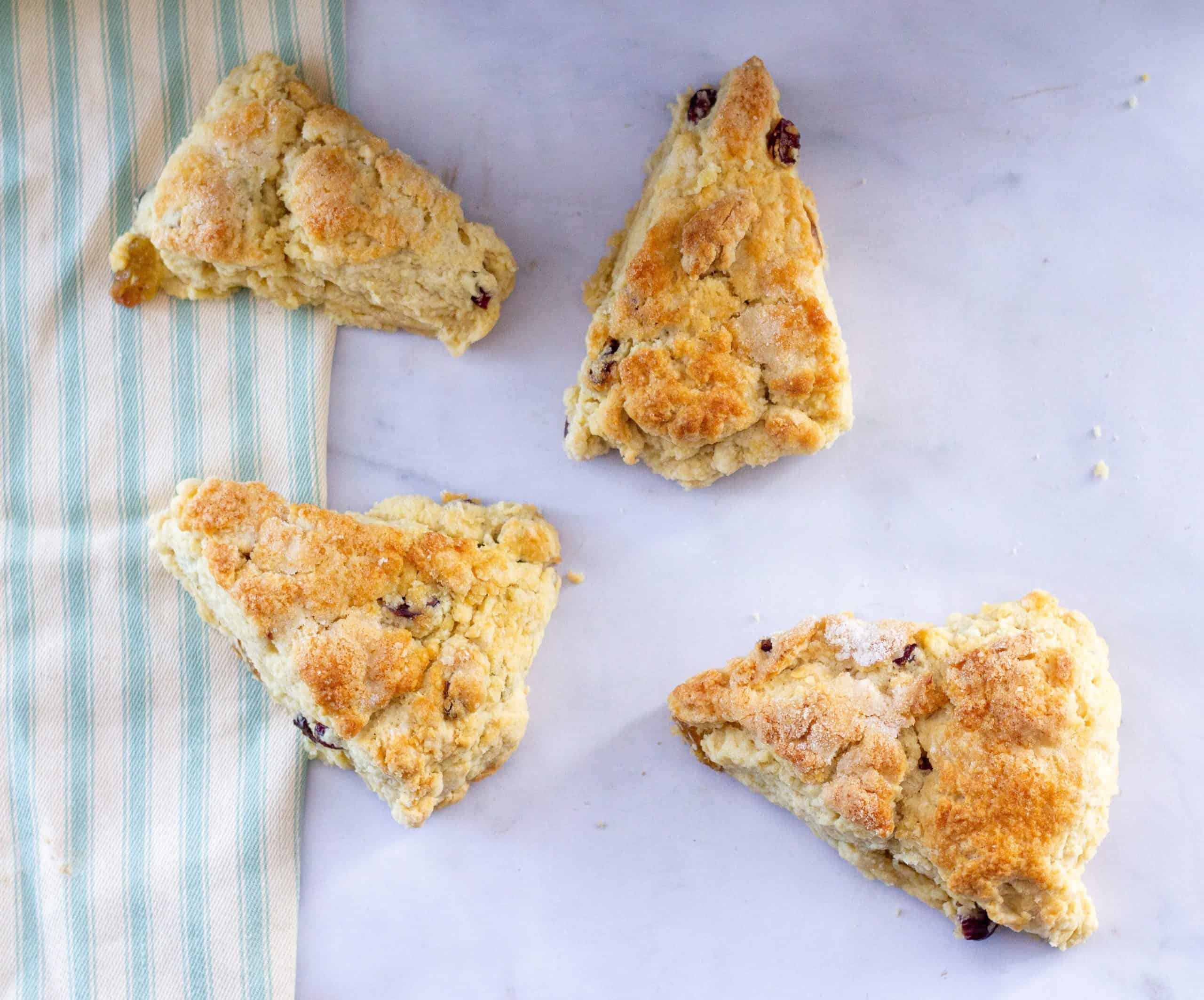 Ingredients
Plain flour (all purpose flour), or you can also use gluten free flour, although you may need to add a little more liquid. You could also use whole wheat flour too.
White sugar
Baking Powder. This is an essential ingredient and guarantees the best texture and a great rise.
Vegan Butter, very cold and cut into cubes. Use your favorite vegan butter to get delicious buttery scones.
Vegan yogurt, this is your binding agent, to replace egg. Use your favorite unsweetened brand.
Plant Based milk, I use almond.
Vanilla Extract. As always!
Raisins, currants or dried cranberries or chocolate chips. This is where you can start customising! Or omit the fruit altogether!
This is ONLY a list of ingredients for the recipe; please see recipe card below for complete printable recipe.
Substitutions
Chopped fresh fruit such as strawberries or peaches
Chopped dates
Chocolate Chips
Glace Cherries and Almond Extract to make a Bakewell Scone
Remove the sugar/vanilla and replace with vegan cheeze and some chopped herbs, chives or thyme would be delicious (or try my recipe for cheeze scones, here)
Add a cupful of fresh blueberries for vegan blueberry scones
Cranberry and Orange is an awesome combination
Add some orange or lemon zest, or make a lemon glaze
Method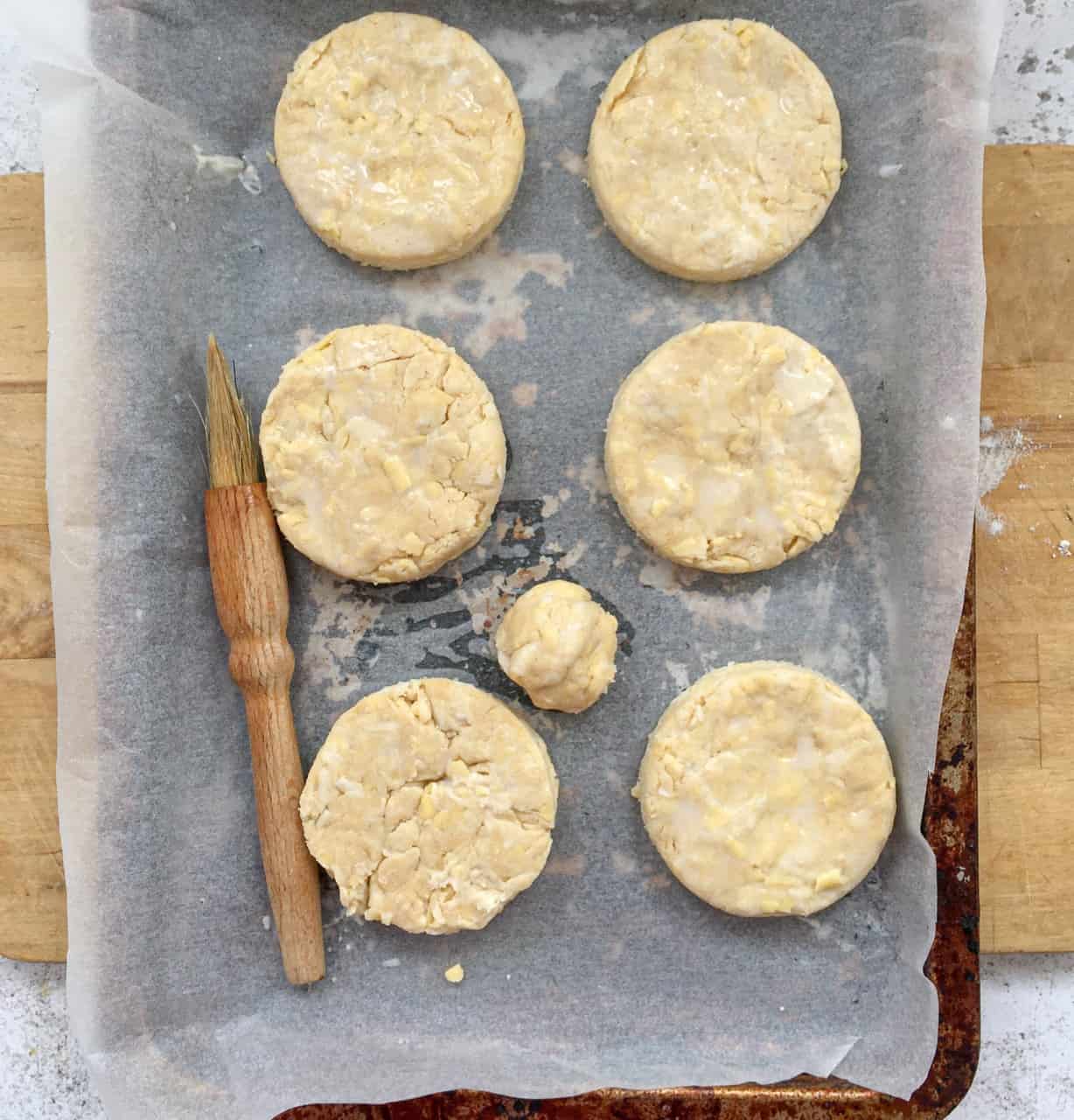 Scones are so easy to make. Remember to be light of hand when mixing the vegan block butter into the the dry ingredients, and make sure that your butter is really cold. If you follow these tips, you'll always have light, fluffy scones.
Tip: cut your butter into cubes, place in a small bowl, and refrigerate for another half an hour or so.
In a large bowl, whisk together the dry ingredients, the all purpose flour (or self-raising flour), baking powder, caster sugar and salt.
Using the tips of your fingers, gently rub the cubed, cold vegan butter into the dry mixture until you have coarse crumbs. You could also use a pastry cutter if you have warm hands!
Now stir in your dried fruit (or any of the above additions, if substituting) and lemon or orange zest.
Using a wooden spoon, mix in the non-dairy milk (I like to use soy milk, but you could use almond milk, oat milk or coconut milk), natural yogurt and vanilla extract, stirring until just combined.
Using your hands, gently bring the mixture together into a soft dough, and turn out onto a floured surface.
Flatten your scone dough until you have a round disk, about an inch thick.
Brush with a little more plant milk, and sprinkle with sugar.
Cut into 6-8 equal triangles and place on a baking tray sheet with parchment paper. These are called cut scones. You can use a cutter if you'd prefer, but this mixture is very soft, and it is easier just to cut into wedges.
Brush the tops of the scones with a little plant based milk and sprinkle with sugar (optional).
Bake for 12-15 minutes, or until golden brown.
Leave to cool for a couple of minutes before placing on a wire rack.
Once cool, store in an airtight container for upto 5 days
Can I make Gluten Free Scones?
Yes you can!
Simply replace the flour with your favourite self-raising gluten-free flour mix. You may need to add a little more or less milk to bind the dough as the mixture maybe quite crumbly.
Can I freeze vegan Scones?
Yes! You can either freeze the dough, wrapping it tightly in clingfilm and then placing in a ziplock bag, or you can freeze your baked and cooled scones. They will taste best eaten up to 6 weeks after freezing.
Try my other delicious traditional recipes
How to Make Vegan Scones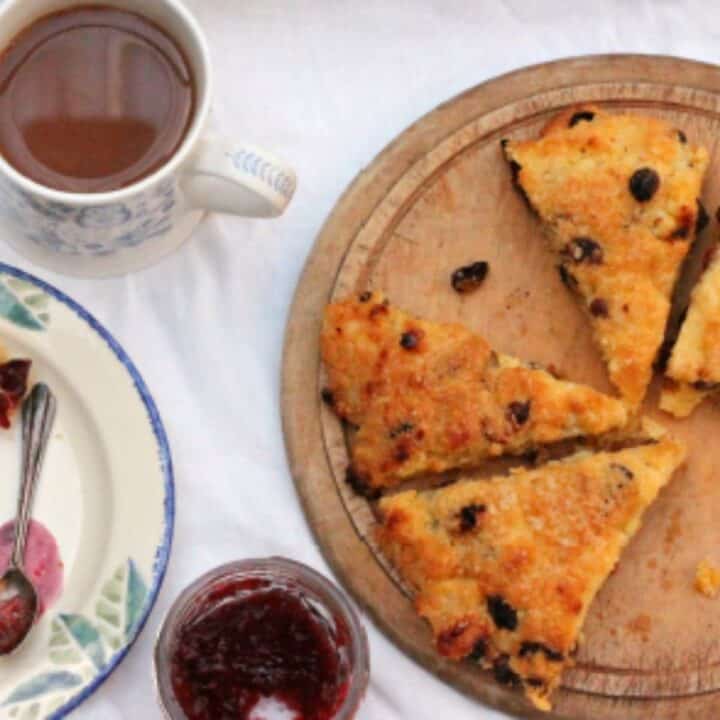 Ingredients
2½

cups

Plain Flour

-

or Gluten Free Self-Raising Flour

⅓

cup

Granulated Sugar

4

tsp

Baking Powder

½

tsp

Salt

¾

cup

Butter

-

vegan, cut into dice and chilled

1

cup

Raisins

-

or Sultanas

¼

cup

Vegan Yogurt

¼

cup

Almond Milk

-

or other vegan milk

1

tsp

Vanilla Extract

Extra milk for brushing the tops

Little sugar for sprinkling
Instructions
Whisk the flour, sugar, baking powder and salt together in a large bowl.

Using two knives or a pastry cutter, cut the margarine into the flour until sandy.

Stir in the raisins or sultanas.

Mix in the milk, yogurt and vanilla and stir until just combined.

Using your hands, gently form the mixture into a ball and place on your baking tray.

Flatten until you have an inch thick disk. Brush with milk and sprinkle with sugar.

Cut into wedges and gently separate. Bake for 12-15 minutes until golden.

Leave to cool before breaking apart to eat!
Please note that where the recipe asks for milk, butter or yogurt, this refers to any plant-based version that you prefer.
Nutrition Facts
How to Make Vegan Scones
Amount per Serving
% Daily Value*
* Percent Daily Values are based on a 2000 calorie diet.