Vegan corn ribs recipe. I first encountered vegan corn ribs on - where else? - Instagram, where I saw lots of this delicious looking corn strips. I didn't know they were called Corn Ribs at the time, and it wasn't until we visited Wahaca in London that I finally got the try them. And read on to see how I make them at home!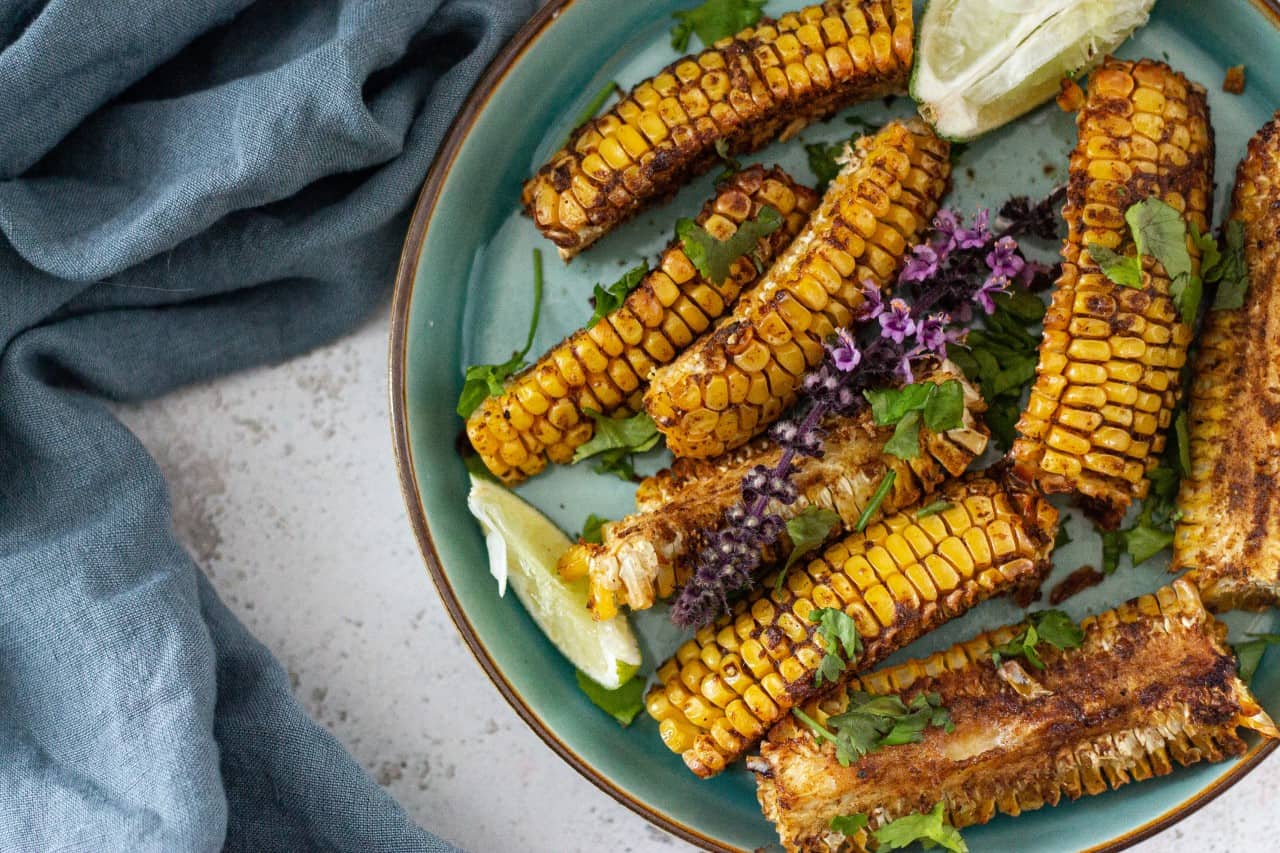 I love to serve these for game-night alongside my vegan chickpea-tuna mayo dip and cauliflower buffalo wings!
Jump to:
What Are Vegan Corn Ribs?
Prepared to be be cooked and eaten in much the same way as a meat ribs, Corn Ribs are whole heads of corn cut lengthwise into quarters, seasoned and then roasted in the oven. They are then picked up and gnawed on like a regular rib.
How to You Make Vegan Corn Ribs?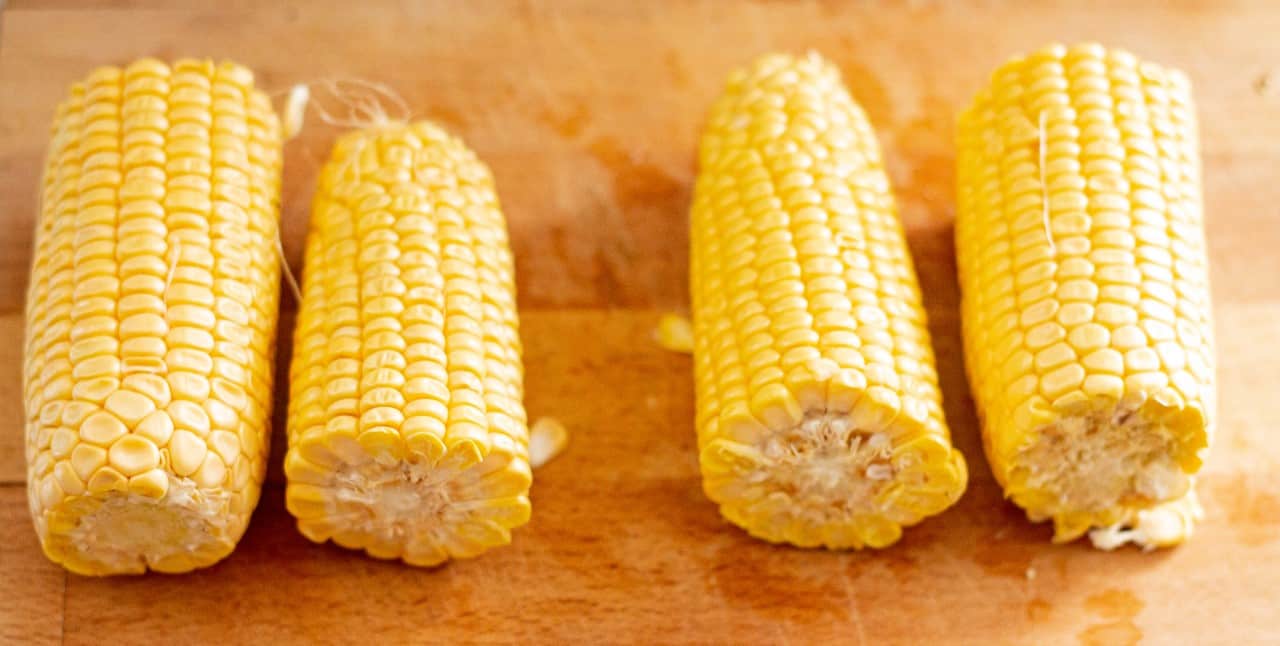 They are relatively quick to prepare, however, the cutting of the heads of corn can be quite tough so take care to do this.
I highly recommend using a very sharp knife and cutting the top and bottom off the corn to ensure a flat surface both ends. This will both stabilise the corn head as you slice through, and make it easier to cut into quarters.
Once you have cut the corn into riblets, the rest of the process is super fast. Simply mix up your spice mix and coat your ribs, then bake until the corn is tender.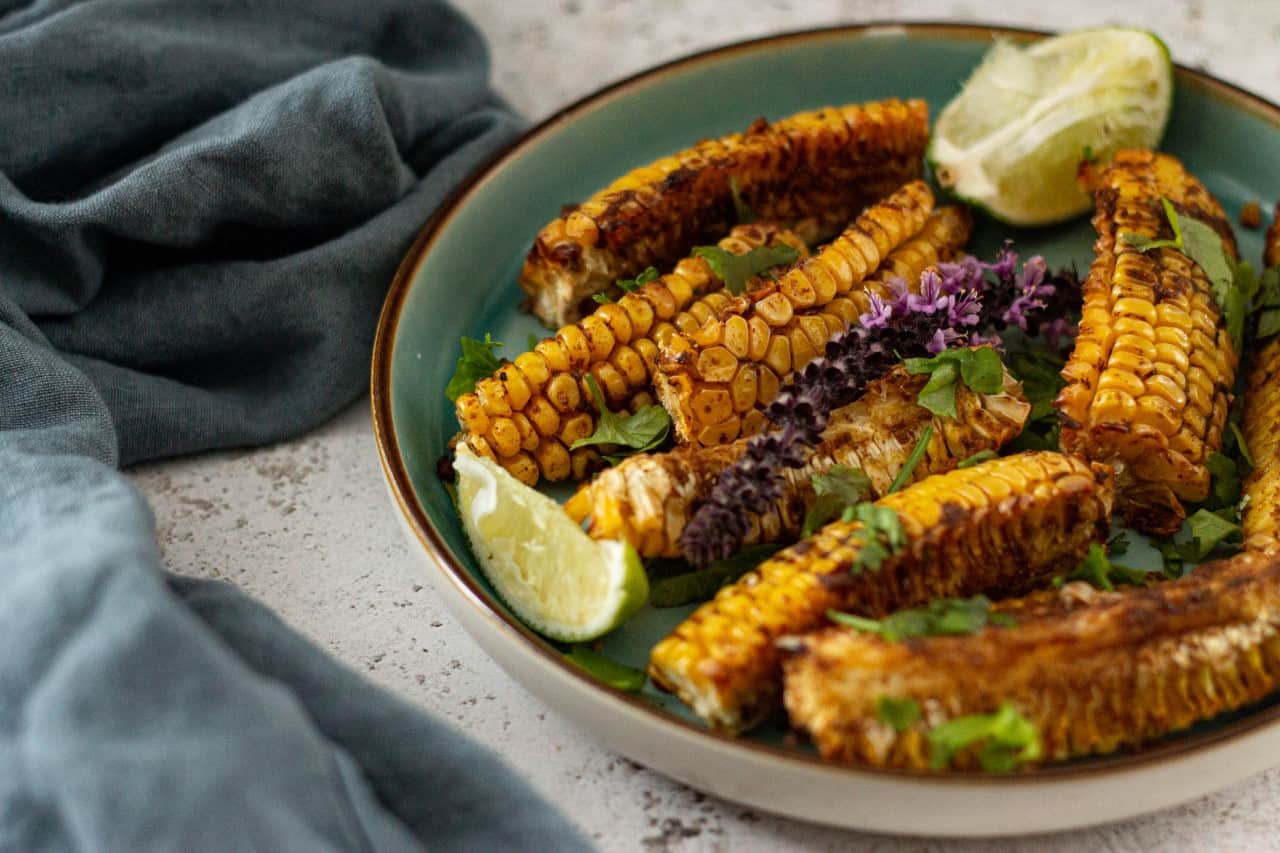 Aside from cutting the corn, I think this is a really great dish for a BBQ or a small get-together. You can easily grill them on the BBQ instead of baking in the oven, and I think that's probably the best way of all to make them!
What's great about Vegan Corn Ribs is that they are low fat and can be enjoyed by everyone, not just your vegan friends!
Ingredients
Corn on the cob
Olive Oil or Vegan Butter
Seasonings
Fresh Coriander
(This is ONLY a list of ingredients for the recipe; please see recipe card below for complete printable recipe. Or if you use the JUMP TO RECIPE at the top of the page, it will take you directly to the complete recipe.)
What Spice Mixes Can I Use?
You can use your favourite spice rub if you'd prefer, or you might like to just use a little salt and oil if you don't like strong flavours to overpower your corn. This is a really flexible recipe, so you what you love!
Try my other delicious vegan dishes
📋 Recipe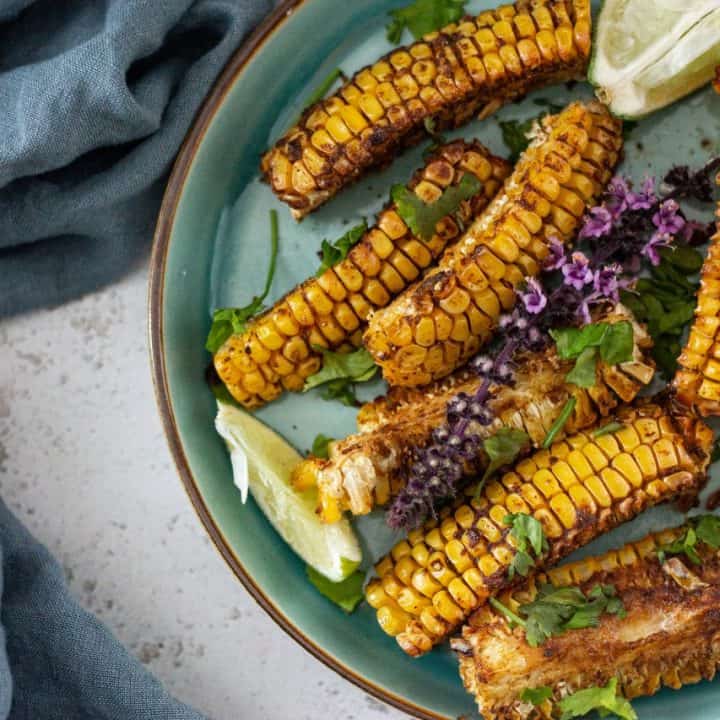 PRINT
An easy method for making vegan corn ribs
Ingredients
2

heads of Corn

dehusked and de-haired

2

tablespoon

Olive Oil

or vegan Butter

1

teaspoon

Chilli Powder

¼

teaspoon

Garlic Salt

½

teaspoon

Ground Ginger

½

teaspoon

Ground Cinnamon

½

teaspoon

Ground Coriander

1

teaspoon

Sea Salt

1

tablespoon

Maple Syrup

1

tablespoon

chopped fresh Coriander (optional) for sprinkling
Instructions
Carefully cut the cut into riblets as described above.

Cut the top and bottom off the heads of corn.

Stand upright on a chopping board and using a sharp knife, slice down the middle. Then slice longwise again to give yourself four long quarters.

Finally, cut these long quarters in half.

Arrange your cut riblets on a baking tray lined with greaseproof paper.

In a small bowl, whisk together the oil with the spices and maple syrup. If you'd rather use butter, you might find a fork is easier to mix.

Using a pastry brush, paint the riblets with your spice mix until completely coated on both sides.

Making sure the ribs are all niblet side up, roast for about 25-30 minutes until toasty and cooked.

Serve as an appetizer or as a side dish.
Nutrition
Nutrition Facts
Vegan Corn Ribs
Amount per Serving
% Daily Value*
* Percent Daily Values are based on a 2000 calorie diet.
Nutritional Information Disclaimer
The automated nutritional information on my recipes can often be inaccurate due to the limitations within the programming. For exact measurements, there are lots of apps and websites that can calculate this information more accurately.
Tried it and Loved it?
Mention @sweeterthanoats or tag sweeterthanoats!