Vegan Zucchini Corn Fritter - a delicious Summer dish packed full of light flavors like coconut, zucchini and cilantro but egg free!
PIN my delicious Sweetcorn and Zucchini Fritters to make later
Jump to:
I really love fritters. All kinds. Savoury ones made with mashed potato and spinach. Sweet ones, like chunks of apple dipped in batter and fried. I used to love (cringe) spam fritters, in my non-vegan days. And also mushy pea fritters. I will admit to never having met a fritter that I do not like yet.
But I do have a preference, and that's a fritter not dipped and fried in batter. I find batter can make things a bit too heavy, a bit too greasy, and I can't eat as many as I would like. I admit it, I like to sit and eat a plate of fritters, and the grease holds me back from doing this.
How do you make Vegan Zucchini Corn Fritters?
So, I like to make a lighter fritter, and that means only the smallest amount of flour that I can get away with (purely for binding a sticky batter), and the best flour I have found for that purpose is chickpea flour, also known as gram flour. What makes chickpea flour so effective is that it doesn't have a "floury" taste, unlike wheat flour, or cornflour. It adds a savoury element to fritters and can be used in pancake batter too. Furthermore, my recipe for zucchini and corn fritters are not only vegan, but gluten free too! There's no egg replacer, no flax egg, used at all to bind. We love eggless fritters over here!
I first found this recipe in a wonderful little cookbook called Buddhist Peace Recipes, by Indian academic and food critic, Pushpesh Pant, and I was immediately taken by the elegant, gentle flavours. These easy vegan corn fritters do taste very sophisticated.
The recipe uses few ingredients, but it uses them well. The courgette/zucchini is lightly sauteed with onion and garlic and dried coriander, and then this heady mixture is stirred into coconut, ground almonds, and fresh coriander, bound together with the gram flour.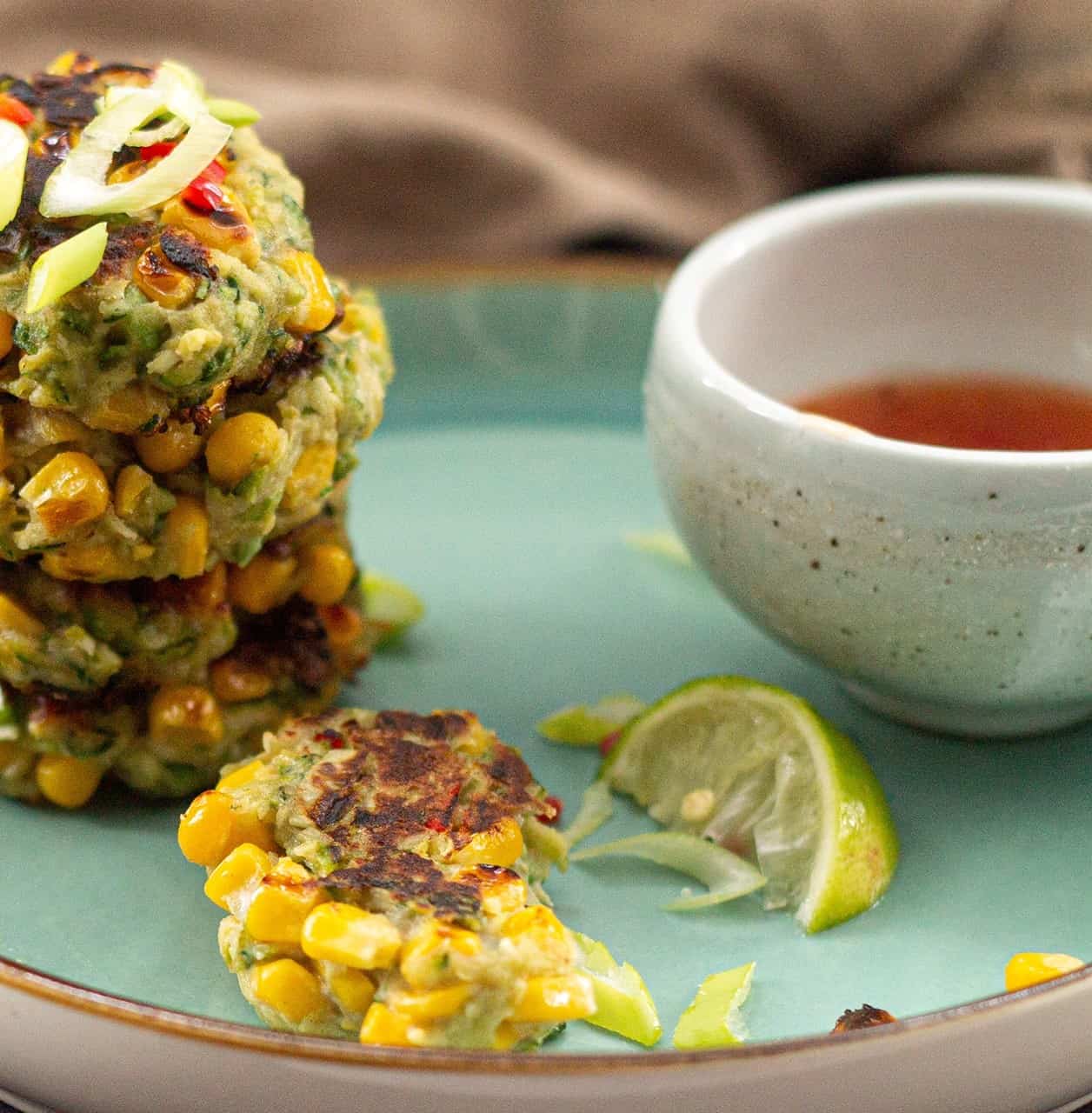 I have suggested that you refrigerate this mixture for at least half an hour before you fry your fritters. The batter is quite sticky, courgette tends to exude a lot of water, and when this is mixed with the flour, it makes its batter. The colder this mixture is, the easier it is to form and handle, but even so, work as quickly as you can. If you must, lightly dust your hands with some more gram flour, but not too much.
Modifications
The chilli is optional, but adds a gentle warmth to fritters, and you can, of course, deseed them first. If you don't like fresh coriander, then add some fresh parsley. It's a fresh, vibrant herbaceous hit that works well here, and it's the next best thing.
Omit the ground almonds if you have a nut-intolerance, and simply add some more coconut in its place. What makes this recipe so good (aside from the flavour, of course), is that you can adapt it to suit your own flavours. I even made it Fodmap for my mum, by removing the onion and garlic, and replacing that with spring onion greens. She was very happy with the fritters!
Zucchini or Courgette? What's in a name?
Do you say Courgette or do you say Zucchini? The name Zucchini is used in the USA, Australia and Asia, and comes from the Italian for marrow, Zucca.
In Britain and parts of Europe, we say Courgette, which comes from the French for gourd or marrow, Courge. Both names make perfect sense, and I don't think there's an argument for preference over either word!
What do you think? I like both, and I say Courgette because I am British; however, I think that Zucchini is a fun word, and I love the Italian history behind it.
Ingredients
Sweet corn, I use Green Giant as I find it the has sweetest corn kernels. You could use fresh corn too if it's that time of the year!
Zucchini (aka courgette), grated and dried on some paper towel to remove excess liquid.
Red Onion and chopped green onions (spring onions)
Garlic, finely chopped
Red Chili
Ground Almonds (you can use rice flour instead)
Ground Coriander
Fresh Coriander
Desiccated Coconut
Gram Flour, this acts as a binder for your delicious vegan corn fritters.
Salt and black pepper
Fresh lime juice
Optional: you can add a little chopped red bell pepper to the onion when sautéing.
(This is ONLY a list of ingredients for the recipe; please see recipe card below for complete printable recipe. Or if you use the JUMP TO RECIPE at the top of the page, it will take you directly to the complete recipe.)
Method
Over medium heat, warm a little oil in a frying pan or large skillet and sauté the courgette, red onion, garlic, ground coriander, and chili until fragrant and starting to soften.
Place the dry ingredients (corn, coconut, ground almonds, chopped coriander, and spring onions) in a large bowl.
Add the sauteed mixture to the mixing bowl, add the flour, and mix gently until thoroughly combined.
Refrigerate the mixture for at least an hour to allow the flavors to mingle, and the batter to set up a little. You can make the fritters the next day.
When you are ready to fry your fritters, firstly heat a thin layer of olive oil in a frying pan.
To make the fritters, lightly flour your hands with a little all-purpose flour, and, using a cookie scoop, mold portions of the batter into a fritter shape.
As you mold them, carefully place them into your frying pan with the hot oil.
Fry for about 3 minutes on each side, or until golden brown.
Drain on some kitchen paper before serving with a little vegan sour cream, or sweet chili sauce.
Are these zucchini courgette corn fritters gluten-free?
Yes! They are naturally gluten free because they use ground almonds and gram flour, both of which are gluten free.
Try my other delicious vegan veggie based dishes
📋 Recipe
PRINT
Easy Vegan Sweetcorn and Courgette (Zucchini) Fritters
A quick and easy lunch that is satisfying and tasty. The unusual addition of ground almonds and coconut give these fritters a gentle, exotic flavour. I like to add a little chopped chilli but this is optional if you prefer things a little milder.
Ingredients
150

g

Sweetcorn

tinned, drained

1

Zucchini

medium, grated

½

Red Onion

peeled, finely chopped

1

clove

Garlic

finely chopped

1

Red Chilli

finely chopped. Optional, or use less to your tasting

1

teaspoon

Ground Coriander

1

tablespoon

Ground Almonds

2

tablespoon

Dessicated Coconut

2

Spring Onions

finely chopped

1

tablespoon

Fresh Coriander

chopped

½

teaspoon

Salt

35

g

Gram Flour

or normal flour to bind

2

tablespoon

Vegetable Oil

for frying
Instructions
Gently warm half teaspoon of rapeseed oil in a frying pan and lightly sauté the courgette, red onion, garlic, ground coriander and chilli until fragrant and starting to soften.

Place the corn (drained), coconut, ground almonds, chopped coriander and spring onions in a bowl.

Add the sauteed mixture to the bowl, stir well and add the salt.

Sprinkle the gram flour (or flour of your choice) over the mixture and gently mix in.

Refrigerate for at least an hour. This mixture is sticky and needs to chill before you can mold into fritters. It also allows all the flavours to just hang out in the bowl and mingle and develop.

Heat 2 tablespoon vegetable oil in a frying pan until a small drop of the batter starts to sizzle.

Dusting your hands with a little more flour, gently mold the mixture into patties, dropping them into oil as you make them.

Fry for about 3 minutes on each side, or until golden brown. You may find it easier to drop spoonfuls of the mixture straight into the frying pan if you find your mixture is too sticky to work with.

Serve with a salad, some lime wedges and some Sriracha or sweet chilli dipping sauce.
Nutrition
Nutrition Facts
Easy Vegan Sweetcorn and Courgette (Zucchini) Fritters
Amount per Serving
% Daily Value*
* Percent Daily Values are based on a 2000 calorie diet.
Nutritional Information Disclaimer
The automated nutritional information on my recipes can often be inaccurate due to the limitations within the programming. For exact measurements, there are lots of apps and websites that can calculate this information more accurately.
Tried it and Loved it?
Mention @sweeterthanoats or tag sweeterthanoats!