Easy and Delicious Vegan Blueberry Muffins
This post contains links to affiliate websites, such as Amazon, and we receive an affiliate commission for any purchases made by you using these links. We appreciate your support!
These easy vegan blueberry muffins are a delicious treat that can be enjoyed by everyone! Made with plant-based ingredients, these muffins are light, fluffy, and bursting with sweet blueberries. Whether you're a vegan or just looking to incorporate more plant-based options into your diet, these blueberry muffins are a perfect choice. They are incredibly easy to make, requiring just a few basic ingredients and a simple baking process. The result is a batch of mouthwatering muffins that are sure to satisfy your cravings. Enjoy them for breakfast, as a snack, or even as a dessert. You won't believe they are vegan!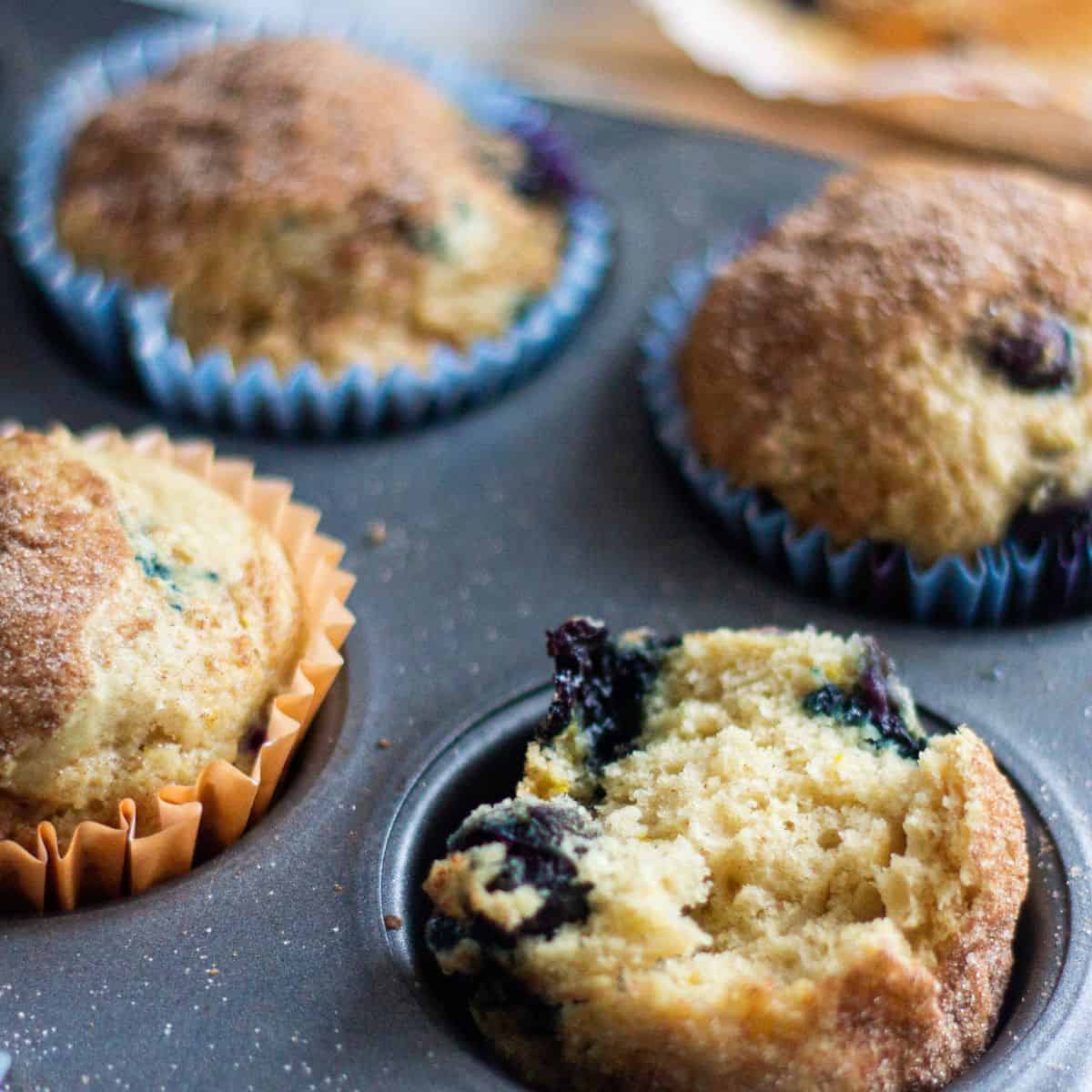 Who doesn't love blueberry muffins, the most ubiquitous of the coffee shop cakes, but sometimes I find they can taste a little bit synthetic. My version uses only fresh blueberries, and store cupboard vegan ingredients.
This was inspired by my lemon poppyseed muffins and my beetroot muffins and also pairs well with my healthy vegan breakfast muffins!
Honestly, is there a more iconic baked good than the blueberry muffin? So iconic, in fact, that it might take down a slice of cherry pie in a throwdown. But not all blueberry muffins are created equally. Most have egg and butter in, and some are dry, some are stingy with their blueberries and others are just overpriced.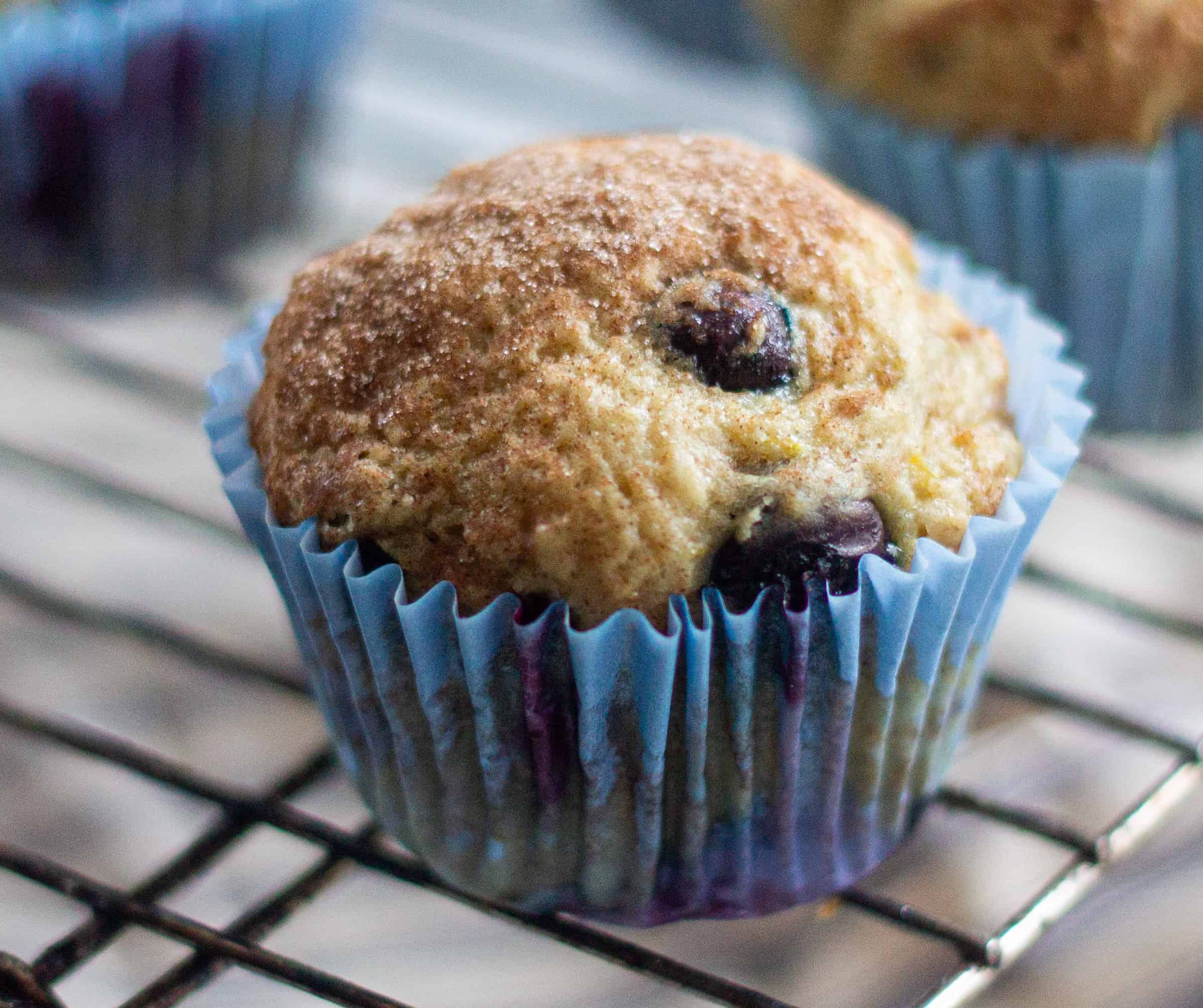 These are the best vegan blueberry muffins because they are none of those things. They are tender, with enough blueberries to satisfy every bite, are eggless and dairy-free and use store cupboard ingredients. Lemon zest adds a freshness to the flavour, and a delicious cinnamon/sugar topping gives you a sweet and crunchy muffin top that is irresistible!
I love that this is such a short ingredient list and that I can prep them in a little under 5 minutes. It makes baking so simple.
Ingredients
blueberries. You can use fresh blueberries or, as I did, frozen blueberries. I often buy blueberries when they're reduced in the supermarket, freeze them in ziplock bags and they are just perfect to cook with from frozen, or to throw into smoothies
sugar – not too much, these get their sweetness from the blueberries and the crunchy cinnamon topping
yogurt – of course, this replaces the egg element and ensures a tender crumb in your fluffy blueberry muffins. This replaces the buttermilk element in regular blueberry muffins.
egg replacer – I also use some egg replacer to ensure that the muffin batter isn't too wet, giving a stodgy muffin
This is ONLY a list of ingredients for the recipe; please see recipe card below for complete printable recipe.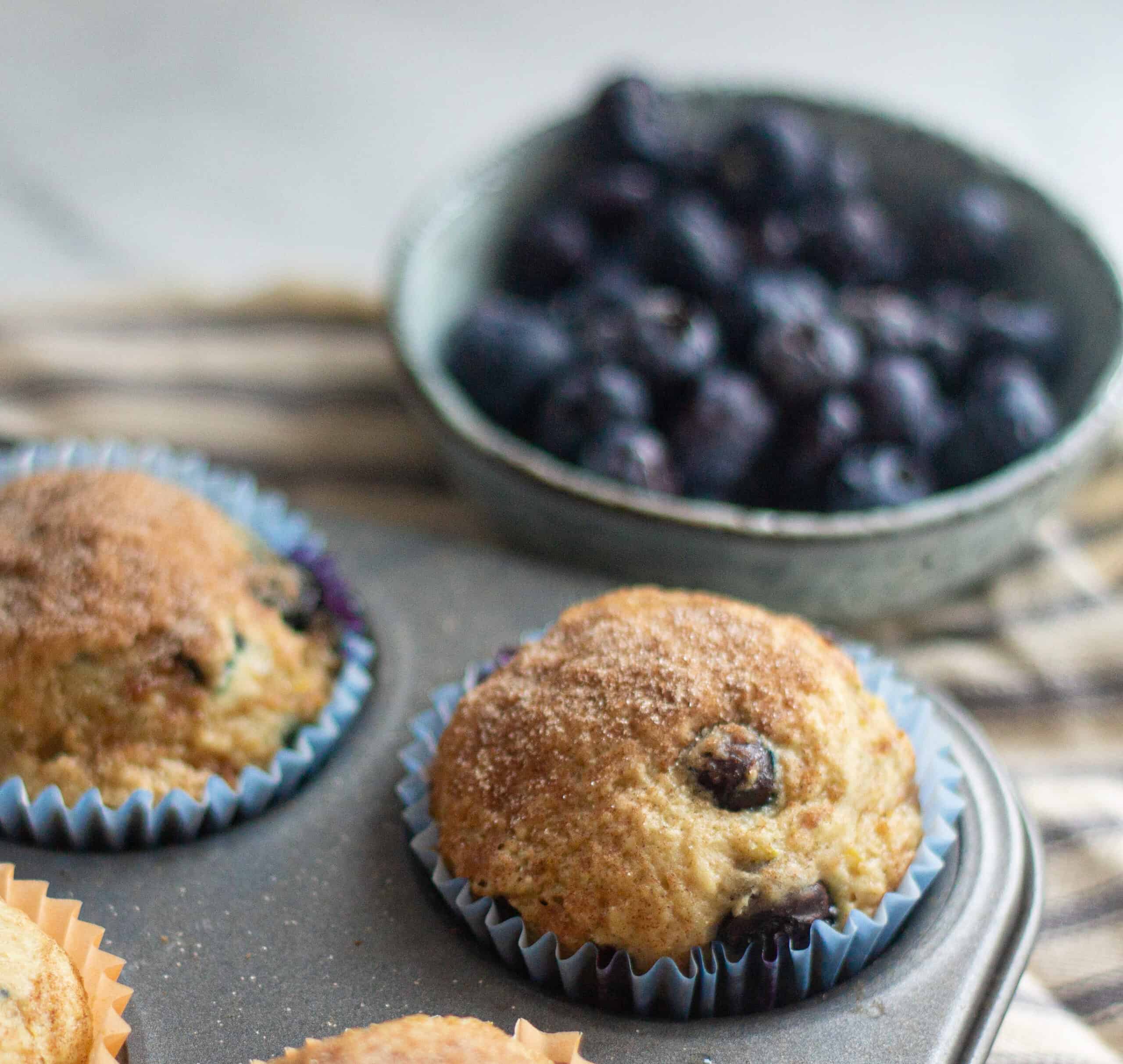 Instructions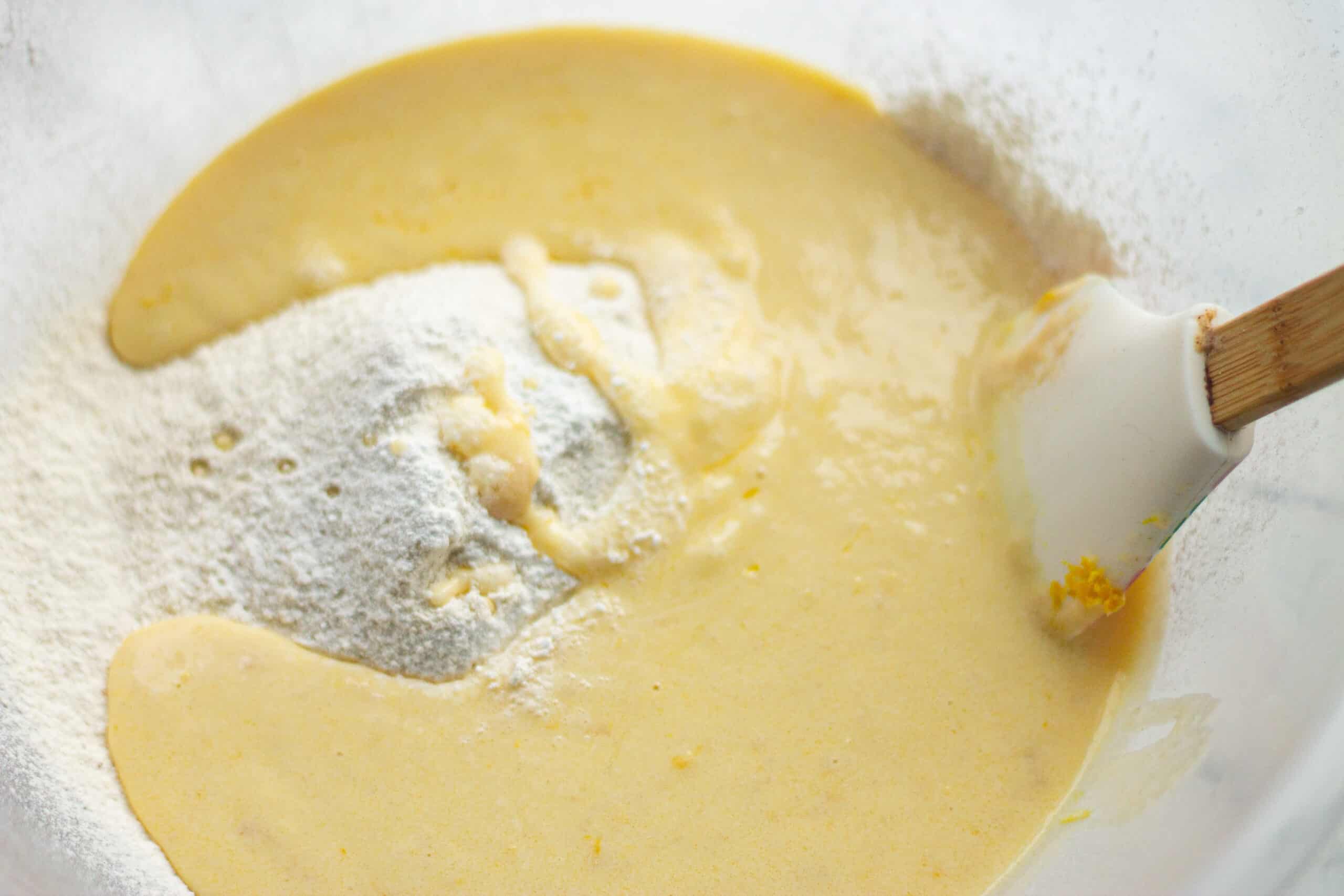 Add the wet ingredients into the sifted dried ingredients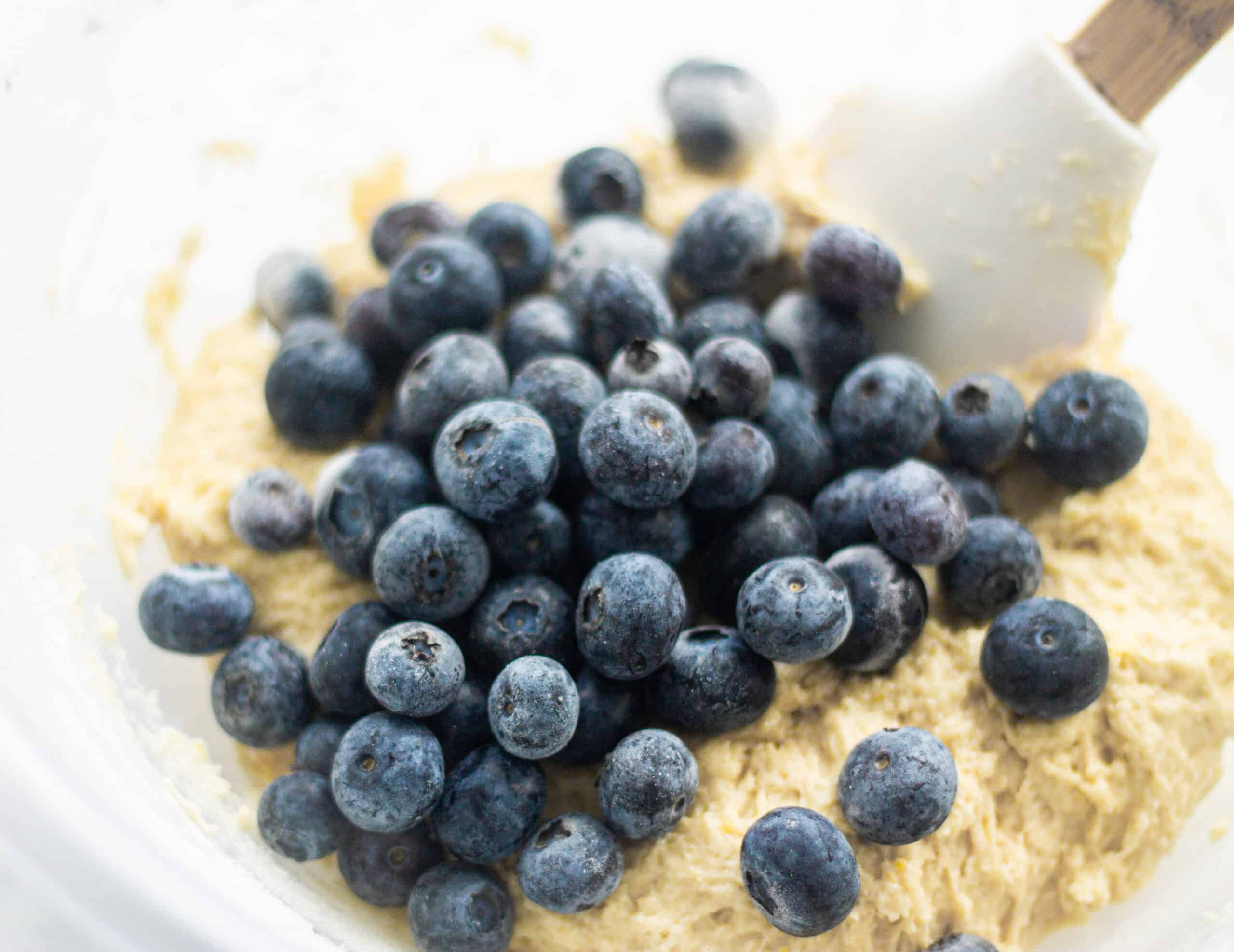 Place into oven at 350 fahrenheit
Using an scoop, 3/4 fill your muffin cups.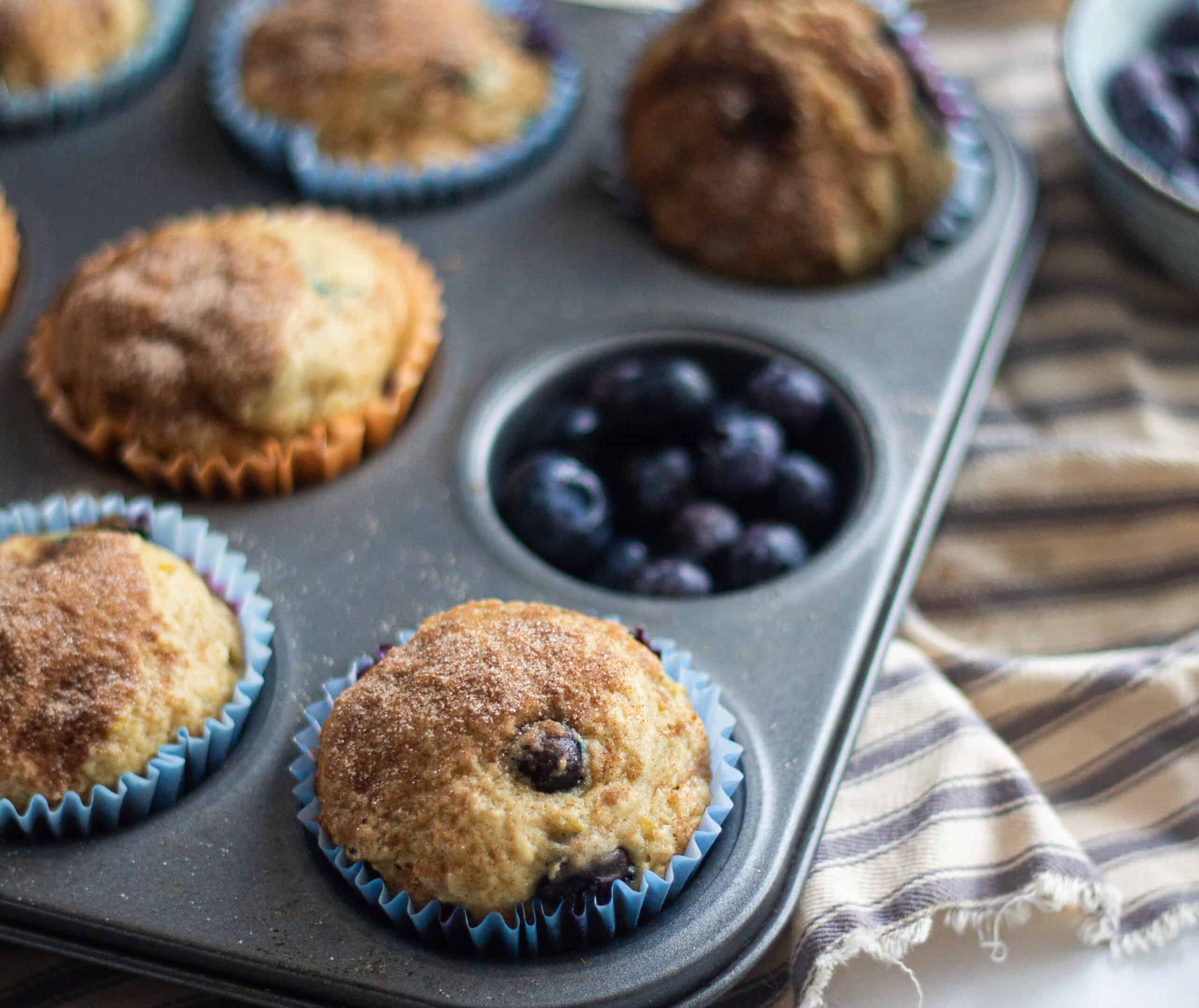 Ready to eat!
Preheat your oven to 200c.
Prepare your muffin pan, either line with cases or lightly oil and flour the muffin holes.
In a small dish, whisk together the tbsp sugar and cinnamon. Set to one side.
Sieve the flour, baking powder and baking soda, half cup of sugar and salt into a large mixing bowl.
In another mixing bowl, whisk together the melted butter, vegan yogurt, lemon zest and whisked up egg replacer, until smooth.
Pour this into your dry ingredients and mix until just combined.
Now fold in the fresh blueberries. You will have a thick batter.
Using a scoop or quarter cup measure, spoon the batter into your prepared muffin pan.
Sprinkle the cinnamon/sugar mixture equally over the muffin batter.
Bake for between 20-25 minutes. or until pale golden and they spring back to the touch.
Remove from the oven and leave to cool on a cooling rack before eating!
Substitutions
Blueberries – instead of blueberries, try whole raspberries or chopped strawberries instead
Flour – use gluten free self-raising flour instead
Vegan Butter – use melted coconut oil or vegetable oil instead
Cinnamon Sugar – omit the cinnamon if you don't like cinnamon, or omit the sugar altogether for a plainer muffin
Variations
Healthy – to make healthy vegan blueberry muffins, use wholemeal flour instead of white, or a mixture of spelt flour with regular flour to give a nuttier taste
Deluxe – omit the cinnamon topping and instead add a drizzle made with a little lemon water icing and sprinkle with some toasted slithered almonds
Equipment
I like to use a muffin pan that is fairly deep, giving you a nice rise on the muffins. Some recipes don't use muffin liners either, instead spraying the tray with a little oil and the flouring. This is a perfect option if you are concerned about the sustainability of muffin liners. They also freeze better out of the liners too.
To ensure that the correct amount of blueberry muffin batter is dispensed into each cup, I like to use either an ice cream or muffin scoop. You could also use (in this instance) a quarter cup measure. But I just use my vintage ice cream scoop.
Storage
Store the baked and cooled muffins in an airtight container. They only really last a couple of days though because they contain fresh fruit.
Muffins that won't be consumed within a couple of days can be frozen, and thawed out at room temperature.
Top tip
Make your muffin batter the night before, but don't add the blueberries until you intend to bake them. If you add fruit the day before, it will break down and stain the the batter.
Quick and Easy Vegan Blueberry Muffins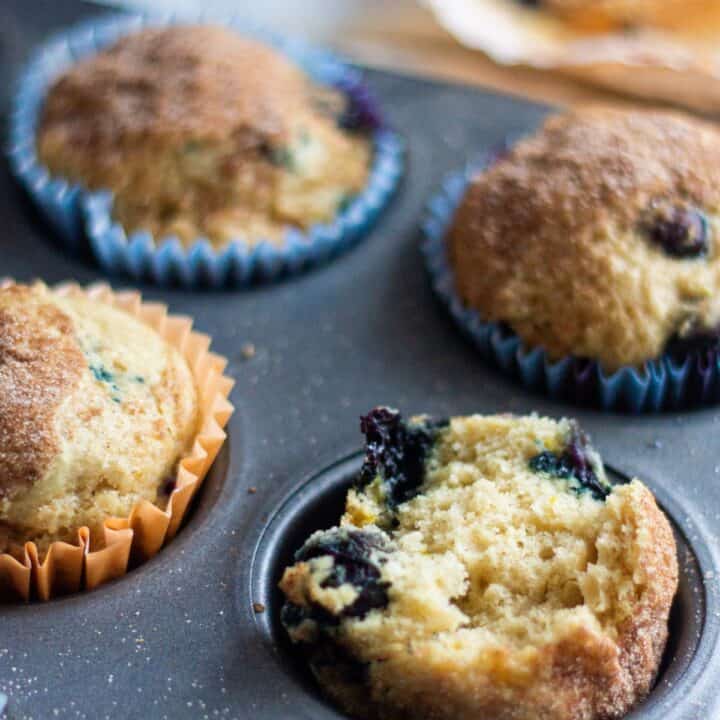 A super quick recipe that will produce 12 perfect blueberry muffins in less than 30 minutes!
Equipment
1 12 hole Muffin Tin

muffin liners

1 Muffin batter scoop (optional)
Ingredients
2

cups

Plain Flour

1

tbsp

Baking Powder

½

tsp

Baking Soda

-

(bicarbonate of soda)

½

cup

Sugar

-

I use caster or superfine

½

tsp

Salt

2

tbsp

Egg Replacer

-

whisked up with 5 tbsp water

¾

cup

Yogurt

-

vegan, plain

6

tbsp

Butter

-

vegan, I use Flora or Vitalite, melted

2

tsp

Lemon Zest

1

tsp

Vanilla Extract

1

cup

Blueberries

-

you can use fresh or frozen

2

tbsp

Sugar

-

mixed with 1/2 tsp powdered cinnamon
Instructions
Line your muffin tin with muffin liners

Sift the flour, baking powder and soda, salt and sugar into a large mixing bowl

In another bowl, whisk together the wet ingredients

Pour the wet ingredients into the dry and mix until just combined

Using an ice cream scoop or muffin scoop, fill each muffin case ¾ full with batter

Sprinkle each muffin with a generous amount of the cinnamon sugar

Bake for between 20-25 minutes or until lightly golden on top and spring back to the touch
Please note that where the recipe asks for milk, butter or yogurt, this refers to any plant-based version that you prefer.
Nutrition Facts
Quick and Easy Vegan Blueberry Muffins
Amount per Serving
% Daily Value*
* Percent Daily Values are based on a 2000 calorie diet.