Vegan Beetroot Muffins
This post contains links to affiliate websites, such as Amazon, and we receive an affiliate commission for any purchases made by you using these links. We appreciate your support!
Deliciously sweet and earthy, these eggless and dairy free Beetroot Muffins are tender, easy to prep and full of hidden vitamins!
PIN my Easy Vegan Beetroot Muffins to make later
If these muffins aren't perfect for Hallowe'en then I don't know what is!
And if you love muffins, have your tried my soft and fluffy blueberry muffins, classic lemon poppyseed muffins or my healthy breakfast muffins?
My vegan beetroot muffins sound a bit like something from a Roald Dahl novel, don't they? However, they are much nicer than anything you might find in George's Marvellous Medicine!
For the best and sweetest flavour, I like to roast the beetroot in the oven for about an hour and a half, skin on, wrapped in foil. I had great fun peeling the beetroot. It is amazing to see this dull, deep red root vegetable transformed into a vibrant, ruby coloured gem (traditionally used as the colorant for pink lemonade – shattering my dreams, as I thought that some remote tropical land grew pink lemons) as you gently remove the soft outer skin. I didn't wear gloves as recommended, and my fingers weren't really stained too badly at all.
If the pretence that it is gory dragon's blood soup isn't enough to persuade your children to eat Borscht, try these Beetroot Muffins, which are a glossy chocolate mauve colour and are rich enough to serve dusted with icing sugar and a swirl of vegan buttercream but are also sturdy enough to survive travelling in a lunchbox. The beetroot gives them a delicious moistness, meaning that they keep well in the cake tin (if they last that long!) and, more importantly, they are a tasty way of getting all the beetroot's nutrients into you.

Ingredients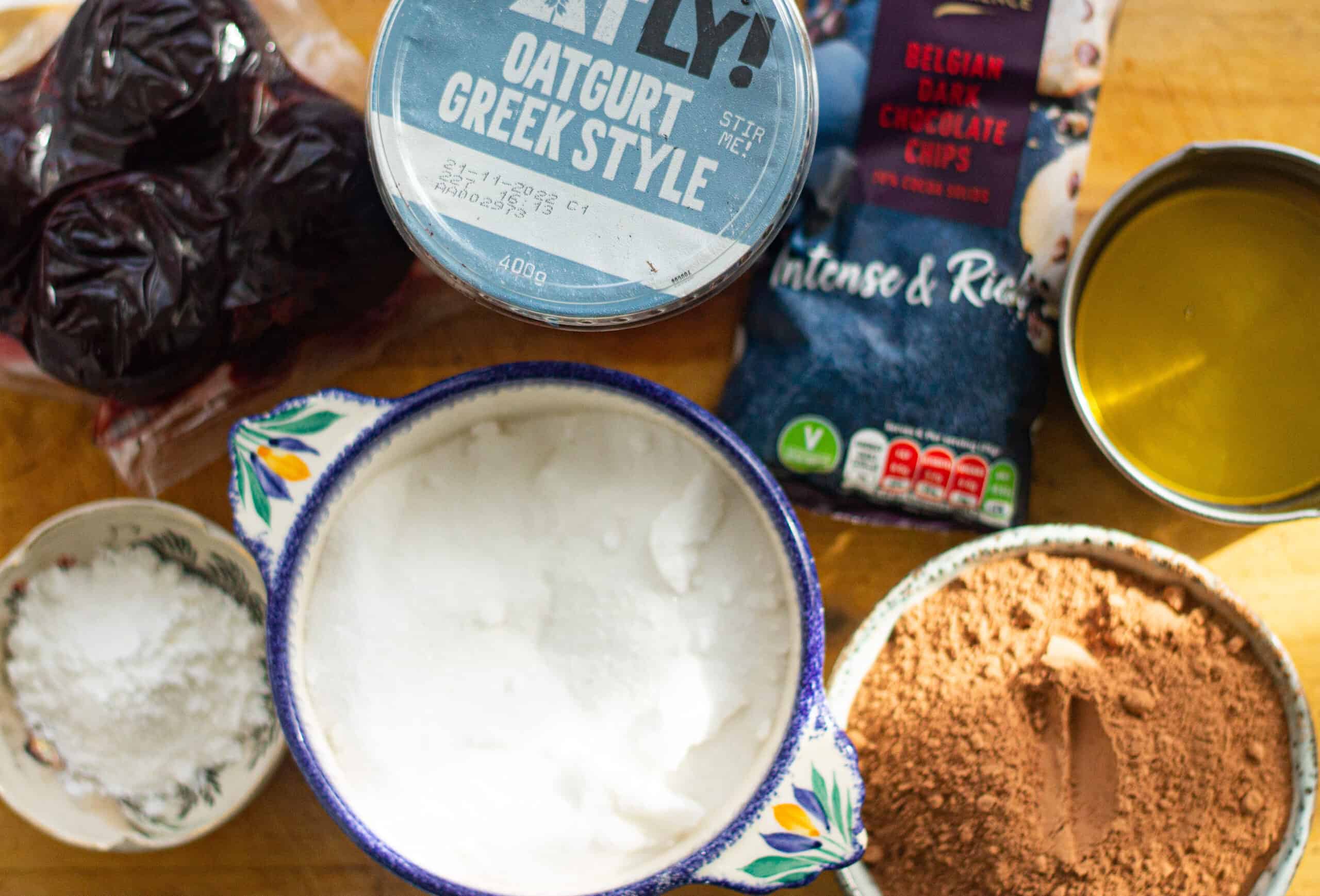 beetroot roasted or bought pre-cooked
cocoa powder, make sure to use a vegan brand, and preferably a dark, rich brand like Green and Blacks
yogurt, plant based of your choice, to replace the egg element, and bring moistness to the muffins
See recipe card for quantities.
Instructions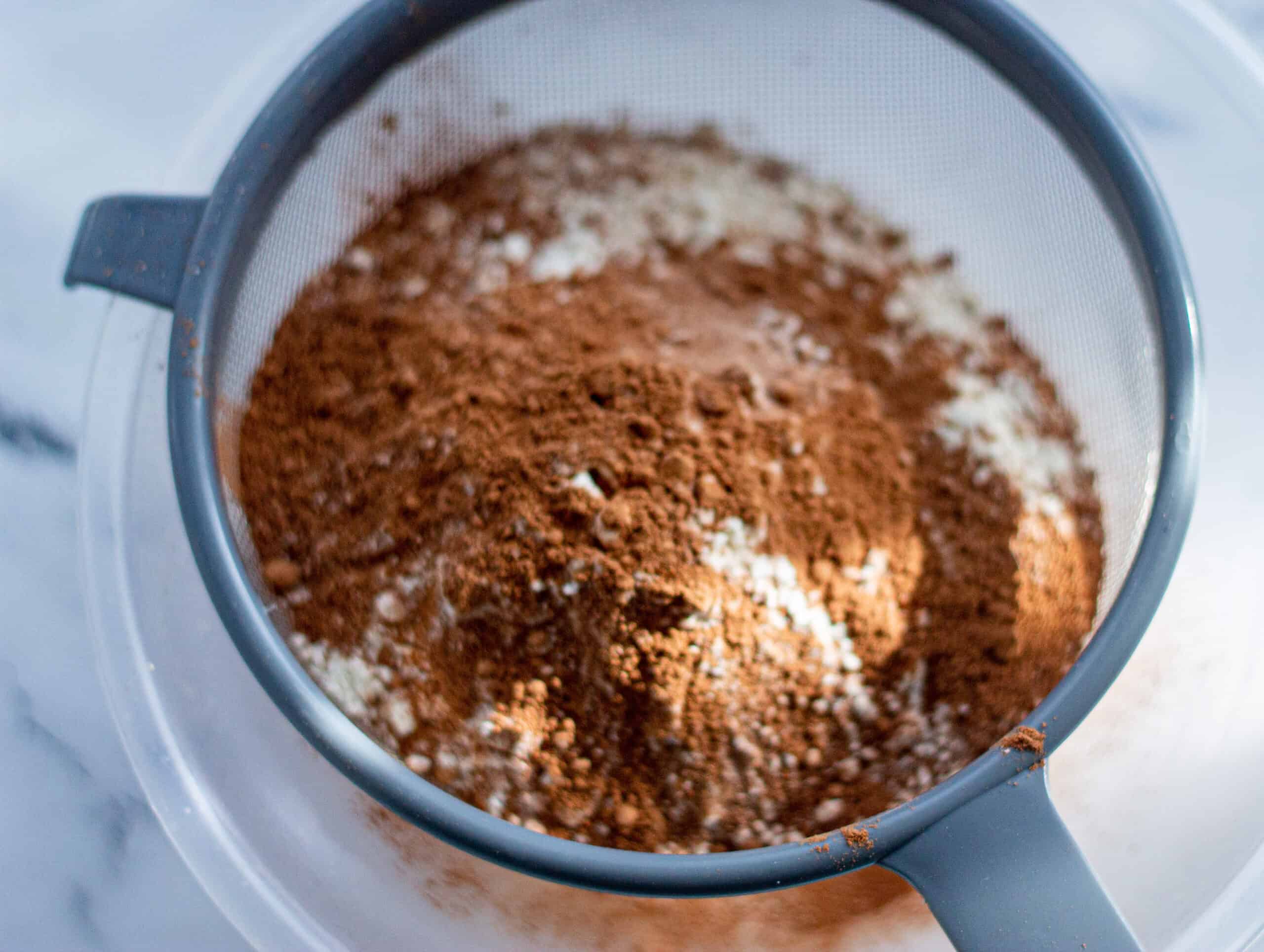 Sift the dry ingredients into a large mixing bowl
Blend the wet ingredients together and pour into the dry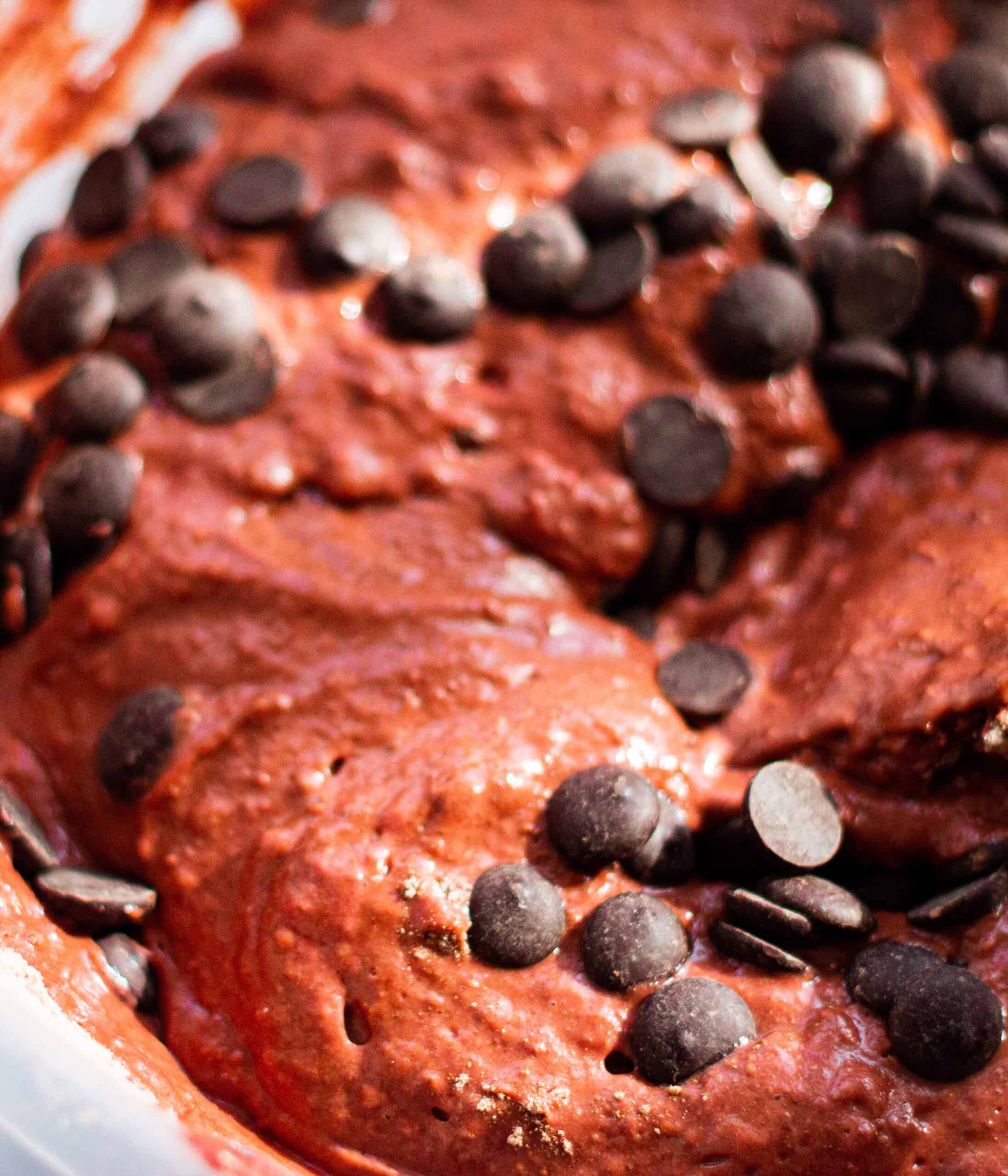 Stir in the chocolate chips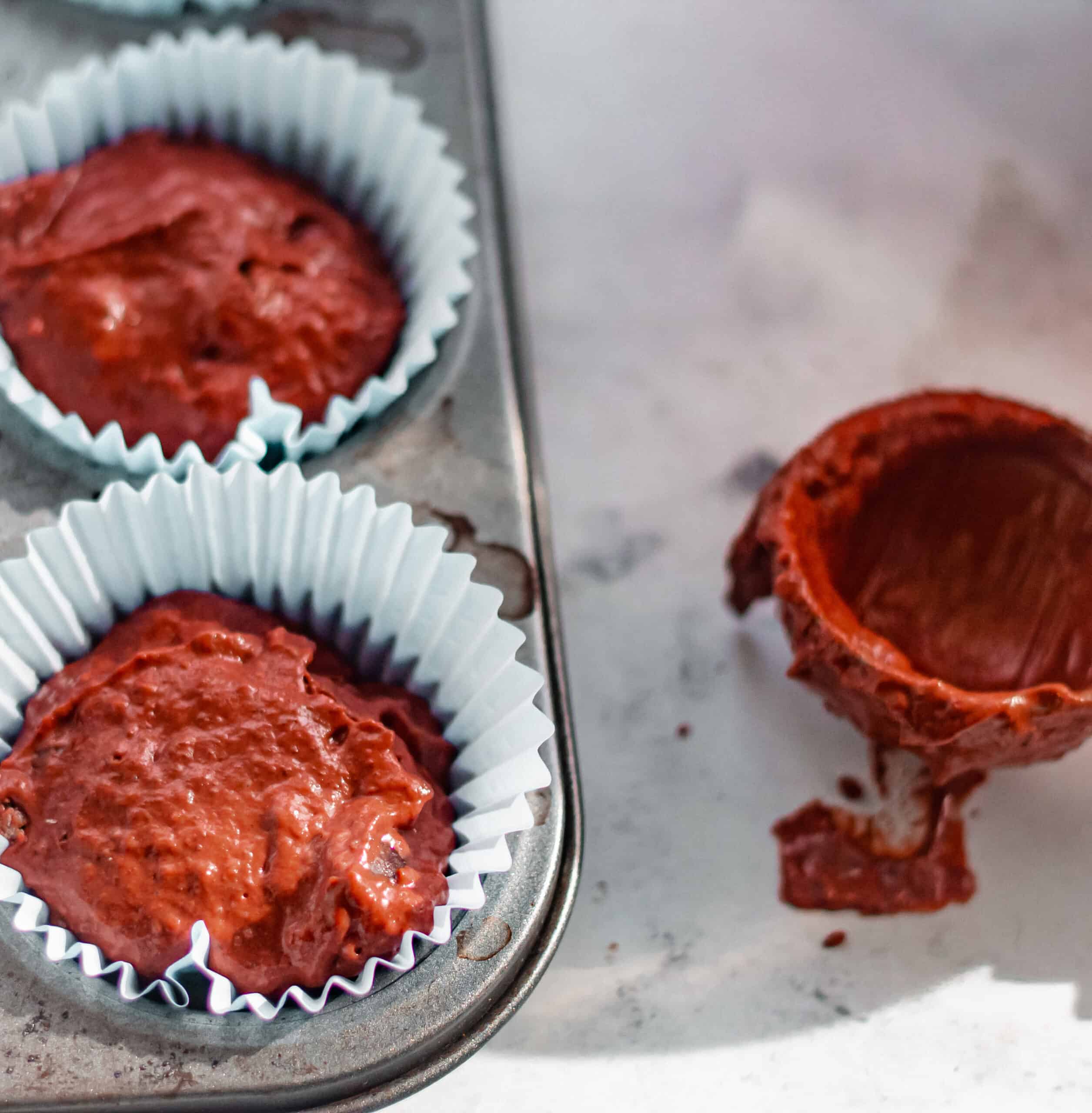 Ready to go in the oven to be baked at 200c
See recipe card for full instructions.
Substitutions
If you know how to make the recipe fit a certain diet, let the reader know here. Don't fake it – only provide guidance on topics you have actual experience with.
flour – to make these gluten-free, use your favorite all-purpose GF flour mix
oil – use melted coconut oil in replace of vegetable oil
Variations
Spicy – add some smoky chili pepper flakes while cooking to add a little heat to the muffins
Deluxe – add some vegan chocolate chips and a swirl of buttercream icing tinted blood red or black!
Equipment
I like to use a muffin pan that is fairly deep, giving you a nice rise on the muffins. Some recipes don't use muffin liners either, instead spraying the tray with a little oil and the flouring. This is a perfect option if you are concerned about the sustainability of muffin liners. They also freeze better out of the liners too.
To ensure that the correct amount of beetroot muffin batter is dispensed into each cup, I like to use either an ice cream or muffin scoop. You could also use (in this instance) a quarter cup measure. But I just use my vintage ice cream scoop.
Storage
Store your vegan beetroot muffins in an airtight container once cool. Good for 3-4 days.
You can freeze the muffins by placing them in a ziplock bag and freezing for up to 2 months.
Top tip
This recipe uses roasted beetroot, but you can buy it vacuum packed and ready cooked at the supermarket which saves quite a lot of time. Just be sure that it isn't pickled!
Easy Vegan Beetroot Chocolate Muffins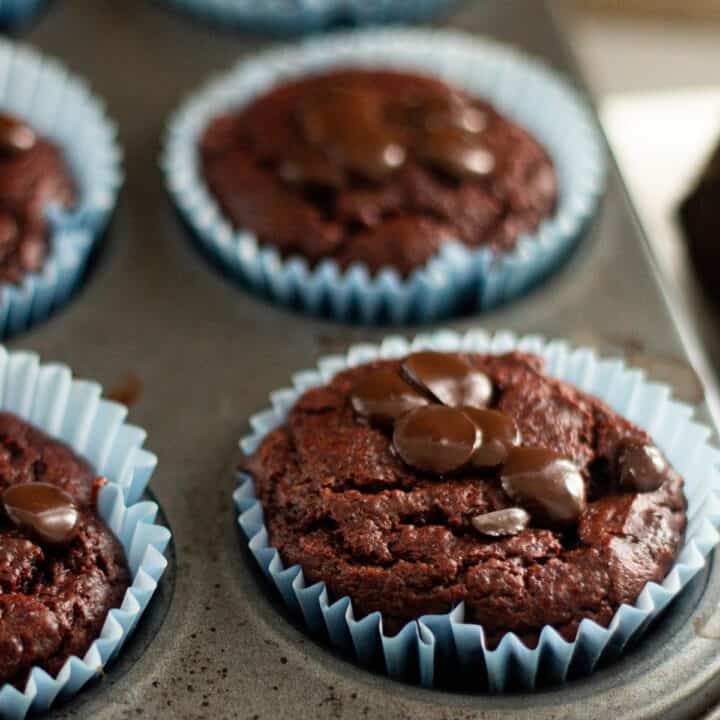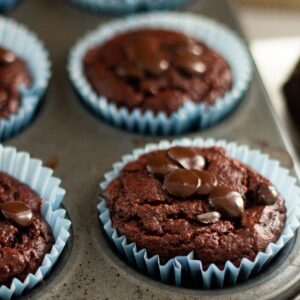 Perfect for Hallowe'en, or actually any time of the year, these chocolatey, earthy muffins are scrummy!
Equipment
1 12 hole Muffin Tin

lined
Ingredients
300

g

Beetroot

raw, to give about 250g cooked and peeled, see method or 250g vacuum packed ready cooked beetroot

75

g

Cocoa Powder

I use Green and Blacks because it has a wonderful dark, rich flavour

180

g

Plain Flour

2

tsp

Baking Powder

200

g

Sugar

I use caster or superfine

¾

cup

Yogurt

1

cup

Vegetable Oil

such as corn oil or sunflower oil

1

tsp

Vanilla Extract

1

cup

Chocolate Chips

vegan

Icing Sugar for Dusting

optional
Instructions
Preheat oven to 200c. Wrap your uncooked beetroot, unpeeled, in tin foil. Fit snugly in a roasting tin and roast in the oven for about an hour and half or until tender. (If using ready cooked beetroot, skip this and go straight to step 2).

Meanwhile, sift together the flour, cocoa powder and baking powder into a large mixing bowl.

Stir in the caster sugar. Put to one side.

Once your beetroot is cooked, peel and chop into large chunks. Puree in your blender.

Add the yogurt.

Add the Vanilla extract and oil and blend until thoroughly mixed.

The blender will now look Pepto-Bismal pink.

Make a well in the centre of the dry ingredients and pour in your hot pink beetroot mixture.

Combine gently but do not over stir.

Fold in the chocolate chips.

Pour into a lined muffin tin.

Bake for 22-25 minutes at 180c or until springy to the touch.

The baked muffins will have a slight sheen to them but will be cooked.

Bake the remaining 6 muffins.
Nutrition Facts
Easy Vegan Beetroot Chocolate Muffins
Amount per Serving
% Daily Value*
* Percent Daily Values are based on a 2000 calorie diet.