How to make Vegan Hot and Sour Soup
This post contains links to affiliate websites, such as Amazon, and we receive an affiliate commission for any purchases made by you using these links. We appreciate your support!
Vegan Hot and Sour Soup – Easy, delicious and nourishing, you'll instantly feel better after just one spoonful
Once the calorie laden days of the Christmas Holidays are finally over, I find that I start feeling "fooded out", by which I mean, I start craving light foods. Soups, broths, spice and sharpness. No more heavy carbs, or cakes. This feeling only lasts for a while, but I think it's the body's way of begging for a short respite so it can process all the heavy imbibing of the last few weeks.
I was inspired by a Nigella Lawson recipe for this vegan version of hot and sour soup, replacing her prawns with silken tofu and using a red Thai curry paste, instead of Tom Yum paste (which contains shrimp).
What is Hot and Sour Soup?
Hot and Sour Soup is a traditional Chinese soup, traditionally made with pork, and dried lily buds. It takes its heat from chilis, sometimes chili oil or flakes, and its sourness from Zhenjiang vinegar. Japan, Thailand, the Philippines, Vietnam and India have their own variations of this soup.
Flavourwise it IS sour, but in a satisfying way, not in a sucking a lemon kind of way. The other flavours round out the sourness in the most delicious way.
This is one of my favourite soup recipes for several reasons. Firstly, it is QUICK to make, and mostly uses ingredients you have in the store cupboard: sesame oil, white pepper (or use black pepper), vegetable stock or broth and soy sauce. It seems like a long ingredient list, but it really isn't.
It is further bolstered with fresh vegetables and herbs: bean sprouts, scallions, mushrooms, bird's eye chillis, coriander, lemongrass. I also love to add bok choy if I can find it really fresh (I find bok choy to be a little stringy sometimes).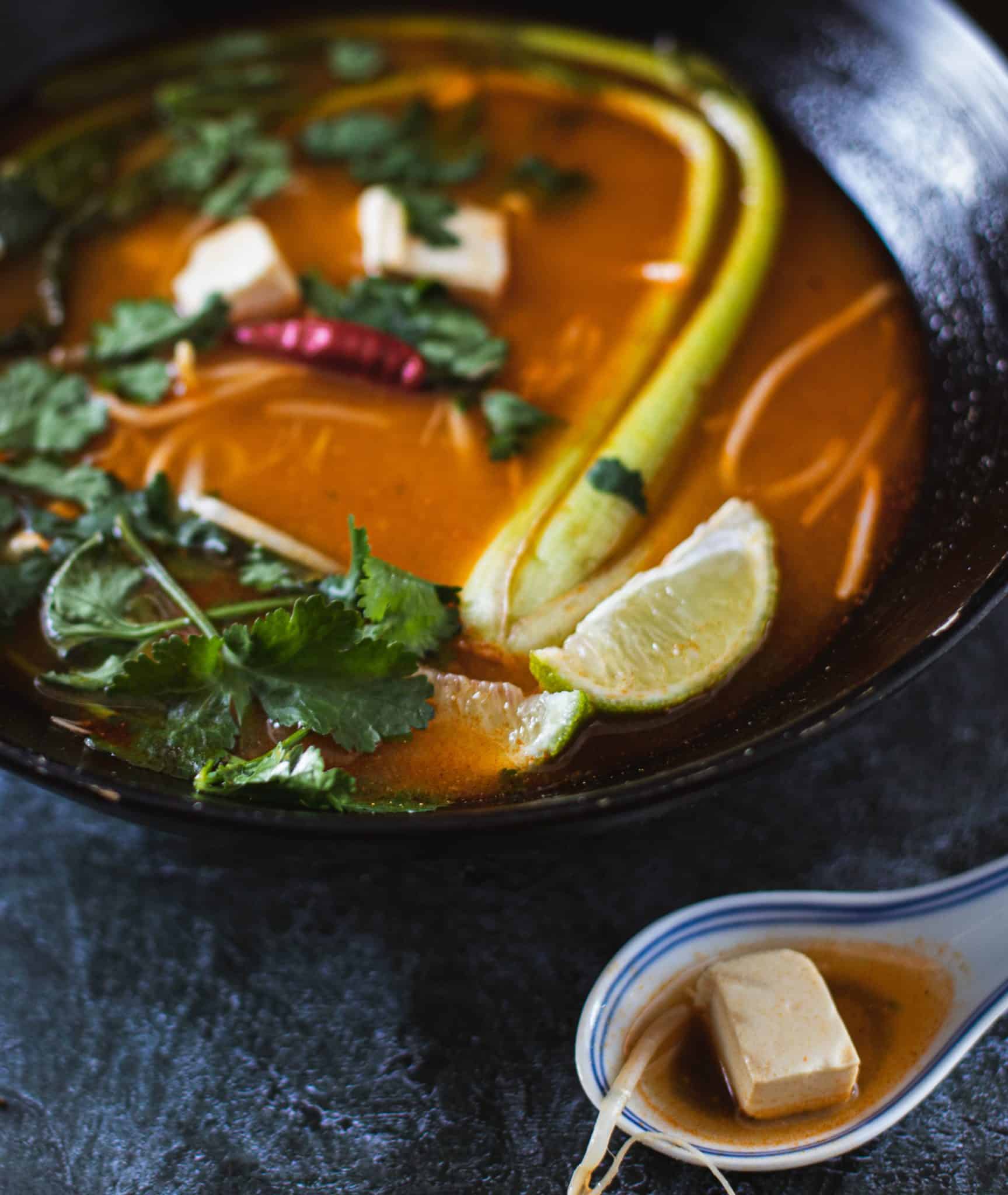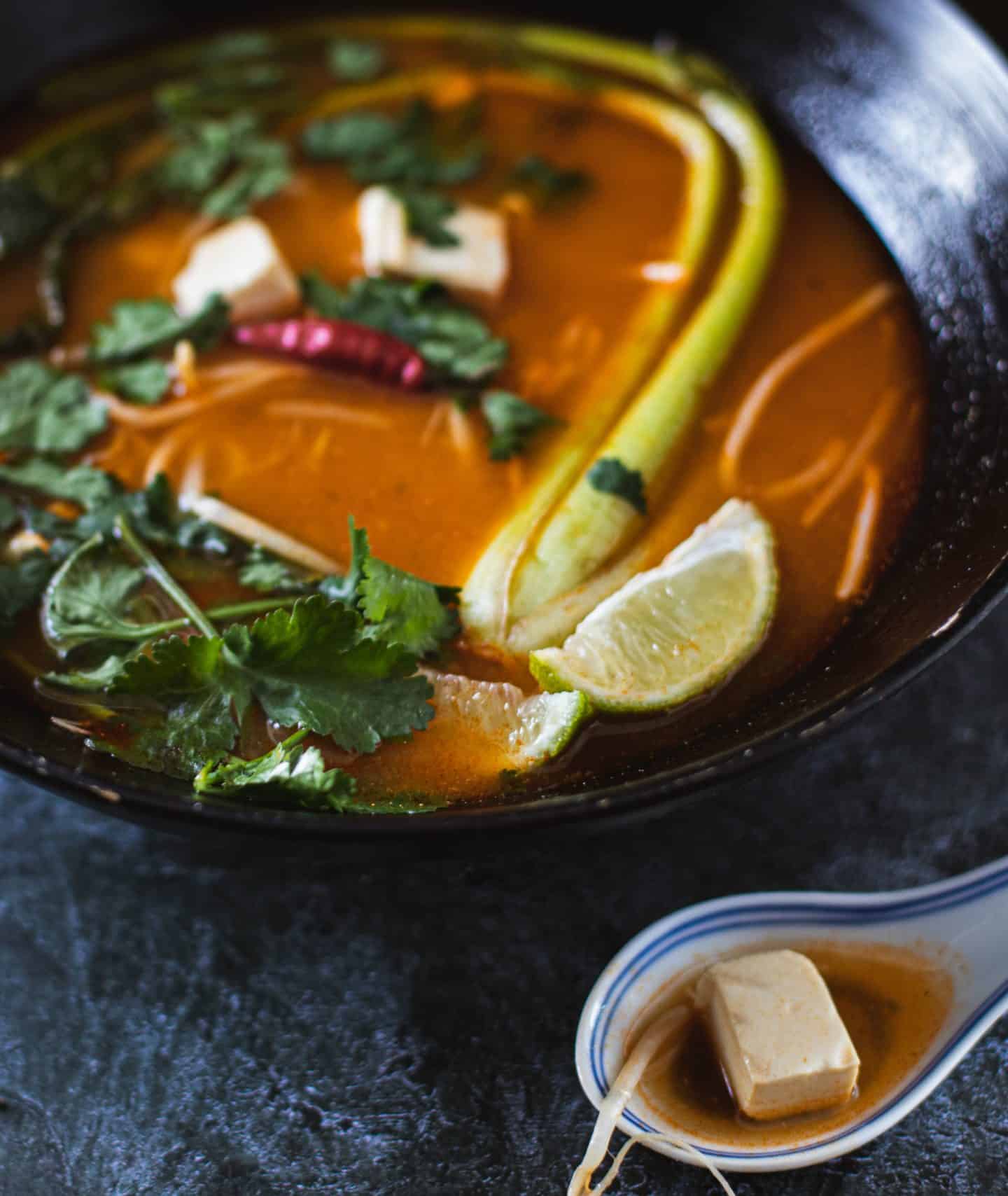 Secondly, it is the perfect comforting soup for any time of the year, light yet nourishing, full of flavour: the sour and spice that the recipe is famous for.
I first tried Hot and Sour Soup from my local Chinese restaurant, and I loved it. I was saddened when I discovered it contained fish products, so hadn't had it for a long time. This sour soup recipe tastes so similar to the version I remembered that I did a little happy dance the first time I supped the stock!
How to make Hot and Sour Soup
This is so simple that it is almost embarrassing to share it!
Firstly, add your vegetable broth to boiling water in a large soup pot. I like to use Marigold Vegetable Bouillon, which is vegan, and not too salty.
To this very soup base, I then add spring onions (green onions), dark soy sauce, the red curry paste, lime juice, sugar, chillis sesame oil. thin strips of lemongrass and simmer over medium heat for a little bit, no more than 3-4 minutes, just to let these intrinsic, yet simple ingredients unite.
I prefer to use the sourness of lime juice instead of rice vinegar, of course that's my personal choice, and if you like your soup more sour, please use vinegar instead (or as well as), simply add to your taste.
Finally, add your tofu pieces and beansprouts (both optional, but add a little extra oomph to the soup if you want to eat this as a main meal. Again, simmer for a couple more minutes, then decant into bowls and enjoy!
Customise your Hot and Sour Soup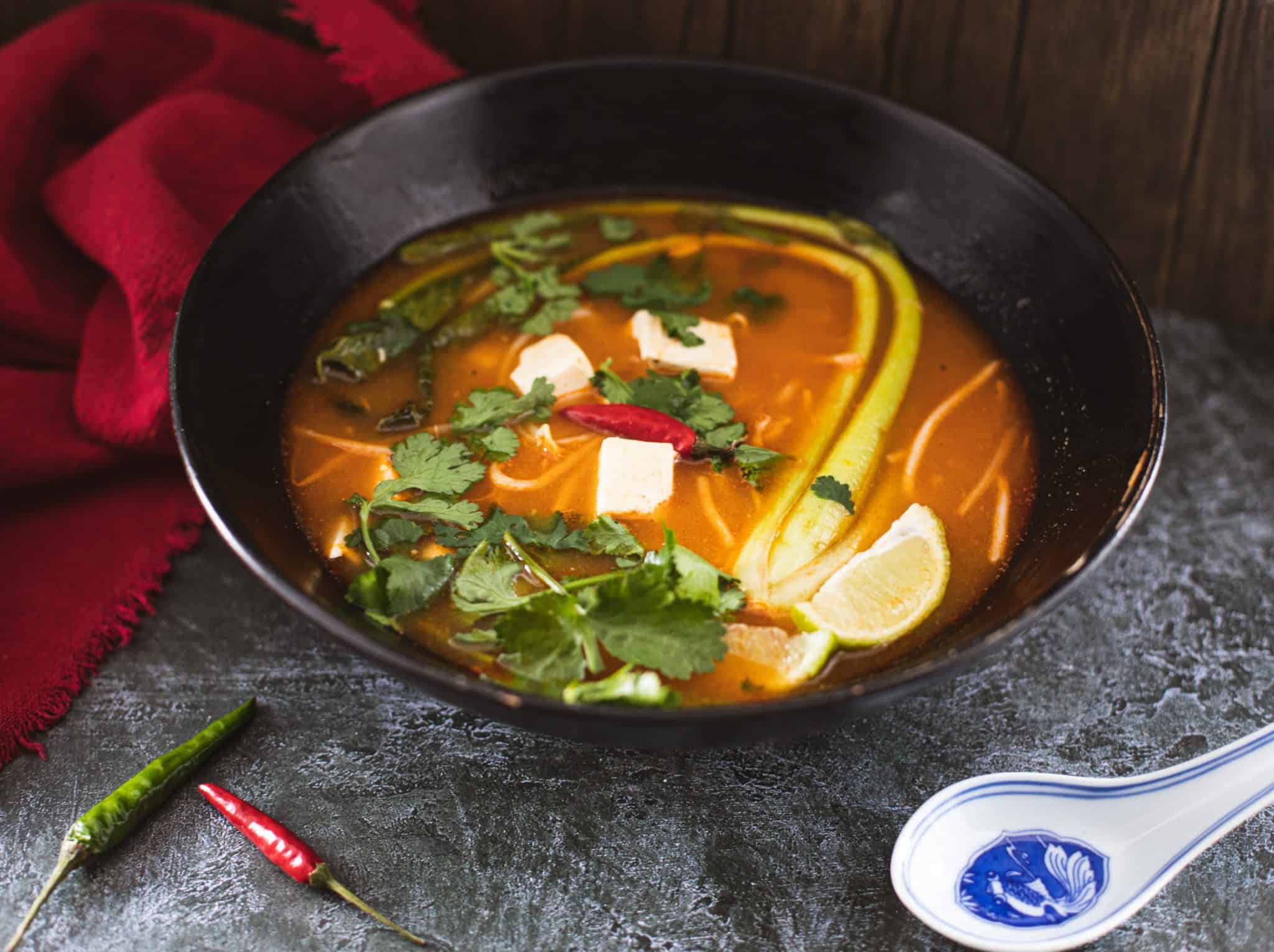 Mushrooms: I love to use button mushrooms or quartered mushrooms in my soup, but any mushroom you prefer, shiitake mushrooms, black fungus, wood ear, enoki, etc. Omit them altogether if you don't like mushrooms or are intolerant to them.
Water Chestnuts: these add a delicious crunch to the soup
Bamboo Shoots
Fresh Ginger: I didn't add this to my recipe as I didn't have any!
Is Hot and Sour Soup Gluten-Free?
Yes, this is a gluten-free version of Hot and Sour Soup!
Try my other delicious vegan soups
Vegan Hot and Sour Soup with Beansprouts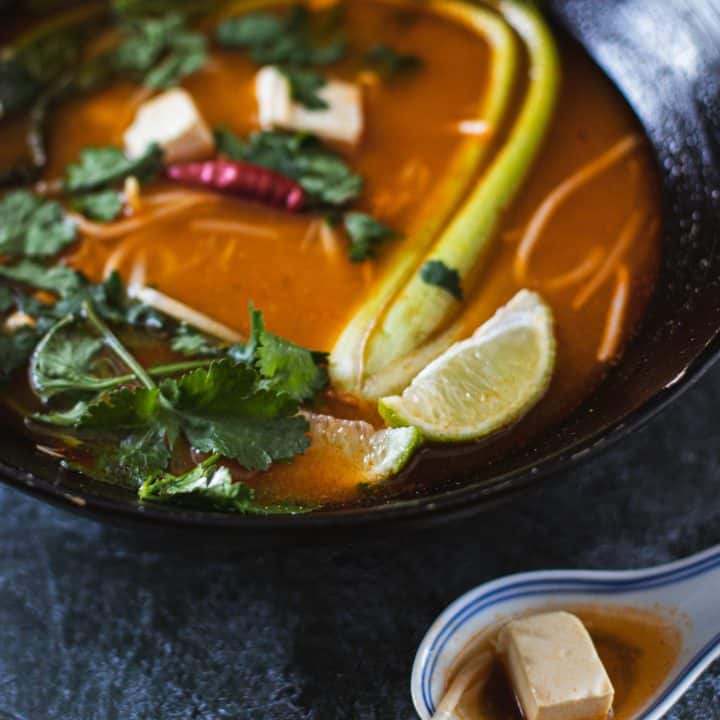 A delicious and light spicy broth
Ingredients
1

litre

water

-

boiling

2

tbsp

Vegetable Bouillon

- powder, I like Marigold

1

cup

Button Mushrooms

-

or larger mushrooms, quartered

1

tbsp

Red Thai Curry Paste

- vegan, I use Blue Dragon, but this one by Thai Kitchen is also amazing

1

stem

Lemongrass

-

cut into strips

1

Lime

-

juice

2

Scallions

-

cut into thin strips

1

tsp

Soy Sauce

- I love Kikkoman

½

tsp

Sesame Oil

-

toasted

¼

tsp

White Pepper

-

ground

1-4

Birds Eye Chillis

-

Chopped thinly. Use as many as your tolerance can bear!

½

tsp

Sugar

-

or to taste

1

block

Silken Tofu

-

optional, drained, cubed

1

bunch

Coriander

1

cup

Beansprouts
Instructions
In a large saucepan, add the water, thai red curry paste, lime juice, mushrooms, bouillon powder, white pepper, chillis, lemongrass, scallions, soy sauce, sesame oil and sugar.

Bring up to a brisk simmer, this should take a couple of minutes, and then add the cubed tofu and beansprouts.

Simmer for another couple of minutes. Taste for seasoning, then serve.
Please note that where the recipe asks for milk, butter or yogurt, this refers to any plant-based version that you prefer.
Nutrition Facts
Vegan Hot and Sour Soup with Beansprouts
Amount per Serving
% Daily Value*
* Percent Daily Values are based on a 2000 calorie diet.