Polenta and Pine Nut Bread
This post contains links to affiliate websites, such as Amazon, and we receive an affiliate commission for any purchases made by you using these links. We appreciate your support!
Are you looking for a simple loaf of bread that doesn't require much kneading but is still a bit different? Try my vegan Polenta and Pine Nut Bread, only 6 minutes of kneading – all you need is time and you will be rewarded with a delicious loaf of bread!
Perfect anytime of the year, but this loaf is especially welcome on the festive table, particularly if you add some dried cranberries to the mixture too.
This was inspired by easy no-knead muffin bread recipe and pairs well with my hearty Italian Ribollita soup. Try my simple loaf of bread, barley bread or rice bread recipe for a perfect sandwich loaf too!
It seems to me that there is, and always has been, a triumvirate of uses for bread: to have with soup or broth, made into sandwiches, or eaten with butter. It is the ultimate fast food and there is nothing more pleasurable than sinking your teeth into a freshly sliced loaf, thickly buttered.
Because of the simplicity of bread, it is intrinsically woven into our memories. Even in our poorest days we can afford bread, and it offers us a comforting respite from our woes. Who hasn't eaten slice after slice of toast and jam because they're feeling particularly down?
The Italians make marvellous bread. From ciabatta to focaccia with pizza in between, it is always deeply flavourful. I had previously made ciabatta using a Biga starter and that took four long days of breeding a starter, knocking it back down, adding half a cup more flour and waiting another day. The loaf I chose to cook on Sunday had just 4 hours proving time. Positively a walk in the park compared to ciabatta.
"Ahh, but what is the bread made?" I hear you all cry. It was the perfectly delicious Italian polenta and pine nut bread.
A bread that requires very little kneading and works on a polenta-based starter. Not only does this starter add flavor to the loaf, but it also adds a soft texture, but not cakey. Definitely firm enough to spread butter on or to toast. And the pine nuts add a delightful crunch.
Ingredients
polenta (cornmeal), coarse
pine nuts
yeast
maple syrup
See recipe card for quantities.
Instructions
The method is slightly unusual.
You make a mini starter with the cooked polenta, some flour, yeast and maple syrup which you leave to prove for 2 hours.
Then you stir in some more flour, pine nuts toasted in butter, plus the butter itself, knead for 10 minutes and then leave that to prove for another hour.
Split the dough in half, roll out into two thin sausages which you vaguely plait together.
Leave this artisanal shaped loaf to rise for 45 minutes, then bake for half an hour.
Apart from the initial starter being incredibly difficult to knead (it is really wet from the cooked polenta), the rest of the process is a breeze and ideal for anyone wanting to try something a little different. The unexpected crunch of the toasted pine nuts is really good and I don't generally like pine nuts that much. Do make sure you trust the source of your pignoli though because there is nothing worse than biting into rancid nuts.
Mix the polenta with some of the water, simmering for a couple of minutes or until you have a very thick paste. Cool.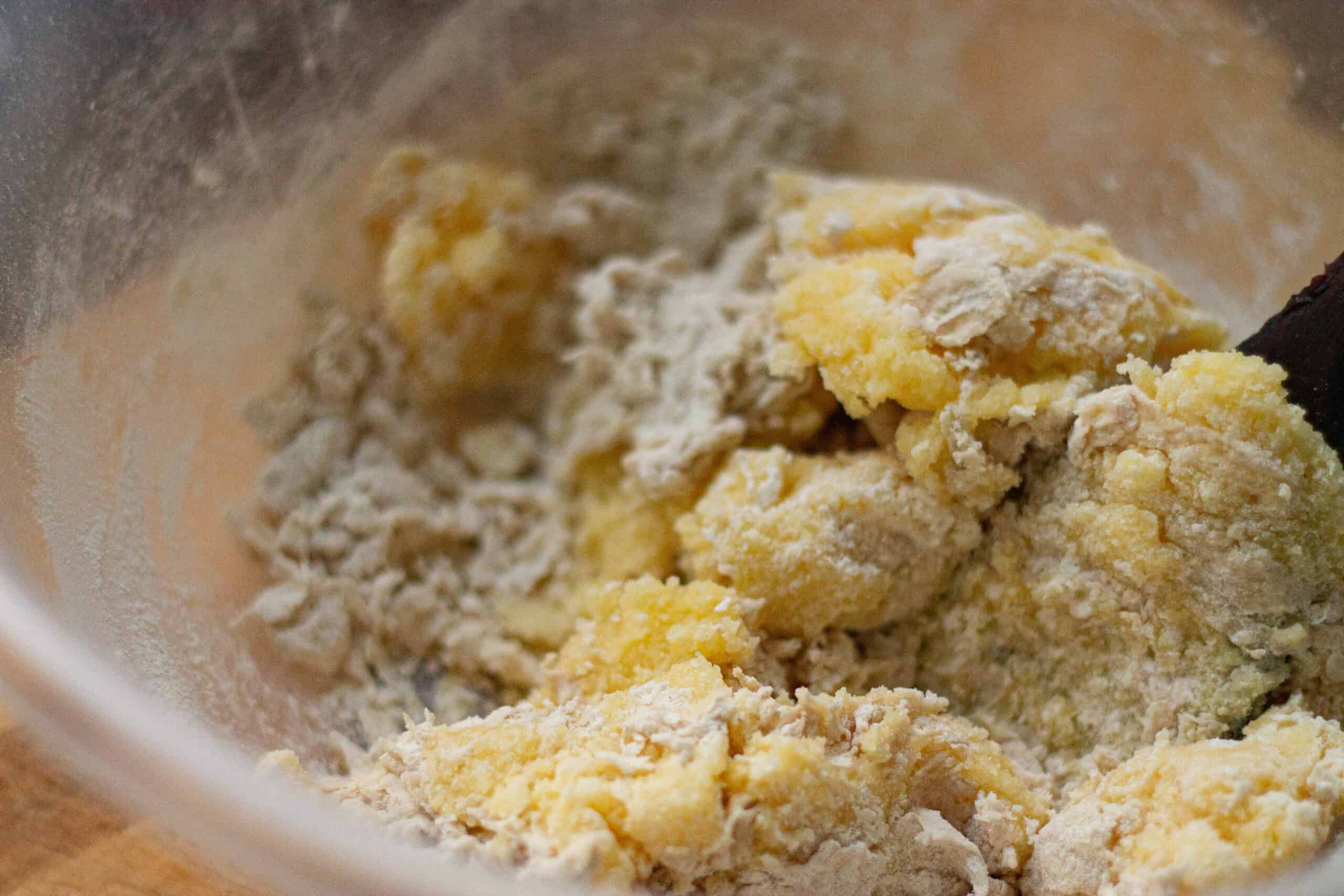 Adding the polenta to the flour/yeast mixture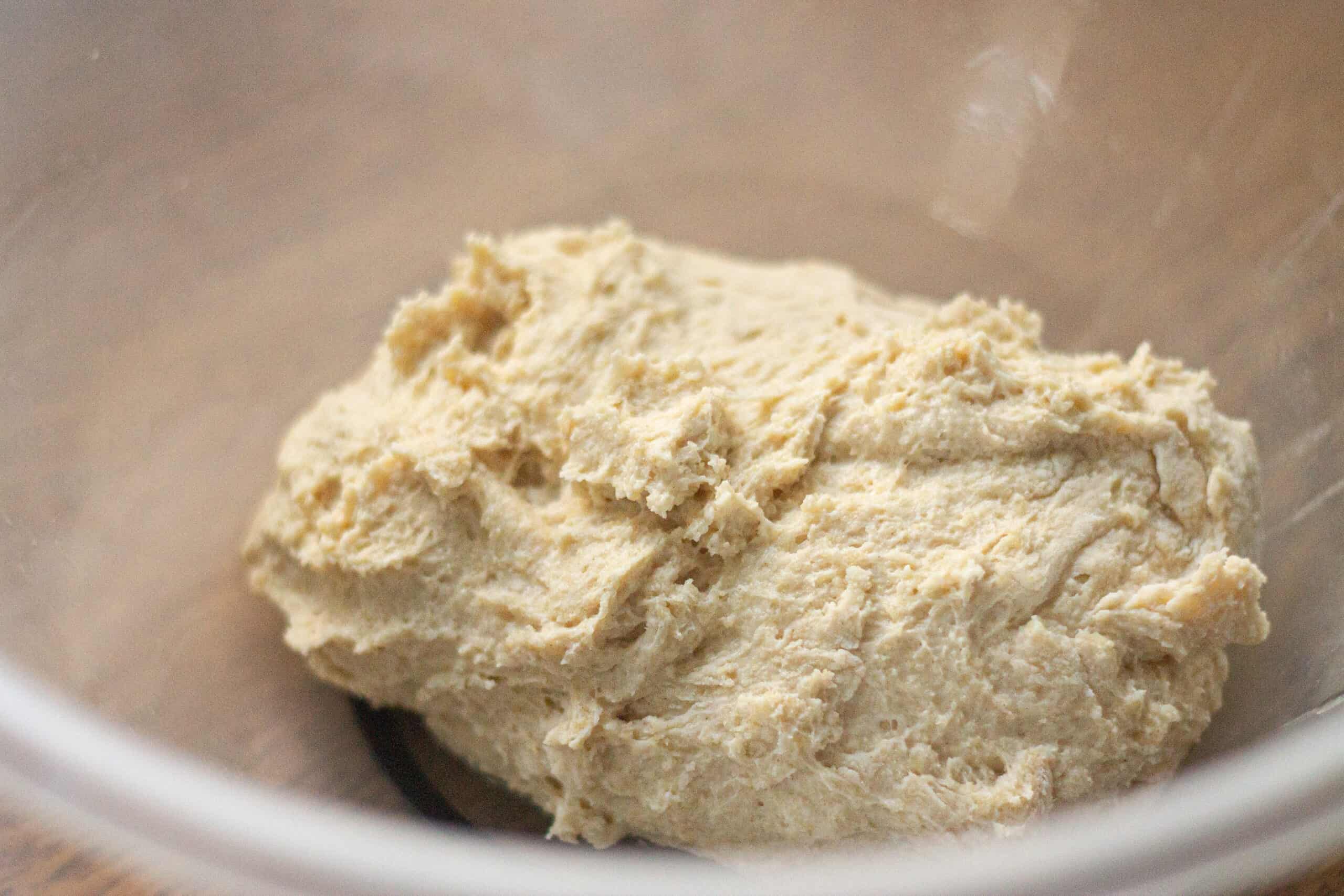 Knead the dough into a shaggy sticky dough and leave to prove for 2 hours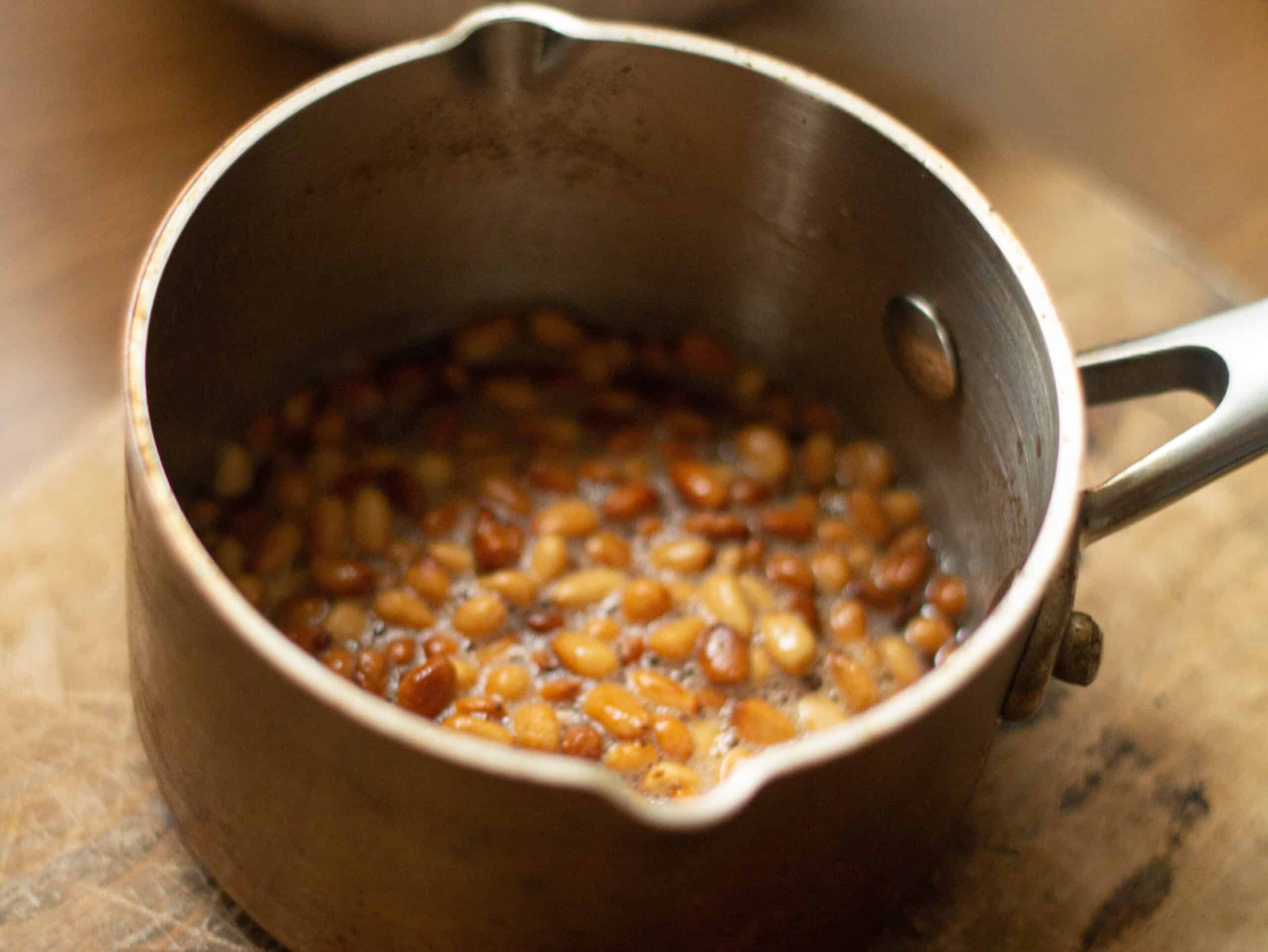 Whilst dough is proving, toast the pine nuts in the butter until golden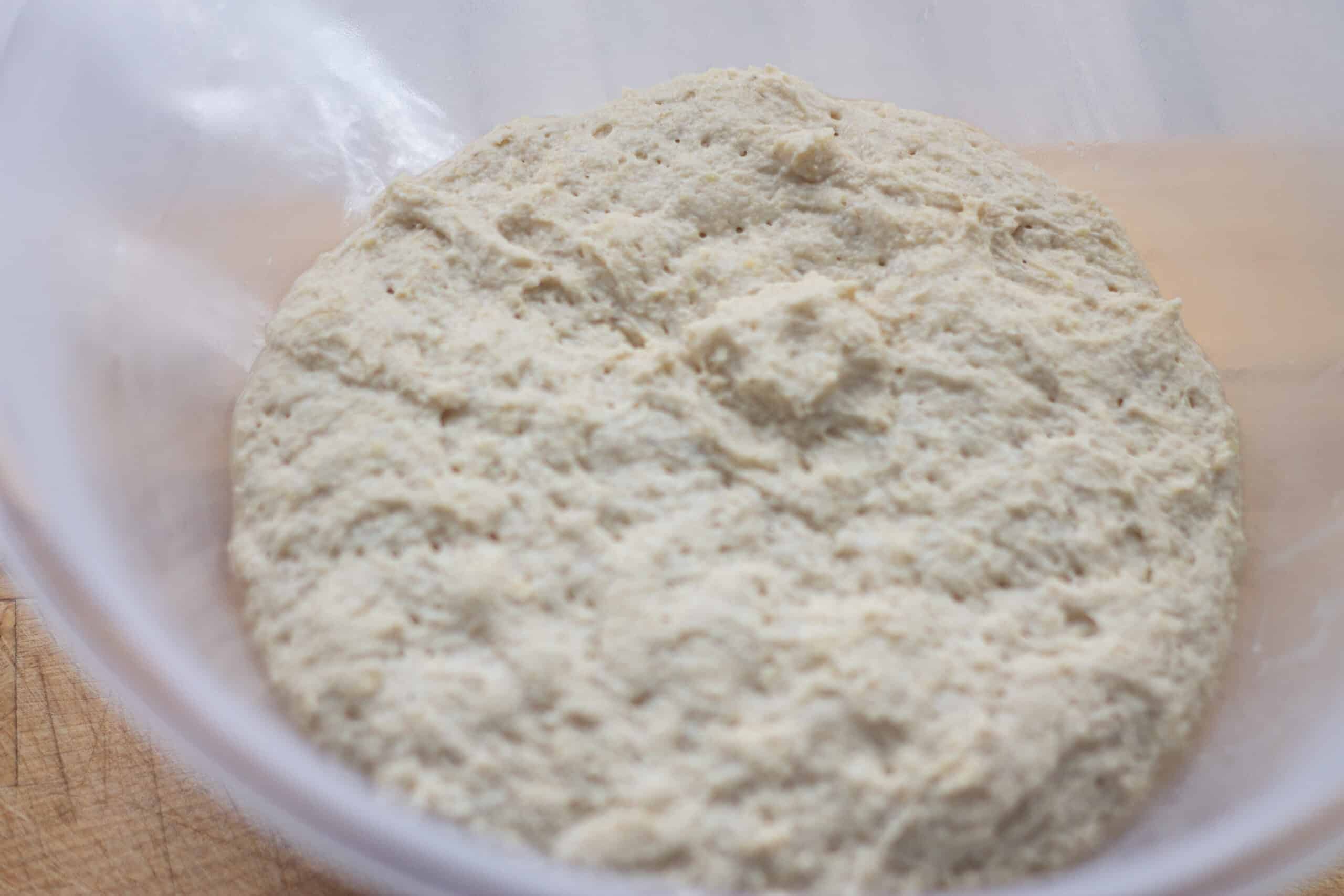 After two hours, your polenta starter should look bubbly and have doubled, at least
Add the remaining flour, salt, toasted pine nuts and butter to the polenta starter and knead for about 5 mins until smooth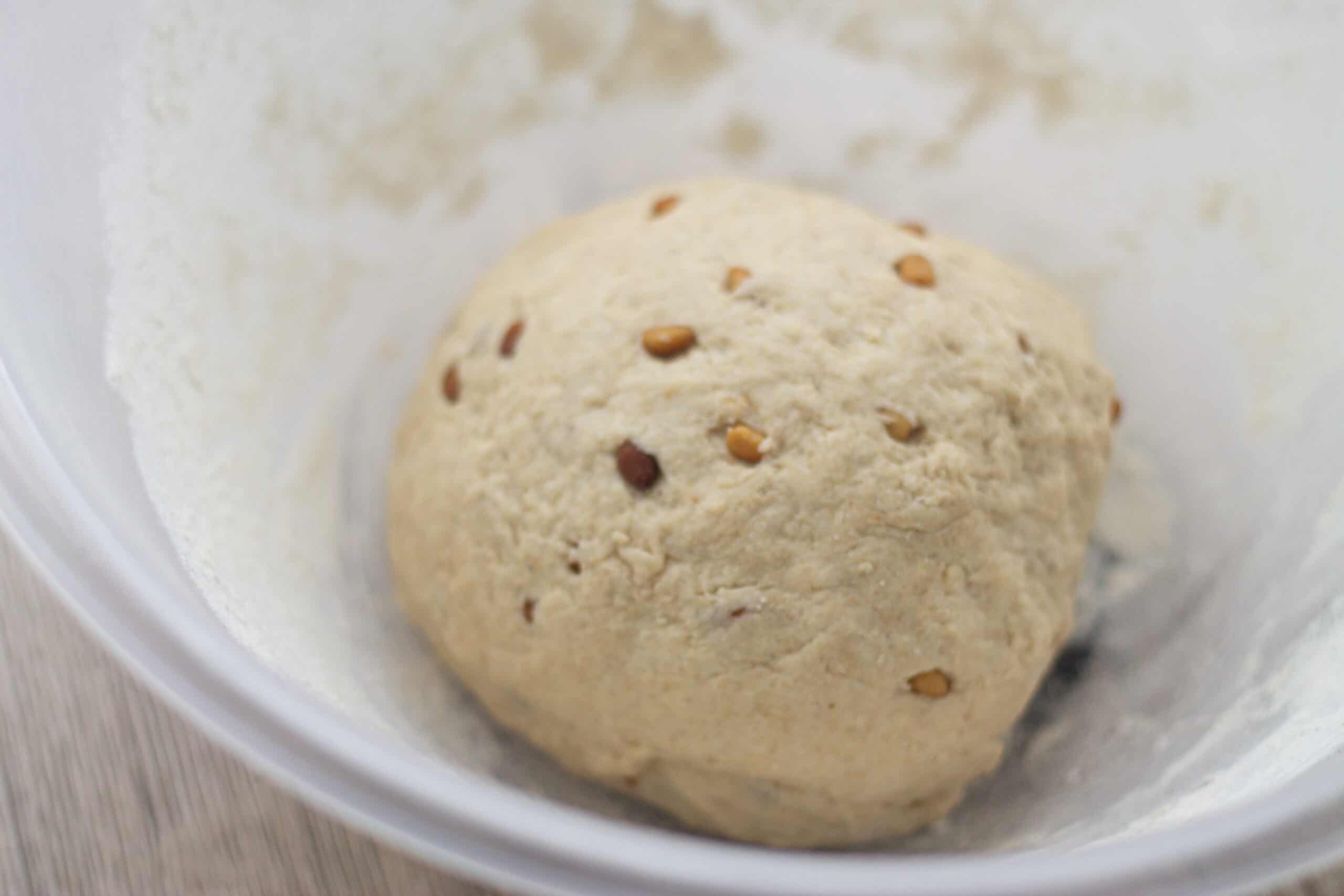 Leave the dough to rise for another hour before knocking down and forming into a plait
How to plait a loaf of bread
To form the loaf, separate into two balls.
Roll each ball into a long sausage, about 14 inches long.
Make a wishbone shape, joining the two sausages together at the top.
Then bring the right-hand side piece of dough over the left.
Repeat, once again bringing the dough on the right-side over the left until you have a large plait.
Pinch the ends together and leave to rise for half an hour.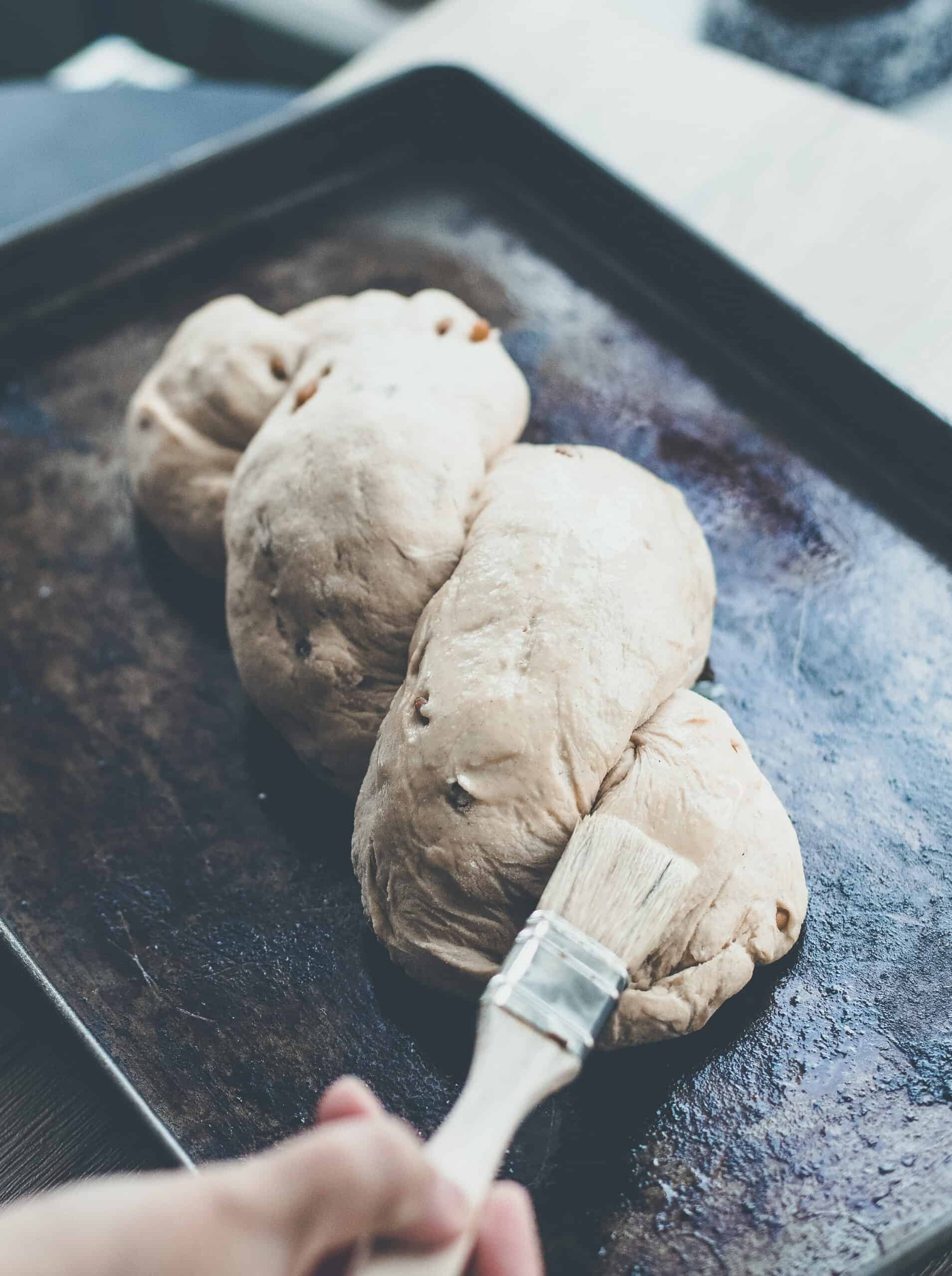 Brush plait with some soy milk and sprinkle with pine nuts before baking.
Hint: you may need to add a little more flour on the second knead, but it will be a lot smoother and easier to work with than the first knead!
Substitutions
flour – you could try using gluten free flour instead of regular, although I don't know how that would turn out – let me know in the comments if you try it!
maple syrup – the original recipe uses honey, which I replaced with maple syrup, but use any liquid sweetener of your choice
pine nuts – use any toasted, chopped nuts you have or omit altogether
Variations
To adapt the recipe, you could use chopped walnuts instead of pine nuts and try adding some chopped herbs (rosemary would be wonderful) to the dough. I also have a hunch that a sprinkling of vegan parmesan could be pretty good too.
Spicy – add chili pepper flakes into the dough when adding the pine nuts
Deluxe – add toasted nuts and dried cranberries
Kid friendly – add some dried fried onions to the mixture at the point of adding pine nuts for a different flavor
Equipment
You don't need much fancy equipment to make this bread, but I do recommend a metal dough scraper. It also works to cut dough into pieces and is just invaluable for helping with keeping surfaces clean when kneading. This is a really nice one:
Storage
Store the cooled, baked bread in a bread bin, good for 3-4 days.
You can wrap the bread, cooled, in clingfilm and freeze for up to 3 months
Top tip
Try using freshly chopped herbs or dried fruits in your bread!
FAQ
What can I use instead of pine nuts?
You could use toasted chopped walnuts or hazelnuts or even sunflower seeds
Polenta and Pine Nut Bread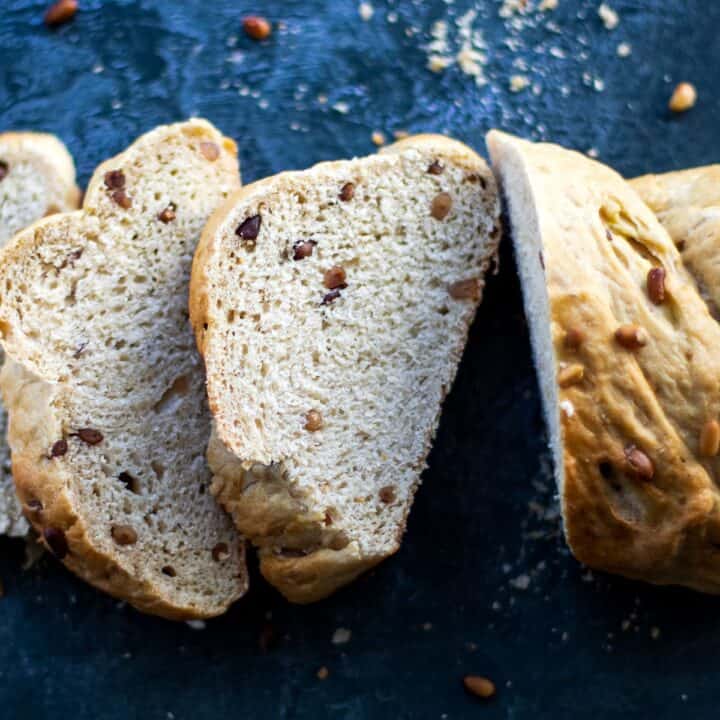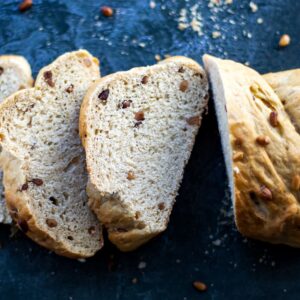 A deliciously textured, unusual bread
Ingredients
50

g

polenta

-

or cornmeal, medium

300

ml

water

-

lukewarm

15

g

yeast

-

two packets

½

teaspoon

maple syrup

225

g

white flour

-

separated into two halves

25

g

butter

-

vegan, melted

3

tablespoon

pine nuts

-

plus extra for sprinkling

1½

teaspoon

salt
Instructions
Mix the polenta with half of 250ml of the lukewarm water. Simmer gently for 2-3 minutes until thickened and cooked. Leave to cool.

Meanwhile, dissolve the yeast in the remaining 50ml warm water, along with the maple syrup.

In a bowl, mix the yeast mixture with 115g of the flour, sifted, then beat in the cooked polenta.

Turn this mixture out onto a well-floured surface and knead for about five minutes until elastic. You will need to add extra flour if the mixture seems very wet, or it will just stick to your hands and everywhere else. A dough scraper comes in very handy here too. Don't expect a smooth, non-sticky dough at this point, you just want it to hold together.

Once you have got a cohesive dough, place into a lightly greased bowl, cover with clingfilm and leave to rise for 2 hours. It should double in size and look very bubbly and airy, like the middle of malt balls.

Sometime before the two hours are up, melt the butter and mix in the pine nuts, cooking until they are golden brown. Leave to cool.

Once the two hours are up, add the remaining flour and salt to the polenta/flour/yeast starter and mix with a wooden spoon until well combined. Mix in the pine nuts and butter and turn out onto a floured surface.

Knead well for 5 minutes until smooth and elastic.

Return to a well oiled bowl, cover and leave for another hour, until doubled once again.

Finally, knock back the dough and split into two. Roll each half out into a long sausage shape, about 15″ long. Roughly plait together and place on a well oiled baking sheet. Cover and leave to rise for 45 minutes.

Preheat oven to 200c.

After 45 minutes, brush the plait with some soy milk, sprinkle with pine nuts and bake for half an hour, or until golden and fragrant. Your nose will tell you when it's ready.

Leave to cool if you can bear it, or split straight away and eat with butter, melting and running down your chin.
Please note that where the recipe asks for milk, butter or yogurt, this refers to any plant-based version that you prefer.
Nutrition Facts
Polenta and Pine Nut Bread
Amount per Serving
% Daily Value*
* Percent Daily Values are based on a 2000 calorie diet.
Food safety
Cook to a minimum temperature of 165 °F (74 °C)
Do not use the same utensils on cooked food, that previously touched raw meat
Wash hands after touching raw meat
Don't leave food sitting out at room temperature for extended periods
Never leave cooking food unattended
Use oils with high smoking point to avoid harmful compounds
Always have good ventilation when using a gas stove
See more guidelines at USDA.gov.