Vegan Jerusalem Artichoke Soup Recipe
This post contains links to affiliate websites, such as Amazon, and we receive an affiliate commission for any purchases made by you using these links. We appreciate your support!
Vegan Jerusalem artichoke soup is a delicious and nutritious option for those following a plant-based diet. This creamy soup is made from pureed Jerusalem artichokes, known for their earthy and slightly sweet flavor. Whether you're a vegan or simply looking to try something new, vegan Jerusalem artichoke soup is a must-try dish that will leave you satisfied and wanting more.
It's November and we're starting to see the winter roots in the veggie markets. I am unnecessarily thrilled that new potatoes have currently left the party, and we can enjoy large, fluffy baked potatoes instead.
We're also seeing parsnips (click here for my delicious spiced Parsnip Soup), carrots, beetroot (try my velvety vegan borscht) and brussels sprouts.
Of course, we've all tried these, but have you ever looked at the nobbly little Jerusalem Artichokes (also known, charmingly, as sunroot, sunchoke, earth apple or wild sunflower) and wondered, what on earth do these taste like?
What Do Jerusalem Artichokes Taste Like?
Texturally they are not like potato, nor are they anything like Globe Artichokes. Rather, they are more like a taro or cassava, quite starchy, with a flavour that is a cross between a baked potato and a chestnut. It's quite unique, quite delicate but it adds a delightful savoury flavour when combined with other soups.
How do you prepare Jerusalem Artichokes?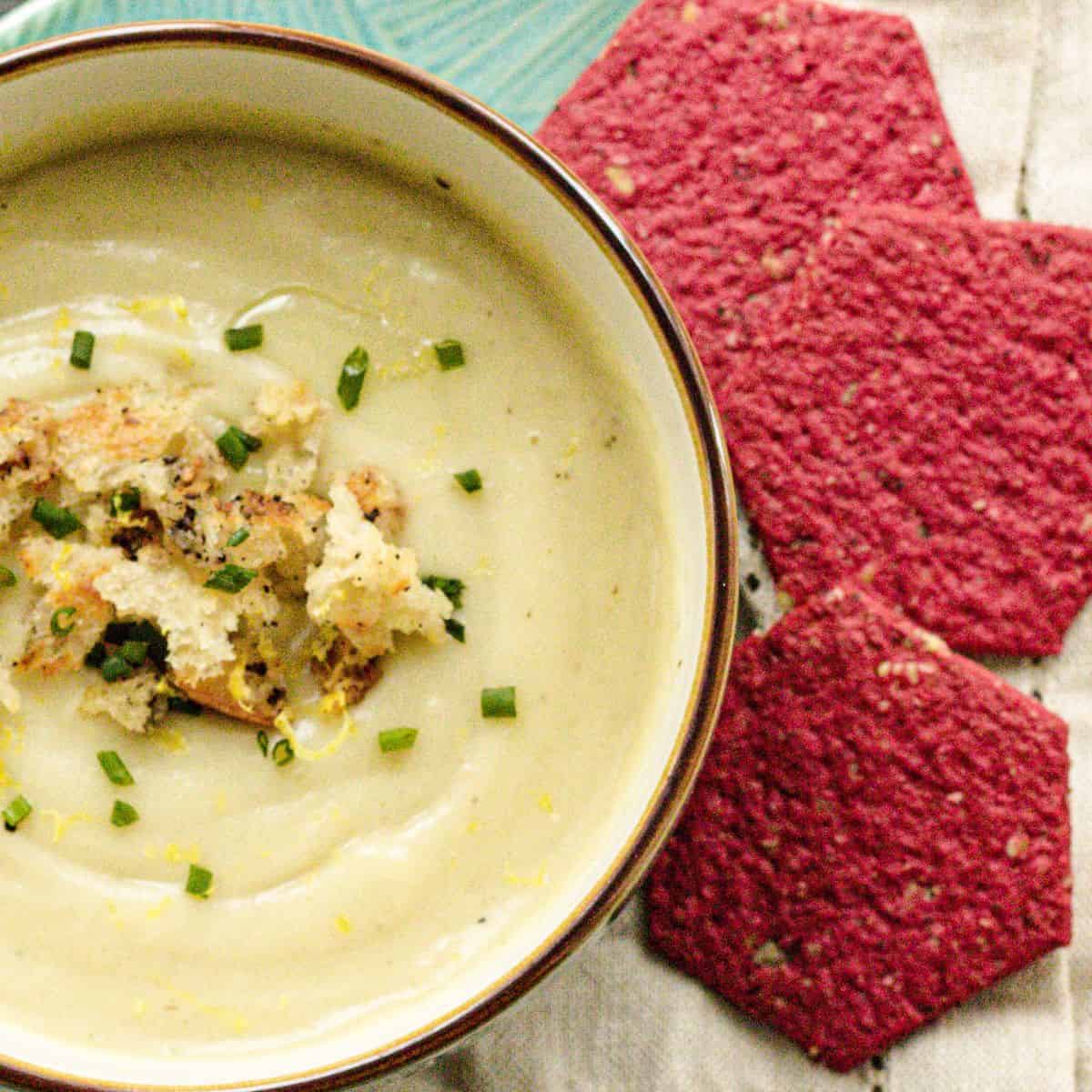 Much like chestnuts, Artichokes, whether they're Jerusalem or Globe, can be a pain to prepare/eat.
How to Prep Jerusalem Artichokes
I have a method which reduces some of the faff of preparing Jerusalem ones though.
Boil your unpeeled (but washed) artichokes in salted water until a knife tip pierces them easily. I check the largest one. You may find that the smaller ones will be a little mushier. Do not worry.
Drain them. Let them cool until you feel you can handle them comfortably.
I like to slice them in half lengthwise, and, taking a teaspoon, I scoop out the flesh into a bowl and discard the skins.
If you roast Jerusalem Artichokes, you can eat the skin. However, for texture and consistency if making soups or purees, I do recommend you just use the flesh.
If you choose to freeze your soup, it will go incredibly thick on thawing so you might want to add a little more cream or water just to thin it slightly when you gently warm it through. However, it is supposed to be a thick soup!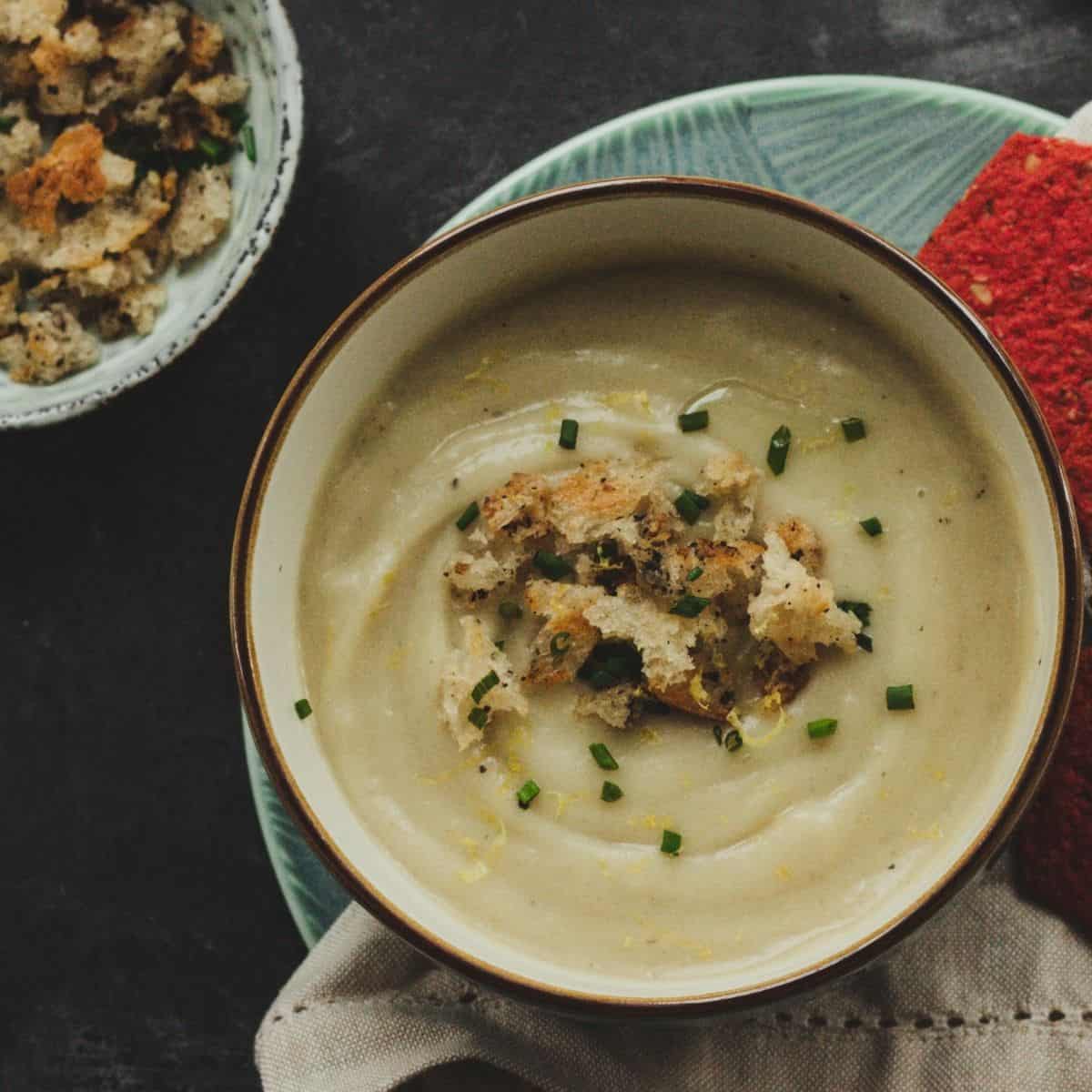 If you want to try my vegan Artichoke Soup, I highly recommend you make my delicious Truffled Sourdough Crouton crumbles. The soup is thick, hearty but also deeply luxurious. What I love about this soup is that you can make it ahead of time and freeze it. It makes a perfect starter for a festive meal, warm and comforting, yet slightly decadent with the truffly scented croutons. And if you were considering buying a jar of truffle paste, here's my recipe for delicious Truffle Triangles, or Yummly have ten more truffly suggestions that might tickle your tastebuds!
Try my other delicious vegan soups
Vegan Jerusalem Artichoke Soup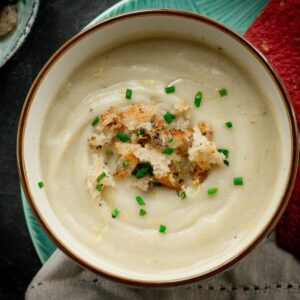 A delicious, creamy festive soup, perfect for the celebratory table
Ingredients
350

g

Jerusalem Artichoke

-

cooked, and peeled

200

g

Potato

-

peeled, and cubed

1

Onion

-

small, peeled and diced

1

tsp

Olive Oil

Salt and Pepper to taste

500

ml

Water

-

or vegetable stock

¼

cup

Cream

-

vegan (I use Elmlea)
Instructions
Wash your Jerusalem Artichokes in a bowl of water to remove any soil

Place them, unpeeled, in a large pan of salted water. Bring to a bowl, then turn down to a simmer.

Cook until the largest Artichoke in the pan is tender when pierced with a knife tip.

Drain and leave to cool until you can handle them.

I find it easiest to roughly cut them in half and then scoop out the flesh using a teaspoon. Discard the skin.

Whilst the artichokes are cooking, saute your onion and diced potato in some olive oil, over a low heat, until the potato is softened. If this is ready before the artichokes, you can turn this off whilst you prep the cooked artichokes.

Add the artichoke flesh to potato and onion mixture, and stir gently to amalgamate.

Add the water, salt and pepper, and bring once again to a gentle simmer. Turn down and let all the flavours mingle for about 10 minutes.

Now place this mixture in a blender and whizz up until smooth. Pour into a small saucepan and taste for seasoning.

Add the dairy-free cream and gently warm through.

You can now serve this soup, garnished with my truffled crouton crumbs or leave to cool and freeze it to use later.
Please note that where the recipe asks for milk, butter or yogurt, this refers to any plant-based version that you prefer.
Nutrition Facts
Vegan Jerusalem Artichoke Soup
Amount per Serving
% Daily Value*
* Percent Daily Values are based on a 2000 calorie diet.