How to make Easy and Delicious Vegan Millionaire's Shortbread at home
This post contains links to affiliate websites, such as Amazon, and we receive an affiliate commission for any purchases made by you using these links. We appreciate your support!
If you love the sweet treat, Millionaire's Shortbread (aka caramel shortbread), but often find vegan versions too sweet or just too expensive, try my quick and easy method!
PIN my easy vegan Millionaire's Shortbread to make later
I have yet to visit a coffee shop that doesn't sell their own version of Millionaire's Shortbread (Costa's version is called Billionaire's Shortbread but don't let their hubris fool you, it's just white chocolate with gold sprinkles). However, none seem to sell a vegan version, and supermarket versions are often a little lacklustre or just downright expensive.
This was inspired by my traditional shortbread recipe and my simple vegan florentines!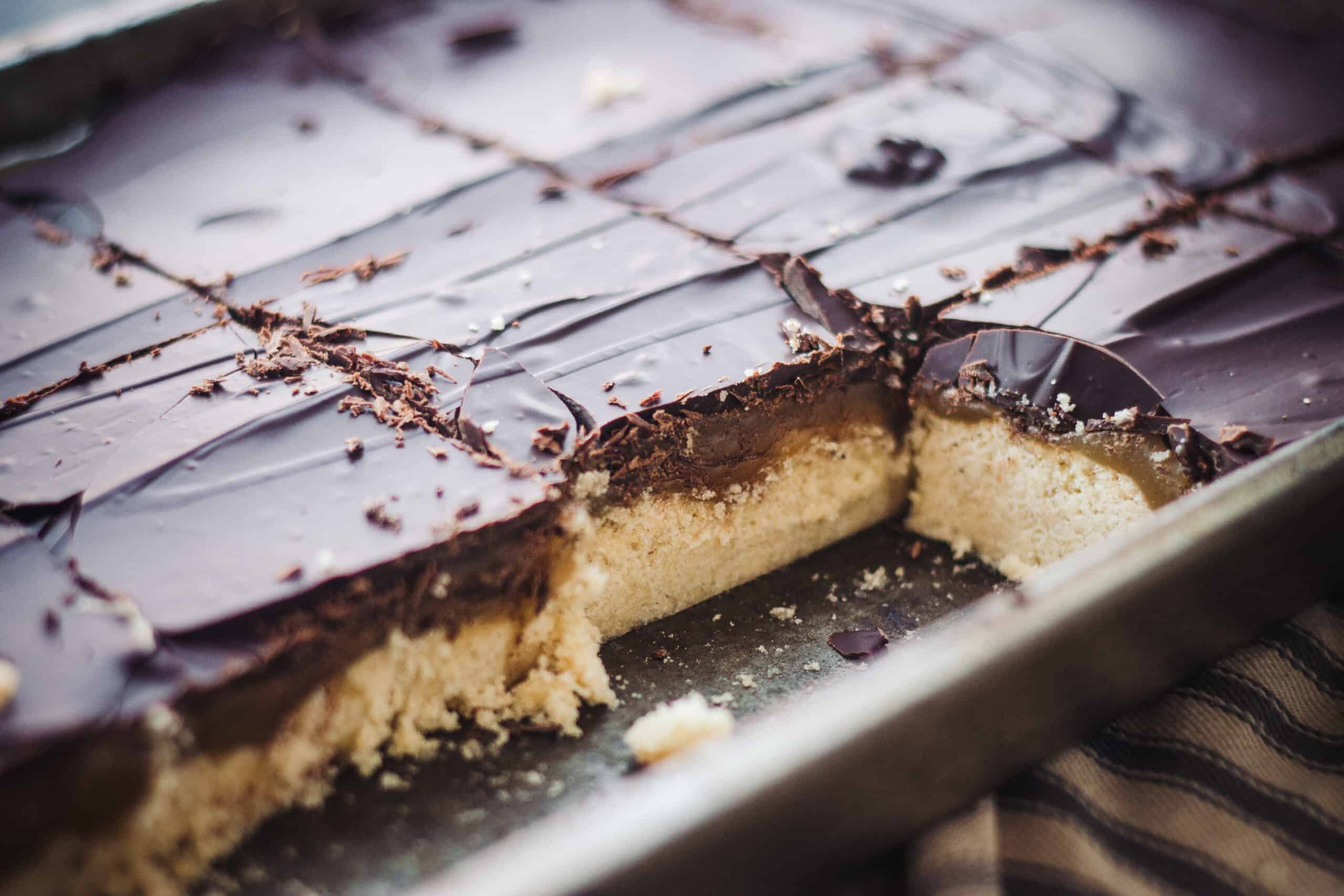 My version uses store cupboard ingredients, although you might have to pop out and buy a can of vegan condensed milk. I use Nestle's brand, although Biona also do a condensed coconut milk and Nature's Charm do a condensed oat milk.
What is Millionaire's Shortbread?
Vegan Millionaire's shortbread is a three layer biscuit/cake comprising of a shortbread base, a thick caramel layer, topped with a luxurious layer of melted chocolate. It is, as you might assume, incredibly rich and very sweet. Usually cut into small (or not so small) squares, it is a decadent vegan treat, but one that is easy to make, and the best news is, you can freeze the squares so you're not tempted to eat them all!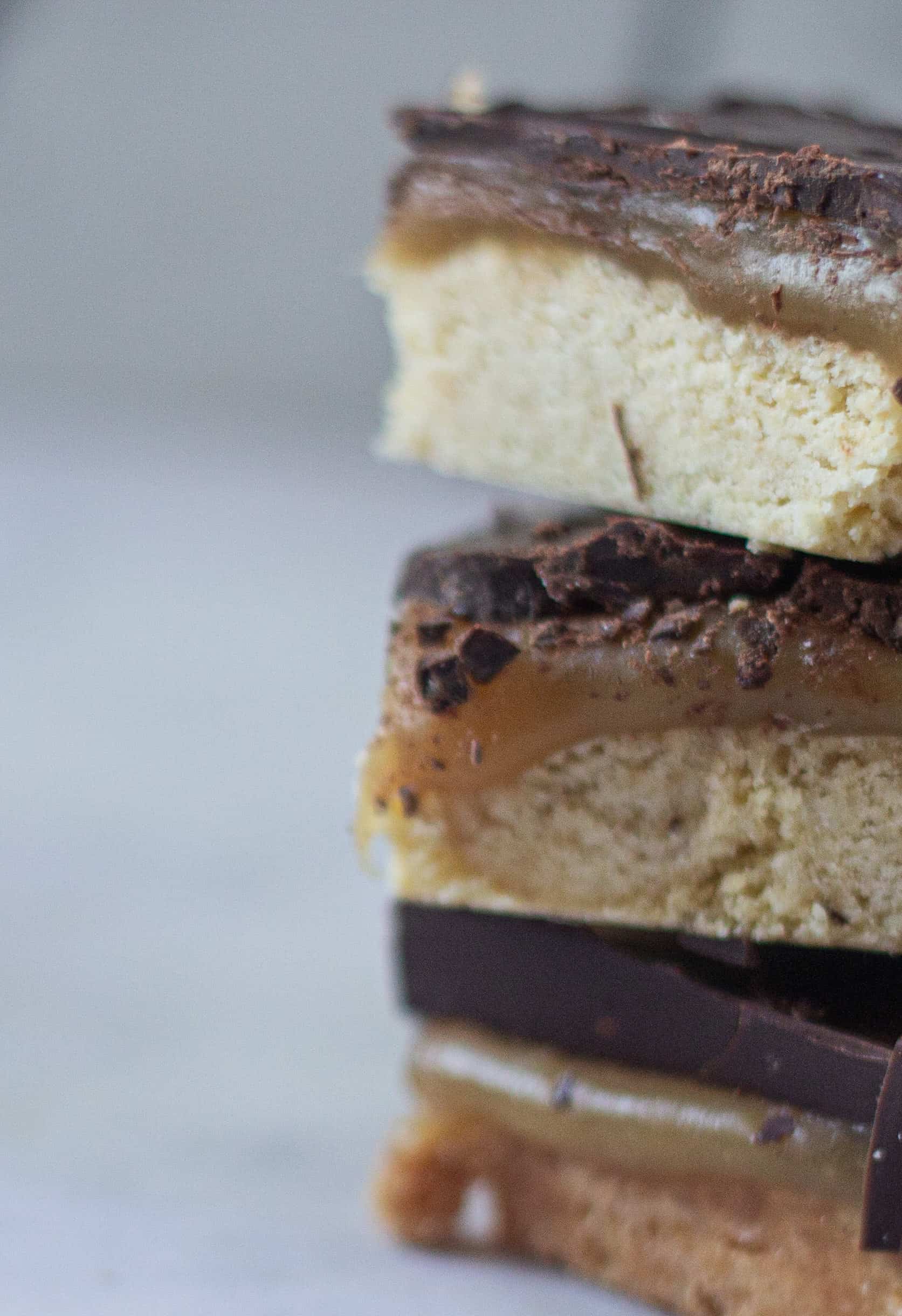 My Easy Foolproof Vegan Shortbread
The shortbread for this recipe is proper shortbread, but it is soooo simple to make. Simply pop all the ingredients in a large mixing bowl (or hands-free mixer) and mix until you have a nubbly mixture. Tip this crumbly mixture into your lined tin and press firmly to the edges, then bake!
You can also turn this into shortbread fingers, simply cool for a couple of minutes after baking, then cut into fingers whilst still warm. Sprinkle with some sugar.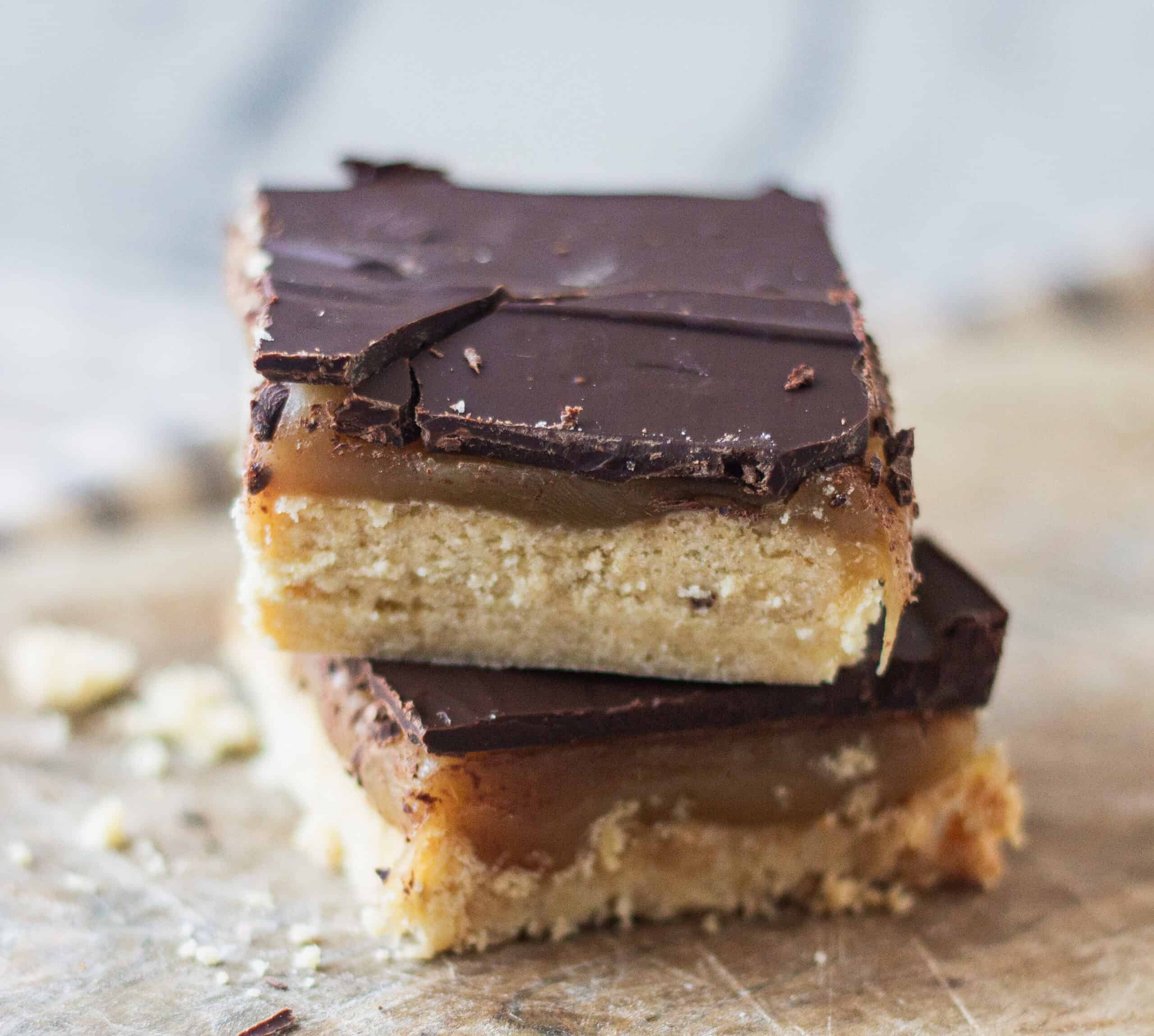 Ingredients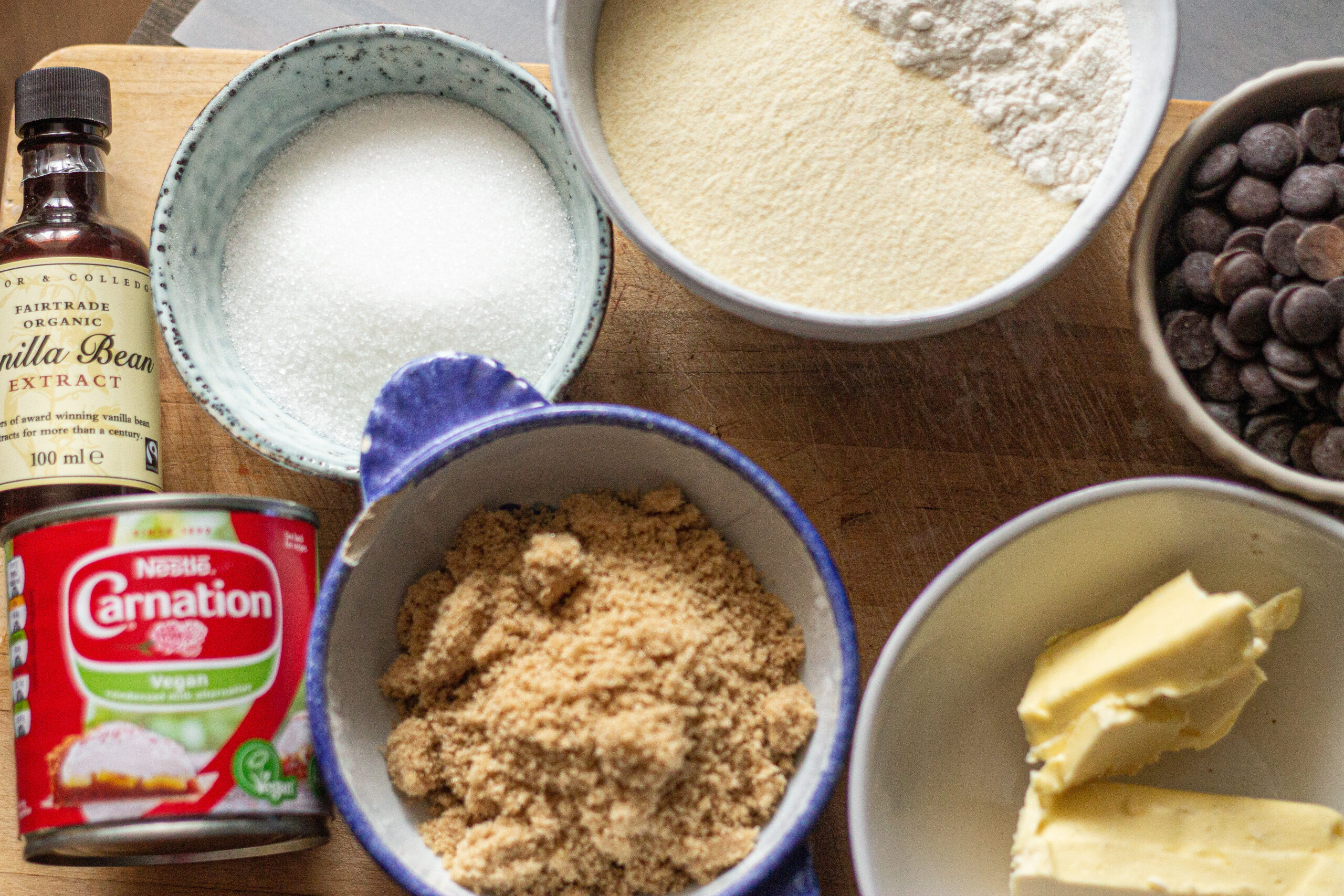 plain flour and semolina
vegan butter
sugar, white and brown
vegan condensed milk
dark chocolate
vanilla
sea salt
Instructions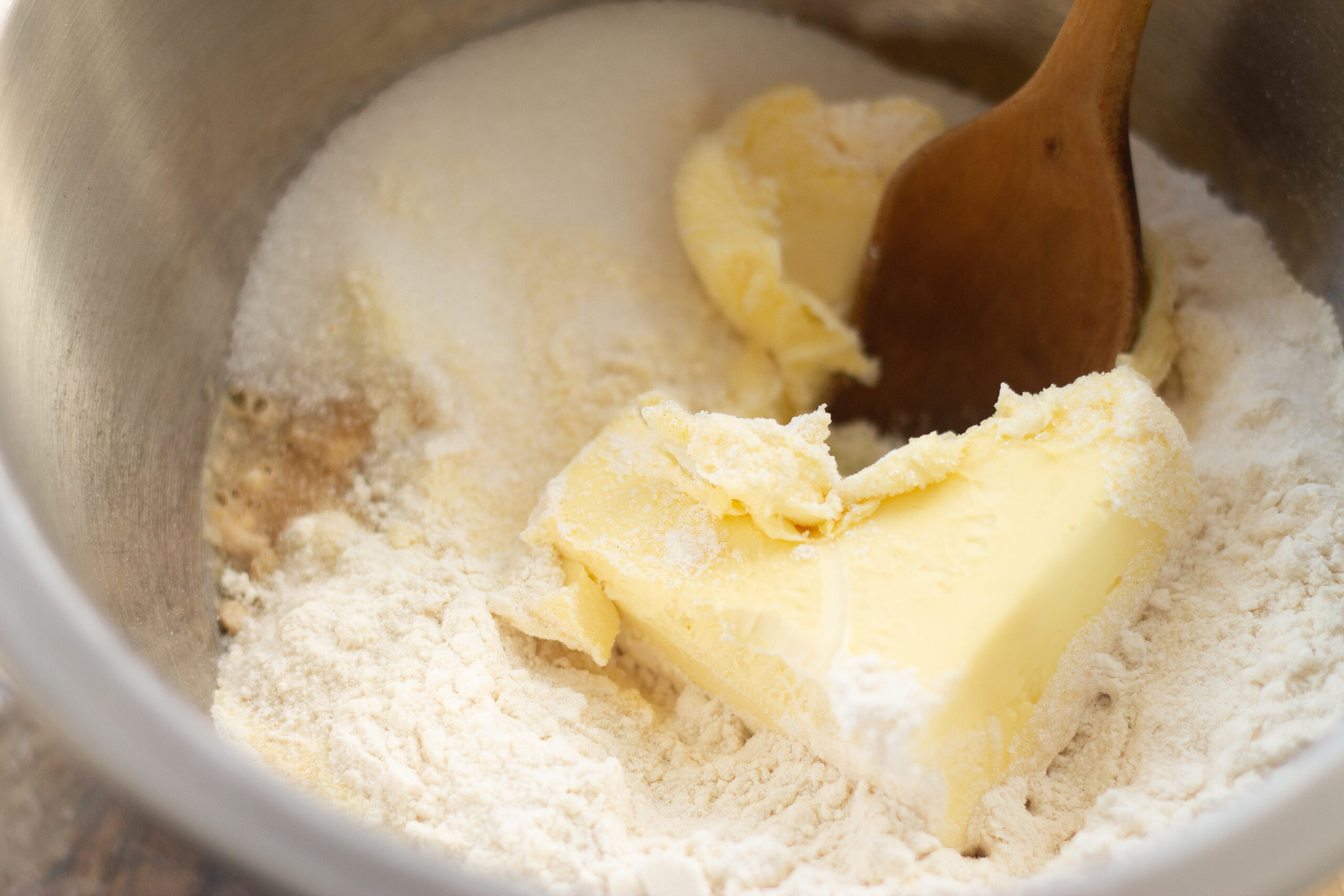 Place all the ingredients for the shortbread layer in a mixing bowl and mix until you have a crumbly dough.
Tip the crumbly dough into the prepared lined tin and press firmly. Bake for 40 mins at 150c. Cool.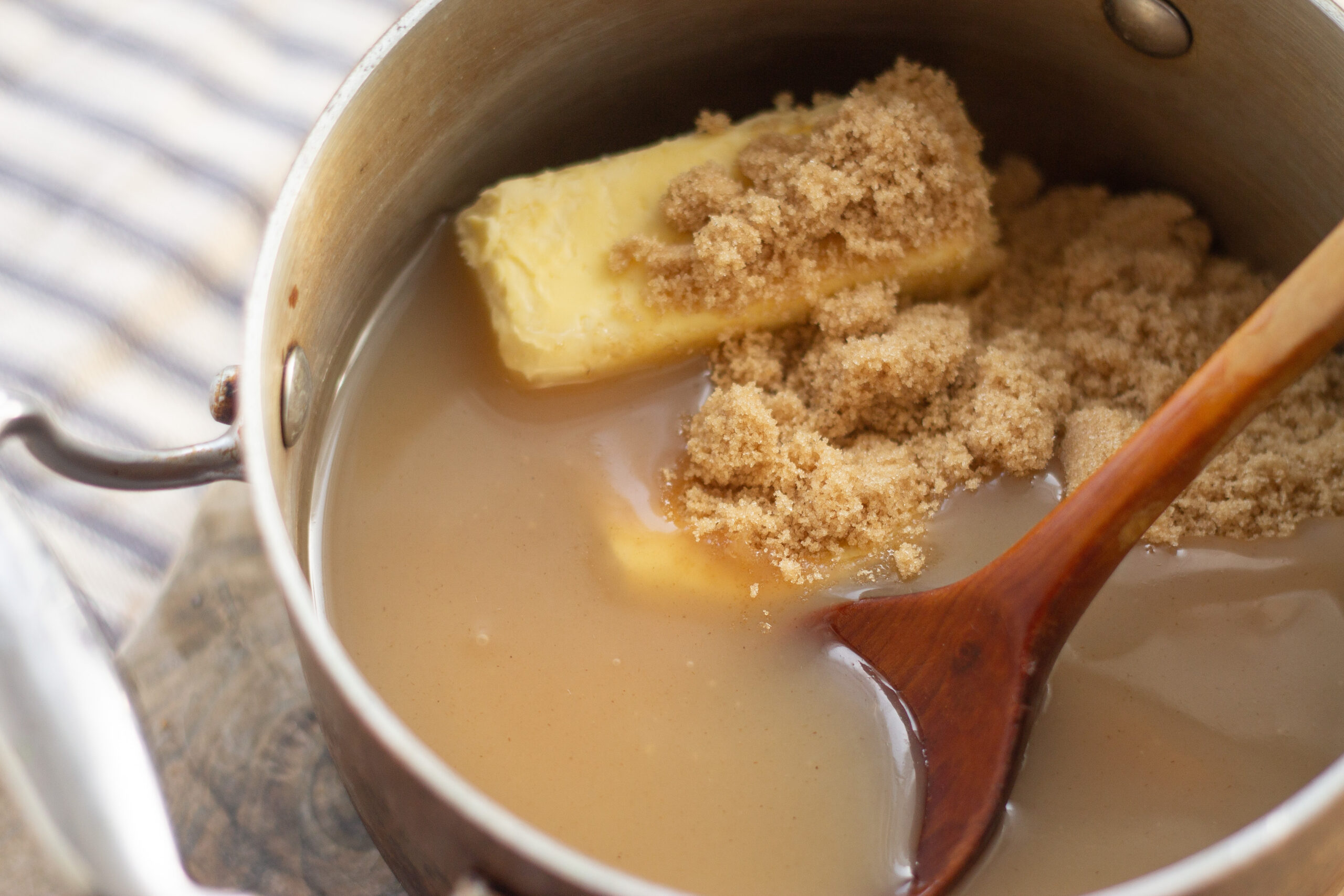 Place the butter, brown sugar and vegan condensed milk into a saucepan and cook until you have a thick caramel (it will be ready to feel it start to "tighten up" when you're stirring. You still need it to be at pourable thickness.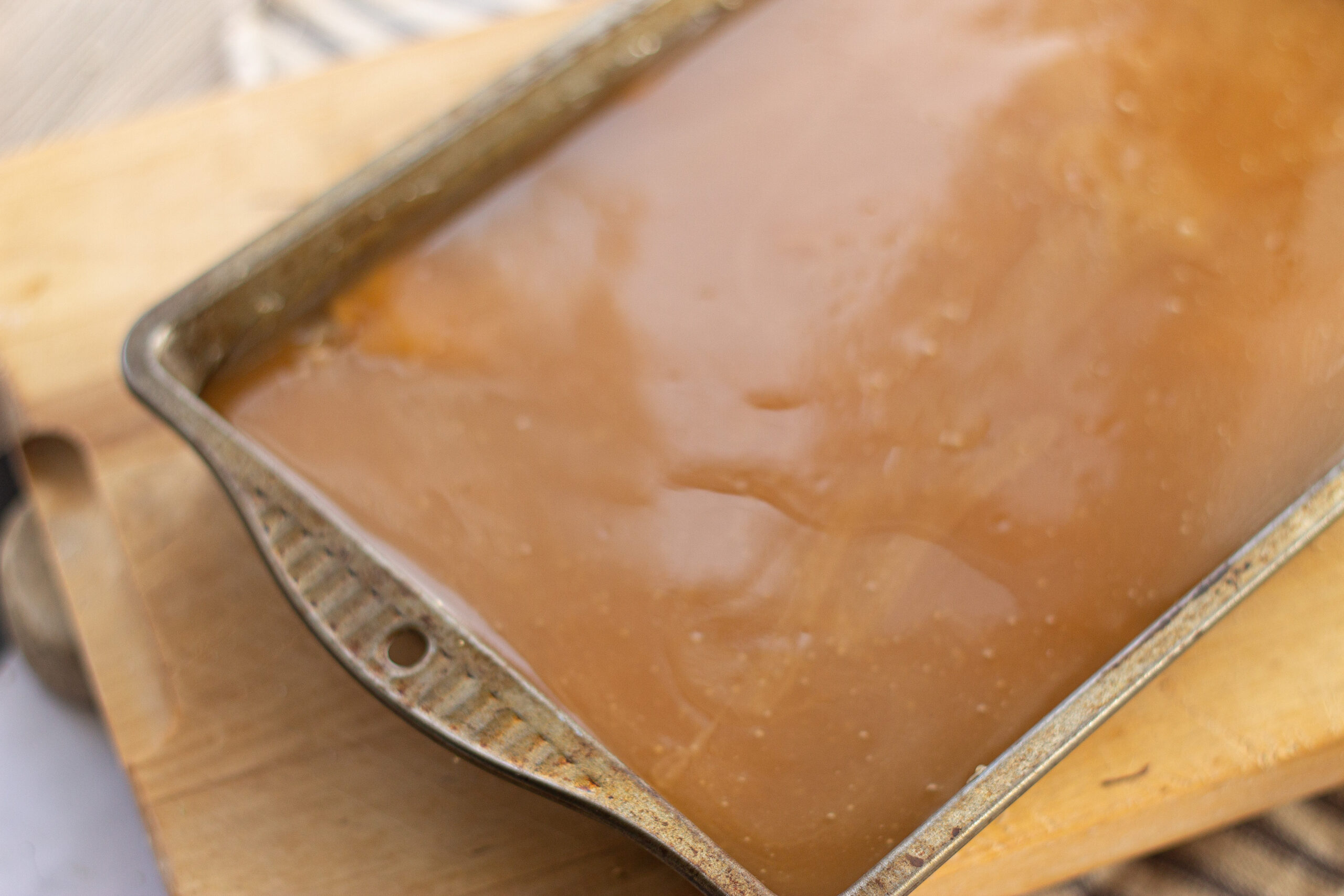 Pour the caramel over your cooled shortbread. It will still be quite thin when you pour it so don't panic, but it will set up really quickly!
Melt the chocolate and pour over the cooled caramel. Spread evenly. Chill.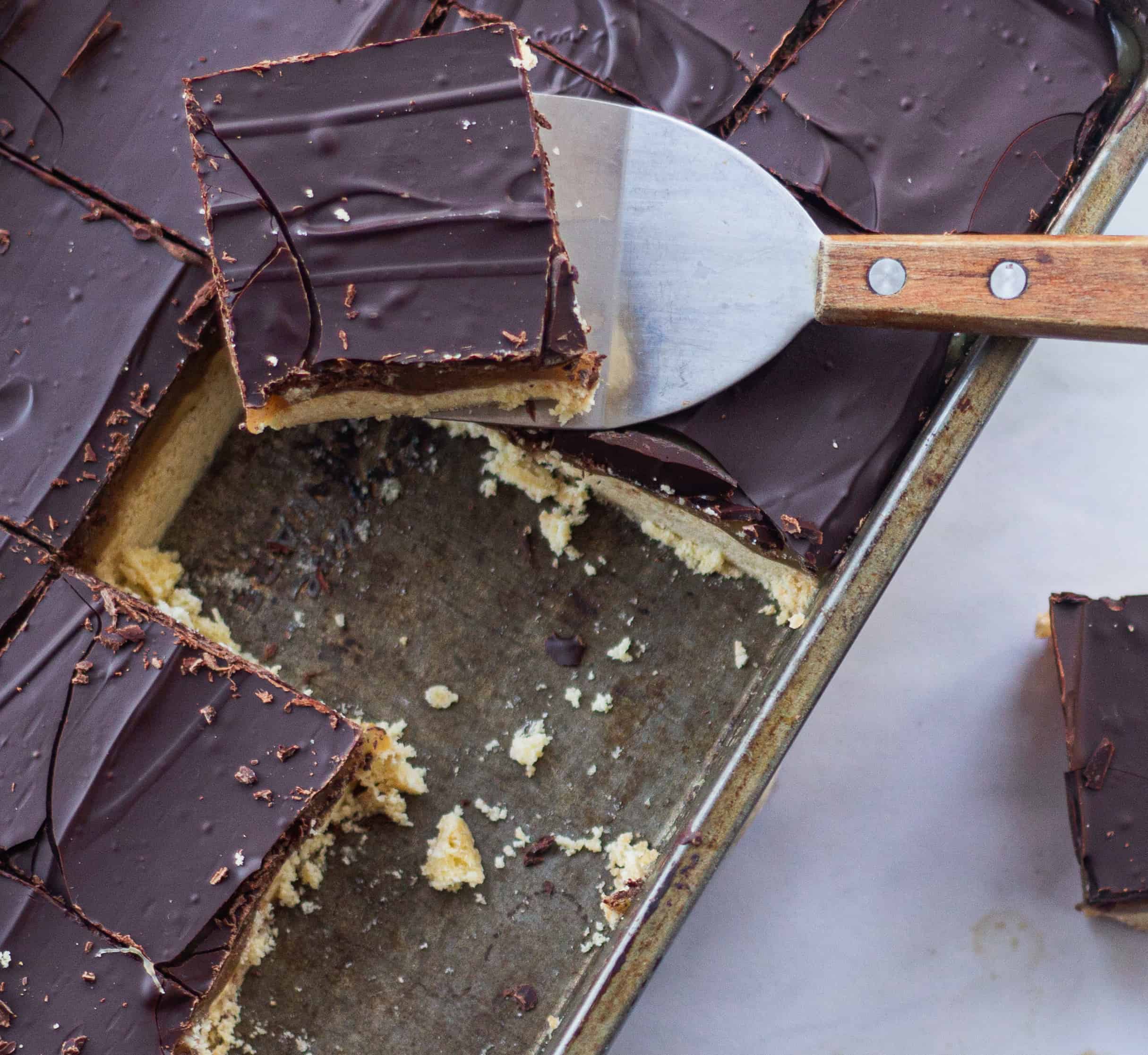 Once the chocolate is set, cut into squares.
Hint: if you are cooking in hot weather refrigerate the shortbread dough in the tin before baking for a more even bake. I would recommend this especially with shortbread cookies as if they're too warm, they can lose their shape during baking.
Substitutions
Dark Chocolate – use a vegan milk or white chocolate for the topping instead of dark
Flour – use gluten free plain flour instead of white to make this gluten free (check the condensed milk for allergens though)
Variations
Deluxe – add a sprinkle of sea salt to the chocolate layer before it sets to make it a Billionaire's Shortbread!
Kid friendly – use vegan milk chocolate or white chocolate for the topping instead, and cut into smaller squares.
Storage
You can prep the shortbread in advance by baking it, leaving it cool, then covering it, in the tin, before you're ready for the caramel. You could do this a couple of days in advance.
Once you've made your caramel shortbread, I keep mine in the refrigerator, as the caramel can get soft at room temperature, but it will last in the fridge for up to a week.
If you want to freeze it, cut it into squares, chill it, then wrap the squares individually in clingfilm and freeze for up to 3 months. Remove from the freezer when you need a sugar hit, and let defrost at room temperature.
Top tip
To cut your vegan millionaire's shortbread, use a hot sharp knife (I run mine under the hot tap, then dry it with a clean tea towel or kitchen paper) to slice through the chocolate layer without it splintering. Frankly I have never found this method to work particularly well but I think that's me and every other baker recommends it!
Related
Looking for other recipes like this? Try these:
Perfect Vegan Millionaires Shortbread Recipe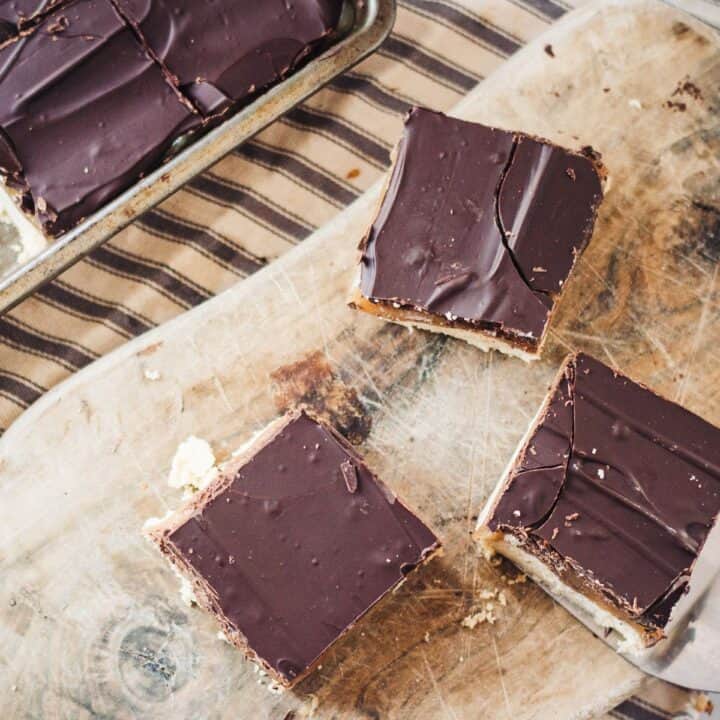 An easy and quick caramel shortbread recipe that is dairy and egg free
Equipment
1 baking tin, 9" x 9" square, lined
Ingredients
Shortbread layer
175

g

Plain flour

85

g

Semolina

75

g

Sugar

175

g

Butter

vegan, room temperature

½

tsp

Vanilla Extract

¼

tsp

Salt
Caramel layer
100

g

Butter

vegan

100

g

Brown sugar

370

g

Condensed Milk

vegan
Chocolate layer
200

g

Chocolate

vegan, of your choice
Instructions
To make the shortbread layer
Place all the shortbread ingredients in a large mixing bowl, and, using a wooden spoon, or in a hands-free mixer, mix well until the mixture starts to clump together.

Tip into your prepared baking tin and press mixture down firmly.

Bake for 40-50 minutes until pale golden brown but feels firm to the touch.

Leave to cool in the pan.
To make the caramel layer
Place the butter, brown sugar and vegan condensed milk into a saucepan and heat until the sugar is dissolved.

Turn up the heat, stirring constantly, bring to the boil, then turn down the heat to a gentle simmer, still stirring, and cook until thickened, 5-10 minutes.

Pour this over your cooled shortbread and leave to cool.
To make the chocolate topping layer
Either on a double boiler or in the microwave, melt the chocolate until it is pourable and glossy.

Pour over the caramel and leave to set.

Use a hot knife (I run mine under a hot tap then dry it) to cut into squares.
Nutrition Facts
Perfect Vegan Millionaires Shortbread Recipe
Amount per Serving
% Daily Value*
* Percent Daily Values are based on a 2000 calorie diet.