Easy and Delicious Vegan Boozy Truffles
I came across this recipe in a book about edible gifts, and whilst the idea that I might give these easy vegan boozy chocolate truffles away is a nice thought…once you've tried them, you probably won't want to share them!
These are delicious all year round, but I think they are especially nice at Christmas time, when it seems that all the chocolate liqueurs and rum truffles come out to play. I think my vegan version could give either of those a run for their money.
For a keto treat, try my easy keto chocolate truffles, or my rich cacao nib truffles, which will please everyone!
Do you remember those strange rum truffles that you only seem to get at Christmas? They come in red foil packaging and have an odd texture that is something between stodgy cake and Christmas pudding? I never particularly liked them as I found them a little…strange but I know lots of people who love them, and I guess that's why they appear on the shelves every December.
My boozy truffles are similar in that they contain both chocolate and alcohol (you can use any spirit you like), but that's where the similarities end. These truffles get their texture from crushed biscuits and nuts, and so are a nicer (in my opinion) texture, that shop bought truffles. However, if you love the shop bought, there's nothing to say that you can't enjoy both. It is Christmas after all….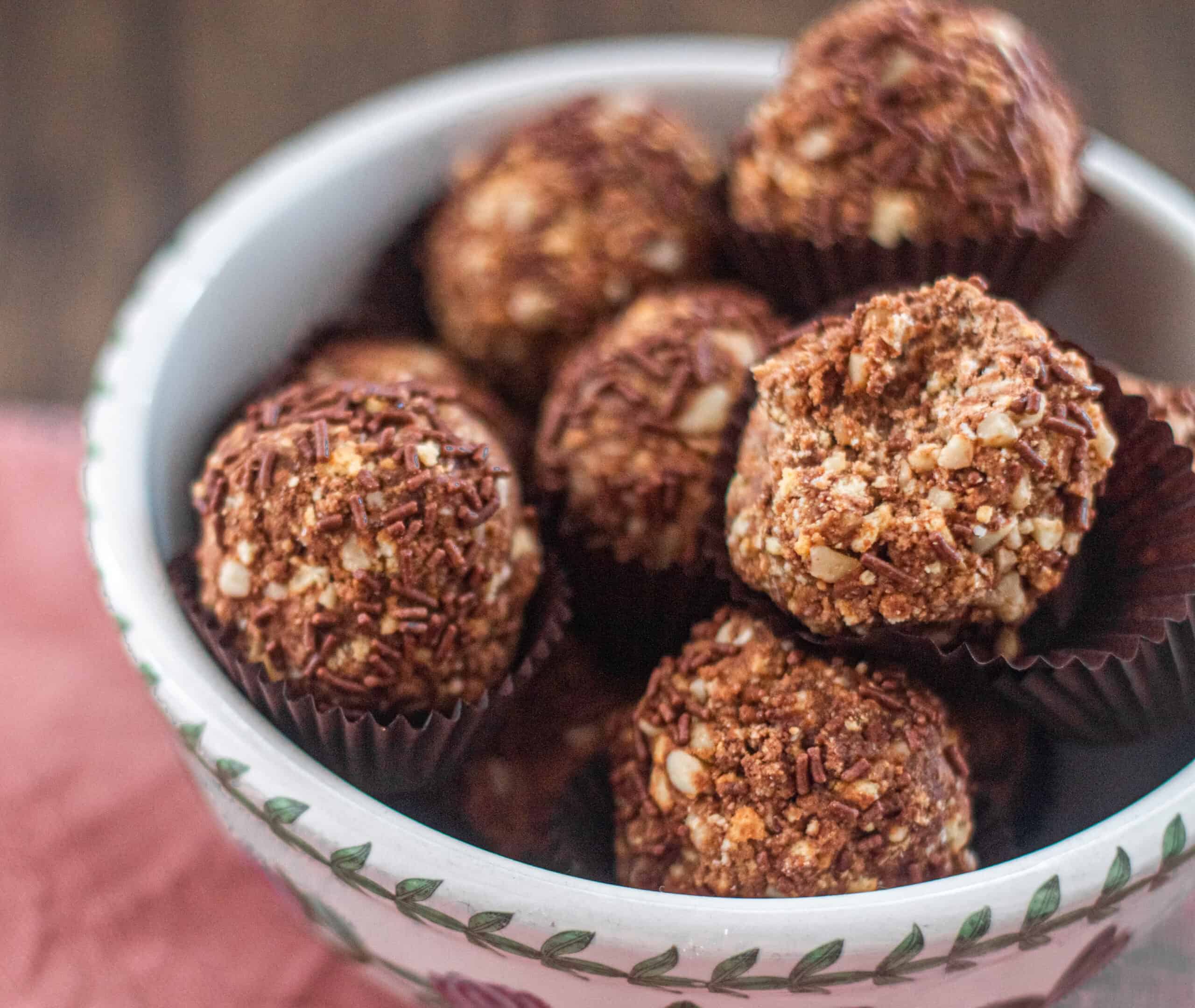 These truffles are so easy to make. Melt some chocolate, then stir in crushed nuts and rich tea biscuits crumbs, plus the booze and some golden syrup, then enjoy the sticky task of rolling them into truffles.
I rolled mine, only partially successfully in some vegan chocolate sprinkles (Sainsbury sell them), but you could leave them plain, or toss them in some cocoa powder. And I think they look quite charming and retro in their little petits four cases, but these are an entirely frivolous option.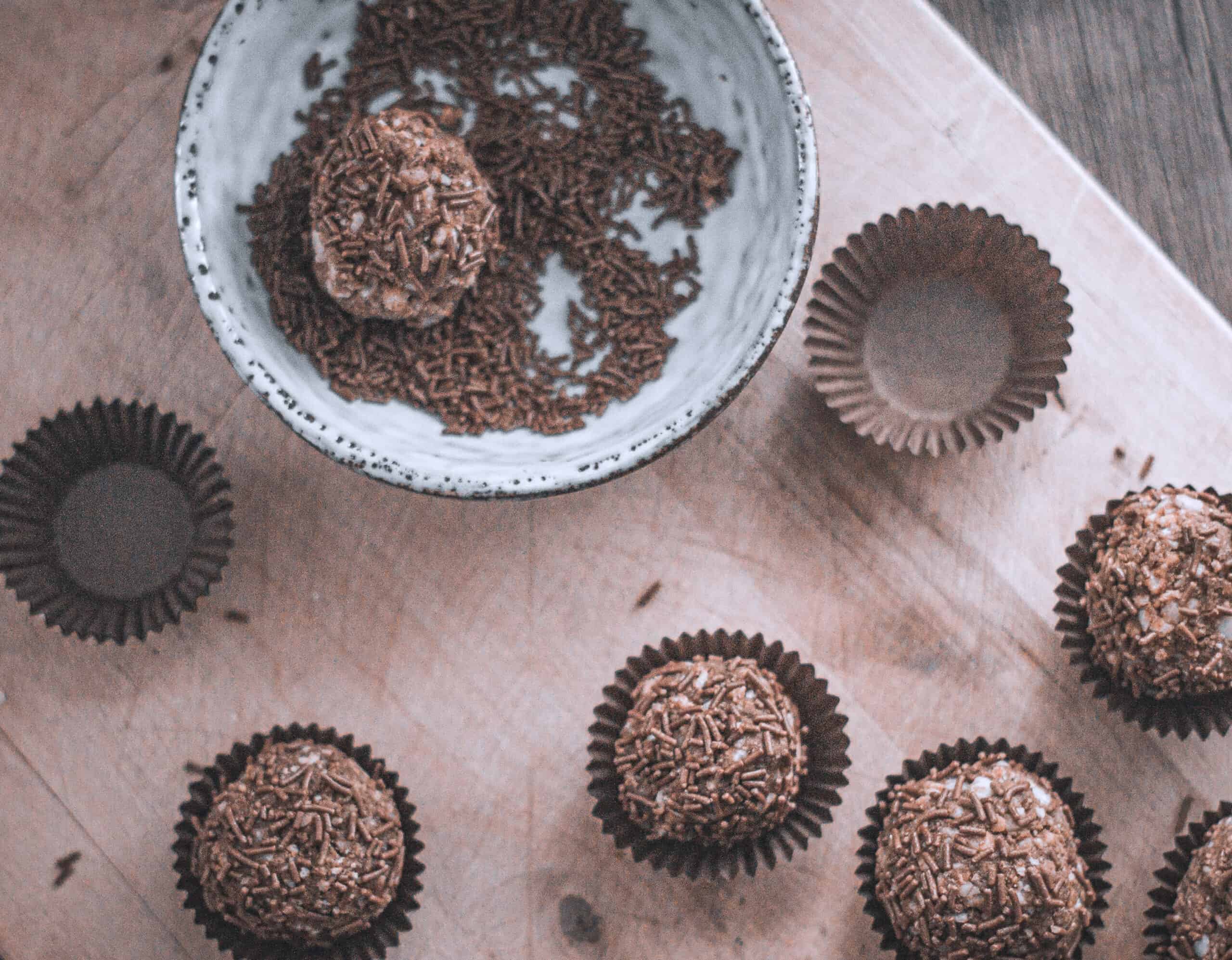 A caveat. Don't fridge the mixture before rolling. It will become quite dry and hard to roll. I suggest you roll them as soon as you've mixed them.
Ingredients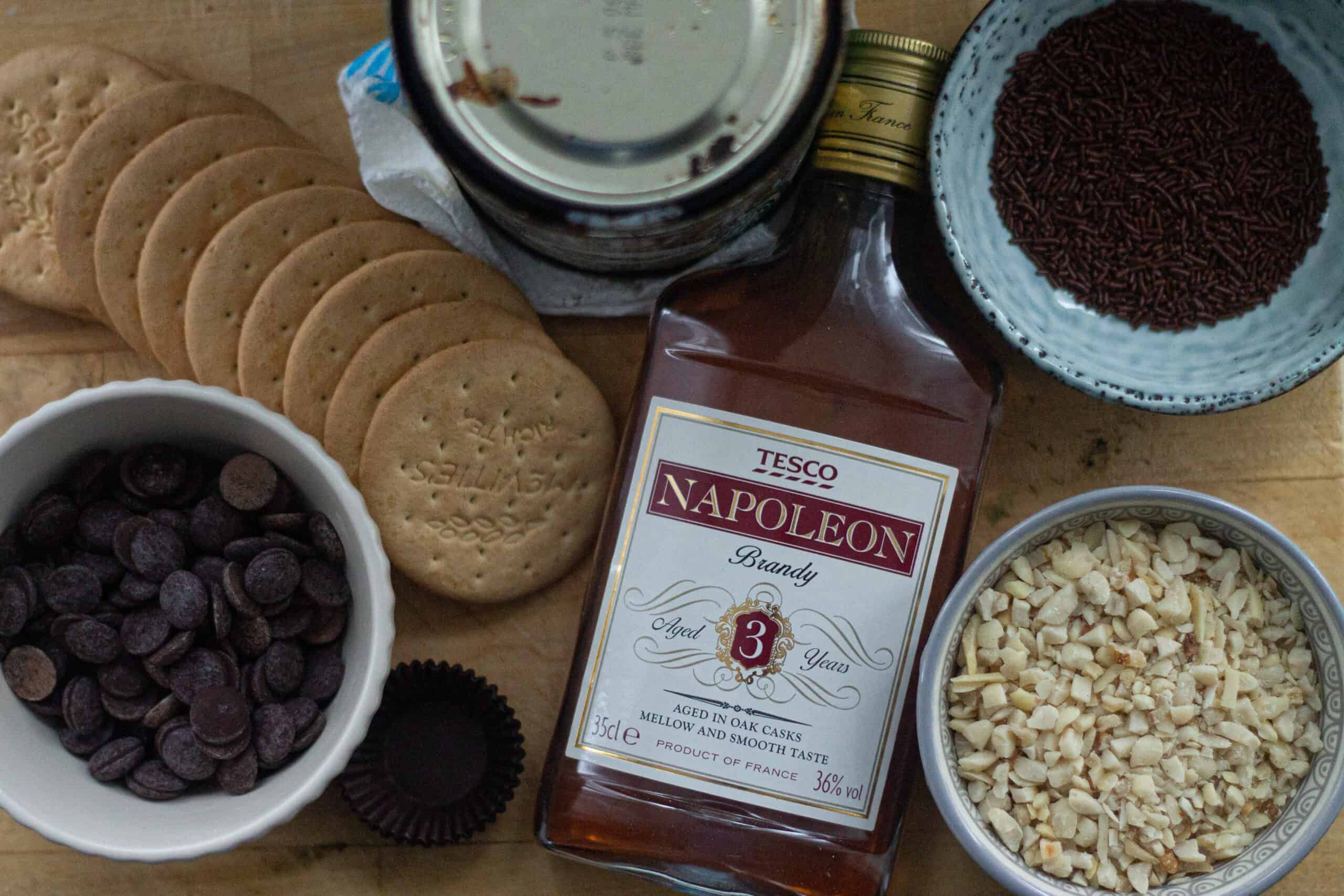 dark chocolate, melted
Rich Tea biscuits, or a similar hard, sweet biscuit. I believe that Animal Crackers are similar in the US but I'm not sure on how vegan they are.
chopped nuts
amaretto or brandy or rum or whiskey
golden syrup (or you could use corn or maple syrup or honey)
See recipe card for quantities.
Instructions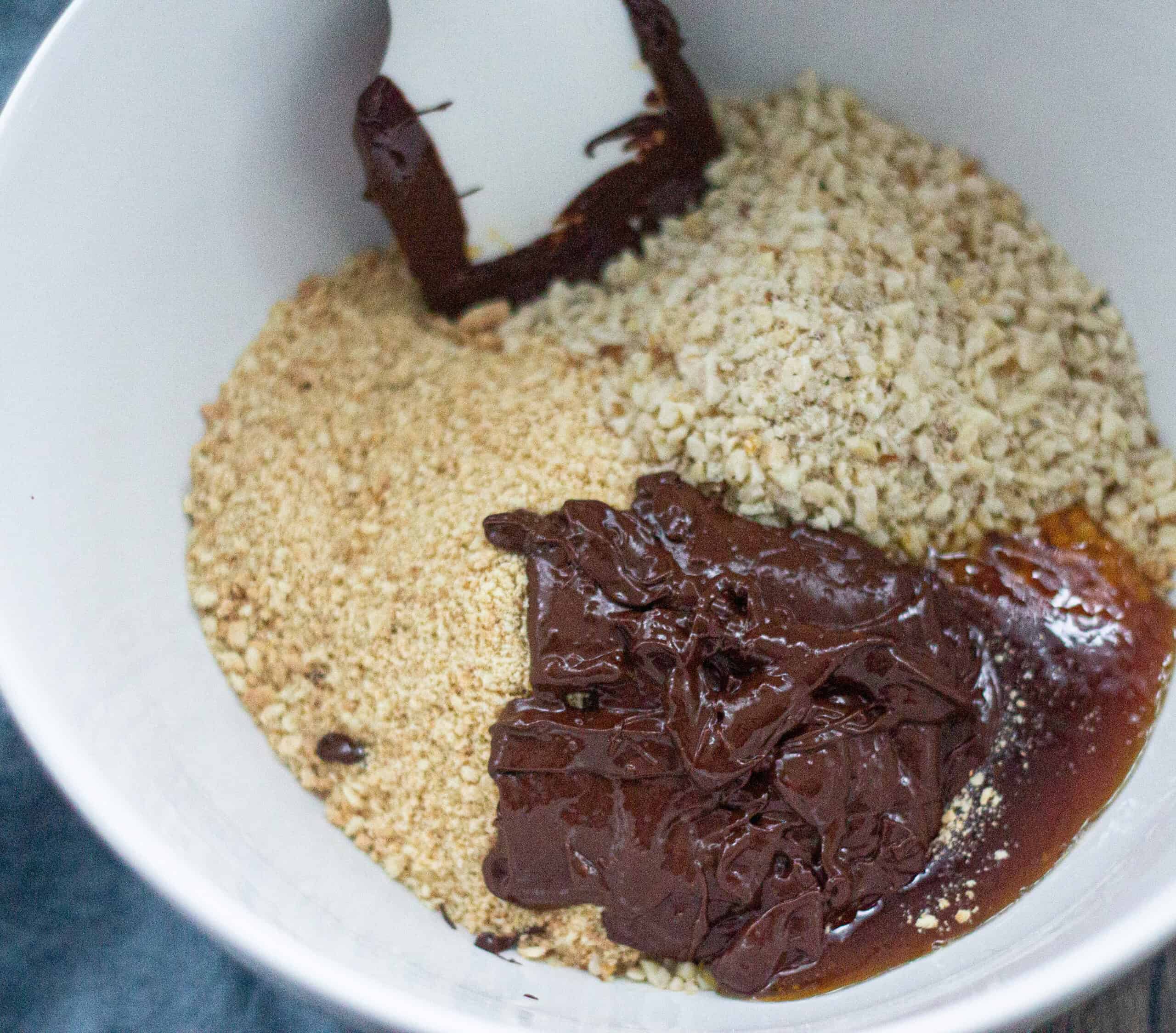 Mix all the ingredients in a mixing bowl (except the chocolate sprinkles, if using).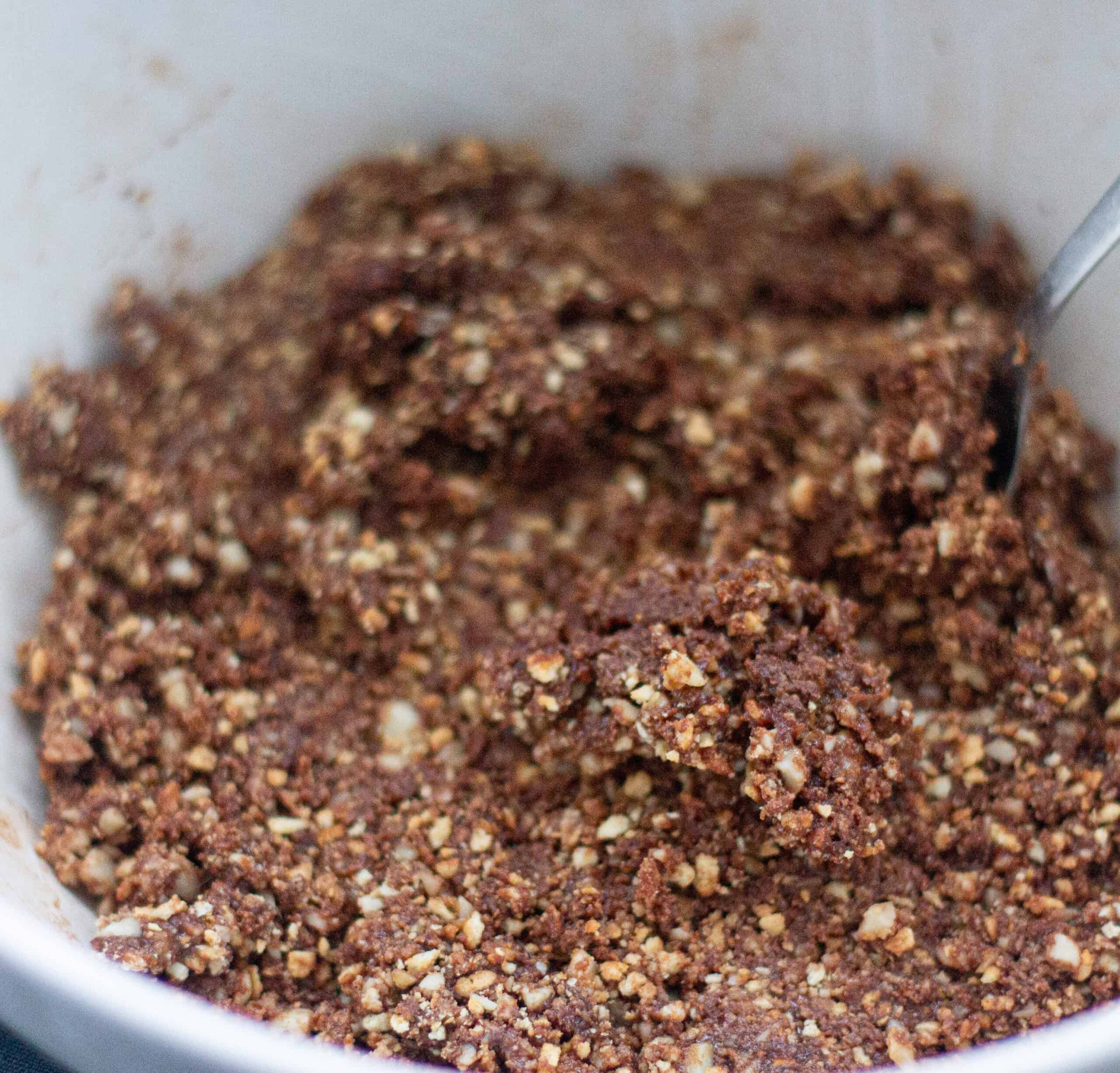 Form into ball shape with your hands. You will need to wipe your hands periodically, as this mixture is quite sticky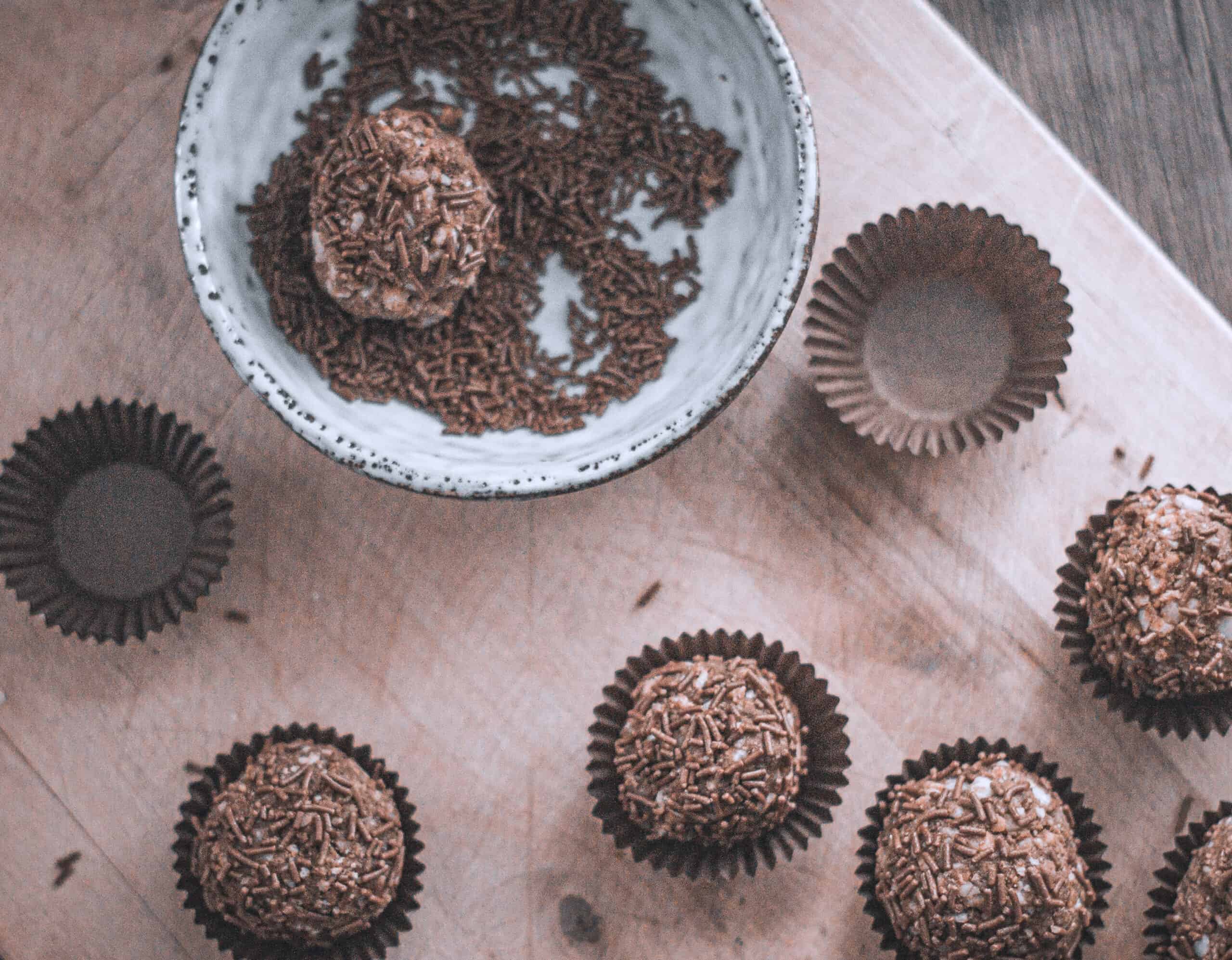 Place in cases and then chill
Substitutions
Biscuits – you could use your favourite gluten free biscuits instead, to make these gluten-free truffles
Nuts – replace the nuts with more biscuits, some raisins or chopped dates or cacao nibs instead to make these nut-free
Alcohol – make these non-alcoholic by replacing the alcohol with coconut cream instead (make sure to keep the truffles chilled though, if you do).
Variations
Biscuits – try adding ginger nuts instead of plain sweet biscuits for a different flavour
Deluxe – drizzle or dip the truffles with some more melted chocolate
Alcohol – you could also use rum, amaretto, whiskey or even kirsch
Kid friendly – replace the alcohol with vegan coconut cream
Storage
Store the truffles in an airtight container in the refrigerator for a couple of days. These truffles will last at least two weeks.
Easy Boozy Truffles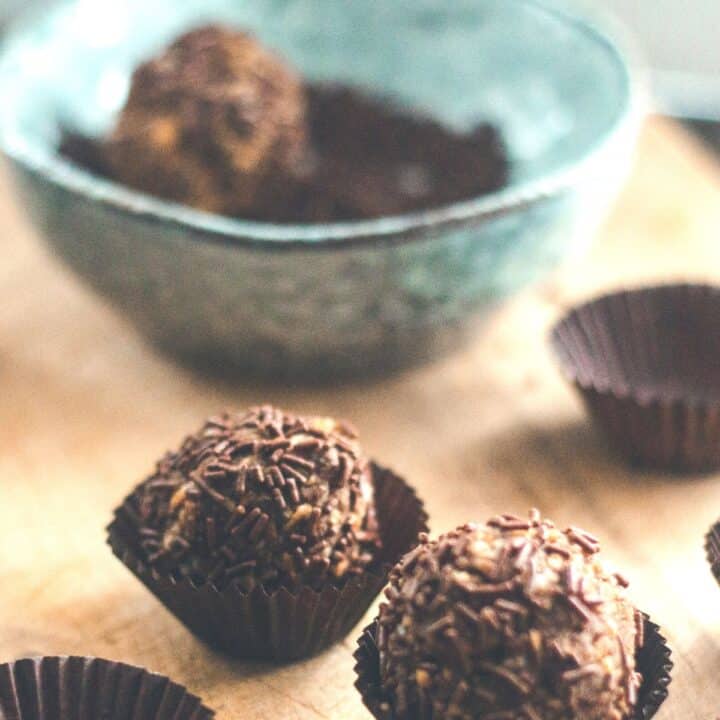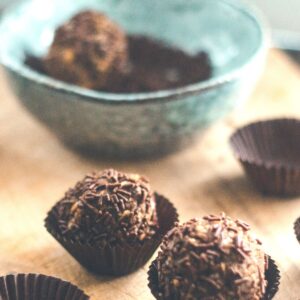 A quick and simple recipe for these rich and naughty truffles
Equipment
mini cupcake cases (petits four cases)
Ingredients
100

g

dark chocolate

chips, vegan

50

ml

golden syrup

80

ml

brandy

or amaretto, whiskey, rum

200

g

Rich Tea

biscuits, or use a similar sweet, dry biscuit

100

g

nuts

chopped (I buy the ready chopped)

chocolate vermicelli

vegan (Sainsbury do a dark vegan one) for coating, or use cocoa powder.
Instructions
Melt the chocolate in a microwaveable dish in 10 second bursts. Alternatively, gently heat in a heatproof bowl of a pan of simmering water.

Add the melted chocolate to the other ingredients (except the vermicelli).

Mix well. The mixture will be very stiff and quite sticky, so you will need to wash your hands every so often when you start rolling!

Roll into walnut sized truffles, then coat with the vermicelli or cocoa powder

Place in petits four cases and chill until you are ready to serve. These are better after a couple of days, as the flavours have had time to mellow, but I won't tell if you try one or three now.
Nutrition Facts
Easy Boozy Truffles
Amount per Serving
% Daily Value*
* Percent Daily Values are based on a 2000 calorie diet.