How to make vegan rough puff pastry, suitable for lots of little pasties, pies or even millefeuille.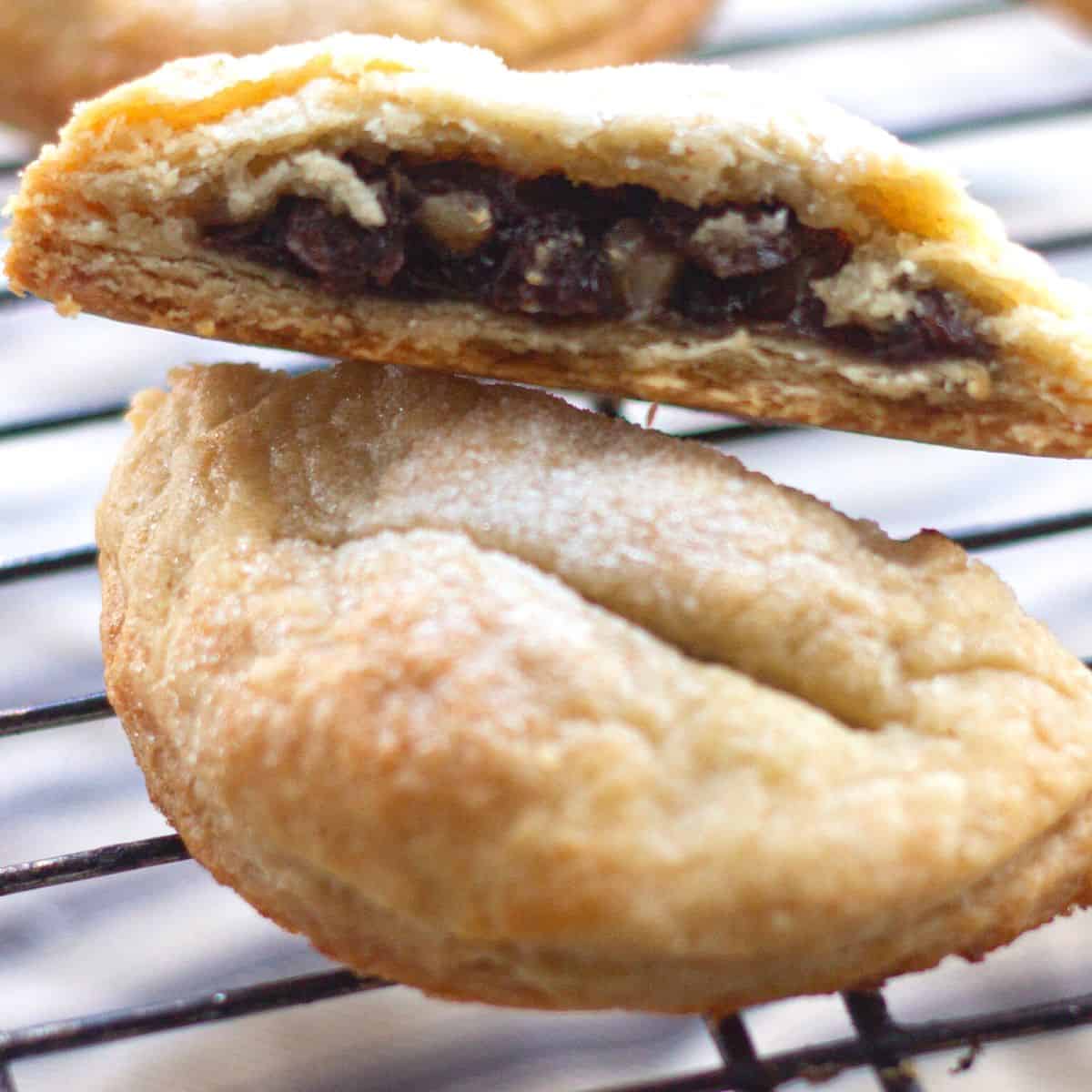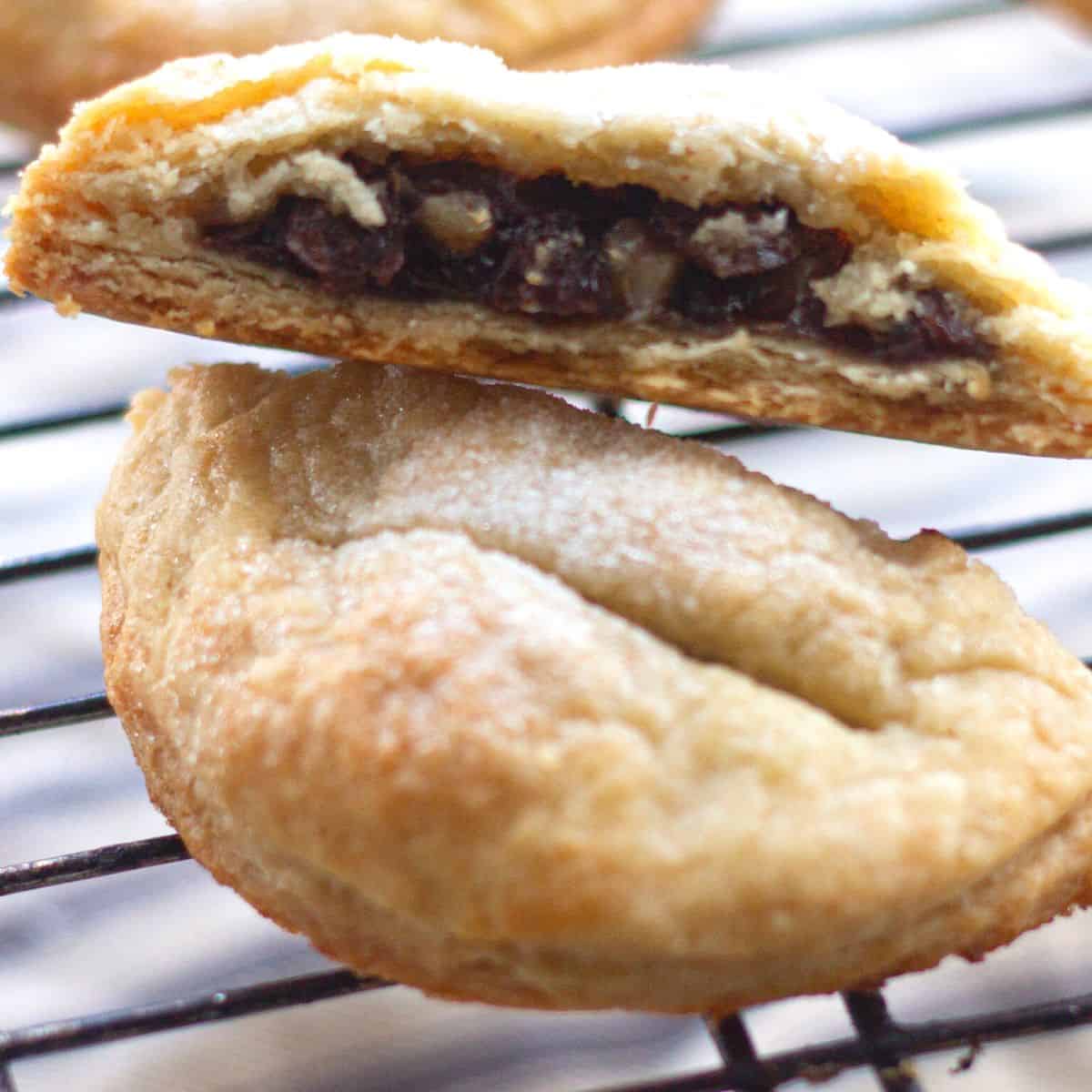 Jump to:
What is Rough Puff Pastry?
Rough puff pastry does not really resemble true puff pastry, in that it doesn't have lots of light, airy layers. However, it does have a lighter texture than shortcrust, and is perfect for little pasties or lighter tarts. It takes no time at all to prepare, just make sure that you have the ingredients ready in advance: the cold margarine or vegan butter, and some ice (for iced water). There is a nice article here from James Bonfield Recipes that details different types of pastries and when to use them.
I have detailed the full procedure here, but if I can make rough puff pastry in 10 minutes flat, then so can anyone. I must confess that as I initially started the rough puff recipe, I thought the pastry was going to be a bog-standard shortcrust but as I went on, the folding and turning of the butter into the flour made me realise that I was already part way through making something a bit different that I had never made before and that yes, I had made the rash decision to prepare in my lunch-hour. Fear not though. You can make this in less than 10 minutes.
I use rough puff pastry to make my Salsa Truffina Triangles, and also eccles cakes, but I will link here other recipes that I use them for too!
Can I freeze Rough Puff Pastry?
Yes! Just make sure to clingfilm the pastry tightly after the first stage of chilling, and secure in a ziplock bag before popping into the freezer. It will stay in the freezer quite happily for 6 months. Make sure to remove from the freezer the day before you intend to use it and let it thaw in the fridge overnight.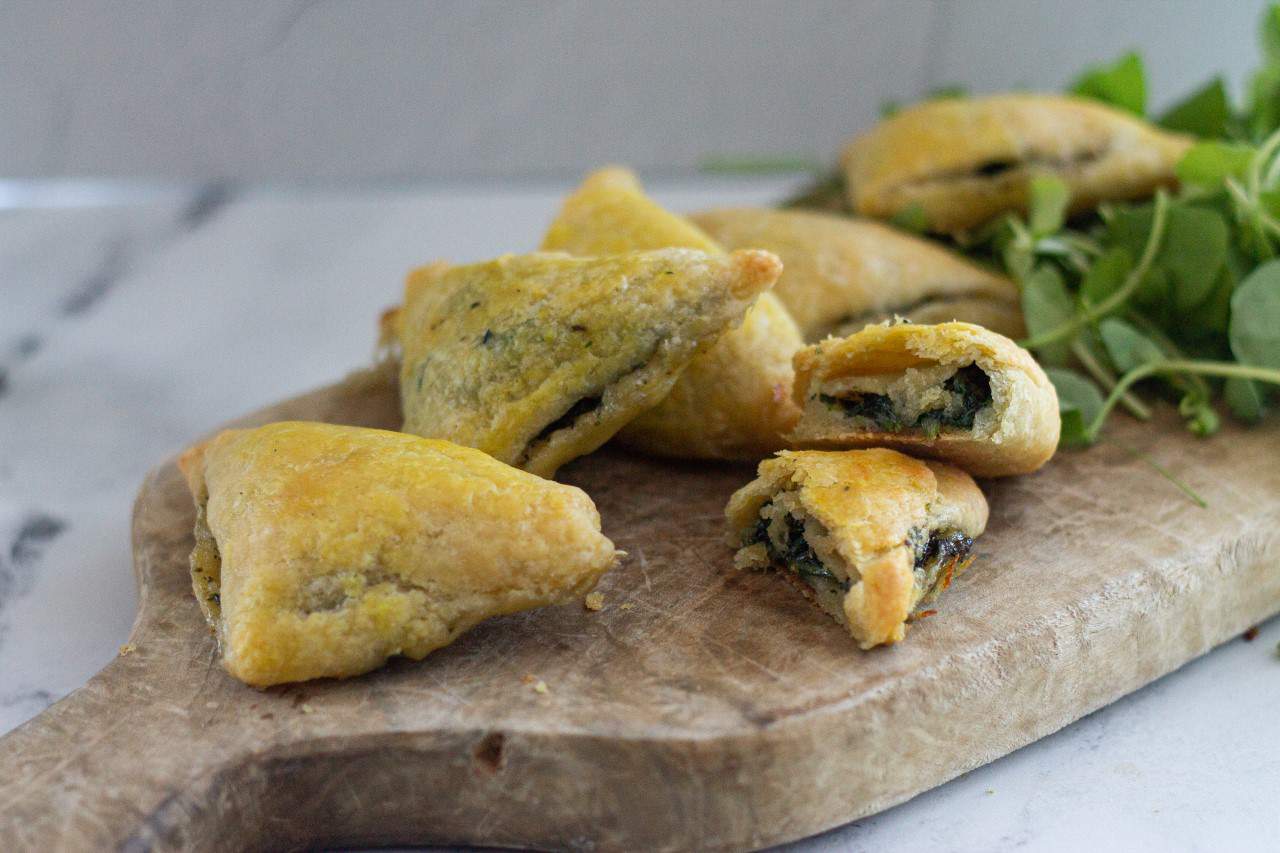 Instructions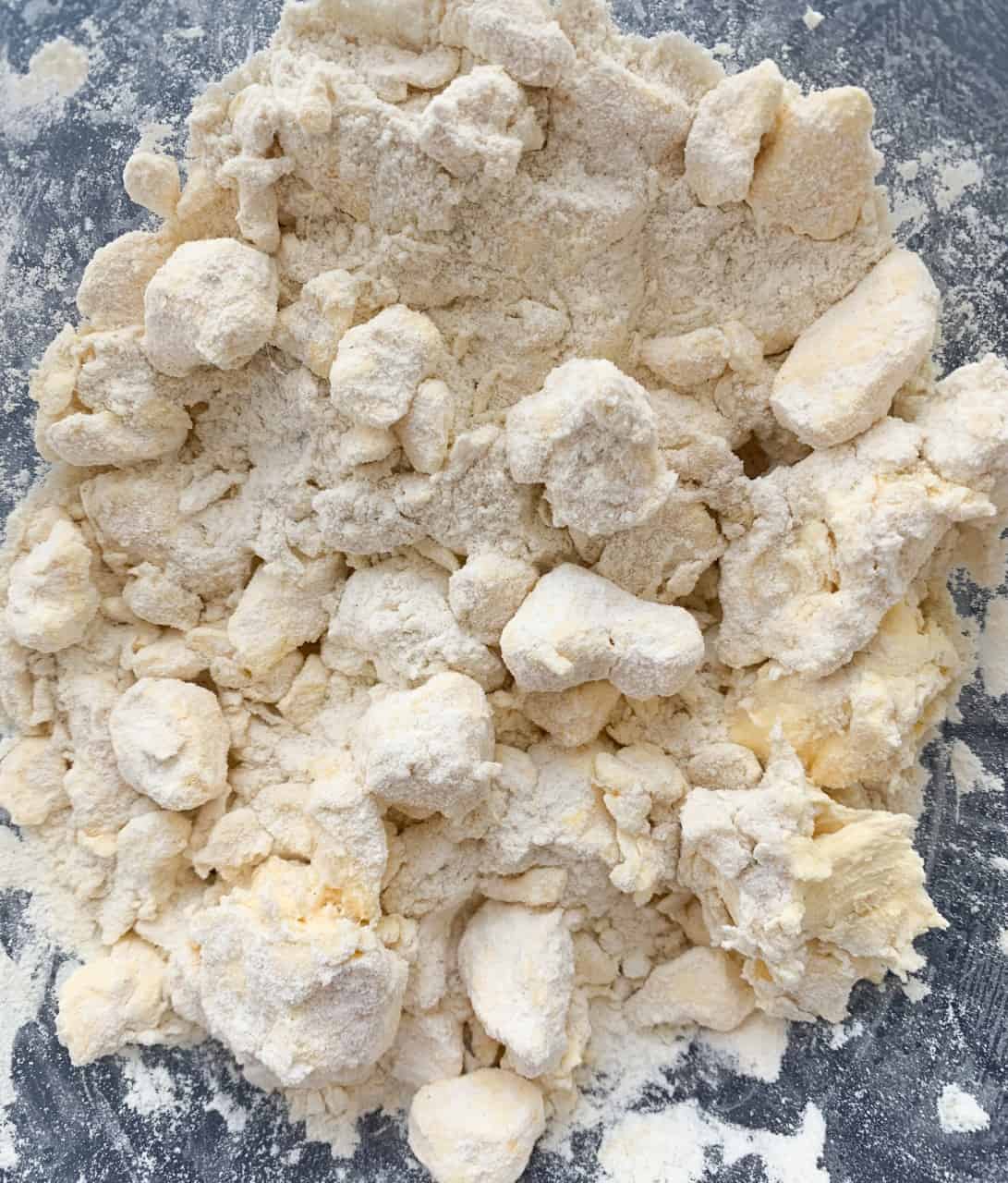 Using a knife, cut the diced, chilled vegan butter into the flour and salt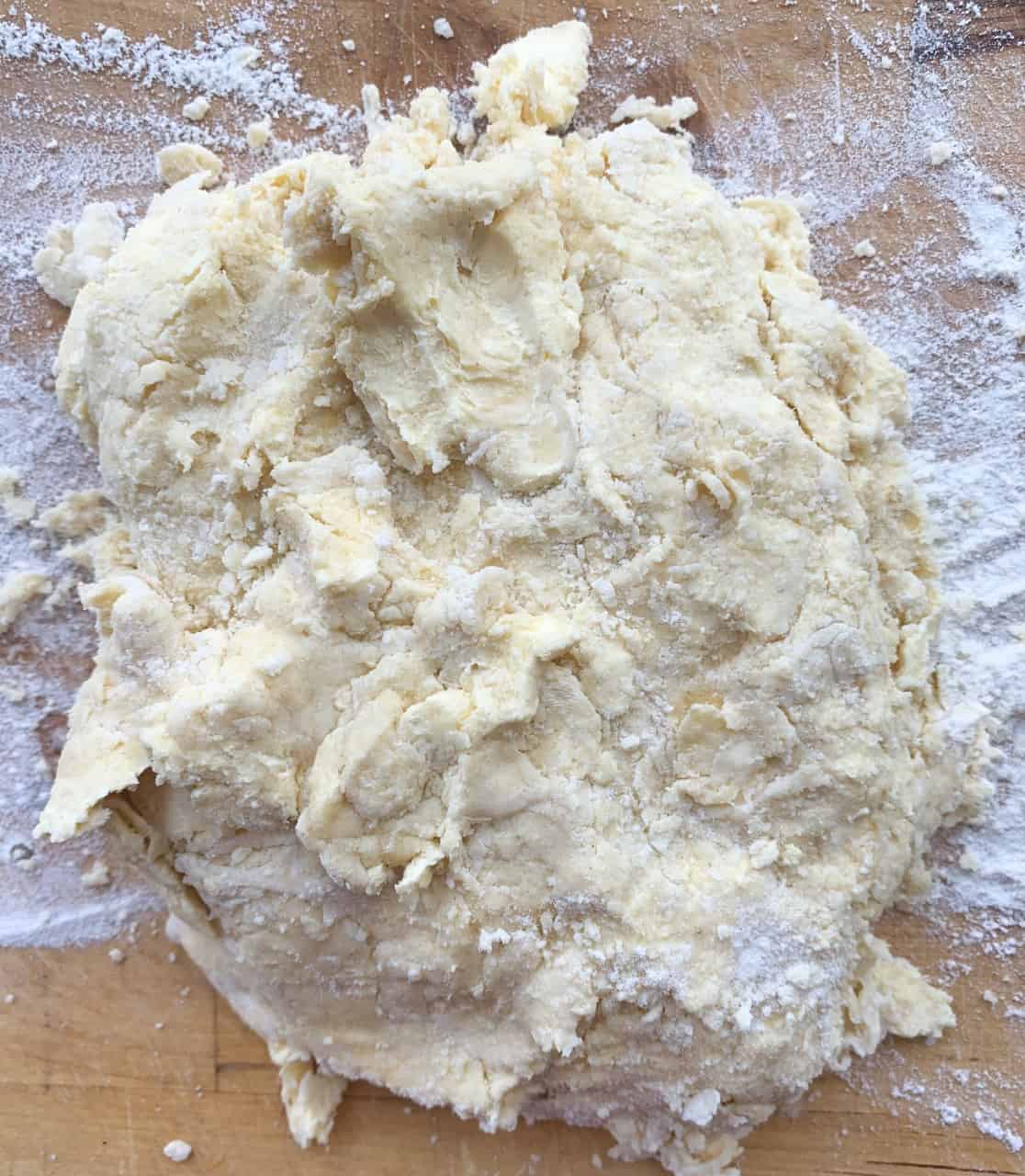 Add a little iced water until you get a shaggy dough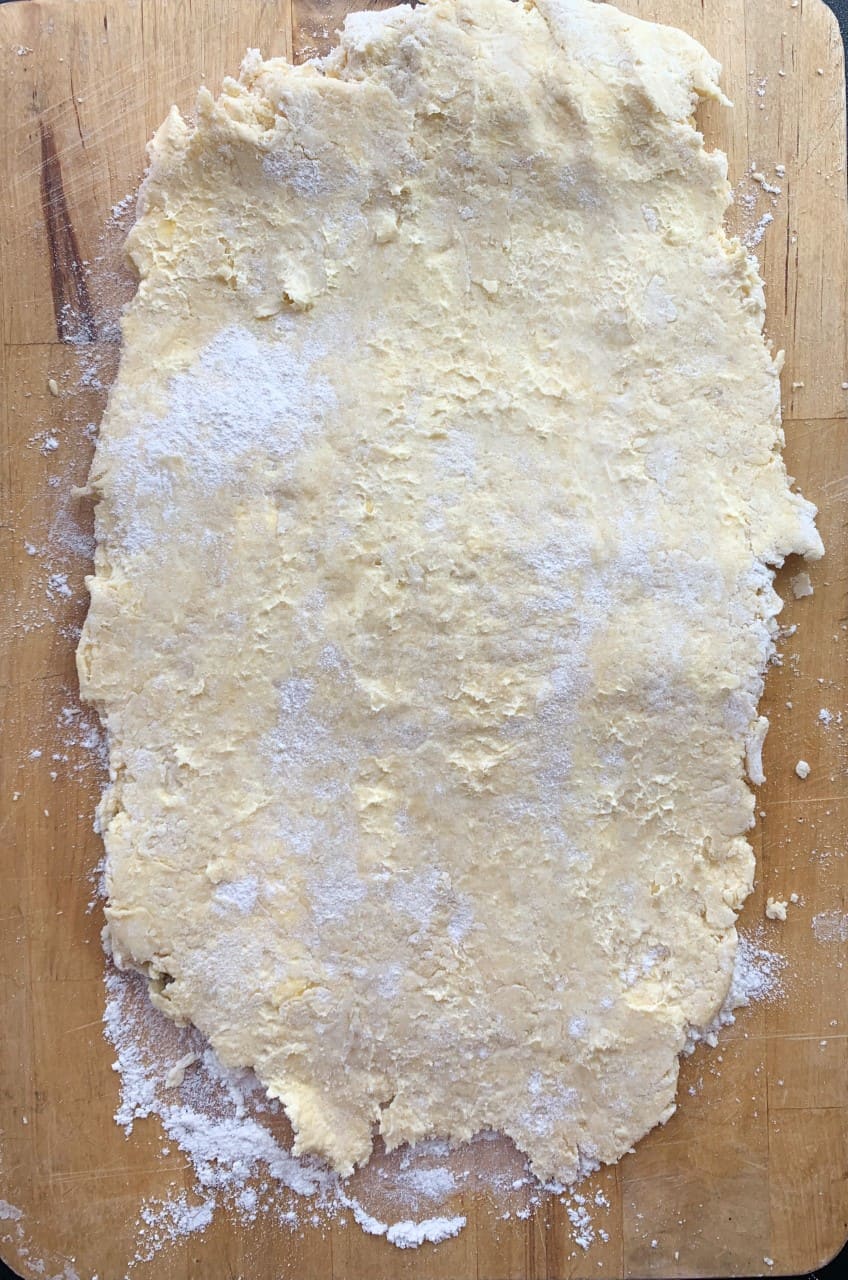 Tip out onto a lightly floured surface and bring together into a rectangle.
Then, fold into thirds, as above, by bringing one half to the middle, then bringing the other half over the top. Wrap in clingfilm and chill.
Try these delicious recipes!
📋 Recipe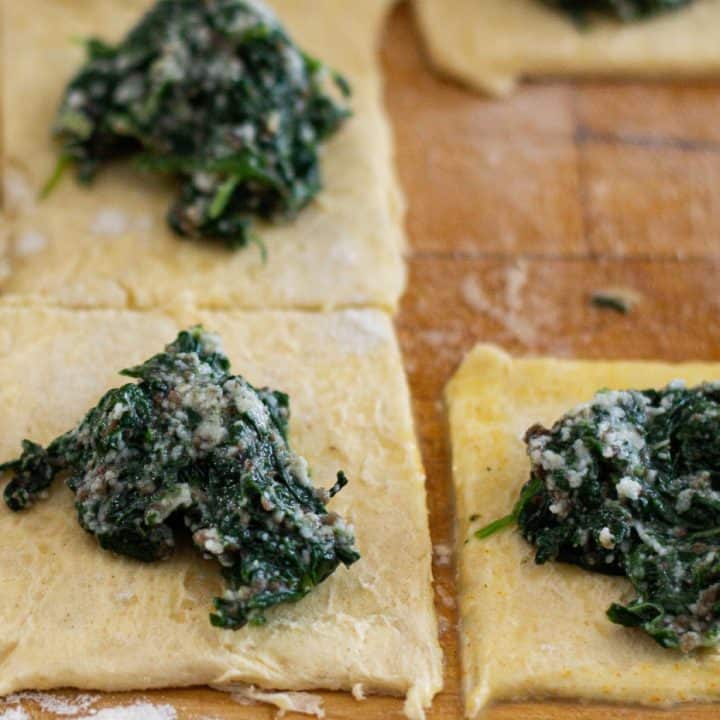 PRINT
Vegan Rough Puff Pastry
YIELD
1
500g portion of pastry
How to make a quick rough puff pastry
Ingredients
225

g

Plain Flour

sifted into a large bowl

225

g

Butter

chilled, vegan

Salt

pinch

Iced Water to combine (probably no more than 2 tbps)
Instructions
 Sieve the flour into a large mixing bowl with the salt.

 Add the chilled, diced butter and stir through the flour with a knife until coated.

 Add enough of the iced water to bring the mixture together.

Wodge together as well as you can an turn out onto a cold surface.

Form a rough cube and flouring your board, hands, rolling pin and pastry well, roll out into a rectangle, then fold the two longest ends inwards and then in half. Repeat. The pastry is very sticky because the butter is not worked into the flour in the traditional manner (i.e. rubbing with your fingers). 

Roll into a thick rectangle, maybe 6 inches by 4 inches, wrap in cling-film and refrigerate for at least half an hour (preferably longer).

Once chilled, you can now proceed with making the rest of your recipe!
Nutrition
Nutrition Facts
Vegan Rough Puff Pastry
Amount per Serving
% Daily Value*
* Percent Daily Values are based on a 2000 calorie diet.
Nutritional Information Disclaimer
The automated nutritional information on my recipes can often be inaccurate due to the limitations within the programming. For exact measurements, there are lots of apps and websites that can calculate this information more accurately.
Tried it and Loved it?
Mention @sweeterthanoats or tag sweeterthanoats!