Easy and Delicious Vegan Sheet Pan Lasagne Recipe
This post contains links to affiliate websites, such as Amazon, and we receive an affiliate commission for any purchases made by you using these links. We appreciate your support!
My vegan sheet pan lasagne is the perfect dish for a hearty and satisfying meal. Packed with flavorful ingredients and loaded with nutritious veggies, it's a healthier twist on the traditional Italian favorite. With layers of noodles, plant-based cheese, and a rich tomato sauce, every bite is a burst of deliciousness. The best part is that this recipe is made in a sheet pan, making it super easy and convenient to prepare. Whether you're a vegan or simply looking to add more plant-based meals to your diet, this lasagne is sure to impress both your taste buds and your guests. Try it out and indulge in a guilt-free indulgence!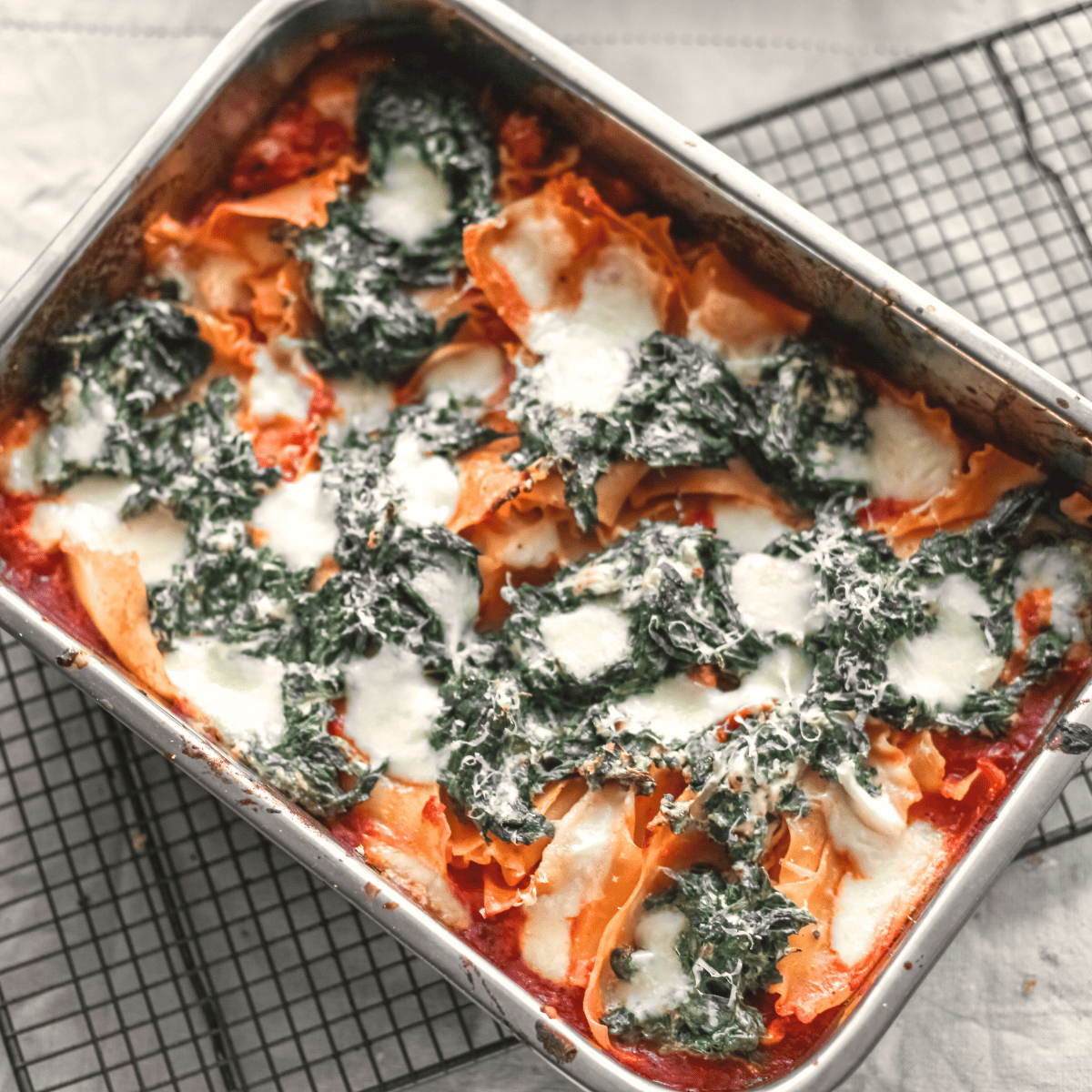 Lasagne is one of my all time favourite meals. It represents everything that is great about food: sharing, generosity and heritage. I know of very few people who would turn down a thick slice of lasagne.
It is a time-consuming dish and this is what makes lasagne a "special occasion" meal. When I was a child, and even to this day, it is considered a birthday meal, or new years dish. My mum would prepare it over a couple of days, making the ragu the day before, allowing the flavours to develop richly overnight. If you want to try my vegan classic Italian lasagne, try my recipe.
Why You'll Love my Vegan Sheet Pan Lasagne
Make ahead mixture, prep the day of baking
Store cupboard ingredients
Great for a crowd
Eggless and Dairy free recipe
Makes great leftovers!
What is sheet pan lasagne?
Traditionally, lasagne is a very structured dish, layers of ragu, bechemal sauce and lasagne sheets baked and served in generous slices. Sheet pan lasagne could be considered the deconstructed version: whilst the output of labour is marginally less (no faffy bechemal sauce to contend with), the overall construction and finished dish has virtually no structure whatsoever.
Simply put, you add pieces of cooked lasagne sheets to the tomato sauce (a less labour-intensive marinara style sauce), along with some fried vegan sausage, dump into a large sheet pan, top with some cheesy spinach and bake.
Although this dish is fairly simple, there are a few steps so I have tried to break it down as clearly as I can in the instructions below. If you can, I recommend making both the red sauce and the ricotta-style sauces the day before you want to prep it, and then you can just throw it all together the next day, somewhat effortlessly! However, I made mine in one day, just over several hours (making both sauces in the morning, frying the sausage and assembling in the evening).
Ingredients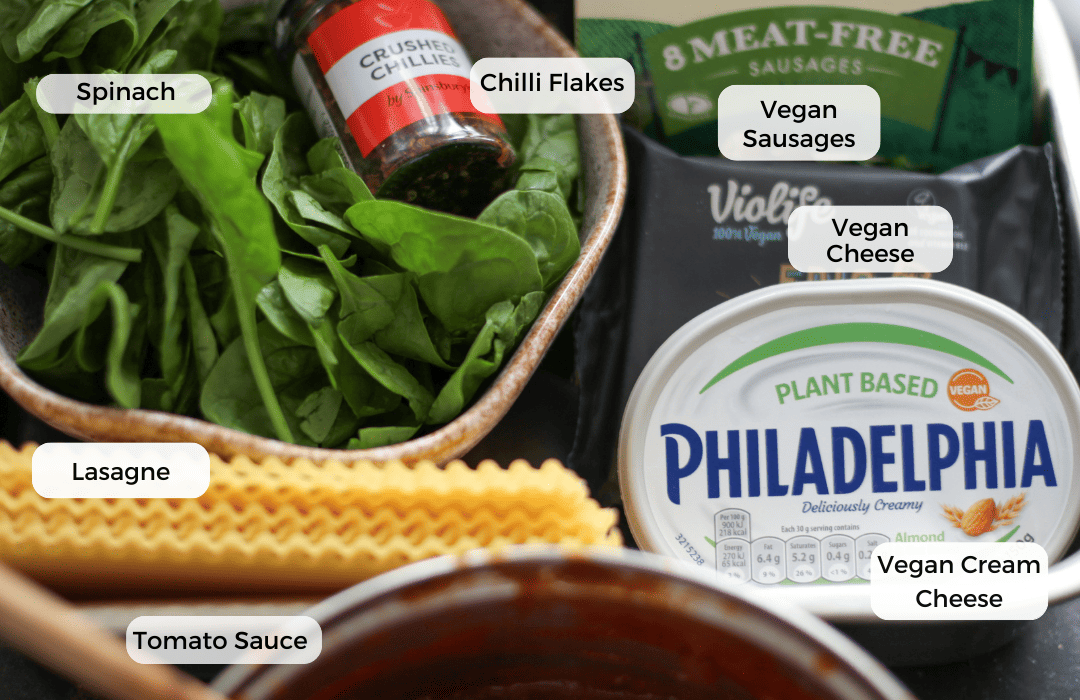 Lasagne sheets. I like to use the wavy lasagne but it's quite difficult to source in the UK outside of Italian delis (I can't even find it on Amazon!).
Tomato Sauce. I use my own pizza sauce recipe here, but feel free to use a jarred sauce or your own recipe.
vegan cream cheese. This replaces the traditional ricotta element. I season it with some nutritional flakes to make it more cheesy!
vegan sausage. I like to use Richmond vegan sausages as I find they are really tasty, but if you can find some spicy vegan Italian-style sausage, definitely use that instead!
spinach, fresh. This is mixed into our vegan ricotta-style mixture.
This is ONLY a list of ingredients for the recipe; please see recipe card below for complete printable recipe.
Instructions
Make your red sauce using either my pizza sauce recipe here, or a 500g jar of marinara sauce if you prefer. If using bought, just gently warm it up whilst you prep everything else.
Whilst your red sauce is cooking, steam the spinach and make your vegan cream cheese topping. Whisk cream cheese with seasoning and nutritional yeast.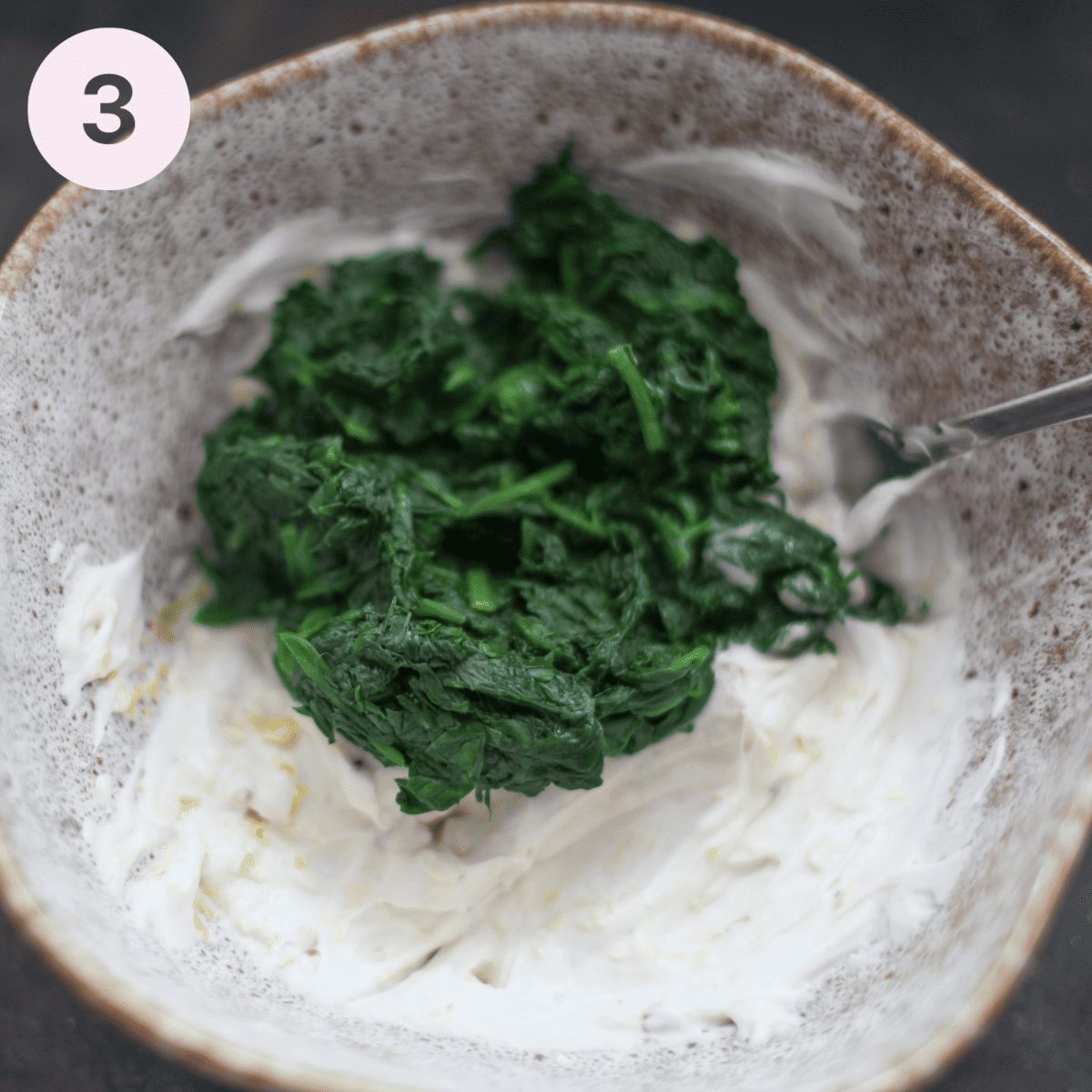 Stir in the spinach and combine. Refrigerate until you're ready to assemble.
Crumble the vegan sausages into a frying pan and fry in a little olive oil until toasty and cooked. Stir the fried vegan sausage into the tomato sauce.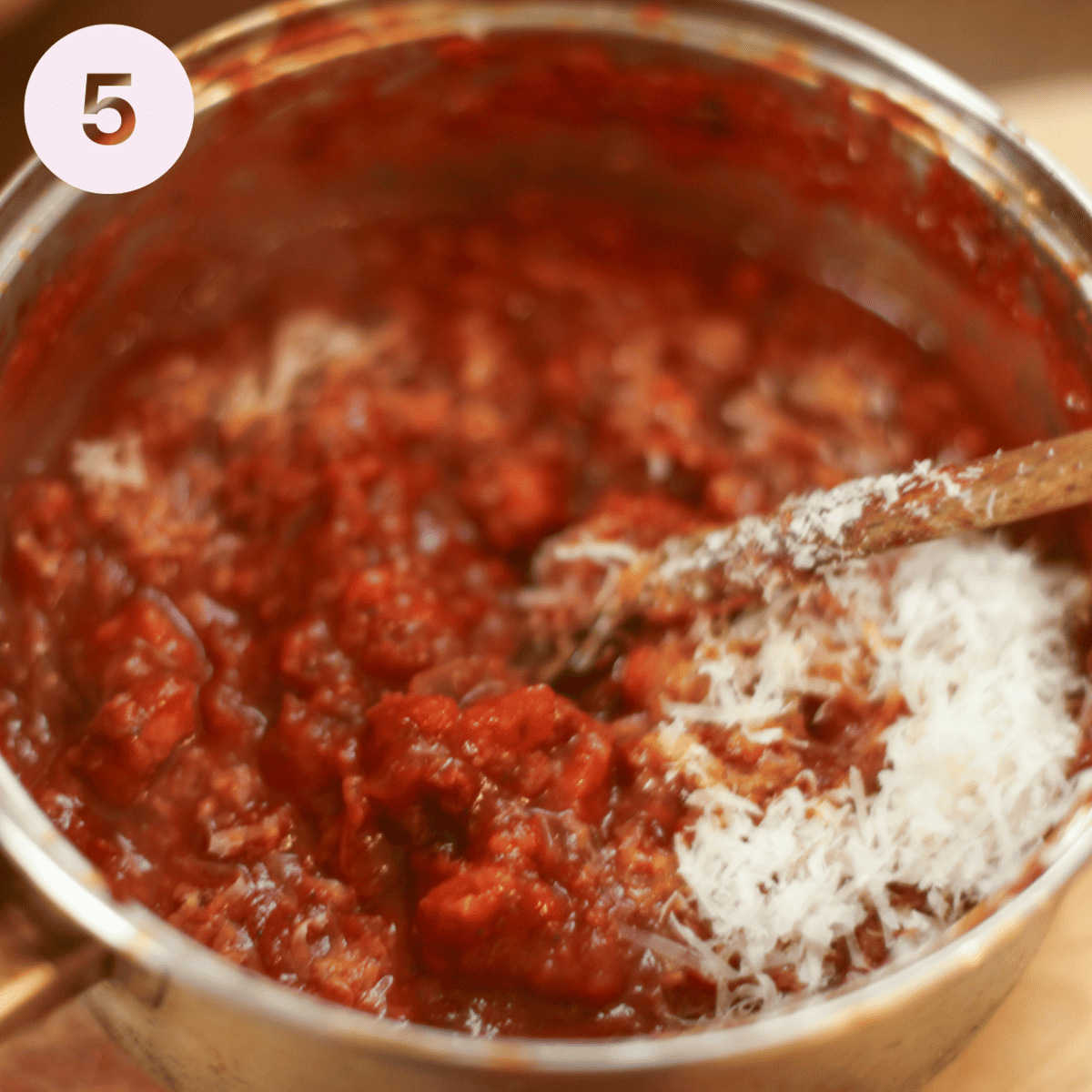 Stir in finely grated vegan cheese. Keep warm whilst you cook the pasta.
Break the lasagne sheets into roughly 2″ pieces and boil for 4 minutes in salted water. Before draining, reserve half a cup of the pasta water.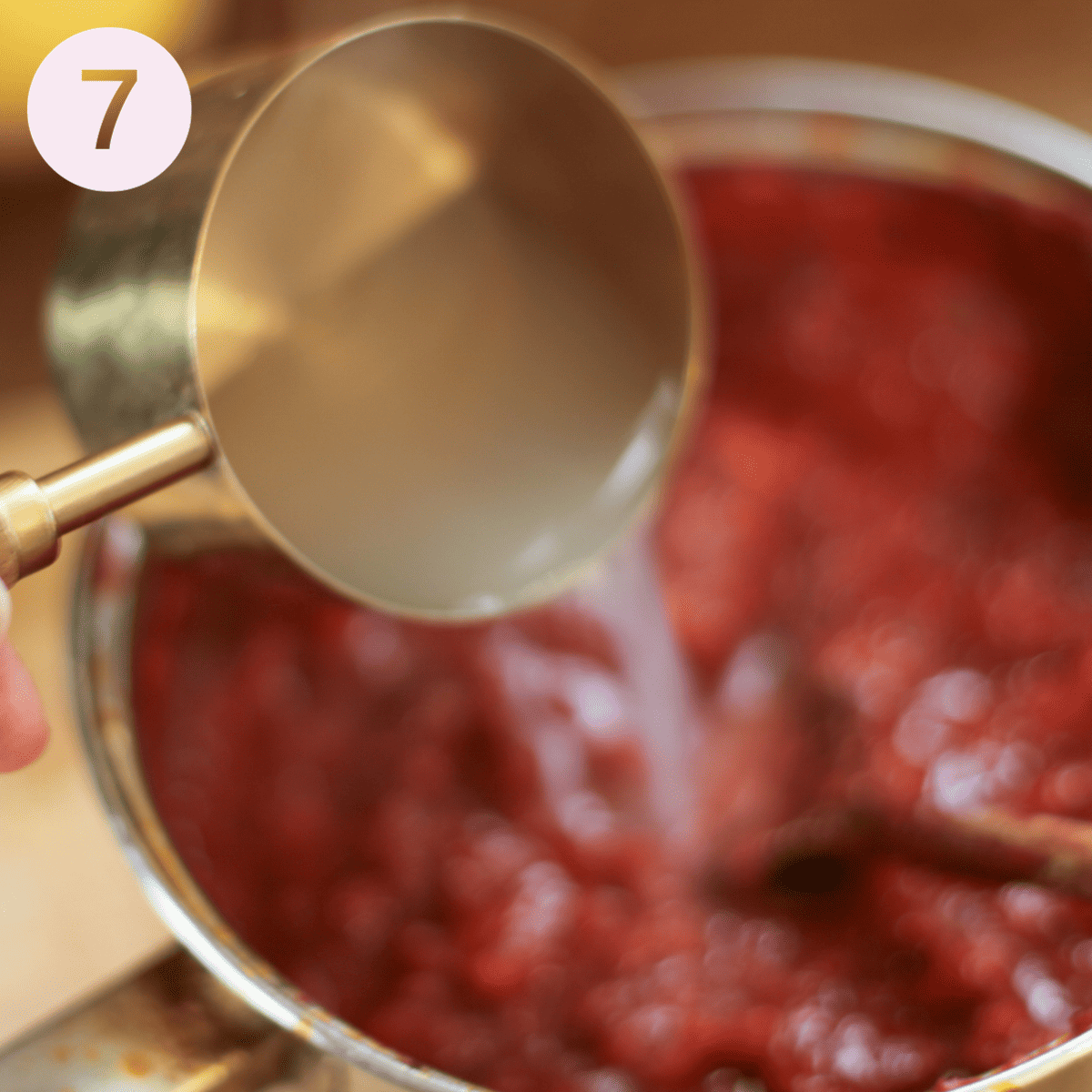 Add the half cup of pasta water to the sauce and mix.
Pour the sauce into your sheet pan and stir in the cooked pasta.
Dot with the spinach and cheese sauce then bake for 30-40 minutes until golden and bubbly.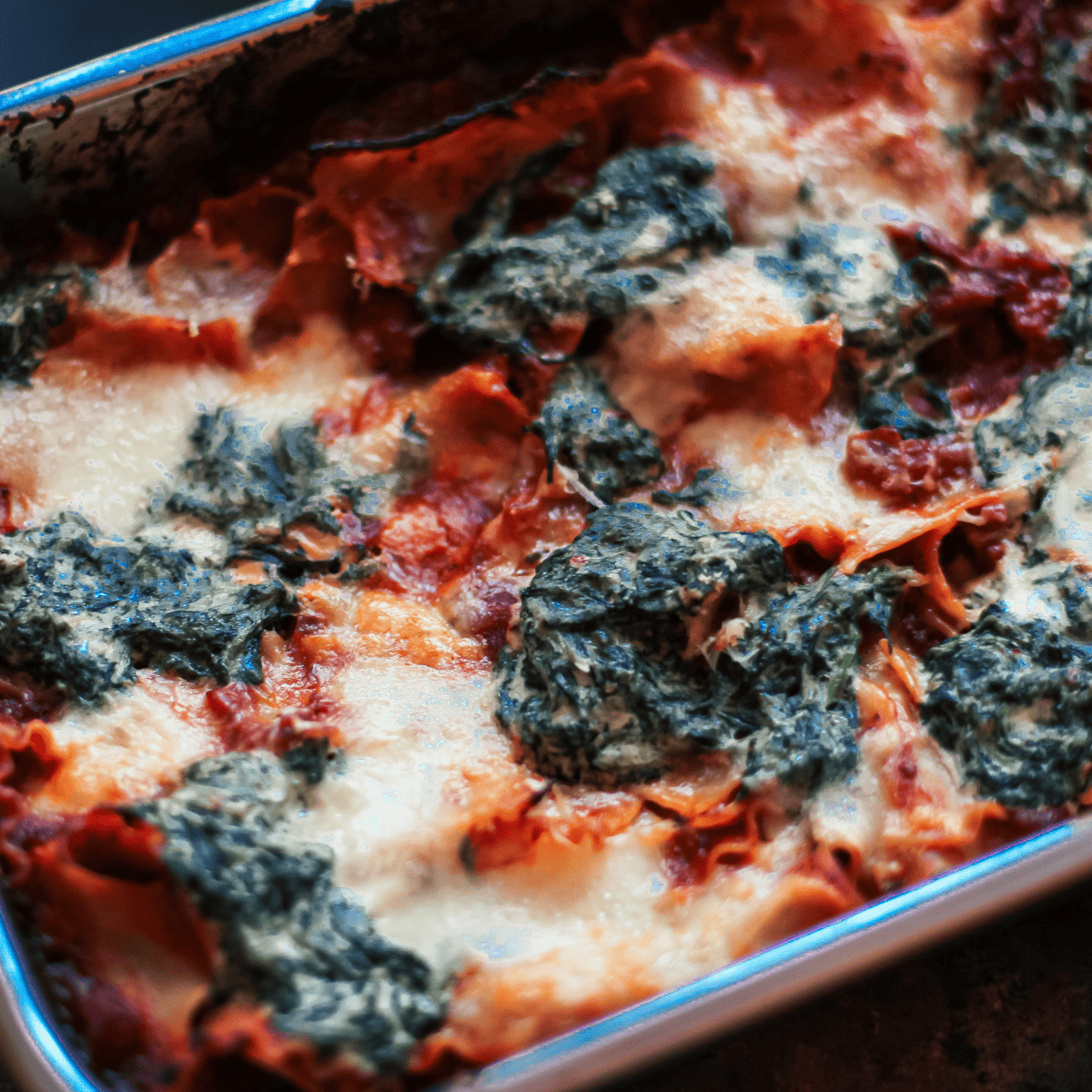 Cool for 10 minutes before serving!
Substitutions
Lasagne sheets – you can use whatever pasta suits you or what you have in the cupboard!
Vegan Sausage – if you prefer, you can use vegan mince substitute fried in a little oil, or some chopped mushrooms instead.
Chilli Flakes – this is quite a spicy dish but omit/reduce the chili element if you don't like too much heat!
Gluten-Free option – use gluten free lasagne sheets, cooking as per the manufacturers directions.
What type of sheet pan should I use?
Tim didn't understand what I meant by sheet pan when I first told him I was making this dish, and I explained that in the US, baking sheets are called sheet pans! It's a very simple difference of semantics.
However, for this dish, I recommend using a baking sheet/sheet pan approx 40cm x 25cm and with a depth of at least 5cm. So, this is deeper than a cookie sheet. You could also use a roasting pan (which is what I did!) and it won't make any difference at all!
Obviously the reason for a deeper sheet pan is because of the quantity of sauce you'll be pouring on the sheet. You simply don't want it sliding off into the oven, or burning you as you lift it out!
Storage
You can store the cooled lasagne in the fridge for 2-3 days, gently reheating when needed.
I don't recommend freezing the entire dish, but you could make the tomato/vegan sausage sauce and freeze, so you only have to make the cream cheese sauce and assemble when ready.
Top tip
This tastes even better the next day, reheated in the oven, so leftovers are a must!
Try my other hearty vegan suppers
Vegan Sheet Pan Lasagne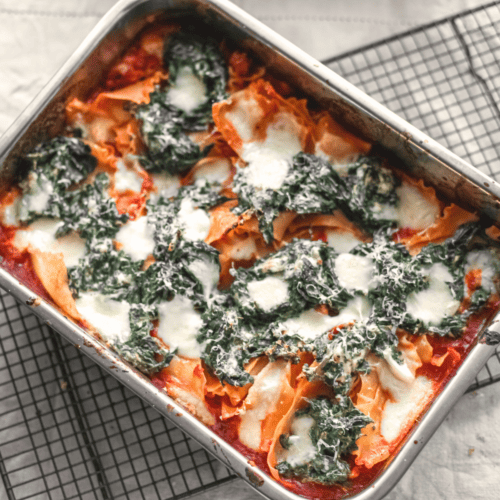 A deconstructed vegan version of the classic lasagne which is a little quicker but just as tasty!
Equipment
1 Sheet pan (baking tray_

40cm x 25cm roughly, with sides higher than 5cm
Ingredients
Ricotta-style topping
250

g

Spinach

-

raw

½

tsp

Chilli flakes

165

g

Cream cheese

-

vegan

1

tbsp

Nutritional yeast

Salt and pepper
Everything else
250

g

Lasagne sheets

-

broken into 2" pieces, roughly

300

g

Sausage

-

vegan, crumbled

1

tbsp

Olive oil

¼

cup

Cheese

-

vegan, parmesan style
Instructions
Marinara Sauce
If you are making your tomato sauce, make it now. If you are using a jarred sauce, just gently warm it whilst you prep the other ingredients.
Vegan Ricotta Spinach Sauce
Steam the spinach in a saucepan over low heat until it completely collapses. Drain thoroughly and chop (I use kitchen scissors). Leave to cool a little.

Whilst the spinach is cooling, mix the vegan cream cheese in a bowl with the nutritional yeast, chili flakes and salt and pepper to taste.

Once the spinach has cooled off, mix into the cream cheese mixture. Chill if you are planning on assembling the dish later.
Assembling the Sheet Pan Lasagne
Whilst the pasta cooks, heat the olive oil in a frying pan and fry off the crumbled vegan sausage until it is cooked and a little crispy around the ages.

Stir the sausage into the red sauce.

Heat a pan of water, and when it comes to a boil, add the broken lasagne pieces and cook for 4 minutes.

Scoop out half a cup of the pasta water and pour into the red sauce. Drain the rest of the pasta.

Stir the grated cheese into the red sauce and pour into your sheet pan.

Tip your drained pasta into the red sauce in the sheet pan and mix thoroughly, ensuring that all the pasta is completely coated. You need to do this quite quickly to avoid the pasta sticking together.

Dot the ricotta-style sauce over the top and sprinkle with some more grated cheese if you like.

Bake for about 30-40 minutes or until the lasagne looks bubbly and golden brown. Cool for 10 minutes before serving.
Please note that where the recipe asks for milk, butter or yogurt, this refers to any plant-based version that you prefer.
Nutrition Facts
Vegan Sheet Pan Lasagne
Amount per Serving
% Daily Value*
* Percent Daily Values are based on a 2000 calorie diet.