Easy Creamy Vegan Dauphinoise Potato Recipe – A Luxurious Side Dish
This post contains links to affiliate websites, such as Amazon, and we receive an affiliate commission for any purchases made by you using these links. We appreciate your support!
My vegan potato dauphinoise is a classic French dish that is perfect for those who love creamy and flavorful potatoes. This dish is made with thinly sliced potatoes that are layered in a baking dish with a rich and indulgent mixture of cream, milk, and garlic. The potatoes are baked until golden and tender, and the cream mixture thick and bubbly. The result is a dish that is melt-in-your-mouth delicious, with potatoes that are soft and creamy on the inside, and a golden and crispy top. Potato dauphinoise pairs well with a variety of main courses, making it a great choice for any occasion. Whether you are cooking it for a special dinner party or simply for a comforting family meal, my vegan potato dauphinoise is sure to be a hit.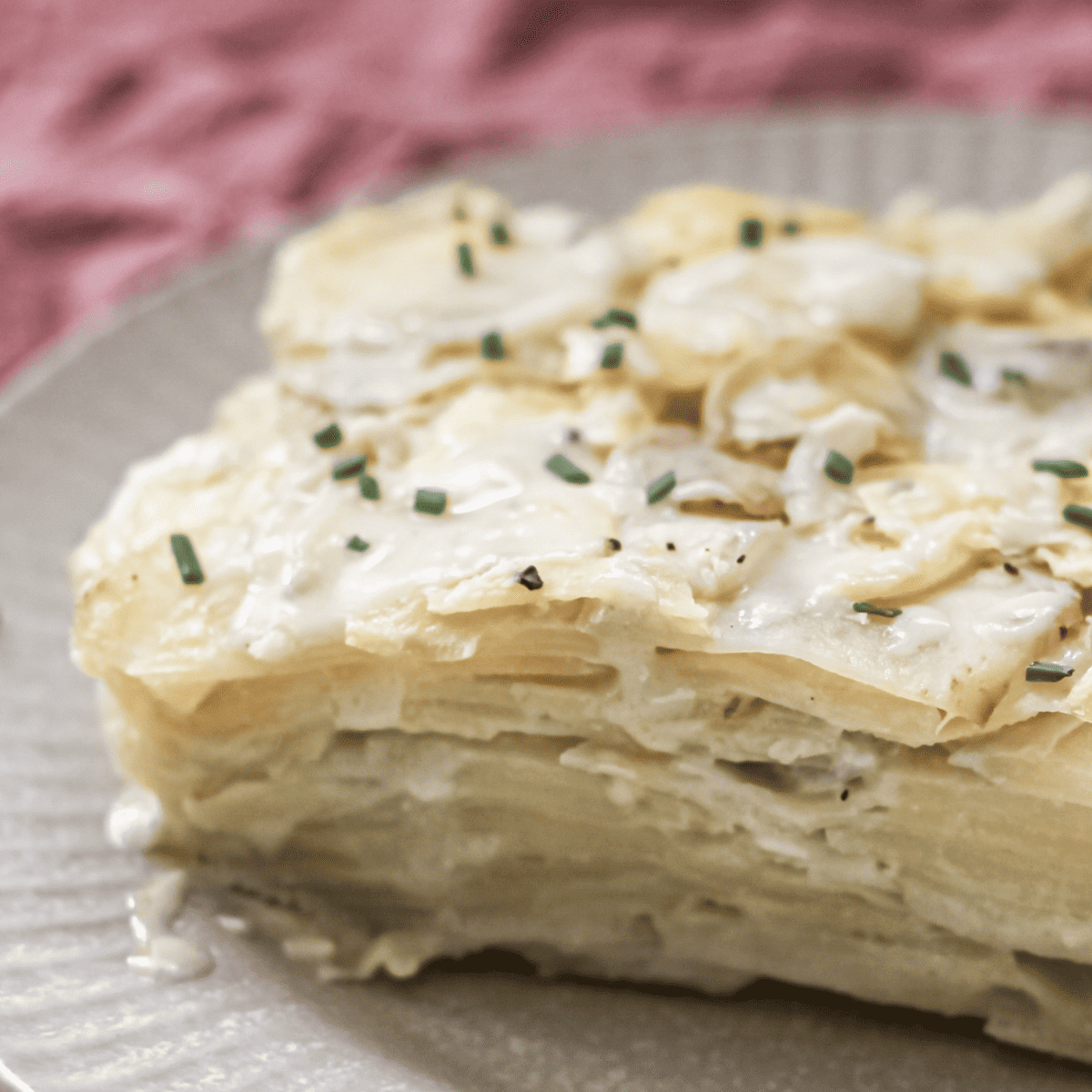 There exists a potato dish for almost every occasion. Potatoes (in their sweet form) can even be used in dessert. And you can even up the sophistication level using the humble potato, elevating it to a luxurious side dish, like my vegan dauphinoise potato.
If you want to try more vegan dishes, try my perfect vegan mashed potato recipe, my vegan potato and corn chowder, or, if you can't decide, I have 75 more vegan potato dishes for you here!
Perfect to serve alongside some steamed broccoli and beans for a main event dish, or on the side for a special occasion like Thanksgiving or Christmas, dauphinoise potato will win over everyone's heart (or stomach).
Why You'll Love my Vegan Potato Dauphinoise
Make ahead prep, easy to reheat
Small ingredient list
Inexpensive
Lower fat than the original recipe
Impressive side dish for company
What are Dauphinoise Potato?
Also known as scalloped potatoes or gratin dauphinoise, thinly sliced potatoes are swathed in a rich, garlicky cream sauce, and baked until tender.
Originating from Dauphine, a former province of South Eastern France that is renowned for several culinary delicacies, including pommes dauphines (fried potato puffs), several types of cheese and nougat de Montelimar (one of my grandad's favourite confections).
But undoubtedly, dauphinoise potato must be the regions most famous culinary export, seen on menus up and down and country. In the US, it is often referred to as gratin potatoes, or potatoes au gratin, a very similar dish, but usually with the addition of cheese or a cheese sauce.
How do you make Dauphinoise Potato?
The dish itself is very simple, using low-cost ingredients, and very few of them. Potatoes, vegan double cream, plant-based milk, garlic and seasoning.
To make this recipe as hassle-free as possible, I recommend using a mandolin, but if not, you can slice them, carefully and slowly, to the thickness of a pound coin (or about 3mm if you're not British).
I like to simmer the sliced potatoes in the hot garlicky cream bath, just for a few minutes, to start off the cooking process before the dish even goes into the oven. Dauphinoise potato has reasonably speedy prep, but the cooking is definitely low and slow.
Ingredients
potatoes and garlic
vegan cream, unsweetened.
plant-based milk, unsweetened (I like oat milk because it has creamy texture)
nutmeg and seasoning
if you want to make this dish even more luxurious, add some strong vegan cheese, grated, to the pan with the cream and potatoes, stirring gently, before pouring into the baking dish.
This is ONLY a list of ingredients for the recipe; please see recipe card below for complete printable recipe.
Instructions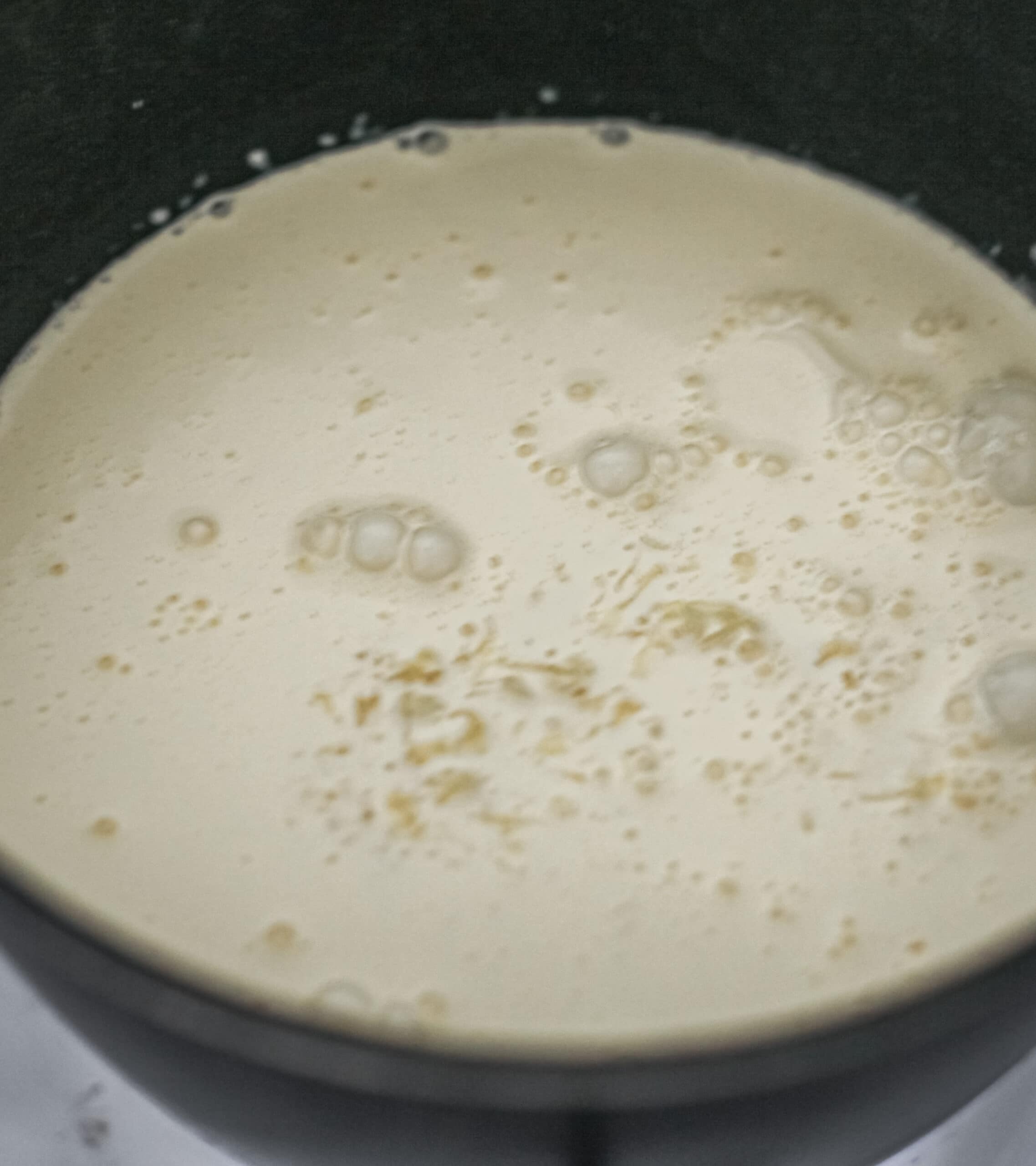 Gently heat the milk, cream and garlic plus a teaspoon of salt.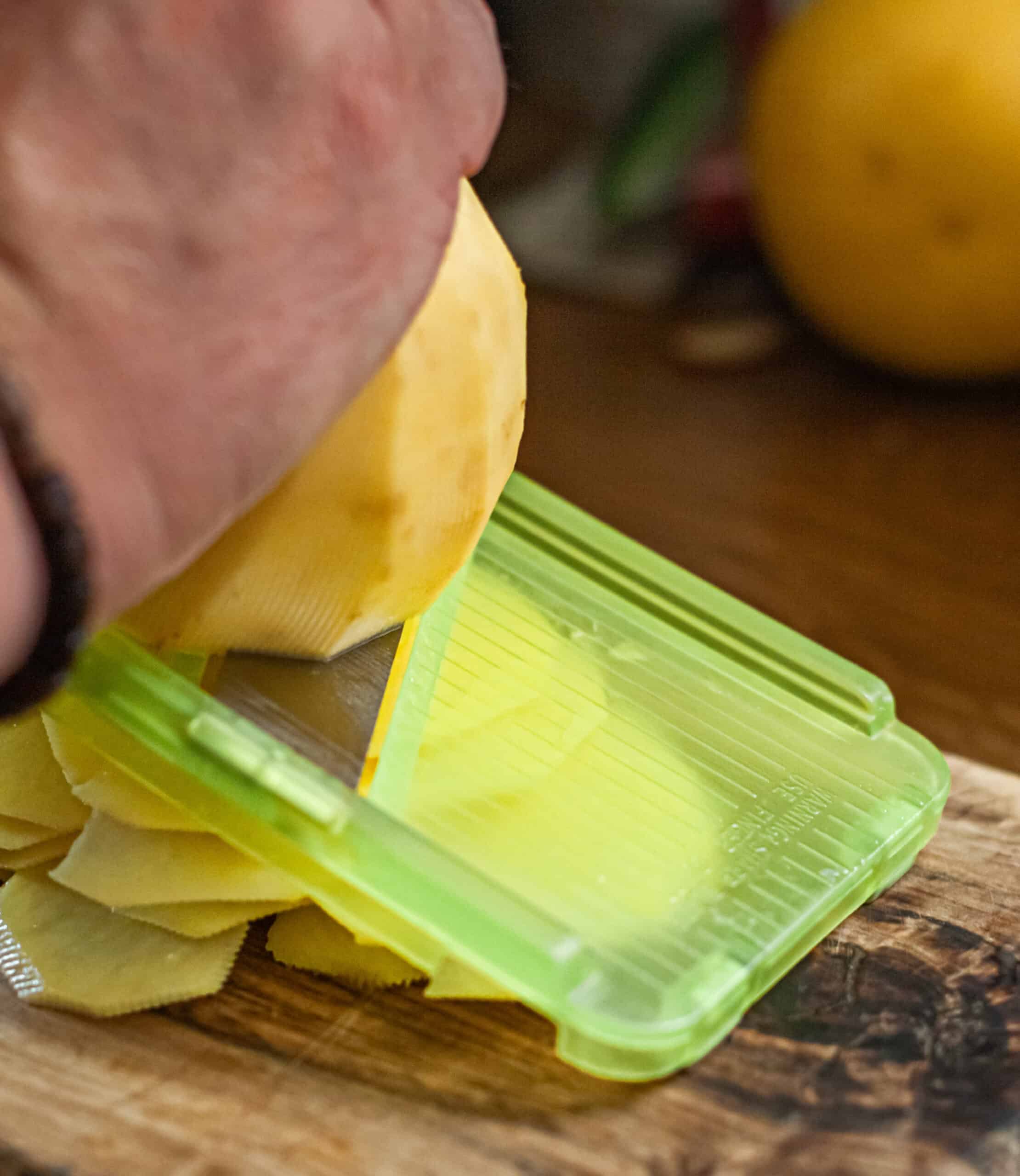 Peel and carefully slice the potatoes using a mandolin
Add the sliced potatoes to the warmed cream and milk and simmer for 5 mins.
Layer the sliced potatoes up in a baking dish, pour over the remaining liquid and bake at 150c until the potatoes are tender, about 45mins to an hour.
Substitutions
Garlic – omit the garlic if you are not a fan but make sure to increase the seasoning
Potatoes – replace the potatoes with celeriac or swede for a change! These are both considerably harder than potatoes, so may take a little longer to cook!
Storage
You can store the cooled dauphinoise in the fridge for 2-3 days, gently reheating when needed.
I wouldn't recommend freezing dauphinoise potato.
Top tip
If you chill the cooked potato dauphinoise, then cut into squares you can fry it off on each side in a little vegan butter for a luxurious side.
Easy Vegan Potato Dauphinoise
A classic luxurious side dish
Ingredients
900

g

Potatoes

-

red, peeled

4

cloves

Garlic

-

peeled and minced finely

250

ml

Cream

-

vegan, unsweetened

125

ml

Milk

-

plant-based, unsweetened

1

tsp

Salt

¼

tsp

Pepper

Nutmeg

-

freshly grated
Instructions
Place the milk, cream, minced garlic and seasoning in a large saucepan and bring to a very gentle simmer with the lid on. This will help to infuse the garlic into the cream.

Whilst the milk/cream is warming up, slice the peeled potatoes using (preferably) a mandolin with a guard. If you don't have a mandolin, you can use the mandolin side of a box grater, or just very painstakingly slice them by hand.

Place the slices of potato in cold water for about 5 minutes to remove any excess starch.

After 5 mins, drain the potatoes thoroughly and place in the pan with the warm milk.

Now layer this mixture into your baking dish using tongs, pouring any excess liquid over the top.

Cover with foil and bake for about 45mins to an hour, or until a knife tip goes through the potatoes easily.

Remove from the oven and leave to stand for 10 minutes before serving, or leave completely to chill, before reheating when needed.
Please note that where the recipe asks for milk, butter or yogurt, this refers to any plant-based version that you prefer.
Nutrition Facts
Easy Vegan Potato Dauphinoise
Amount per Serving
% Daily Value*
* Percent Daily Values are based on a 2000 calorie diet.