Easy Peanut Butter and Banana Vegan Pancakes
This post contains links to affiliate websites, such as Amazon, and we receive an affiliate commission for any purchases made by you using these links. We appreciate your support!
Easy Peanut Butter and Banana Vegan Pancakes – fluffy and light, perfect recipe for using up bananas that are going brown, my yummy vegan pancakes!
Pin my banana peanut butter pancakes to make later!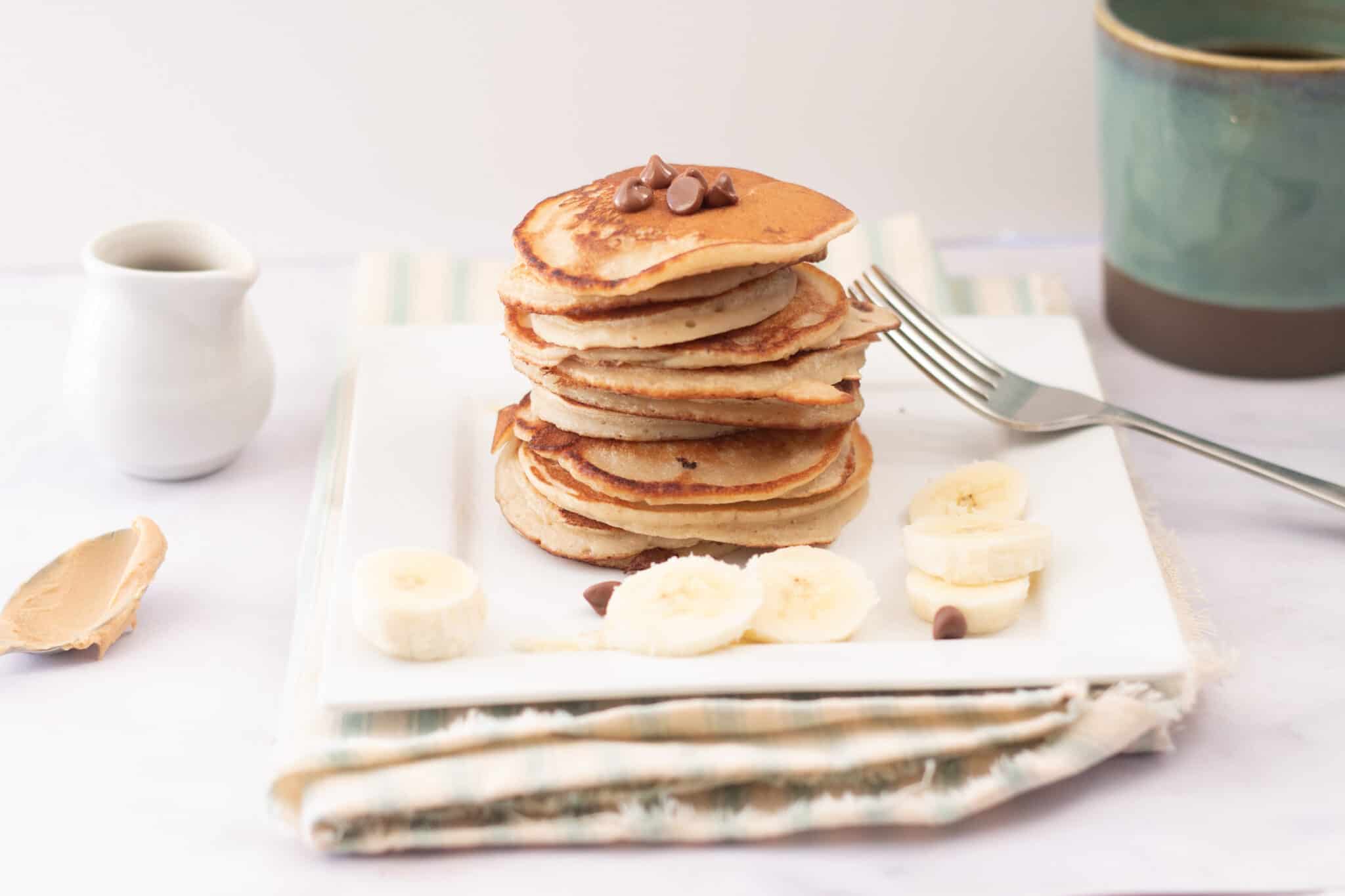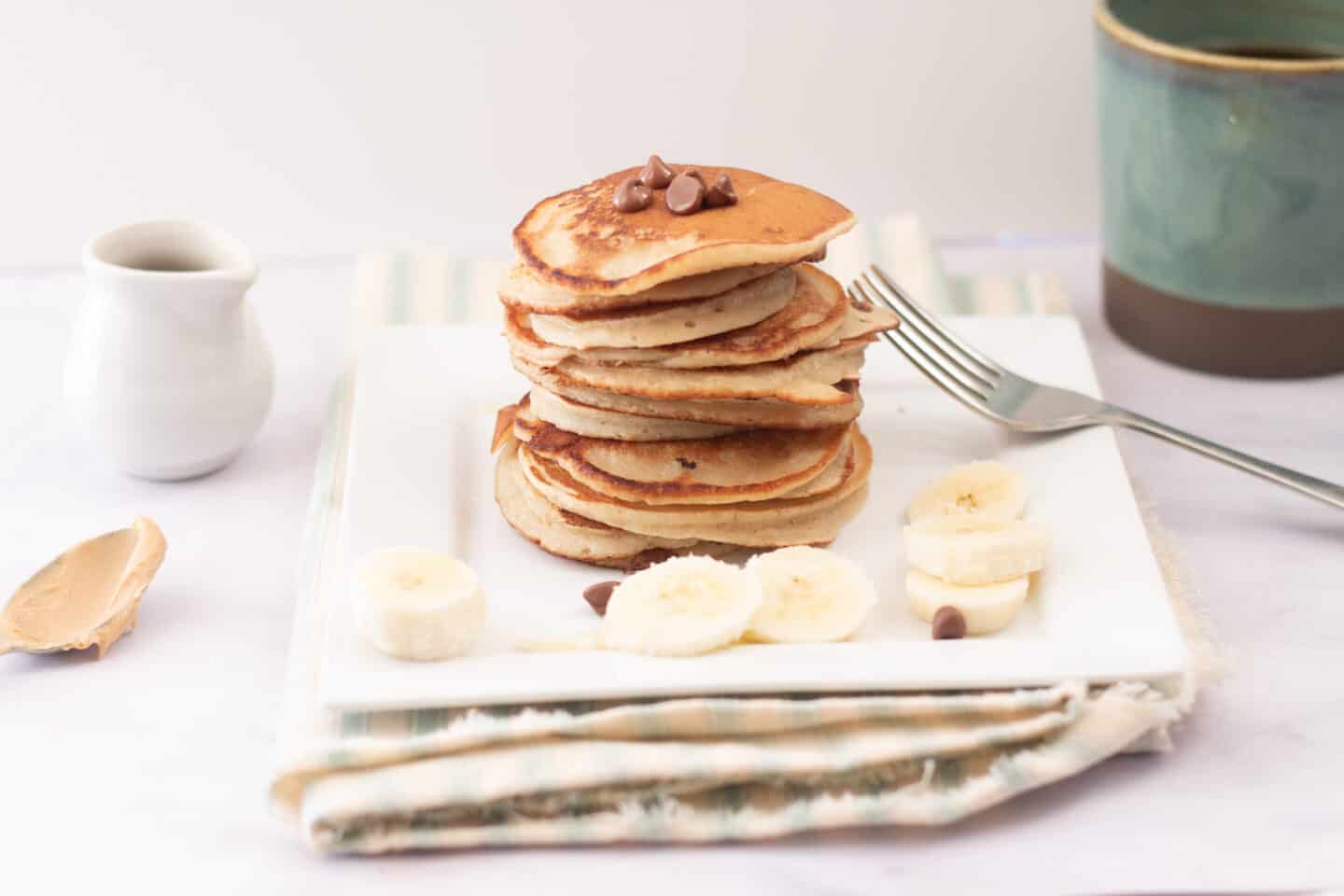 For more delicious breakfast vegan recipes:
I'm sitting here typing this post about my vegan peanut butter and banana pancakes, cross-legged on my bed, snacking from my little tin of homemade Rugelach. They are very addictive (but also for another post). Do you ever get writer's block? You know what you have to write, it's really quite simple, and yet the words that come out are not really relevant or are nonsense?
Welcome to my world. That is my world of writing most days. Some people seem to find it charming. I embrace these people into my life (not too close, buddy!), the fellow weirdos.
Breakfast and Pancakes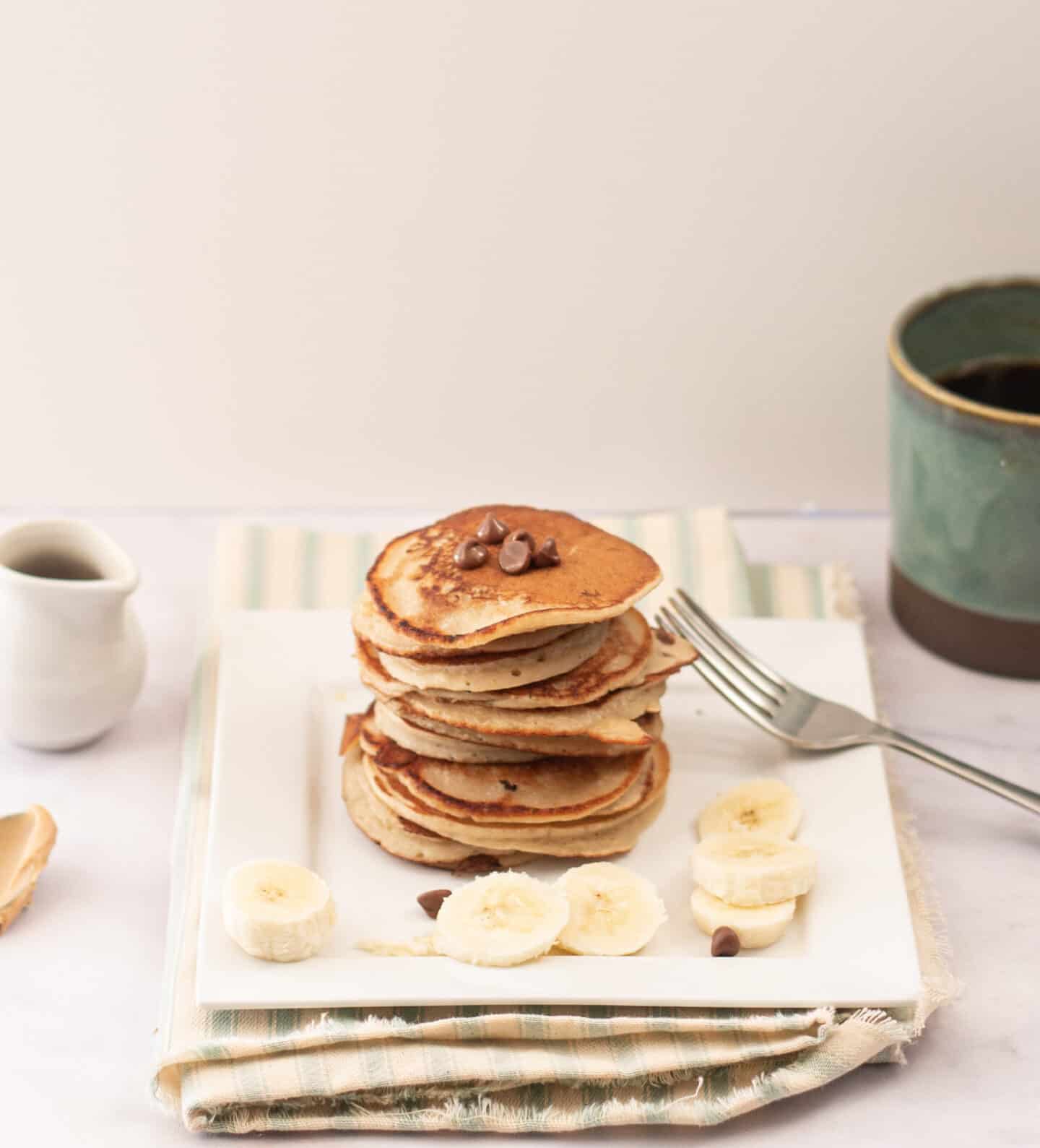 I am not like all food bloggers in that I write what I feel, rather than what the casual google surfer might be looking for (click here if you just want the recipe and none of this preamble), but I hope that the visual aspects and the strength of the recipes will ensure that you leave a nice comment or at the very least, enjoy cooking something you've found.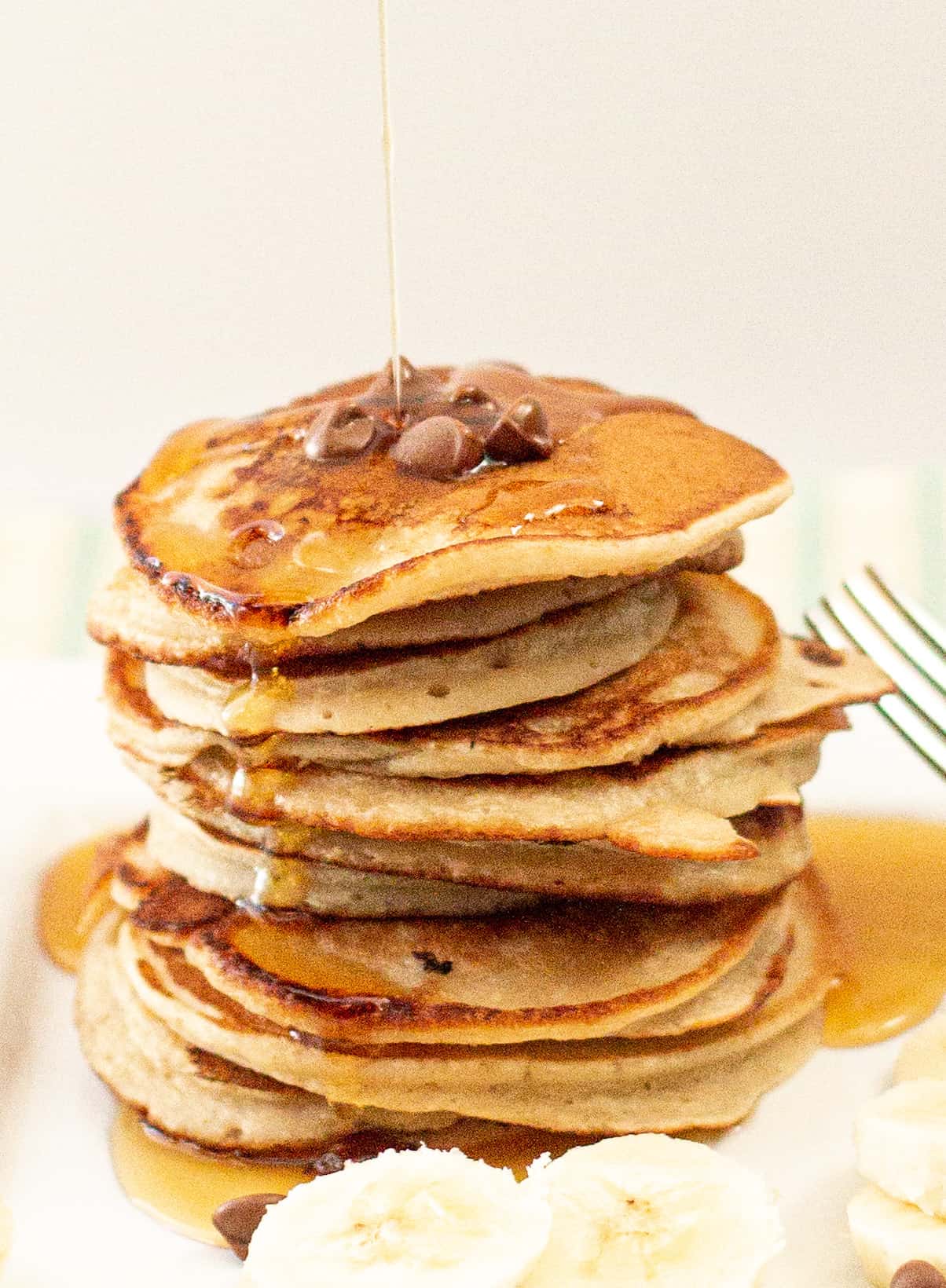 I love breakfast foods. I don't love mornings (by which I mean early mornings), but there's a certain fun, casualness to morning foods that I find so pleasurable: burritos, cereals, things on toasted other things, pancakes.
Ahh yes, the pancake. A simple batter of flour, milk (egg if you're not plant-based), sugar and leavening, fried in round dollops until fluffy, then covered in syrup and butter. There is nothing in that sentence that I dislike.
I've tried cooking pancakes lots of different ways, with ricotta (back in the non-veg days) and egg whites folded in, I've thrown blueberries or raspberries in them, I've made crepes, I've made waffles. I'm terrible at making all types of pancakes! I love reading this article about the way we serve pancakes around the world, but I do like a nice simple pancake. My Peanut Butter and Banana Pancakes veer just on the side of simple, but with a complex flavour.
Don't get me wrong; they always taste amazing, but every time I make pancakes, it's like the first time: they stick, I pour too much batter, I pour too little batter, they look funny and nubbly. By the 6th or 7th pancake, I've just about got the hang of it. I love to serve mine with a Rosewater Latte.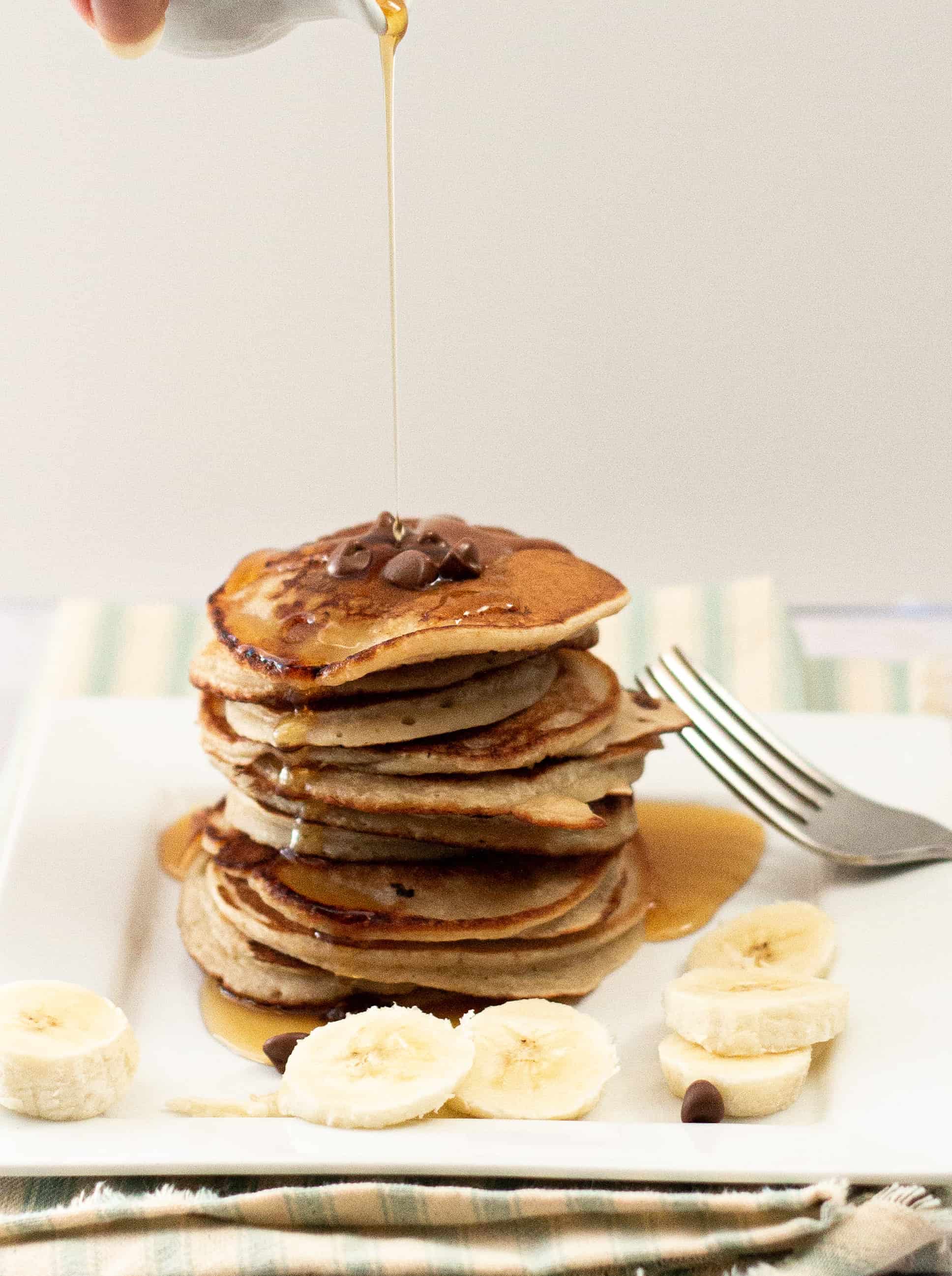 Are you a whizz at making pancakes or do you mess up the first batch too?
How do you make Vegan Pancakes from scratch?
This recipe is a breeze to make, in fact you could make them batter the night before. You smush up some bananas with peanut butter (I use an electric hand whisk as it's quicker, but you could just beat with a fork and a wooden spoon), and then chuck all the other ingredients in and stir until smooth. You do need to let it stand for a little bit, just to let the batter thicken up and do it's thing. After that, it's pancake time!!
I do recommend that you don't smother them with too much syrup. I'm a smotherer, but these are really sweet with the banana. Oh, and about the bananas, make sure they're ripe, the riper the better. They don't have much flavour and will be a real pain in the ass to mix as well.
Ingredients
Plain flour or all purpose flour. You can also use oatmeal flour or your favourite gluten free all purpose blend.
Bananas. They must be ripe, and ripe bananas beyond ripe are perfect.
Peanut Butter. I use smooth peanut butter, but you can use crunchy peanut butter or an organic nut butter.
Soy milk or your favourite plant based milk. You could use almond milk, oat milk or rice milk if you prefer.
Sugar. Optional. I like sweet pancakes, but the bananas are pretty sweet. You can omit the sugar altogether or use brown sugar or stevia instead. You could also use maple syrup.
Baking Powder.
Chocolate Chips. Optional but add a delicious additional flavour to these pancakes.
This is ONLY a list of ingredients for the recipe; please see recipe card below for complete printable recipe.
So, do you have any tips for making the perfect pancake? If so, I need to hear it! Drop it in the comments.
Peanut Butter and Banana Vegan Pancakes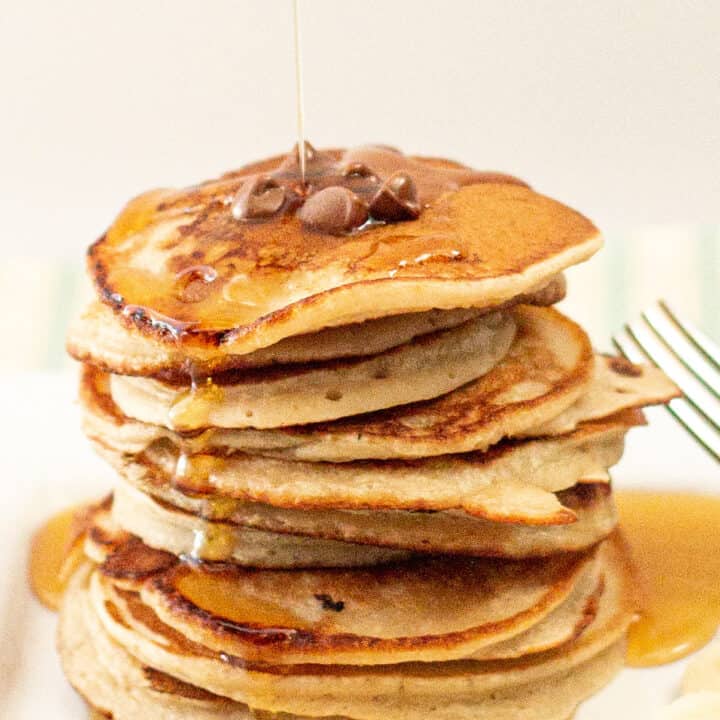 A super quick and easy recipe for pancakes
Equipment
Mixing bowl and wooden spoon

Measuring Cups/Scales

Electric Hand Whisk (if you have)
Ingredients
2

Bananas

peeled and mashed in bowl

¼

cup

Peanut Butter

smooth

1½

cups

Soy Milk

or plant based milk of your choice

¼

cup

Sugar

2

cup

Flour

all purpose

1½

tsp

Baking Powder

¼

cup

Choc Chips

optional

2

tbsp

Oil for cooking
Instructions
Using an electric hand whisk if you have, mix together the banana and peanut butter until smooth.

Whisk in the rest of the ingredients (except choc chips if using) until you have a smooth batter. You may have a few little nubbly bits from the banana if it wasn't super-ripe, don't worry.

Fold in the choc chips if using.

Leave to stand for half an hour.

Heat some of the oil in your frying pan or skillet until it starts to move like water. This is when you know that oil is hot.

Pour dollops of the mixture, not to close together, in your pan. When you see bubbles popping on the surface of your pancake, it's ready to flip!

Cook on the other side for a minute or so, or until lightly brown.

Continue using up all the batter, and adding extra oil if needed, until you have a fine stack of pancakes!

Serve with a little maple or honey or whatever of your choice! The are a little sweeter than normal pancakes because of the banana so you don't need as much syrup.
Nutrition Facts
Peanut Butter and Banana Vegan Pancakes
Amount per Serving
% Daily Value*
* Percent Daily Values are based on a 2000 calorie diet.