Okra. We don't care what anyone else says about it, we love the stuff. Its gentle bite, the taste of green iron, the depth it lends to dishes, its beautiful shape that in cross section resembles the lotus root. Why do other people still not see its versatile, good-naturedness?
PIN my Easy Spicy Fried Okra to make later
This recipe uses my spicy cornmeal coating and makes a great starter or appetizer for your New Years eve party or any event where the cook (that's you and me) has time to fry up some delicious nibbles! Try serving alongside my vegan smoked salmon for some conversation starters! If you wanted to go okra crazy, try serving alongside my Indian spiced Akri Bhindi too!
Jump to:
Those spindly, lime green fingers that resemble the stems of thistles but have a delightful fresh taste, have long been vilified in the UK as a vegetable. I blame TV chefs who have a far-reaching influence over the loyal fan base of viewers. All it takes is one thoughtless comment about a vegetable, let's say okra, being slimy and that's it! Unjustified shudders reverberate throughout the whole country at just the mere thought of it. Imagine! A slimy vegetable! Yuk!
This is a great shame because they are readily available and are a good source of vitamins C and B6 and folic acid. Of course, many repulsive things are high in vitamins - and we would rather take a supplement than force something unpleasant down our necks.
But Okra is not unpleasant. It has a dreadful reputation for being mucilaginous - that precise and self-fulfilling word being the key to okras bad reputation. People don't want to eat a dish that might remind them of a bodily discharge and it doesn't help that Okra is also green. But...this quirky trait has yet another health benefit: it helps bind bile toxins, helping the liver to filter out the bad stuff, the fibre within okra helps stabilise the blood sugar levels, and that same fibre also helps out the colon (i.e., by keeping the body 'regular').
Now forget the good stuff and consider the great stuff. Okra tastes delicious. I don't want to sound like the Okra Ambassador but if we can eat Foie Gras - the forcibly engorged liver of another animal - or eat Pork Pies which contain aspic made from a split pigs trotter, why do we have so much trouble eating a tasty, healthy plant?
What is Okra?
Okra resembles a long green chilli. It can be pickled, deep fried, used as a thickener in gumbo and other soups or stews (that mucilaginous quality has more than one function). In the Deep South, Okra is considered godlike amongst other vegetables. It is part of their culinary heritage in the same way the potato is to the Irish. It first arrived in New Orleans in the early 1700s and remains - literally - firmly rooted there.
There are hundreds of ways to serve this humble, vitamin-giving vegetable: casseroled, pickled, grilled, smothered and there are another hundred different ways of frying Okra.
If the 'slimy' aspect of Okra really does make you queasy, frying it could change your mind. Okra is best cooked very speedily or slowly, in a casserole. However, you get all the flavour but none of the slime when fried. I recently bought two packs of Okra - which is nearly always to be found in the reduced fresh produce section of our local supermarket - one to be used in Gumbo and the other...."well, it was reduced!"
As a pre-supper appetiser, I sliced the green fingers into centimetre thick rings, doused them in a little seasoned coconut yogurt (unsweetened) and then tossed them in spicy cornmeal mix, seasoned with salt, pepper, paprika and a little cayenne.
The okra is then fried in very hot vegetable oil and served piping hot. And if nothing else is achieved, it would certainly prove a talking point at an informal cocktail party.
Ingredients
fresh okra (not frozen)
fish fry cornmeal coating
natural vegan yogurt
oil for frying
See recipe card for quantities.
Instructions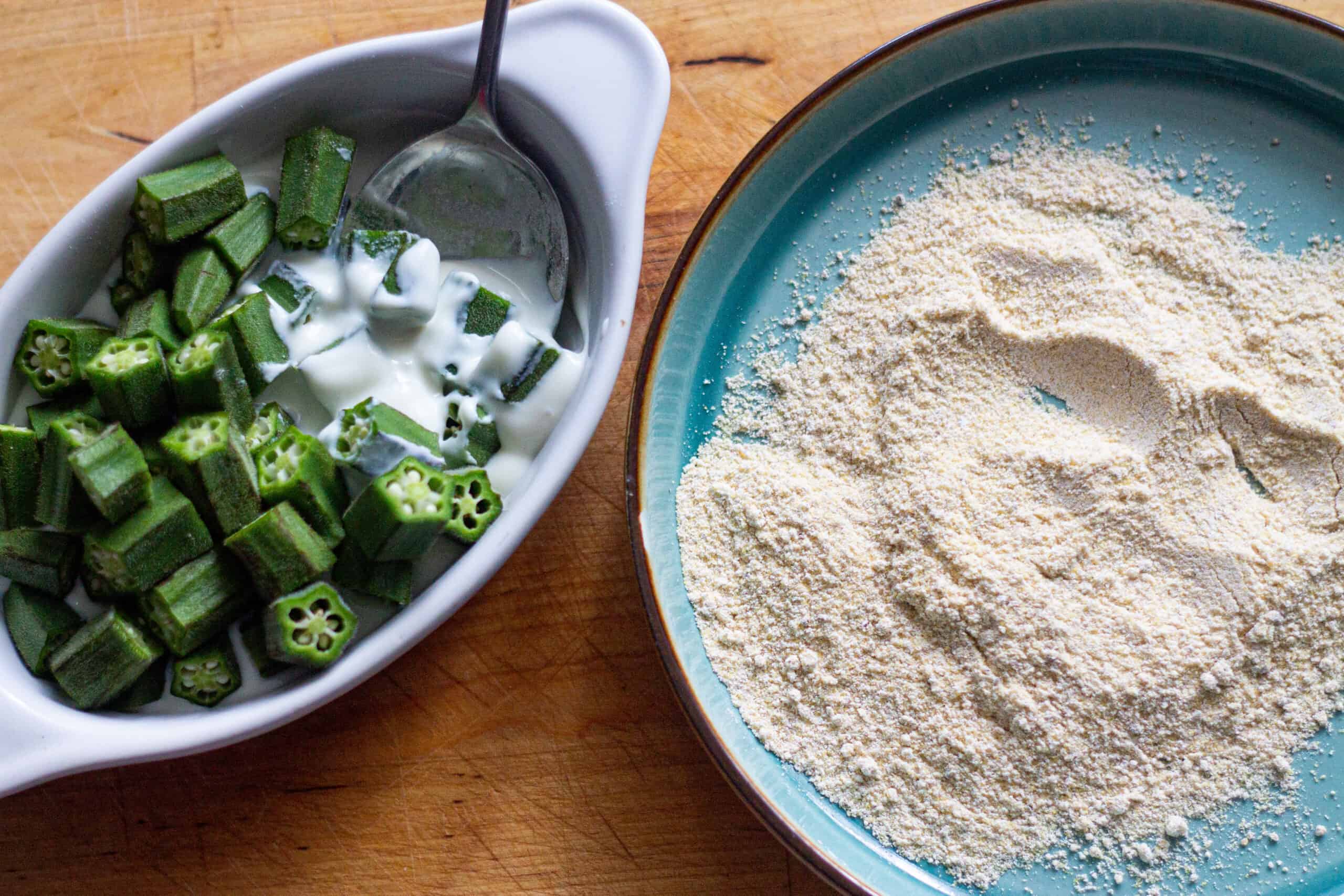 Dice your okra and lightly coat in yogurt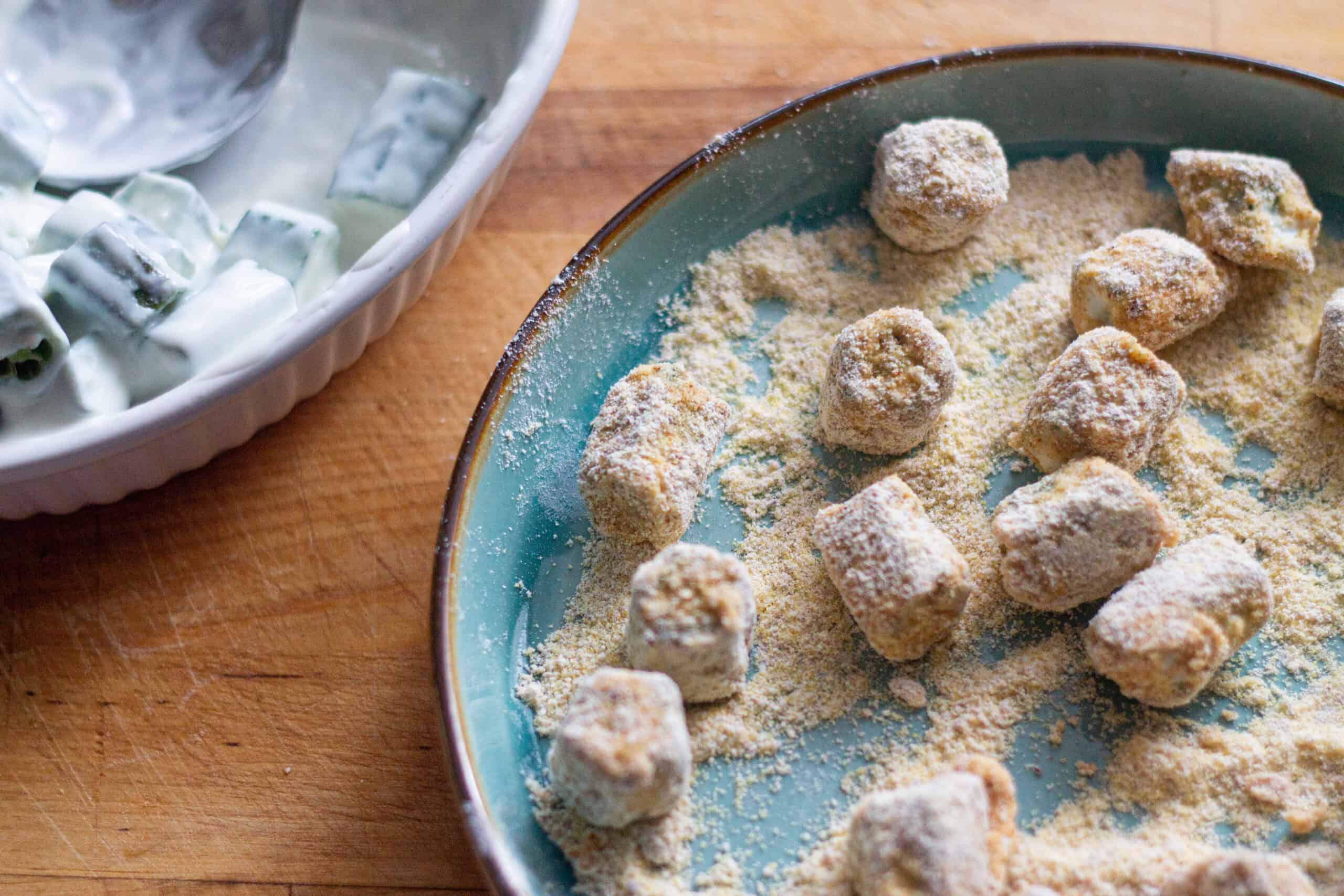 Now toss in the cornmeal coating, making sure the okra is thoroughly coated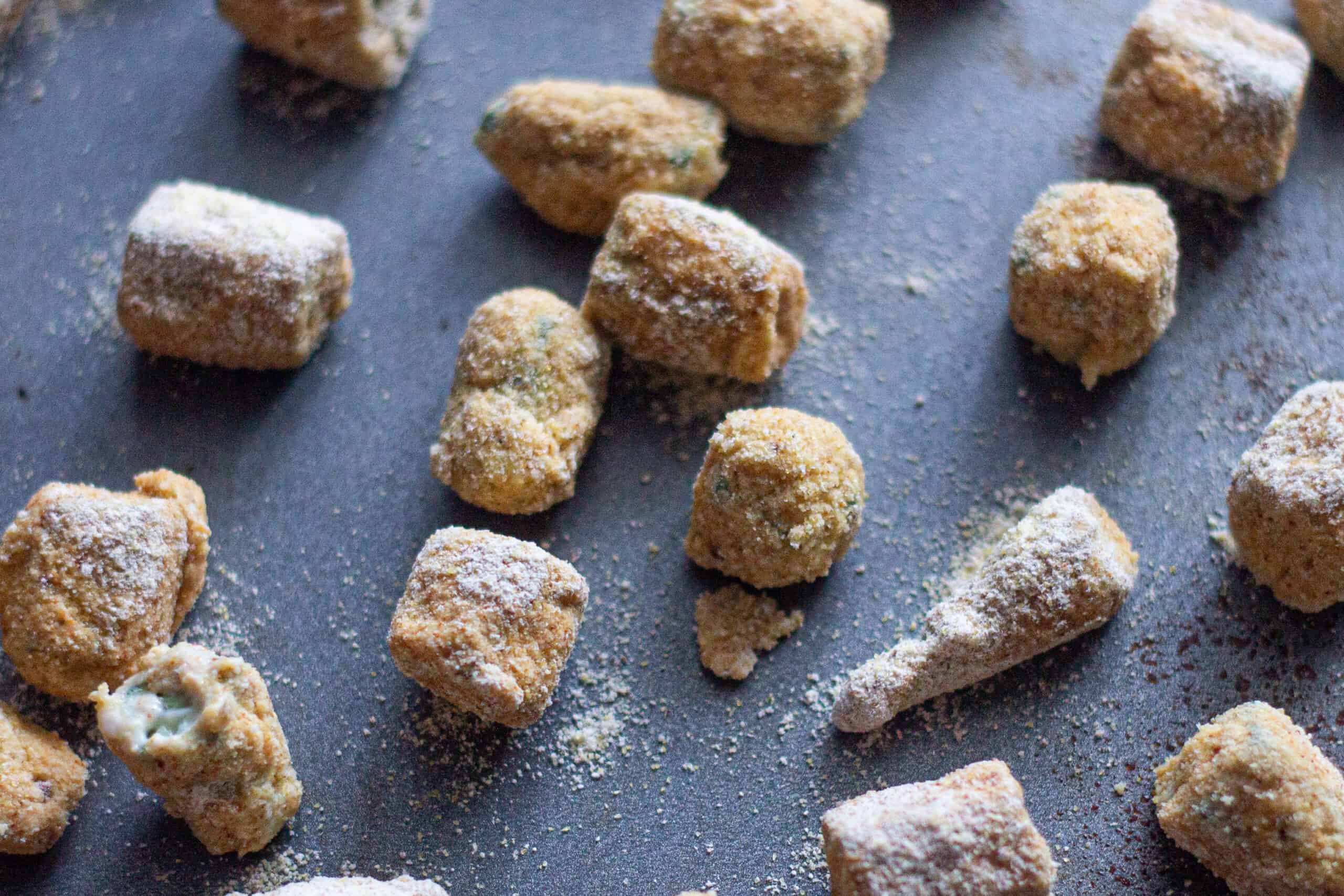 Ready to fry!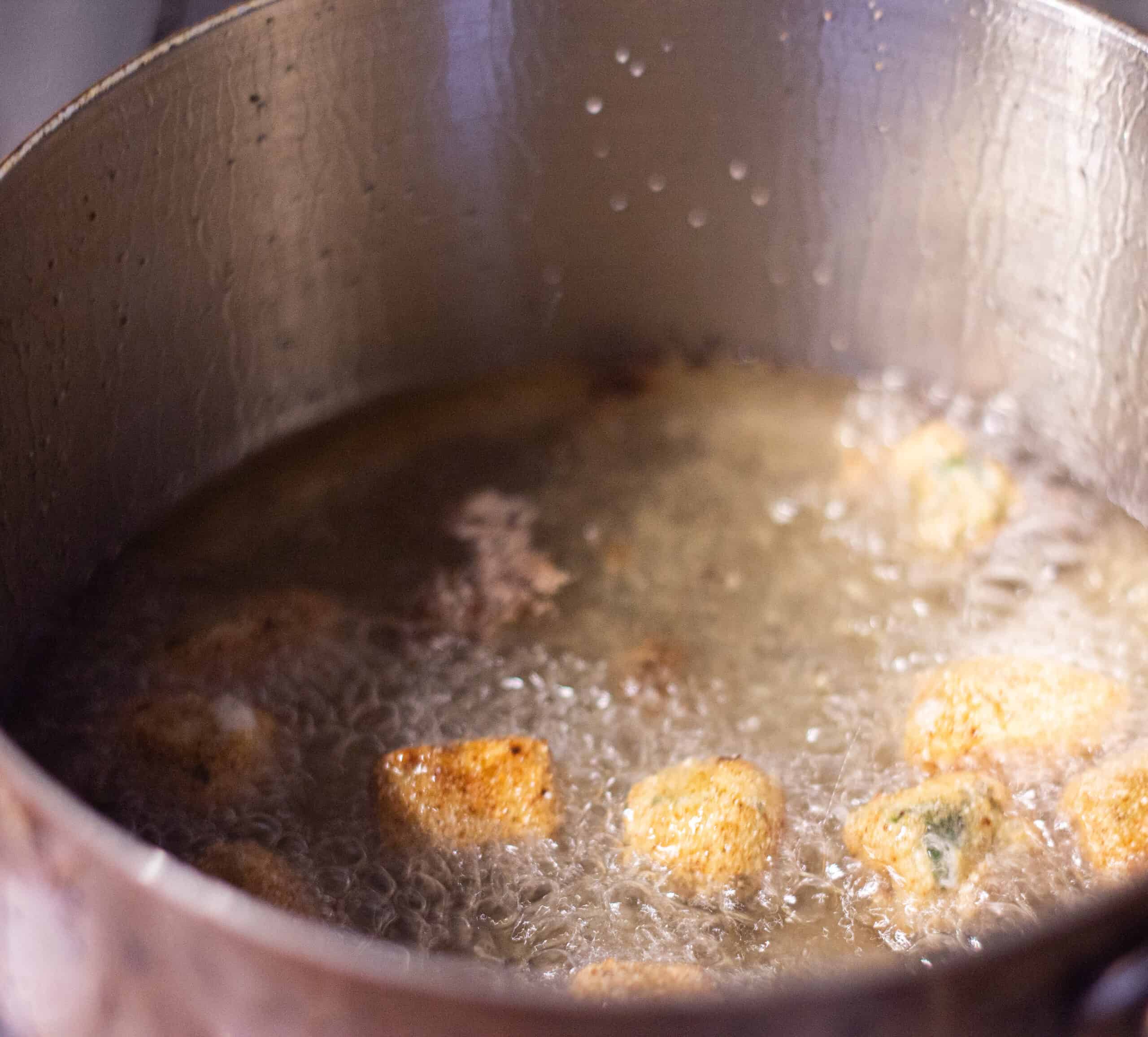 Fry in hot oil for a couple of minutes until golden brown, then drain on kitchen paper before serving
Variations
Spicy - add chili pepper flakes to the spice mix to make it extra piquant!
Kid friendly - remove the spice from the cornmeal coating and serve with mayo
Storage
As with most fried food, it is best eaten on the day cooked.
📋 Recipe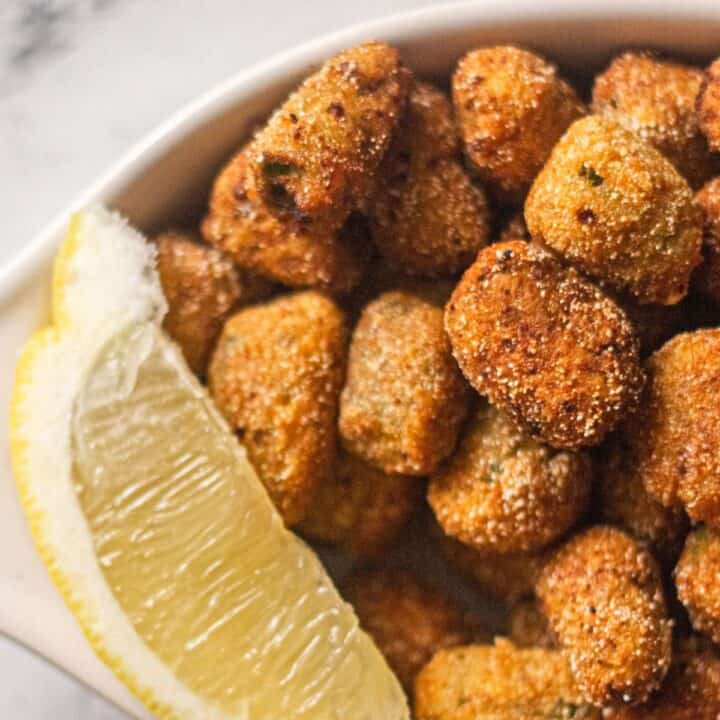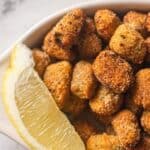 PRINT
A delicious little nibble for a cocktail party or small get together
Ingredients
140

g

Okra

fresh, topped, tailed and cut into rings

Cajun Cornmeal seasoning

see my recipe here

4

tablespoon

Yogurt

plain, vegan

½

teaspoon

Salt

¼

teaspoon

Pepper

Oil for frying
Instructions
Cut the fresh okra into rings about ½" thick.

Whisk the salt and pepper into the yogurt in a shallow dish.

Sprinkle ¼ cup of cornmeal coating in another shallow dish.

Dip the okra rings into the yogurt.

Now place the okra into the cornmeal coating, making sure that it is thoroughly coated. This will ensure that it won't spit hot oil when you fry them if you make sure that no wet spots of yogurt are showing.

Heat 2" of oil in a heavy-bottomed saucepan until it starts to shimmer and a little of the cornmeal seasoning frizzles when you drop it into the oil

Carefully drop small batches of the okra into the hot oil, frying for a couple of minutes until golden.

Use a slotted spoon to carefully remove from the oil and place on kitchen paper.

Repeat until you have fried all the okra.

Serve with wedges of lime!
Nutrition
Nutrition Facts
Spicy Cornmeal Okra
Amount per Serving
% Daily Value*
* Percent Daily Values are based on a 2000 calorie diet.
Nutritional Information Disclaimer
The automated nutritional information on my recipes can often be inaccurate due to the limitations within the programming. For exact measurements, there are lots of apps and websites that can calculate this information more accurately.
Tried it and Loved it?
Mention @sweeterthanoats or tag sweeterthanoats!
Food safety
Cook to a minimum temperature of 165 °F (74 °C)
Don't leave food sitting out at room temperature for extended periods
Never leave cooking food unattended
Use oils with high smoking point to avoid harmful compounds
Always have good ventilation when using a gas stove