Oatmeal - it's the breakfast of champions and often vegans. I make mine without milk, soaking it for a while, before heating it up and enjoying it with some simple toppings. Here's how.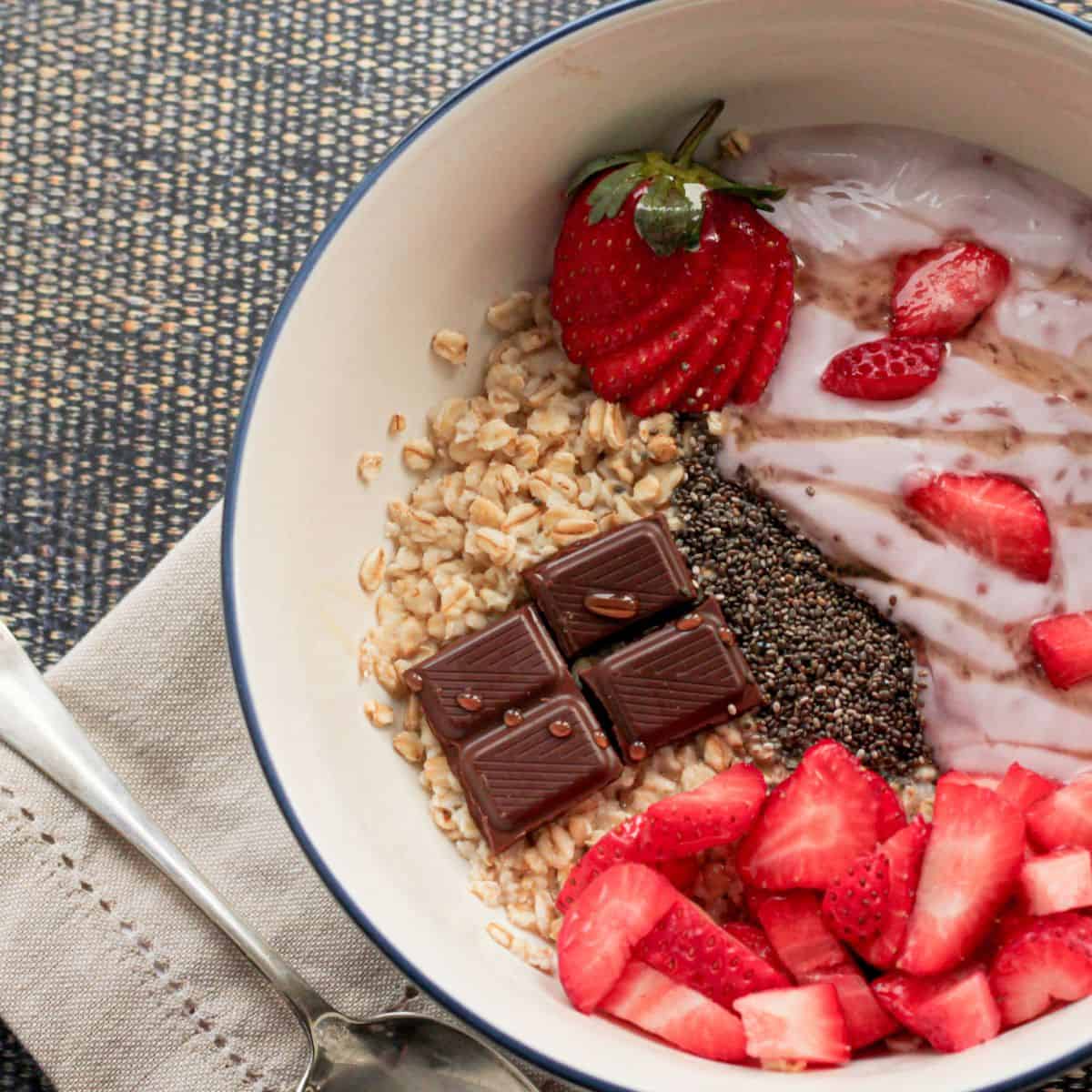 Oatmeal seems perfect any time of the year, but now we're moving into fall, and the mornings are a little cooler, oatmeal seems like the breakfast of choice.
Jump to:
This was inspired by my overnights recipe here. I love overnight oats, but they don't hit the spot in the same was as a cosy bowl of warm porridge.
I have a simple, foolproof method of making oatmeal. I don't use milk, I use water. This doesn't make for a wretched bowl of gruel: far from it. The oats naturally emit their own creaminess when soaked, so water works just as well as milk, plus it's lower in calories and cheaper!
I simply add a scoop of porridge oats to my bowl, add some chia seeds, a pinch of salt, some maple syrup and cover with water. Don't drench with water, just enough to cover. You can always add more but if you oversaturate your oats, you'll need to add more oats! Leave to soak overnight or at least an hour, then warm through. Add favorite toppings and you're good to go!
Ingredients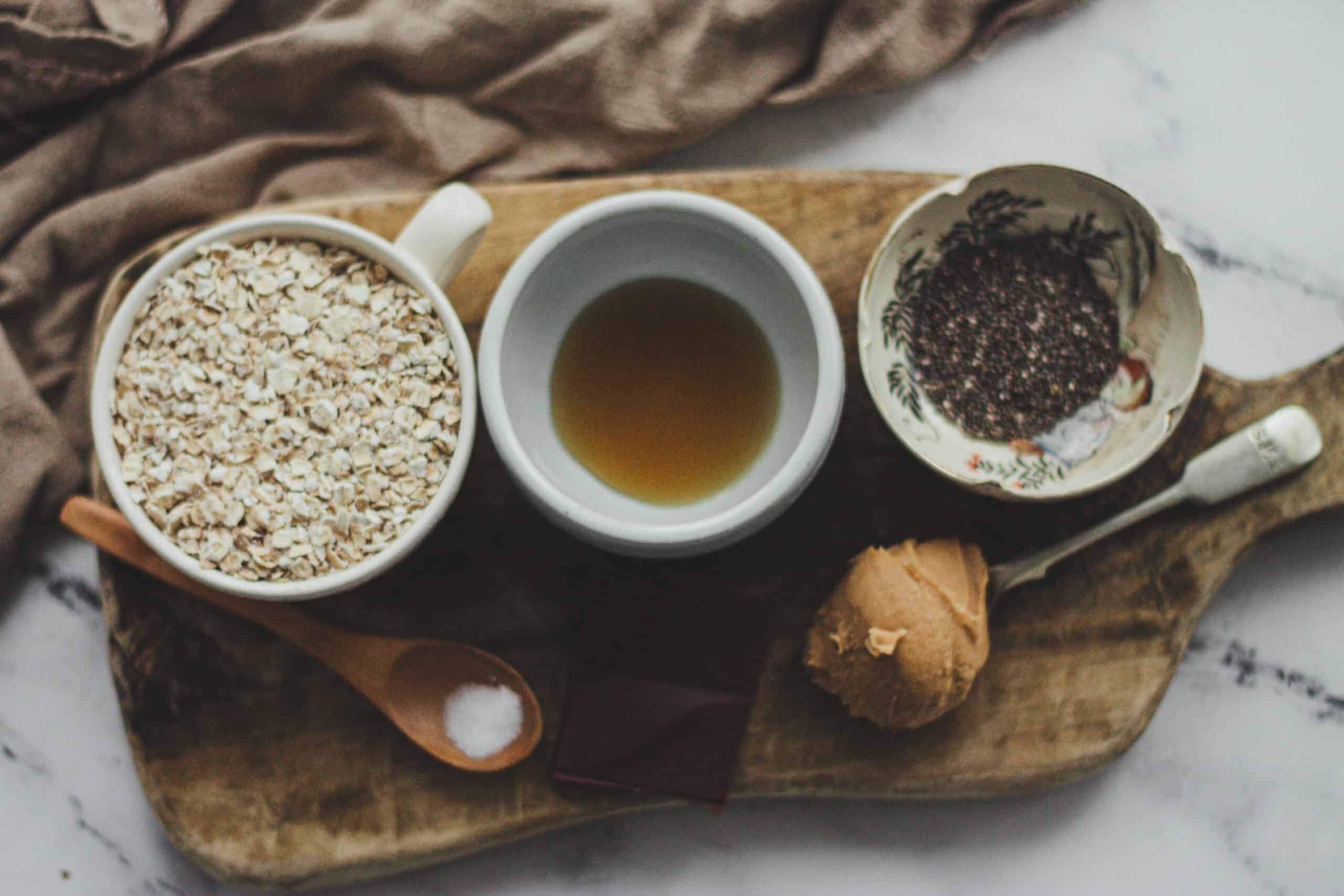 oatmeal. I don't use a particularly expensive brand as I find they all taste fairly similar, however, if you prefer a coarser, thicker oat, by all means use that! They may need soaking a little longer, the thicker the oats.
chia seeds. Not only for nutritional value, but they help to thicken up the oats if you're making them in a hurry and haven't had time to soak them for a while!
peanut butter. Feel free to omit if you are intolerant or dislike
maple syrup, but use your own favorite sweetener.
(This is ONLY a list of ingredients for the recipe; please see recipe card below for complete printable recipe. Or if you use the JUMP TO RECIPE at the top of the page, it will take you directly to the complete recipe.)
Instructions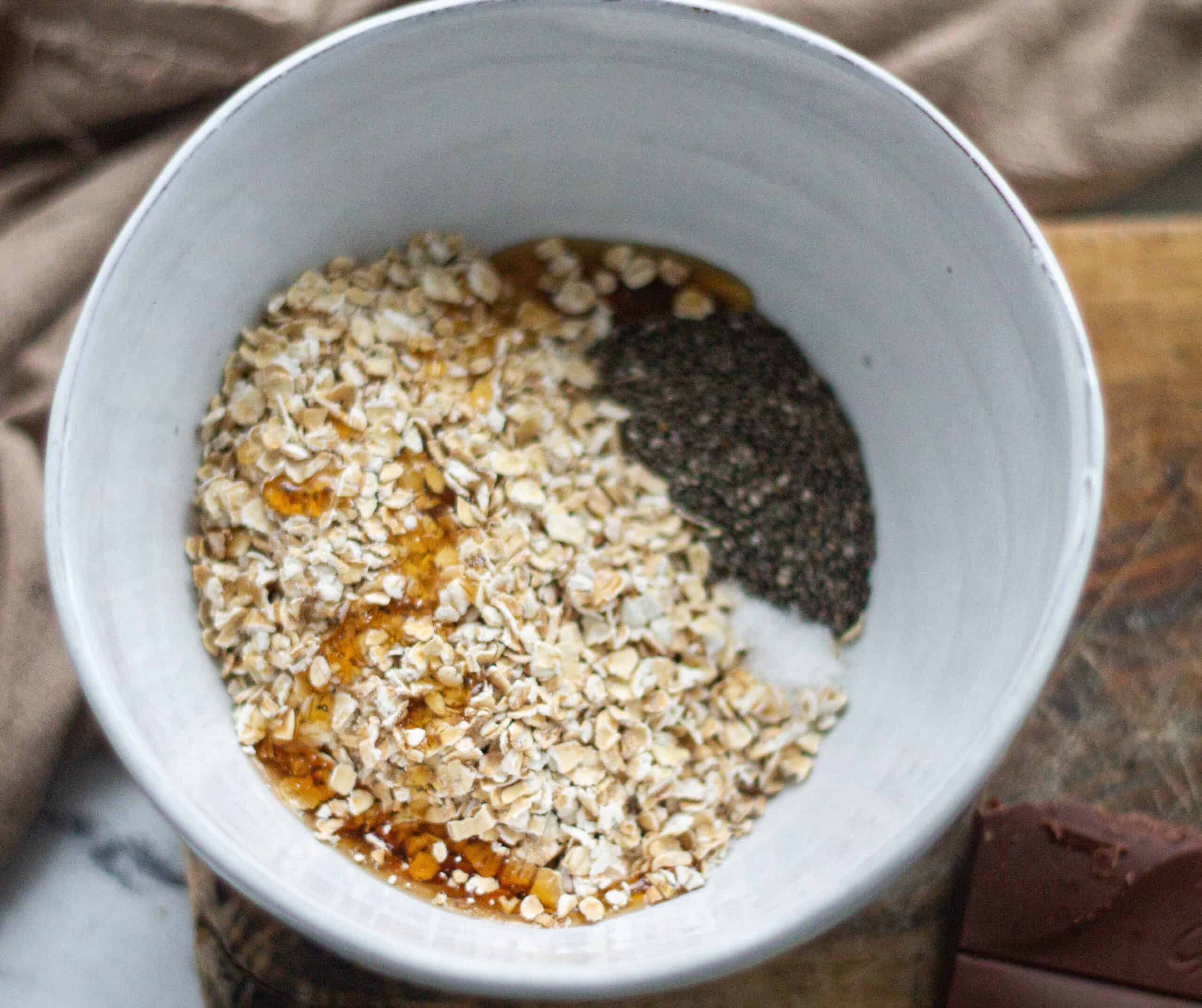 Place oatmeal, chia, salt and maple syrup in a bowl
Cover with water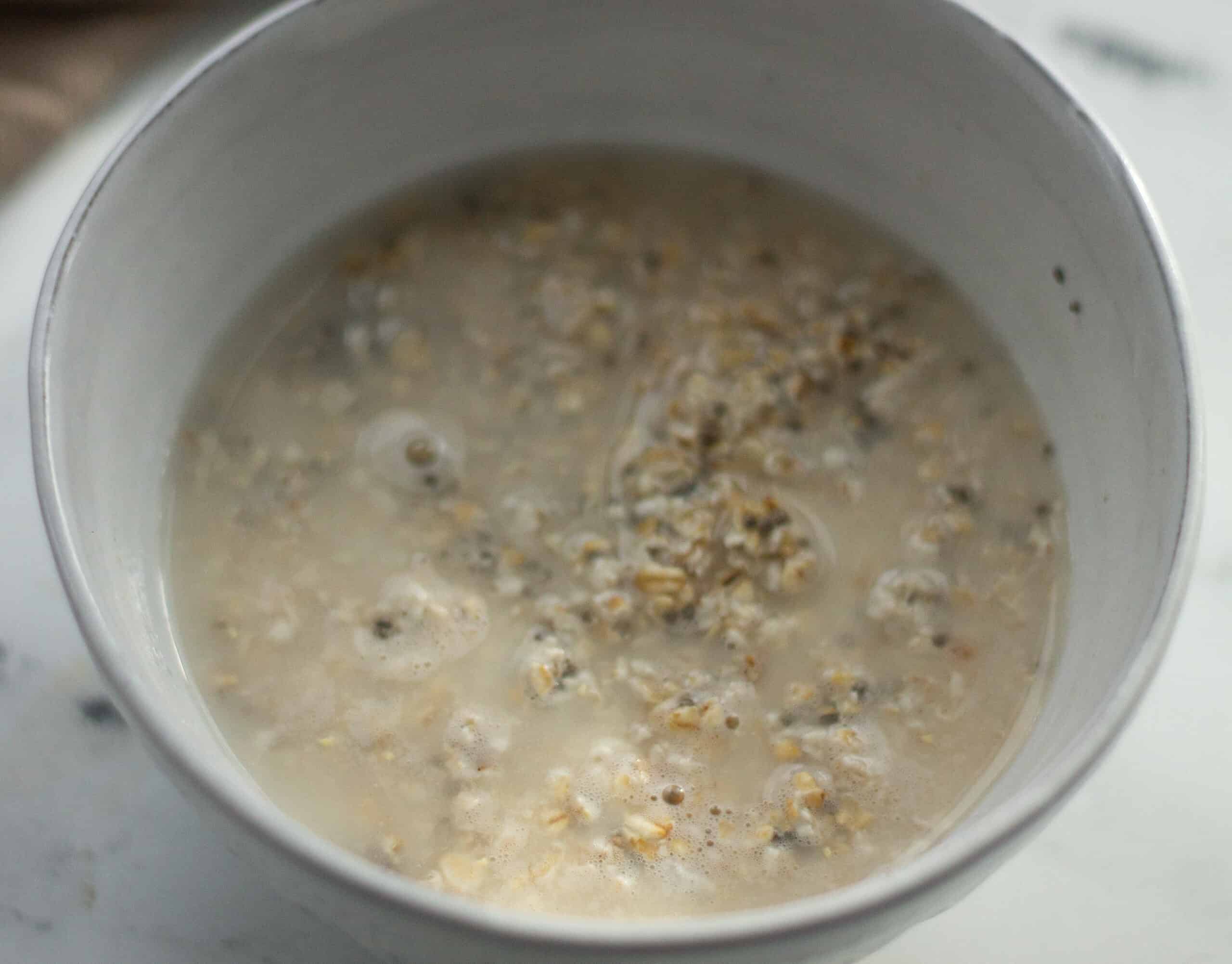 Leave to soak for at least an hour before either warming gently on the hob or in the microwave for 2 minutes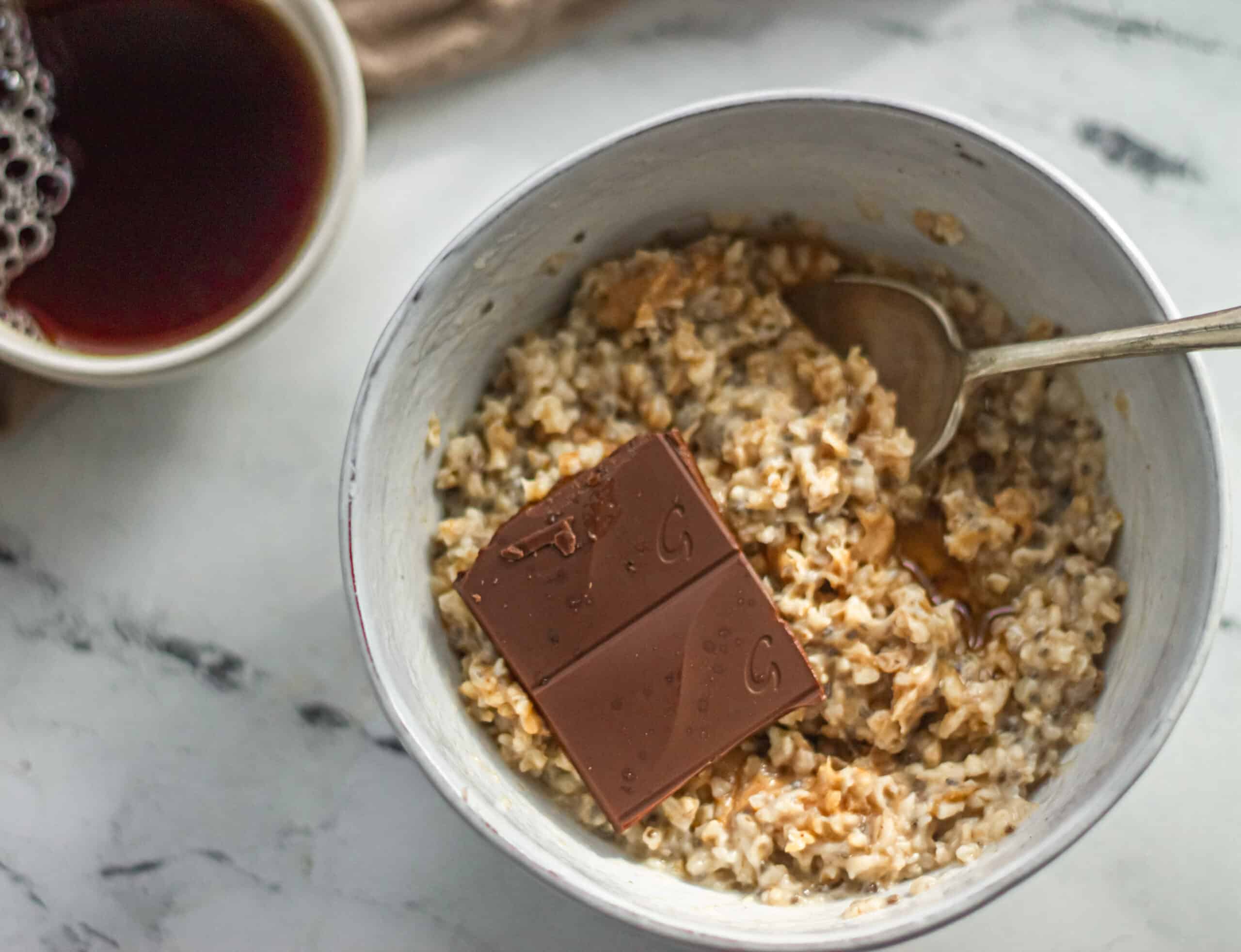 Add peanut butter and chocolate!
Hint: a pinch of salt is always welcome in a bowl of porridge. You won't taste it, but it balances out the flavors perfectly.
Substitutions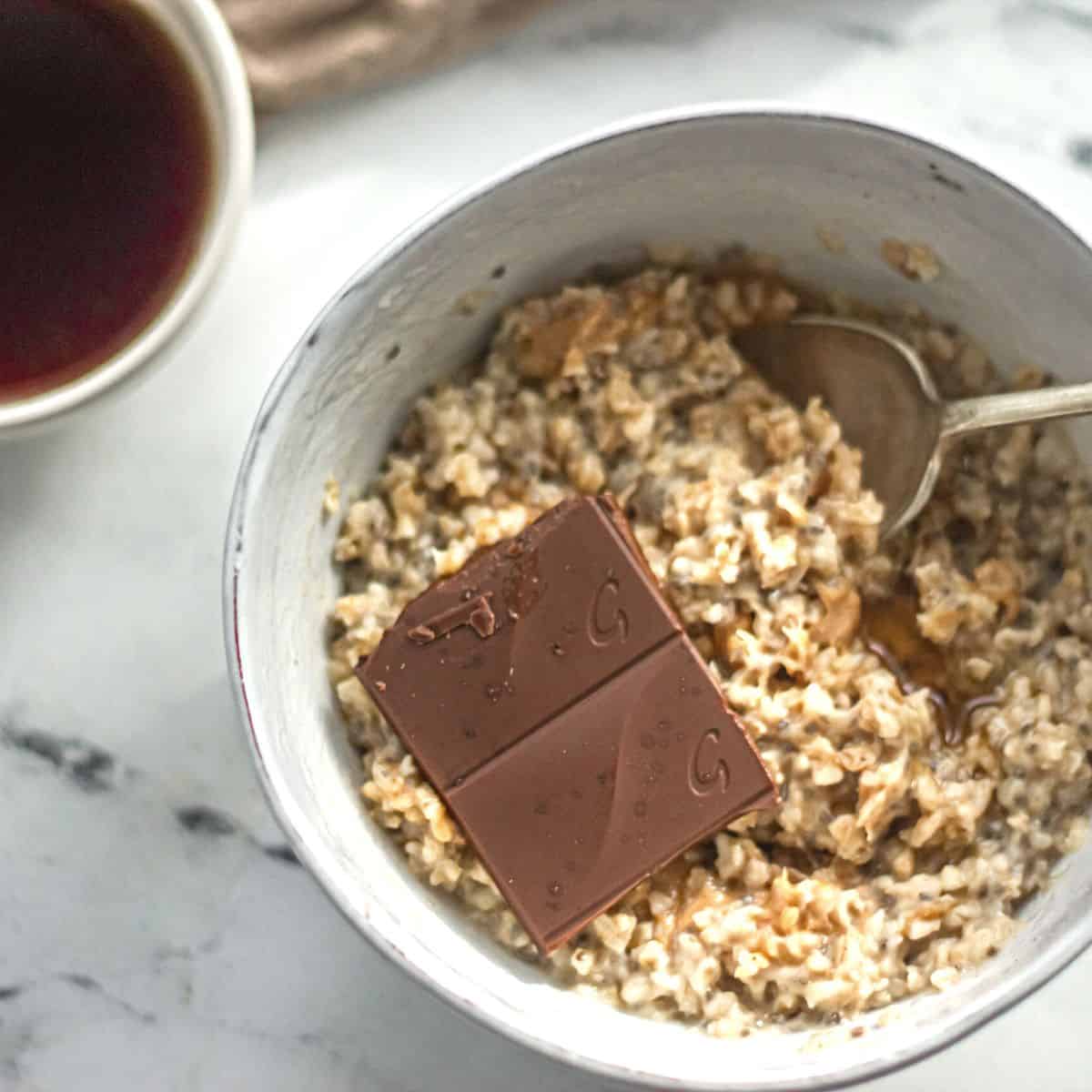 oatmeal - use your favorite grain instead, ie buckwheat, for gluten intolerant diets.
maple syrup - use your sweetener of choice, or omit altogether
peanut butter - use whatever nut butter or seed butter you prefer
Variations
healthy - add chopped fresh fruit like bananas, blueberries or strawberries instead of chocolate
Deluxe - add some toasted hazelnuts to add a little extra crunch
Kid friendly - add a mini vegan peanut butter chocolate cup instead of a square of regular chocolate
Try my delicious apple pie oatmeal bowl too!
Storage
Any leftover oatmeal can be cooled, refrigerated and reheated the next day with a little extra water or some soy milk (or plant-based milk of your choice).
Top tip
I like my oatmeal on the thicker side, and find that I prefer it made with water (the oats are naturally very creamy), but if you prefer to use plant-based milk go ahead and do so. Also, add more liquid if you prefer a less thick oatmeal bowl.
📋 Recipe
PRINT
The Best Oatmeal Recipe Ever
Or at least in my opinion! I make my oatmeal this way most days, I don't use any milk, and it still makes the creamiest porridge
Ingredients
¼

cup

Porridge Oats

wholegrain

½

cup

Water

more if you prefer a looser, creamier porridge

Pinch

Sea Salt

1

teaspoon

Chia Seeds

1

teaspoon

Nut Butter

optional

Agave Syrup or sweetener of your preference

optional
Instructions
Place the oats, chia seeds, salt, maple syrup (if using) and water in a small bowl

Cover and leave overnight (or at least an hour)

The next morning (or an hour later), warm the oats through gently on the hob until thickened and starting to gently bubble. I also microwave them if I'm in a hurry, for maybe 2 minutes maximum.

Stir through with nut butter if using.

Decant into your favourite cereal bowl and enjoy.

For extra luxury, I add a square of my favorite dairy-free chocolate to languidly melt on top
Nutrition
Nutrition Facts
The Best Oatmeal Recipe Ever
Amount per Serving
% Daily Value*
* Percent Daily Values are based on a 2000 calorie diet.
Nutritional Information Disclaimer
The automated nutritional information on my recipes can often be inaccurate due to the limitations within the programming. For exact measurements, there are lots of apps and websites that can calculate this information more accurately.
Tried it and Loved it?
Mention @sweeterthanoats or tag sweeterthanoats!