Festive Vegan Pigs in Blankets with a Sticky Maple Marmite Glaze
Vegan Pigs in Blankets Maple Marmite Glaze are possibly one of the most delicious side dishes I might have created, and I am not a fan of artificial meat. The glaze is addictively sweet and savoury!
This was inspired by my other festive side dishes, my braised brussels sprouts with chestnuts, my sweet and sour red cabbage and deep fried parsnip balls, and rainbow roasted veg.
As a veggie-friendly household, we didn't really serve pigs in blankets with our Christmas lunch. It wasn't until I was well into my teens and having Christmas lunch at a family member that I even realised they existed.
Mini cocktail sausages wrapped in bacon was never particularly my favourite thing, just too much pork in one little parcel, and they didn't really taste of much anyway.
I guess I sort of forgot about them until I started working for a coffee shop and one of our festive paninis was Pigs in Blankets (although, I think they called it Pigs under Blankets, because it was, you know, under a bread duvet). And I got to thinking. Why couldn't I utilise all the vegan meat replacements out there and make my own, kinder vegan pigs in blankets maple marmite glaze?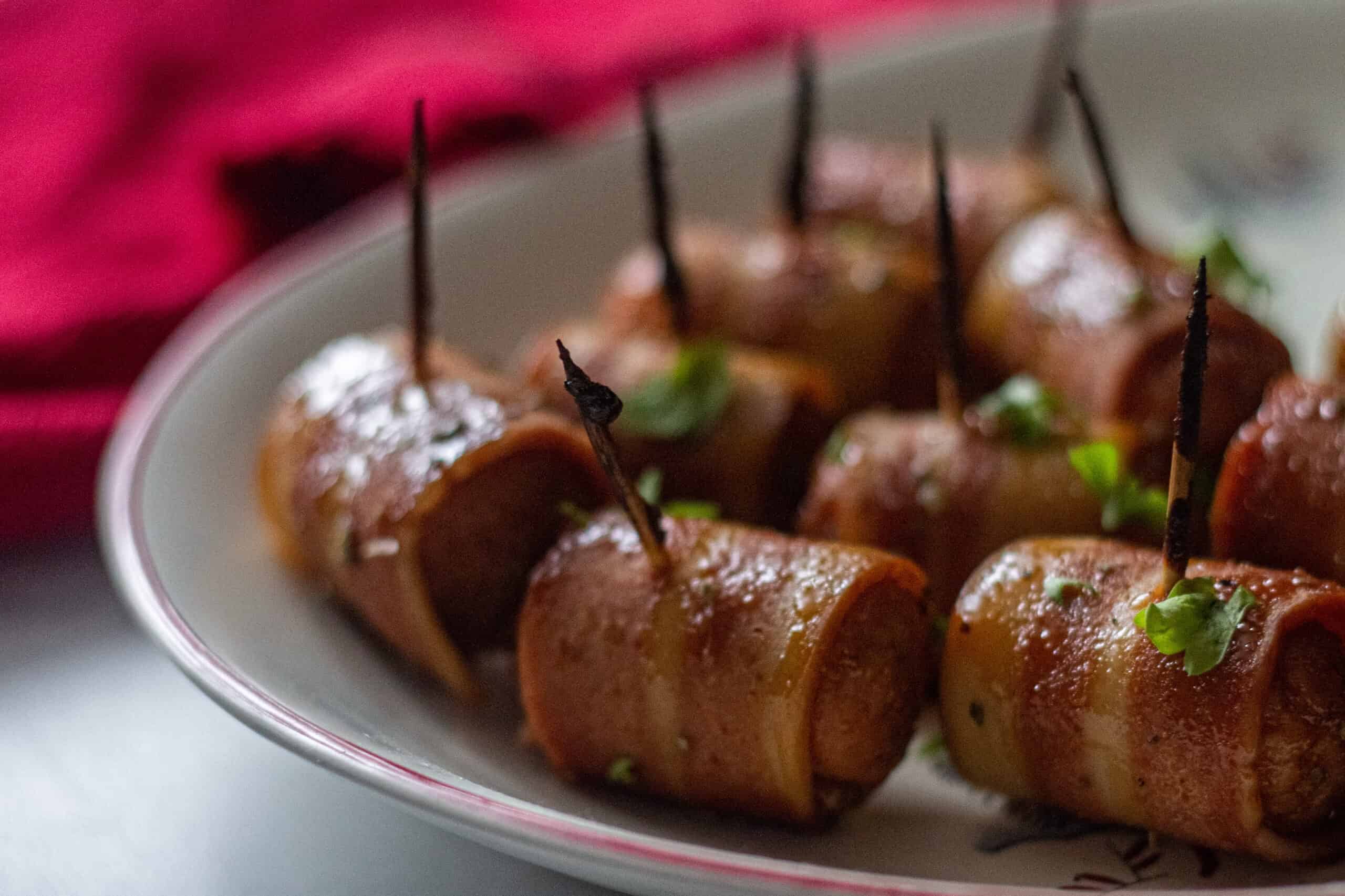 I spent some time thinking what could make these really yummy. I always find that vegan meat replacement is a little bit dry or cardboardy and I just don't really bother with it. But what if the pigs were coated in a sticky glaze, sweet and savoury? That would counteract the texture somewhat, and give us a delicious festive flavour!
And that morning I came up with this marmite and maple sticky glaze, which actually would be just about great on anything!
Easy and quick to make, these Sticky Glazed Vegan Pigs in Blankets might just be my new favourite festive side!
Ingredients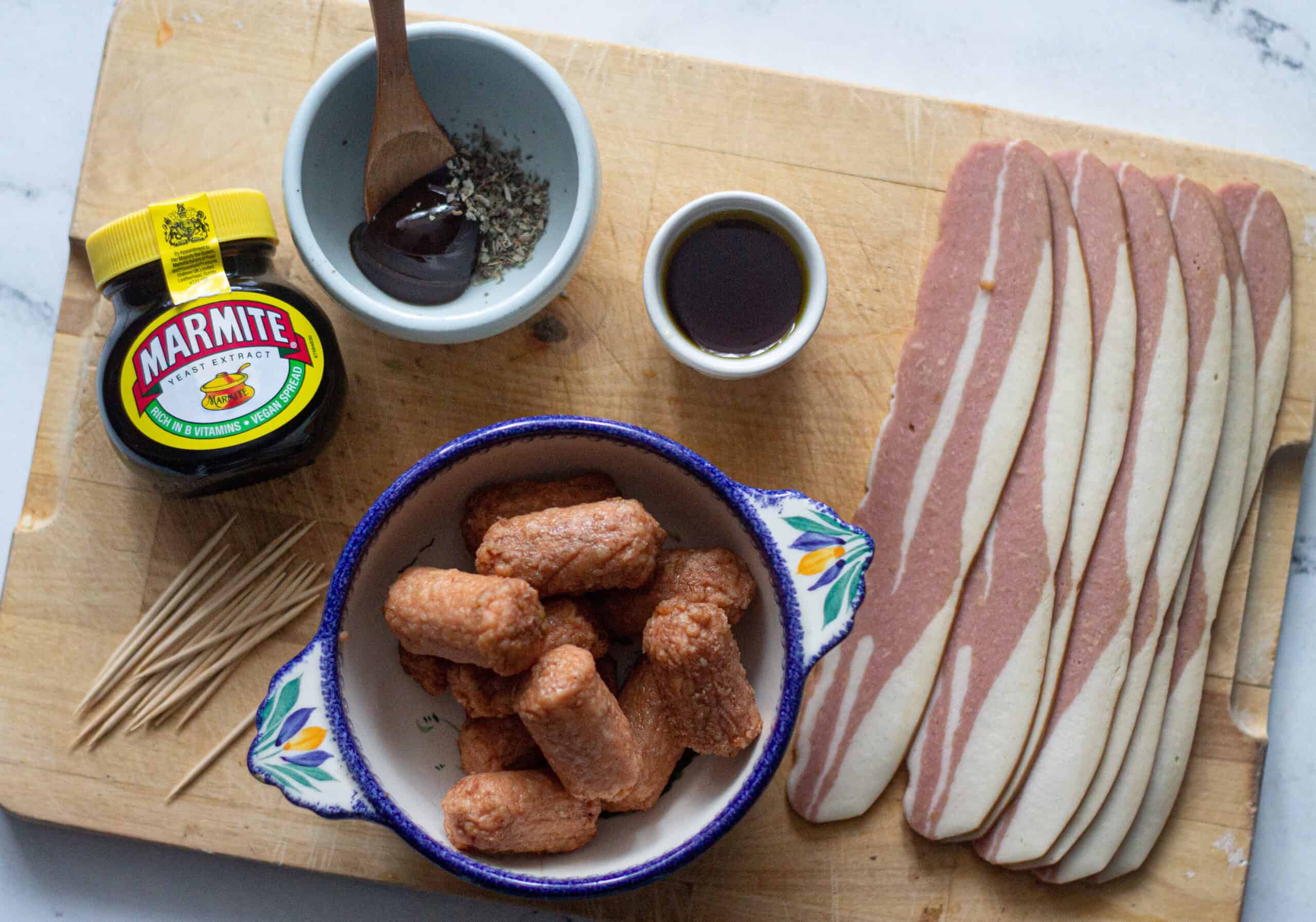 vegan bacon and cocktail sausages
marmite
maple syrup
dried sage
This is ONLY a list of ingredients for the recipe; please see recipe card below for complete printable recipe.
Instructions
Whisk together the marmite, oil, maple syrup and sage together.
Roll up the cocktail sausage in a rasher of vegan bacon
Secure with a cocktail stick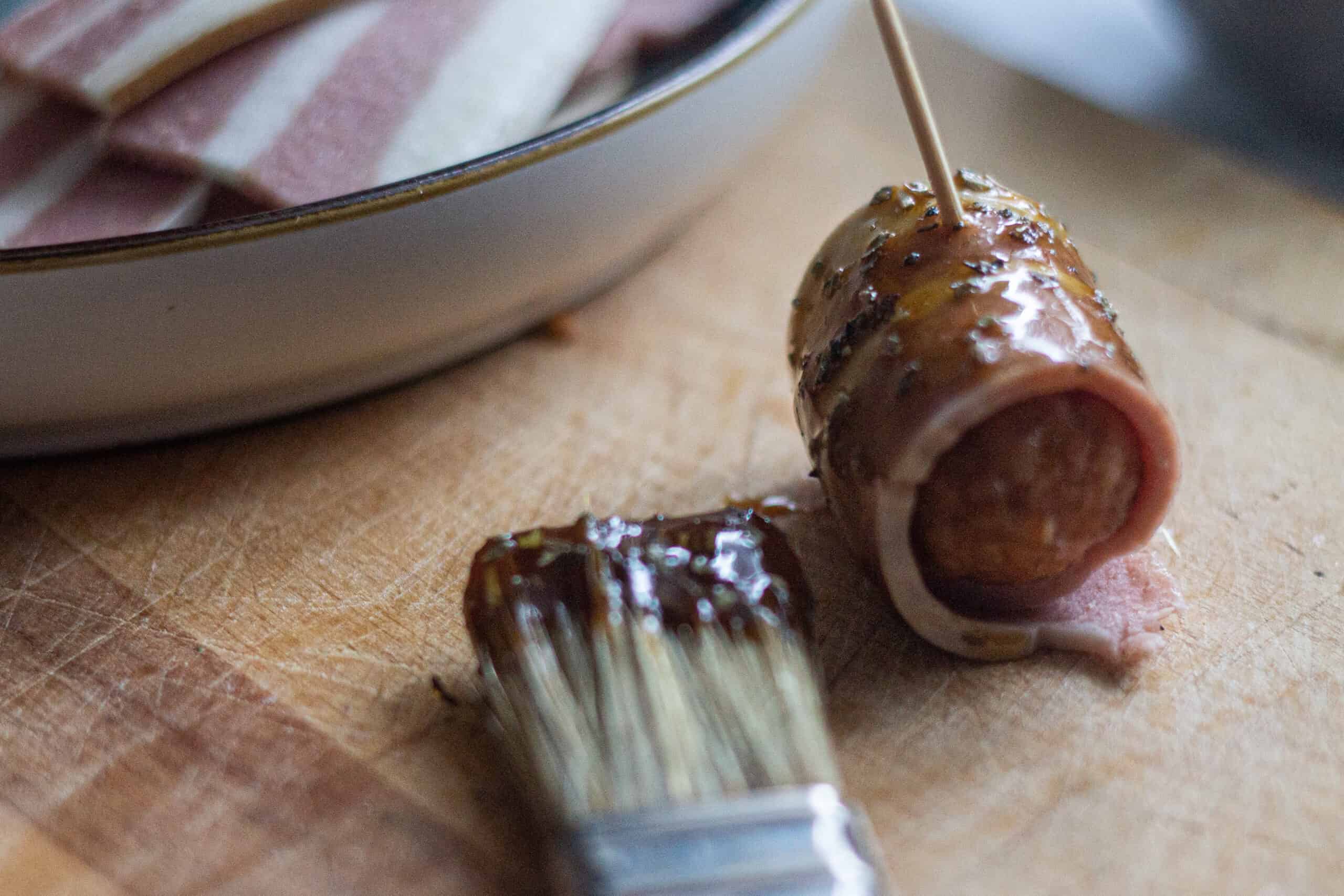 Coat the pig in blanket in the glaze and bake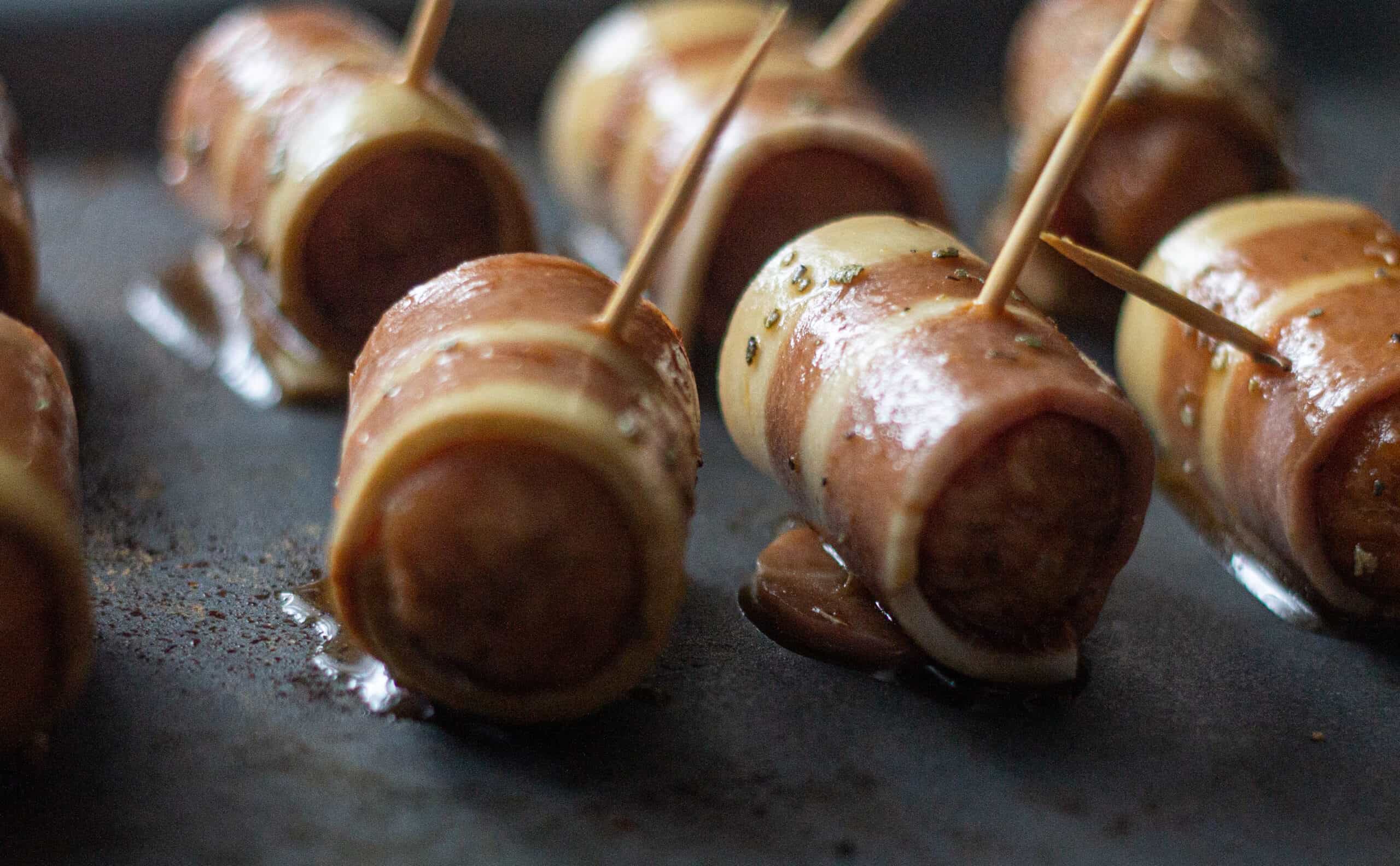 Storage
Because of the texture of vegan meat, these are really best eaten as soon as they are baked. They go very dry after a few hours and are not so good, although you could certainly reheat in an air fryer.
These pigs in blankets do not freeze well.
Top tip
Roll up your pigs in blankets the day before you want to bake them, and then you just need to cover them with the glaze on the day of cooking!
You could bake these alongside your nut roast if you like, or even tucked in with your roasties, just always make sure to remove the cocktail sticks once cooked!
Vegan Marmite Maple Pigs in Blankets
A deliciously sweet and savoury appetizer for the vegan Christmas table!
Equipment
Wooden Cocktail Sticks
Ingredients
9

Vegan Bacon

-

rashers, cut in half widthwise

18

Mini Sausages

-

vegan

1

tbsp

Maple Syrup

1

tsp

Marmite

1

tsp

Olive Oil

½

tsp

Black Pepper
Instructions
In a small bowl, whisk together the oil, maple syrup and marmite until you have a spreadable mixture.

Slice the vegan bacon rashers in half widthway and roll around a vegan cocktail sausage, securing with a cocktail stick. Place on a lined baking sheet.

Continue until you have used up all your sausages and bacon

Now paint the pigs in blankets with your marmite/maple sticky glaze. Reserve some glaze to use mid-way through cooking.

Bake for 10 minutes, then remove from oven and give another douse of glaze.

Return to the oven for another 5 minutes or until the glaze is sticky and the pigs in blankets are piping hot.

Leave to cool for a couple of minutes before removing the cocktail sticks and serving immediately.
Please note that where the recipe asks for milk, butter or yogurt, this refers to any plant-based version that you prefer.
Nutrition Facts
Vegan Marmite Maple Pigs in Blankets
Amount per Serving
% Daily Value*
* Percent Daily Values are based on a 2000 calorie diet.