How to Make A Delicious Vegan Pumpkin Pie
Delicious vegan Pumpkin Pie recipe or my vegan spin on the classic Thanksgiving Pumpkin Pie.
I used to find Pumpkin Pie to be a little anti-climatic, possibly because it is not part of my foodie heritage and to that end, many Americans are not big fans of our Christmas Pudding.
It is an interesting nuance of our foodie cultures that we expect certain foods at specific times of the year, otherwise it would seem as though something were missing. For example, I loath Christmas Cake, can't stand it, but I love the stirring and baking ritual of it, the smell of spices filling the kitchen as it cooks.
Likewise, I find the pumpkin/eggy mixture to be a little cloying. One slice is always more than enough. Curiously, I adore Custard Tarts, Pastel de Natas, with their burnt cream tops, and Pumpkin pie is merely an orange extension of that ancient tart. Making it vegan, i.e. removing that rich, eggy element transformed the Pumpkin pie for me though. My version is lighter, and the flavours that shine are purely the pumpkin and the spices. T

A Little Pumpkin Pie History
The traditional pumpkin pie is steeped in history, just as our Christmas Pud is. The first European settlers (eventually deciding to live on the Plimoth Plantation in New England in 1621) discovering how the American Indians made great use of this fantastically shaped gourd, the Pumpkin, found it incredibly versatile, and used it in both sweet and savoury dishes.
The American love of pies goes back many hundreds of years so it comes as little surprise then that the settlers used simmered pumpkin flesh in a pie of sorts. In those formative days, they would not have had ovens, so they may have filled the hollowed out shells with the flesh simmered with milk, honey and spices. This would have then been baked in hot ashes and produced the earliest variations of Pumpkin Pie, albeit a pie without a crust.
The first mention of a pie crust (or paste) being filled with pumpkin, was in 1651 and not by a Settlement wife, but by French chef, Francois Pierre la Varenne:

"Tourte of pumpkin – Boile it with good milk, pass it through a straining pan very thick, and mix it with sugar, butter, a little salt and if you will, a few stamped almonds; let all be very thin. Put it in your sheet of paste; bake it. After it is baked, besprinkle it with sugar and serve."

In 1796, some 140 years later or thereabouts, the first American Cookbook was published, American Cooking by an American Orphan (actually Amelia Simmons) and she notes, not one, but two recipes for Pompkin Pudding (sic):

Pompkin Pudding No. 1. One quart stewed and strained, 3 pints cream, 9 beaten eggs, sugar, mace, nutmeg and ginger, laid into paste No. 7 or 3, and with a dough spur, cross and chequer it, and baked in dishes three quarters of an hour.
Pompkin Pudding No. 2. One quart of milk, 1 pint pompkin, 4 eggs, molasses, allspice and ginger in a crust, bake 1 hour.
Her charming recipes are very similar to those we utilise today, securing the Pumpkin Pie's place in culinary history as a true American Classic. However, being a classic simply isn't enough for some of us and this age-old recipe has been tweaked, primped and altered beyond all recognition.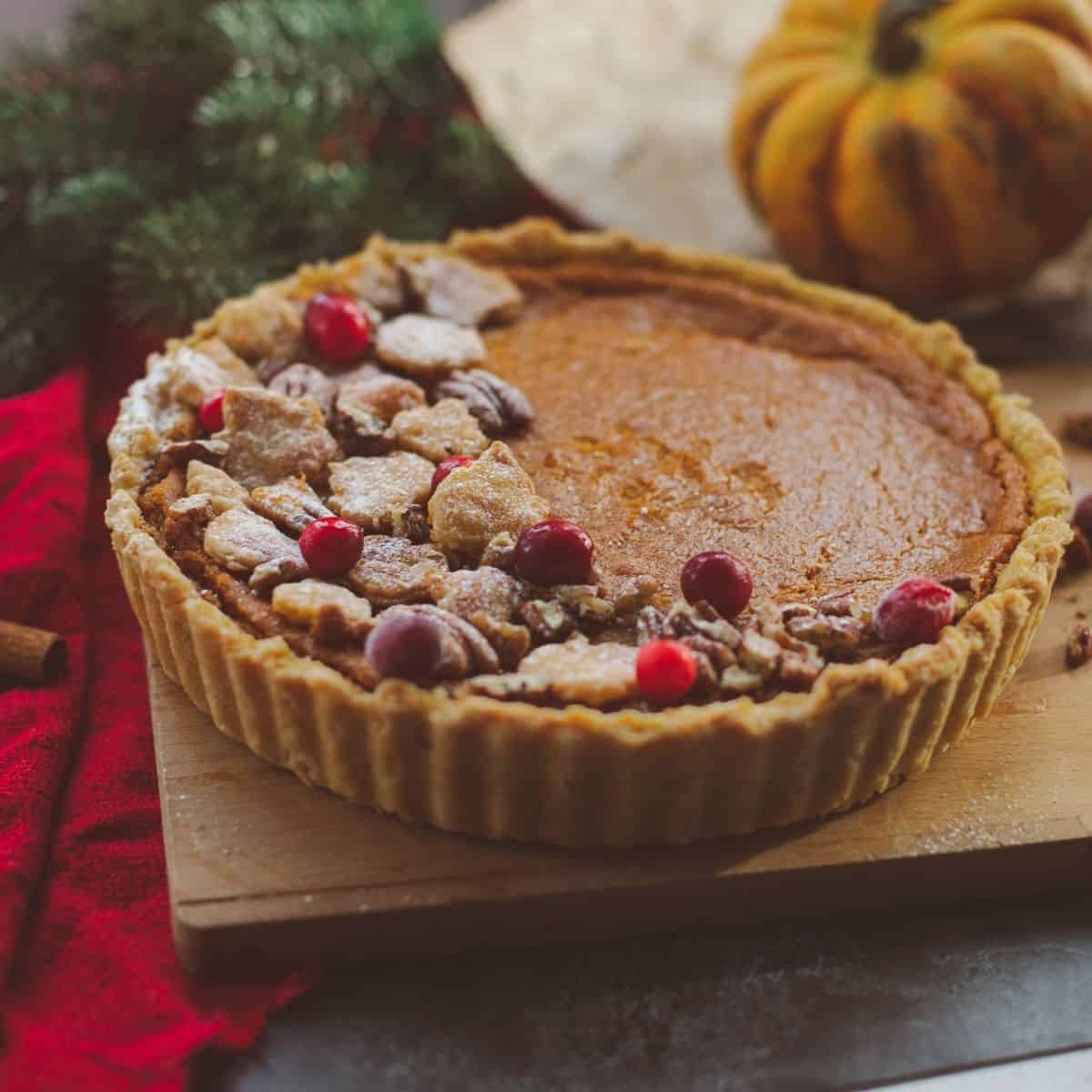 My vegan version is as close to a traditional pumpkin pie as possible, with a flaky, buttery crust, and a soft, gently spiced pumpkin filling. It is the perfect pie for the holiday season, or if you are looking for a recipe for your vegan friends!
If you love to bake pies but haven't tried my easy vegan pumpkin pie recipe yet, I highly recommend you give this a go, it uses simple ingredients and is so quick to put together.
Here's the recipe, post-Thanksgiving or not, it's a great way to use up any old cans of pumpkin you might have lying around, or to utilise them big ol' gourds that you wondered if you could actually manage to grow this year. Some people also use sweet potatoes. If you do, you need to boil them first, then peel and measure. My American family members used to swear that sweet potato has the best texture for a "pumpkin pie", although I think, at this point, it's just a sweet potato pie!
Ingredients:
1 8″ pie crust dough click here for my homemade pie crust recipe. I use all purpose flour for the crust but you can use whole wheat flour. You can use a grocery store pie crust instead but you might need to use a pie crust shield to avoid the edges of the crust burning. You can use aluminum foil foil as well.
You can also make a gluten-free pie crust instead, using your own recipe.
Vegan pumpkin pie filling ingredients:
Pumpkin purée, or use homemade pumpkin puree instead.
Vegan butter
White sugar. You can also replace this with coconut sugar if you prefer.
Dark brown sugar.
Soy yoghurt. This works as your egg substitute or binder.
Cornflour (corn starch ), or use tapioca starch or arrowroot powder.
Ground nutmeg
Ground cinnamon
Ground mixed spice. This triumvirate of spices give you the classic pumpkin spice flavor. You can use a couple of teaspoons pumpkin pie spice mix instead.
Method:
Line your 8″ pie tin or pie dish with your pie dough. Leave to one side whilst you make the filling.
Place all the other ingredients in a large mixing bowl and mix using a wooden spoon or electric hand whisk, until thoroughly mixed and you have a creamy texture.
Fill the unbaked pie crust with pumpkin filling.
Bake for up to 1hr 15 minutes at 200c.
When ready, the filling will be fragrant and slightly brown on top. It won't feel sticky to the touch.
Leave to cool completely in the pie pan.
For other vegan festive recipes:
The Most Delicious Vegan Pumpkin Pie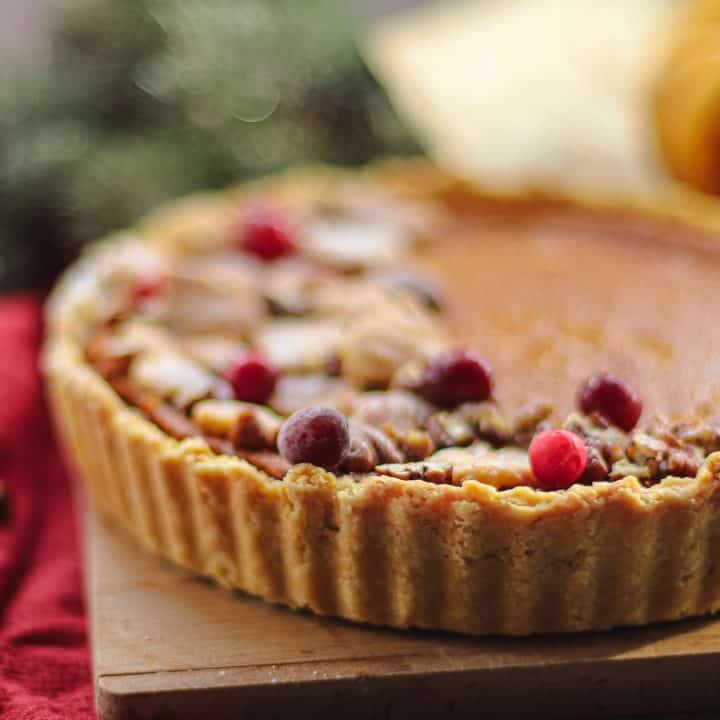 How to make an easy pumpkin pie, no egg replacer
Ingredients
1

pie crust dough

- click here for my shortcrust pie recipe

1

12oz

Pumpkin Puree

½

cup

vegan butter

¾

cup

white sugar

¼

cup

dark brown sugar

1

cup

soya yoghurt

¼

cup

cornflour

1

tsp

vanilla extract

½

tsp

ground nutmeg

½

tsp

ground cinnamon

½

tsp

ground mixed spice
Instructions
Line your 8" pie tin with your pie crust. Leave to one side whilst you make the filling.

Add all the pie filling ingredients to a large bowl.

Blend with hand mixer until a smooth consistency is achieved.

Fill uncooked pie crust with pie filling.

Bake for up to 1 hour 15 minutes.

Crust should start to brown and pie surface should begin caramelising.

Remove from oven and place on proverbial windowsill to cool.

Filling will firm up on standing.

I like to make pastry leaves to decorate my pie with. I bake these separately to avoid them burning, then place them on the cooked pie once cool.
Please note that where the recipe asks for milk, butter or yogurt, this refers to any plant-based version that you prefer.
Nutrition Facts
The Most Delicious Vegan Pumpkin Pie
Amount per Serving
% Daily Value*
* Percent Daily Values are based on a 2000 calorie diet.