Vegan Fruit Shortcake Biscuits (Vegan Easter Biscuits)
Easter Biscuits are a traditional British bake, although I can't say I remember my family ever baking them! However, these short, crumbly, sweet, fruity vegan Easter biscuits deserve to be baked all year round!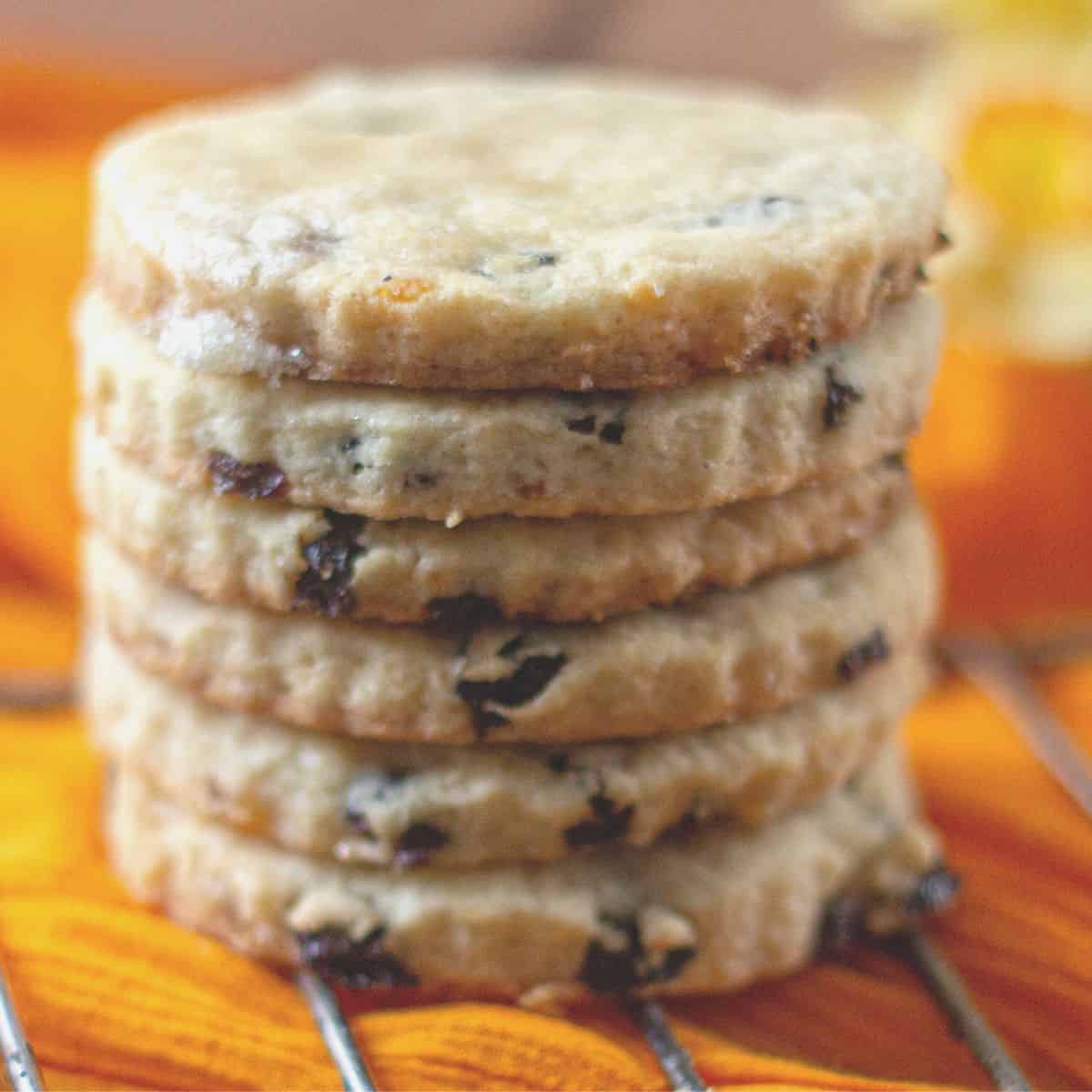 Easter (or Lenten) Biscuits were traditionally made as a Shrove Tuesday treat, before the forty days of fasting began. Nowadays we eat pancakes on Shrove Tuesday, but try these less time-consuming biscuits for a change!
This was inspired by my simple vegan shortbread recipe and my sourdough shortbread cookies, and I love to serve them alongside my vegan hot cross buns and hot cross bun bread pudding!
What are Easter Biscuits?
I discovered this recipe in a vintage British cookbook, the kind I love to read for inspiration and they were also called Lenten Biscuits. I googled Lenten biscuits and found a quite different Italian variant, so have decided to call these Easter Biscuits for the avoidance of confusion!
Traditional English Easter biscuits are a sturdy little shortbread biscuit, flavoured with nutmeg (one of my favourite spices) and studded with currants and peel. The kind of cookies I would have strongly disliked as a kid, as I hated dried fruit until I was a grown-up!
If you have ever tried McVities Fruit Shortcake, these are very similar to those, but, dare I say, nicer (and vegan).
They are very simple to make, maybe a couple of minutes longer than than normal shortbread, but believe me, the extra effort to cream the butter and sugar is well worth it.
These vegan Easter biscuits last quite a while in the tin and make a great foodie gift as well.
Ingredients
plain flour
vegan butter, room temperature
sugar
currants
mixed peel (or use fresh grated zest if you prefer)
nutmeg
This is ONLY a list of ingredients for the recipe; please see recipe card below for complete printable recipe.
Instructions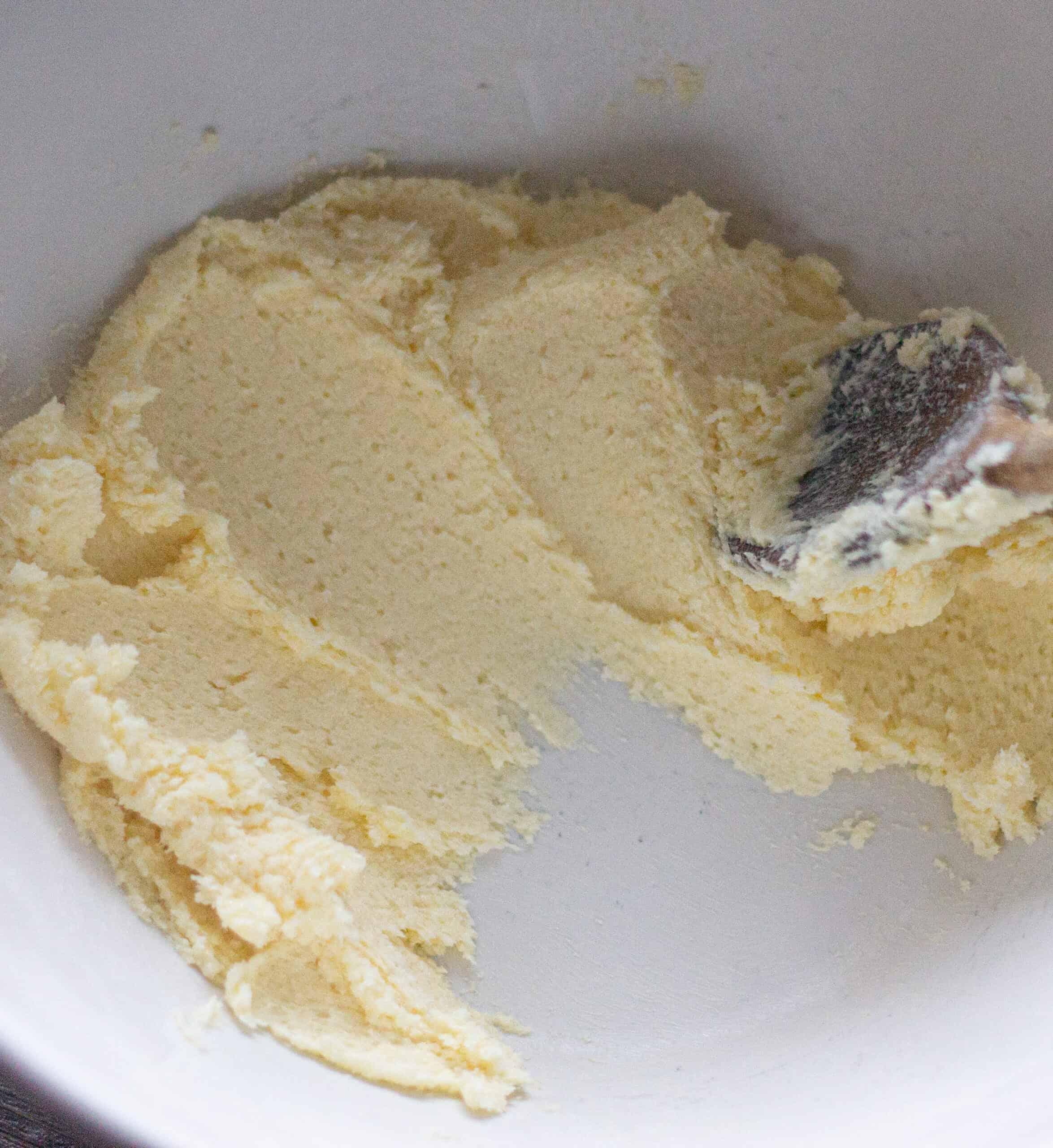 Cream the butter and sugar until pale and fluffy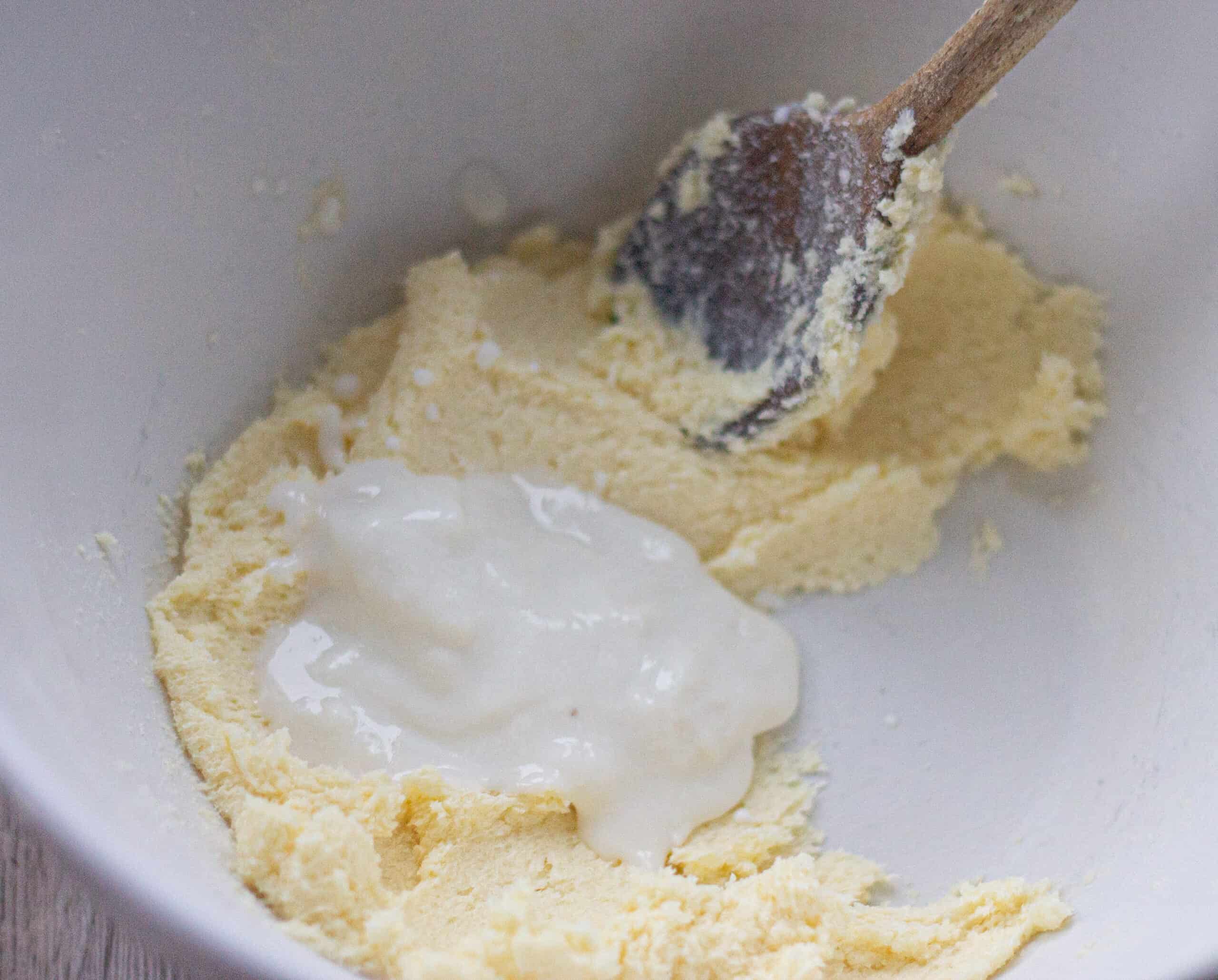 Beat in the yogurt until smooth.
Fold in the flour using a metal spoon until your mixture resembles coarse breadcrumbs.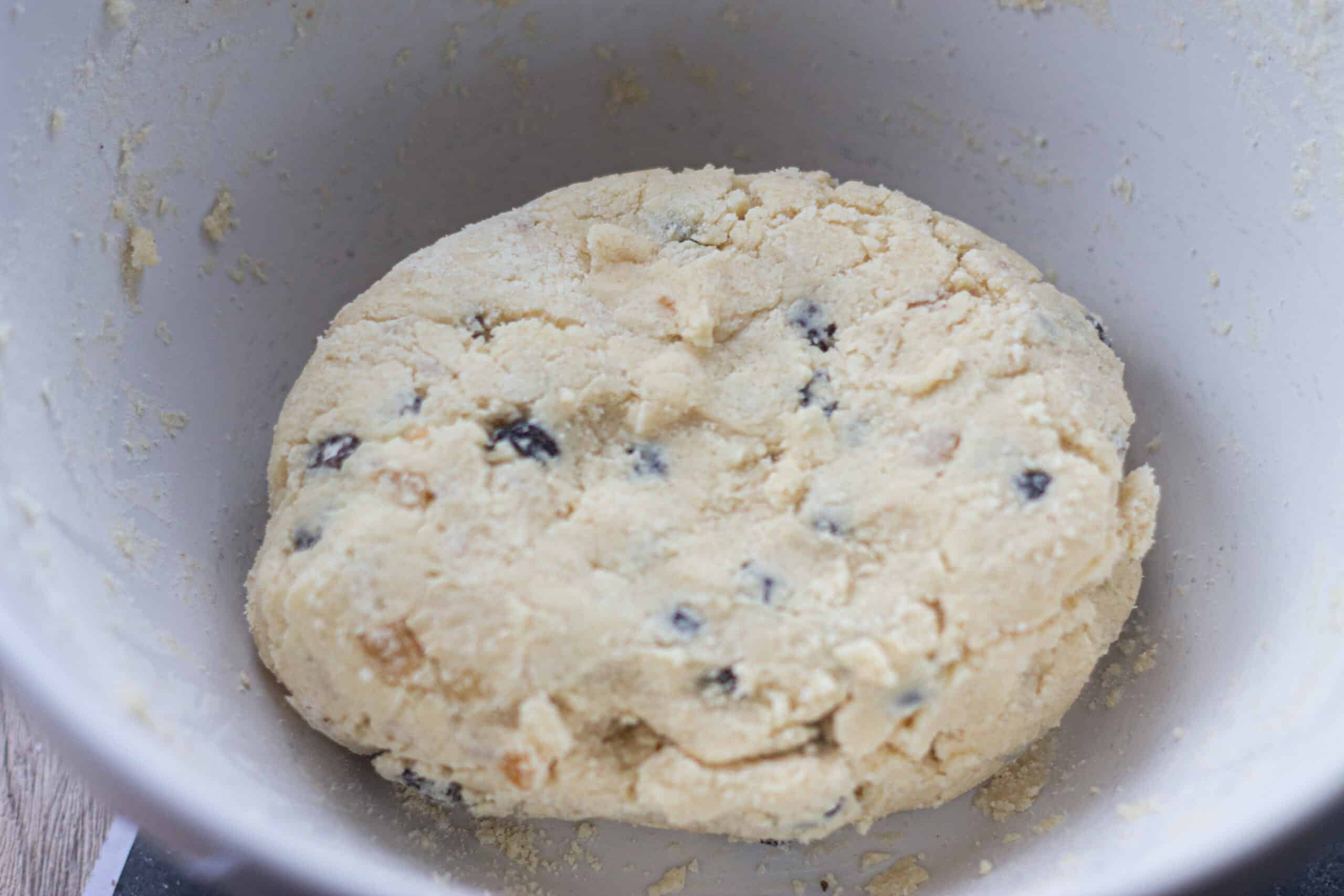 Add a little milk at a time and mix until you have a cohesive ball of dough. Chill the dough for half an hour or so if the weather is particularly warm.
Roll out dough and cut into 2″ rounds before baking at 170c for 20 minutes.
Substitutions
Currants – if you really hate currants, you could use raisins or sultanas but you would need to cut them up a little to make them a bit smaller for these biscuits. Alternatively, omit altogether or use small vegan chocolate chips
Flour– use gluten free flour instead of normal white flour to make these gluten free
Nutmeg – you could use a little mixed spice or cinnamon instead
Storage
You can chill the dough, wrapped in clingfilm for up to 4 days before using. After that, you can freeze it for up to 3 months.
The biscuits last at least a week in an airtight container.
Vegan Easter Biscuits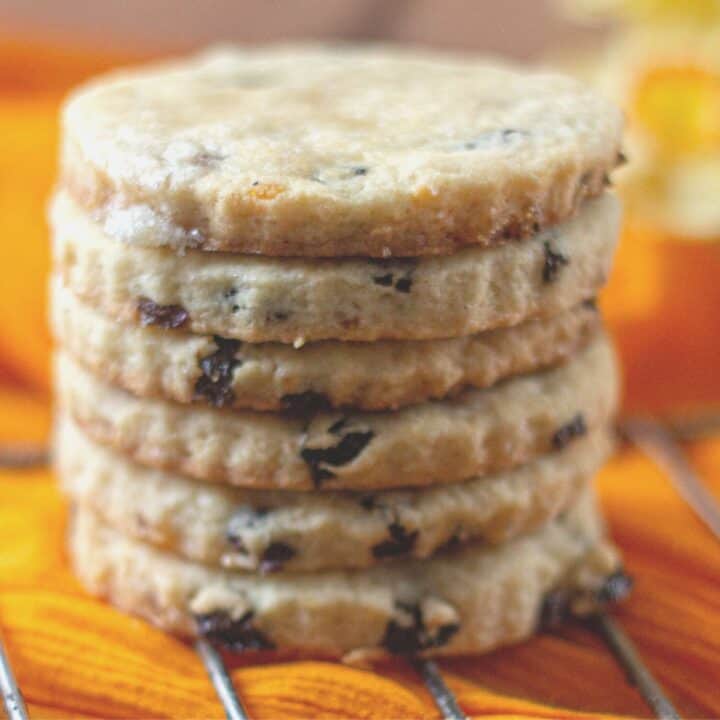 These are a classic, fruited shortbread biscuit, simple to prepare
Equipment
1 Large Baking tray

lightly oiled

Rolling Pin

1 2" round fluted cutter
Ingredients
125

g

Butter

vegan, softened

125

g

Sugar

Caster or superfine

⅛

cup

Yogurt

vegan, plain or vanilla

225

g

Plain Flour

50

g

Currants

25

g

Peel

chopped

¼

tsp

Nutmeg

grated (optional)
Instructions
In a large mixing bowl, blend together the butter and sugar until pale and fluffy.

Now mix in the yogurt until you have a cohesive mixture.

Using a metal spoon, fold in the flour, fruit, peel and nutmeg. You will get a mixture that looks quite sandy, a bit like when you make pastry.

Now add some milk, a teaspoon at a time, until you have a firm but not sticky dough.

Roll out the dough to about ¼" and cut into 2" rounds

Place carefully on your oiled baking sheet.

Brush with a little plant-based milk and sprinkle with some more caster sugar.

Bake for 15-20 minutes or until very pale golden.

Leave to cool on the tray for a couple of minutes before placing on a cooling rack to cool completely.
Nutrition Facts
Vegan Easter Biscuits
Amount per Serving
% Daily Value*
* Percent Daily Values are based on a 2000 calorie diet.
Related
Looking for other recipes like this? Try these: