Best vegan crunchy roast potatoes. A failproof method for guaranteed crunchy yet fluffy roast potatoes! Methods for Air Fryer or Oven Bake!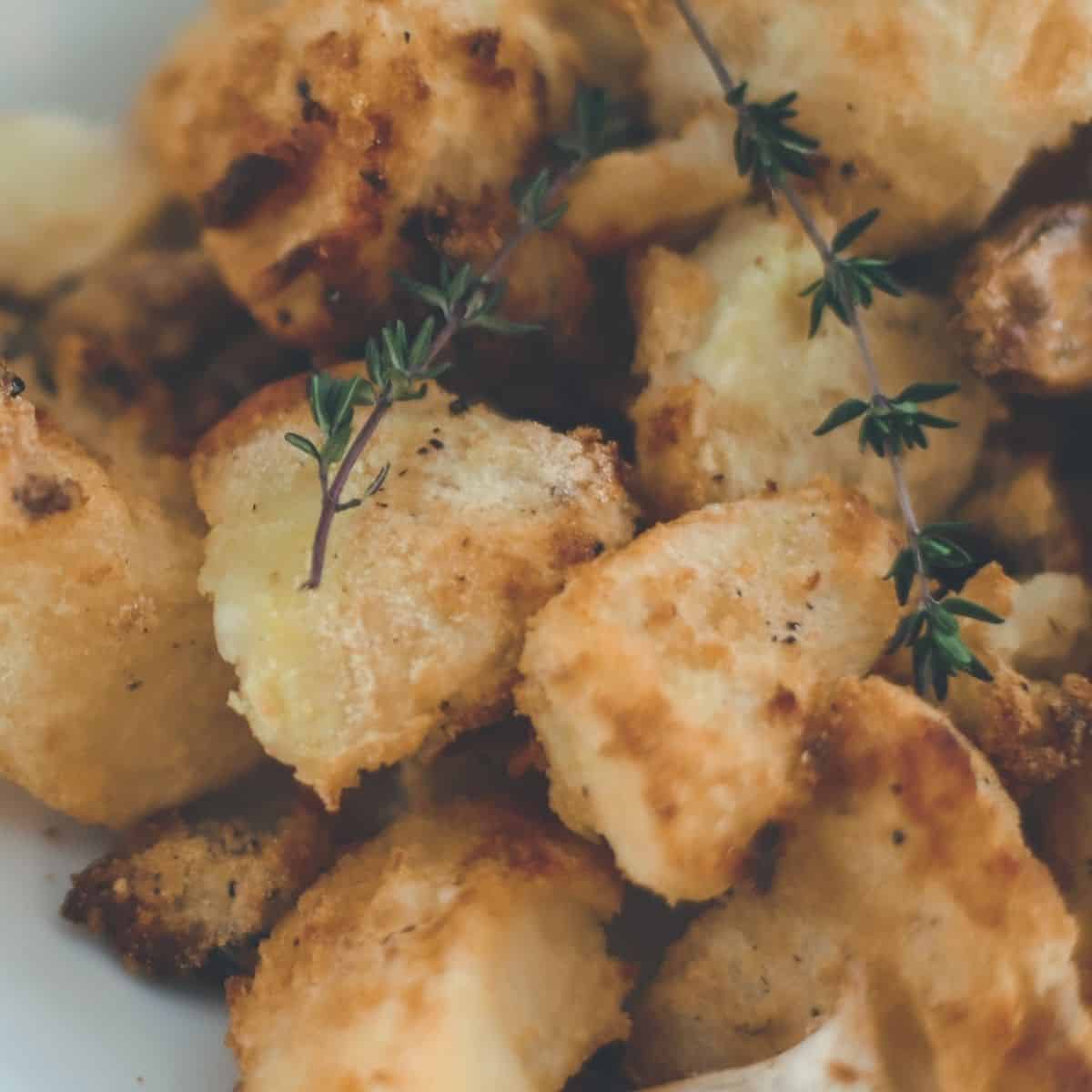 I am a potato girl. I have Manx heritage so I am bound to. One of the traditional dishes from the Isle of Man is boiled potatoes and herring. Let's leave the herring to the seagulls, and give me all the potatoes.
Jump to:
I can eat potato in pretty much any variant that is edible, hell, I even used to eat them raw as a kid. I can still remember that crunchy earthiness that they have, freshly peeled, but I don't crave it these days.
I grew up in a little cottage on a farm, and the farmer, taking pity on a young single mother and her little daughter, would always give us a sack of potatoes at the beginning of winter. They would last us throughout the season.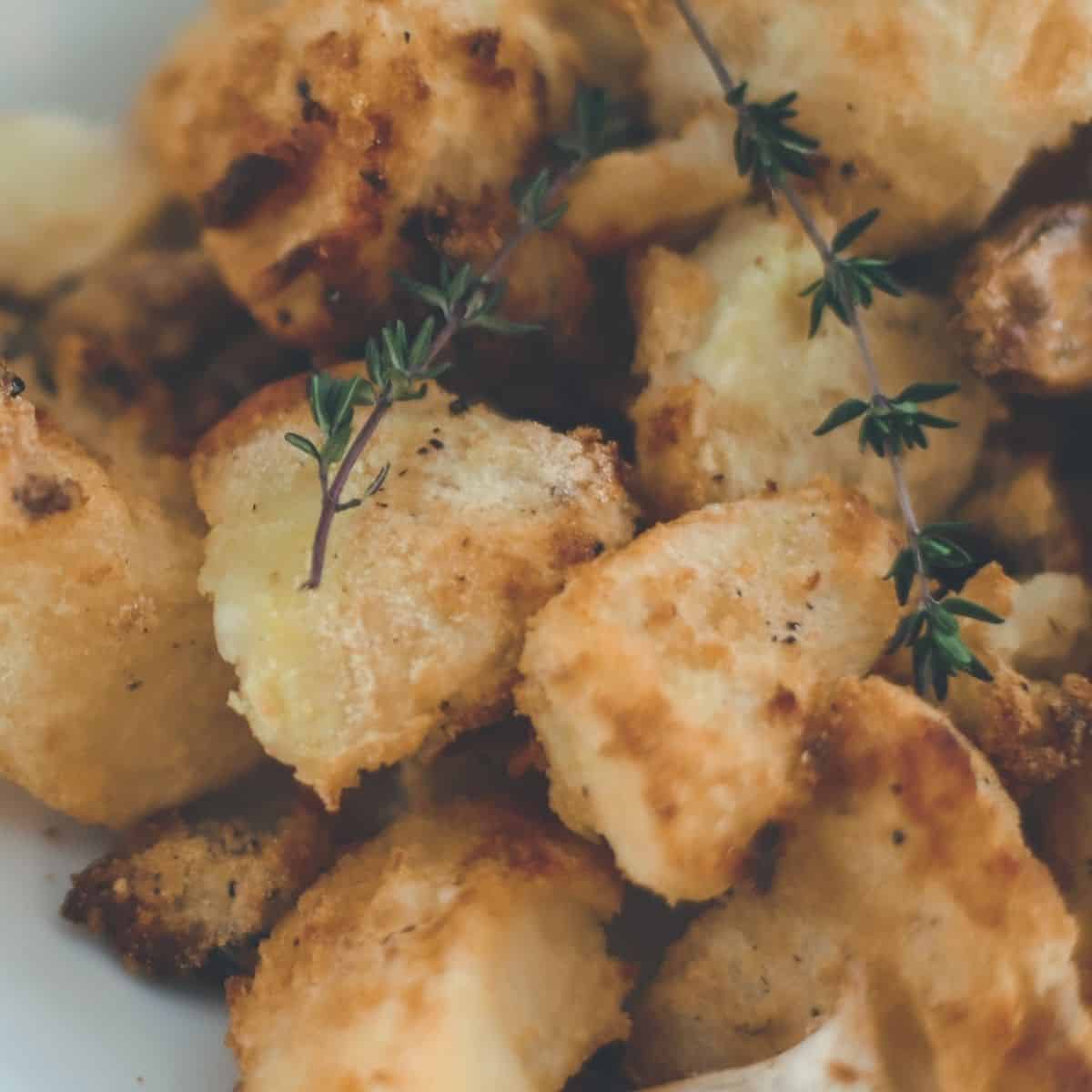 Of course, as you can imagine, we had to have them in many different ways, chipped, mashed, sauteed, baked and, always on Sundays, roasted.
As I wrote on my post about vegan mashed potatoes, mash is my absolute go-to potato dish. I could eat it every day.
With this in mind, it might not seem so strange that traditional roasted potatoes have never been my favourite. I think potatoes are best mashed or hashed! Roasted potatoes are usually cooked in lard or goose fat and, in my experience, a good cooked potato should be just as tasty or better the next day. Congealed grease does not make for tasty leftovers.
However, the traditional "roastie" is a staple on the English table and rather than depriving anyone of their cultural heritage I contrived this recipe to produce a crispy and delicious roasted potato that we can all enjoy together.
Ingredients
Potatoes. Use a floury white potato. It will give you the fluffed up texture that all the best roasties have.
Garlic cloves. Throw in with the roasties and they'll gift you a sweet, fragrant flavour.
Thyme. My favourite winter herb. You can also use Rosemary.
Polenta. I have also used Semolina, but this is not gluten-free. The polenta adds a delicious crunch and flavour to the roasties.
(This is ONLY a list of ingredients for the recipe; please see recipe card below for complete printable recipe. Or if you use the JUMP TO RECIPE at the top of the page, it will take you directly to the complete recipe.)
Method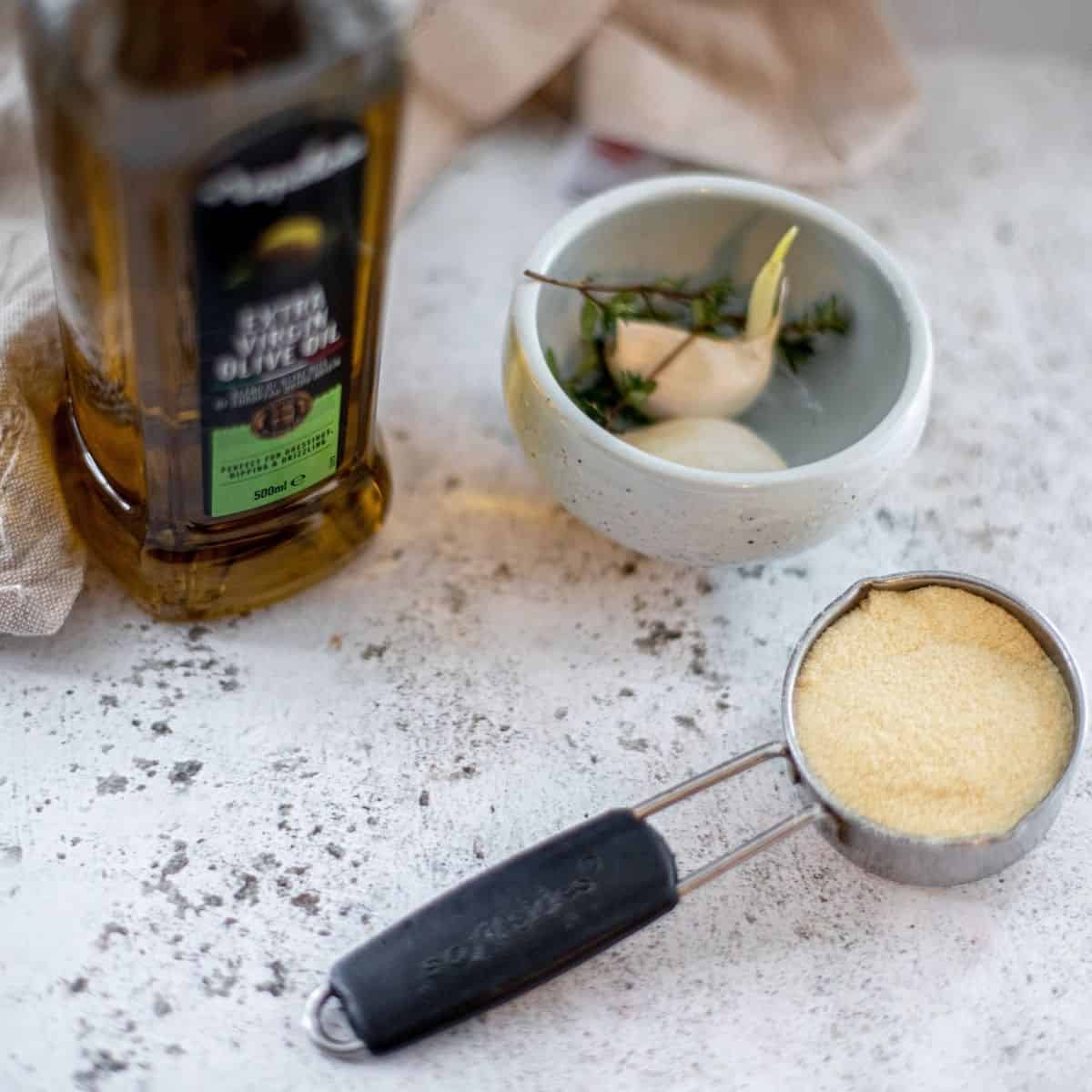 Peel your potatoes. Cut them into evenly sized (but not necessarily shaped) pieces.
Preheat your oven to 200c or your air fryer to it's recommended setting.
In a large saucepan boil your potatoes in salted water for about 5 minutes. Drain.
Add oil to a roasting pan and bring up to temperature in the pre-heated oven.
In a large mixing bowl, add the polenta, thyme, garlic and some seasoning. Not too much salt as you already salted the water.
Toss the drained potatoes in the polenta mixture and carefully but quickly tip into the roasting pan with the hot oil in it.
Roast for up to an hour, depending on the size of your roasties, but until golden and crunchy, turning halfway through cooking. I recommend checking and turning after 20 minutes.
Remove from oven and serve!
FAQ
Can I eat leftover Roast Potatoes?
You can although they are definitely at their best straight from the oven. I find that once reheated they go quite hard and bit dry.
Can I freeze roast potatoes?
No, I don't recommend it. If you want to freeze roasties, I suggest just buying a bag of Aunt Bessie's roasties (actually not that bad). Potatoes are not really suitable for home freezing, in my experience.
Try my other delicious sides
📋 Recipe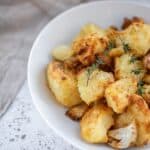 PRINT
Polenta Thyme Encrusted Roasties
A recipe for easy roast potatoes with an air fryer option too
Ingredients
6

Potatoes

medium, waxy

½

cup

Cornmeal

coarse

½

teaspoon

salt

¼

teaspoon

white pepper

Leaves

thyme sprigs

2

tablespoon

vegetable oil

spray olive oil
Instructions
Pre-heat oven to 220ºC.

Peel and quarter potatoes.

Add potatoes to salted cold water in a large pan. Bring pan to a rolling boil.

Cook for 5 minutes, remove from heat and drain thoroughly.

Return drained potatoes to the empty pan. Shake vigorously.

Mix cornmeal, salt, pepper, and thyme in a large mixing bowl.

Add oil to a roasting pan and bring up to temperature in pre-heated oven.

Toss potatoes in coating mixture then add to the hot roasting pan.

Mist lightly with spray oil.

Note: if using air fryer, set to Roast function for half an hour. Halfway through roasting, turn the potatoes gently. After half an hour, check to see if they need a little longer and cook for 5 minute increments if needed until done.

Oven cook: roast for 20 minutes, turn potatoes in roasting dish. Add some red onion at this point if desired. Cook for an additional 15 minutes.

Serve while hot and crispy.
Nutrition
Calories:
255
kcal
|
Carbohydrates:
47
g
|
Protein:
6
g
|
Fat:
6
g
|
Saturated Fat:
1
g
|
Polyunsaturated Fat:
3
g
|
Monounsaturated Fat:
1
g
|
Trans Fat:
1
g
|
Sodium:
207
mg
|
Potassium:
939
mg
|
Fiber:
6
g
|
Sugar:
2
g
|
Vitamin A:
4
IU
|
Vitamin C:
42
mg
|
Calcium:
27
mg
|
Iron:
2
mg
Tried it and Loved it?
Mention @sweeterthanoats or tag sweeterthanoats!