As you all know, I love trying new and unusual ingredients, and Monks Beard is one of the more delicious vegetables I have come across recently! Read on to find out more about this elusive vegetable...
What is Monk's Beard?
What is Monk's Beard? If you are familiar with this website, you will know that I love using unusual ingredients, and trying to demystify what they are, what they taste like and if they're really worth buying. From the point of view of a person who cooks a lot, no ingredient is without value, however, some ingredients are too costly to justify buying, especially if there is something comparable.
Jump to:
That said, I love a seasonal veggie box, and no one does better veggie boxes than Natoora (just quickly like to add here that this post is not sponsored by Natoora. Sadly, despite my tagging them in all my delicious dishes, they pretty much don't know I exist 🤣). They are passionate about seasonal produce and use equally passionate micro-producers to supply unusual or rare types of fruit and veg that we just wouldn't see elsewhere.
Monks Beard is one of those veg. A seasonal vegetable, at it's most tender between December-February, Monks Beard (also known as Agretti or Barba di Frate, Beard of the Friar) is a succulent from the genus Salsola. A coastal plant, it grows wild (and is considered invasive, in some areas) in Italy, Portugal, Spain and more recently the Pacific Coast of North America.
Flavourwise and texture-wise, I would compare it to Samphire, and indeed, if you are unable to find Monks Beard for this recipe, just go ahead and use that instead.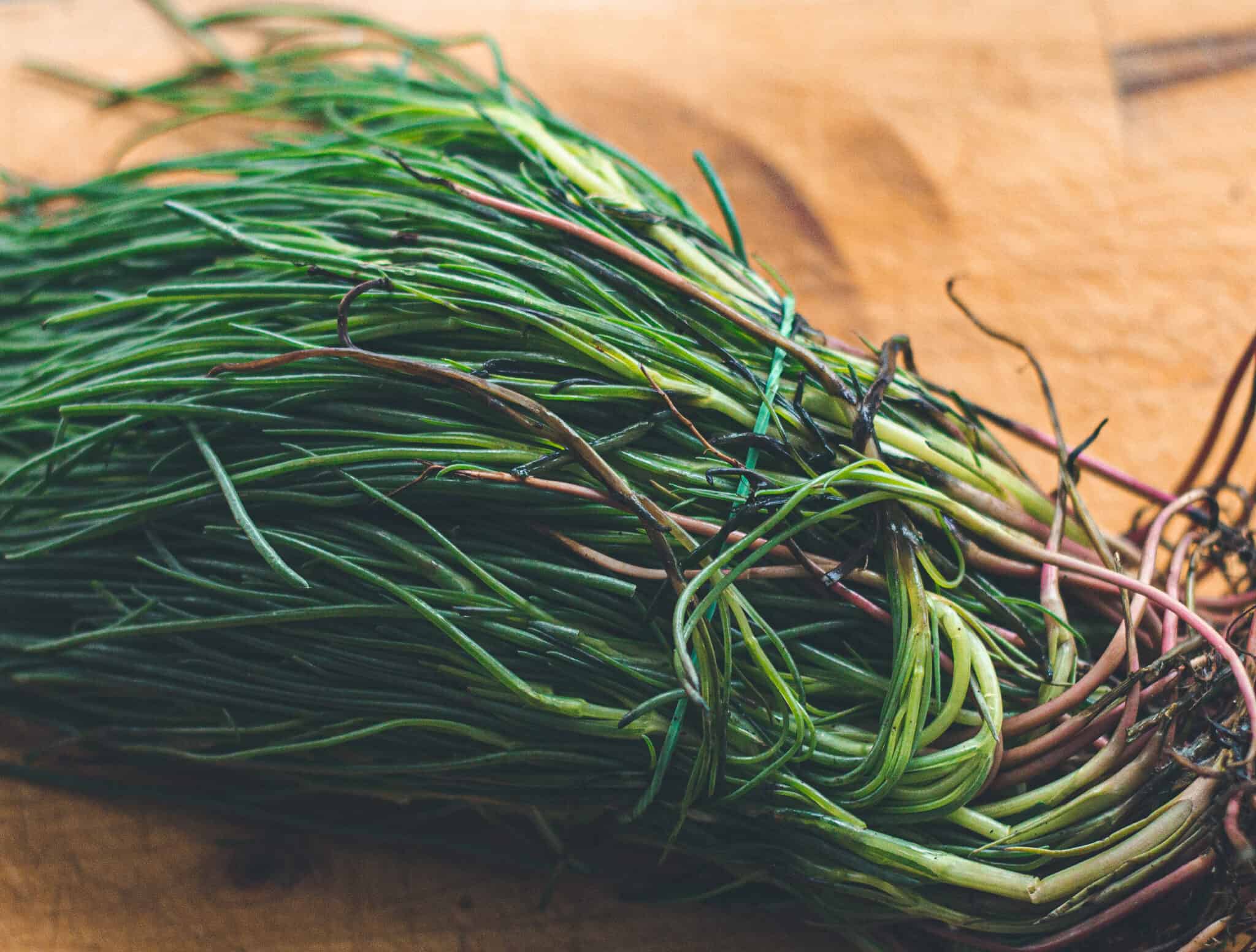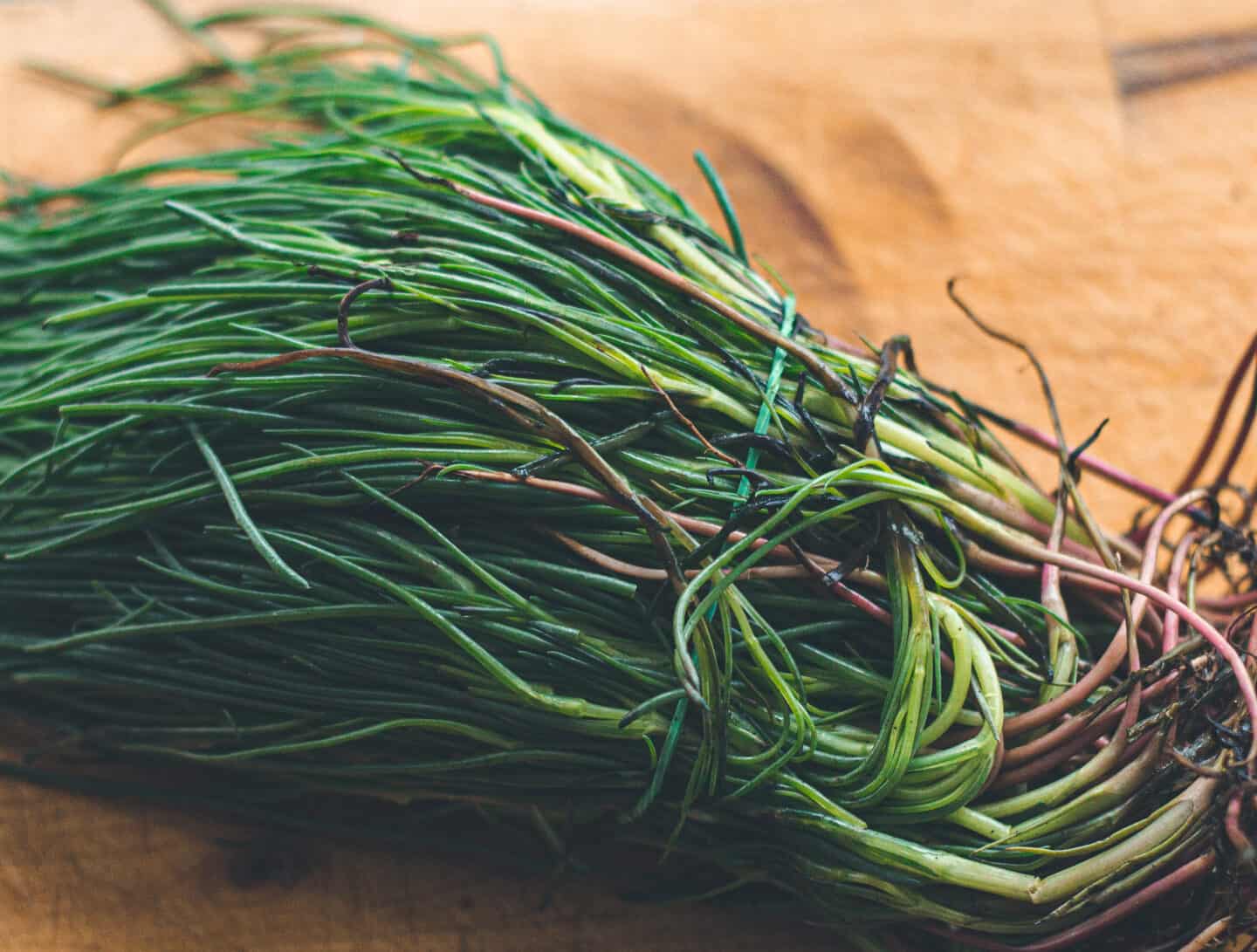 It comes in large shaggy bunches, like huge green shaving brushes, and you can see why it is called Monk's Beard. You can see from my photo that it is quite a coarse looking stem, but actually wilts and softens very quickly when sautéing.
It has a delicious texture, not stringy at all as you might imagine (although I would think it is, the older it gets), and the flavour can only be described as a coastal saltiness, minerally, much fresher than say seaweed, and very similar to Samphire (although less salty).
How do you prepare Monk's Beard?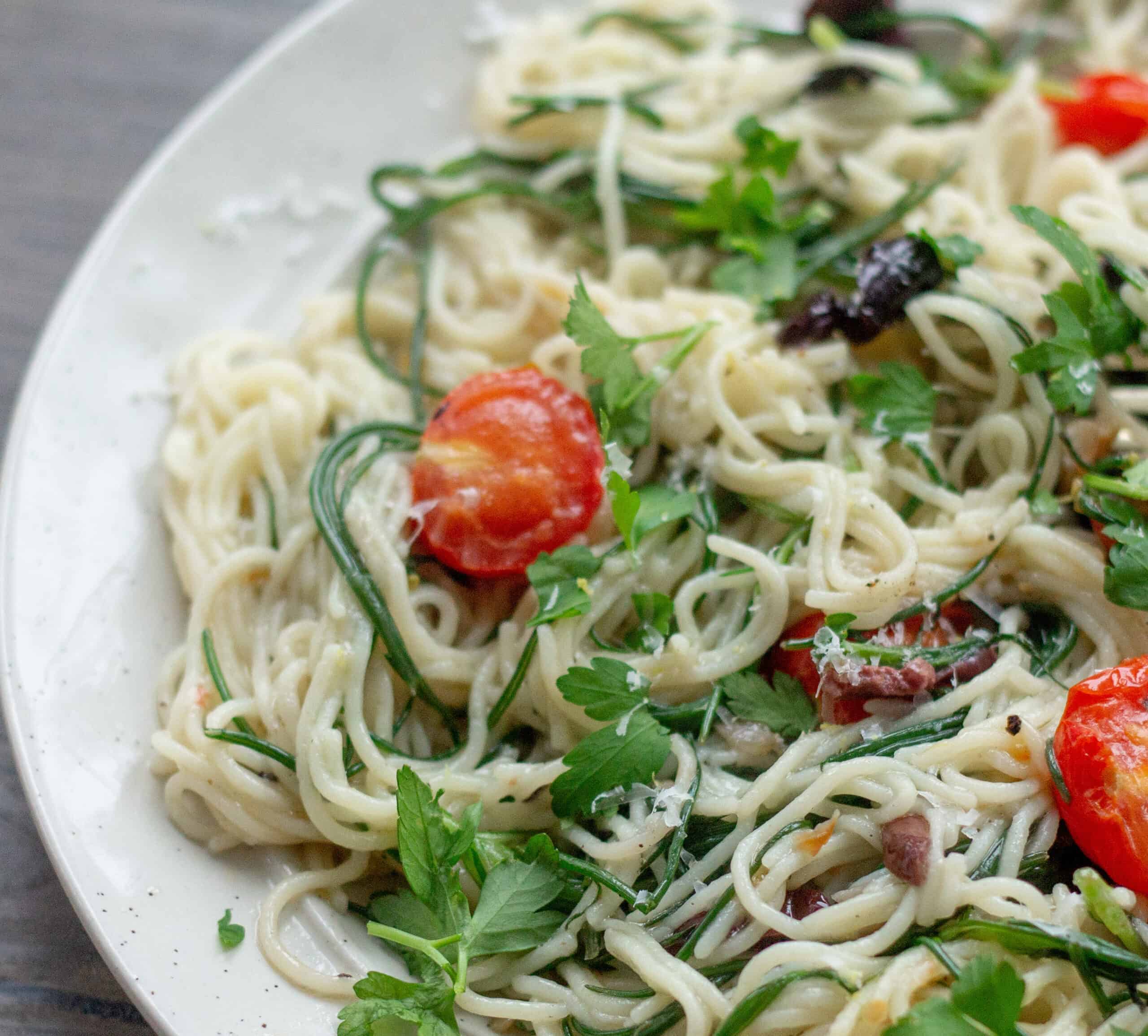 I kept mine in a glass of water, almost like a bunch of flowers, for a couple of days before I decided what to do with it. Deciding on a traditional Italian-style pasta dish, I cooked up a little angel hair pasta (Vermicelli), the texture of which is so similar to the Monk's Beard.
I then sautéed some garlic, black olives (the brininess of which is a perfect match for the Monk's Beard) and cherry tomatoes. Using scissors, I cut off a clump off the Monk's Beard (above where it starts to turn purple and more fibrous), quickly rinse it under the tap, then scatter it on top of my sauce.
Adding some lemon juice, zest and a little of the pasta water, I gently mix in the cooked pasta. Scatter with a little chopped parsley and that's it! A super simple dish that is so complex in flavour.
You can also simmer trimmed Monk's Beard in a little water, just blanching it really, to serve as a side vegetable.
(This is ONLY a list of ingredients for the recipe; please see recipe card below for complete printable recipe. Or if you use the JUMP TO RECIPE at the top of the page, it will take you directly to the complete recipe.)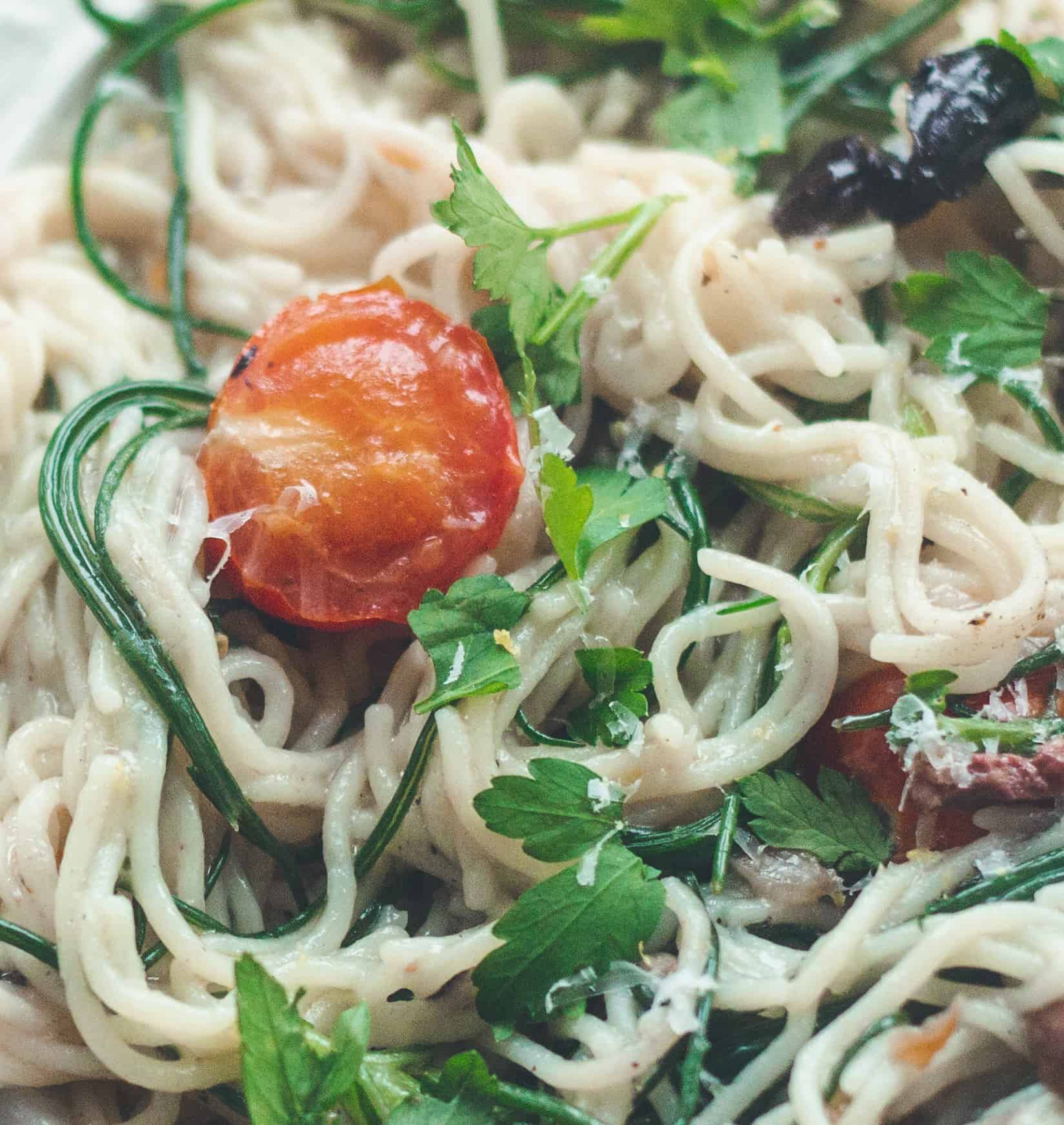 If you want to try something different, I highly recommend seeking out some Monk's Beard. If it's the wrong time of the year, then please try this dish with samphire instead, as that is just as delicious!
Try my other delicious 30 minute vegan meals
📋 Recipe
PRINT
Angel Hair Pasta with Monks Beard
A delicious, simple recipe using Monks Beard
Ingredients
1

bunch

Monks Beard

or use 100g Samphire

50

g

Angel Hair Pasta

1

Garlic

clove, large, finely chopped

8

Olives

stoned, kalamata, coarsely chopped

6

Cherry Tomatoes

cut in half

2

tablespoon

Extra Virgin Olive Oil

1

Lemon

zest only

Salt and Pepper to taste

1

teaspoon

Parsley

chopped
Instructions
Boil the angel hair pasta according to the packet instructions. Drain, but deserve half a cup of the water to one side

Whilst the pasta is boiling, gently heat the olive oil in a frying pan

Add the chopped garlic and olives, and cook in the oil until softened

Add the cherry tomatoes, cook for another minute, then add the Monks Beard

Add the zest of the lemon, some salt and pepper

Add the cooked pasta to the sauce, along with the reserved pasta water, and gently mix.

Sprinkle with chopped parsley and serve
Nutrition
Nutrition Facts
Angel Hair Pasta with Monks Beard
Amount per Serving
% Daily Value*
* Percent Daily Values are based on a 2000 calorie diet.
Nutritional Information Disclaimer
The automated nutritional information on my recipes can often be inaccurate due to the limitations within the programming. For exact measurements, there are lots of apps and websites that can calculate this information more accurately.
Tried it and Loved it?
Mention @sweeterthanoats or tag sweeterthanoats!