Easy and Delicious Vegan Tofu Scramble (eggless and dairy-free)
Easy vegan tofu scramble. Don't eat eggs? No problem. You will go to the ball Cinderella, and you shall eat sky-high cakes and fluffy pancakes, and for breakfast, there's Tofu Scramble.
Eggs. I didn't believe that there was a substitute for real eggs. How could there be? What else could give you light fluffy pancakes, sky-high cakes, or yummy quiches? Or that rich eggy taste? And, while it's true that the Vegan food science geniuses are still working on replicating a fried egg or soft-boiled egg (hello Vegg), there are other options.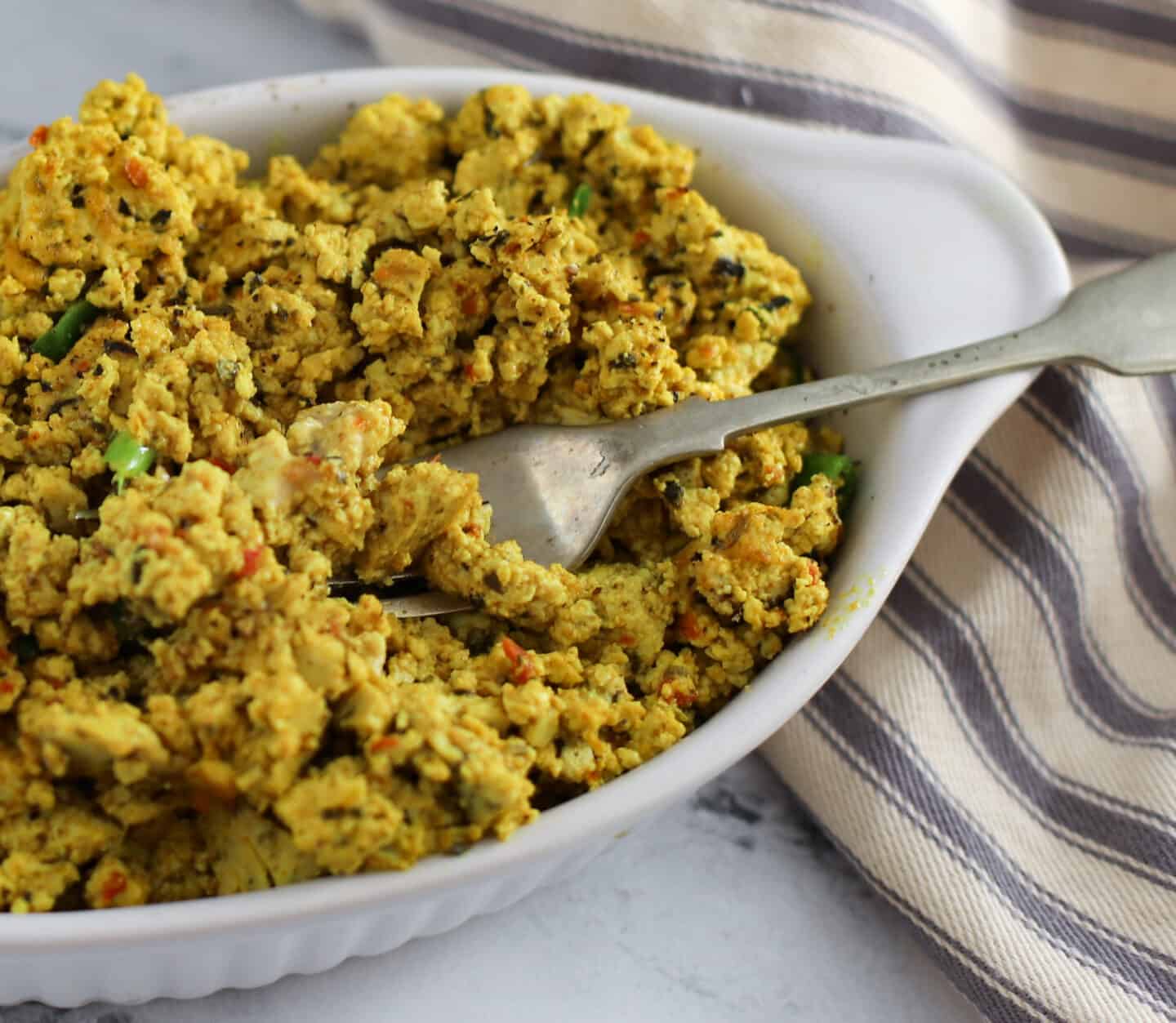 Made with, you guessed it, tofu, lavishing the right care and attention to this vegan staple will yield you a tasty and much healthier, cruelty-free breakfast that you can customize to your heart's content.
What is Tofu Scramble?
Tofu Scramble is a naturally vegan and low-fat version of scrambled eggs. It is flavored with nutritional yeast (adds a cheesy taste), black salt (kala namak, gives an eggy flavor), and turmeric powder (which gives the tofu an "egg" color). These ingredients help to make the best tofu scramble flavor. You can also add onion powder and garlic powder, but I find those a little too pungent first thing in the morning!
How do you serve Tofu Scramble?
Scrambled Tofu is perfect served in a breakfast burrito, as part of a vegan Huevos Rancheros feast with some black beans, on avocado toast or a bagel with some sliced avocado. You could serve it as part of a vegan fry-up with vegan bacon, some breakfast potatoes and baked beans. However you choose to serve it, you are guaranteed a hearty healthy breakfast!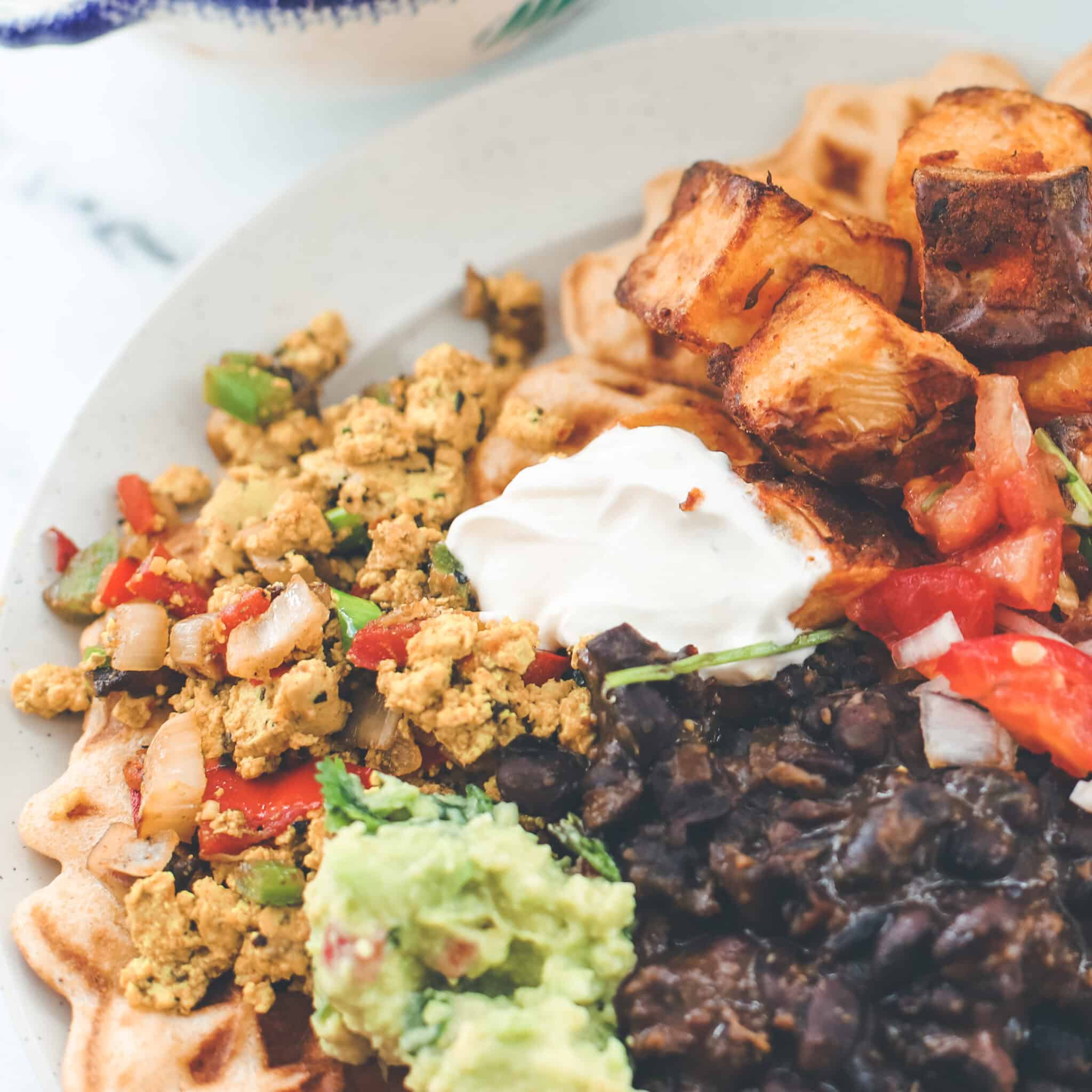 One my personal favorite ways to serve my delicious tofu scramble, is smothered with sautéed red bell pepper, onions and some fresh tomatoes and hot sauce. I promise this will become one of your favorite vegan recipes!
You can store leftover tofu scramble in an airtight container (once cooled) and have the next day!
Tofu scramble is also great to serve in "egg" fried rice, the tofu, of course, replacing the real scrambled egg element. I add a little soy sauce, chopped garlic, green onions and ginger to the scramble and then add some cooked rice to this.
How do you make Tofu Scramble?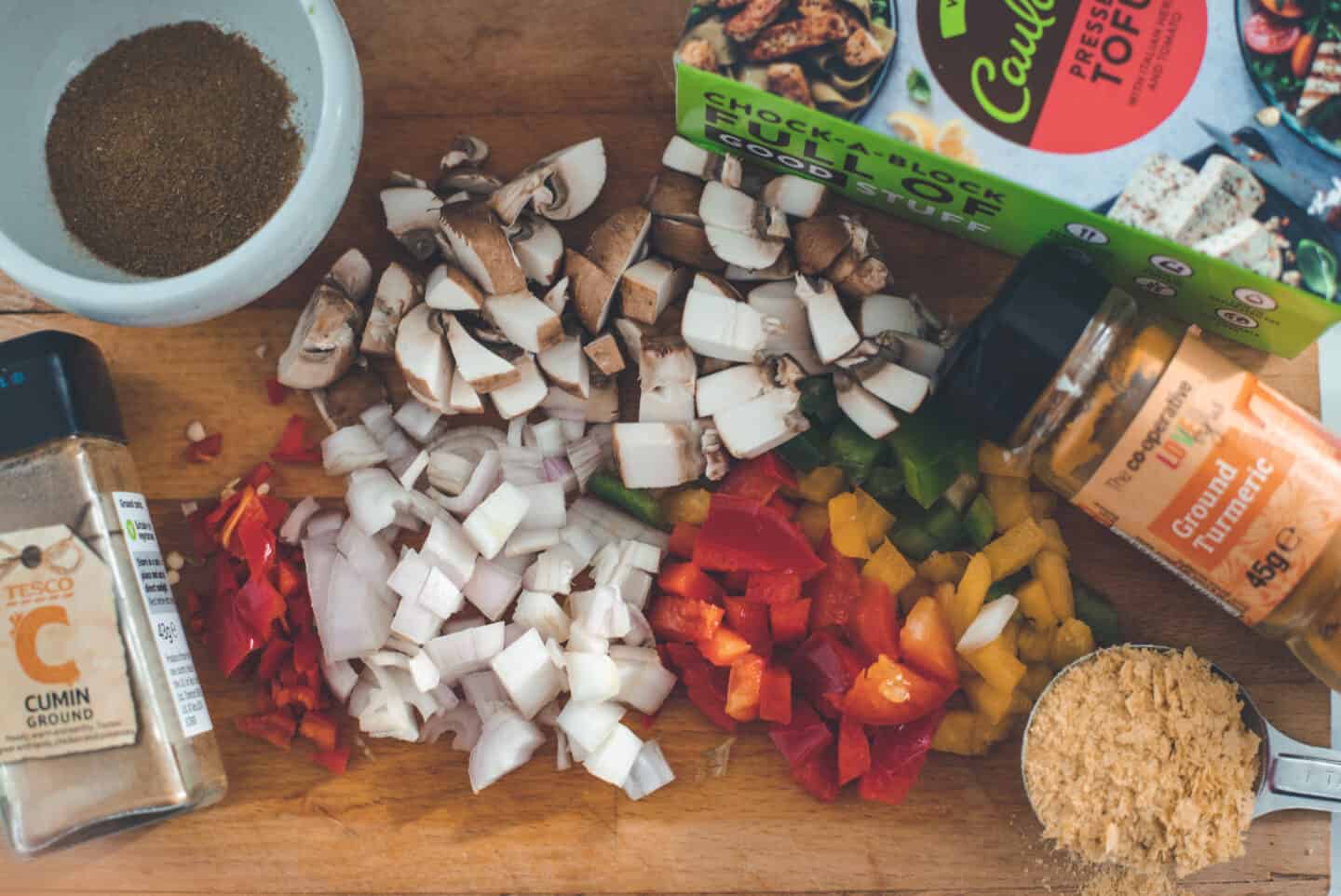 Ingredients
Firm Tofu. My favorite type of tofu to use is firm tofu, but you could use extra-firm tofu, or pressed silken tofu if that's all you can find. The texture of firm tofu holds together much better when cooking than silken tofu, and gives you a more "scrambled" texture. Silken tofu has a tendency to break up, and give you a much creamier texture.
Turmeric. Adds color and flavor.
Black Salt, adds an "eggy" flavor
Nutritional Yeast, adds a cheesy, savory flavor
Method
To make a basic tofu scramble, firstly you need to drain your block of tofu, and then dry it on some paper towel.
Once dry, crumble in a mixing bowl, then, with a fork, mash it up until you have achieved a scrambled texture.
Add the nutritional yeast, black salt, turmeric, some black pepper and a pinch of sea salt, and stir well.
Heat a little oil in a frying pan, then sauté the seasoned tofu over medium-high heat, constantly stirring, until piping hot.
I like to add a little vegan butter to it, just to make it a little creamy, but this is optional.
That's it, it's ready to serve! If you like, you can make enough for a couple of days in advance, and then serve it in a few difference ways for lunch or breakfast. It's just as good served cold as hot!
Try my other delicious vegan breakfast dishes
Easy Delicious Tofu Scramble Recipe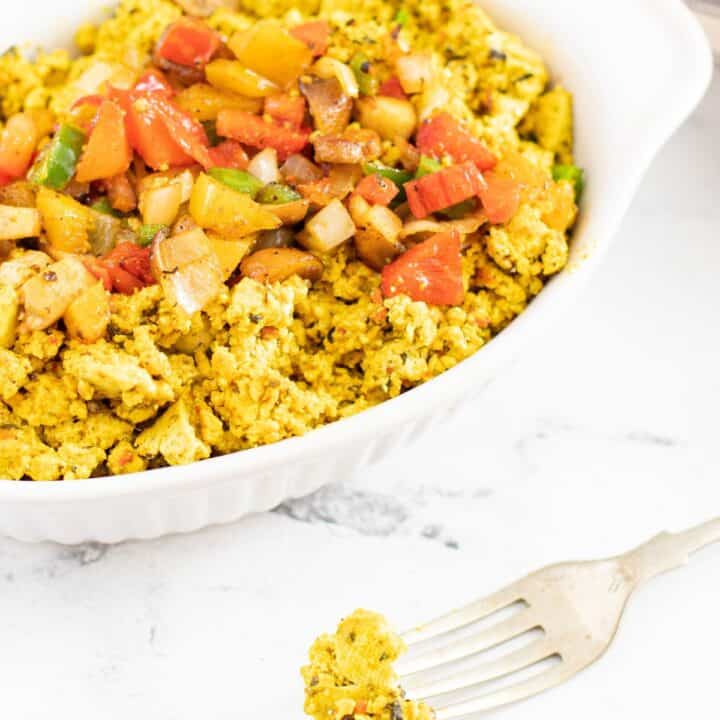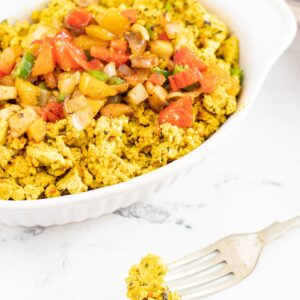 A quick and delicious breakfast dish, perfect served in a burrito or on toast
Ingredients
Scramble ingredients
350

g

Firm Tofu

-

drained

¼

tsp

Black Salt

-

or Kala Namak

¼

tsp

Turmeric

1

tbsp

Nutritional Yeast

Pinch

Salt

¼

tsp

White Pepper
Smother
½

Onion

-

small, finely chopped

¼

Red Pepper

-

chopped

¼

Green Pepper

-

chopped

½

Red Chilli

-

finely chopped

½

tsp

Cumin

2

tsp

Rapeseed Oil
Instructions
To make the Tofu Scramble
Moderately heat a small frying pan and add the tofu.

Using the back of a wooden spoon, break up the tofu until it resembles a scramble.

Once the liquid has evaporated from the tofu, and your scramble looks quite dry, add the black salt, turmeric, nutritional yeast, then season to taste.

Serve on toast, tortillas, on its own.

Heat 2tsp oil in a frying pan.
To make the Smother
Gently saute the onions and peppers until softened. Add the chilli and cumin and season to taste.

Stir into the scramble and serve.
Please note that where the recipe asks for milk, butter or yogurt, this refers to any plant-based version that you prefer.
Nutrition Facts
Easy Delicious Tofu Scramble Recipe
Amount per Serving
% Daily Value*
* Percent Daily Values are based on a 2000 calorie diet.