Vegan Agave Syrup Linzer Cookies. Crisp and buttery little cookies, sandwiched with your favorite jam and dusted with a wintery blizzard of icing sugar. The holidays would not be the same without my vegan Linzer Cookies!
Jump to:
Try my other festive vegan cookies
As someone who suffers from food intolerances, I am always trying out new ingredients that might make life a little bit more comfortable for myself without compromising flavour. And, if that ingredient comes from a natural source rather than a chemical one, then all the better. I also love vegan Linzer Cookies.
What Is Agave Syrup - A History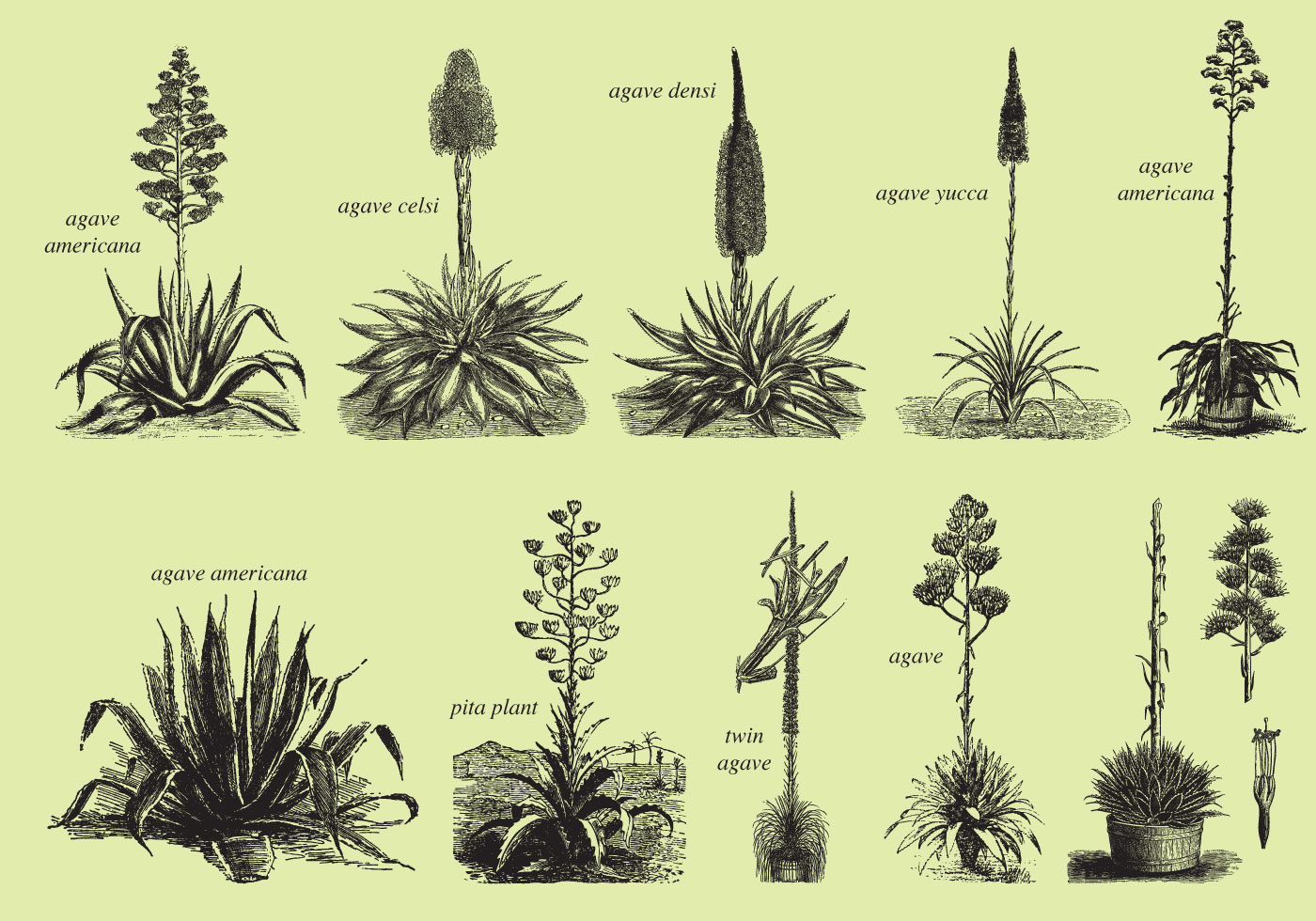 Agave Nectar comes from the sap produced in the heart of the Agave Plant. The plant is crushed and put through a process which extracts the syrup in its raw form. It is then filtered and heated to a level which breaks down the raw sugar into fructose. At this stage, the syrup can be further refined to produce a pale amber colour or bottled as is, in the dark, rich chestnut colour.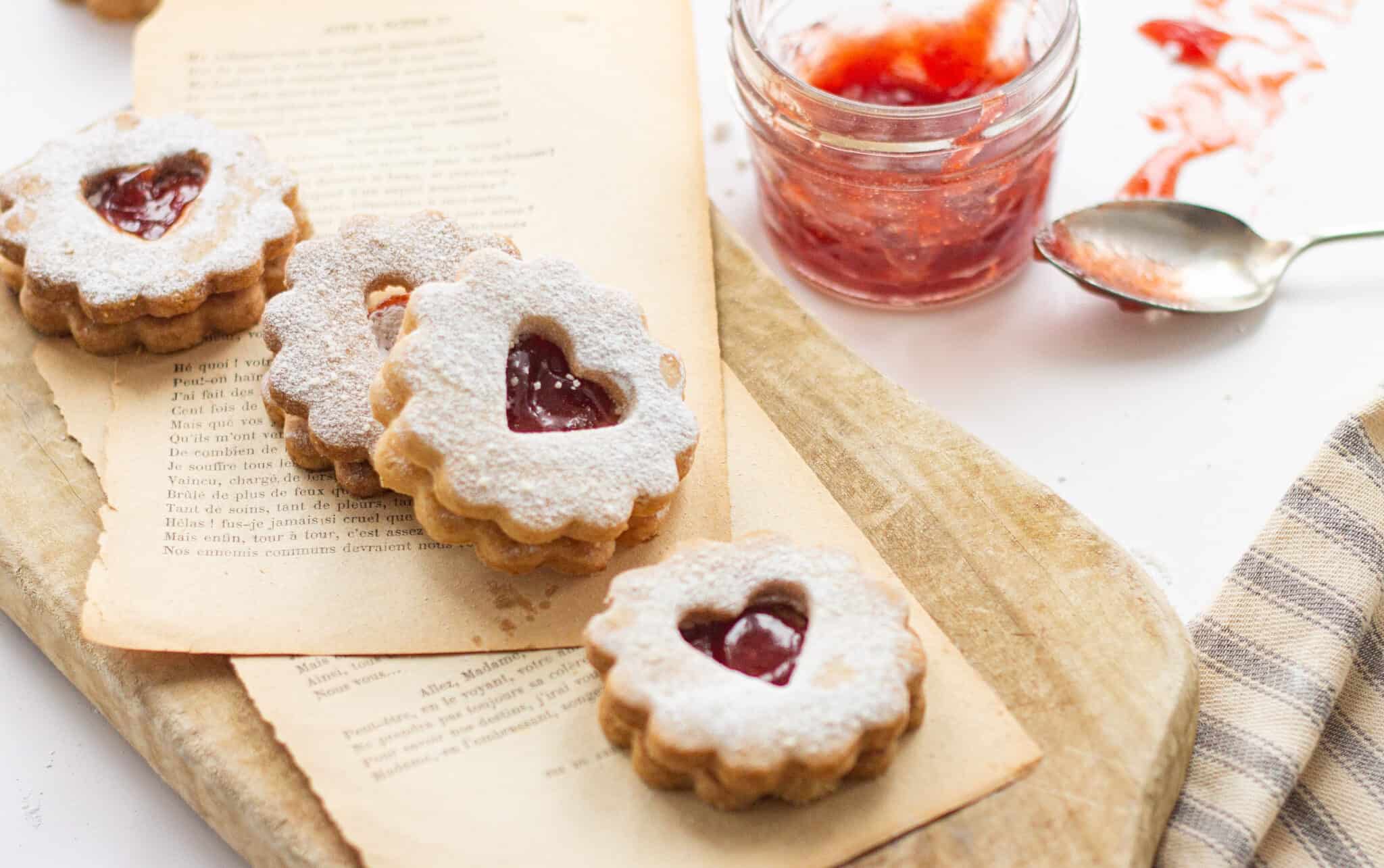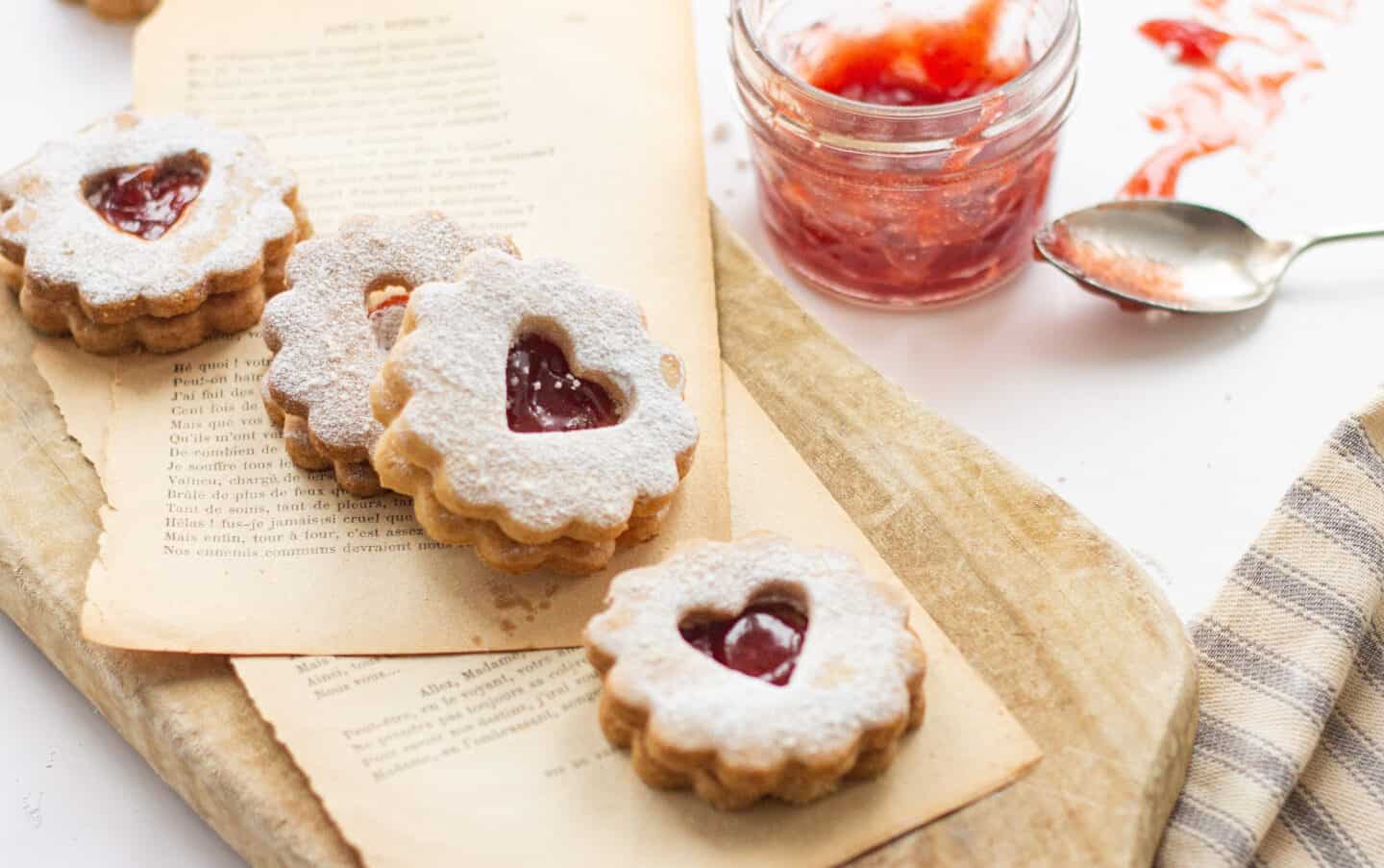 There are also different genuses of the Agave plant, very much like honey, which infuse the syrup with floral or vanilla top notes. Like Maple Syrup, Agave Nectar comes in various patinas and flavours, all of which have different properties in cooking but with a less aggressive taste than synthetic sugars. This is great for people like myself, who can taste saccharin a mile off. No chemicals whatsoever are used in the production of pure Agave Nectar.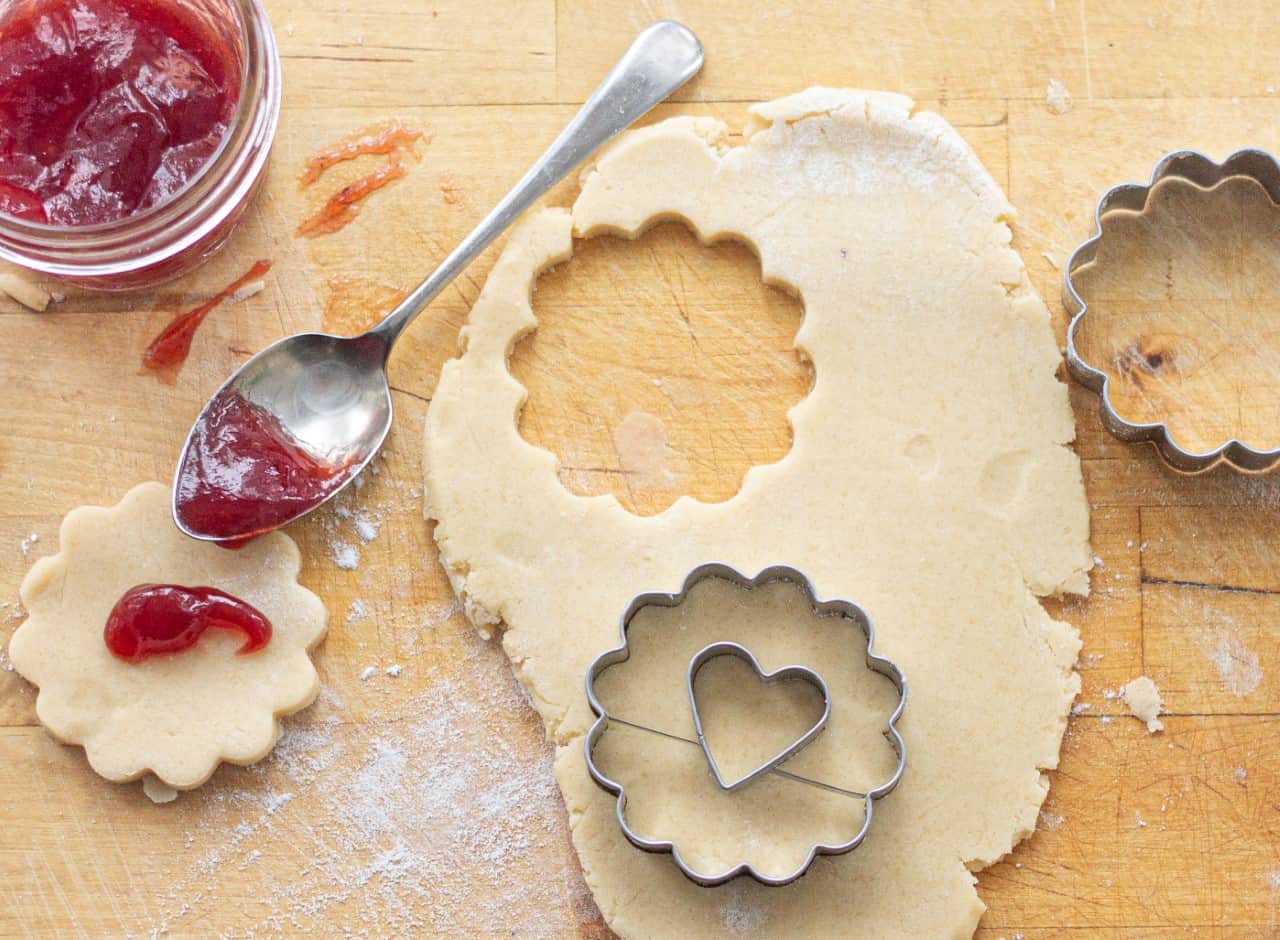 When you try Agave Syrup neat (probably like me, with your finger stuck in the bottle because you're not ladylike enough to use a spoon), you will see that the flavour is a rare hybrid of honey and maple syrup but much finer than either. It is 25% sweeter than granulated sugar but it doesn't have an eye-wincing, tooth-cringing sweetness when you sample it.
Despite being clinically sweeter than sucrose, it has no more calories, which basically means you can use less of it in cooking to a similar or identical effect. The texture of Agave Nectar is thinner even than maple syrup which also makes measuring somewhat less of a sticky process than getting all gummed up with honey or golden syrup.
So, with that in mind, I made some Agave Syrup Vegan Linzer Cookies instead, replacing the usual caster sugar with Agave Syrup. I prepared some plain biscuits (which I then dusted in Icing Sugar - obviously diabetics would omit this stage), and some Linzer Cookies which I filled with homemade Greengage, Damson and Crab Apple Jam.
What Are Linzer Cookies?
Also known as Empire Biscuits, the Linzer, is a sandwich cookie, made from a rich dough, like a crumbly shortbread, and sandwiched together with jam. The top cookie traditionally has a shape stamped out of it, so you can see the jam popping out through the window!
How Do You Make Vegan Linzer Cookies?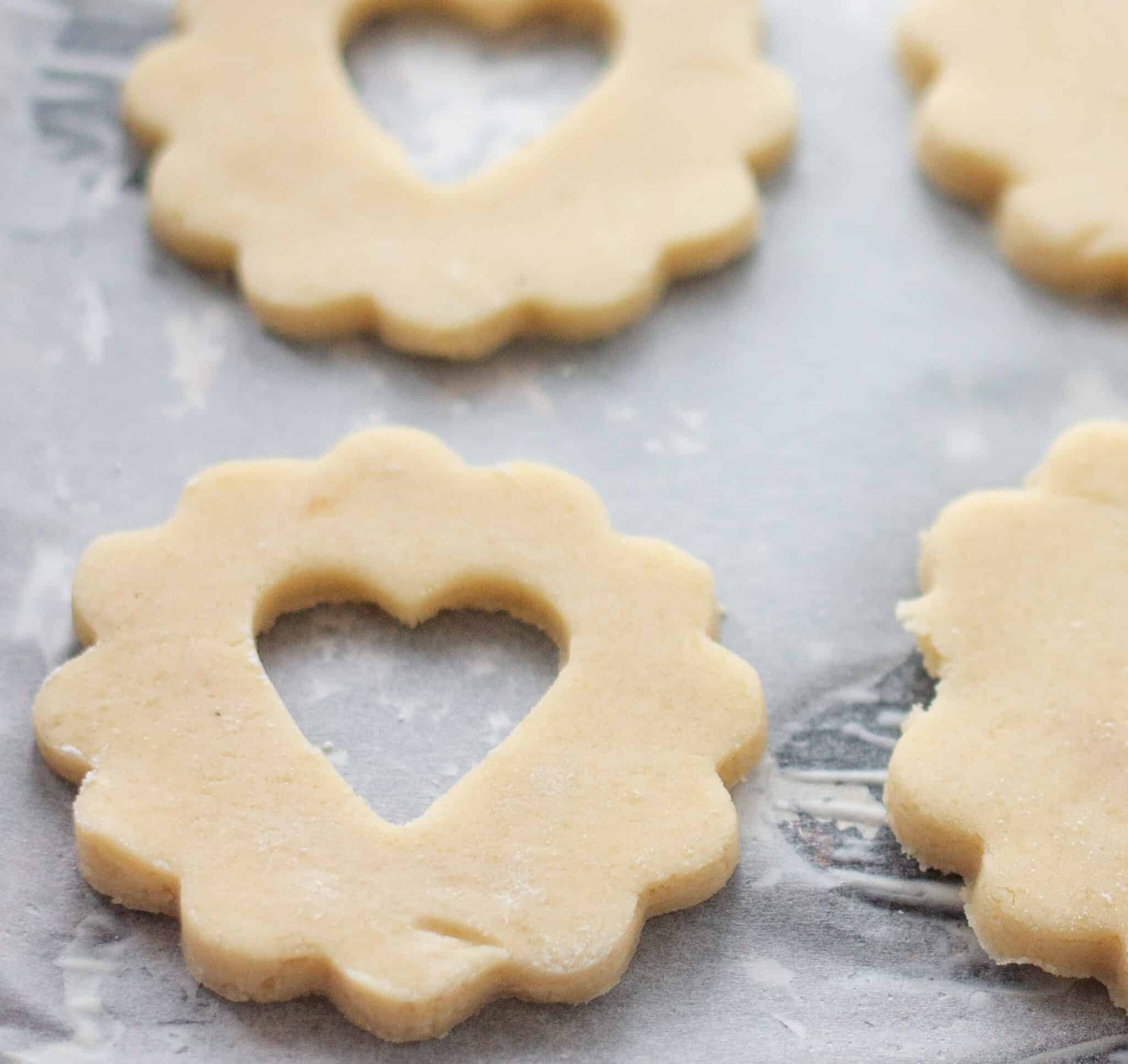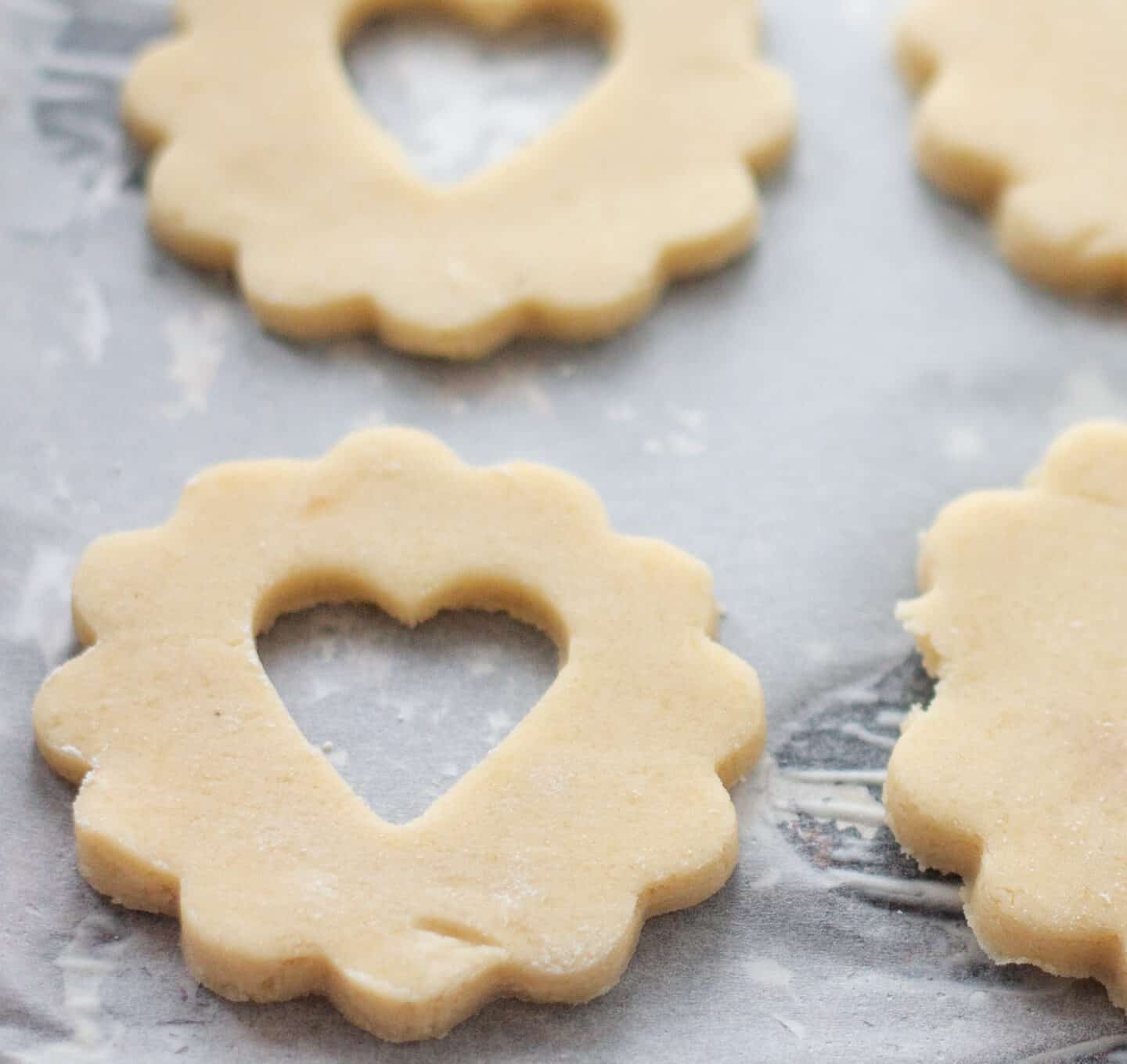 A traditional Linzer Cookie dough is enriched with butter and often an egg yolk. This gives it the unmistakable short, crumbly texture.
My version replaces the butter simply with vegan butter and omits the egg yolk.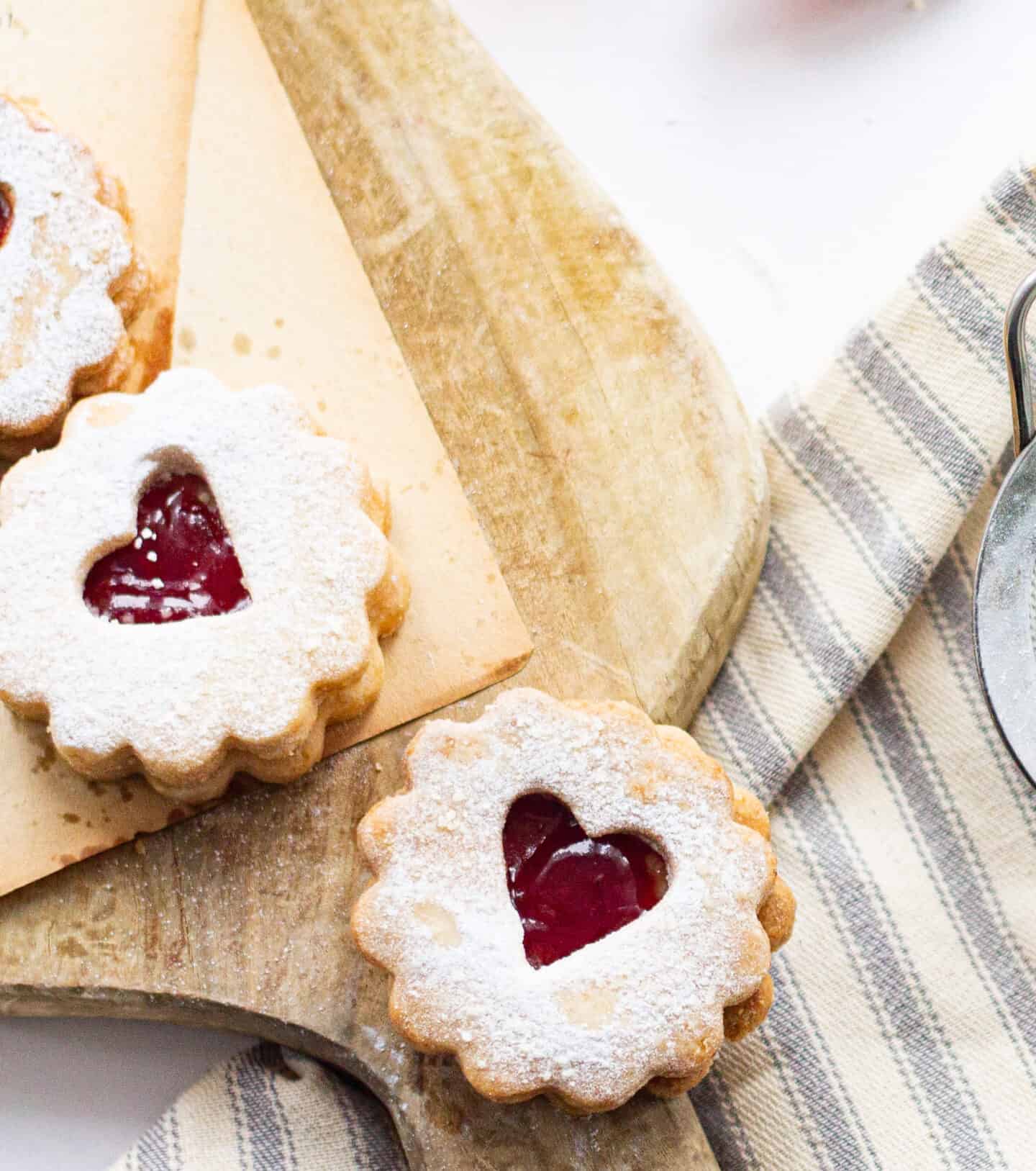 Ingredients
Plain Flour or all-purpose flour. You could also use gluten free flour too.
Vegan Butter, at room temperature
Agave Syrup or Maple Syrup
Vanilla Extract
Jam of your choice
Icing Sugar or Confectioners Sugar
Cooking with Agave Syrup
If you do plan on using Agave Syrup instead of regular sugar, expect it to be a little hit and miss, particularly in baking, so take into account the following:
You will need to reduce the amount of other liquids (i.e. milk or egg) to compensate for extra liquid of the Agave.
You will need to use a smaller quantity of the syrup because it is 25% sweeter.
You may need to reduce the heat of your oven by 10-20 degrees because the fructose in the syrup seems to burn quicker.
So, my recommendation to anyone wanting to experiment is just to be extra vigilant watching the oven and not to be too upset if your buns come out flat or your cake collapses, you'll simply know next time to adjust it. Here is the recipe for the shortbread in the meantime.
Equipment
📋 Recipe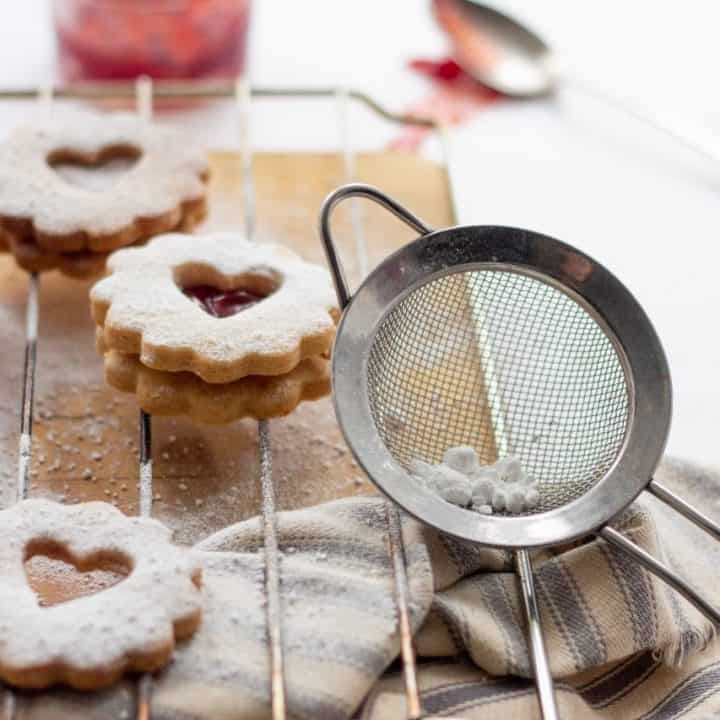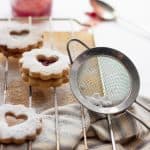 PRINT
Agave Syrup Linzer Cookies
How to make vegan Linzer Cookies using Agave Syrup
Equipment
Mixing Bowl

Baking Sheets

Electric Whisk

Sieve
Ingredients
170g

g

Vegan Butter

¼

cup

Agave Syrup

(or Maple Syrup)

1

teaspoon

Vanilla Extract

1⅔

cups

Plain Flour

pinch

Salt

¼

cup

Jam

or your own flavour choice!

¼

cup

Confectionary Sugar

sieved
Instructions
In a large bowl, cream together the butter and syrup until creamy.

Add the rest of the ingredients (except for the jam and icing sugar) and beat until you have a crumbly dough. It will look like crumbly peas when beating, but it will come together as a dough.

Form dough into a ball, wrap in clingfilm and chill for at least a couple of hours.

Line two baking sheets with greaseproof paper.

Separate your dough into two balls. Clingfilm one ball and return to the fridge.

Roll out the other ball on a floured work surface, until it's about ½cm thick.

Using your Linzer Cookie Cutters, cut out equal amounts of top and bottom cookies. Place on baking sheet.

Bake for 8 minutes or until very pale golden. Let cool for a couple of minutes on the baking sheet, then let cool completely on a cooling rack.

Place half a teaspoonful of jam onto the bottom cookies.

Dredge the tops with icing sugar, then sandwich to a jammy bottom!
Nutrition
Calories:
114
kcal
|
Carbohydrates:
15
g
|
Protein:
1
g
|
Fat:
6
g
|
Saturated Fat:
1
g
|
Polyunsaturated Fat:
2
g
|
Monounsaturated Fat:
2
g
|
Trans Fat:
1
g
|
Sodium:
57
mg
|
Potassium:
17
mg
|
Fiber:
1
g
|
Sugar:
5
g
|
Vitamin A:
325
IU
|
Vitamin C:
1
mg
|
Calcium:
2
mg
|
Iron:
1
mg
Tried it and Loved it?
Mention @sweeterthanoats or tag sweeterthanoats!