Easy Hasselback potatoes – crisp and delicious. A really quick and easy way to do roast potatoes, slightly healthier and with none of that pre-boiling, pre-oil heating faff that comes with a roastie.
These are perfect to have as a side with a roast dinner or just instead of chips! Because they're baked instead of fried, they are much healthier!
This was inspired by my roast potato recipe, and my papas arrugadas recipe, and pairs well with vegan mashed potato (yes, I'm weird). I also love to serve them with my pizza sauce too!
Hasselback Potatoes are just at home with a salad as they are with gravy. You can try spicing them up with some Za'atar if you want to serve them with some couscous, or chili flakes for heat. Try to use a waxy small salad potato that doesn't require peeling or scrubbing
Ingredients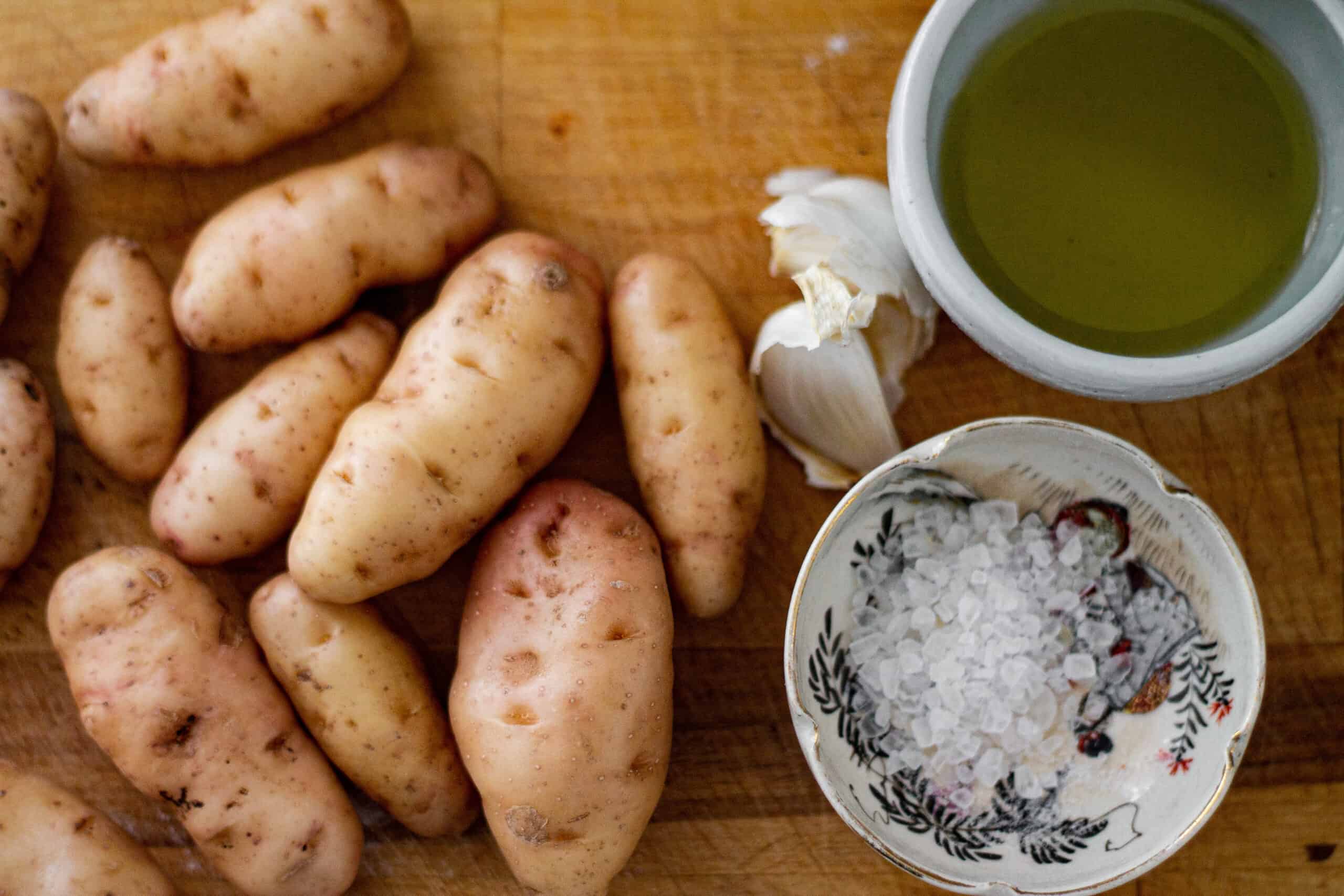 potatoes. Well duh. However, not all potatoes are grown equally, and I find that a potato like fingerling, pink fir or Anya work perfectly. Because these get super crispy, they don't even need peeling!
olive oil
seasonings of your choice
See recipe card for quantities.
Instructions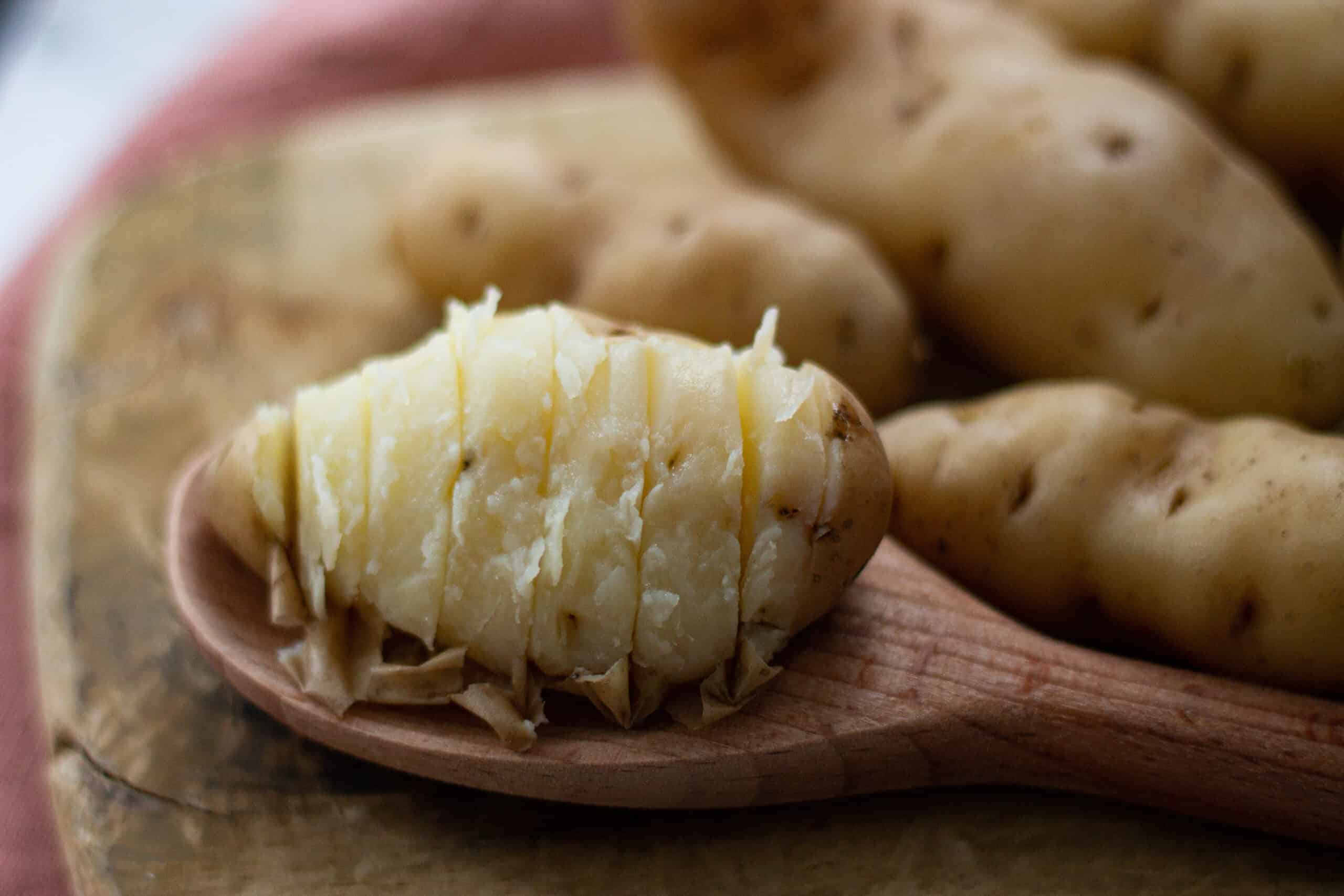 Par boil potatoes for 5 minutes in briskly boiling salted water. Drain and leave to cool until you can handle them. Placing a wooden spoon onto a steady work surface, place a potato longwise on the spoon.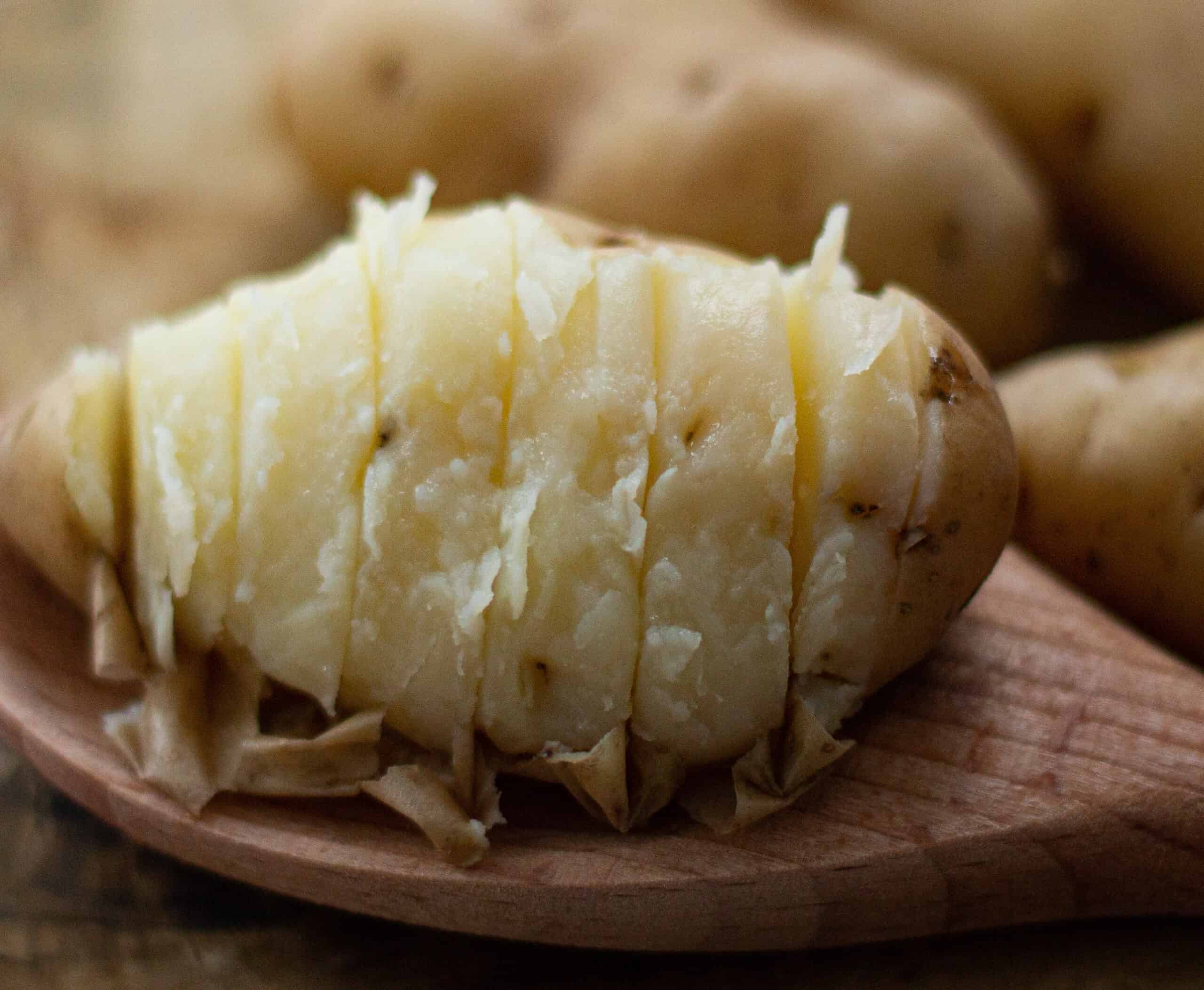 Carefully cut vertical slits, quite closely together, in the potatoes, making sure you don't cut all the way through. The shape of the spoon should stop you slicing all the way through but be mindful anyway. Place on a roasting pan (or in the air fryer), drizzle with olive oil and your seasonings and roast for 30 minutes at 180c or until golden and crisp.
Hint: you can cook Hasselback potatoes from raw but they do take a lot longer to roast. If you choose to parboil, make sure you do not keep them in the water too long, otherwise they will disintegrate when you slice them. 5 minutes is ample to start off the cooking process.
Variations
Spicy – add chili pepper flakes or your favorite spice mix to the potatoes before air frying
Deluxe – add guacamole, chili, crispy onions to make a great game-night snack
Kid friendly – serve with ketchup, vegan mayo or pizza sauce!
Storage
I recommend cooking and eating these on the same day. Whilst they are still pretty good when cold, they don't taste so good after a night in the fridge!
Hasselback potatoes don't stand up well to freezing.
Top tip
Try adding your favourite herbs (fresh or dried) to the olive oil, or some fresh chili for a little extra heat! Really play around with your favourite flavours!
FAQ
Where did Hasselback Potatoes originate?
Controversial question because there are two different stakes to the claim of who invented Hasselback potatoes.
In 1929, Swedish cookbook author, Jenny Åkerström wrote Prinsessornas kokbok"(The cookbook of Princesses), and there is a recipe for oven fried potatoes (hasselback potatoes).
However, in 1953 Leif Elisson claims to have invented them whilst working for the Hasselbacken restaurant in Sweden. Interesting side note: The Hasselbacken restaurant still exists to this day and is now owned by Bjorn Ulvaeus from ABBA! Perhaps he loves Hasselback potatoes!
So, it would seem that although Jenny published the recipe first, perhaps the restaurant brought the recipe to the world.
Can I use large potatoes for Hasselback potatoes?
You can! If you want to use winter potatoes, peel them before blanching. You might need to use a larger spoon (like a large, slotted spoon for example) and know that they will probably take longer to roast, but will taste amazing!
Easy Hasselback Potatoes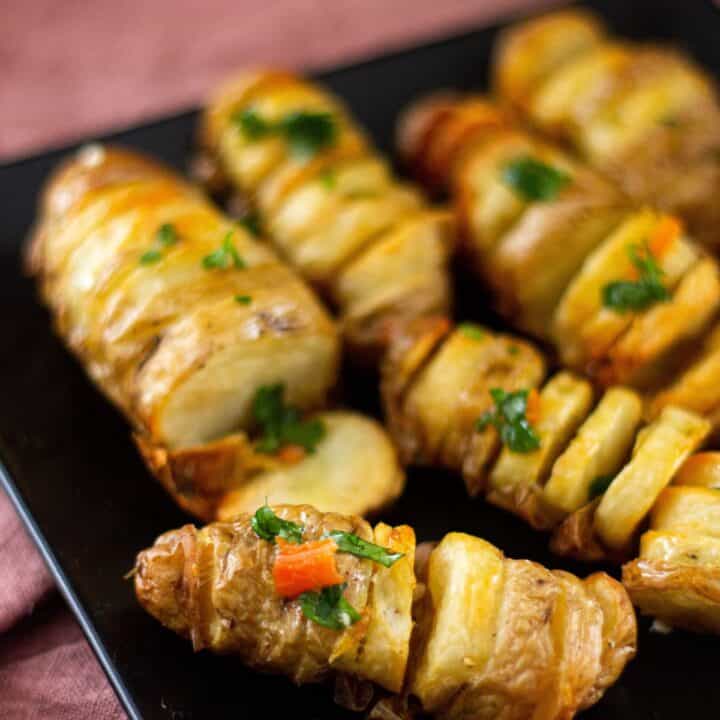 A quick and delicious alternative to roast potatoes, perfect as a delicious side!
Ingredients
750

g

Potatoes

-

I like Anya or Pink Fir

2

tsp

Rapeseed Oil

1

tsp

chopped fresh Herbs

-

Thyme, Rosemary work well

Salt and Pepper
Instructions
Preheat oven to 200c.

Take a wooden spoon.

Place a potato onto the indent of the spoon. Taking a sharp knife, slice the potato, leaving a small gap between slices. The indent in the spoon stops the knife slicing right through the potato.

Repeat until you have used up all your potatoes and have a large pile of little hedgehoggy potatoes.

Place them on a lipped baking tray and drizzle with the oil and chopped herbs.

Rub them well with the oil, and, making sure they are cut side up, sprinkle generously with sea salt and black pepper.

Bake for about 20-25 minutes or until the potatoes are golden brown and looking like concertinas.

Serve.
Air Fryer Method
To air fry, preheat your air fryer on roast (or air fry if you don't have the roast function) to 180c.

Carefully place the sliced Hasselbacks in the drawer or basket and roast for about 15-20 minutes depending on size. They are done when they are golden and crisp.
Please note that where the recipe asks for milk, butter or yogurt, this refers to any plant-based version that you prefer.
Nutrition Facts
Easy Hasselback Potatoes
Amount per Serving
% Daily Value*
* Percent Daily Values are based on a 2000 calorie diet.