Easy and Delicious Vegan Cornflake Tart
This post contains links to affiliate websites, such as Amazon, and we receive an affiliate commission for any purchases made by you using these links. We appreciate your support!
This is such a British childhood favourite, crispy, sticky and full of sweet goodness, this tart will never win any prizes for nutritional content, but it will melt the hearts of nostalgia fans everywhere!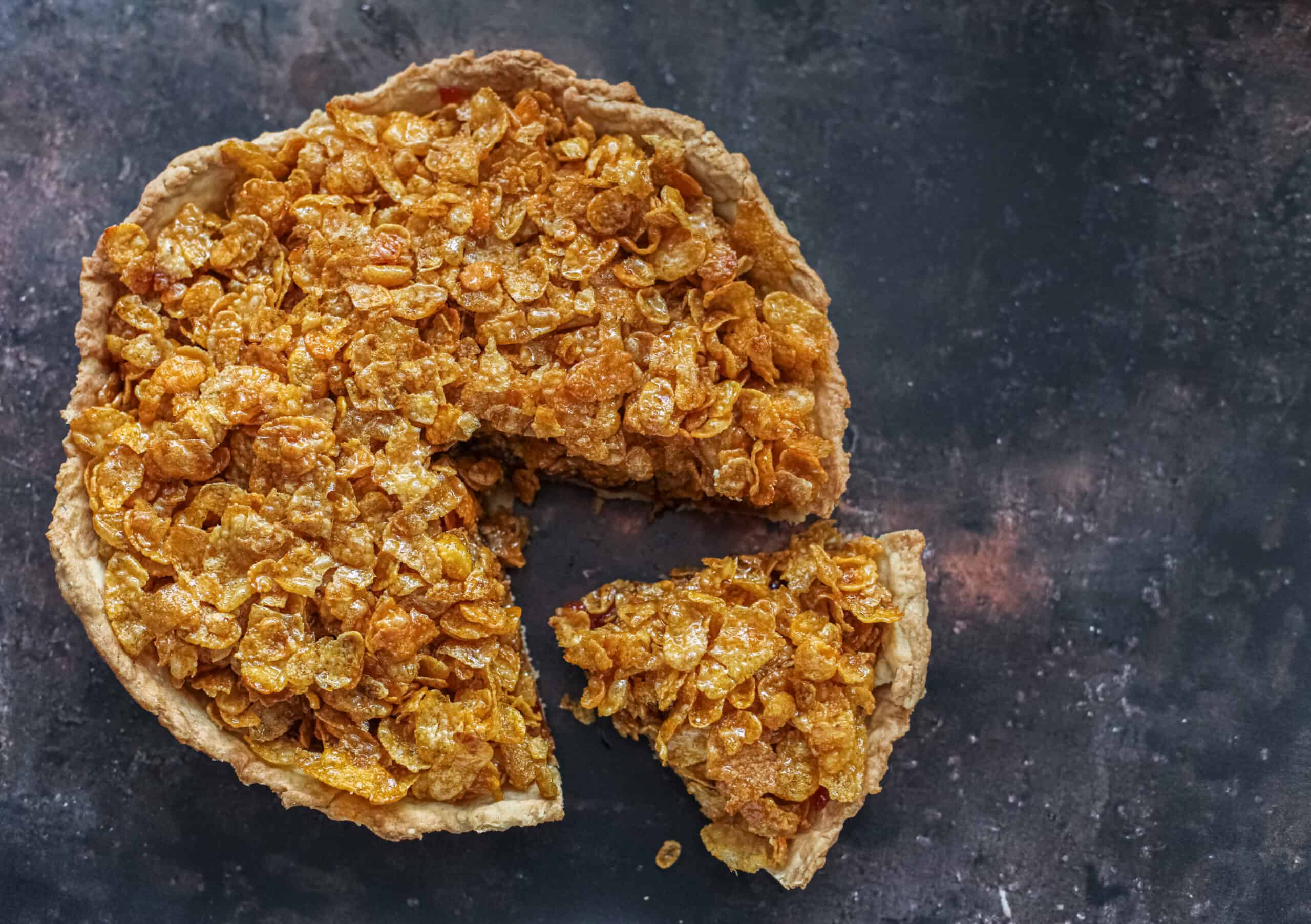 School days hold some of our most special food memories, yet they evolve with every passing generation. I was chatting with some work colleagues who had never tried a Cornflake Tart. The same with the other half, he too had never tried it (although loved it when he finally got to sample my version!).
We seem to remember puddings and desserts from our childhood more than any other foods, and I think this is because they are treat foods, served after we eat our underwhelming school dinner! We have earnt that pud after playing chase in the playground and doing multiplication and tables and spelling! One of my favourite school dinner puddings was the classic jelly and ice cream, stirring until you have a chilly pink mixture, or the butterscotch Angel Delight.
Nowadays I prefer my desserts slightly less sweet, and slightly less processed, but I still love to tumble headfirst into foodie nostalgia.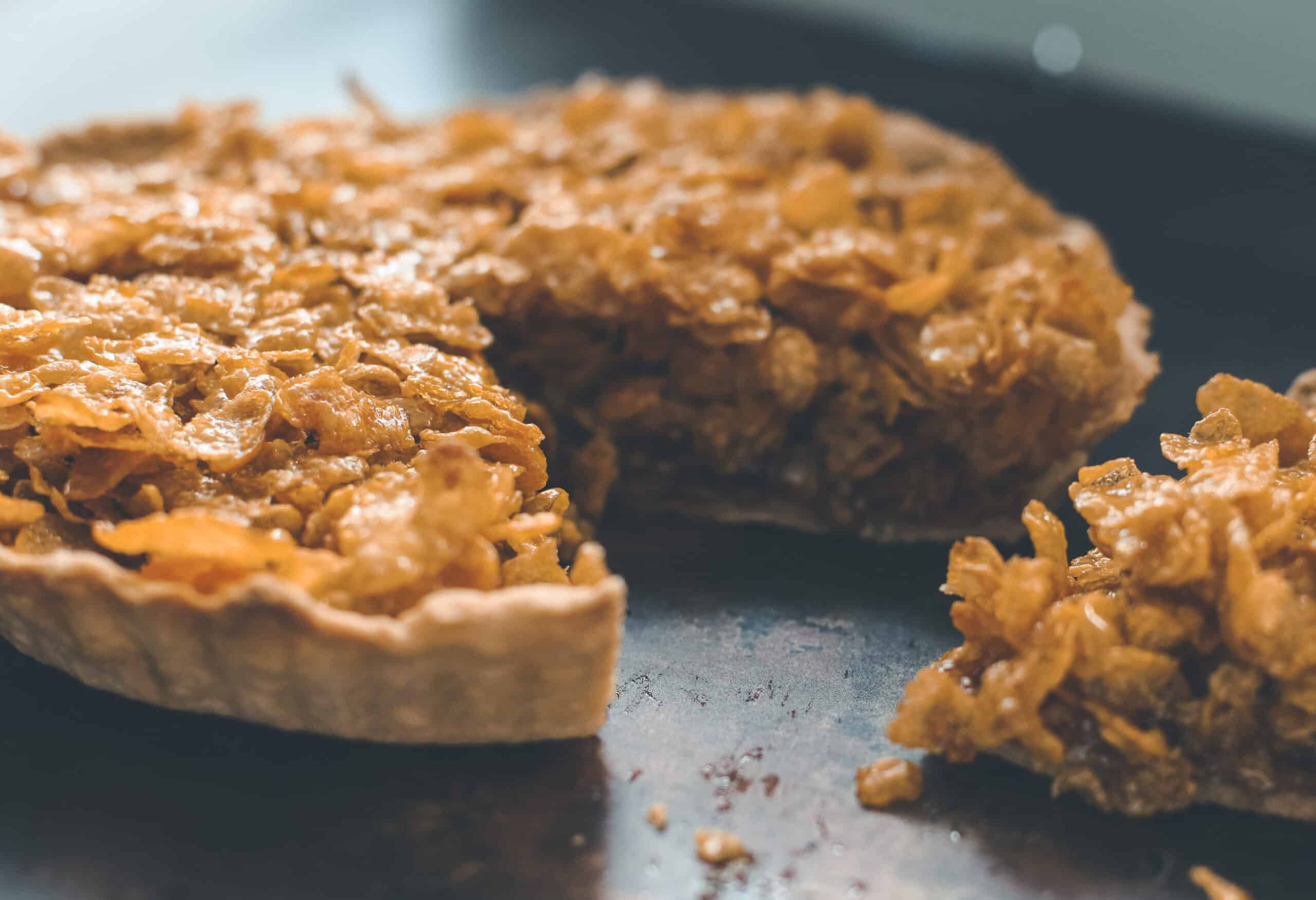 Why You'll Love my Vegan Cornflake Tart
Nostalgic and sweet dessert
Store cupboard ingredients
Easy to put together
Great for supervised children in the kitchen to make
Delicious hot and cold
What is Cornflake Tart?
Cornflake Tart is a lightly sweetened pastry case, filled with jam and sticky cornflakes. It can be served warm, cut into sticky slices with custard or served cold, with bits of cornflakes dropping in your lap as you bite into it.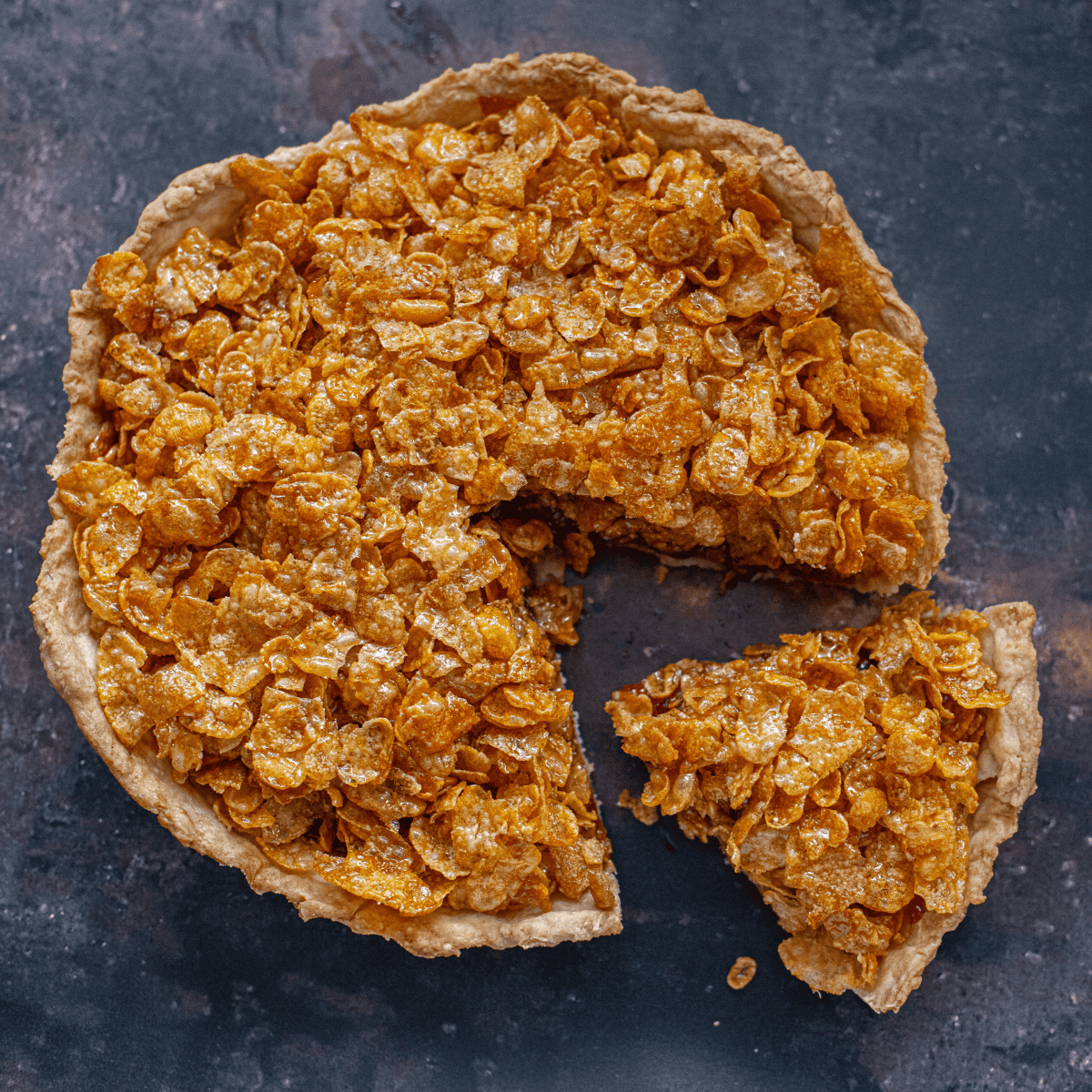 A shortcrust pie case, baked, is lined with red, sticky strawberry (or raspberry) jam, before being topped with golden cornflakes that have been coated in a sweet, buttery mixture, designed to just about suspend the flakes in place.
As you can see, preparing a perfect pastry case is somewhat out of my remit (although the pastry tastes amazing!), but I like the rustic look and I think that it suits this kind of low-effort, laid-back dessert!
Ingredients
store cupboard: cornflakes, golden syrup, brown sugar, flour, jam
fresh ingredients: vegan butter
This is ONLY a list of ingredients for the recipe; please see recipe card below for complete printable recipe.
Instructions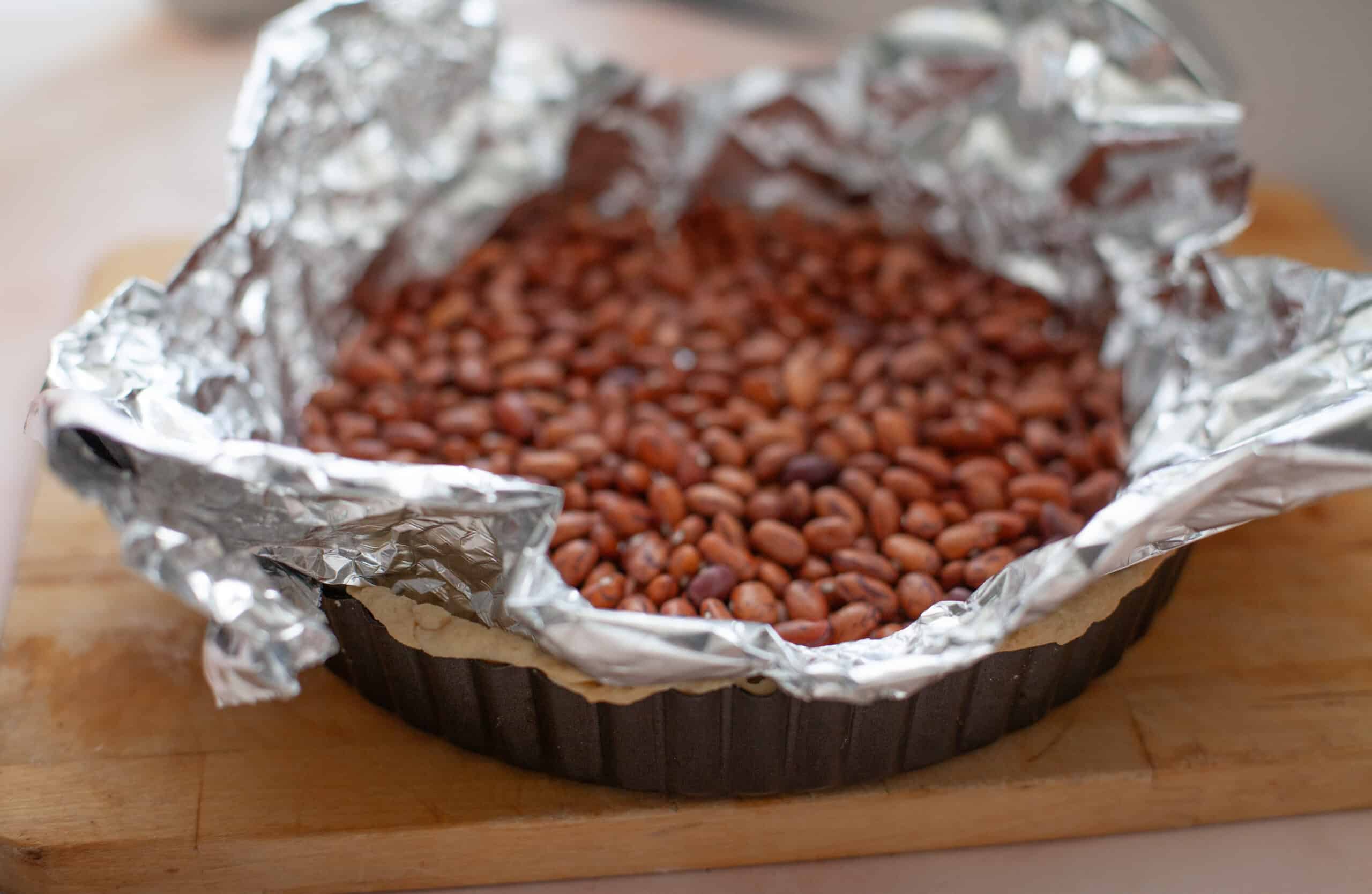 Blind bake your pastry case (see recipe for full instructions).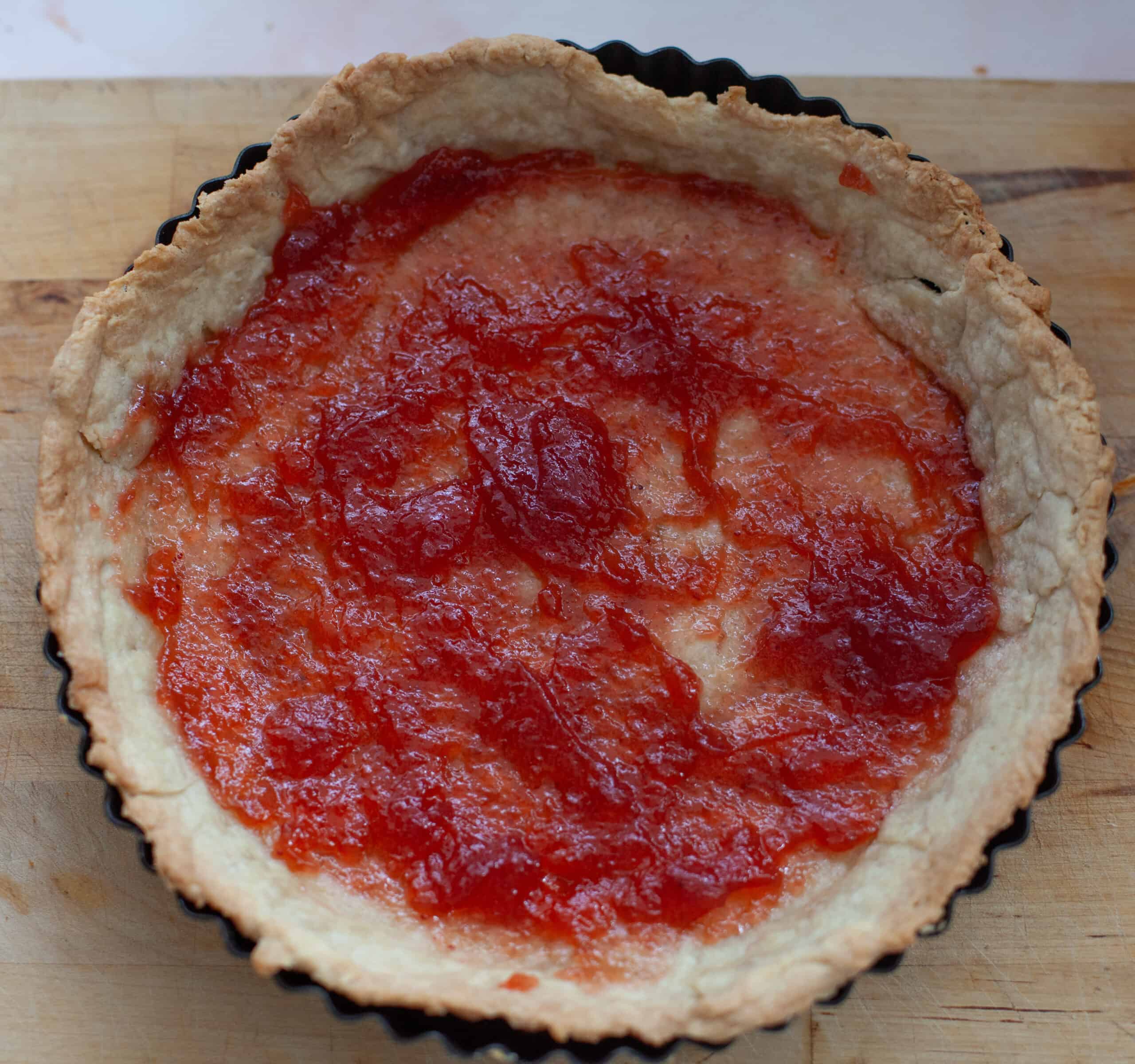 Spread the base of the baked pie crust with jam.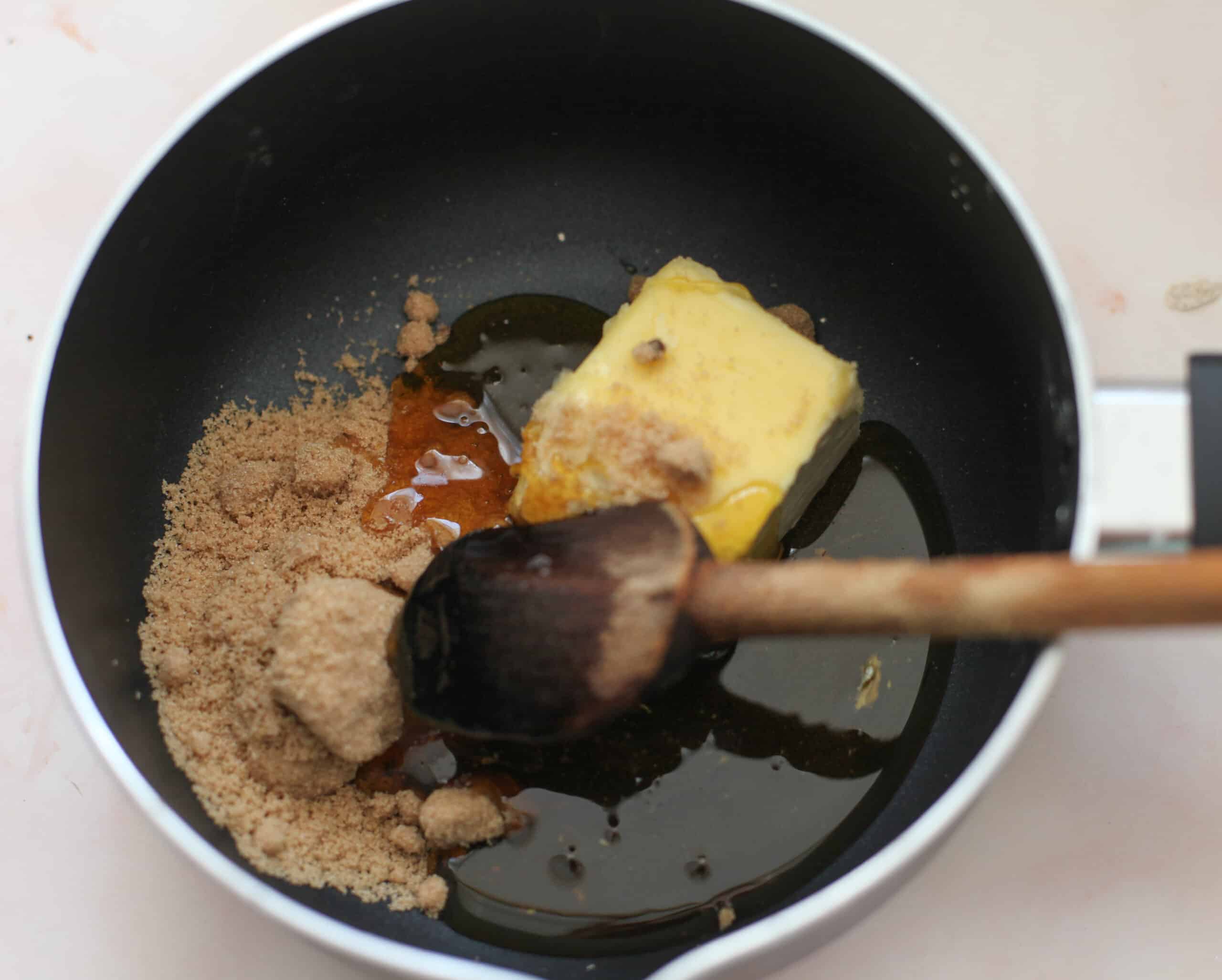 Melt together the butter, brown sugar and golden syrup until smooth and liquid.
Add this mixture to the cornflakes and combine gently.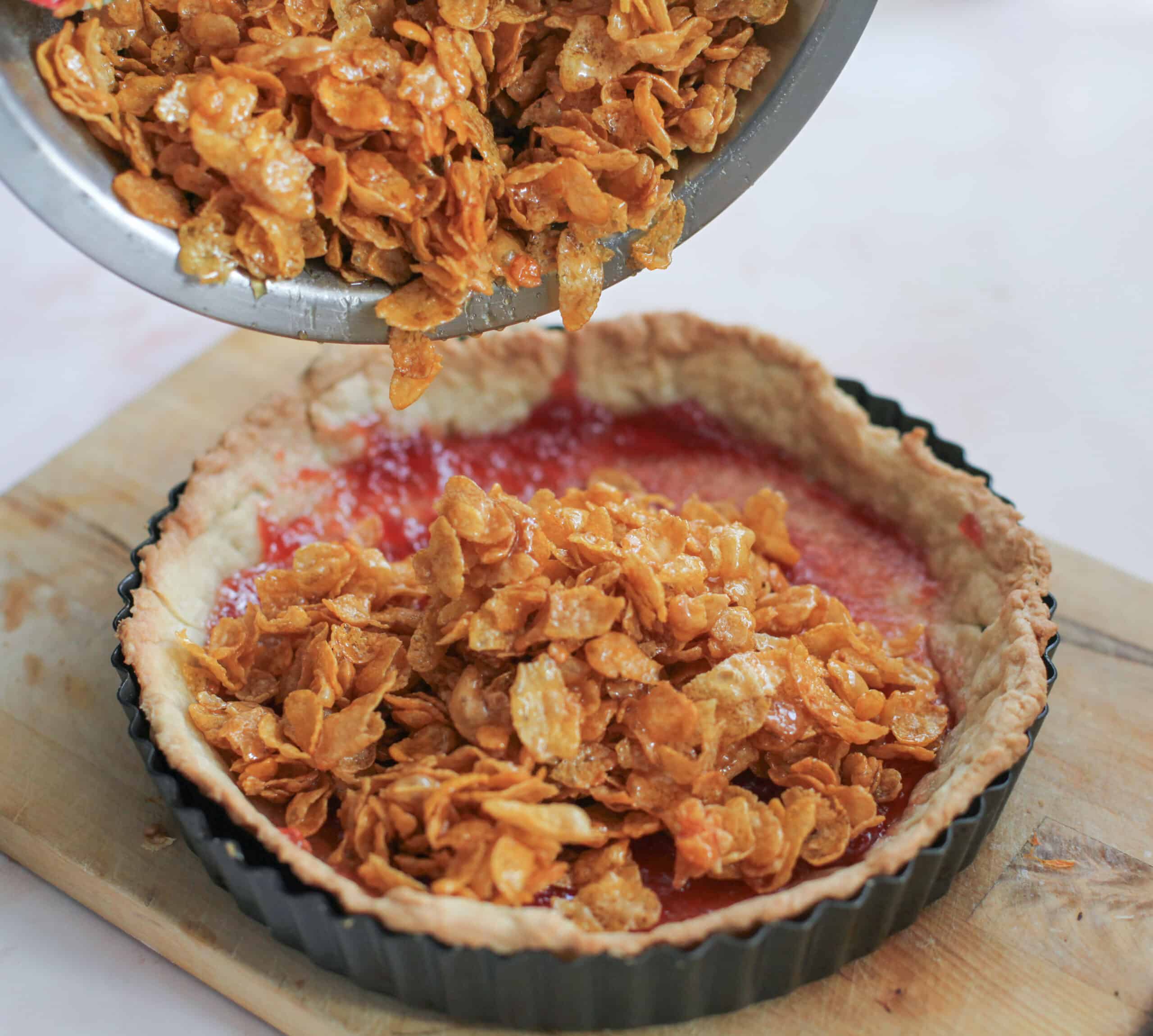 Pour over the jam in the pastry case and press down with the back of a spatula.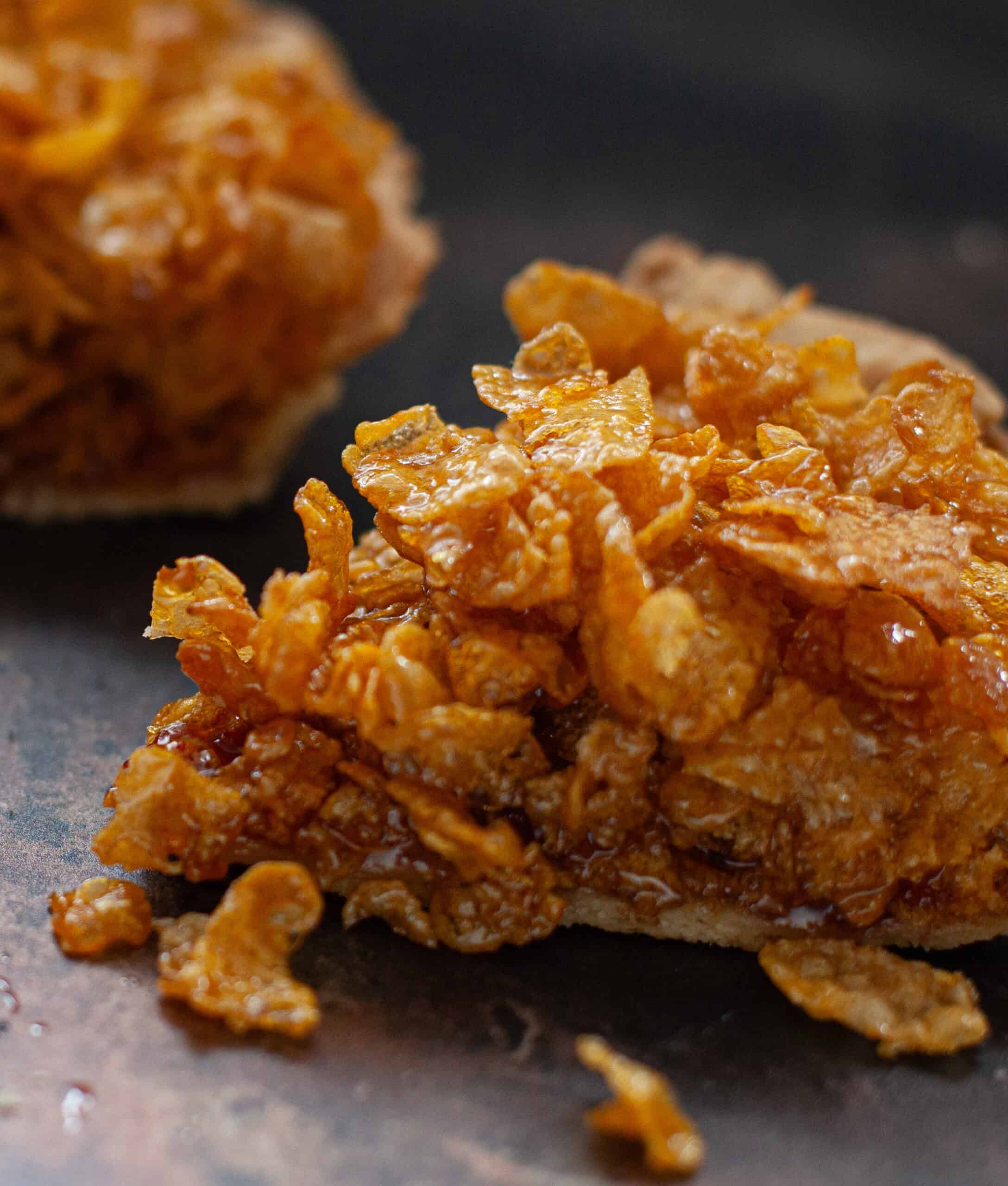 Bake for 5 minutes until lightly golden. Leave to set for 10 minutes or so before serving.
Substitutions
Cornflakes – use gluten-free cornflakes along with a gluten free crust to make this a gluten-free dessert
Golden Syrup – if you are outside of the UK, and can't find golden syrup, you could use corn syrup (dark) or possibly maple syrup or honey (if you eat it).
Other vegan Retro School Dinner Recipes you'll love!
Storage
Once cool, keep your vegan cornflake tart in a tin. If it is really hot, store in the fridge to avoid it becoming a sticky mess! It will be good for about 3-4 days before the cornflakes starting going a bit soft.
Top tip
I only use half of the pastry in the recipe linked below, and then freeze the other half to make another sweet pie in the future!
Easy Vegan Cornflake Tart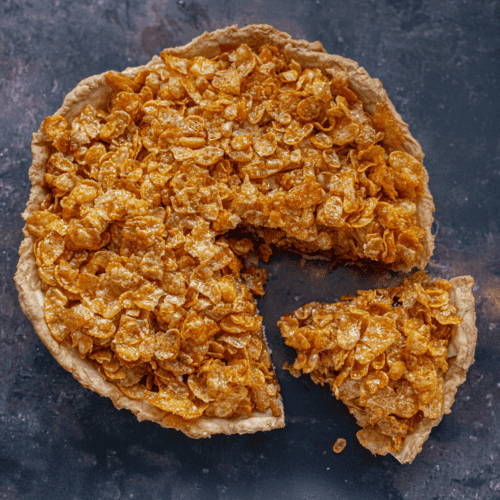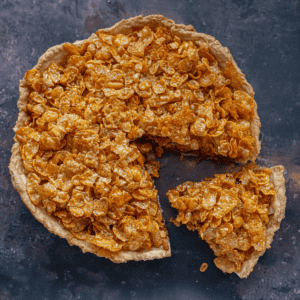 A old fashioned favourite, easy and quick to make!
Ingredients
340

g

Pastry

- shortcrust, I used my mince pie pastry recipe

142

g

Cornflakes

50

g

Brown sugar

100

g

Golden Syrup

80

g

Butter

-

vegan

120

g

Strawberry Jam

-

or raspberry, or flavour of your choice
Instructions
Roll out your shortcrust pastry and line your tart tin with it, leaving a little bit of overhang.

Line the pastry with foil and baking beans (or raw rice) and bake for 15 minutes.

Remove the foil and beans and bake for another 10 mins, or until golden. Check after 5 mins.

Whilst the tart case is on the second part of the bake, prepare the filling.

Melt together the butter, golden syrup and sugar over low heat until you have a smooth liquid mixture with no grains of sugar left.

Place your cornflakes into a large mixing bowl and pour over the melted mixture, mixing gently until all the cornflakes are coated.

Spread the jam over the bottom of your baked tart case, ensuring that you have covered the bottom completely. You may need to warm the jam through a little bit, if it's difficult to spread, although the heat from the tart case will help melt it.

Now pour the cornflake mixture over the top and press down gently with a spatula.

Return to the oven for another 5 minutes, or until the top is golden.

Leave to cool in the tin for 10 minutes or so, allowing the mixture to set up, before serving.
Please note that where the recipe asks for milk, butter or yogurt, this refers to any plant-based version that you prefer.
Nutrition Facts
Easy Vegan Cornflake Tart
Amount per Serving
% Daily Value*
* Percent Daily Values are based on a 2000 calorie diet.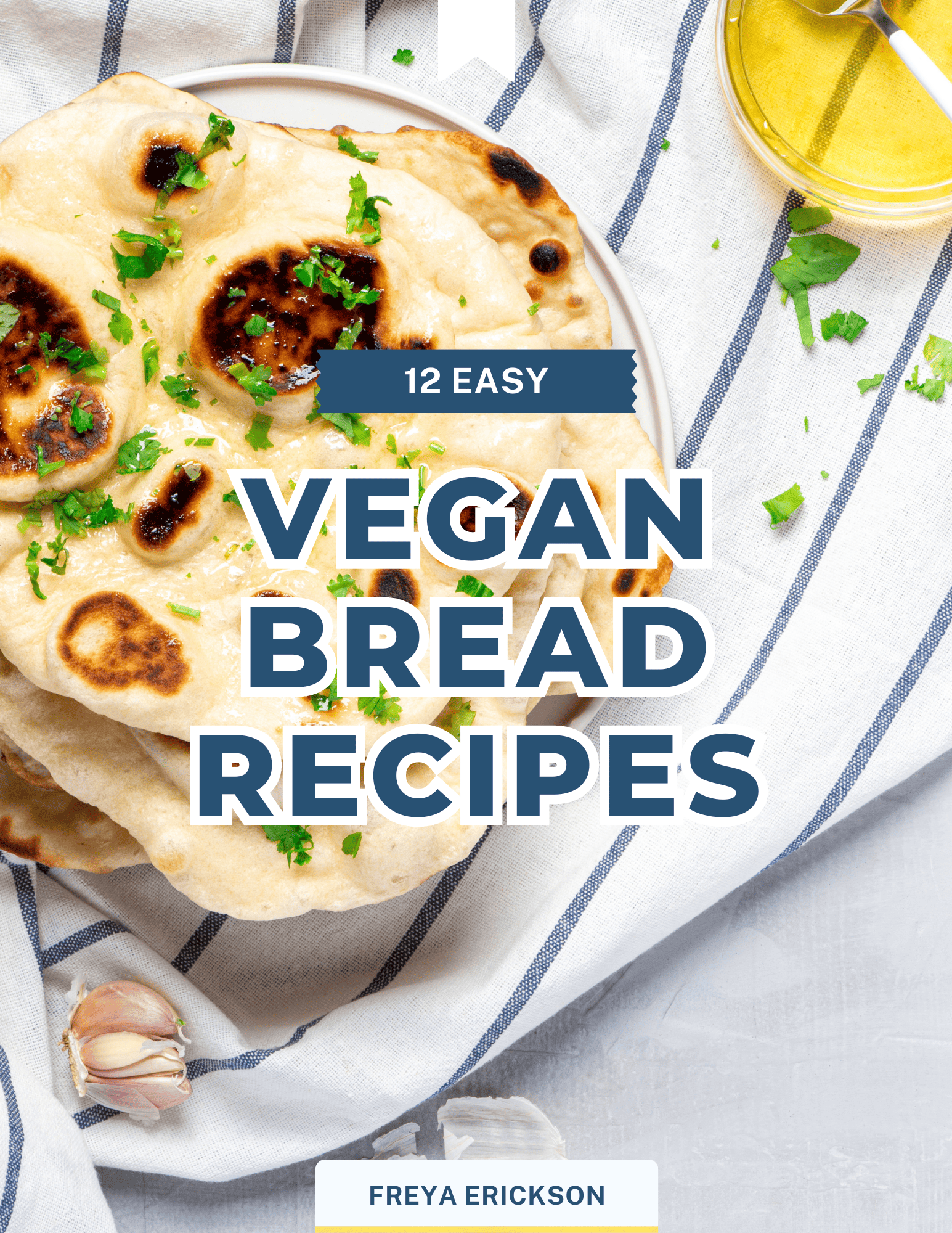 Grab your Free copy
Get Sweeter than Oats in Your Inbox