Vanilla Sugar – A quick, simple and lovely edible gift
Quick and easy vanilla sugar. The sweetest gift you could give the foodie in your life – vanilla sugar! A super simple gift that looks charming and thoughtful
We all know that vanilla is expensive and if you bake a lot, you will go through quite a lot of it! My homemade vanilla sugar will surely be a welcome gift for the baker in your life…and hopefully you'll get to try them goodies they bake using it!
I like to gift this alongside my vanilla extract, but my quick and easy vanilla sugar is also amazing in my vanilla poached pears! And if you love making edible gifts, be sure to try my spiced peaches recipe too!
Vanilla sugar is available in the stores, in fairly small jars and at a reasonably high cost. Often it doesn't come with the vanilla pod either meaning that you have to buy replacements or that the sugar doesn't have such a potent flavour. With my homemade vanilla sugar, you pop two vanilla pods into the sugar, meaning that you can top up the jar with sugar and the pods will keep flavouring the sugar for ages!
I like to buy vanilla pods in bulk on Amazon as it's much cheaper than in the supermarkets. 6-8 pods are usually about £7.00, so you can make a few little jars as gifts, or you could use them to make my homemade vanilla extract!
Label for the Vanilla Sugar
If you'd like to download my label for sticking on your jars, here it is (although I also use my Dymo label maker because I like these rustic labels!). To print the label, right click on the image and open in new tab. Then save image as to your desktop. You should be able to resize and print the image from there.
Ingredients
sugar, white or golden. I prefer caster (superfine), but granulated is fine too
vanilla pods. I like to use 2 to give optimal flavour. I buy a multi-pack on Amazon and use the extras to make vanilla extract!
See recipe card for quantities.
Instructions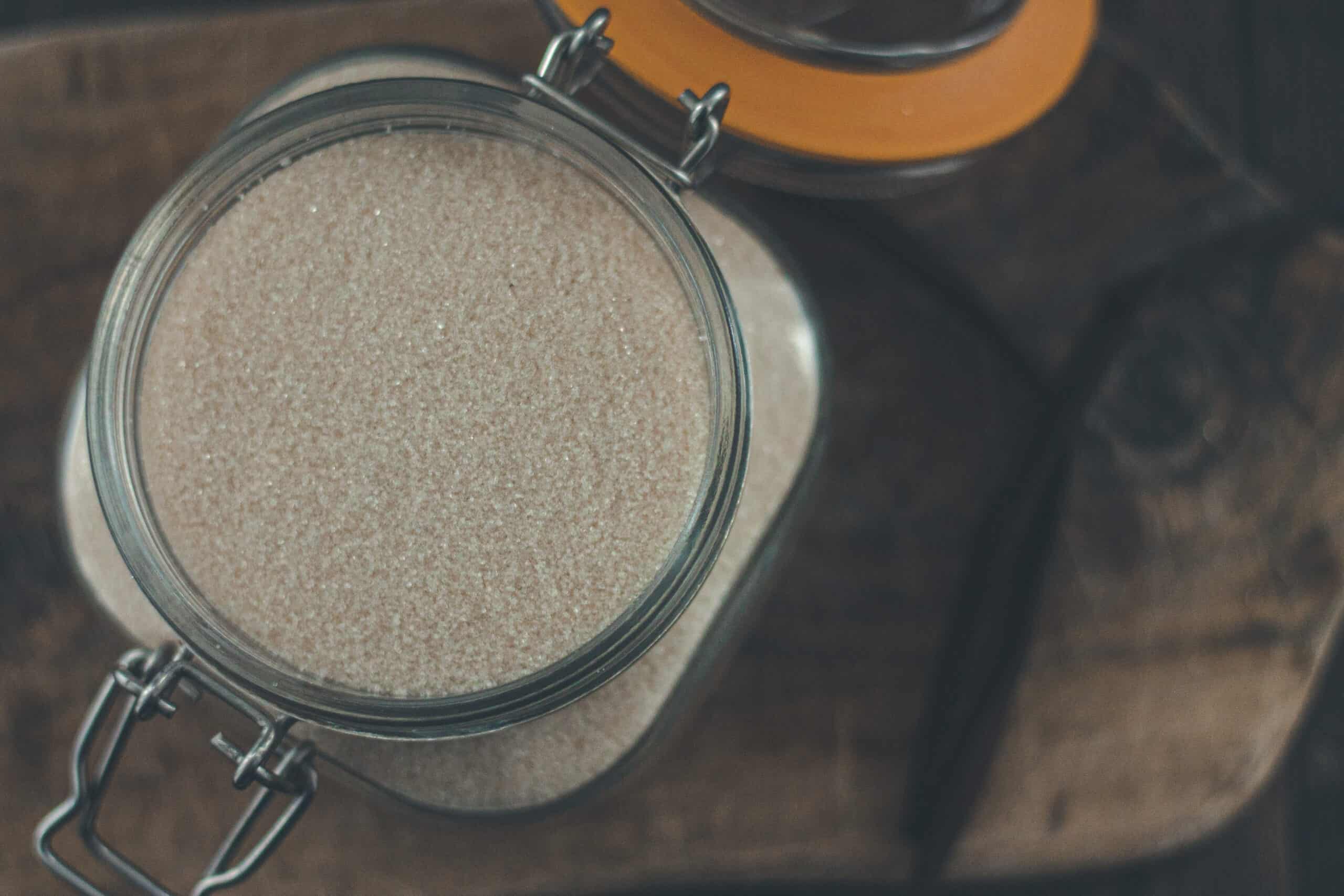 Fill your sterilised and completely dry jar with the sugar of your choice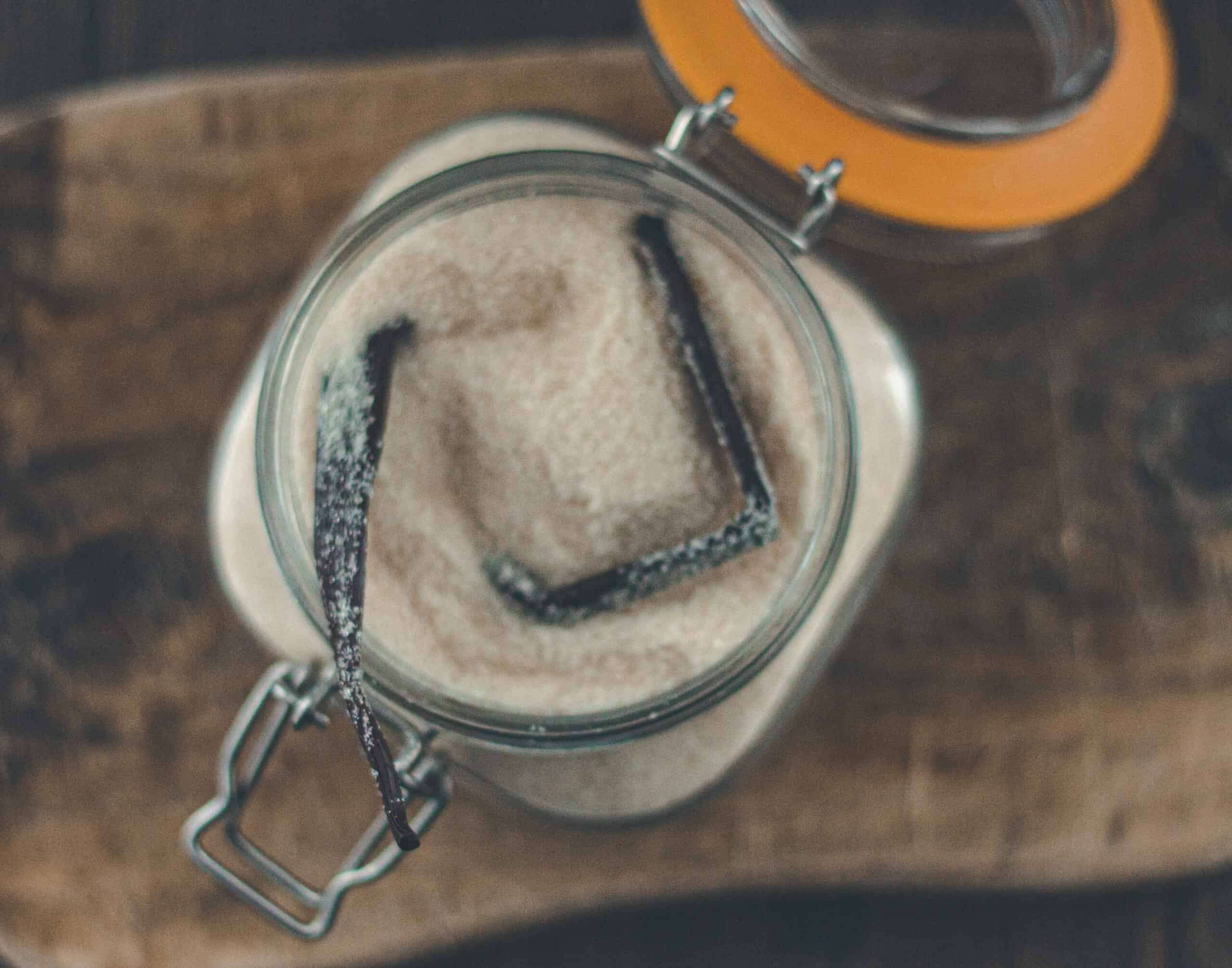 Add the vanilla pods, making sure to poke them down into the sugar. Close the jar and leave for a week to infuse.
Label up your jar 🙂
Equipment
I like to use Kilner jars, but any reusable jar can look lovely with a handmade label.
Storage
Keep indoors with your other sugars. Will keep indefinitely.
Top tip
Keep adding sugar to the jar as you use it up, and the vanilla will keep imparting it's generous fragrance!
Vanilla Sugar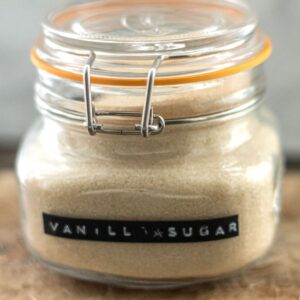 How to make a delicious and simple edible gift!
Equipment
500ml Kilner (or similar) jar

use as many as you want to make
Ingredients
Sugar

I use golden caster sugar, but any white sugar is fine

2

Vanilla Pods
Instructions
Sterilise your jar, ensuring it is completely spotless and dry

Fill the jar with your sugar.

Poke the vanilla pods into the sugar and close the lid.

Gradually the vanilla will permeate the sugar, and you will be given a delicately flavoured sugar, perfect for coffee, cereal or yogurt or baking!
Notes
I haven't worked out the calorie content here because it's just sugar. 
Nutrition Facts
Vanilla Sugar
Amount per Serving
% Daily Value*
* Percent Daily Values are based on a 2000 calorie diet.