Easy Vegan Overnight Cinnamon Caramel Pecan Rolls
Vegan overnight Caramel Rolls. I like to make life easy for myself, and I've often thought in the past that baking with yeast can be a little overwhelming. My vegan overnight cinnamon rolls recipe, with optional salted caramel/pecan sauce, is one such recipe. It is a yeast dough, but it is a joy to work with, and it has the bonus of being able to prep the night before. I love a breakfast that's ready to go the next day, as I am not a morning person!
This recipe is a hybrid: my own vegan classic cinnamon rolls recipe, and an old family caramel roll recipe. I first tried caramel rolls many years ago in Wisconsin, warm, straight from the tin, and they were amazing. I have changed up the recipe for vegans, and they are good.
There are two options: plain cinnamon rolls (although there is NOTHING plain about cinnamon rolls), and the caramel/pecan version. Now I'm not saying these are the world's easiest and most delicious cinnamon rolls, but they are pretty darn close.
Ingredients
Instant Yeast, make sure it's freshly purchased. I prefer the type in sachets as this stays fresher than the containers.
Sugar. I just use granulated to activate the yeast.
Soy Yogurt or plant based yogurt of your choice
Lemon Zest
Vegan Butter
Plain flour or all purpose flour
Instructions
First, make your dough. As I mentioned, this dough is so user-friendly. In a large mixing bowl, sprinkle yeast in a little warm water and sugar until it is frothy and ready to go to work!
To the yeast mixture beat in vegan softened butter, all-purpose flour, plant-based yogurt, and lemon zest, until your dough forms.
Now knead the dough, either by hand, on a floured surface, or using the dough hook on a food mixer, for 10 minutes, until dough is smooth and springs back when you poke it with your finger.
Cover with plastic wrap and leave to rise in a warm place for about half an hour, or until doubled in size.
If you want to make Caramel Rolls, make the caramel sauce at this point, following the directions in the recipe card below. I recommend making this now so that it has time to cool in the baking pan before you add your rolls.
Meanwhile, make your cinnamon sugar, mixing butter, cinnamon, and brown sugar, until you have a spreadable paste.
Punch dough down, turn out onto a floured surface, and using a rolling pin, roll into a large rectangle, about 1/4″ thick.
Using a spatula or back of a spoon, spread cinnamon paste over the surface of dough.
Carefully but firmly roll your dough, long side, into a swiss roll shape.
Cut the roll into (roughly) 2″ wide sections (you might find it easier to mark the spacing out before you cut them), using a sharp knife, or dental floss.
Place the rolls in your baking pan. Make sure that you select a pan that will hold the rolls snuggly, you don't want gaps in between your rolls. If you have made caramel sauce, you will be putting your rolls on top of the sauce.
Loosely cover with plastic wrap once more, and, if you want to cook them on the same day, leave them for their second rise, at room temperature, for an hour or so. Alternatively, place it in the fridge overnight.
The next morning, preheat your oven. Remove the plastic wrap from your rolls, and brush them with a little melted vegan butter.
Bake until they are golden brown. Leave to cool a little, before either spreading with vegan cream cheese frosting or, if you are making caramel rolls, turning out onto a serving dish.
There is nothing better than warm cinnamon rolls on Christmas morning, but these taste great any time of the year, and they are delicious cold too!
Try my other easy vegan breads
Overnight Vegan Caramel Cinnamon Rolls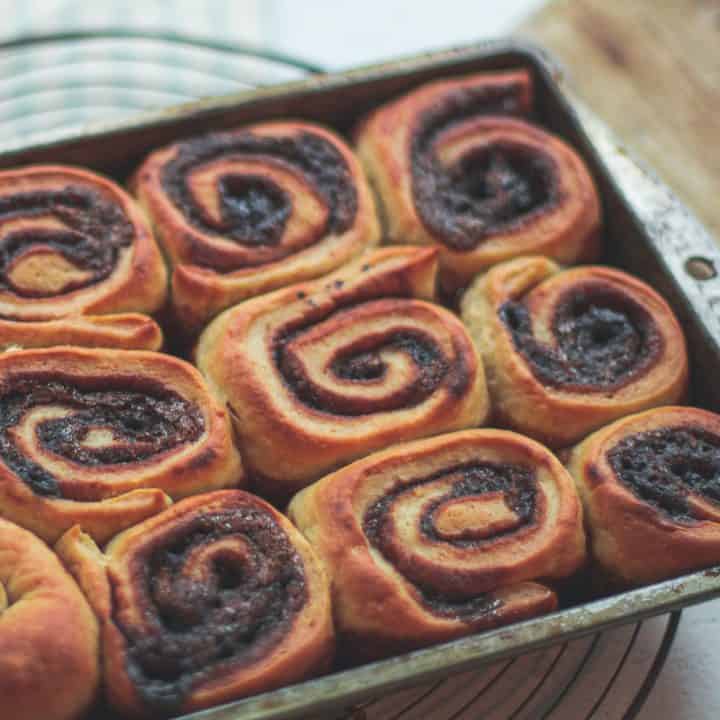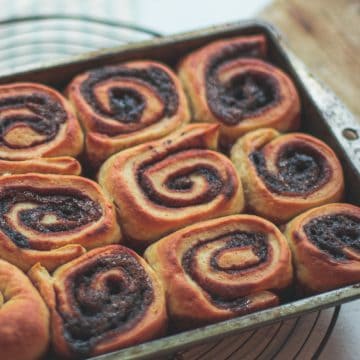 A straightforward way to make overnight vegan Caramel Rolls
Equipment
Baking Pan, lightly oiled
Ingredients
Dough
2½

tsp

Instant Yeast

-

(one sachet)

¼

cup

lukewarm Water

1

tbsp

Sugar

¼

cup

Soy Yogurt

-

or plant based yogurt of your choice

½

tsp

Salt

Zest of Half a Lemon

½

cup

Butter

-

vegan

2½

cups

Plain Flour
Filling
¼

cup

Butter

-

vegan, at room temperature

1

tbsp

Cinnamon

1

cup

Brown Sugar
Caramel Sauce (optional)
¾

stick

Butter

-

vegan

½

cup

Brown Sugar

2

tbsp

Maple Syrup

¼

tsp

Sea Salt

½

cup

Pecans

-

halves (optional)
Instructions
In a large bowl, sprinkle the Instant Yeast over the ¼ cup of lukewarm water. Add the sugar.

Leave to bubble and bloom for about 10 minutes.

Once the yeast is fully activated, beat in the yogurt, salt, lemon zest, butter and flour until you get a soft dough.

Turn out and knead for about 10 minutes or until smooth.

Place in a lightly floured bowl, cover with clingfilm and leave to rise for about 25 minutes, or until the dough has puffed but not doubled.
Caramel Sauce (optional step)
Add the butter, sugar, maple syrup and salt to a small saucepan and bring up to a gently boil.

Let simmer for a couple of minutes, whisking all the ingredients together until you have a thin sauce.

Pour this sauce over the bottom of your pan.

Cover the sauce with your pecan halves, if using.
Filling
Whilst you are waiting for the dough to rise, mix together the filling: butter, sugar and cinnamon until you get a paste. Set to one side.
To make the Caramel Rolls
Punch down the dough and knead for a couple more minutes.

Roll the dough out on a long work surface (longer than 2 feet at least), so that it is about 5 inches wide and 16″ long.

Spread with the vegan cinnamon butter, leaving about 1cm edge.

Carefully roll up, from the long edge, into a swiss roll. and pinch the edges together to seal.

Divide into 12 rolls, each about 2" wide. Turn them cut side up and place on top of the caramel sauce. Cover with tinfoil and, if desired, place in the fridge overnight for 12-48 hours before cooking.

If you want to cook them now, leave to rise for another 20 minutes whilst you preheat the oven.

Preheat oven to 200c.

When risen, place the rolls in the oven and bake for about 15-20 minutes or until just turning golden brown.
Serving the Caramel Roll option
If you have made the caramel roll version, remove from the oven, leave to cool for about 5 minutes, then turn out onto a serving plate. This makes them much easier to remove from the tin!
Serving the plain Cinnamon Roll option
If you have made your rolls without the caramel sauce, you can either serve them just like this, or you can leave them to cool for about five minutes before spreading with a vegan cream cheese frosting.
Please note that where the recipe asks for milk, butter or yogurt, this refers to any plant-based version that you prefer.
Nutrition Facts
Overnight Vegan Caramel Cinnamon Rolls
Amount per Serving
% Daily Value*
* Percent Daily Values are based on a 2000 calorie diet.