Easy Vegan Shortcrust Pastry
Once you have mastered the very easy skill of making Shortcrust Pastry, you are only one step away from a delicious supper or dessert. Here's my shortcrust pastry tutorial, to guarantee that you always have flaky, delicious pastry every time.
This recipe is for a single pie crust to line an 9″ pie tin. With some judicial rolling, you could make a double pie crust for an 8″ tin. If you are just using a single crust but a large pie tin, you will have some leftover scraps of dough. You can actually freeze these scraps to use again, although I'm not sure if it's really worth it.
Once you've gotten confident making pastry, you'll find that making pies is a breeze, and soon you'll be baking vegan apple pies or pecan pies in no time!
Ingredients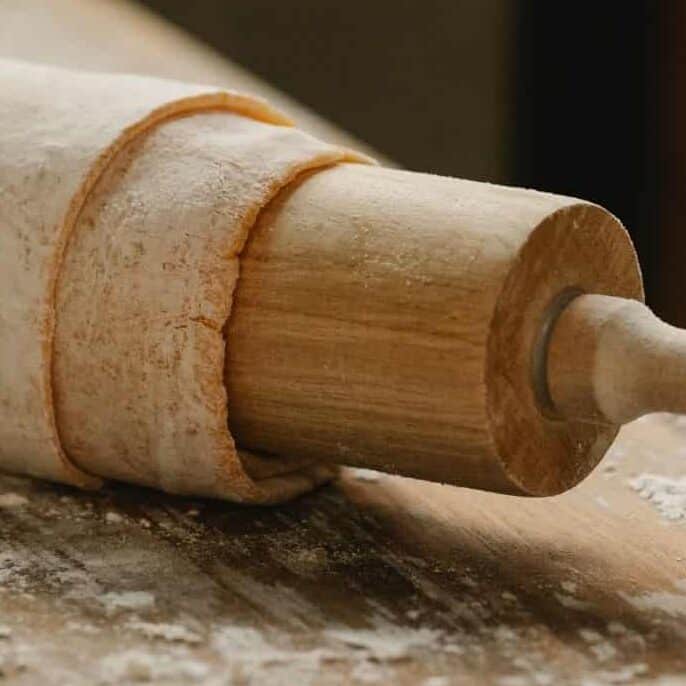 To line an 9" Pie Tin/Plate.
Plain flour or all purpose flour
chilled shortening, vegan, like Trex or Crisco. You could also use chilled margarine or a baking block.
Iced Water
Sea Salt
Sugar (if making a sweet pie)
Method
Sieve the flour into a large mixing bowl.
Add a pinch of sea salt.
Stir through, with a knife, the shortening. This helps to protect the butter from the heat of your fingertips and starts off the 'rubbing in' process.
Once coated, rub the butter into the flour with your fingertips until it resembles sort of porridge oats but you may have pea size pieces of butter left. Not to worry. Add a couple of tablespoons of the iced water and work it quickly into the flour and butter mixture.
Add more water if the mixture feels very dry and won't pick up the little crumby bits of flour at the bottom of the bowl.
Once the mixture has cohered, smack it lightly into a ball shape, wrap in cling-film and place in the fridge for at the absolute minimum half an hour but longer is much better, even overnight.
Variations: You can use an all vegan butter mixture instead of shortening, or a combination of the two. Shortening based pastry is curiously much easier to work with than butter although some people feel that the pastry tastes greasy when cold. I have not encountered this myself.
Instead of adding water, you could add some vegan double cream to enrich the pastry. This does make the pastry quite tricky to work with though so make sure it's well chilled before attempting to roll out and expect to have to do some patchwork. Once the tart is filled, you can't notice any odd spots anyway (providing of course that any holes have been sealed up).
Can I Fix Holes in my Baked Pie Case?
You can. I had this problem recently when I used shop-bought pastry (slapped wrist and lesson learned). You make a spackle, or thick flour-based paste, that works as a glue/putty. Here's a great tutorial from pastry chef Emily Luchetti, over at Saveur magazine.
In a small ball, mix together about 4 tbsp flour, to 1 tbsp water, adding more water until you have a thick but spreadable paste. Too thin and it won't do any good. Too think and you risk breaking more pastry as you try to spread it.
Using your spackle, patch up your holes and return to a low oven, about 150c for about 5 minutes, or until the spackle has "cooked". It won't be a perfect match for your golden pie crust colour, but once you have filled your pie, no one will ever know!
How do I Blind Bake a Pie Crust?
Blind baking is really handy if you want a short baking time, have a no-bake filling or a really wet filling. Not all recipes call for it; for example, my apple pie is cooked with raw pastry. The filling for that is not that wet and it has a low, gentle cooking time.
To cook, preheat your oven to 180c. Roll out the pastry, dousing your rolling pin, work surface and hands with flour, until it is about 4mm thick and looks like it will line the bottom and sides of your tart tin.
Carefully wind the pastry around your rolling pin and lay gently over the tart in, pressing it into the sides with your fingertips so that there are no trapped air bubbles.
Place a piece of tin foil or baking paper over the top of the raw pastry case and pour in enough baking beans (or I use dried black beans because that was all I had in the cupboard at the time – I now reuse them, storing them in an old jam jar when not in use) to cover the bottom of the tart.
Place in the oven for 15 minutes. This is called baking blind (and doesn't in fact refer to the steaming up of your glasses when you open the door of a hot oven).
After 15 minutes, remove the foil and the beans, press down any puffy parts of the case, gently with a fork, taking great care not to puncture the pastry.
Return to the oven to dry out for another 5 minutes. After this time, the case will now be prepped and ready for your filling.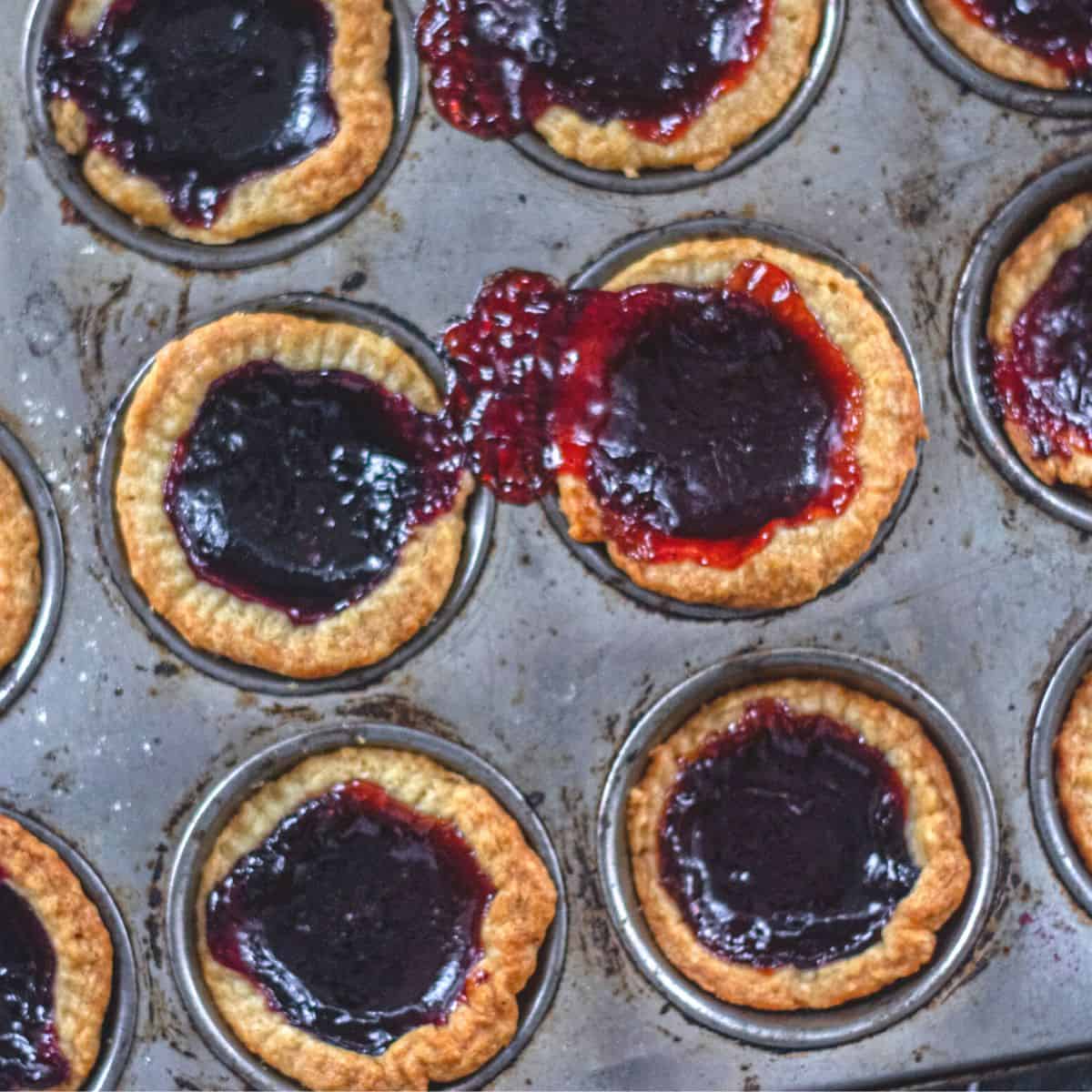 Try my other delicious pastry-based recipes
Vegan Shortcrust Pastry
A no-nonsense recipe to ensure that a delicious pie is just at your fingertips!
Ingredients
260

g

Plain Flour

-

(all purpose)

¼

tsp

Salt

¼

tsp

Sugar

150

g

Shortening

-

Vegetable, like Trex or Crisco

Iced Water
Instructions
To make the pastry
A flaky crust depends entirely on two things: keep it cold and don't overwork it. My dough almost resembles crumbs when it goes into the fridge. 

Mix flour, salt, and sugar in a large mixing bowl. Add cubes of very cold shortening to dry ingredients. Cut in with a pastry cutter or knife until a uniform crumbly mixture forms. Don't let it get warm!

Add about 3 tablespoon water and quickly mix in with a knife or pastry cutter. Add 2-3 more tablespoon as required. Dough should be crumbly and loose. Wrap tightly in clingfilm and place in freezer for 20 minutes.
To roll out the pastry
Divide dough roughly in half, it will still be a bit crumbly. Place dough ball between two sheets of clingfilm. Roll out thinly to suit your pie dish. If your dish is smaller than 8", you may have a few scraps left for decoration.

Remove top layer of clingfilm and line pie dish with dough, removing remaining clingfilm after lining. Repeat procedure for the pie lid.

Add filling to desired depth, pressing down gently to remove air gaps and provide a level surface.

Cover with remaining pastry, crimping the top and bottom edges, adding a few vent holes.

Bake in accordance with the rest of the recipe.
Please note that where the recipe asks for milk, butter or yogurt, this refers to any plant-based version that you prefer.
Nutrition Facts
Vegan Shortcrust Pastry
Amount per Serving
% Daily Value*
* Percent Daily Values are based on a 2000 calorie diet.