Five Best Places to Get Vegan Junk Food in the UK
This post contains links to affiliate websites, such as Amazon, and we receive an affiliate commission for any purchases made by you using these links. We appreciate your support!
Best vegan junk food UK. In an ideal world we would have a vegan restaurant available to us on every high street or in every shopping centre. Sadly life doesn't quite work like that, and we have to make compromises. Fortunately the larger food chains are taking notice of the demands of the ever-increasing plant-based community, and are now veganising their meaty favourites for us all to enjoy.
If you find yourself out and about with no decent vegan restaurants in sight, some of these fast-food chains maybe your best option (if you haven't packed yourself a sandwich instead). I've reviewed five of my favourite places to get your vegan junk food fix in the UK.
All of these places also deliver on one of the three delivery services in the UK: Deliveroo, Just Eat and Uber Eats.
Locations: Nationwide
The McPlant. 429kcals. Comparable to its meaty counterpart the quarterpounder, the McPlant is a delicious, reasonably priced burger, topped with a slice of plant-based cheese, lettuce, tomatoes, vegan mayo, mustard and ketchup.
Fries 337kcals for a medium portion. Post-2020, the classic McD fries were the only option for vegan fast food fans on their menu.
Veggie Dippers 160kcals for 2. Marketed as red pepper with pesto, the bulk of these dippers is actually yellow split peas. They also form their "Spicy Veggie One" wrap, which is vegan.
Hash Brown 127kcals. Seems to be the only substantial savoury vegan item on their breakfast menu since discontinuing their bagel.
English Muffin with Jam. Ask for this without the spread which has butter in it.
KFC Vegan Options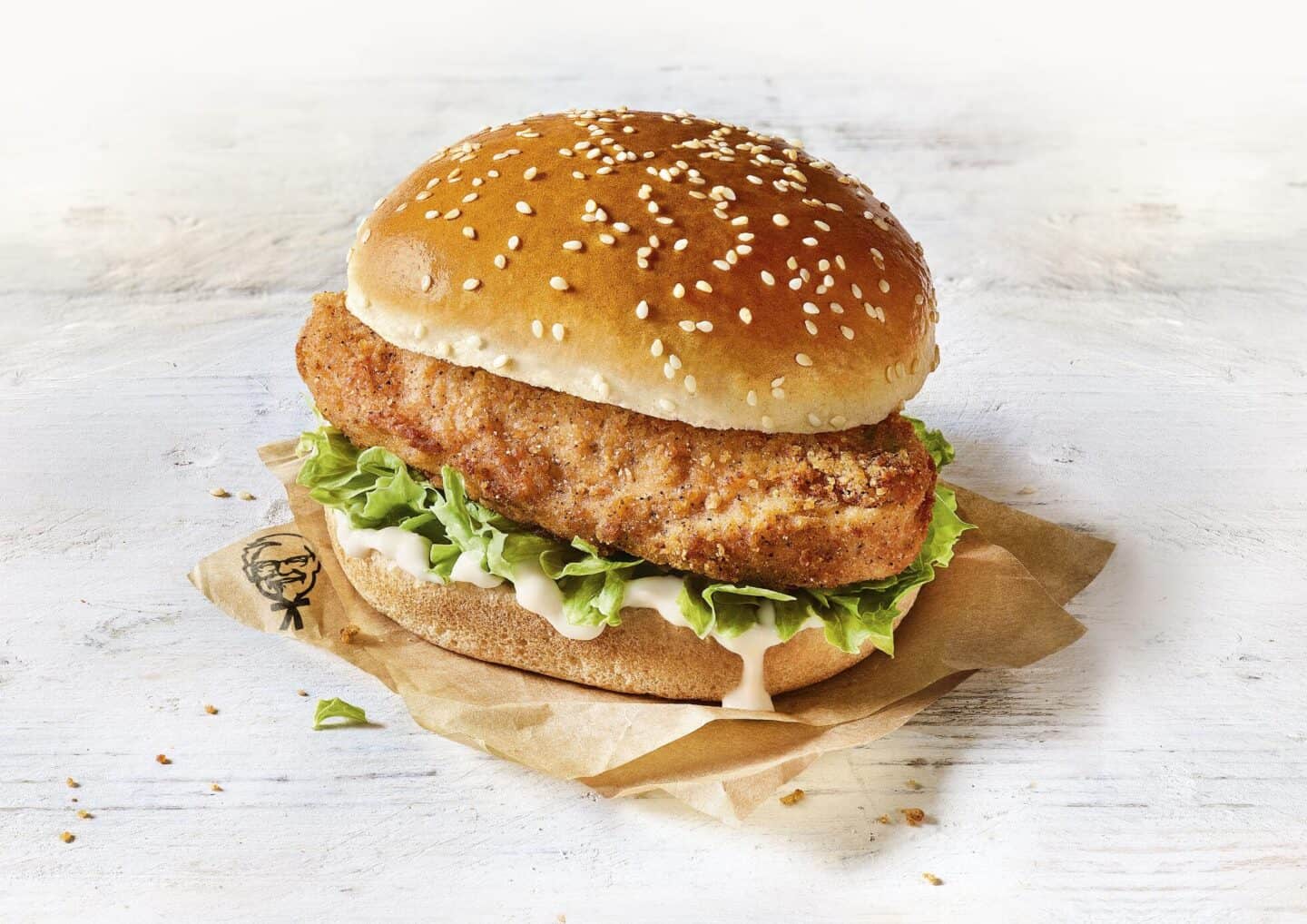 Locations: Nationwide
Original Recipe Vegan Burger 410kcals. A Quorn burger coated in the KFC original coating, topped with vegan mayo and lettuce.
KFC Regular BBQ Beans 105kcals.
Corn Cob 60kcals.
French Fries 270kcals. Note, these are not prepared separately from their meat-based meals, so bare this in mind when ordering their fries.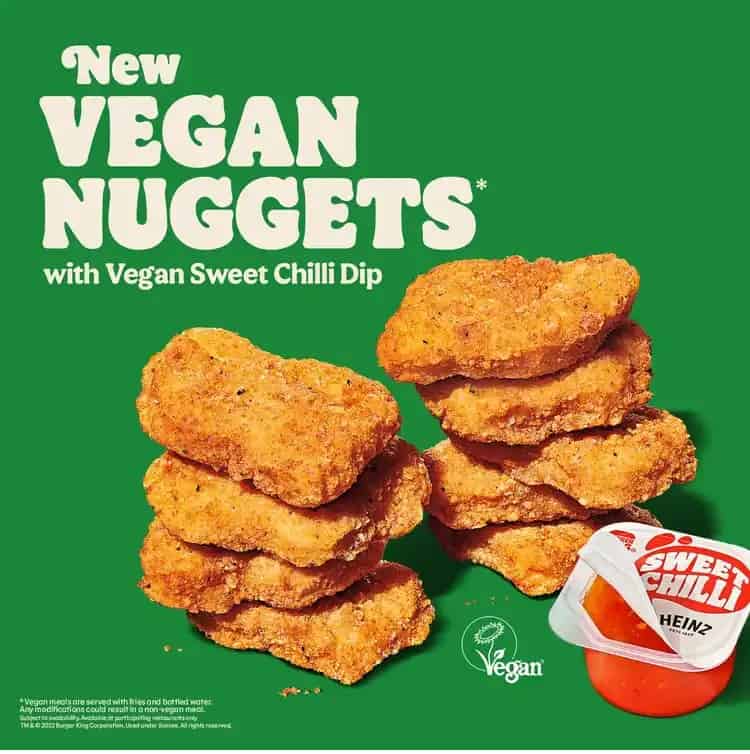 Locations: Nationwide
By far, BK have embraced the plant-based menu more than any other fast-food chain.
Plant-Based Whopper (quarterpounder style) 554.7kcals.
Note about the preparation of the plant-based Whopper, from the Burger King website:
"The Plant-Based Whopper® is plant-based, however it is cooked on the same broiler as our original Whopper® to delivery the same unique flame-grilled taste and therefore the product not certified by the Vegan Society®."
Vegan Royale (chicken-style) 571.2kcals
Vegan Nuggets, 243kcals per nugget
Fries regular, 276kcals
Vegan Katsu Royale
Plant-Based Katsu Chili Whopper
Subway Vegan Options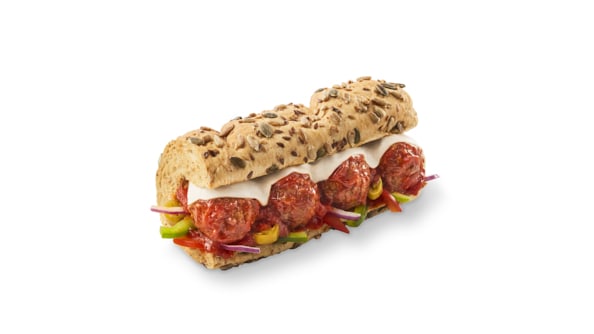 Locations: Nationwide
What vegan options are available at Subway? Subway has long been the stalwart of people looking for a quick and filling vegan lunch, with the Veggie Delite still being a favourite. The only bread that is NOT suitable for vegans, is the Italian Herb and Cheese.
Veggie Delite 6″ 216kcals
Plant Patty sub 6″ 368kcals
Meatless Marinara Sub 6″ 400kcals
Vegan Double Chocolate Cookie 220kcals
Meatless Meatballs 162kcals
Mozzarella-style Cheese-free Toasted Bite 102kcal
TLC (Tastes Like Chicken) Sub, 6″ 325kcals
TLS (Tastes like Steak) Sub, 6″ 317kcals
Hash Browns 153kcals
Crispers 227kcals
Papa Johns Vegan Options
Papa Johns (and indeed Dominoes and Pizza Hut) have all been working on perfecting their vegan options. Papa John's though have a constantly evolving vegan menu that includes:
Pizzas
Note: nutritional data varies depending on crust, slices etc.
Vegan Sausage and Pepperoni Pizza
Vegan Garden Party
Vegan Cheese and Tomato
Jackfruit Pepperoni
The Vegan Works
The Stinger
Vegan Chilli Freak
Sides
Cauliflower Wings 300kcals (these are also gluten free)
Vegan Cheese Potato Tots (also available with jalapeno) 537kcals
"Not Chicken" Vegan Bites 360kcals
Vegan Cheese and Marmite Scrolls 450kcals
Cheesy Chilli Bites (my local store doesn't stock these yet) 415kcals
Dessert
Cinnamon Scrolls 293kcals per serving (4 scrolls)
Various Ben and Jerrys Ice Creams
Check out my other vegan guides here: