Vegan Food in Camden Market. When you think of shopping in London, along with Harrods or Hamleys, you will probably also think of Camden Market or Petticoat Lane, or Covent Garden.
Jump to:
I still have vicarious flashbacks of Camden Market in the 60s, heady with the smell of incense, and Hare Krishna being chanted.
A Brief History of Camden Market
Camden Market actually began in 1974, so my 60s dream is out of the window. However, I'm fairly sure that Camden High Street was still heady with the smell of incense etc etc. And just maybe I'm confusing it with Carnaby Street. But back to the market. At the back of Dingwalls, just 16 stalls opened up, selling arts and crafts, and as the area has bloomed culturally, so too has the market. It is the largest open air market in London. Dingwalls is famous/infamous for being a punk music venue in the 70s, and the whole area is steeped in originality, history and a sense of community.
London has a long, rich and sometimes lurid history that draws millions of visitors to it's streets year after year. It was the first "far away" place I visited as a child, a school trip to London Zoo, a bus crammed full of over-excited 8 year olds. I remember the customary child vomiting somewhere near the back of the bus and our weary, but unsurprised teacher having to clear it up, whilst the rest of us gagged as the smell hit our noses.
Kids recover quickly from puking sessions, particularly when it's caused by a bumpy bus journey, and we all gazed up out of the smeary windows at huge tower blocks, zebra crossings that seemed way to far for me to ever be able to cross, and people. So many people.
And all the fat, skinny people

And all the tall, short people

And all the nobody people

And all the somebody people

I never thought I'd need so many people

David Bowie - Five Years
I've visited London so many more times since, and it has changed so much in four decades, but it fiercely retains one thing: its individuality. Since lockdown, we all have suffered, privately and publicly, but it is devastating to watch vibrant cities be slowly suffocated by restrictions. However, much like plants that you see growing in concrete, this year those cities and towns are starting to thrive again, and are emerging more beautiful, more vibrant, more original than ever.
But this article isn't about me, or my feelings for London, although in many ways, I suppose it is. London doesn't need me to be its champion; it has spoken loudly for itself for centuries, and will continue to do so. All I can do is share my experiences of finding vegan food amongst the plethora of food stalls, and markets and eateries that line every street. If you follow my blog, you might have already read my article about Borough Market.
None of my guides are in anyway definitive. We live in an ever-increasingly plant-based society and for every food stall ore restaurant I write about, there will probably be another 20 that are just as good that I haven't tried yet (and if so, please let me know in the comments!). More, they are just places that we've stumbled across, hidden gems or notoriously good places to enjoy a cruelty free option.
Of course, there are hundreds of little shops and stalls at Camden Market, but whilst you're there take a walk down Camden High Street, or pop into Buck Street Market, just up the road, for a truly sustainable visit.
1. Grab a Bubble Tea at Temple of Boba or truly traceable coffee at Glass
Located in Unit 2.14, upstairs at Buck Street Market, this place does the best Bubble Tea I have ever had, with a huge fully customizable menu. The boba barista was so helpful when I asked for his recommendation (Taro), a truly unique, sweet, but not too sweet drink. You can choose how much sweetener you want, whether you want chunks of fruit, what kind of milk, how much ice etc etc.
On the menu is both milk and tea boba, so if milky drinks are not your thing, go for a refreshing boba-style iced tea instead.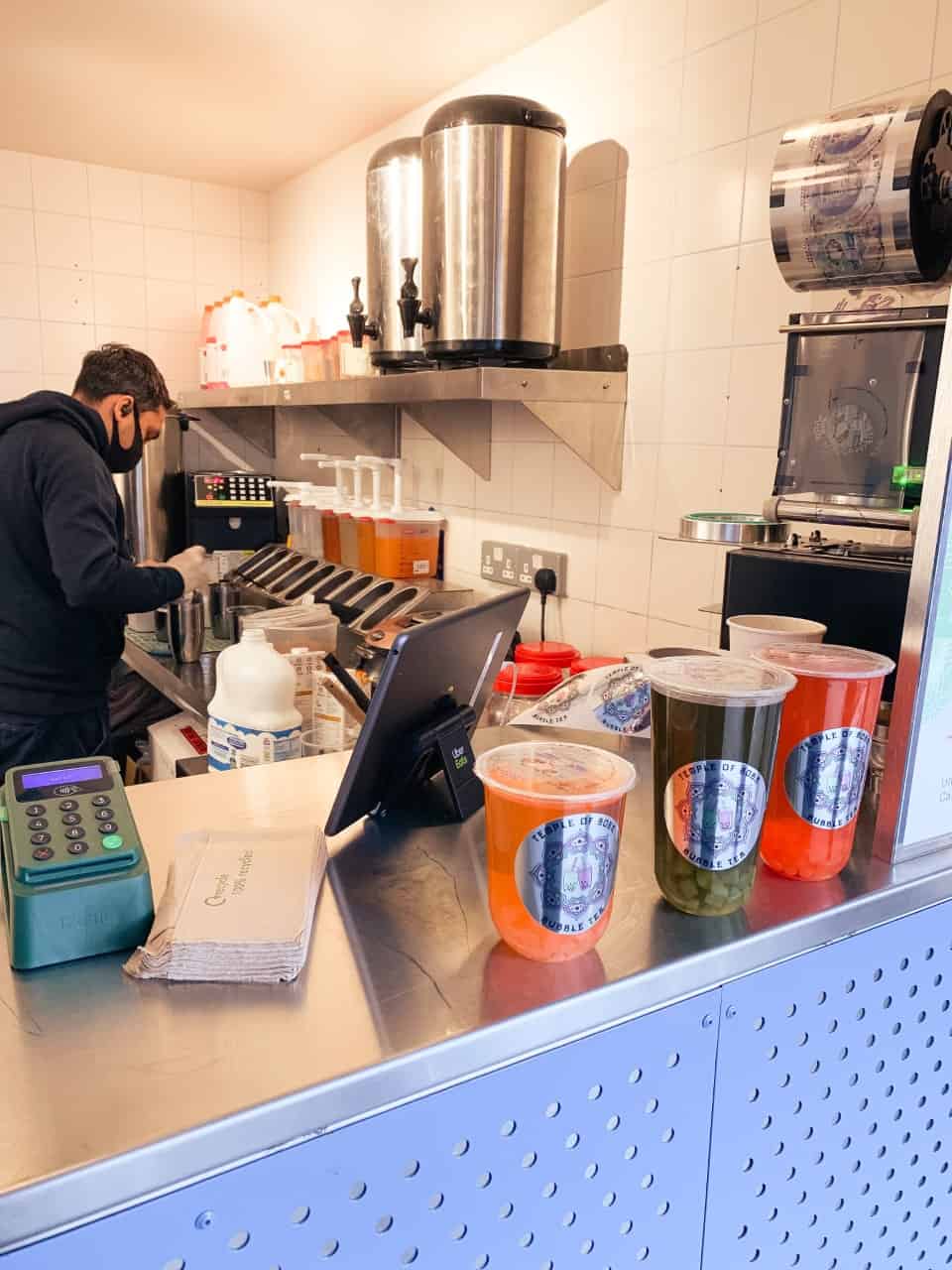 Next door to Temple of Boba is the unique coffee booth, Glass. Each drink comes with a unique QR code which you scan and trace exactly where your coffee beans, oat milk, cup and sugar came from. Really cool, next level coffee.
I don't just visit these places to eat out, I like to come away with some goodies for the rest of the week! Oseyo does the largest variety, hands down, of any noodles I have seen anywhere. Of course, check the ingredients as some will contain meat or fish stocks/flavourings, but there is plenty here of interest to the vegan Asian food lover. I stocked up on kimchi and wakame, and bought some Natto to try (watch this space). They also stock fresh Asian veg, so it's worth a pop-in just for that.
3. Enjoy a Poké Bowl at Island Poké
Island Poké has just opened at Camden Market, down in Lower Market Hall, and is well worth a visit. The creators of your Poké bowl are friendly and knowledgeable, advising you the best ingredients that work together, and kindly steer you in the right direction, should you want something a bit too wacky with your tofu. This was the first Poké bowl I've had, and I really enjoyed the mixture of different flavours and textures. I can image this place being hugely popular once the warm weather finally gets here.
4. Get Your (Healthy) Junk Food Hit at Neat Burger
Honestly, this place is beyond cool. It is retro pink and green, if the houses that lined the street in Edward Scissorhands had relations with a Hawaiian Tiki Bar. That's a bit how it looks, but it's very much a modern eatery. You order your food from their click and collect machine, grab a seat whilst it's prepared and pretty soon, you'll get a pink box arrive with your delicious vegan food.
The ordering machines are completely customisable, right down to the type of sauces you want, if you want to add pickles, if you want to remove pickles, no problem at all.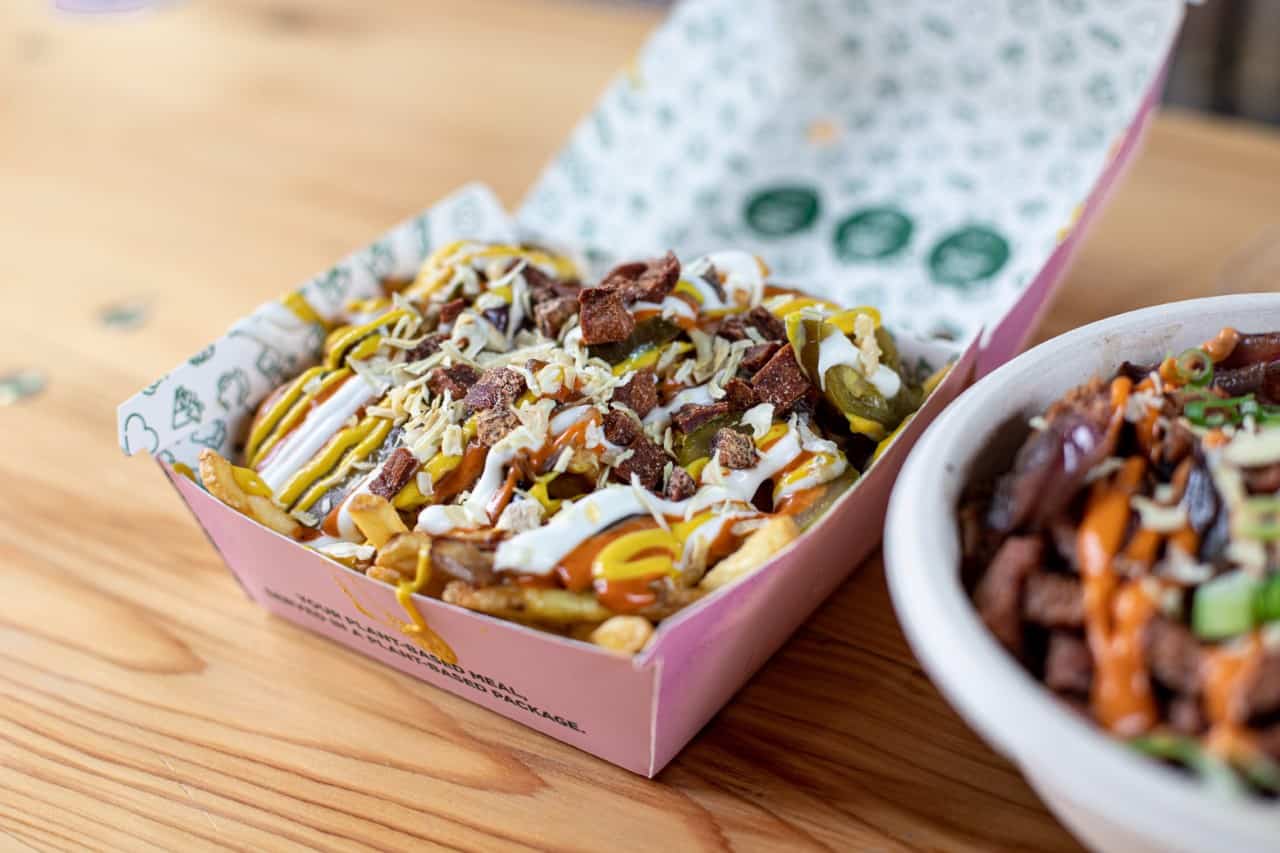 I cannot recommend highly enough their fries, and I made them nasty! Which, for older people, is actually making them really really nice. Also, Lewis Hamilton is also a fan, so if you like motor racing, this may or not be a plus ?
As it says on their website:
Neat Burger is the first of it's kind! Ethical, sustainable and delicious, we grill with plant-based passion and serve with style.

We are the planet-friendly plant-based full-flavoured game-changer that the world has been waiting for.

Come down and eat Neat today!

Neat Burger
5. Finally, sweet tooth cravings?
Camden's got you covered. From the Cafe de Nata serving up hot, fresh vegan Pastel de Nata's, to Lili's Premium vegan hot chocolate, from vegan friendly churros to mango Lassi at Chin Chin Labs, there is definitely something to satisfy every sweet tooth.
So, whilst you browse the alleys of Camden, gazing up at the sun dappled umbrellas, here's a few suggestions of where you can eat. The only problem is, choosing between everything.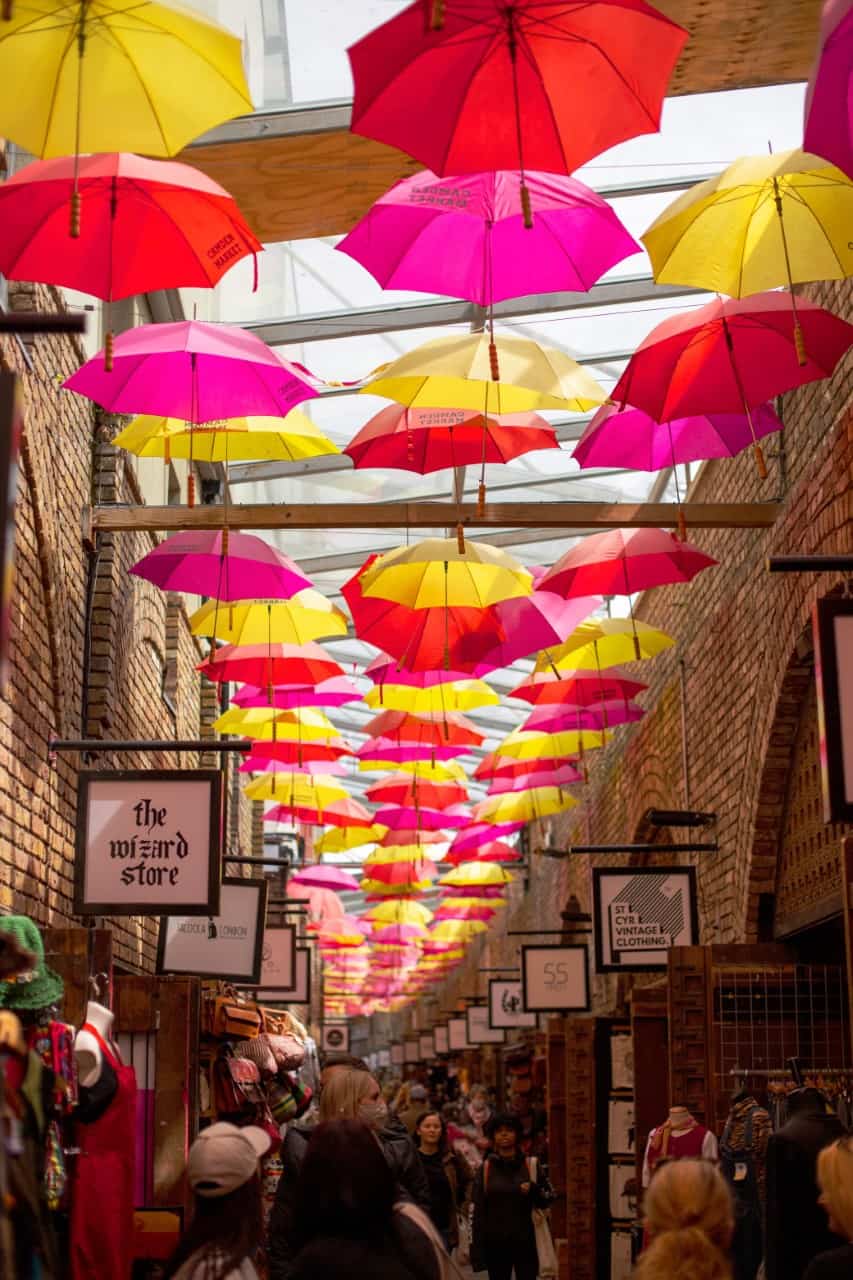 Check out my other vegan guides: