Disclaimer: this is a Guide to Vegan Drinks at Costa Coffee UK 2021. If you are in the US and are interested in what Vegan drinks you can get from Starbucks, click here. Updated September 2021 to reflect new menu changes.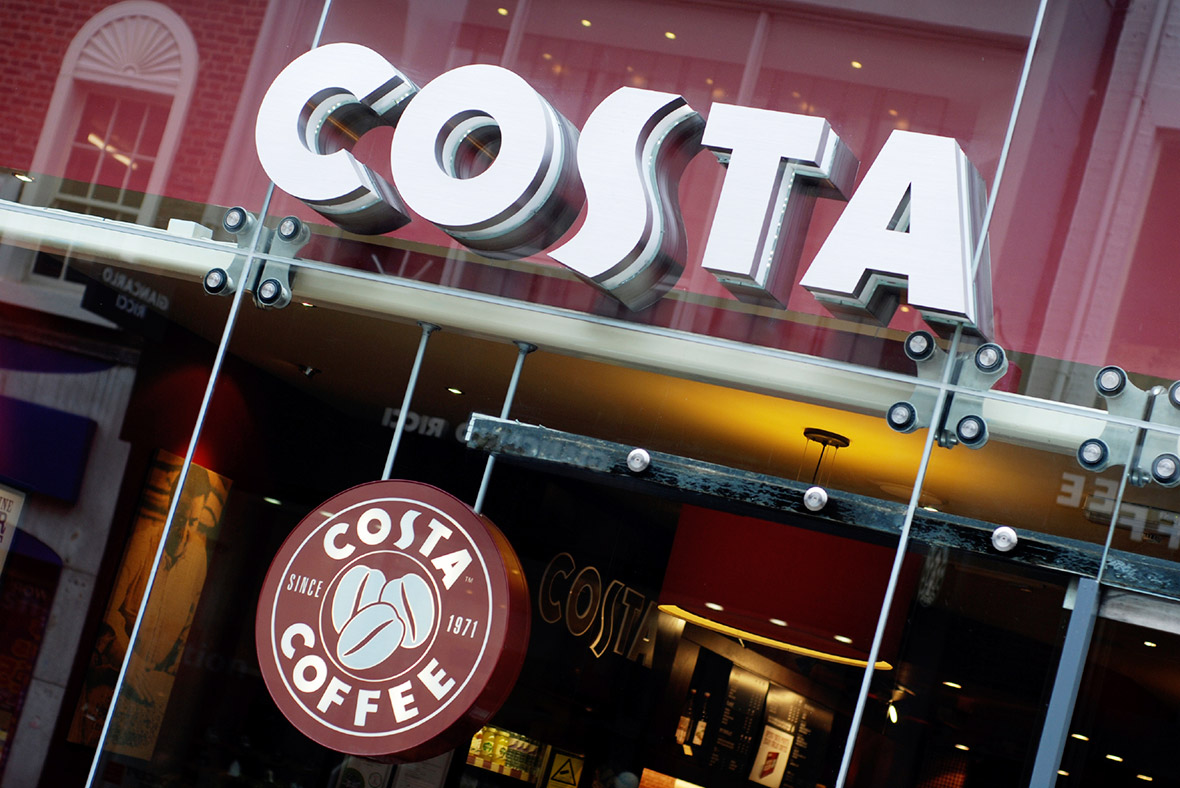 I remember, many years ago, being excited by the opening of a new type of shop on the high street: the Coffee Shop. If you are American, you will find the concept of Coffee Shops to be as old as time itself. In the 1950s, the Beatniks spent hours sipping black coffee (whilst using other stimulants) to debate endlessly about poetry and jazz, in the 90s Dale Cooper enjoyed his coffee black, too, along with a slice of damn fine cherry pie.
"Black as midnight on a moonless night."

Dale Cooper
Then came perhaps the catalyst: Central Perk in Friends opened Brit's eyes to the social aspect of coffee drinking. UK options were limited for daytime coffee soirees: we had pubs (not necessarily family friendly), and greasy spoon cafes. But we didn't have cosy, intimate places to meet friends during the day and enjoy a hot drink and a piece of cake.
When coffee shops first started popping up on the High Streets of the UK, they only had simple menus with the drinks that are still among the most popular today: Lattes, Americanos, Cappuccinos, Flat Whites, Tea. These were offered with a Soya Milk option but not much else was on the menu for vegans.
Fast forward 15 (or more) years, and most restaurants and coffee shops on the High Street cater to all dietary requirements. It is still tricky trying to find something for the gluten free/vegan but they are getting there.
So, here are drinks that are vegan friendly and can be found in your local branch of Costa Coffee. Please note, some stores may not stock all the vegan food options. I worked for Costa for 6 years and smaller stores often have more limited availability, however, you should always be able to find a fine selection of plant-based milks in store.
It's really important to remember that if you're unsure what is vegan, just to ask your barista: they are trained intensively to know exactly what you are after and give you coffee advice.
What Coffees are Vegan at Costa?
All Costa coffees (with the exception of the mocha) can be veganised, just ask for your preference of milk:
Flat White
Americano
Latte
Cappuccino
Cortado/Caramel Cortado
Espresso
Macchiato
What Plant Based Milks are available at Costa?
Soya
Coconut
Almond
Oat (gluten free)
What Syrups and Speciality Flavours are Vegan at Costa?
So this one is both easy and difficult. All the Monin syrups (this includes Caramel, Hazelnut, Vanilla, Sugar Syrup, Gingerbread) are all vegan. However, some of the festive sauces are not, and contain milk.
Presently, due to Covid Lockdown restrictions, Costa do not offer the larger variety of festive drinks they normally have, and it is worth checking because a drink that might have been vegan last Christmas, may have had the ingredients reformulated, and may not be vegan this year. In previous years, the Black Forest Syrup was vegan.
Currently, Costa are only offering one speciality drink that is vegan: their Latte+ Range, which is a Latte with additional B12 powder.
As of June 2021, Costa are offering a new range, their Golden Caramel range. Out of the drinks advertised, the Golden Caramel Latte, Golden Caramel Cappuccino and Golden Caramel Iced Latte are all vegan. However, as mentioned before, if you ask your barista, they will add a shot of this syrup into your favourite vegan drink.
What Non-Coffee Hot Drinks are Vegan at Costa?
So what can you drink at Costa if you don't like coffee?
All the Tea and Tea Infusions
Chai Latte
Is Costa Hot Chocolate Vegan?
Unfortunately, Costa took the decision to change their hot chocolate recipe and it now contains milk, which is really disappointing for lots of vegan hot chocolate fans, or people with milk intolerances. Hopefully they will reformulate the recipe, but as of May 2021, Costa's hot chocolate is not suitable for vegans.
What Cold Iced Drinks are Vegan at Costa?
The Mango and Red Berry Fruit Coolers
Peach Iced Tea
Strawberry Tea Infusion
Iced Lattes (made with plant-based milk with a Monin syrup)
Cold Brew (without the topping)
Iced Americano
Coffee Frostino. This can have an additional Monin syrup shot added to it.
Costa's Mint Frostino syrup is vegan, I personally checked a bottle and it states that it is suitable for vegans. Just make sure to order it without cream or chocolate sauce/sprinkles and with dairy-free milk
Costa's Strawberry Frostino syrup is also vegan. Again, order without cream and with your choice of dairy free milk.
Unfortunately, the Iced Cappuccinos and Flat Whites are prepared with a dairy foam topping, so these are not suitable.
What Food is Vegan at Costa?
Costa have been consistently good with their vegan food options, particularly their cakes, but it does depend on what store you visit. I would recommend that if you want to visit a specific store for a cake and a coffee, give them a call first to make sure that they have some vegan options for you ( at the time of writing though, Costa are only offering takeaway options due to Covid restrictions).
Rocky Road Slice
BOSH Ultimate Chocolate Slice
Lotus Biscoff Cheezecake (not all stores stock this)
Jamaican Ginger Loaf Cake
Vegan Smokey Ham and Cheeze Toastie
Vegan BBQ Chick'n Panini
Brown and white toast (make sure to ask for dairy free spread), plus the toasted teacakes
Oink Vegan Bacn Bap (this an exciting new addition for Autumn 2021, and as of 1st September 21, is available in stores).
Gingerbread Latte Cookie
Impulse Gingerbread cookie, vampire
Jammy and Fruity Flapjack
Updated September 2021