5 Amazing Places to Get Vegan Food in Brick Lane and Spitalfields Market
5 Amazing Places to Get Vegan Food in Brick Lane and Spitalfields Market. If you are visiting Brick Lane, check out these amazing vegan food recommendations!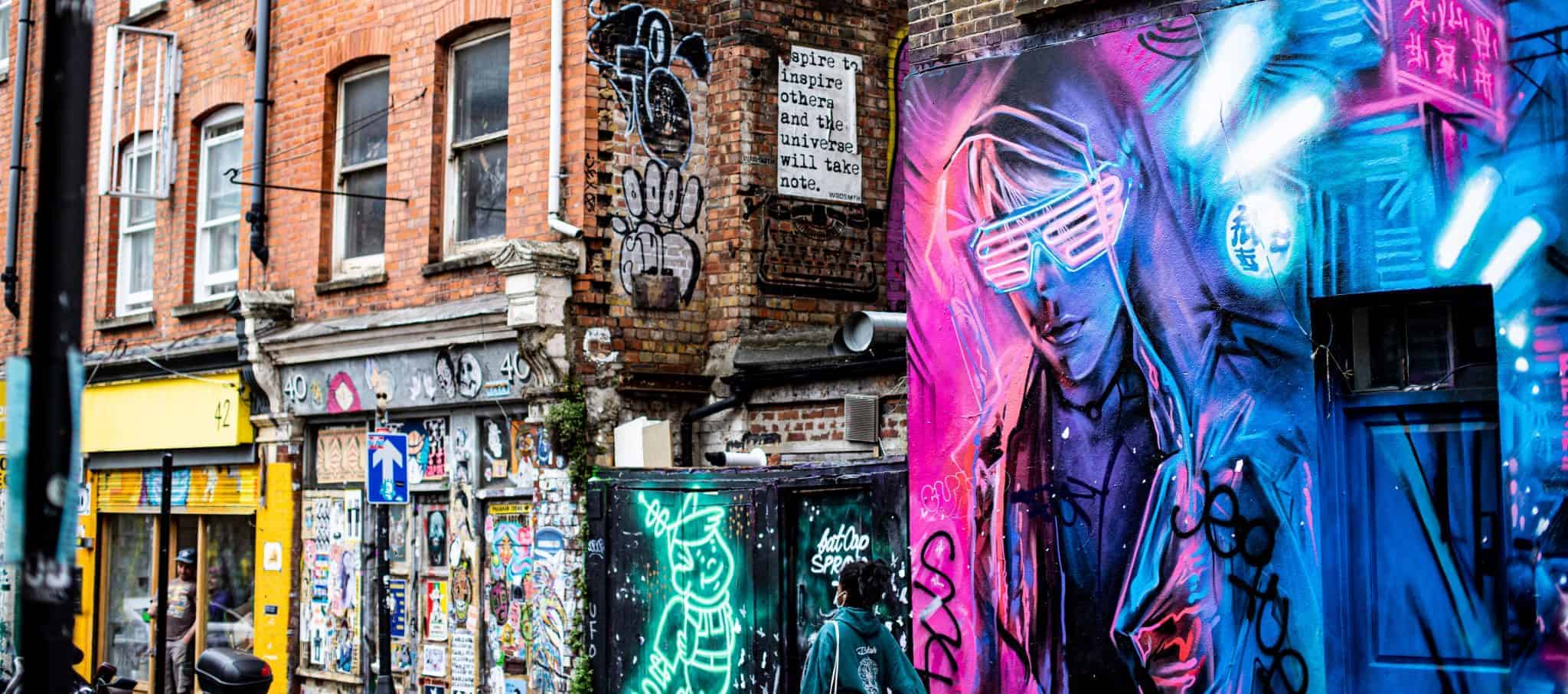 So, if you enjoyed my previous guides to vegan food in London, Camden Market and Borough Market, you'll love this one!
Where Is Brick Lane and Spitalfields?
Spitalfields Market and Old Spitalfields Market is in London E1. I get the train from Chelmsford to Liverpool Street and it's a short walk from there. We are entering Jack the Ripper territory, leading down to Whitechapel. If you are a true crime buff, spend the day eating, then the evening doing a little spooky tour of the area.
Brick Lane is a super cool place to visit, it's quite trendy and you will see hipsters, but don't panic, it's a pretty diverse area, and you will have a lot of fun browsing the secondhand clothes and record stalls, or just sipping on a local brew people watching. There is a so much local art on display, with loud music, and the smell of amazing food in the air, you can't help but be taken in by the charm of Brick Lane.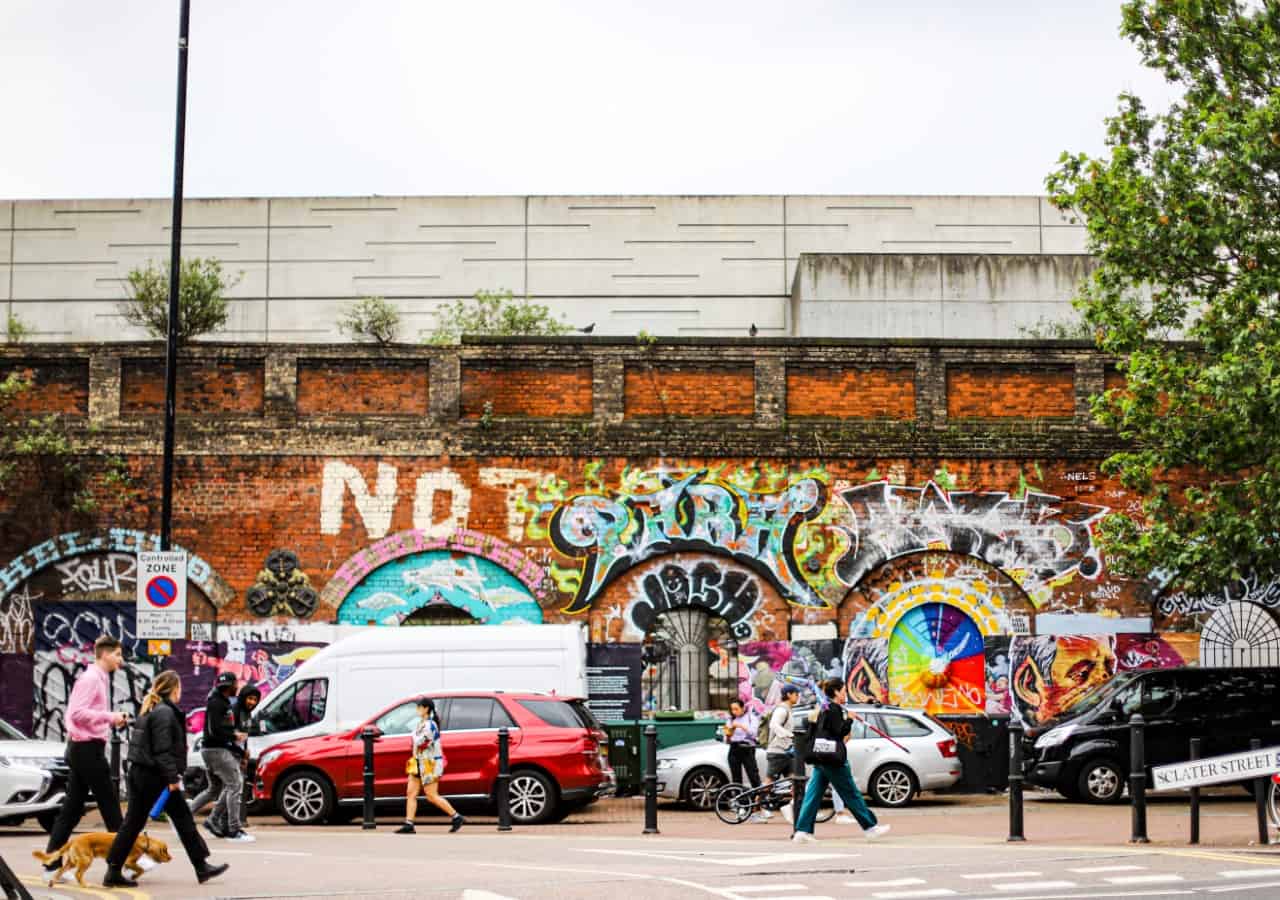 If you fancy a curry, Brick Lane is fondly known as Banglatown and you will find the best curry here somewhere, although you may need to shift through the many, many restaurants to find your favourite!
Furthermore, you may have heard of Brick Lane Bagels. The vegan choice here is pretty slim, just peanut butter, but buy some plain bagels and whip up your own amazing bagel fillings at home!
1. Get Caffeinated (or decaffeinated if that's your preference) at Grind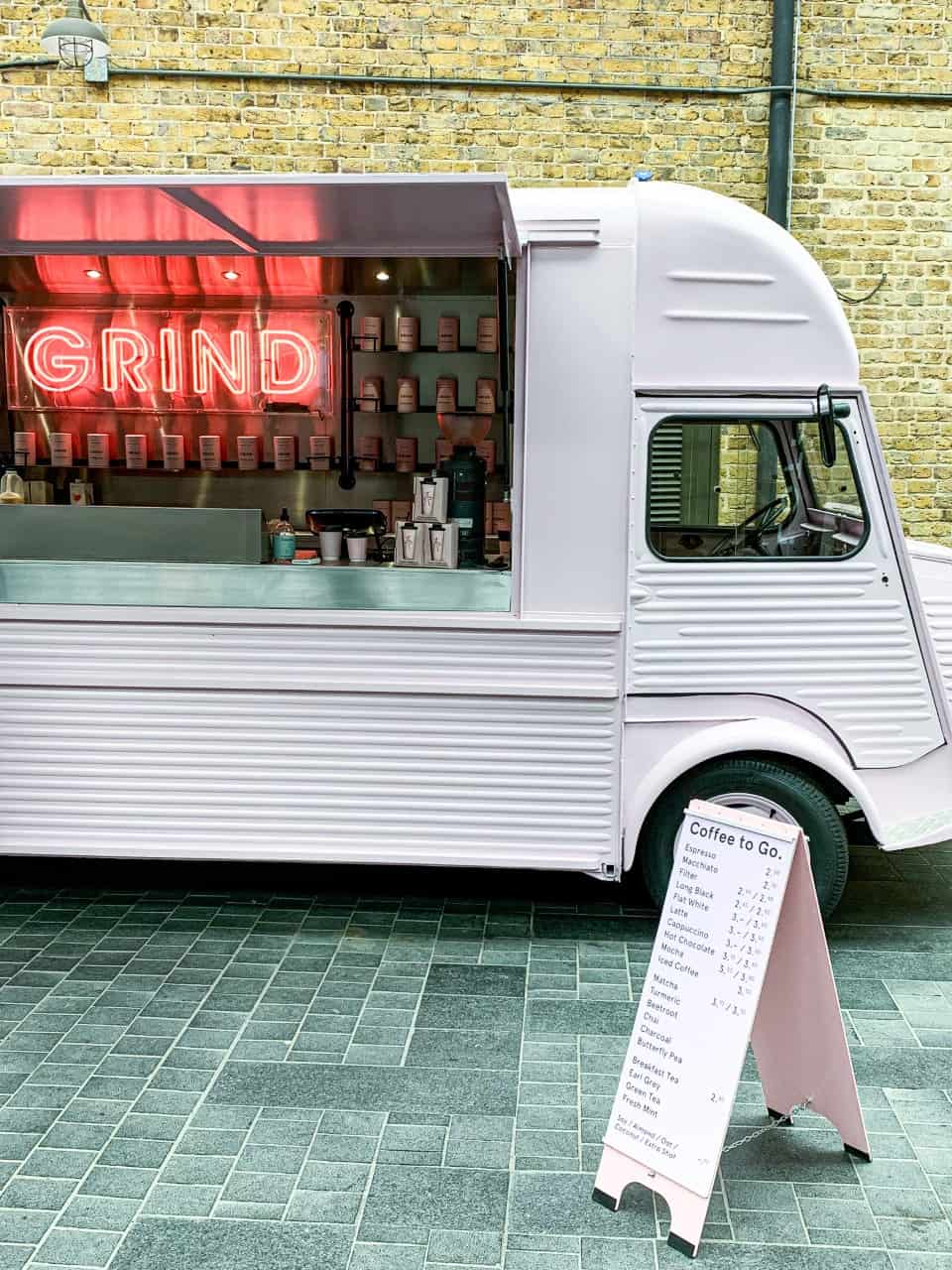 Firstly, grab an organic coffee at the Grind's pink coffee van in Old Spitalfields Market. They offer the usual coffee fare, but also also have a great selection of unusual lattes, in a rainbow of colours: charcoal, butterfly pea, turmeric, matcha….
2. Try the AMAZING 100% Vegan Ethiopian Food at Merkamo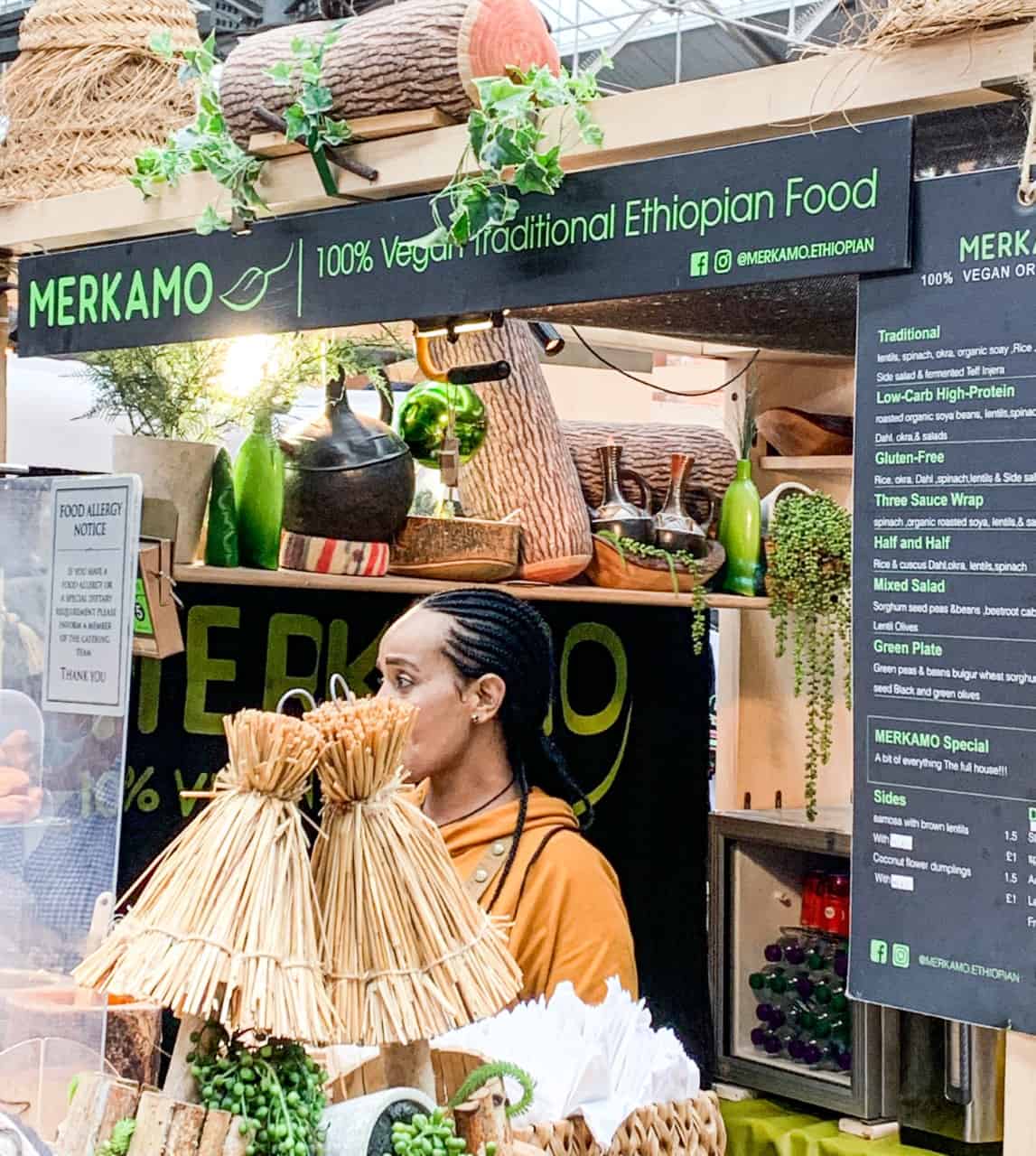 I admit, I was an Ethiopian Food virgin, but I had always wanted to try it. When I saw the Merkamo stand in Old Spitalfields Market, I knew it was a sign! We tried the Full House, for £8.00, which was a bit of everything and it was amazing. Flavourful, spicy, herbacious, healthy, and light. You will get lentils, chick peas, injera bread and the most stunningly seasoned vegetables, including my personal favourite, okra. It is mostly all gluten-free as well, so everyone is catered for. We shared the Full House, but honestly I could eat one by myself. And probably everyday. Open 7 days a week, 11.30-5pm.
3. Visit La Fauxmagerie – The UK's First Plant-Based Cheesemonger
I wrote about my love for La Fauxmagerie here, but I finally got to visit the actual shop on my visit. It was very quiet in there, and the shop assistant was so attentive, giving us slices of their cheeses to try. It was hard not to walk out with a one of everything, but I highly recommend the Strictly Roots Baby Blue (I used it in my vegan Arancini, here).
Find La Fauxmagerie at 20 Cheshire Street, London E2 6EH
Tip: bought too much vegan cheese? If it's nut-based, you can freeze it!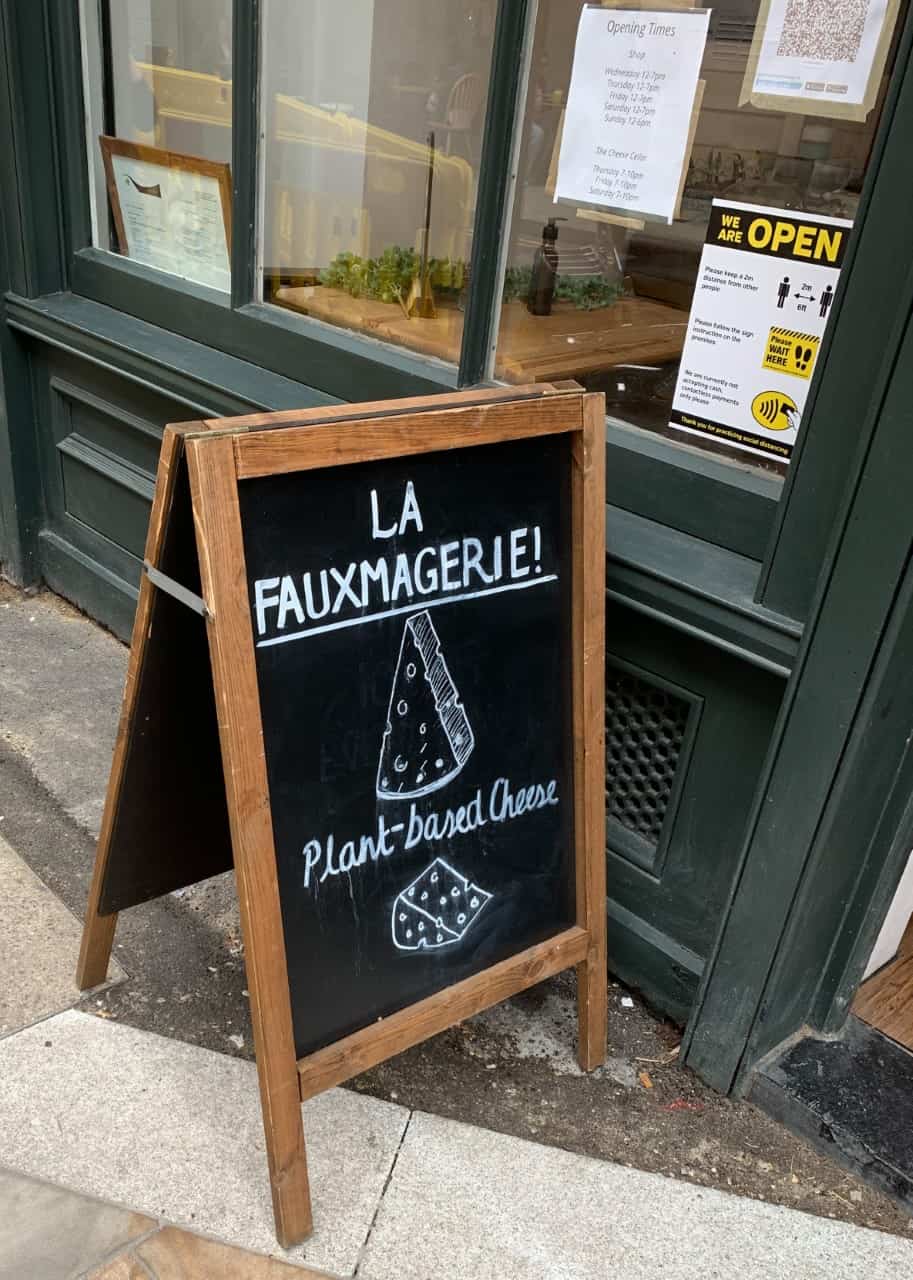 4. Hot Day? Grab an Awesome Nut-Based Ice Cream from Dappa
This little ice cream van, placed strategically in the square around other vans serving chicken wings, ribs and other meaty meals seems a little incongruous or even anarchic, but this is Brick Lane, remember. Dappa do the most amazing nut-based ice creams and cones, decorated with vegan flakes or Kinder Bueno-style decorations. Even if you are not vegan, this ice cream is truly amazing, creamy, flavourful and very, very moreish.
As the peeps at Dappa say themselves, their ice cream is:
thick, rich & outrageously creamy

peeps at dappa
Ely's Yard,
91 Brick Lane, Spitalfields,
London, E1 6QL
5. Get your Fast Food Fix at Mooshies
Mooshies might just be one of THE best vegan fast food restaurants period. They offer a selection of four awesome vegan burgers: the Magic Mushroom, the Fillet-Om-Fish, What's Ur Beef and Pulled Mooshie. You can kind of work out what each of these are from the names, but they are not just vegan versions of carnivore classics. They are flavour filled burgers, prepared lovingly from plant-based ingredients and are so delicious, no one cares that they're cruelty-free, the taste is just that good.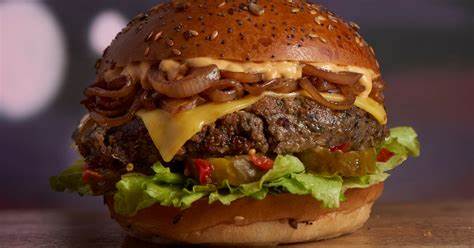 What is even more exciting, is that Mooshies now offer Mooshies at Home. You can make your own Mooshies burger from a kit that gets shipped directly to you door! A great alternative for people who can't get to London regularly.
Mooshies is at 104 Brick Lane, London, E1 6RL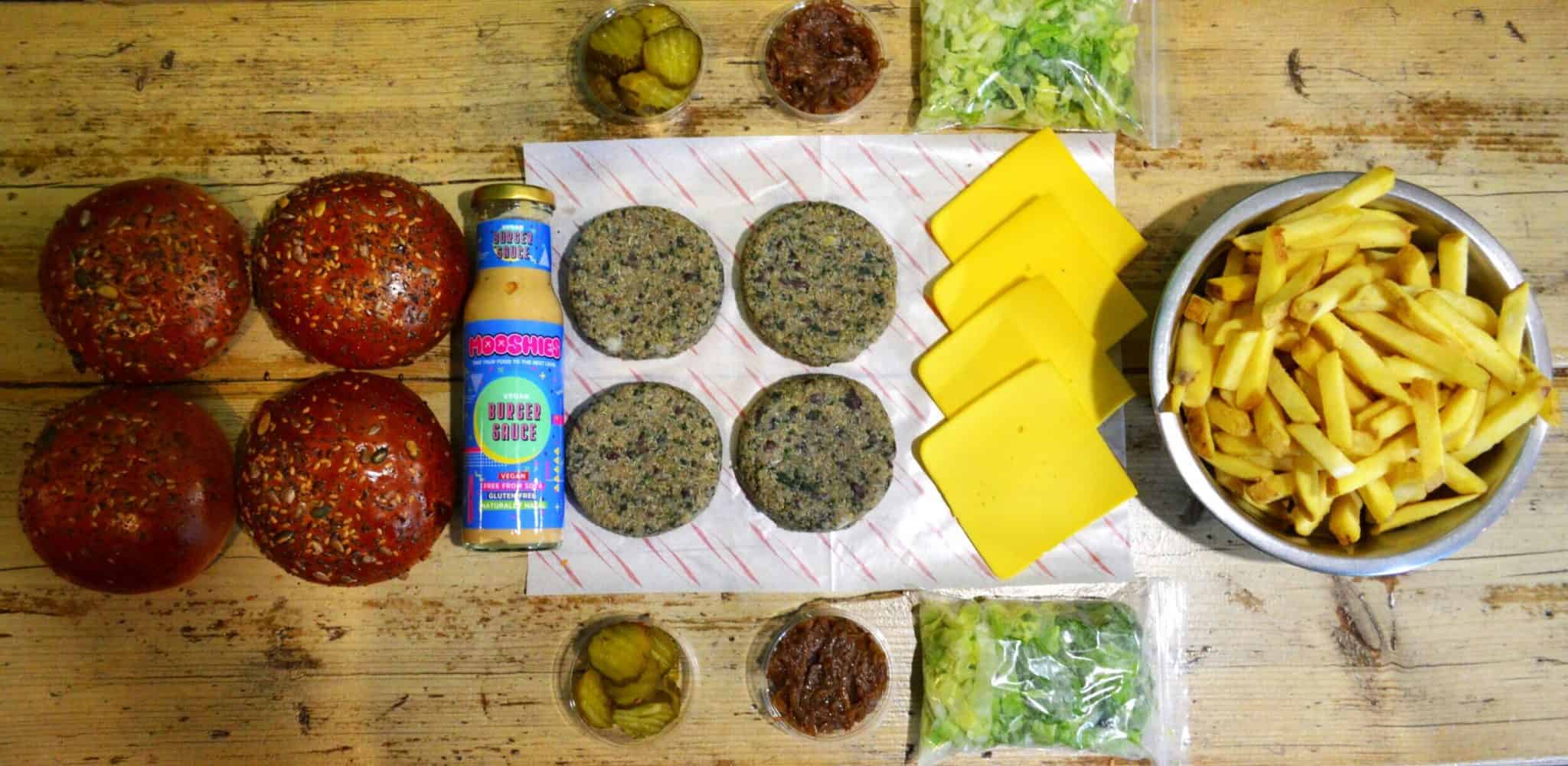 So that's five awesome places to grab vegan food and drink in Brick Lane and Spitalfields Markets. Leave a comment below if you want to recommend somewhere else!