How to Make Vegan Overnight Oats
This post contains links to affiliate websites, such as Amazon, and we receive an affiliate commission for any purchases made by you using these links. We appreciate your support!
Vegan overnight oats. Overnight oats are a great make ahead breakfast and a quick way to ensure that you have a delicious healthy meal waiting for you in the morning.
If you make them in a jam-jar or Kilner Jar, you can make them, screw the lid on and take them to work for an on-the-go breakfast! I love to just make them on a Sunday Night, leisurely, knowing that when I wake up, inevitably grumpy and lazy on a Monday morning, that at least I'll have something to eat that might make me feel a little better! This is a perfect nutritious breakfast for those busy mornings when you just don't have time to think about food!
In the morning, your oats will have absorbed all the liquid and be creamy and delicious!
Plain old oatmeal can be boring so try layering it up! Peanut Butter, bananas, lovely, sweet raspberries or strawberries. Or how about jam? Granola or your favourite cereal will add a delicious crunch!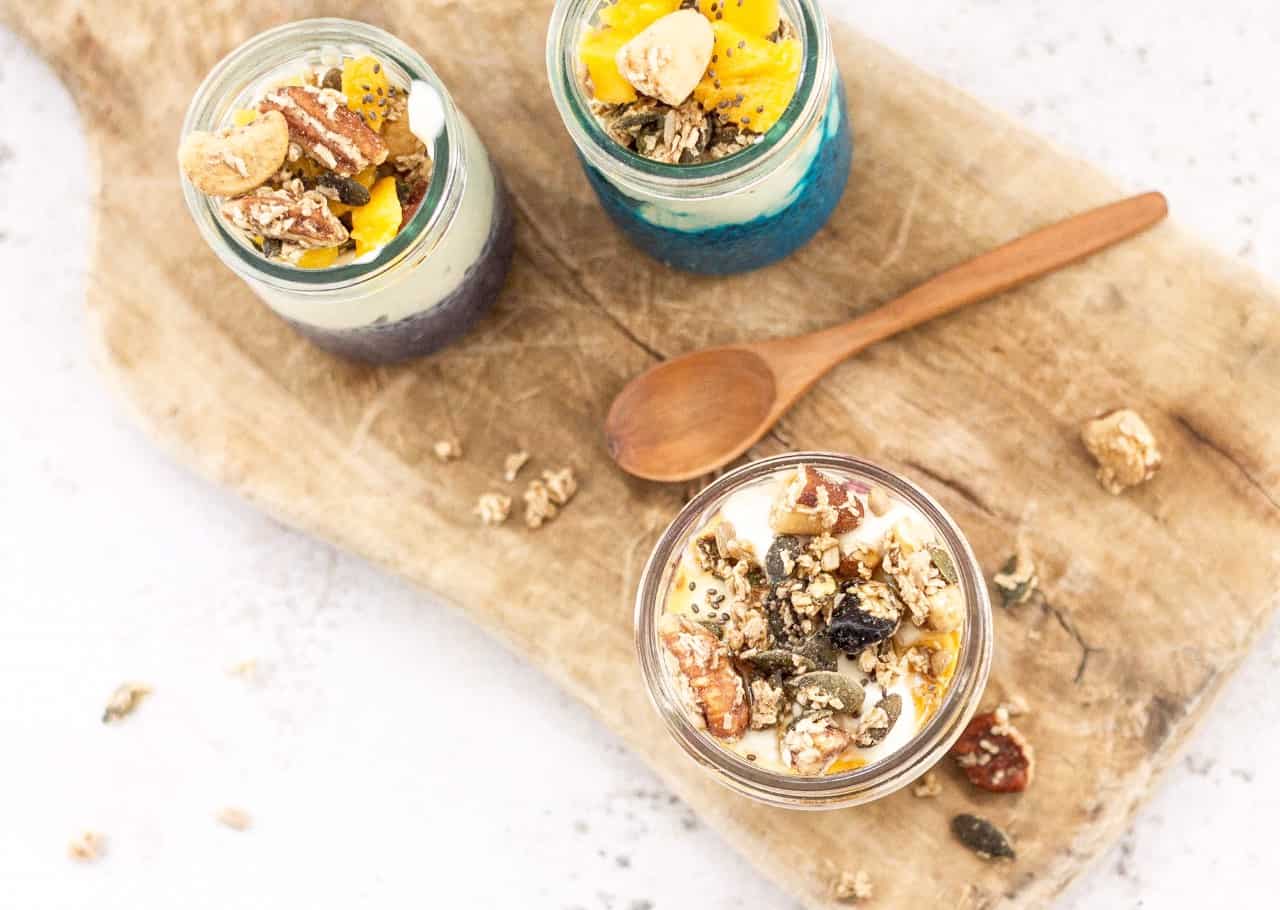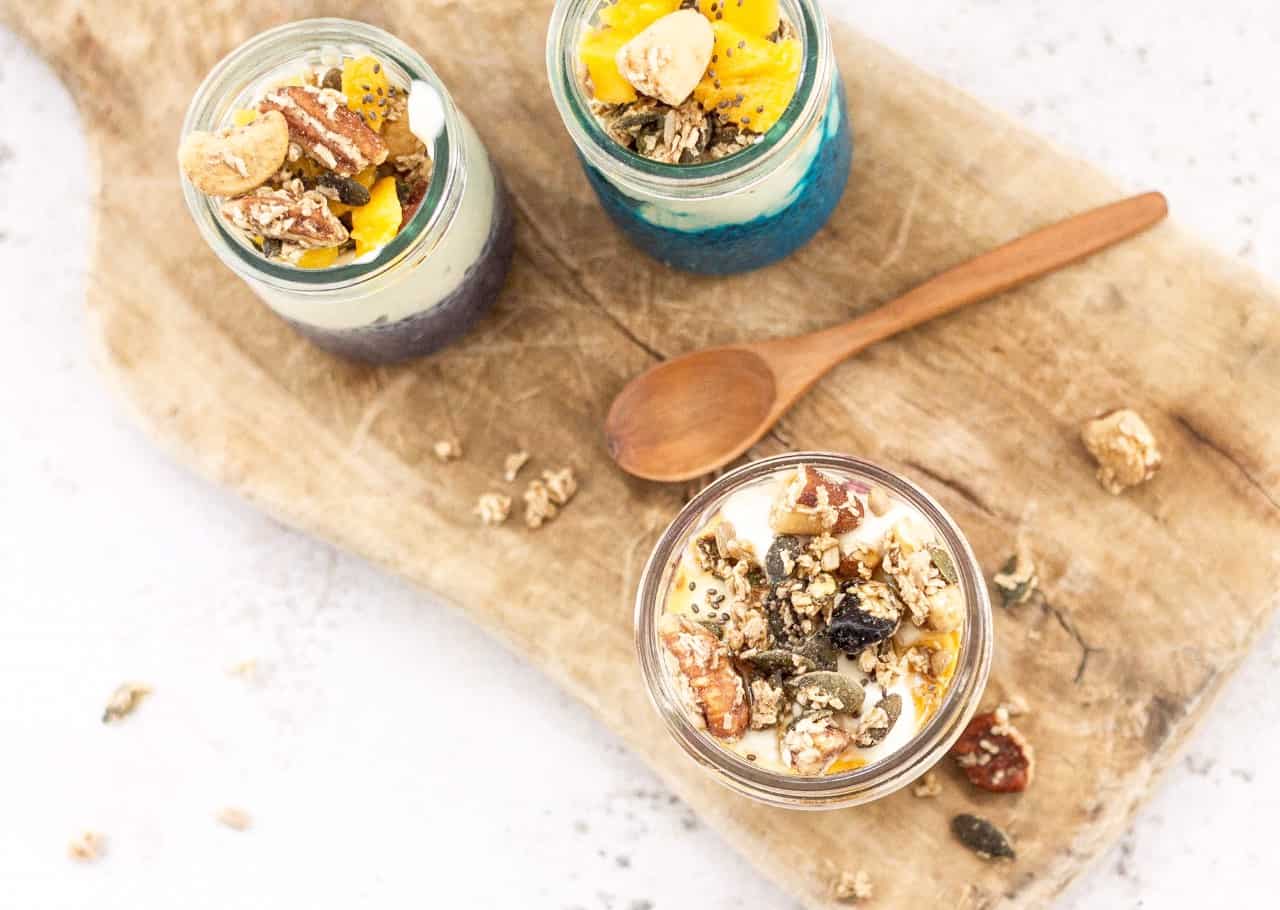 What kind of oats can I use for Overnight Oats?
You can use whatever oats you want, quick oats, easy-cook, rolled, Scottish wholegrain, steel cut oats, gluten-free oats. Remember though, that the chunkier and coarser the oats, the more liquid you may need to add, and they will be a chewier, less creamy oat.
Ingredients
Oats. See my notes above for what kind to use. Note: My recipe is for a single serve portion, just double up to suit.
Water or milk. Water is my preference, simply because I find it cheaper and easier. Once oats are added to liquid, they have a natural creamy texture, so I don't find you need to add milk. Milk does add an additional richness to them though. You could use almond milk, coconut milk or oat milk, or your favorite non-dairy milk! You can also use fruit juice, I love to use freshly squeezed orange with water.
Sweetener. Now this could pure maple syrup, brown sugar, stevia, a spoonful of jam or preserves. You might prefer to omit the sweetener altogether and just add some chopped fresh fruit in the morning.
Pinch of sea salt. I find that salt really enhances the taste of oatmeal so much.
This is ONLY a list of ingredients for the recipe; please see recipe card below for complete printable recipe.
Overnight Oats Easy Ideas
Peanut Butter
Almond Butter
Hazelnut Butter
Any nutty butter
Blueberries
Raspberries
Strawberries
Any berries
Granola
Quinoa Pops
Rice Krispies
Yogurt
Jam
Marmalade
Nuts
Dried Fruit
Chia Seeds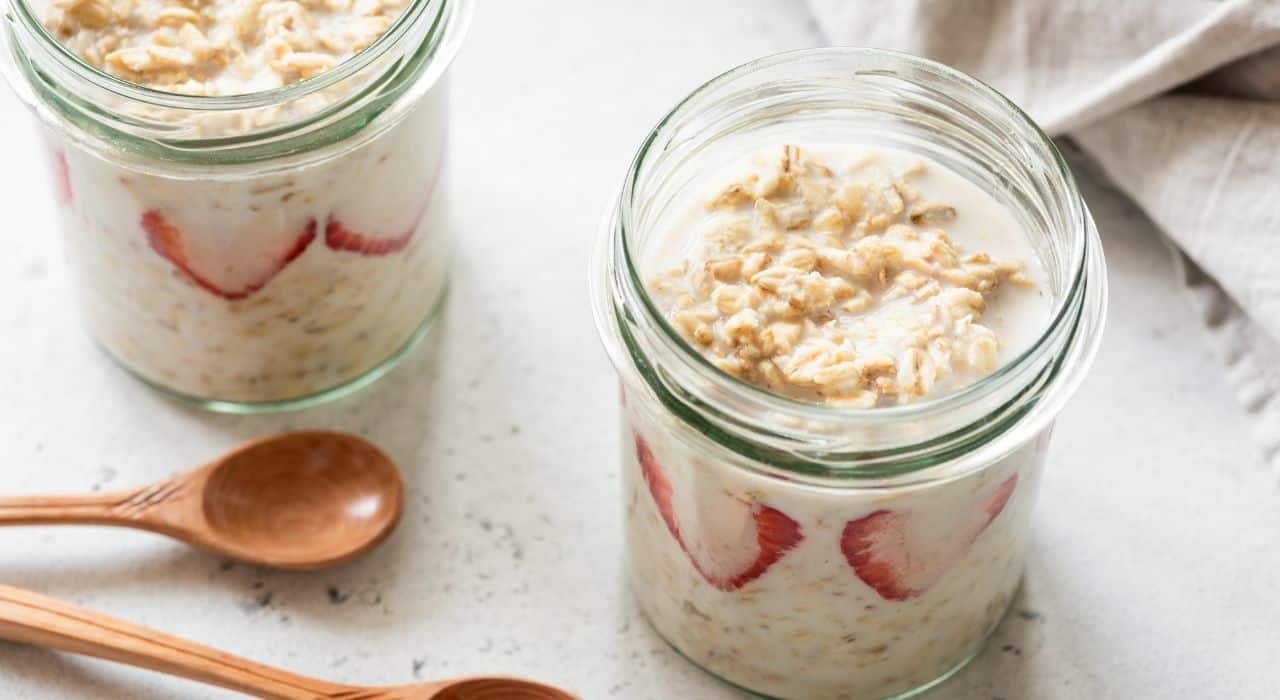 Are Overnight Oats Gluten-Free?
They certainly can be if you use your own favourite brand of GF oats. You could alternatively use buckwheat flakes instead of oats.
Try my other delicious vegan breakfast ideas
Easy Overnight Oats Recipe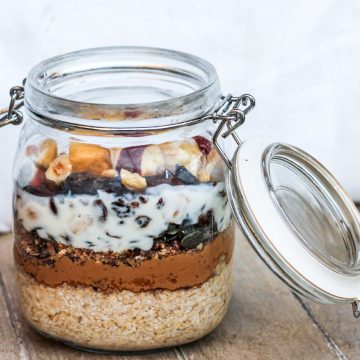 How to make overnight oats
Ingredients
¼

cup

Whole Oats

½

cup

Milk

-

plant based of your choice

Sweetener of your choice, sugar, agave syrup, raisins, etc.

pinch Sea Salt

Toppings (see list for suggestions)
Instructions
Place your oats, milk, pinch of salt and sweetener into your prepared jar or bowl

Refrigerate and leave overnight

The next morning, remove from fridge and add your toppings of choice!
Please note that where the recipe asks for milk, butter or yogurt, this refers to any plant-based version that you prefer.
Nutrition Facts
Easy Overnight Oats Recipe
Amount per Serving
% Daily Value*
* Percent Daily Values are based on a 2000 calorie diet.