No Bake Vegan Key Lime Pie Recipe
Looking for a delicious vegan dessert that requires no baking? Look no further than my easy vegan no-bake Key Lime Pies! With a tangy and creamy filling made from fresh key limes and a gingery cookie crust, these pies are a true delight for your taste buds. Whether you're a committed vegan or simply looking to add more plant-based options to your diet, these no-bake key lime pies are sure to satisfy your cravings. Enjoy a slice of refreshing and zesty goodness today!
These little vegan key lime pies are so simple and can be made well in advance of the meal, even the night before.
What are Key Lime Pies?
The Key Lime Pie – the official pie of Florida – first originated in, where else but the Florida Keys, where the Key Limes grow sporadically. True Key Limes have a more distinctively sour 'limey' taste than the ones we can buy in the supermarket.
The plantations that originally grew the limes were destroyed back in the 1920s so the limes (which resemble small lemons with little green patches) are only found in the back gardens of a lucky few these days and for a very brief length of time. The limes that were replaced in the plantations are, in fact Persian Limes and do not have that rare flavour – more lime than lime itself it is said. If you fancy trying your hand at planting your own, Jo at Plant Food at Home, has a great article on how to do so!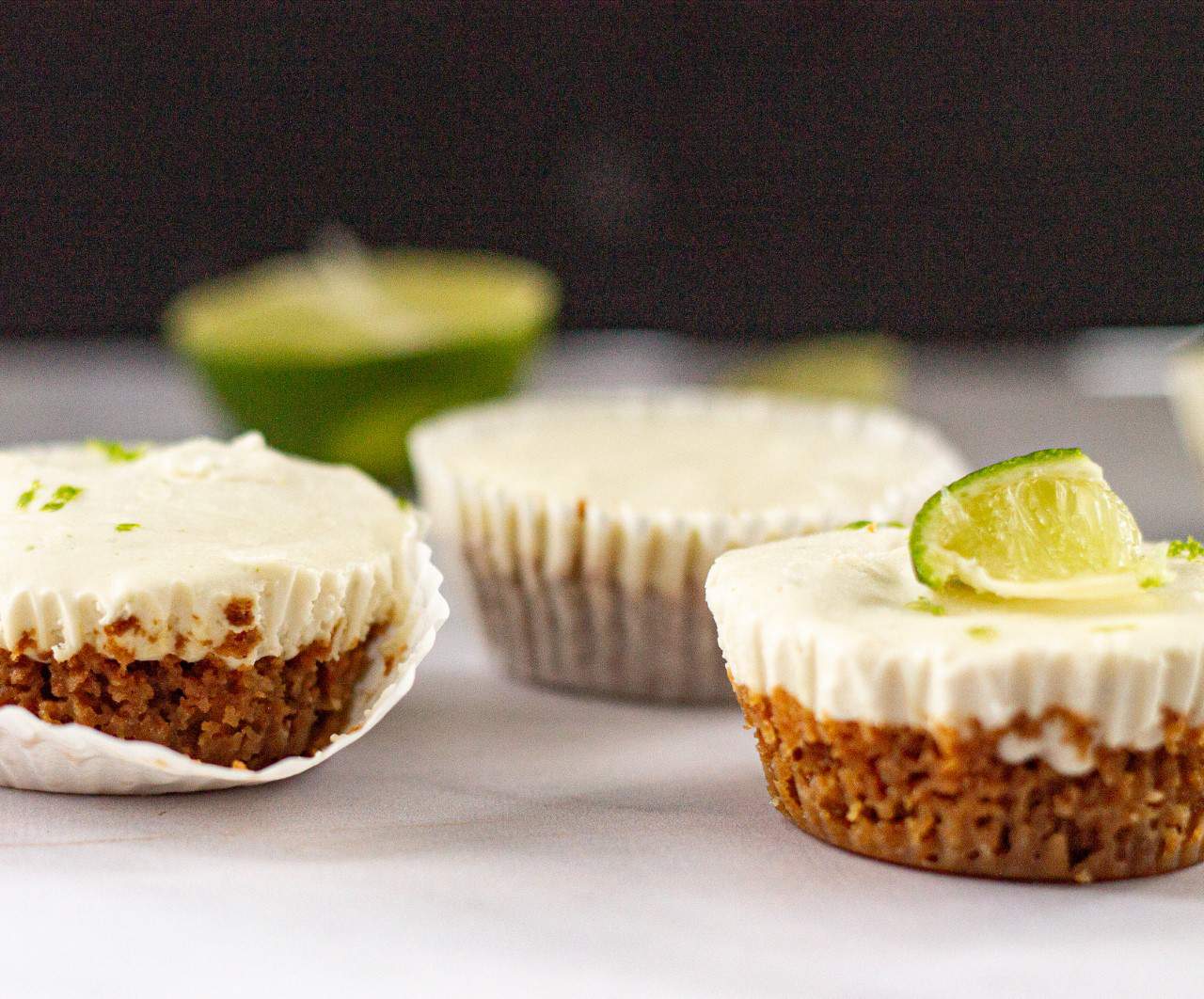 Condensed milk was used in the pie filling instead of regular milk because of poor refrigeration back in the late 1800s, when the pie was first produced. The discovery of Condensed milk must have been greeted with much enthusiasm in those days before heat-treated milk (and fridges) but for this particular recipe, inspired by the Minimalist Baker, I have replaced the dairy quotient with almonds and coconut milk. Their version uses Agave syrup and cashews, but I didn't have either so I improvised! Actually, using blanched almonds is a great idea instead of cashews, they are both cheaper, and seem to soften quicker when soaking. I would be interested to try the vegan Condensed milk, and I have a can here to try, but I think that might require a little more experimentation first!
Ingredients
The filling is painfully easy, just five ingredients:
lime juice (use fresh, not bought),
almonds,
coconut cream and coconut oil
maple syrup.
These are blended together, spooned into your pie-crust (or crusts, if you make minis) and frozen. Once chilled, to make it extra special, how about topping it with some whipped and sweetened coconut cream for a truly luxurious finish.
This is ONLY a list of ingredients for the recipe; please see recipe card below for complete printable recipe.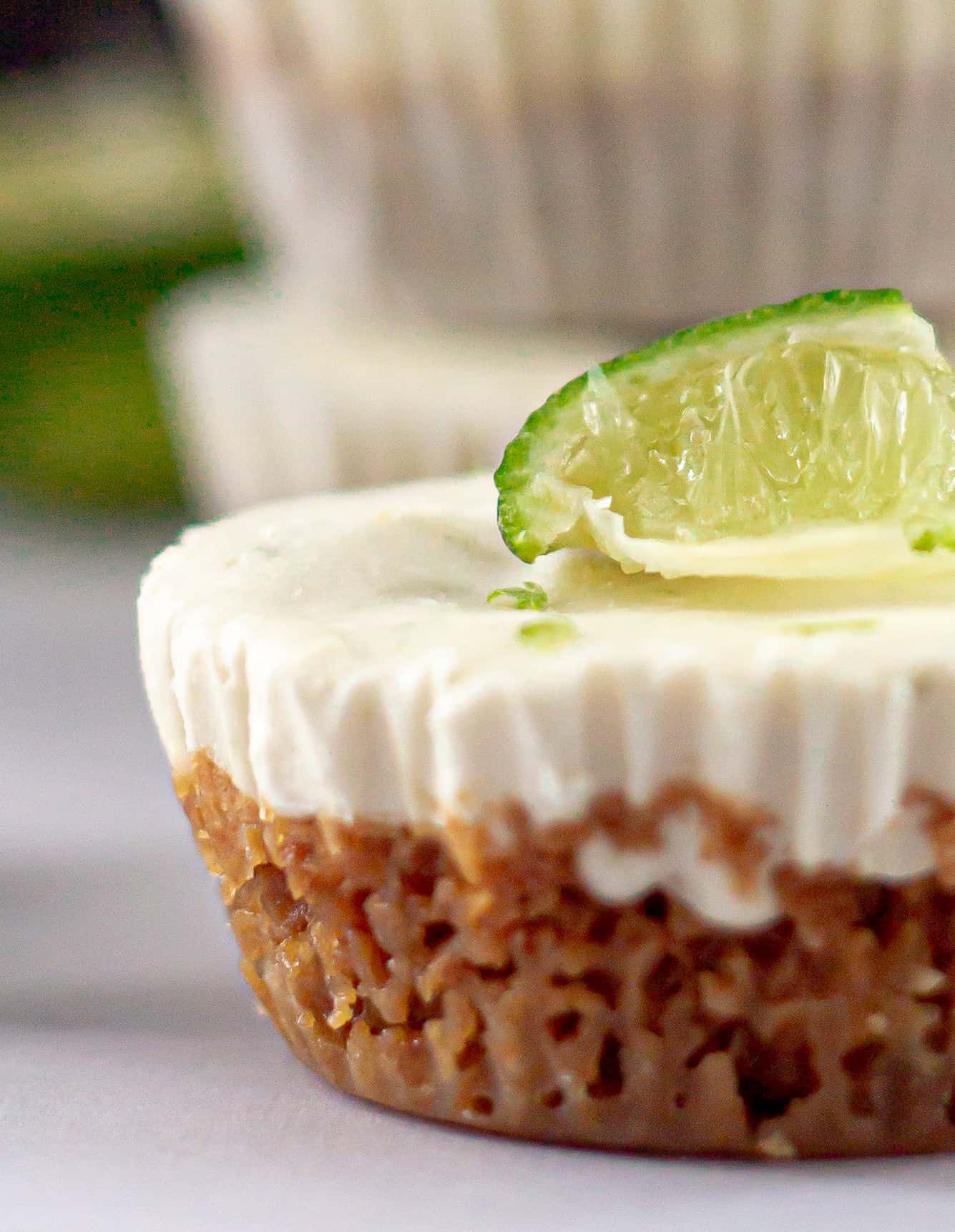 Because this dessert is frozen, it is a perfect make-ahead dessert, just make sure you remove it from the freezer in plenty of time (on a cool day, it will thaw in a flash on warm days!).
Options:
Try replacing the lime with lemon or orange juice instead.
Try different cookie bases, Digestives are a classic cheesecake base (in the UK, look for supermarket own brand, these are usually vegan), Oreos give a delicious dark chocolate element, whilst Lotus Biscuits are sweet and spicy.
Make one large tart, or lots of minis
Use gluten-free biscuits instead of normal biscuits.
Mix some crushed nuts into the crumb base for some added texture: pistachios would be great!
Tips:
To make sure your crumbs are crushed thoroughly, place your biscuits in a ziplock bag, do the bag up nearly all the way, just leaving a tiny gap, and then use your rolling pin to crush them to a crumbly dust. If you leave your crumbs too chunky, it will be tricky to press them into the case(s).
Once frozen, you can cut the large tart into wedges and then pop these in a freezer bag. You can also do this with the minis.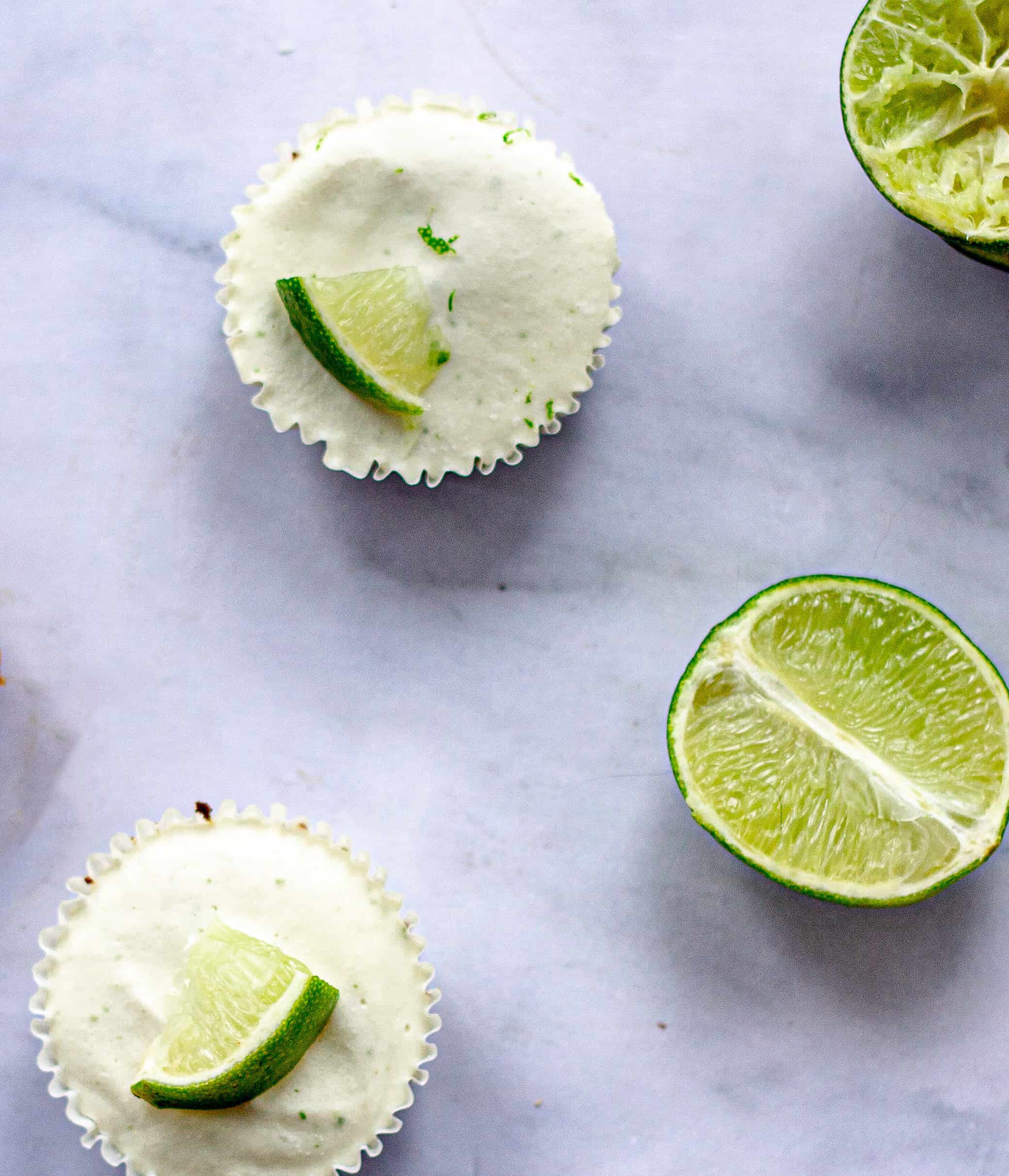 Try my other simple vegan dessert recipes
Vegan No Bake Key Lime Pies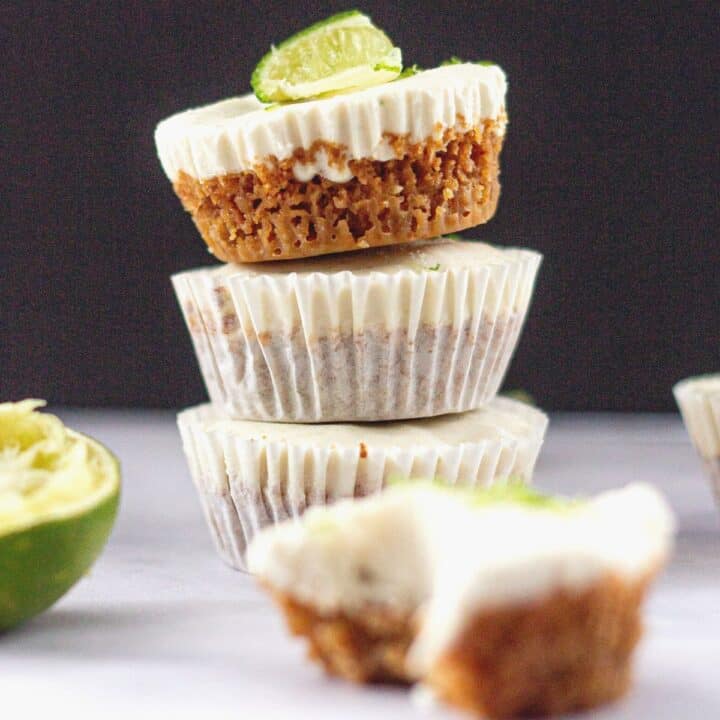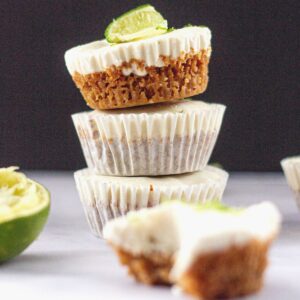 A deliciously quick and simple way to make eggless key lime pies, no baking
Equipment
Muffin Pan (small size, not jumbo), lined, or a 9" loose-bottomed tart tin

Blender or Smoothie Maker

Rolling Pin
Ingredients
For the Crust
1¼

cups

Ginger Biscuits

-

vegan, crushed into crumbs. This is about 14 Ginger Nuts if you're in the UK

⅓

cup

Butter

-

vegan, melted
For the Key Lime Filling
1

cup

Almonds

-

whole almonds, skinned, soaked for about an hour in cold water and drained

¾

cup

Coconut Milk

-

can be low fat, just make sure to shake it up well

¼

cup

Coconut Oil

-

melted

½

cup

Lime Juice

-

this is about 4 limes in the UK. Do not use ready made juice as it just isn't tart enough

1

tbsp

Lime zest

⅓

cup

Maple Syrup

-

or sweetener of your choice

¼

tsp

Sea Salt
Instructions
To make the Crust
Note: This can be made in advance.

In a large bowl mix together your ginger biscuit/cookie crumbs with the melted butter until fully coated and it all starts to clump together.

Press this mixture firmly into your 9" Tart Tin or individual muffin cases and put in the freezer to chill whilst you make the filling.
To make the No Bake Vegan Key Lime Pie Filling
In your blender or smoothie maker, blend together all of your ingredients until completely smooth.

Pour into your chilled prepared pie crust or minis and return to the freezer for at least a couple more hours.

To serve, remove from the freezer and let thaw for about half an hour. Grate over a little more lime zest for decoration.
Please note that where the recipe asks for milk, butter or yogurt, this refers to any plant-based version that you prefer.
Nutrition Facts
Vegan No Bake Key Lime Pies
Amount per Serving
% Daily Value*
* Percent Daily Values are based on a 2000 calorie diet.