Gluten-Free Vegan Pumpkin Spice Cake Squares
This post contains links to affiliate websites, such as Amazon, and we receive an affiliate commission for any purchases made by you using these links. We appreciate your support!
Vegan pumpkin spice cake squares are a delightful and indulgent treat that will satisfy your sweet tooth. These moist, fluffy squares are bursting with the warm and aromatic flavors of pumpkin spice. Each bite is a delicious combination of pumpkin flavor and cinnamon, nutmeg, and cloves, with a hint of sweetness.
These cake squares take their flavour from canned pumpkin (available in most larger supermarkets these days) but you could boil up a sweet potato and use that in a pinch, or even, dare I say, use tinned, drained carrots. I love the flavour of pumpkin, and, dare I say, I'm happy to use it all year round, although I love the convenience of tinned. Fresh pumpkins are great and all that, but they are such a pain in the ass for prepping. I love to carve them for Hallowe'en, and really, that's the only time I would recommend going to the trouble.
What Makes Gluten Free Vegan Pumpkin Squares so good?
This was one of the very first vegan recipes that I formulated myself, and I am (I think) justly proud of it. Despite being gluten free, the sponge has a delicious texture, not too crumbly, not too stodgy, and this comes from there being only half a cup of flour in the batter.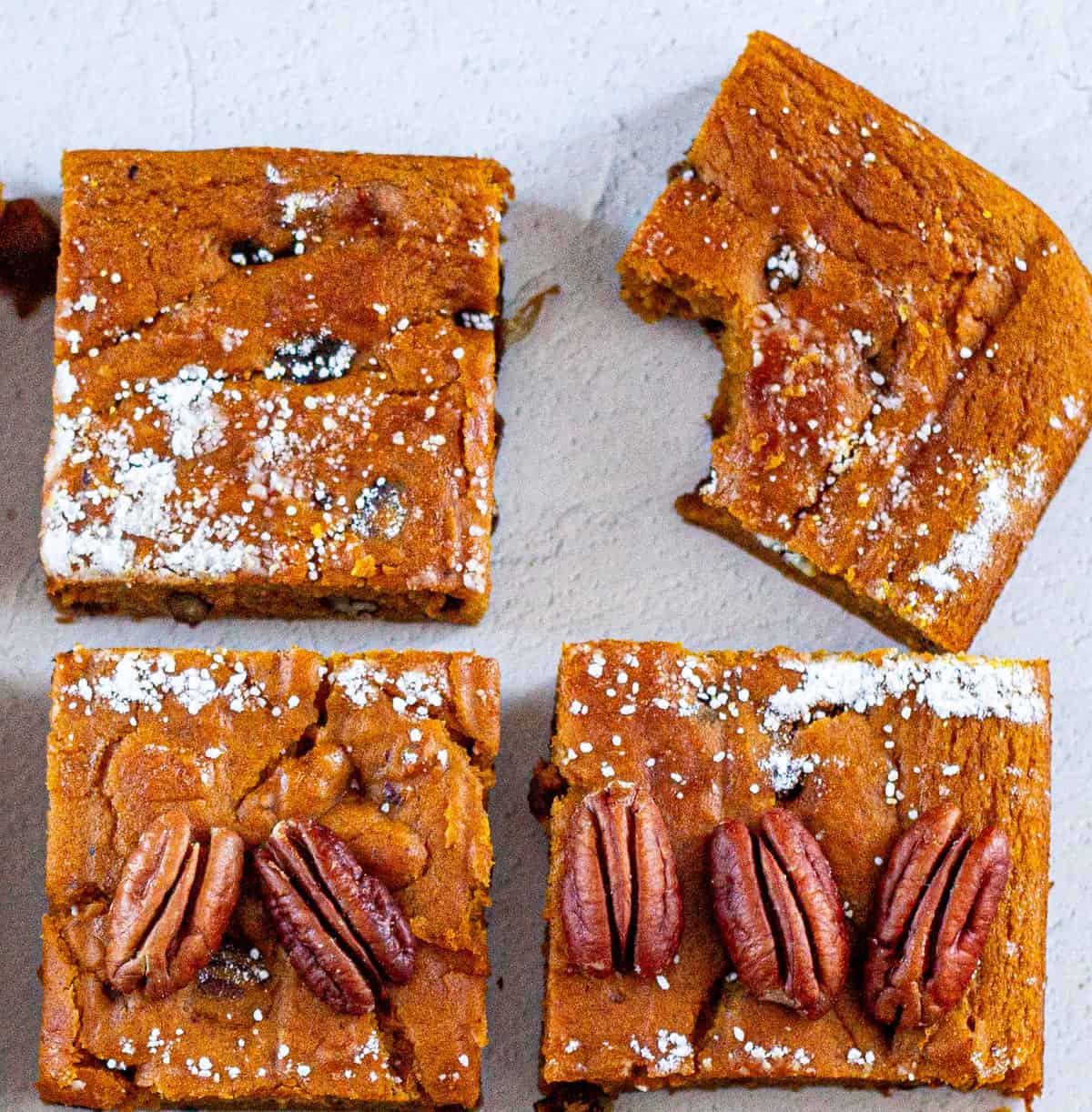 When I remade the recipe, I hadn't made the squares for a couple of years, but I needed to make a gluten free and vegan cake for a friend's birthday. I had to question whether I had written down the small quantity of flour down correctly, but when I stirred the wet ingredients into the flour, it mixed together into a beautiful cake batter.
Looking at the list of ingredients, it does seem like there is a lot there! However, it is mostly all store cupboard stuff, and if you have your own premixed pumpkin spice blend, please use this and omit my spice suggestions (I recommend using 1.5 teaspoons).
Do I Have to Use Gluten Free Flour?
No, not at all. Simply swap out the GF element for regular flour. You could also use a mix of self-raising flour with buckwheat, which gives a delicious nutty taste.
My favourite brand of Gluten Free flour has been Doves Farm, forever. It always performs perfectly, and behaves itself, like all good flour should!
Ingredients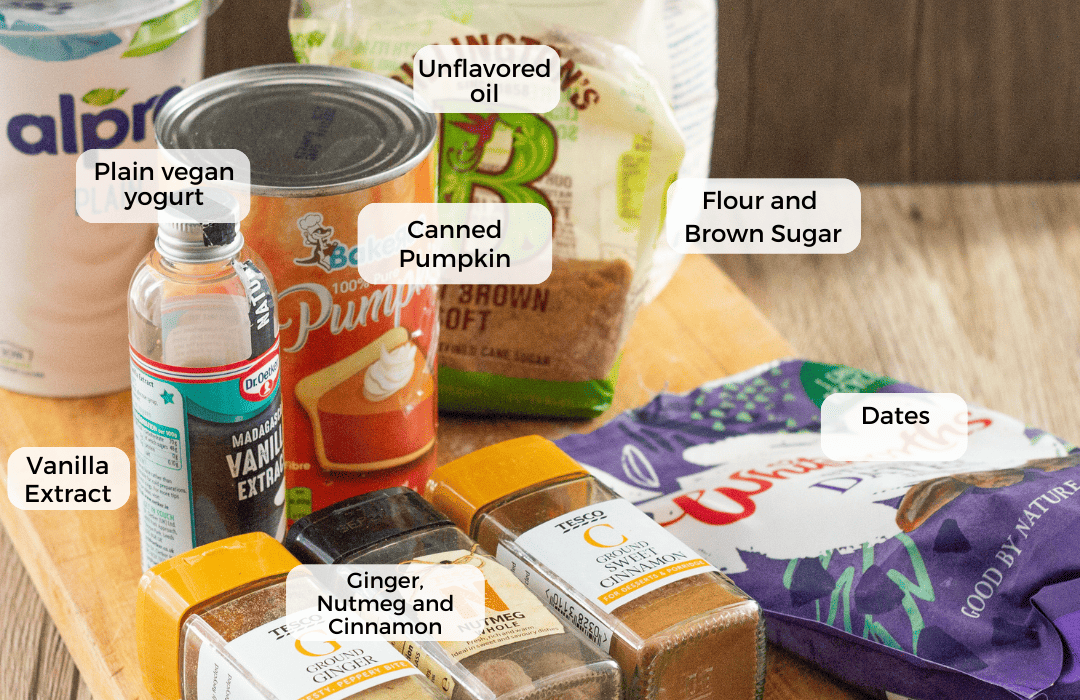 Canned Pumpkin, unsweetened
Unflavoured oil (coconut oil, melted, is good)
Plain or vanilla vegan yogurt
Soft brown sugar
Gluten-free Self Raising flour (or normal plain flour)
Baking Powder and Bicarbonate of Soda
Ground ginger, fresh nutmeg, ground cinnamon, vanilla extract
Dates and pecans. These are optional, but add a caramel sweetness and toasty crunch that rounds out the spices and pumpkin flavours nicely. Omit the pecans if you have an intolerance to nuts or don't like them.
This is ONLY a list of ingredients for the recipe; please see recipe card below for complete printable recipe.
Method
This brings me to the method. This is my non-patented blender method of making cakes or cupcakes. It makes baking cakes so simple and quick. Just sieve your dry ingredients in a large bowl. Blend up your wet ingredients and pour this over your dry ingredients, folding gently but thoroughly, and it's ready for the oven!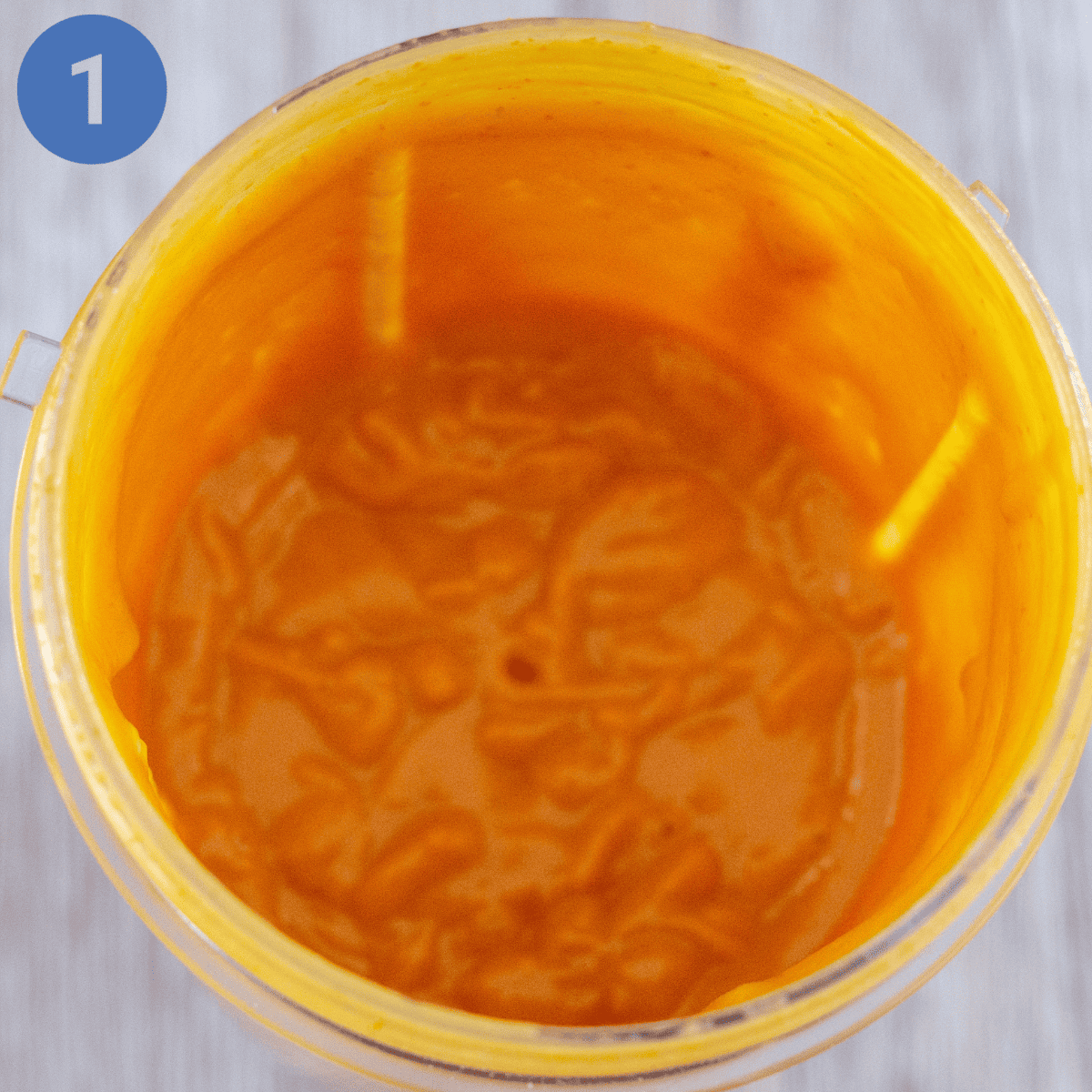 Preheat oven to 180c.
Blend up wet ingredients and sugar in a smoothie maker (I don't have a large blender).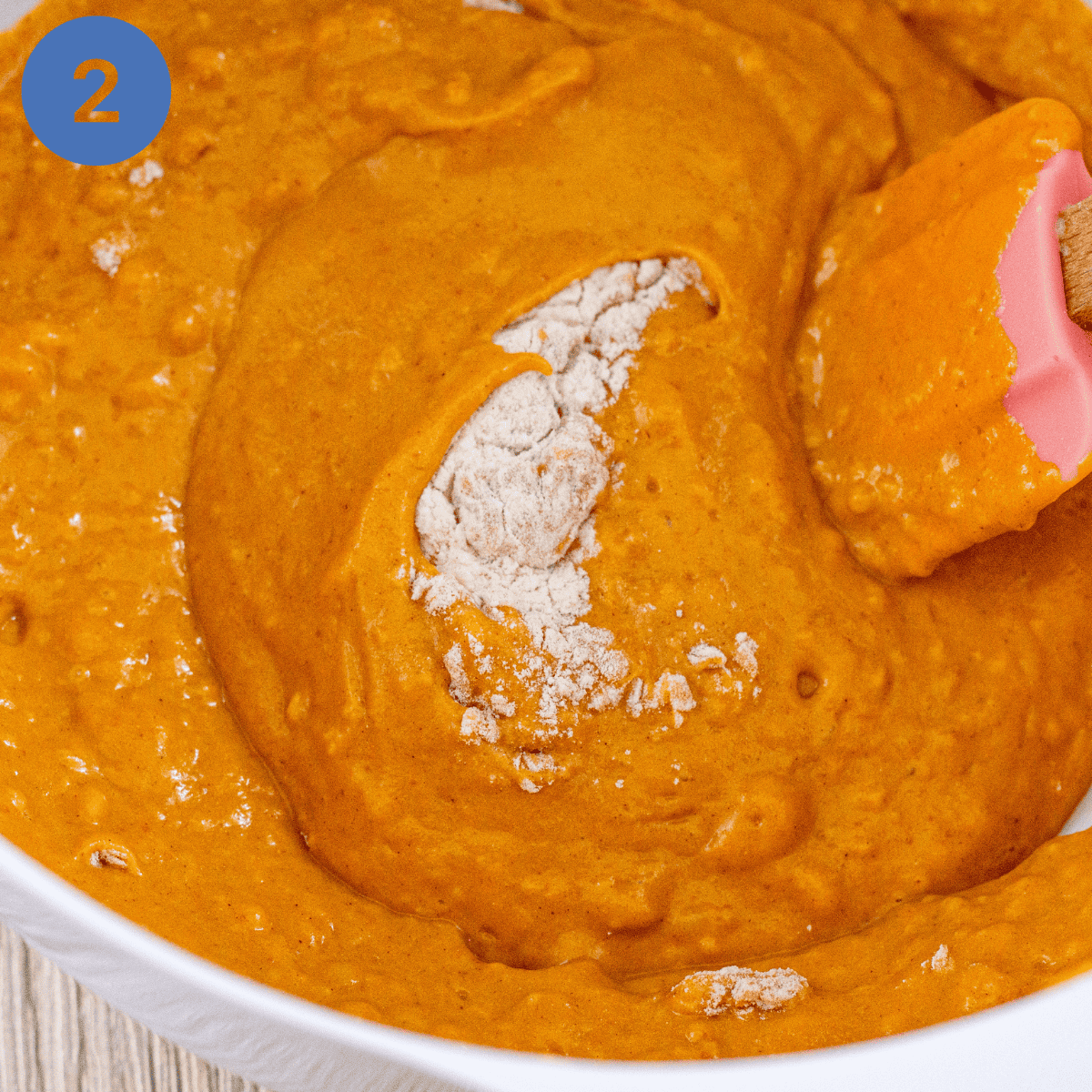 Pour this over your sifted flour and baking powder, folding gently but thoroughly.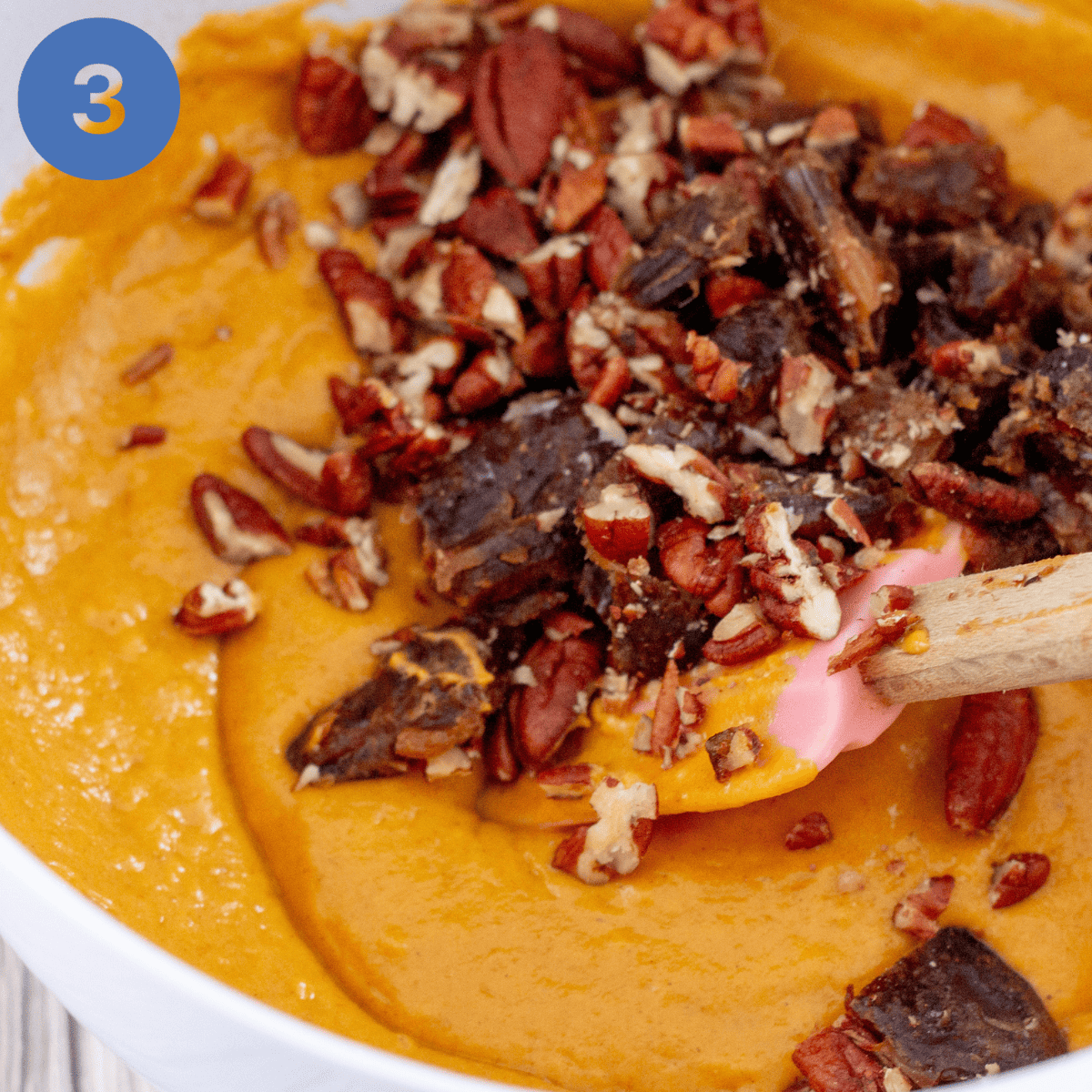 Now fold in the chopped dates and pecans.
Smooth into cake tin and bake for 20-25 minutes.
Leave to cool before cutting into squares.
You could top with a cream cheeze icing to make this a really special treat, but I just dusted mine rather clumsily with icing sugar.
Try my other delicious Vegan Pumpkin Recipes
Gluten Free Pumpkin Spice Cake Squares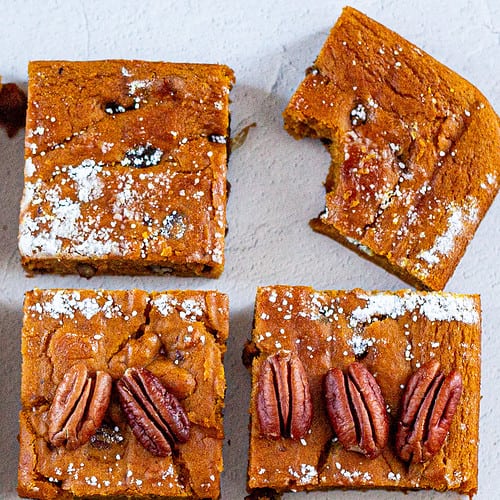 A deliciously spiced cakey treat, gluten free and vegan!
Ingredients
½

cup

gluten free flour

-

self-raising

½

teaspoon

Baking powder

¼

teaspoon

Bicarbonate of soda

¼

teaspoon

Salt

1

teaspoon

Ground cinnamon

½

teaspoon

Ground ginger

¼

teaspoon

Nutmeg

-

grated

¼

cup

Coconut

-

melted (or canola oil)

½

cup

Brown sugar

⅔

cup

Pumpkin puree

-

canned

½

cup

Yogurt

-

vegan, plain or vanilla

½

teaspoon

Vanilla extract

½

cup

Dates

-

stoned, soaked in hot water

½

cup

Pecans

-

chopped, optional
Instructions
Sift the flour, spices, salt, bicarb and baking powder together in a large bowl.

In a smoothie maker or blender, whizz up the oil, yogurt, pumpkin, brown sugar and vanilla extract until smooth.

Add this to the dry ingredients and

fold

in gently but thoroughly until you have no pockets of flour left.

Fold

in the chopped dates and pecans.

Pour into your prepared cake tin, and smooth with a spatula

Bake for 20-25 minutes or until a skewer comes out clean.

Let cool for 15 minutes on a cooling rack before removing carefully from the tin and leaving to cool completely.
Please note that where the recipe asks for milk, butter or yogurt, this refers to any plant-based version that you prefer.
Nutrition Facts
Gluten Free Pumpkin Spice Cake Squares
Amount per Serving
% Daily Value*
* Percent Daily Values are based on a 2000 calorie diet.