Make your own Chai Powder (and Chai Lattes) at home in less than 2 minutes
This post contains links to affiliate websites, such as Amazon, and we receive an affiliate commission for any purchases made by you using these links. We appreciate your support!
I love shop-bought coffees and a dirty chai (chai latte with a shot of coffee) is one of my favs. But I am finding them more and more expensive. Making your own chai powder is a reasonably inexpensive way to enjoy your favourite hot drink at home!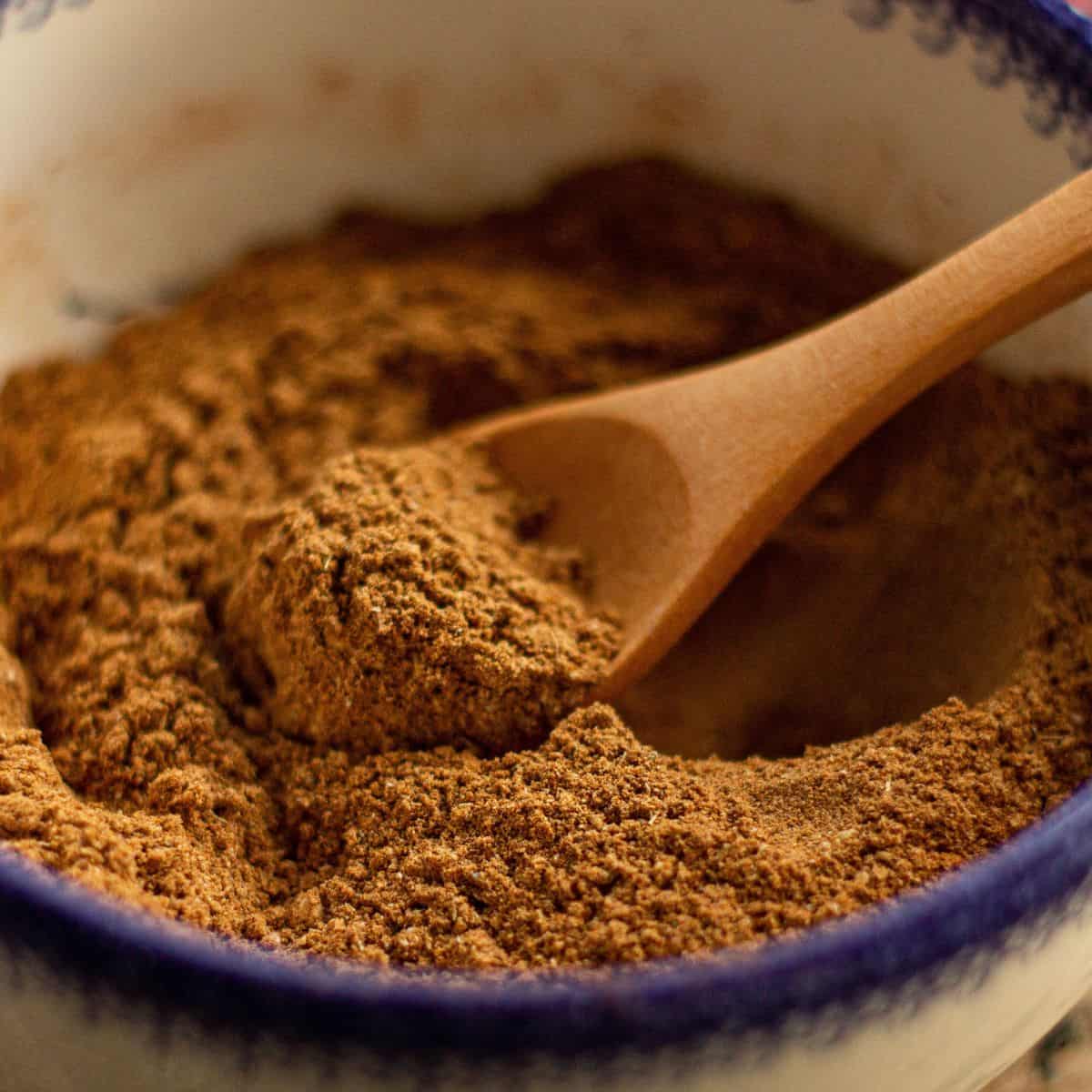 Chai, the word for tea in many countries, is a heavily fragrant spice mix, mixed with water or milk to make a delicious, warming beverage. It is a mainstay of most coffee shops and is a great alternative to coffee if you are intolerant to caffeine, chai being naturally caffeine-free.
Try mixing chai powder into shortbread for a delicious treat or adding to your favourite muffin or banana loaf recipe, or mixing in with morning oatmeal for a spicy start to the day.
What is Chai?
In China, the word chai simply means tea. However, the variant of chai that we making today, is Masala chai, which originated in India. Most Masala chai is made with dried tea leaves, and unlike in the UK, is often served black, or without milk.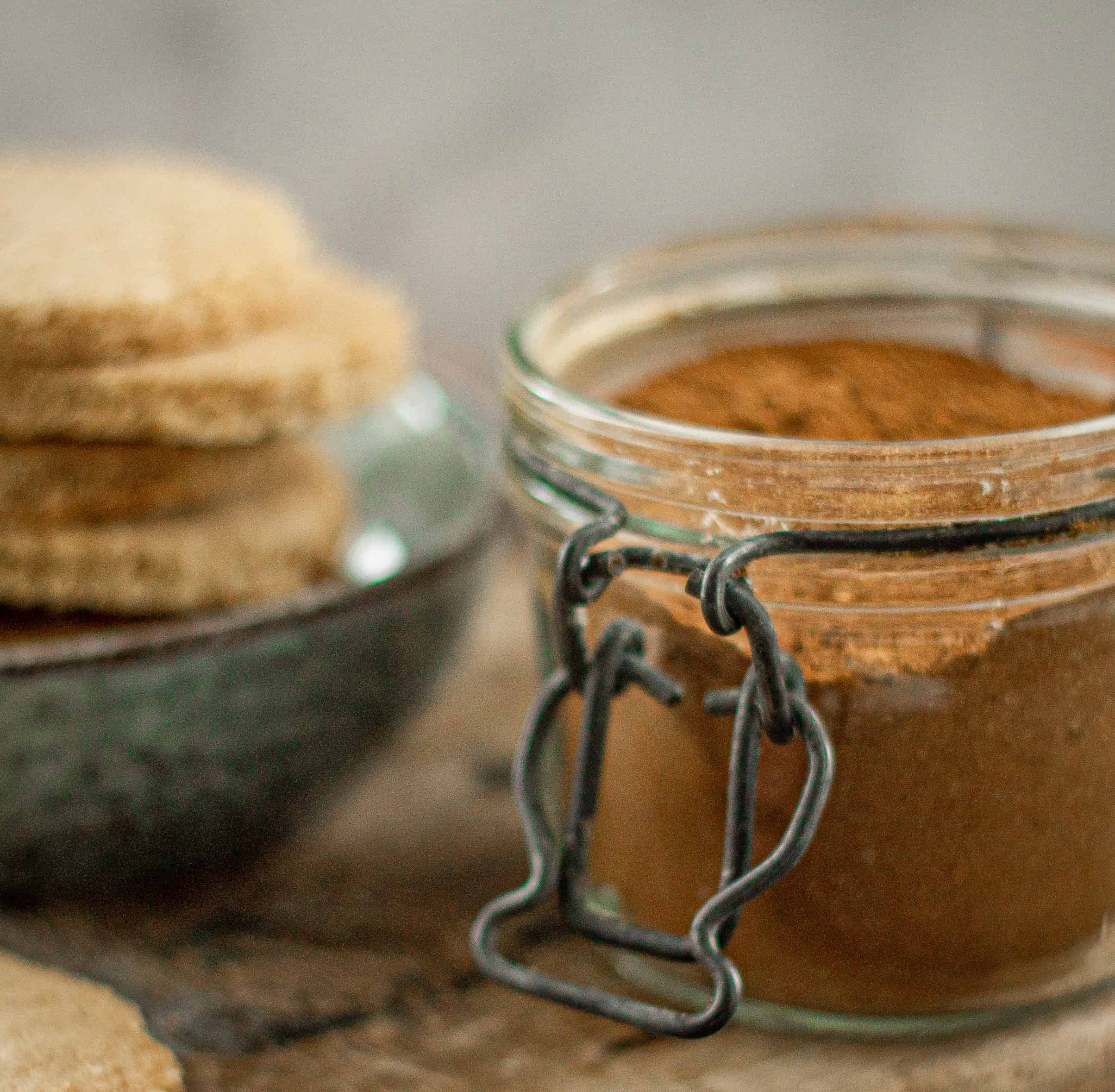 The spiced chai that we our most familiar with in coffee shops does not even contain tea leaves, but instead a mixture of spices called karha. This mixture always contains powdered ginger and cardamom, and is then bolstered with cloves, cinnamon, black pepper, star anise and other non-traditional flavours such as vanilla.
Households throughout India have their variations on this spice mix, and regionally it may or may not contain black pepper, it may have a pinch of salt added, and it might also be added to regular black or green tea.
How to Order Chai
If you ask for a chai latte in most Western coffee shops, you will be given a drink made with milk steamed with chai spices (or syrup). If you order a dirty chai, that is a chai latte with a shot of espresso in it.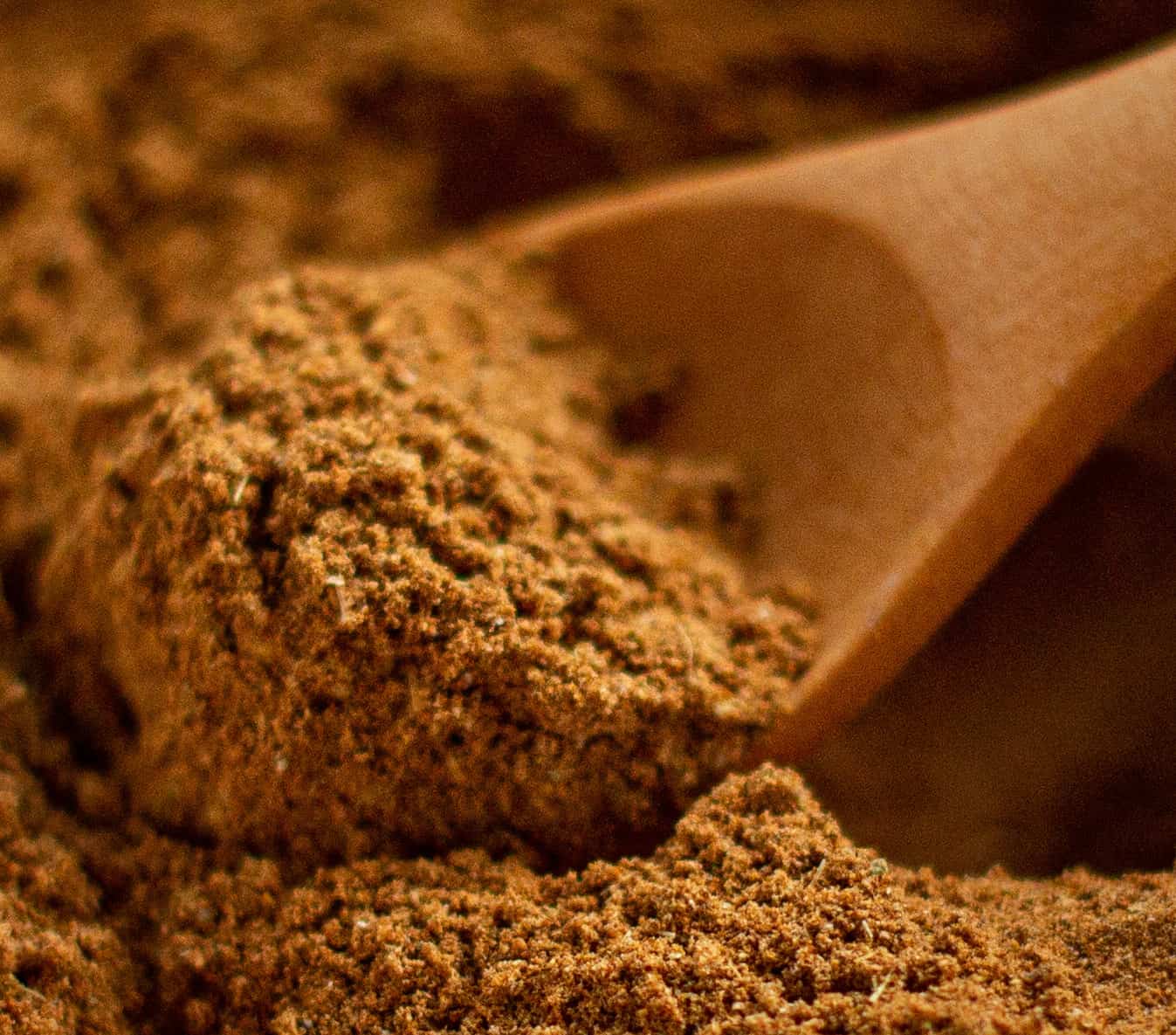 Some coffee shops serve chai tea (yes, literally tea tea), which could be chai spices steeped with black or green tea in water. You can add milk to this, as you would normal tea.
So, if you want a warming milky hot drink, order a chai latte, if you want a spiced tea, then order a chai tea (not all coffee shops serve this latter option, Costa for example). Some places also offer an iced chai latte, which is really nice on a hot day. Usually this is a chai syrup poured over milk and ice.
Make your own Chai Spice Mix
This couldn't be simpler. Gather all of your spices together and mix together in a bowl. Place in a jar, tighten the lid and give a final shake to ensure all the spices are completely amalgamated.
I suggest making a half size batch of my recipe, tasting it, and adjusting your next batch to suit your palette. Not everyone enjoys black pepper, some people like it nice and peppery. Adjust it to suit how you enjoy it.
Ingredients
ground green cardamom, I buy mine online from Natco
ground ginger
ground cinnamon
fresh nutmeg
allspice
black pepper
This is ONLY a list of ingredients for the recipe; please see recipe card below for complete printable recipe.
Instructions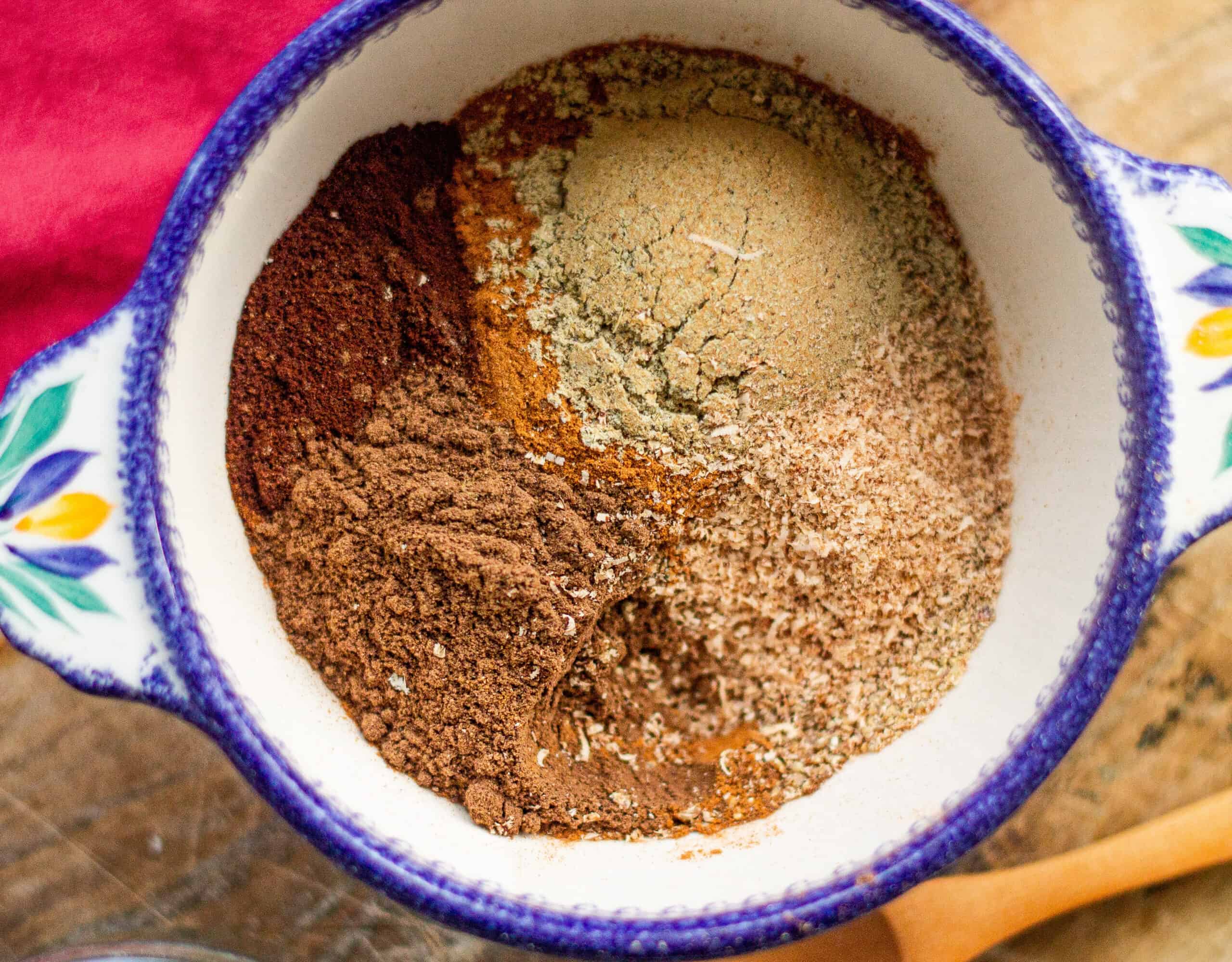 Place all the spices into a small mixing bowl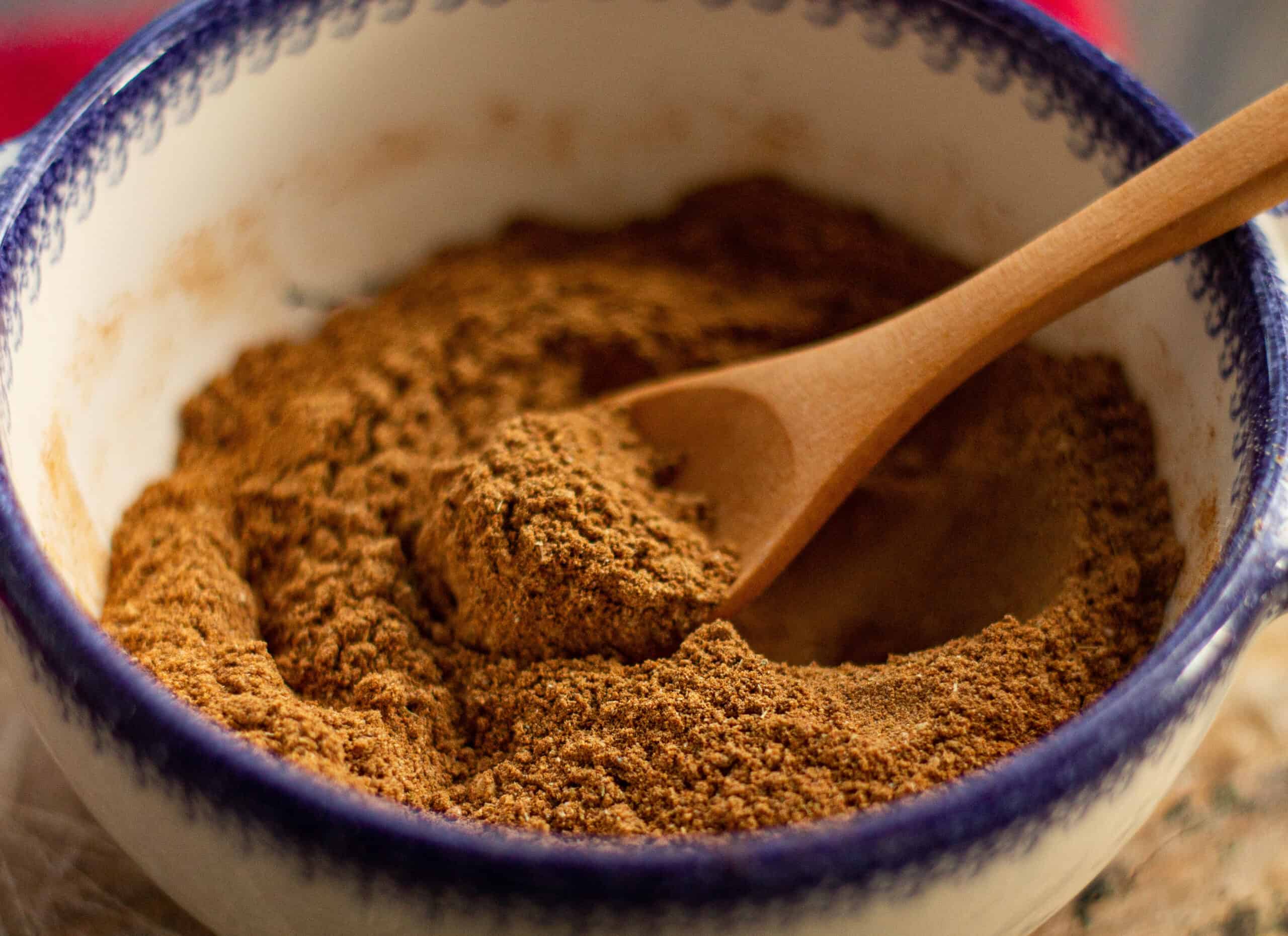 Mix until thoroughly combined and you have a richly aromatic spice mix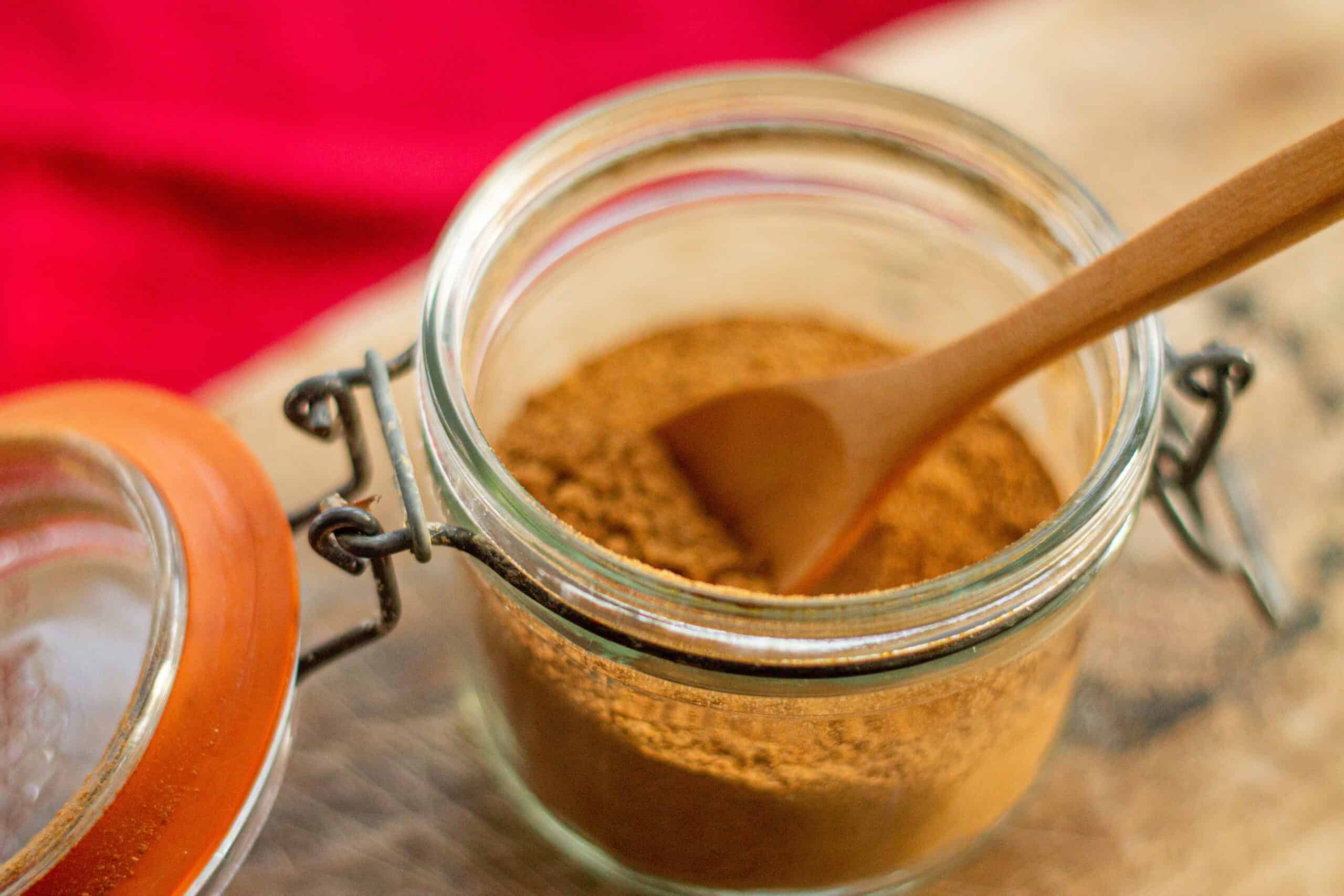 Store in an airtight jar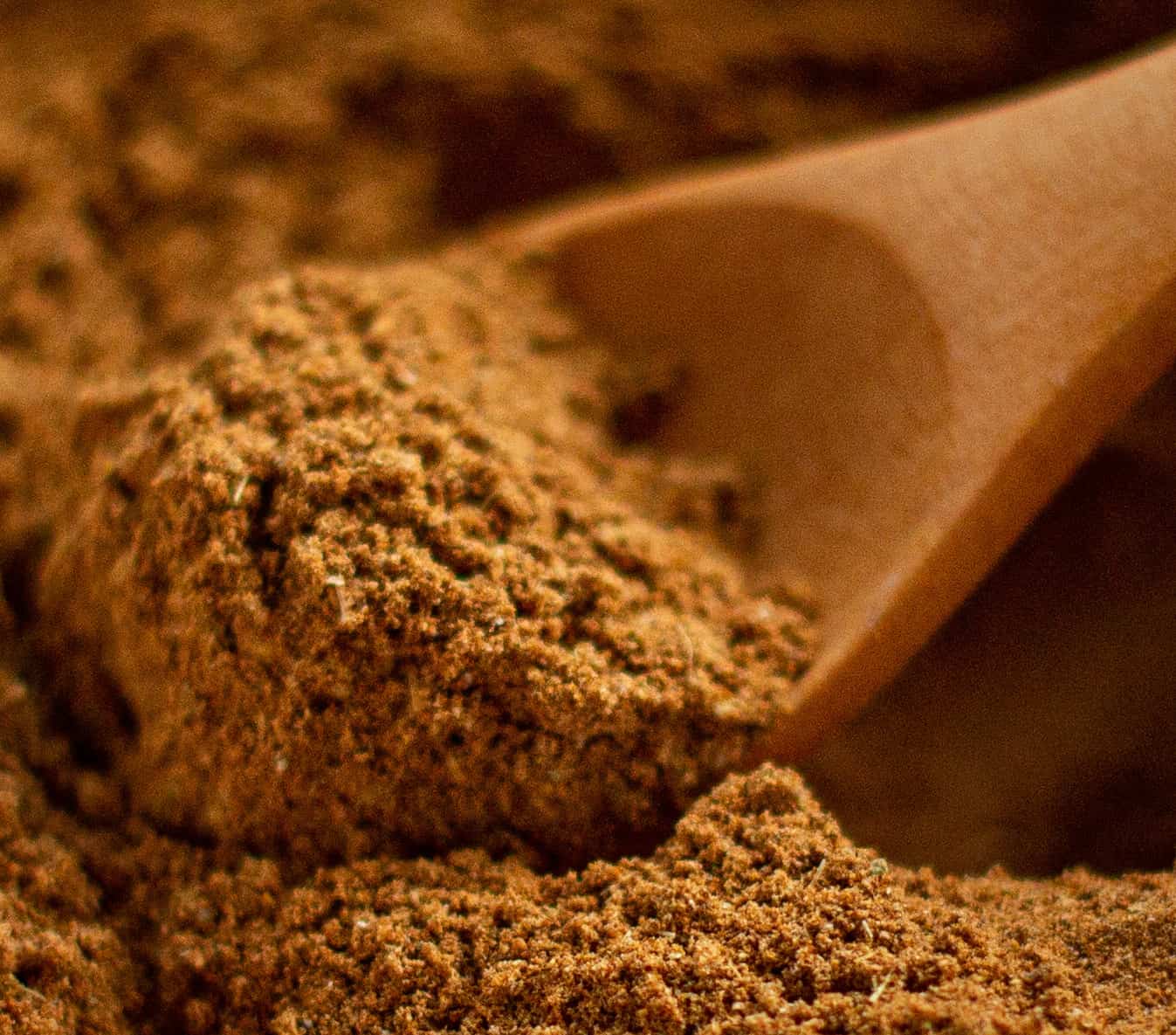 Storage
Store your chai mix in an airtight jar. Will be good for up to 6 months and beyond, but will start to lose it's strength after a few months.
Top tip
Add a teaspoon or two of your favourite chai mix to baked goods, like muffins or cookies.
Stir a spoonful into hot chocolate.
Chai Mix
A fragrant, heady spice mix to add to steamed milk or cakes and bakes!
Equipment
1 0.5 litre jar

or similar
Ingredients
5

tbsp

ground ginger

7

tbsp

ground cinnamon

3

tsp

black pepper

-

ground

2

tbsp

cardamom

-

powdered

1

tbsp

ground cloves

½

nutmeg

-

grated

1½

tbsp

ground allspice
Instructions
Place all the ingredients in a small bowl and mix well until thoroughly combined.
Please note that where the recipe asks for milk, butter or yogurt, this refers to any plant-based version that you prefer.
Nutrition Facts
Chai Mix
Amount per Serving
% Daily Value*
* Percent Daily Values are based on a 2000 calorie diet.