Simple and Delicious Vegan Asparagus Soup
This post contains links to affiliate websites, such as Amazon, and we receive an affiliate commission for any purchases made by you using these links. We appreciate your support!
My vegan Asparagus soup is the perfect warm weather soup: creamy, full of sweet asparagus flavour and very quick to make!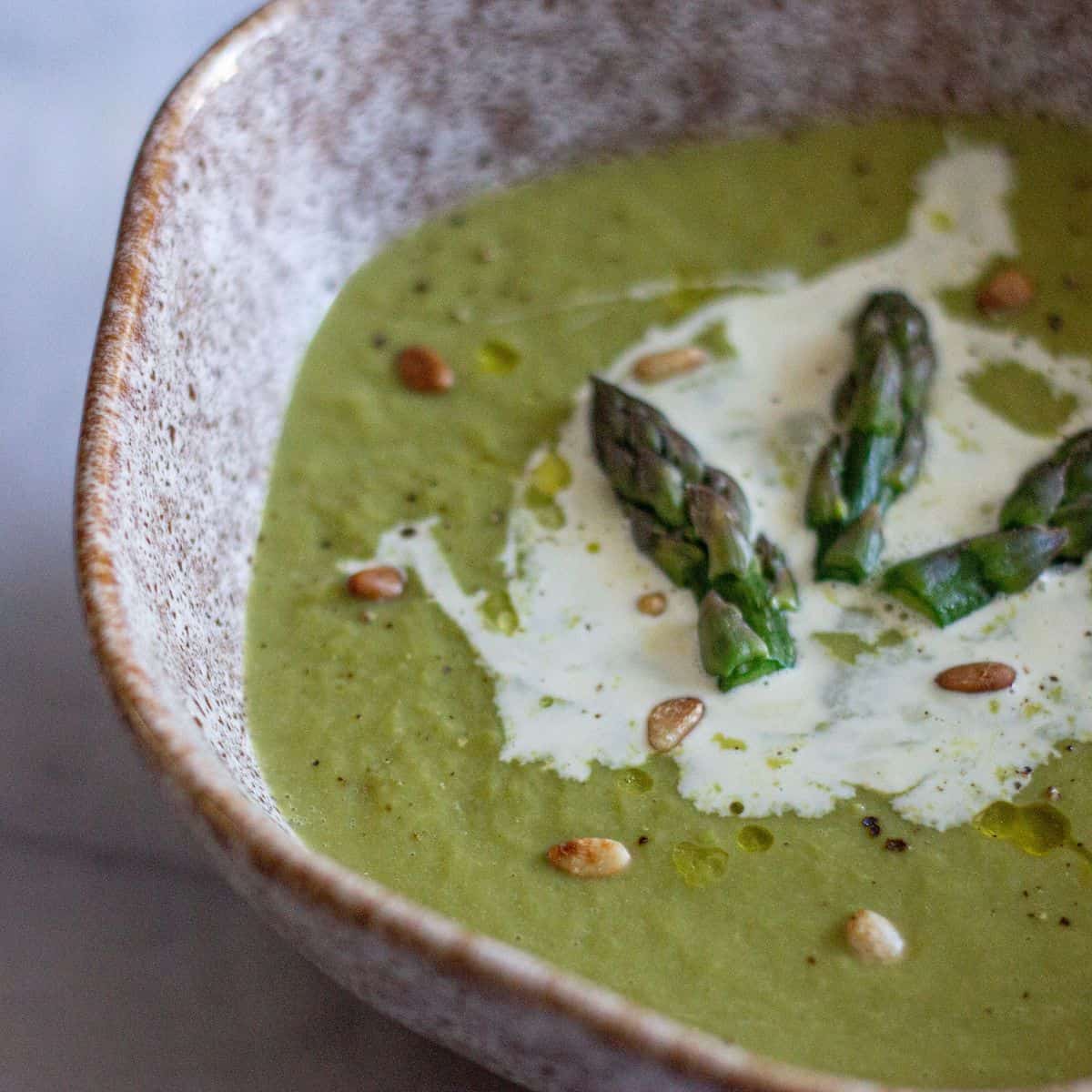 This was inspired by my vegan asparagus tart and pairs well with my delicious granary loaf.
If you're British you look forward to the first asparagus of the season. Along with rhubarb, it symbolises the onset of summer.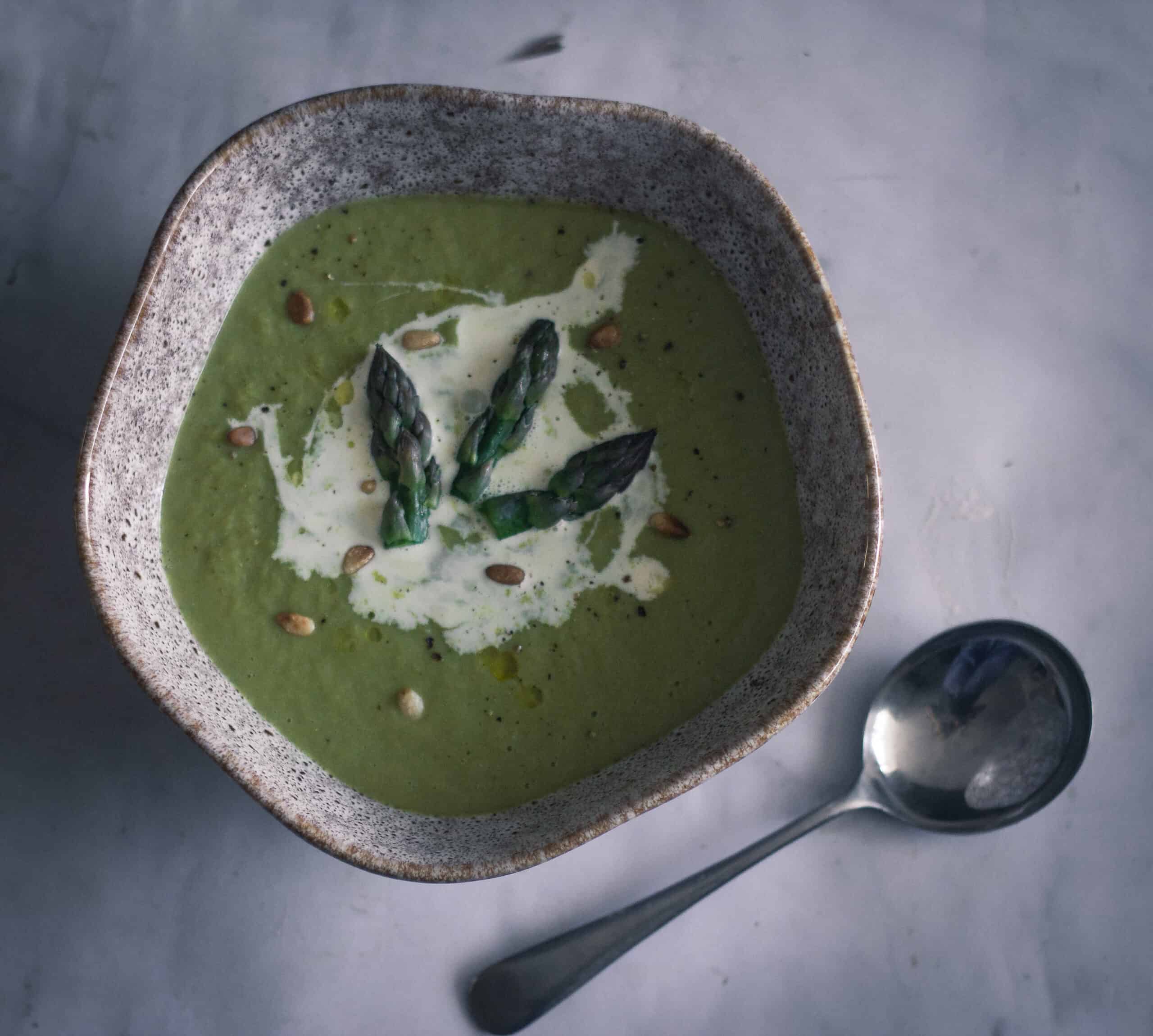 Other than steaming them, and serving them swathed in melted butter and cracked black pepper, is there any better way to showcase spring vegetables (or any season for that matter?) than in a delicate soup?
There are many variations on vegetable soups. Some have diced potato for bulk and thickening, others use spices. Asparagus needs nothing other than some chopped onion, delicate vegetable stock, seasoning and perhaps an indulgent swirl of plant-based cream.
When you callously blend the sautéed onion and chopped asparagus with the stock, the flavour blossoms as if it were still growing in the field, reaching for the sunlight.
If you choose to omit the cream, the soup is still creamy yet almost devoid of calories (almost. Don't forget that the onions are gently wilted in oil!) yet tastes totally decadent. I also have a hunch that it would taste wonderful chilled as well.
Ingredients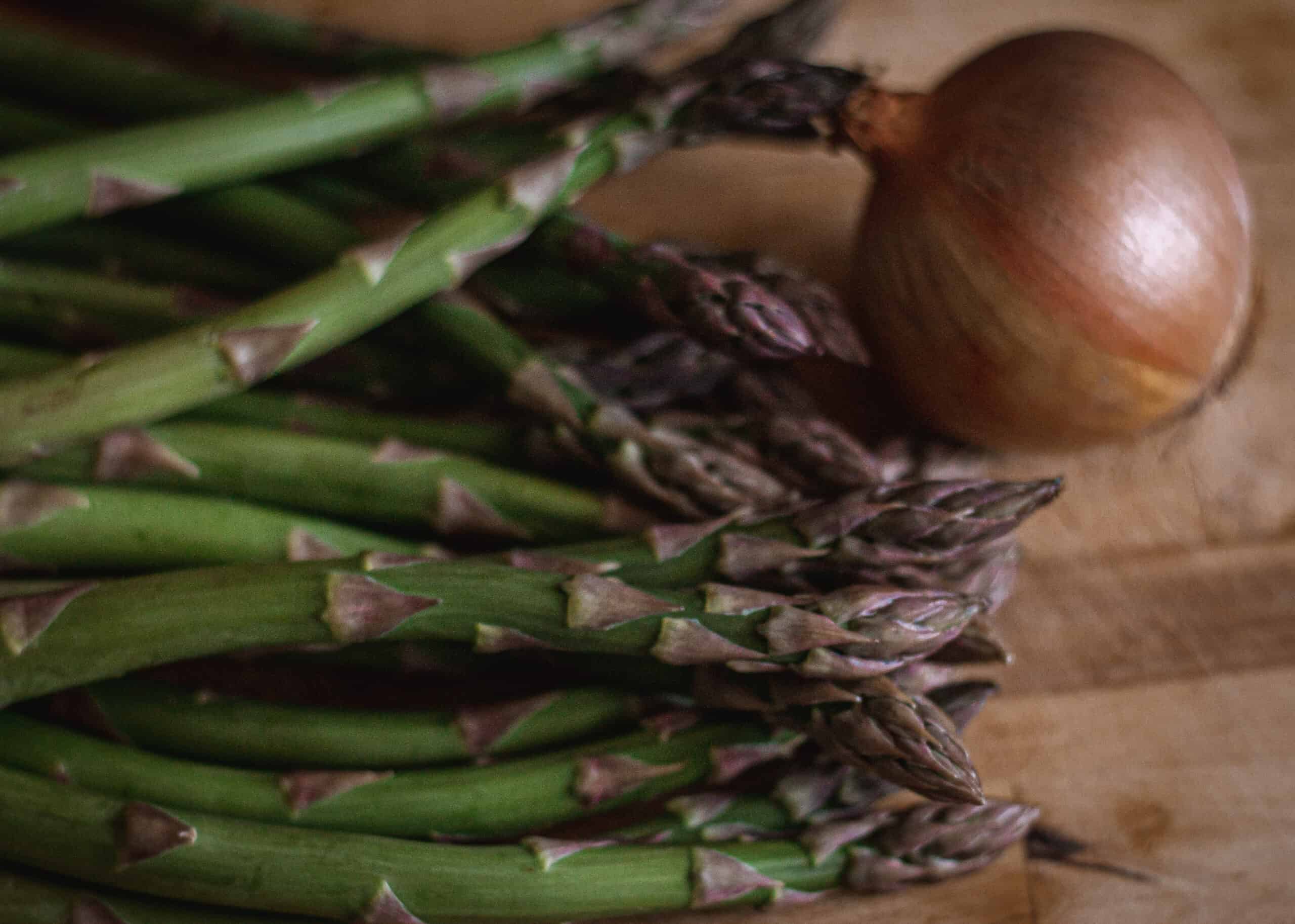 asparagus, a good sized bundle
onion
vegetable stock
This is ONLY a list of ingredients for the recipe; please see recipe card below for complete printable recipe.
Instructions
Sauté the onion in a little olive oil until tender and translucent.
Stir in the chopped asparagus, sautéing for a couple more minutes.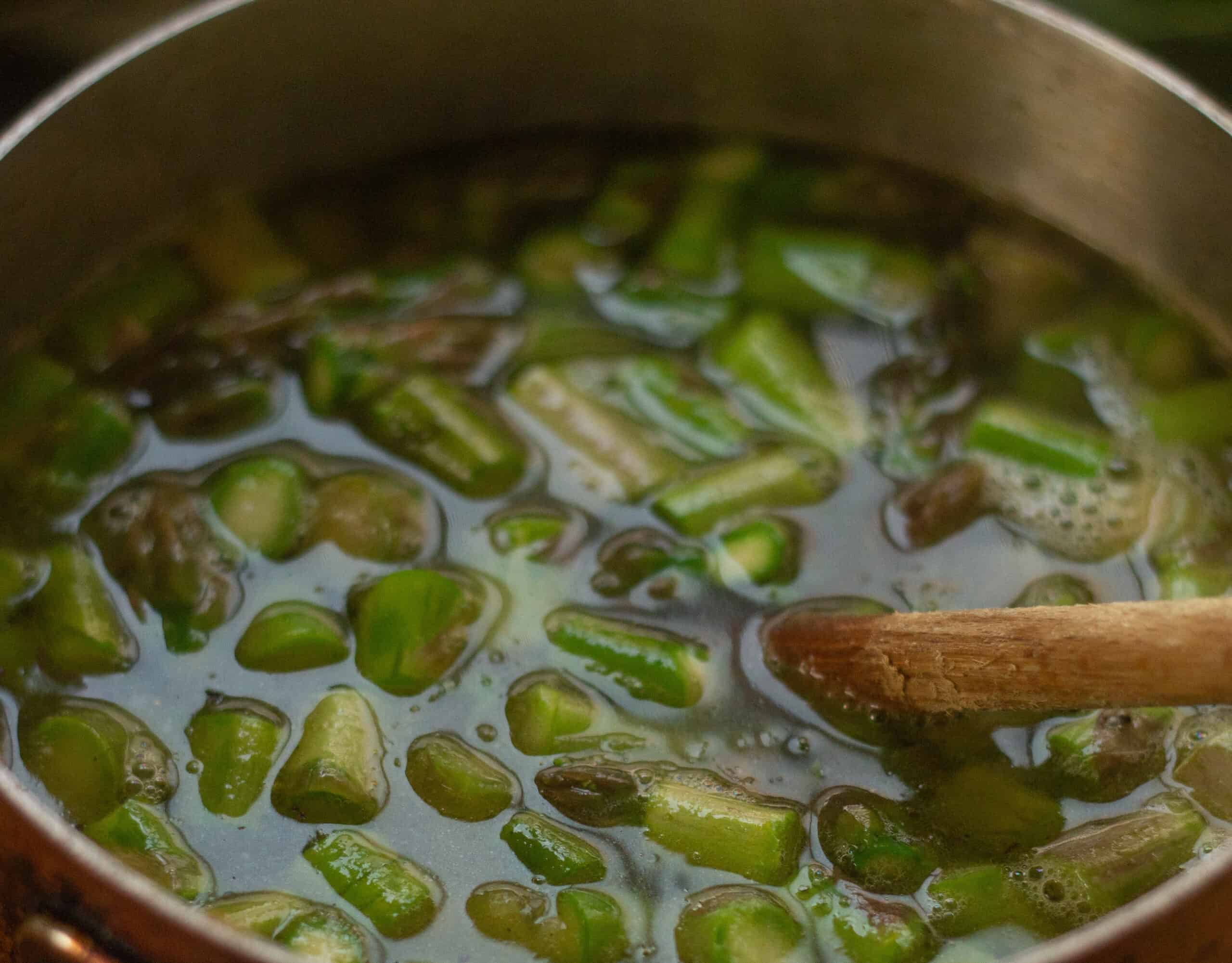 Add the vegetable stock and bring to the boil. Turn down the heat to a gentle simmer.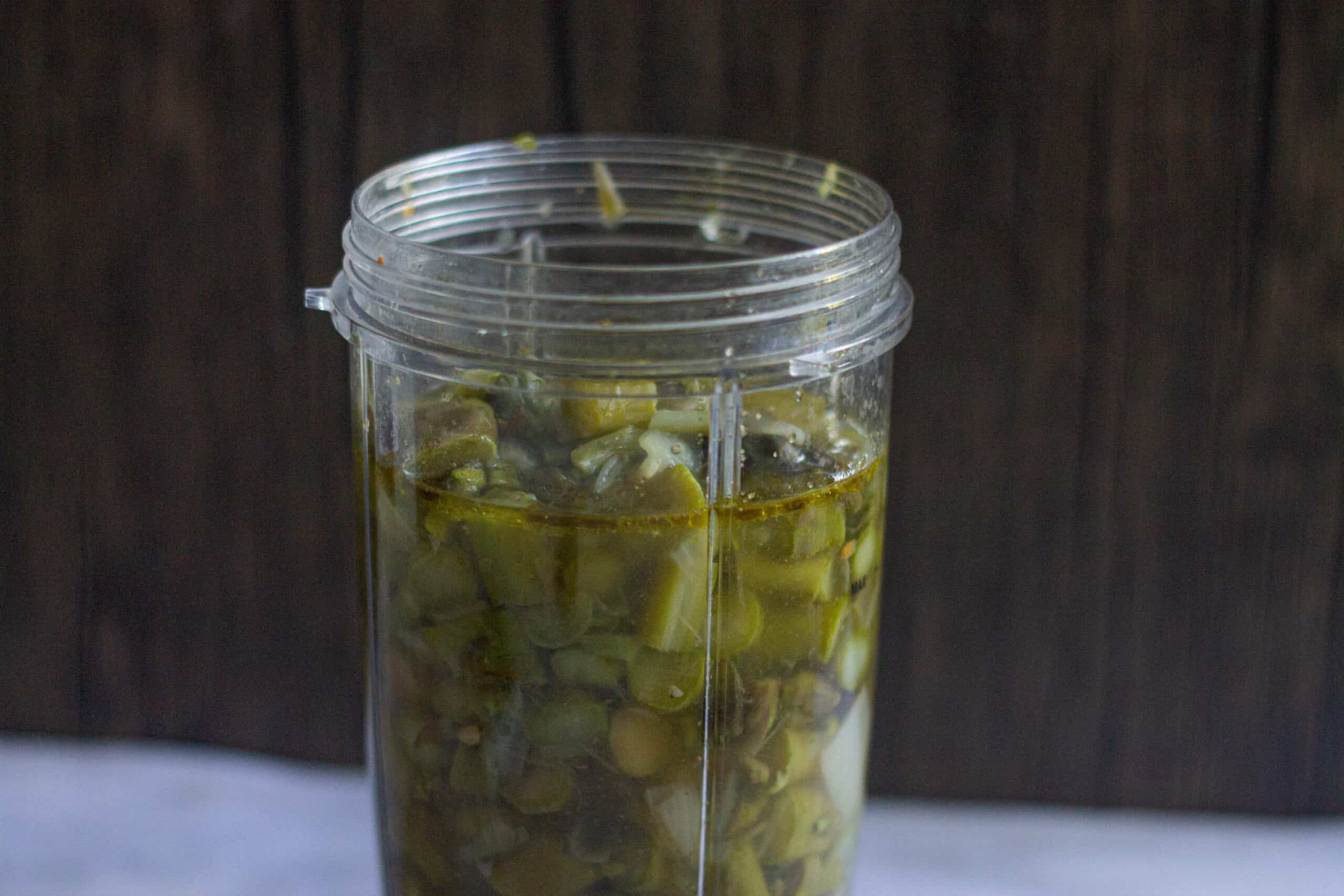 Once the asparagus is tender, the soup is ready for the blender. Blend until smooth, then return to the pan and taste for seasoning.
Hint: make sure to use the woody ends of the asparagus too, lots of flavour there!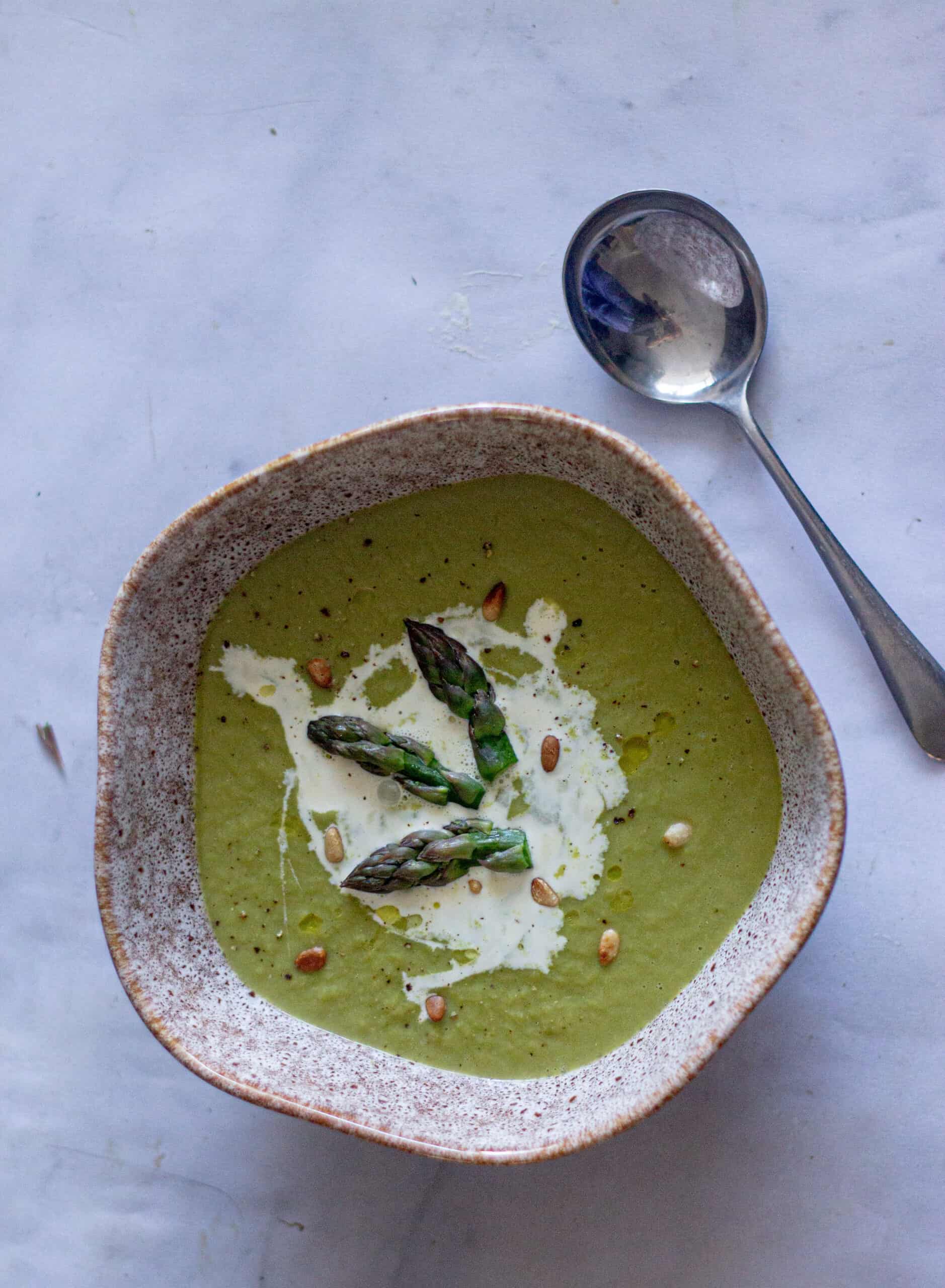 Storage
The cooked and cooled soup will keep for up to 5 days in the fridge. Don't add the cream though until you're ready to finally serve it.
This soup freezes beautifully. Cool, place in a freezer-proof container, and freeze for up to 3 months. Thaw at room temperature before gently reheating in a pan.
Vegan Asparagus Soup
A simple and flavourful summer soup
Equipment
1 Blender

You can use a smoothie maker or an immersion blender
Ingredients
300

g

Asparagus

chopped into 1cm pieces

1

tsp

Olive oil

1

Onion

medium, peeled and roughly chopped

500

ml

Stock

vegetable, I used a stock cube in this instance, hot

Salt and Pepper

2

tsp

Cream

vegan, for swirling
Instructions
In a deep saute pan, gently heat the butter or oil and saute the chopped onion for a few minutes, until it starts to soften but not colour.

Stir in the chopped asparagus and gently fry for 3-4 minutes more.

Pour over the hot vegetable stock and bring to the boil. Reduce to a simmer so that it just blips on the surface and cook for another 10 minutes, until a knife point penetrates the asparagus pieces without any force.

Pour into a blender and, wearing an oven glove to hold the lid in place (I have had too many burns from trusting the locking function on the lid of my cheapo blender), puree into all the lumps are blitzed into creamy oblivion.

Strain into a saucepan through a sieve and gently bring to a simmer. Taste for seasoning. You will probably need a good pinch of salt and a good grind of pepper.

Stir in the cream now if you are using but take care not to boil the soup. If you do, what happened to me will happen to you: you will get a darker green shade of algae like soup on top where the cream splits slightly. Don't get me wrong, this would be perfect for a themed party and it doesn't affect the flavour. It just doesn't look too good!

You can also garnish it with a couple of steamed asparagus tips if you're feeling particularly fancy.
Nutrition Facts
Vegan Asparagus Soup
Amount per Serving
% Daily Value*
* Percent Daily Values are based on a 2000 calorie diet.