Easy vegan banana bread. If you're looking for a speedy vegan banana bread that requires minimal effort for maximum pay-out, you've come to the right place! Using a simple blender method for making the batter, and then it's mix in one bowl. Ready in less than hour, this is the perfect, chilled out day baking treat.
Banana Bread has been around for years, but reached optimum popularity during the first year of lockdown (I hope one day I'll be reading this post and thinking, gosh, lockdown seems soooo long ago now!), so that was 2020?
If you love to hide fruit and veg in delicious baked goods, try my zucchini bread here, quick and simple, and perfect for the banana-hater in your life!
Jump to:
I think what made it popular was that it was bread/not bread. It has the name bread in it, but it's just a loaf cake! It does come under the guise of "quick breads", but I don't even think of it like that.
Banana Bread makes great use of overripe bananas, in fact, the riper the better, and you could use whole frozen bananas too.
Why is this the Best Banana Bread Recipe?
Of course, we all think that our recipes are the best, but this one combines two critical criteria:
Speed. You can whizz and stir up the ingredients and have it in the oven in less than 5 minutes
Taste. This is full of all the good stuff: vegan chocolate chips, walnuts, brown sugar, vanilla extract. It is the only banana bread recipe that you will ever need!
Method
Simple! You take a whole lot of basic ingredients and mix them! Well, there's maybe a little more to it than that, but not too much.
Sift the dry ingredients (all purpose flour (although you can use whole wheat flour) with baking soda (baking powder) and bicarbonate of soda) in a large mixing bowl.
In a blender, puree the ripe brown bananas, and the wet ingredients, the melted coconut oil or vegetable oil, white sugar, brown sugar, and dairy-free cream and yogurt.
Mix the wet and the dry mixtures and pour them into a large pan. Fold in the walnuts and chocolate chips.
Pour your vegan banana bread batter into a 2lb prepared loaf pan (lined with parchment paper), and bake for about 45-50 minutes at 180c. Use the toothpick test to ensure it is cooked through.
Cool on a cooling rack.
How do you serve Banana Bread?
Banana bread is great served just cut into chunks, like any loaf cake. However, you can also spread it with a little vegan butter, or, once it goes a little stale, fry it on a little vegan butter and spread with jam or peanut butter.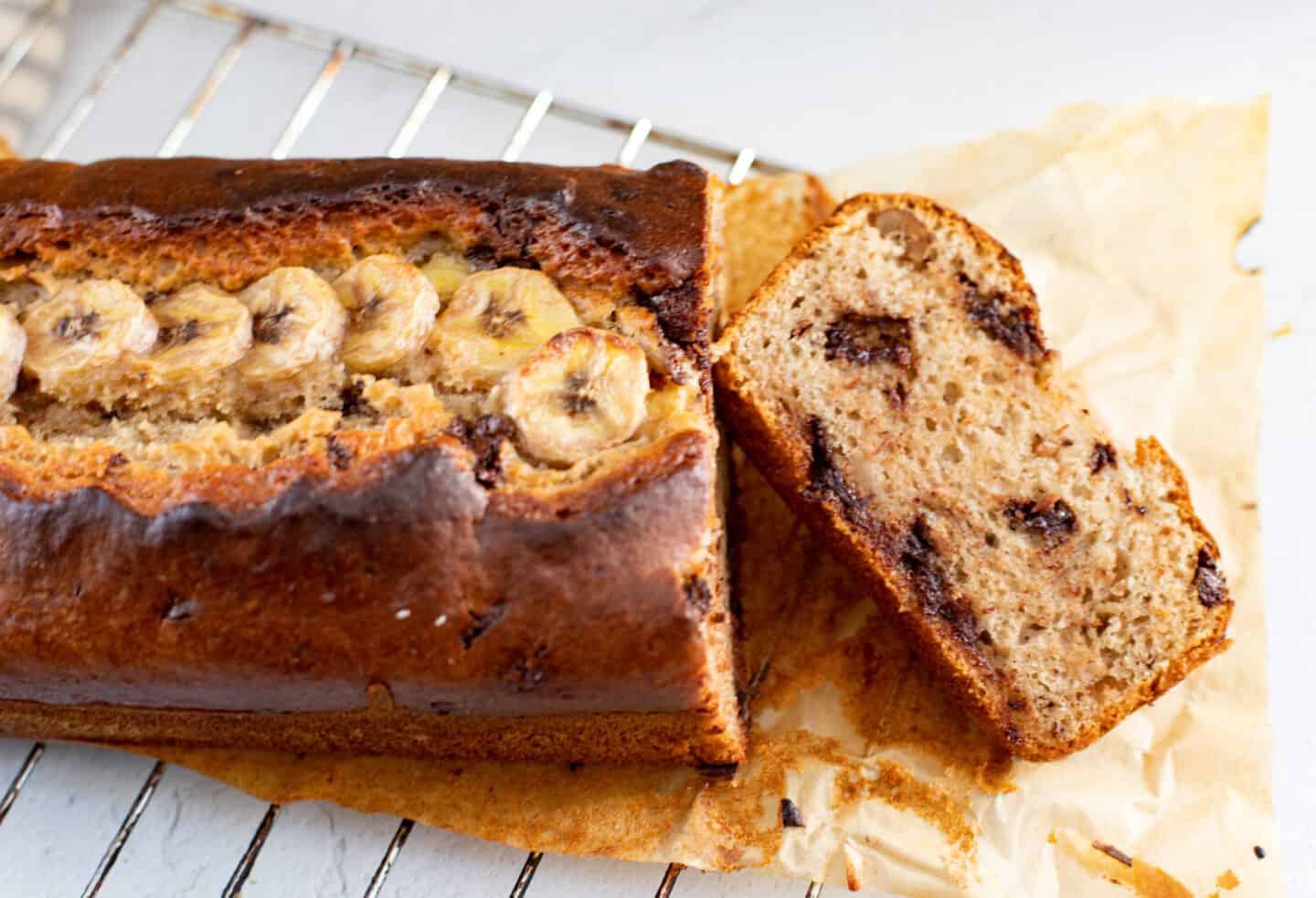 Note: Unlike regular banana bread, this vegan recipe does not need flax eggs or egg substitutes, and of course, it is a naturally eggless banana bread.
The resulting cake has a fluffy texture, studded with dark chocolate and nuts that punctuate the sweetness of the bananas perfectly.
Modifications
Feel free to omit the nuts/chocolate chips or double them up
Use coconut sugar instead of white sugar
You can use canola oil, olive oil, sunflower oil, or melted vegan butter instead of coconut oil
You can use non-dairy milk such as almond milk, oat milk or soy milk instead of vegan cream. Try adding a teaspoon of apple cider vinegar to the milk if you do replace it, this thickens it slightly and makes it richer.


FAQ
Can I use unripe bananas?
Yes, you can but I don't recommend it for a couple of reasons. One, unripe bananas will not give you a smooth puree when you blend it, they still have a really firm texture and will produce a more nubbly texture. Two, ripe bananas are much sweeter and have much more flavour than unripe.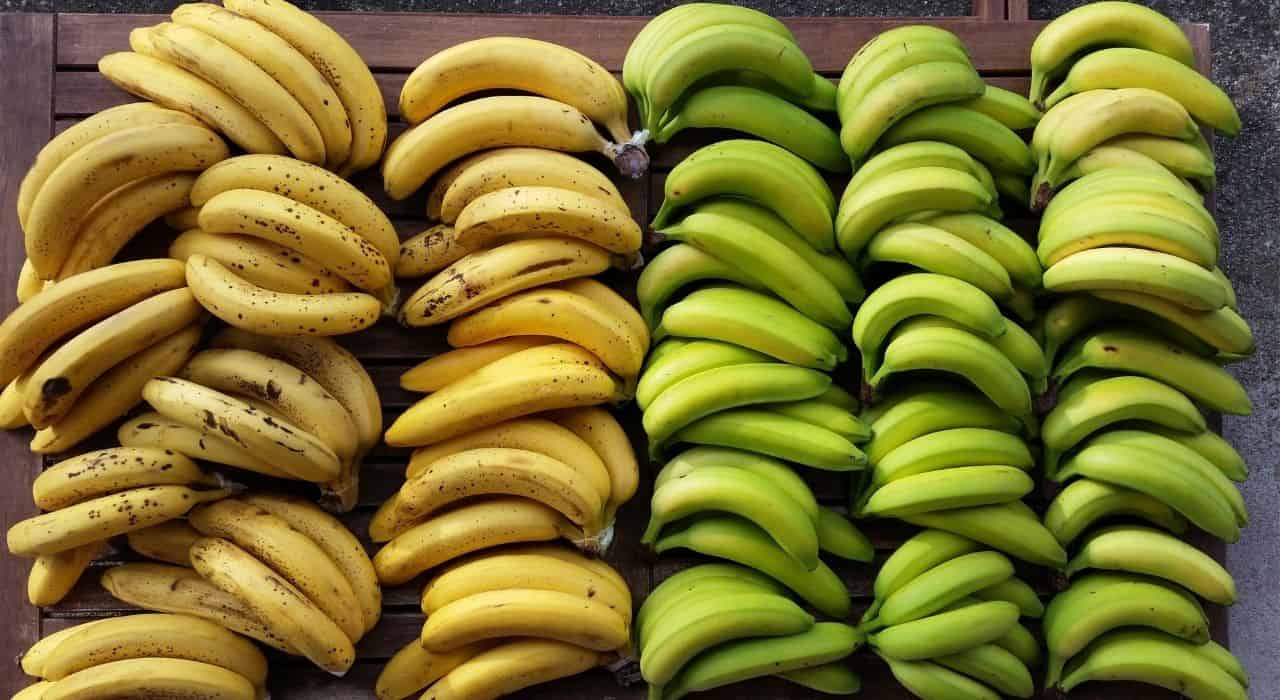 How long will vegan banana bread last?
If you keep it in an airtight container, it will last for about 5 days.
Can you freeze Banana Bread?
Yes! Bake it, leave to cool completely, then wrap tightly in several layers of clingfilm. This will last in the freezer for about 6 weeks.
To serve, simply remove from the freezer several hours before you want to eat it.
Try my other delicious vegan cakes
📋 Recipe
PRINT
The Best Vegan Banana Bread Recipe
A simple and quick recipe for the best vegan banana bread, packed with nuts and chocolate chips
Ingredients
3

Bananas

ripe, peeled

5

tablespoon

Coconut Oil

melted

½

cup

Plain Yogurt

vegan

½

cup

Cream

vegan, I used Oatly

1

teaspoon

Vanilla Extract

½

cup

Granulated Sugar

½

cup

Brown Sugar

soft

1¾

cup

Plain Flour

1

teaspoon

Baking Powder

¼

teaspoon

Bicarbonate of Soda

½

teaspoon

Salt

½

cup

Walnuts

chopped

½

Dark Chocolate Chips

vegan
Instructions
Preheat oven to 180c.

Line a loaf tin with baking paper (I used a standard 2lb tin).

Sift the flour, baking powder, bicarbonate of soda and salt into a large bowl.

In a blender, whizz up the bananas, coconut oil, yogurt, cream, vanilla and sugars until smooth.

Pour into the dry ingredients and mix until just combined and no lumps are visible.

Gently stir in the walnuts and chocolate chips

Bake for about 45-50 minutes or until a toothpick comes out clean.

Leave to cool in the tin before cutting into slices and enjoying!
Nutrition
Calories:
425
kcal
|
Carbohydrates:
59
g
|
Protein:
5
g
|
Fat:
20
g
|
Saturated Fat:
12
g
|
Polyunsaturated Fat:
4
g
|
Monounsaturated Fat:
3
g
|
Cholesterol:
22
mg
|
Sodium:
250
mg
|
Potassium:
275
mg
|
Fiber:
2
g
|
Sugar:
32
g
|
Vitamin A:
264
IU
|
Vitamin C:
4
mg
|
Calcium:
83
mg
|
Iron:
2
mg
Tried it and Loved it?
Mention @sweeterthanoats or tag sweeterthanoats!