Deliciously Simple Vegan Danish Apple Cake (Aeblekage)
This post contains links to affiliate websites, such as Amazon, and we receive an affiliate commission for any purchases made by you using these links. We appreciate your support!
My easy and delicious vegan Danish apple cake (aeblekage) recipe is adapted from the wonderful Beatrice Ojakangas book, The Great Scandinavian Baking Book. And it veganised beautifully. This vanilla scented apple cake is simple to make, but looks lovely enough for guests.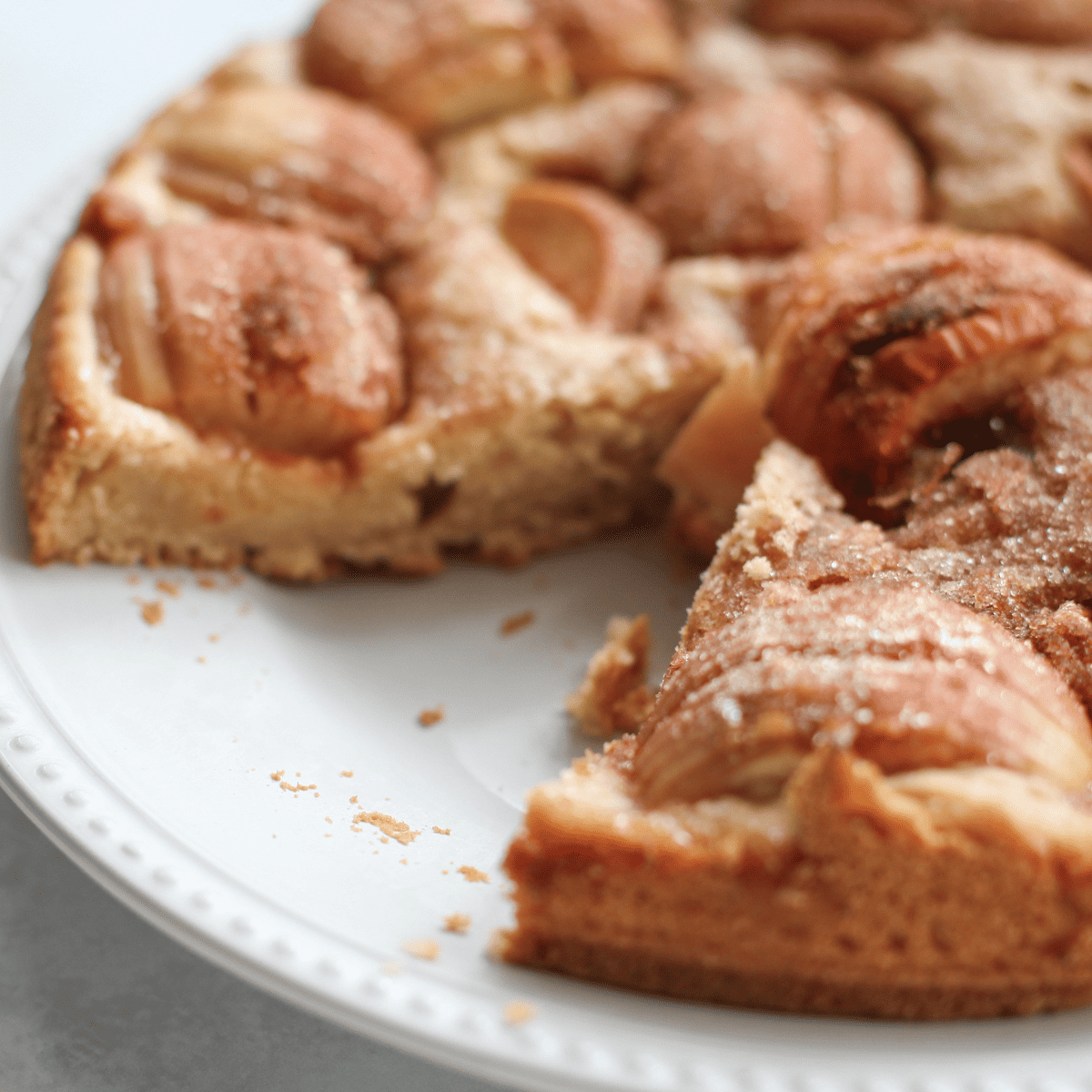 Apples to me are the taste of the Autumn, of cosy days, thick sweaters and mugs of hot chocolate. Toffee apples start appearing in the stores, promising sugar highs and cavities, whilst everything starts to be seasoned with pumpkin spice.
Love apples? Try my other delicious vegan apple desserts, quick vegan apple turnovers, my easy and quick spiced apple cake or my classic vegan apple crumble.
Why You'll Love my delicious Danish Apple Cake
Easy to whip up in less than 20 minutes.
Store cupboard ingredients and economical
Eggless and Dairy free recipe
A lovely looking cake for company!
This is based on a recipe from one of my favourite cookbooks, the Great Scandinavian Baking book, by Beatrice Ojakangas. I have baked from this book many times, reworking the recipes to suit a dairy-free diet, and have found great success with all the recipes. I highly recommend this book, despite it having no photographs of the recipes (please, add these for the next edition!); the recipes are authentic, delicious and simple.
What is Aeblekage or Danish Apple Cake?
Quite simply, it is a vanilla scented sponge topped with sliced fresh apples and sprinkled with cinnamon, autumns favourite spice.
A cursory glance on google reveals that there in fact two types of aeblekage: this version, a definite cake, and then a version that is more akin to a trifle: layers of pureed apple with toasted breadcrumbs (or oatmeal) and a thick blanket of cream. I think I will try this version next, as it sounds equally as delicious!
Much like my vegan Swedish Almond Cake (Mjuk Toscakaka), this version of aeblekage is a simple cake batter, with a delicious topping, which identifies the cake (unlike some cakes, where the "topping" is cooked on the bottom of the cake pan and then turned out upside down, like my rhubarb cake).
It is baked to be quite a thin cake, so that you can cut neat slices whenever you want, but I do think it makes a delicious pudding cake, served drizzled with some vegan pouring cream.
Ingredients and Substitutions
apples. I used Pink Lady, but you can use your favourite (don't use cooking apples as they will go too mushy during cooking).
plain flour and baking powder
plant-based milk and vanilla yogurt
white and brown sugars
egg replacer
This is ONLY a list of ingredients for the recipe; please see recipe card below for complete printable recipe.
Instructions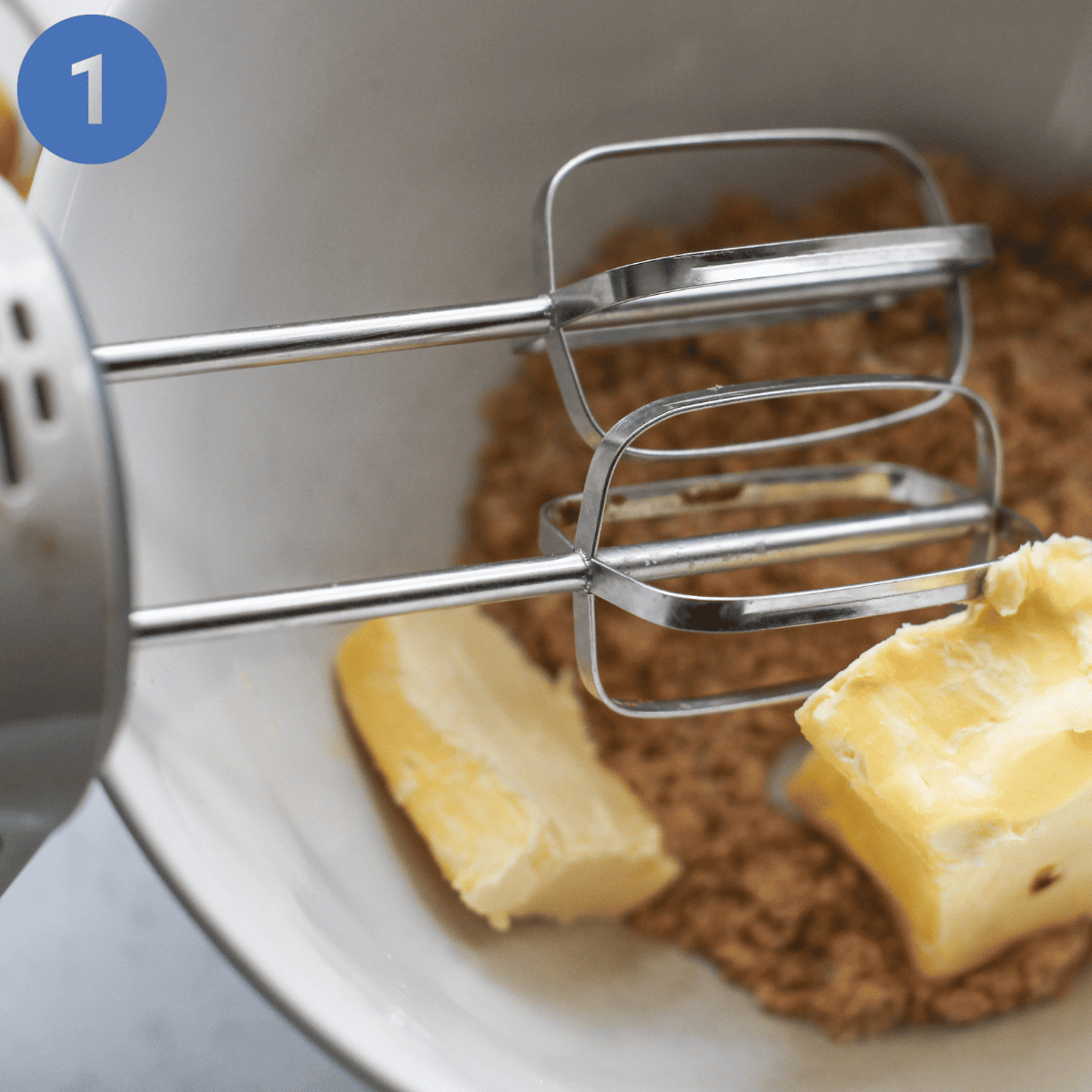 Blend the softened butter and sugars together until pale and fluffy.
Now beat in the egg replacer and yogurt.
Now beat in the milk and vanilla.
Now sift in the flour, baking powder and salt.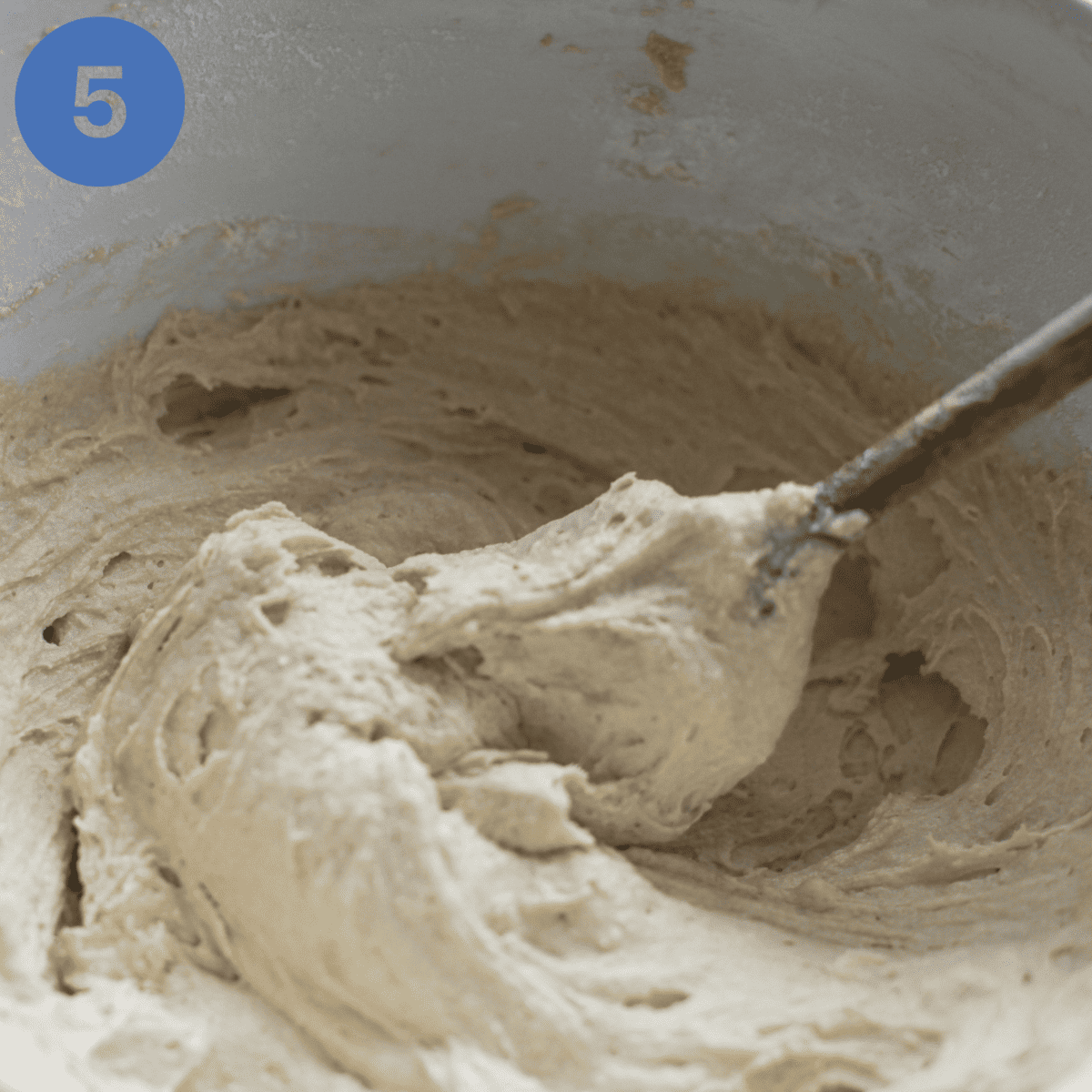 Mix until you have a smooth batter.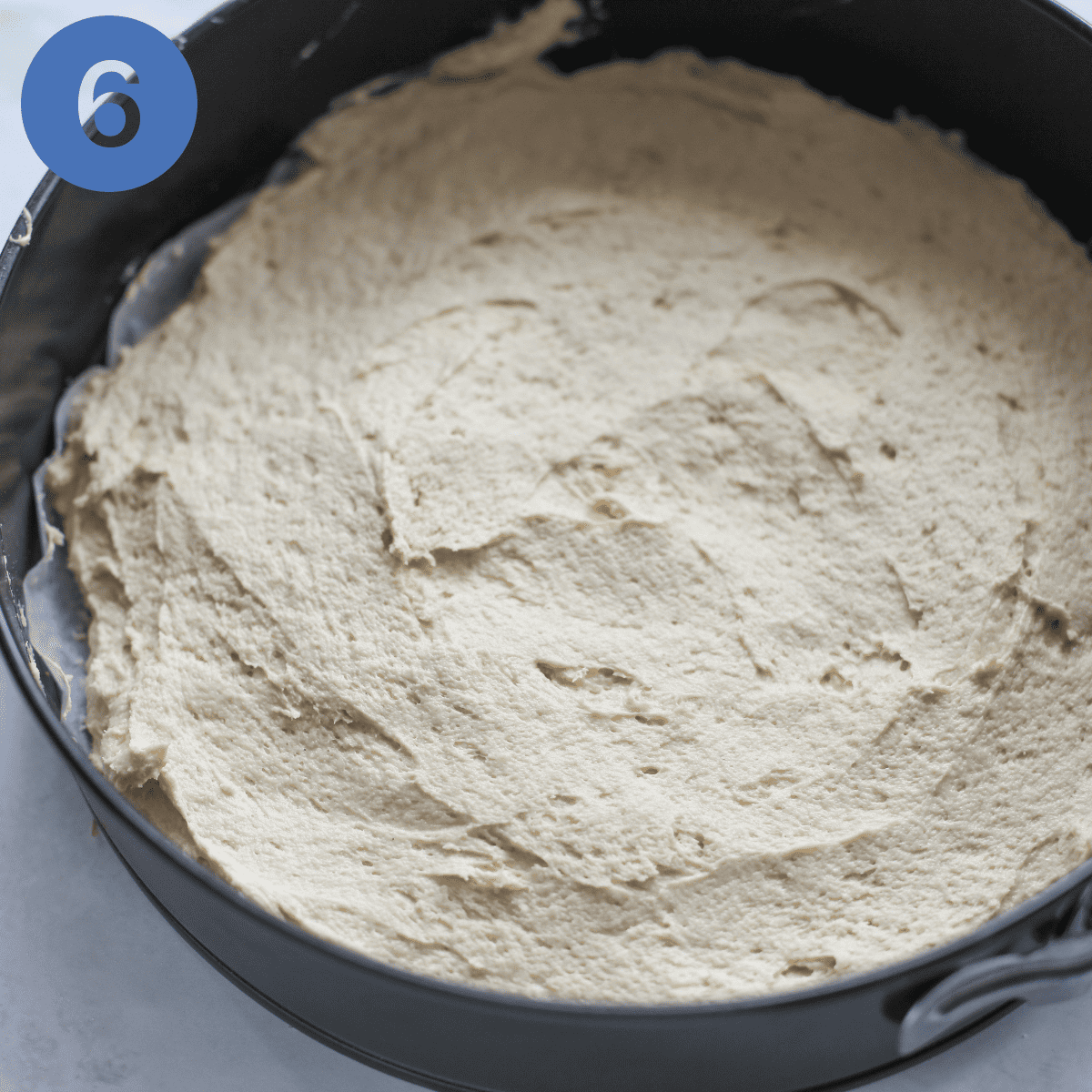 Smooth the cake batter into your lined tin. Set to one side.
Preheat oven to 180c whilst you prep the apples.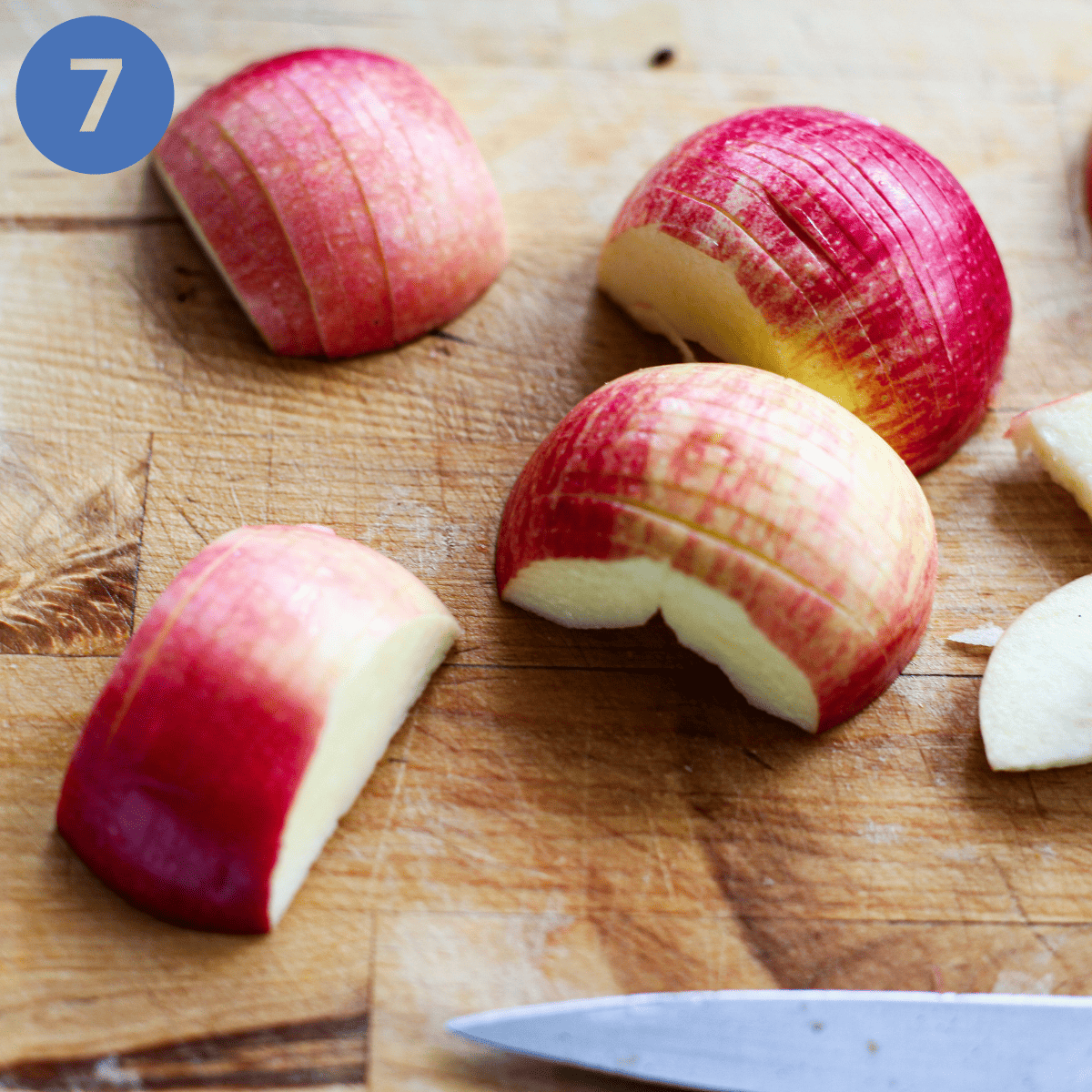 Slice the cored and quartered apples so that they are not quite cut all the way through.
Now place them, skin side up, pressed gently into the cake batter.
Brush the apple slices with melted butter.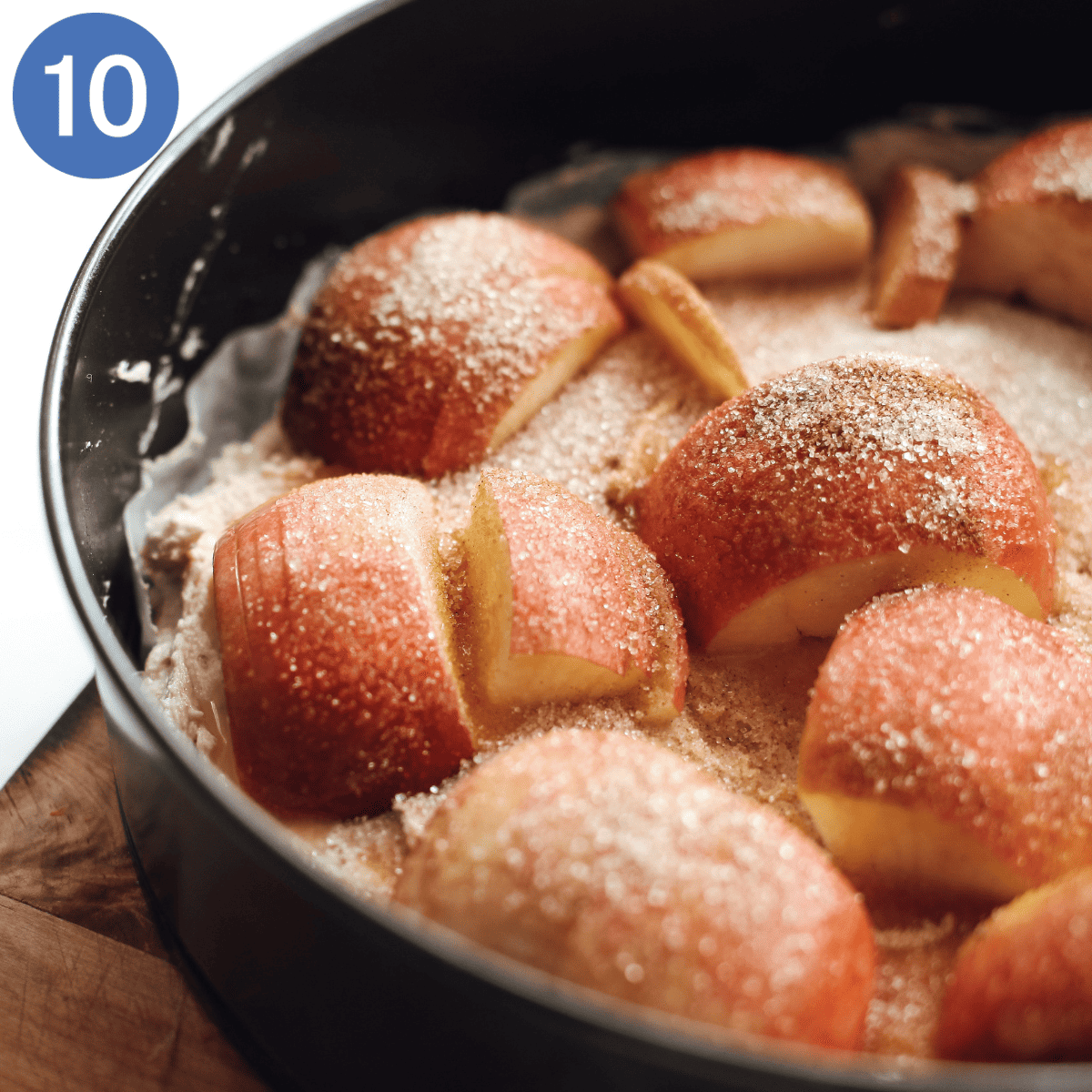 And then sprinkle with sugar/cinnamon, before baking for 30 minutes, or until a skewer comes out cleanly.
Storage
Once cooled, store the cake in an airtight for 48 hours.
Top tip
Try using different colour apples to make a beautiful cake decoration.
Danish Apple Cake (Aeblekage)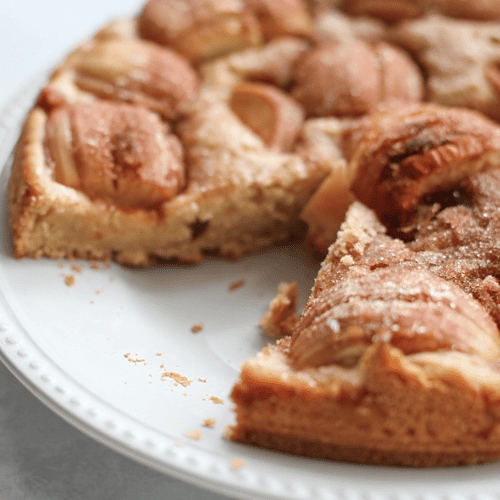 A simple, fragrant apple cake
Equipment
1 11" springform cake tin, lined
Ingredients
5

Apples

½

cup

Butter

-

vegan, room temperature

½

cup

Brown sugar

¼

cup

White sugar

½

cup

Yogurt

-

plant-based, vanilla or plain

1

tbsp

Egg replacer

-

whisked with 2 tbsp cold water

1

tsp

Vanilla extract

¼

cup

Milk

-

plant-based (I used soya)

1½

cups

Plain flour

2

tsp

Baking powder

¼

tsp

Salt
For the topping
2

tbsp

Butter

-

vegan, melted

2

tbsp

White sugar

¼

tsp

Cinnamon
Instructions
In a large bowl, beat the butter and sugar together until fluffy.

Now beat in the yogurt, vanilla and egg replacer.

And beat in the milk. Don't worry if the mixture looks a little split, the flour will fix that.

Make sure to wipe down the sides of the bowl with a spatula as you go along.

Now mix in the flour, salt and baking powder using a wooden spoon.

Spread the mixture into your lined baking tin. Set to one side whilst you prep the apples.

Whisk together the sugar and cinnamon for the topping.

Core, top and tail the apples, then slice in half through the top.

Taking a sharp knife, carefully slice through the apples halves, but not all the way, you want to make a concertina-like effect.

Place the sliced apples, skin side up, on top of the cake batter in the pan.

Brush with the melted butter and sprinkle with the cinnamon sugar mixture.

Place in the preheated oven and bake for 35 minutes, or until golden brown and a skewer comes out of the cake clean.

Leave to cool completely before turning out.
Notes
Please don't worry if you don't have a springform pan. The spring action on mine stopped working, so when the cake was cold, I placed a large plate on the top of the tin and swiftly turned it out. Peel off the baking paper.
I then repeated this action with another plate so that the apples were once again on the top.
Just make sure to loosen the cake around the sides using a spatula first!
Please note that where the recipe asks for milk, butter or yogurt, this refers to any plant-based version that you prefer.
Nutrition Facts
Danish Apple Cake (Aeblekage)
Amount per Serving
% Daily Value*
* Percent Daily Values are based on a 2000 calorie diet.