The perfect vegan Risotto recipe. Creamy, comforting and so easily adaptable, it's no wonder that Risotto is a firm favorite in my house!
Jump to:
We all know the pleasure derived from eating a sugar-saturated snack or a grease-laden titbit, but there can be more to Comfort Food than just empty calories and the lure of clogged arteries later in life. My favorite comfort foods are definitely rice or pasta based, and I love my beetroot risotto if I'm feeling like a need some vitamins, or my vegan arroz con leche for sweet treat!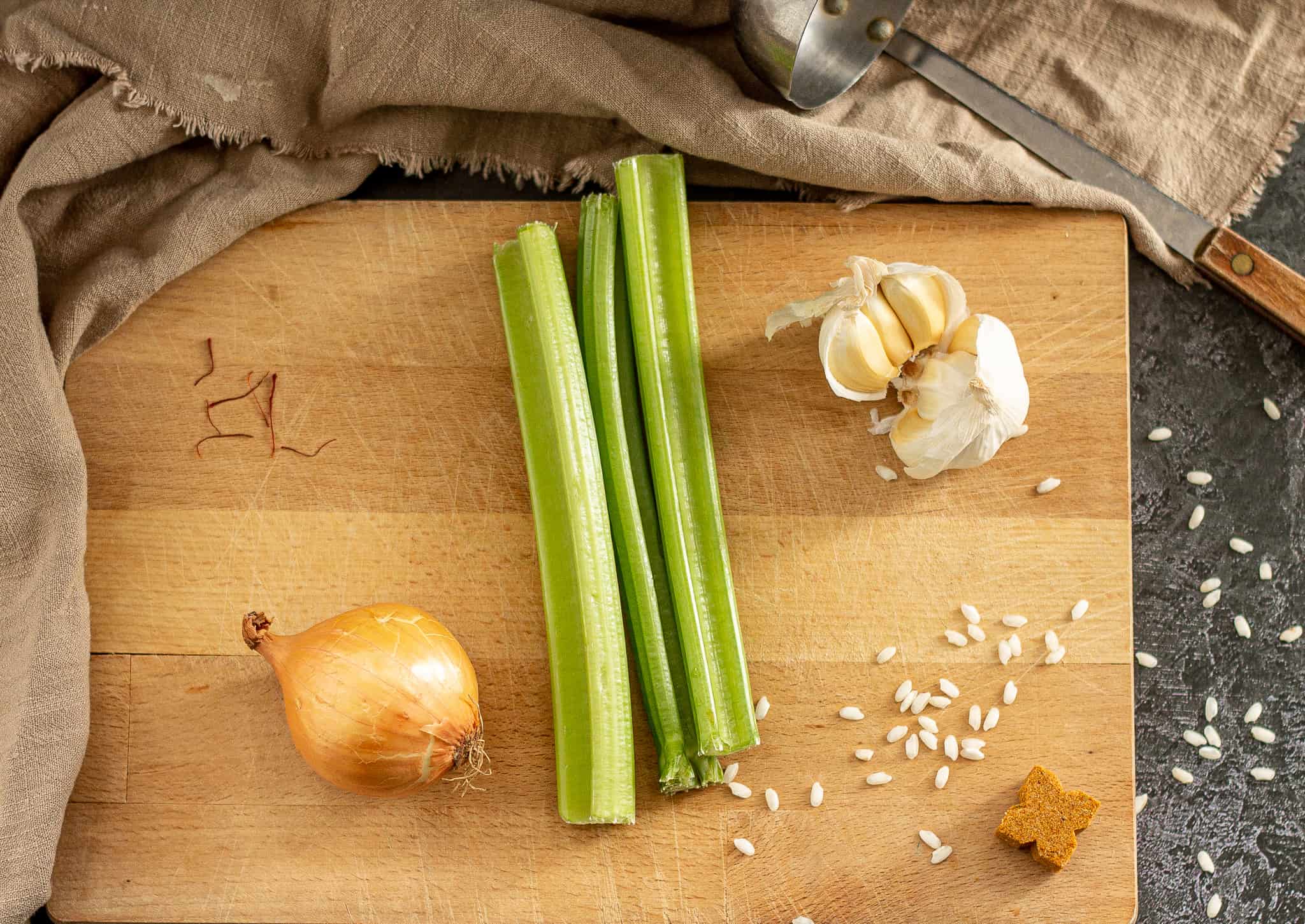 If like me, you find cooking to be a relaxing escape from the working weekday madness, then preparing a creamy, soul-consoling risotto can be more therapeutic than a muscle-contorting bout of yoga or a tedious manicure. You cannot extol enough the joys of a well-made Risotto. It is the culinary equivalent of freshly washed linen or a hot, lavender scented bath.
What is Risotto?
Not only is Risotto is nutritious, it is extremely versatile. Traditionally to be served with nothing more than freshly grated (vegan) cheese, but if I feel that we need some additional vitamins, I will stir through some broad beans (removed from their little papery skins if not early in the season), a scorched red or yellow pepper chopped into small slices, sautéed courgette, stirred through the Risotto with some fresh peas or asparagus.
Risotto is supposed to be delicate; it does not need to be overly seasoned or overpowered by strong flavors. Traditionally Risotto gets its first hint of flavor from good, homemade vegetable stock, however, not everyone has the time nor the inclination to prepare the stock. In which case, use good quality vegetable stock cubes. I recently read in Elizabeth David's Is There a Nutmeg in the House? that a certain well-known brand of stock cubes contain, amongst other flavoring horrors, MSG and Purines. We are all aware of the risks from MSG, including its charming carcinogenic properties but Purines are what give Gout sufferers their agonizing attacks.
But I digress. Whilst I tend to attack recipes from cookery books with an abecedarian zeal I always return to a handful of old favorites that require nothing more than a half-functioning brain and one spoon stirring hand. Risotto is one of them. I first approached the recipe with trepidation after hearing dreadful stories about the complexity of this dish. It is quite simple. Here then, is how to make Risotto, which is the Ultimate Comfort Food.
Ingredients
Rice. But no ordinary rice. You must use either arborio rice, carnaroli rice, or vialone nano rice. These are short-grain rice, the kind of rice that gives you the best vegan risotto. The Italian rice is available in all supermarkets and the most commonly used one is arborio. I wouldn't recommend using long grain rice like basmati or jasmine rice. This is a dish where the type of rice is absolutely critical. Short-grain Italian rice is the key ingredient in the perfect risotto.
Extra Virgin Olive Oil
Onion
Garlic
Stock. I prepare the warm stock before anything else, so that it's ready to go, as soon as you need it. You could use a stock made from steeped shiitake mushrooms for a deeply earthy risotto.
Dry White Wine. Optional but a splash adds a little depth of flavor. Add to the sauteed onion and garlic before you add the first ladleful of stock. A pinot grigio or sauvignon blanc is perfect, but any dry white will do.
Vegan butter. Use your favorite brand.
Vegan parmesan cheese
Sea salt and pepper
For a basic risotto, that's all you need!
Full ingredients in recipe card.
Method
Again, simple!
Saute your onion and garlic in a little olive oil, over medium-low heat until soft and translucent.
Add your risotto rice and coat it thoroughly in the oniony garlicky oil. Keep moving the grains around with a wooden spoon until they too turn translucent. This step helps ensure a creamy texture later on.
Add white wine if using and simmer briskly to let the alcohol burn off (if using).
Next, add your hot vegetable broth or stock, ladle by ladle, stirring the grains around gently in the stock, until the liquid has been absorbed. Then add your next ladleful.
Repeat this process until you have used up all your stock.
The cook time is probably about 20-25 minutes or so.
The rice grains should be al dente but if you prefer a softer texture, keep adding hot stock until you reach that desired texture.
Add salt and pepper to taste, then beat in the butter. This gives you a voluminous, creamy rice dish.
Serve into large bowls and grate over vegan parmesan cheese.
Risotto is a great dish that the whole family will love, and you can serve it as a side dish, or with lots of steamed veg on the side. Homemade vegan risotto is truly one of the greatest dishes there is, but it doesn't take much time prepare at all.
Try my other delicious vegan supper dishes
📋 Recipe
PRINT
How to make the classic Italian dish, but veganised
Ingredients
2

Shallots

finely chopped

3

cloves

Garlic

finely chopped

1

teaspoon

Olive Oil

150

ml

White Wine

1½

pints

Vegetable Stock

boiled

1

cup

Arborio Rice

Butter

vegan, i.e. Pure or Earth Balance

1

tablespoon

Vegan Cheese

Salt and Pepper
Instructions
In a frying pan or skillet, heat the olive oil over a medium heat.

Saute the onion and garlic until softened and translucent.

Add the rice and stir, coating it thoroughly in the oniony-oily mixture.

Turn the heat up, and add the white wine. Let it bubble up for a few seconds, and then turn down to medium heat again.

Once the wine has evaporated, start adding the stock, one ladleful at a time, only adding the next ladleful, once the last one has been absorbed.

Keep doing this process until you have used up all your stock OR the rice has reached the texture you like. If you like your rice softer, then you may need to use up all your stock (or even add a little extra). If you prefer it al dente, you may not use all the stock.

Add a some seasoning.

Remove from the heat.

Stir in a tablespoonful of vegan butter and beat it into your risotto with a wooden spoon. It will volumise the risotto.

Finally, stir in some vegan parmesan, taste for seasoning and then serve.
Nutrition
Nutrition Facts
Easy Vegan Risotto
Amount per Serving
% Daily Value*
* Percent Daily Values are based on a 2000 calorie diet.
Nutritional Information Disclaimer
The automated nutritional information on my recipes can often be inaccurate due to the limitations within the programming. For exact measurements, there are lots of apps and websites that can calculate this information more accurately.
Tried it and Loved it?
Mention @sweeterthanoats or tag sweeterthanoats!